As the air fryer craze kicked in, I'm ashamed to say I started off as a sceptic. I wasn't convinced I needed yet another appliance – my counter was crowded with a blender, a stand mixer, and a coffee machine. What did an air fryer do that my oven, frying pan or microwave couldn't? 
But oh, how wrong I was. The Proscenic T22 air fryer came into my life and saved me from my rotation of frozen pizza, tortelloni, and cans of soup. On the evenings when I didn't feel like cooking or got home late, I could shove most any ingredient into it and out would come a nutritious meal.
I was baffled at the sheer amount of meals you can make in an air fryer – I famously made a decent Christmas roast in it, and although my pancakes weren't the most successful, they were impressive for having been cooked in something that really doesn't resemble a frying pan.
All this to say I am now an air fryer convert, and the Proscenic T22 is a very decent addition to your kitchen – with a good drawer size, plenty of handy presets, the ability to connect to Wi-Fi and a sleek design, it's an appliance that's hard to fault.
Not convinced this is the right choice for you? Check out our guide to the best air fryers for more brands to browse from.
Proscenic T22 air fryer: Design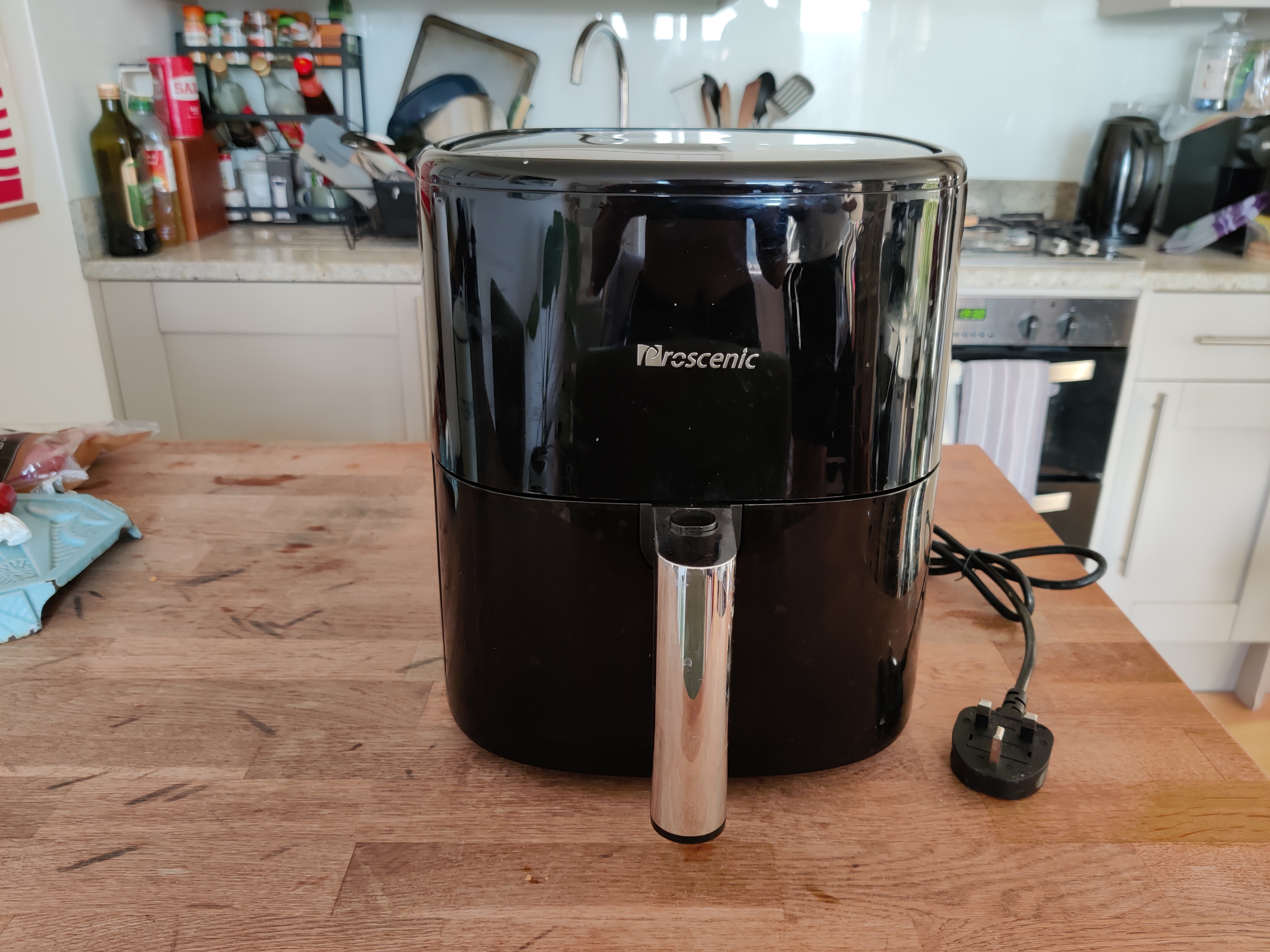 Air fryers aren't the most wild of appliances when it comes to design – I'm yet to see one in a colorway that isn't black, white, or some sort of gray. That said, the Proscenic T22 has a pleasing look, in sleek glossy black with smooth angles. It will blend in to most kitchens.
There is a silver handle at the front which is very comfortable to hold and enables you to check on the content of the air fryer with ease. The controls are all at the top, and only light up when the air fryer is plugged in and on. When it's on standby, only the power button lights up.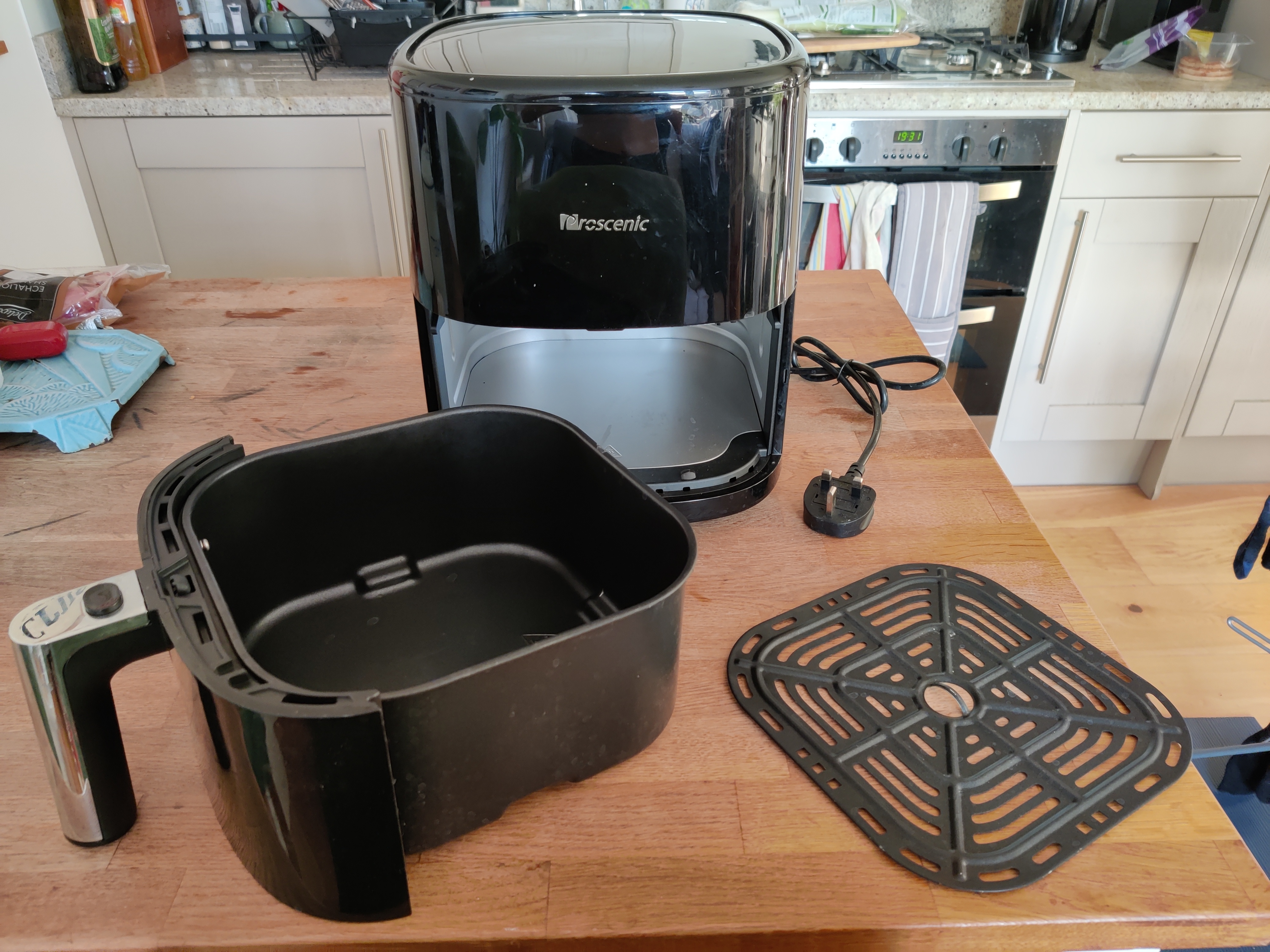 This air fryer only has one drawer, but it has an impressive 5-liter capacity. For reference, you can cook about four chicken breasts in it comfortably, or a decent amount of vegetables at once. It comes with a crisper tray that fits neatly in the basket and can be removed after use to wash it easily. Both the basket and the tray are dishwasher friendly.
The appliance is quite compact, measuring 36.1 x 27.1 x 30.6cm. As such, it will easily fit on to even smaller countertops, but it's worth noting that it's recommended to be used with a few inches of separation between the wall and other appliances.
Proscenic T22 air fryer: Features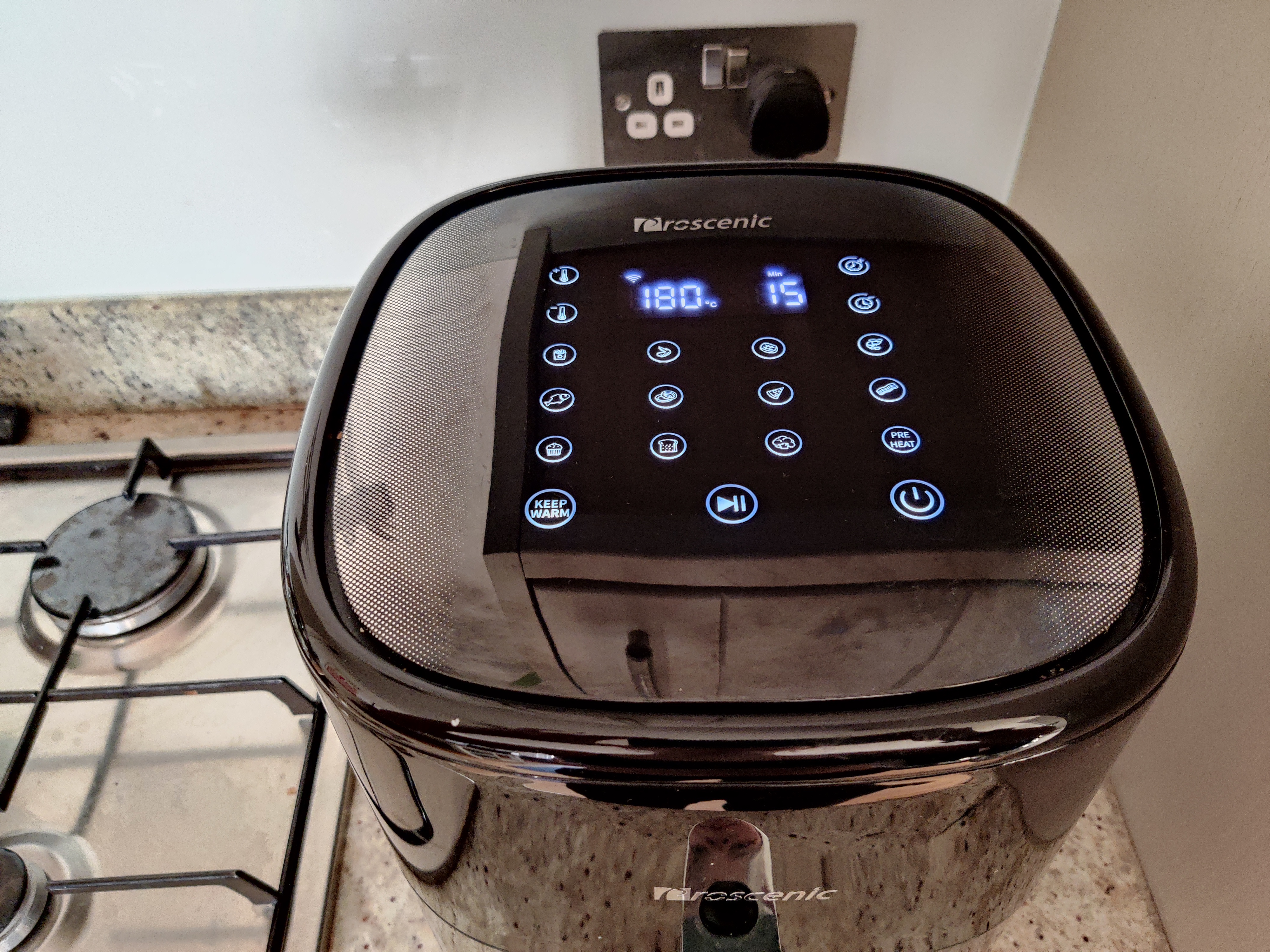 One of my favorite things about this air fryer is the amount of presets it has: there are 11 in total, which include chicken, steak, pizza, vegetables, and fries. As mentioned above, the icon for each of these appears at the top of the air fryer when it is plugged in and on – all you need to do to get it going is press your chosen icon and the "go" button. 
Aside from the presets, you can adjust the time and temperatures manually using the controls on either side of the LCD screen. The screen indicates the temperature and how much cooking time is left. There's also a "keep warm" function which keeps your food at 70 degrees Celsius for up to 60 minutes, handy if you've got other food on the go.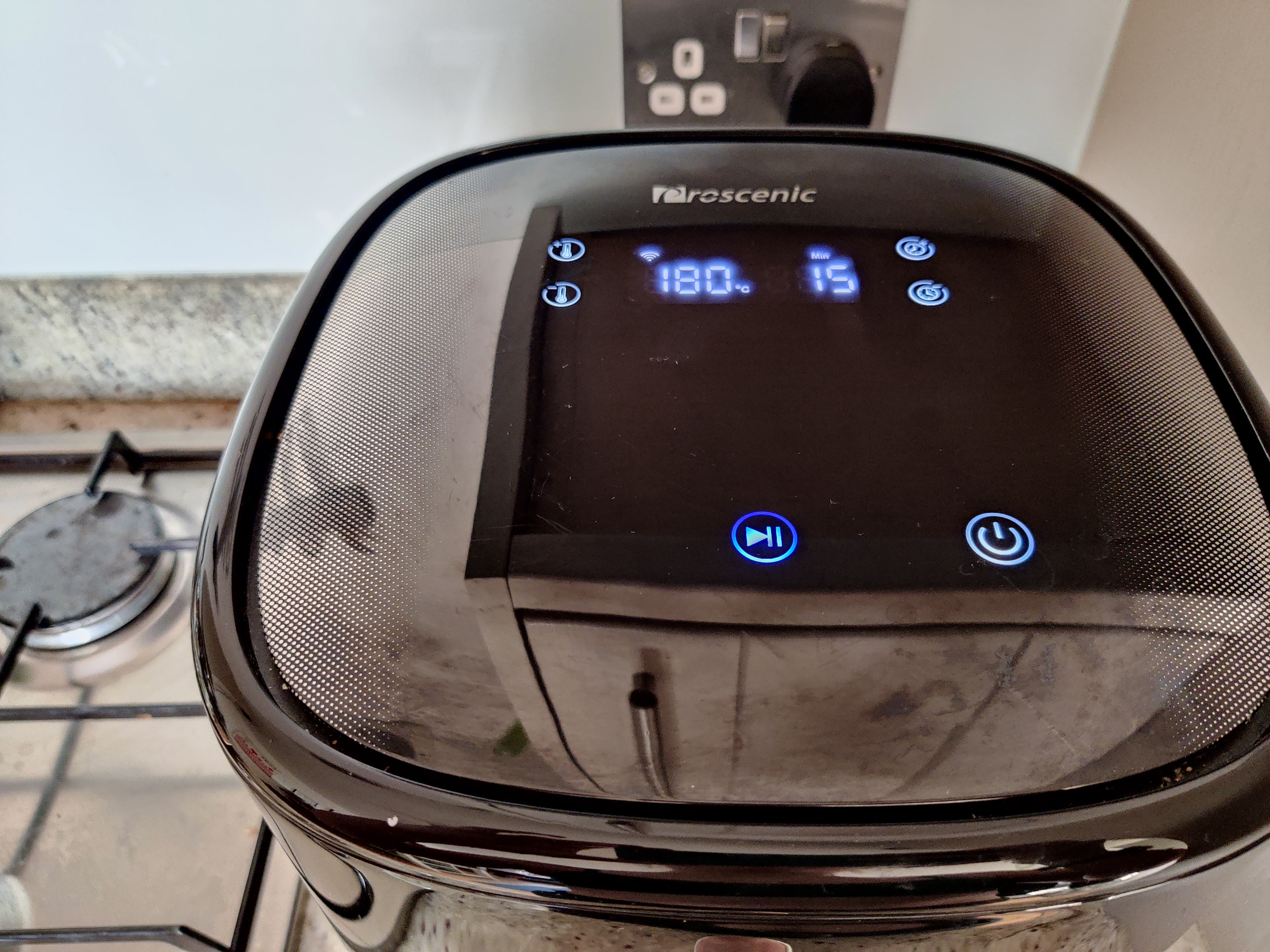 As all great IOT appliances, this air fryer can be connected to an app and controlled remotely using your Wi-Fi connection. It's also compatible with voice assistants like Alexa. This means you can preset a cooking time, start the cooking process, start and stop your food from cooking or change the temperature remotely. While at first I thought it was a gimmick, I now enjoy telling my air fryer to add five minutes of cooking time from the other room. And in case I forget about it, the air fryer sends you a reminder to shake your food halfway through the cooking time.
Proscenic T22 air fryer: Performance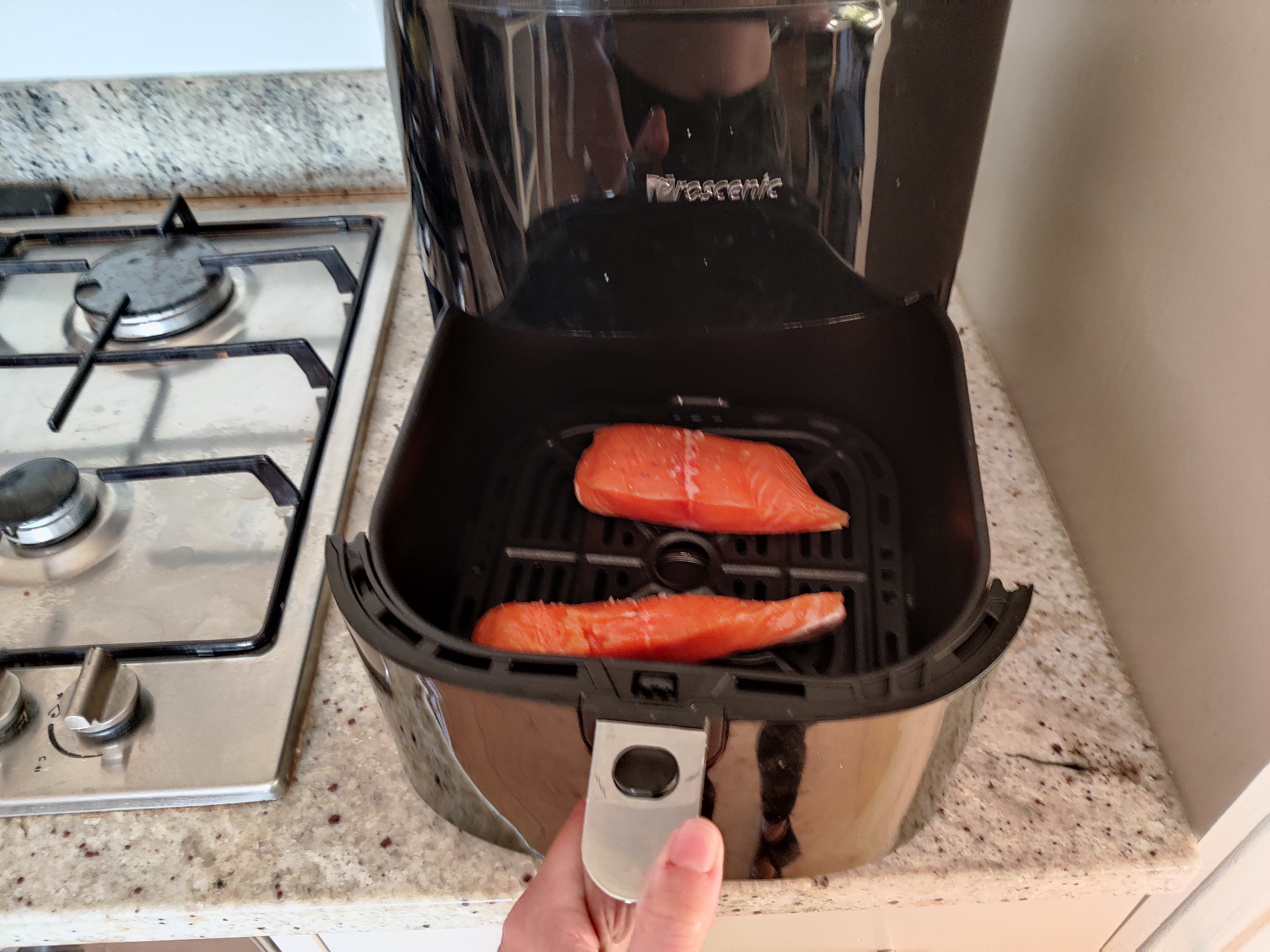 Now for the most important part – how did the air fryer fare in the various tests I subjected it to? 
While it's a really versatile appliance and can do a lot more than you'd expect it to, there are obviously some limits to its superpowers. As with a traditional oven, not all the food will be even cooked and crisp every time. The presets are far from completely accurate, so you'll have to do a bit of experimenting with the cooking times and temperatures at first. 
That said, the Proscenic T22 air fryer is the fastest way I know to whip up a meal. It can cook meat til juicy and tender but somehow crispy and steam or roast vegetables with barely any oil needed.
I tried cooking a pack of eight sausages in the appliance, setting the temperature at 190 and the cooking time at 12 minutes. They came out cooked through, juicy but with a good crispy skin. I never intend on cooking sausages in the oven ever again!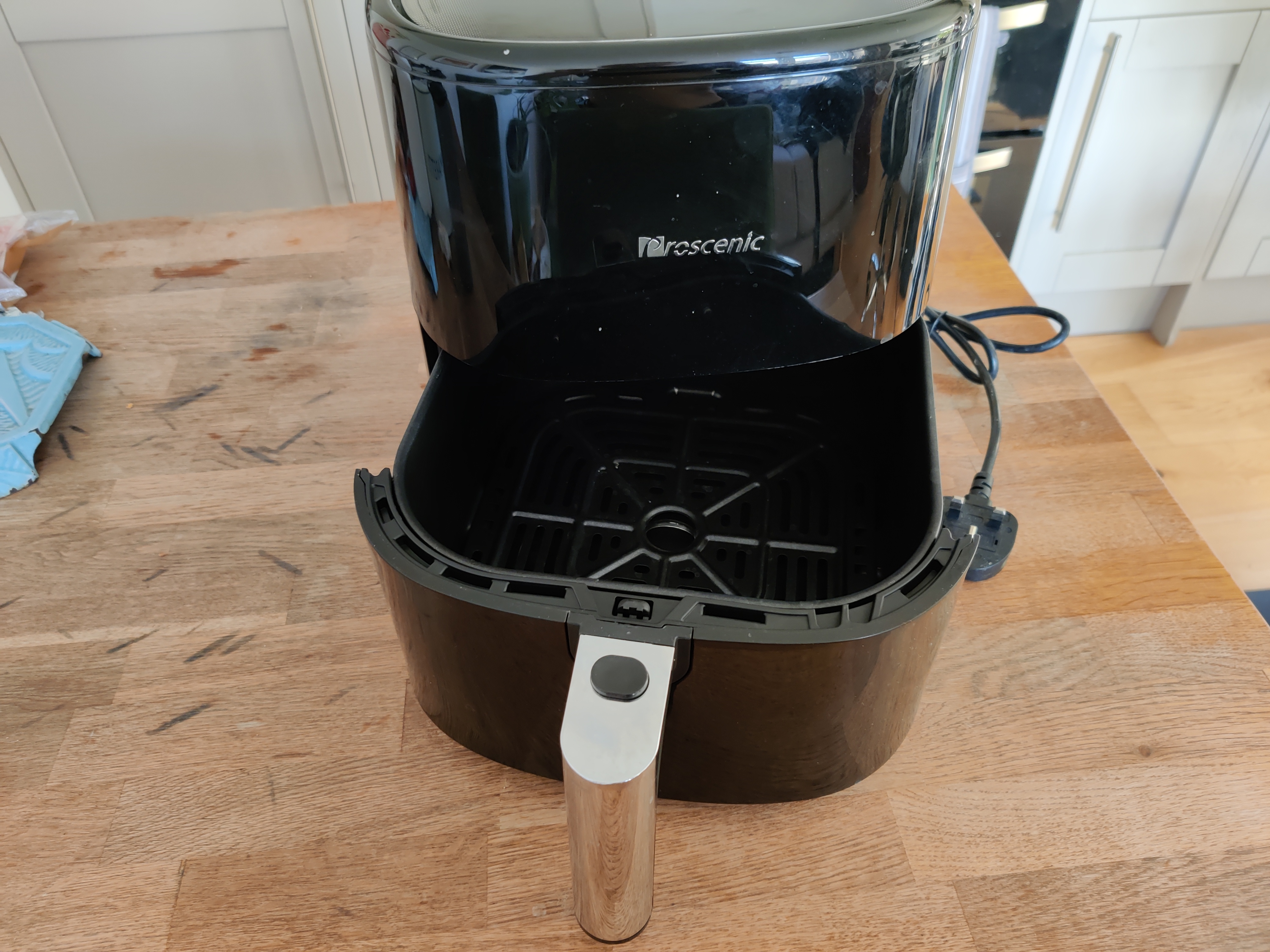 The cooking time for chicken really varies depending on what part of it you're cooking – I find breasts work best, and skin on thighs work well too. Sometimes, it comes out not as crisp as you would like and doesn't look the most appetizing, but I find this with chicken no matter how I cook it.
The vegetable preset is definitely not to be trusted and cannot be applied to all vegetables – they will invariably take longer than 12 minutes to cook (I usually have to do two or three cooking cycles to get them right). However, I've made some incredible honey glazed carrots in the air fryer.
I was surprised to find there isn't a setting for frozen foods, so that requires a bit of guesswork too. However, once you have your preferences nailed, the Proscenic T22 air fryer is a great appliance to use for frozen chips, pizza, nuggets, and more.
Proscenic T22 air fryer: Price and availability
At $129, the Proscenic T22 air fryer isn't the cheapest on the market. And considering the fact it only has one drawer and the presets aren't the most accurate, the price point is perhaps a bit steep. 
However, it's a pretty sleek appliance with app connectivity which performs well and seems so far very durable. Some of the components are also dishwasher safe, which is a huge time saver.
As such, while there may be cheaper alternatives out there, this air fryer has just enough features that it justifies its price tag.
Proscenic T22 air fryer: Verdict
If you're after an appliance to make fuss-free, quick and healthy meals, the Proscenic T22 air fryer is a great contender. With plenty of presets and app connectivity, you'll barely have to think about what you're putting in it before getting a good, hearty meal. The shake reminder also means you can completely clock off and not worry about forgetting your food. 
That said, if you're after complete versatility and an appliance that can cook a whole meal all at once, you're probably better off going for the Ninja Foodi. This can reheat food and pressure cook as well as fry, steam and roast. Some other air fryers also have more than one drawer so you can cook more than one thing at once, which is handy if you are really pressed for time or don't want more washing up to do.