The ASKO 50s Series DBI675IXXLS dishwasher is designed for large families who want a luxury XXL appliance that also delivers on quality and performance.
ASKO might not be a household name but this European brand makes some of the best dishwashers (opens in new tab) in a similar premium style to Bosch and Miele – just cheaper. They create excellent quality appliances, and the fact that they partnered with Sub-Zero and Wolf to distribute their machines in the US speaks volumes. Anyone familiar with these two high-end brands will know they would not put their reputation on the line unless they believed ASKO shared their ethos and commitment to excellence.
ASKO 50s Series DBI675IXXLS: Key specs
Dimensions: 34.7" x 23.7" x 22"
Noise level: 40dBA
Control Location: TopFront 
Capacity: 17 place settings
Cycles: 11
Energy Star certified: Yes
Warranty: Two years plus one year of coverage upon product registration
The ASKO 50s Series DBI675IXXLS dishwasher has an integrated handle and hidden controls, and comes in four different styles so you can match it to your kitchen. It also has a large capacity with 17 place settings, nine spray zones and turbo drying, which is pretty efficient.
It's also Energy Star certified, so is very eco-friendly and water efficient. This dishwasher doesn't come with WiFi or any smart features, which is disappointing given the high price, but if that doesn't bother you, then this is an excellent premium dishwasher that performs very well. In this review, I'll take a deeper dive into the pros and cons of the ASKO 50s Series DBI675IXXLS dishwasher, also looking at design, features, price and user reviews.
ASKO 50s Series DBI675IXXLS: Design
The design of the Asko DBI675IXXLS dishwasher is minimalist and stylish with hidden touch controls, an LED display and bar handle. It's top controlled, a feature I find more user-friendly than front-controlled machines.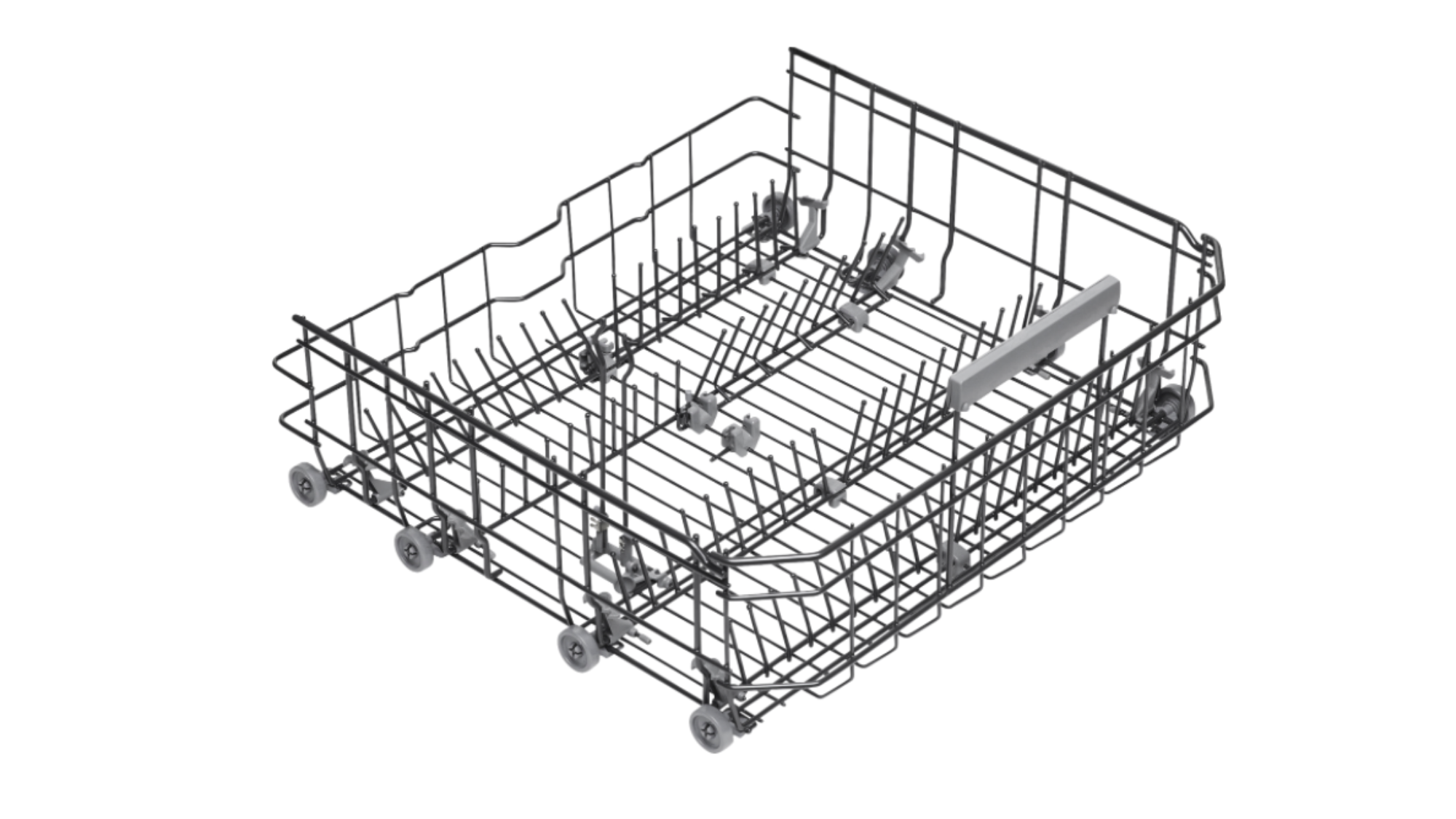 The interior has three racks including an adjustable one that can be raised or lowered to accommodate tall glasses or large crockery, while the top rack is great for cutlery and utensils.
ASKO 50s Series DBI675IXXLS: Features
This dishwasher doesn't come with smart features or WiFi, which is surprising given its high price. But it has a large capacity that big families will appreciate, plus 11 cycles. 
It also features 'TurboDry', an energy-efficient condensation drying system as well as a fan so your dishes come out dry and with less residual water spots. The large interior has deep baskets and lots of space in between shelves. 
There's a third rack for cutlery but it also comes with a free cutlery basket. Interestingly, the third rack isn't as wide as the rest of the dishwasher, which means there's space for tall glasses or larger pots and pans underneath.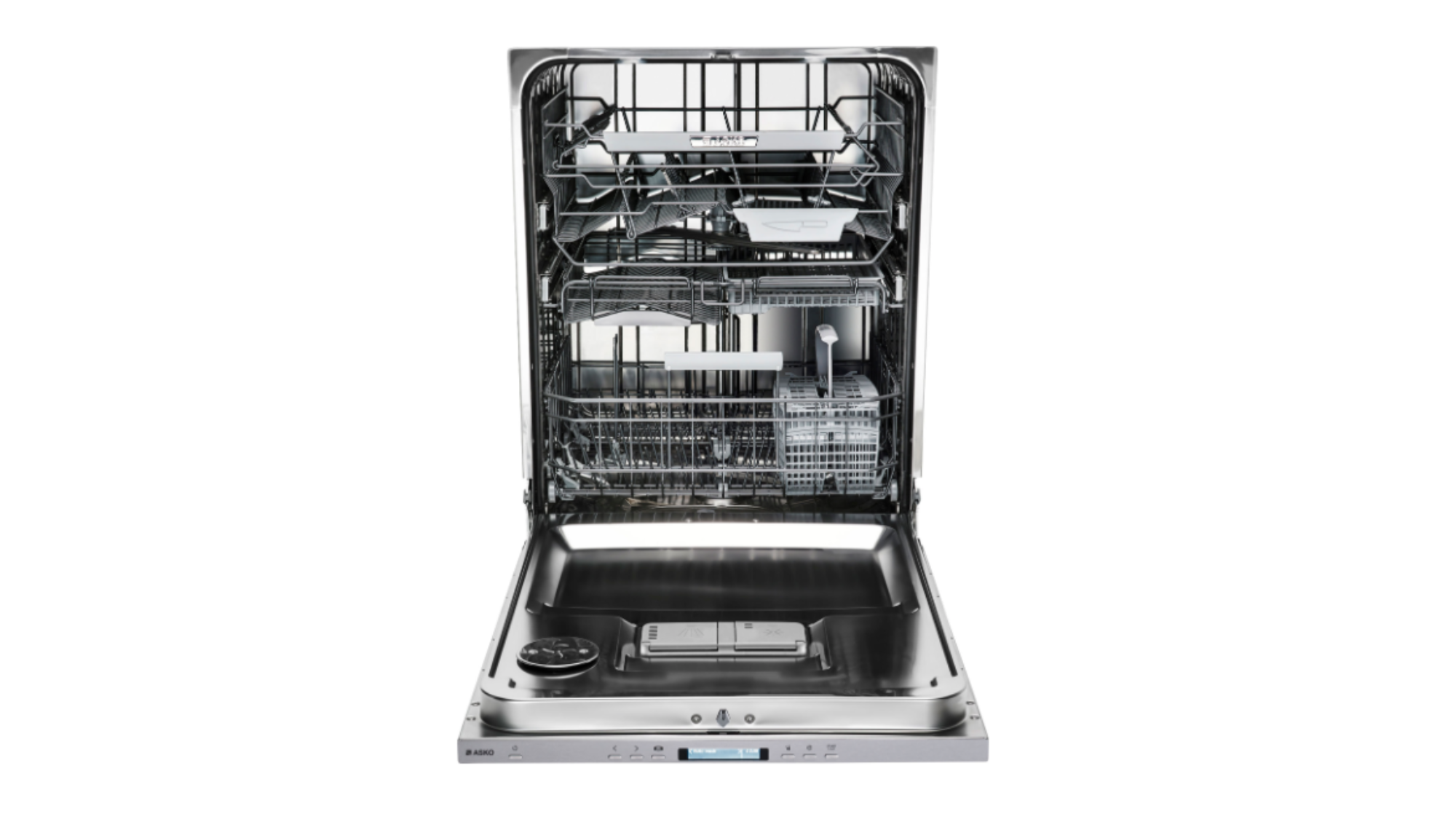 I like how the dishwasher's 'Super Cleaning System' does the pre-rinsing for you saving time, water and effort – and it's very energy efficient due to its Energy Star rating. 
Plus, it's one of the quietist dishwasher at just 40dB so you don't have to wait until nighttime to run it. The 50 Series comes with four LED interior lights to help you get a better overview of the interior.
Because of ASKO's partnership with Sub-Zero and Wolf appliance, it's fairly easy to get replacement parts if you need them, too.
ASKO 50s Series DBI675IXXLS: Price and availability
The ASKO 50s Series DBI675IXXLS dishwasher retails at $1699 / £999, which is definitely on the pricey side. Entry-level dishwashers range from $200 to $500 but these machines are very basic and often only have a couple of wash cycles to choose from.
It is available from the ASKO website as well as AJ Madison and US Appliance. It comes with a decent 2 for 1 warranty (two years warranty plus an extra year if your register your product).
ASKO 50s Series DBI675IXXLS: User reviews
There aren't a huge amount of online reviews for the ASKO 50s Series DBI675IXXLS dishwasher and they tend to be a bit mixed. 
Positive ones praised how quiet and efficient it is, while one review on the AJ Madison website said: "We splurged and it was worth it for the middle rack. It is perfect for bowls and juice cups – it lets us fit more dishes in. 
"I also love the extra pressure spout for washing pans; you put your pans on the back right corner and there is a blast nozzle that does a great job cleaning cooked-on food. I do not rinse my dishes and they come out clean."
Negative reviews on AJ Madison said various parts needed replacing very quickly, despite not much use, while another user said: "Dishes come out dirty all the time and any plastic has to be dried by hand."
ASKO 50s Series DBI675IXXLS: Expert reviews
So who is the ASKO 50s Series DBI675IXXLS designed for? "It's perfect for big families with busy lives and anyone looking to invest in high-quality products that are reliable and self-sufficient. This dishwasher specifically has eco-friendly qualities that help protect your wallet from hefty energy and water bills, while also protecting the planet," says an ASKO spokesperson.
Cleaning expert Joyce French from HomeHow.co.uk (opens in new tab) says: "This dishwasher does all of the pre-rinsing for you, helping to save you a lot of time and effort. The LED interior is very innovative and allows you to see exactly what's going on inside the machine, giving you a good idea of the load.
"The sleek and minimalistic design means that it will go well in a range of spaces, regardless of your chosen décor. The turbo drying is an excellent feature as you don't need to worry about drips on your cutlery and crockery. Instead, the turbo drying fan activates and draws in all of the hot steam. The moisture is removed from the machine before it can cool down and drip on your items. The moisture is condensed and directed back into the filter. This means your items are ready to put away immediately after the wash load is done.
"The machine is also extremely quiet, so you can put your dishwasher load on at any time without worrying about loud noises or disruptions.
The Wide Spray jets and nine spray zones mean that everything comes out perfectly clean. Despite the high price, you get a lot for you money. It's aesthetically pleasing, provides a deep, thorough clean, and it's extremely quiet. It is the perfect machine for the modern household."
The ASKO spokesperson added: "It's also worth noting that this dishwasher will soon be replaced with ASKO's DW60 – coming in May 2023. The DW60 series will be the new generation of premium, connected dishwashers. 
"Some new features being introduced will be Auto-Dose, which allows the washer to self-manage the correct amount of detergent for each cycle, storing detergent for up to 30 days so users only need to fill it once a month. It will also have enhanced sanitizing and cleaning properties along with superior drying settings."
Should you buy the ASKO 50s Series DBI675IXXLS?
The ASKO 50s Series DBI675IXXLS is a high quality dishwasher with a minimalist design and large capacity that would suit big families. It's very eco-friendly and provides a powerful cleaning and drying experience.
It isn't WiFi enabled and is lacking any kind of smart features, but it's very quiet making it a good choice for anyone living in an apartment block or shared accommodation. If it's too big for your needs, we found the HAVA countertop dishwasher (opens in new tab) to be very efficient for its size and price.
How does the ASKO 50s Series DBI675IXXLS compare to competitors?
A similar dishwasher to the ASKO 50 Series, but slightly cheaper, is the Bosch 300 Series SHEM63W55N (opens in new tab). It comes with a ton of wash cycles and is feature-rich, but lacking smart features.
Another high-end dishwasher we love is the LG Signature LUDP8908SN (opens in new tab). Ideal for large households, packed with smart features, it looks slick and will appeal to techies who love state-of-the-art appliances they can control through their phones.
Those on a budget might prefer the Whirlpool WDF520PADM (opens in new tab), a mid-range dishwasher that is ideal for smaller families and couples. It's very quiet, energy efficient and good value for money.