The best drip irrigation systems work by delivering just the right amount of water slowly and precisely to each plant, right where it is needed in the root zone. 
"Drip irrigation systems offer a great alternative to conventional watering methods and work by gradually drip-feeding water directly next to the plant, which allows the water to penetrate the soil right down to the roots.
"This can save up to 70% water consumption compared to standard irrigation systems and promoting plant health by leaving them less susceptible to disease," says Huw Richards, gardening expert and GARDENA's brand ambassador.
"The efficiency of these systems means that they have been, and continue to be, exempt from hosepipe bans due to their water-saving technology. Some systems come with a pressure-equalizing unit and can be further enhanced with smart water controls and soil moisture sensors allowing you to automate your watering by setting a bespoke and water efficient schedule, giving you complete control over how much water is being used.  
"Micro-Drip kits, although not suitable for an entire lawn, are perfect for potted plants, vegetable patches, flower beds and rows of hedges and plants, and can be adapted and changed to suit your individual garden.  
"Smart watering systems are a perfect solution for dedicated and passionate gardeners who want an easier and more sustainable way to keep their garden healthy, especially during hosepipe bans."
We've rounded up some of the best drip irrigation systems available below, complete with key specs, pros and cons and user reviews, to help you make an informed buying decision. And if you're a keen gardener then don't miss our article about 8 easy plants for the garden as well as our guides to the best gas lawn mowers or the best electric lawn mowers.
---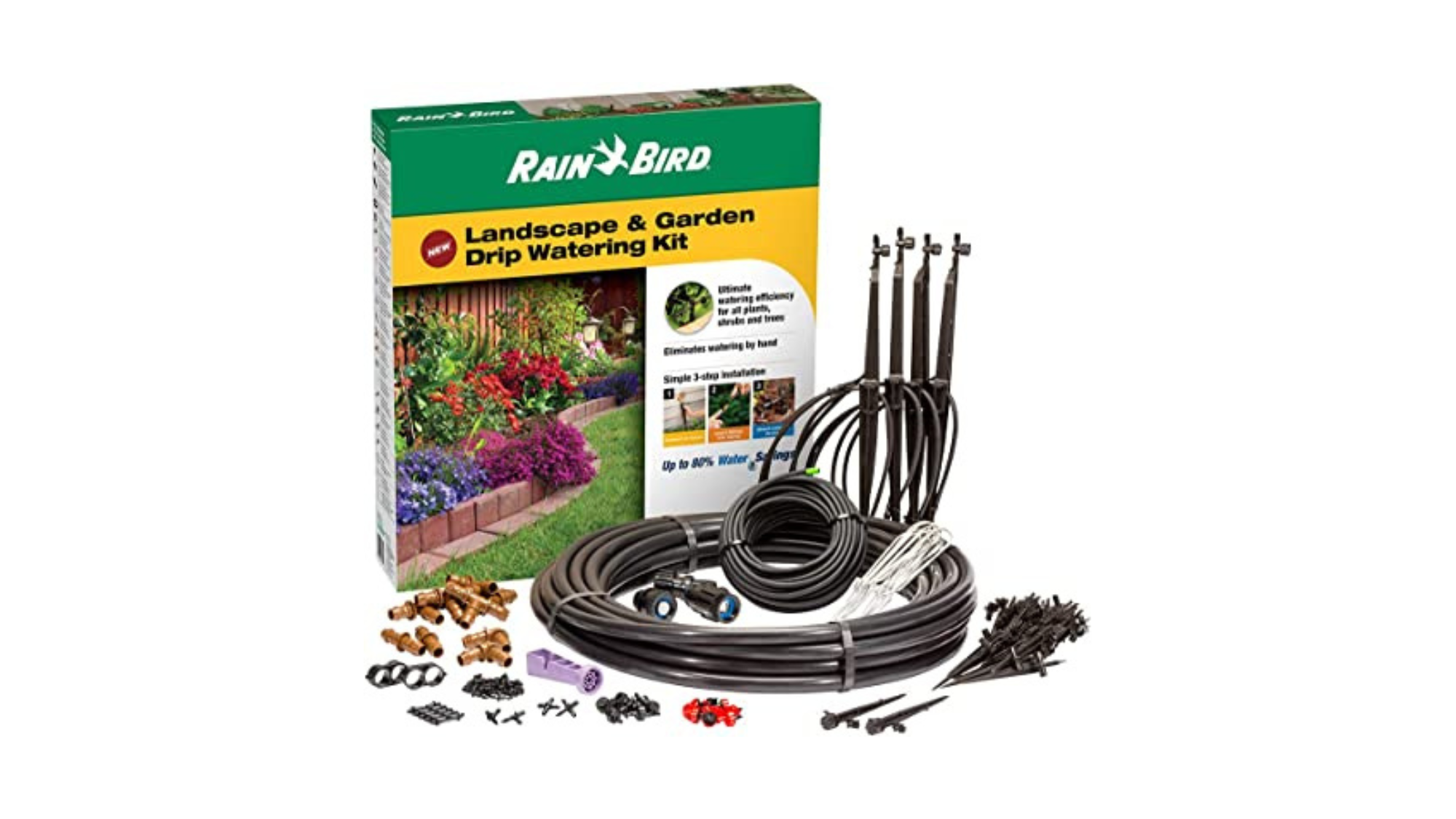 The Rain Bird LNDDRIPKIT Landscape and Garden Drip Watering Kit is a flexible and comprehensive irrigation system ideal for medium sized gardens. It can be used for shrubs, flowerbeds, pots and trees, but you'll need an outdoor faucet to make it work. 
What the users say
The Rain Bird LNDDRIPKIT scores 4.5 out of 5 on Amazon, with 70% users giving the system the full five stars. Fans of the product say it is versatile and effective, with one reviewer saying: "One of the best purchases I have made in a long time." Negative reviews however said it was hard to assemble, with one user saying: "While this system will likely be fine in use – the assembly is at times based on outdated brute strength application. Many of us who want to enjoy the ease of an automatic watering system are doing so because we wish to SAVE labor for other uses." 
This 180-piece kit comes with all the necessary parts and tools you need to create and expand a drip irrigation system. 
It's expensive, especially as it doesn't come with a timer, but has enough parts that you should be able to fix most issues yourself, like tubing breaks, replacing a clogged emitter or simply adjusting the flow for growing plants.
Rain Bird is globally famous for creating high quality drip irrigation systems so while this pack is more pricey than its rivals, you are paying for the reputation, as well as 'pressure-compensating technology' that ensures that all plants receive the same amount of water wherever they are in the tubing run.
---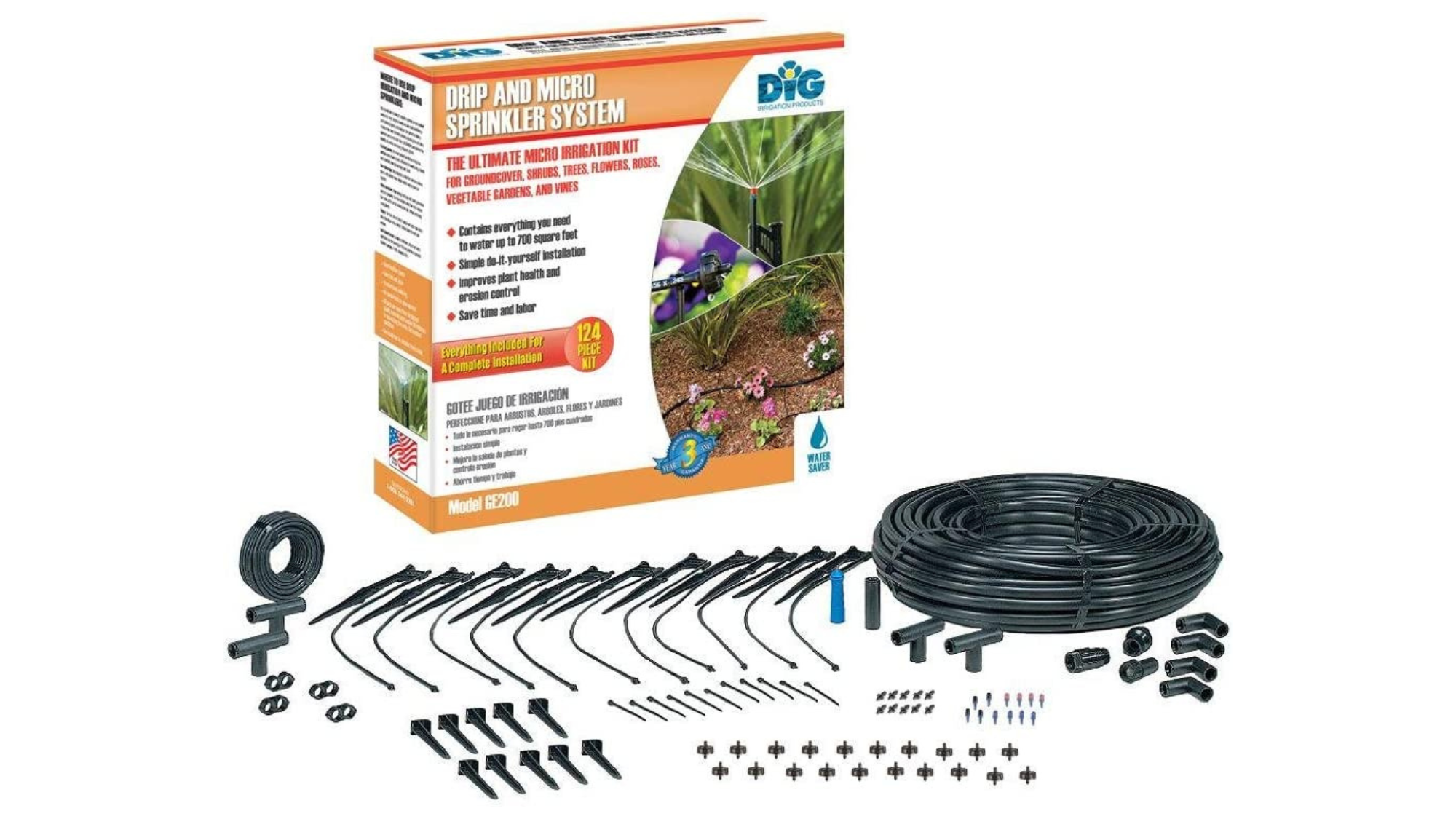 The GE200 Drip & Micro Sprinkler Kit is a great value irrigation and micro sprinkler system that effectively waters plants with minimal wastage.
What the users say
The DIG GE200 Drip and Micro Sprinkler Kit scores 4.3 out of 5 on Amazon, with 59% of users giving it the full five stars. Praise for the product is that it has easy instructions, comes with a lot of parts and it "works beautifully". Negative reviews cited issues with the nozzles breaking after short use and it took a long time to set up.
It is one of DIG's best-selling kits and for good reason – it's affordable, versatile and eco-friendly. The kit contains everything you need to get started, once connected to a faucet or garden hose. 
It can cover up to 700 square feet – and more than 1,000 sq. ft. if you buy extra tubing, sprayers and drip emitters. 
This product combines irrigation with 11 micro sprinklers, which effectively spray water in the upper soil layers where roots develop, and at much lower rates than conventional sprinklers. 
This gives more even coverage for roses, shrubs, flowerbeds, trees and groundcovers, without wasting water. This kit is also a good choice for gardeners with uneven terrain like slopes and hillsides.
Read our DIG Drip and Micro Sprinkler Set mini review.
---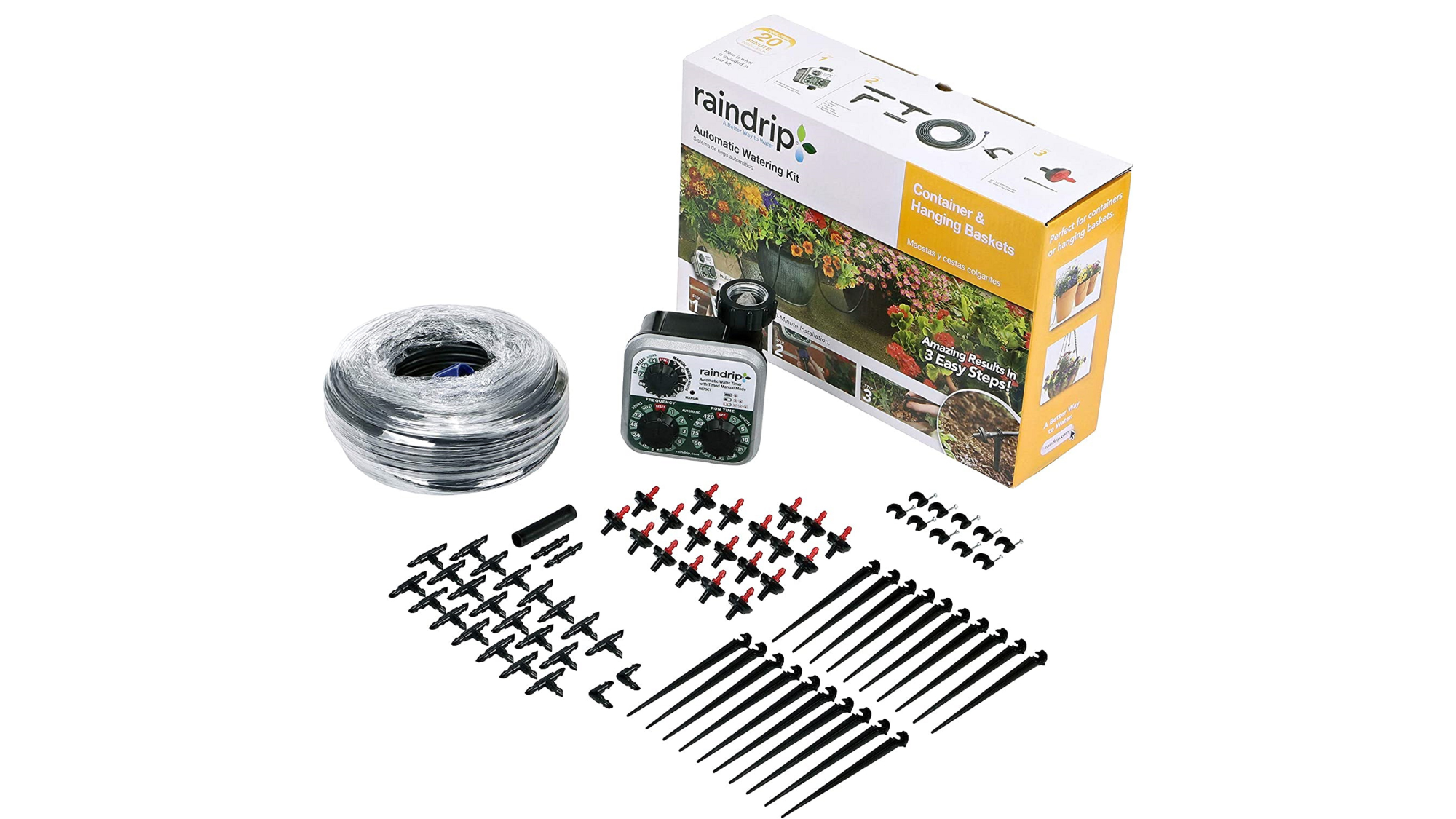 The Raindrip R560DP is an affordable automated watering system for all round treatment of plants.
What the users say
The Raindrip R560DP irrigation drip kit gets a high score on Amazon – 4.3 out of 5, with 64% of users scoring it 5/5. Positive reviews love how easy it is to set up and program. Negative feedback cited issues with the time being unreliable, and some of the components were a bit flimsy. One user said the kit doesn't work with normal house water pressure without the additional purchase of a screw-on 25 psi pressure regulator.
It is simple to set up tool-free and easy to program. Each kit contains all the bits you need for a basic installation, although some reviewers complained that they had to purchase an extra pressure regulator in order for the system to work.
It comes with a timer for automated watering but this needs batteries, which aren't included in the pack. 
The Raindrip R560DP can water up to 20 plants but it is customizable so if you have a larger area to water you can expand the system by buying extra feeder tubes and fittings.
Read our Raindrip R560DR mini review.
---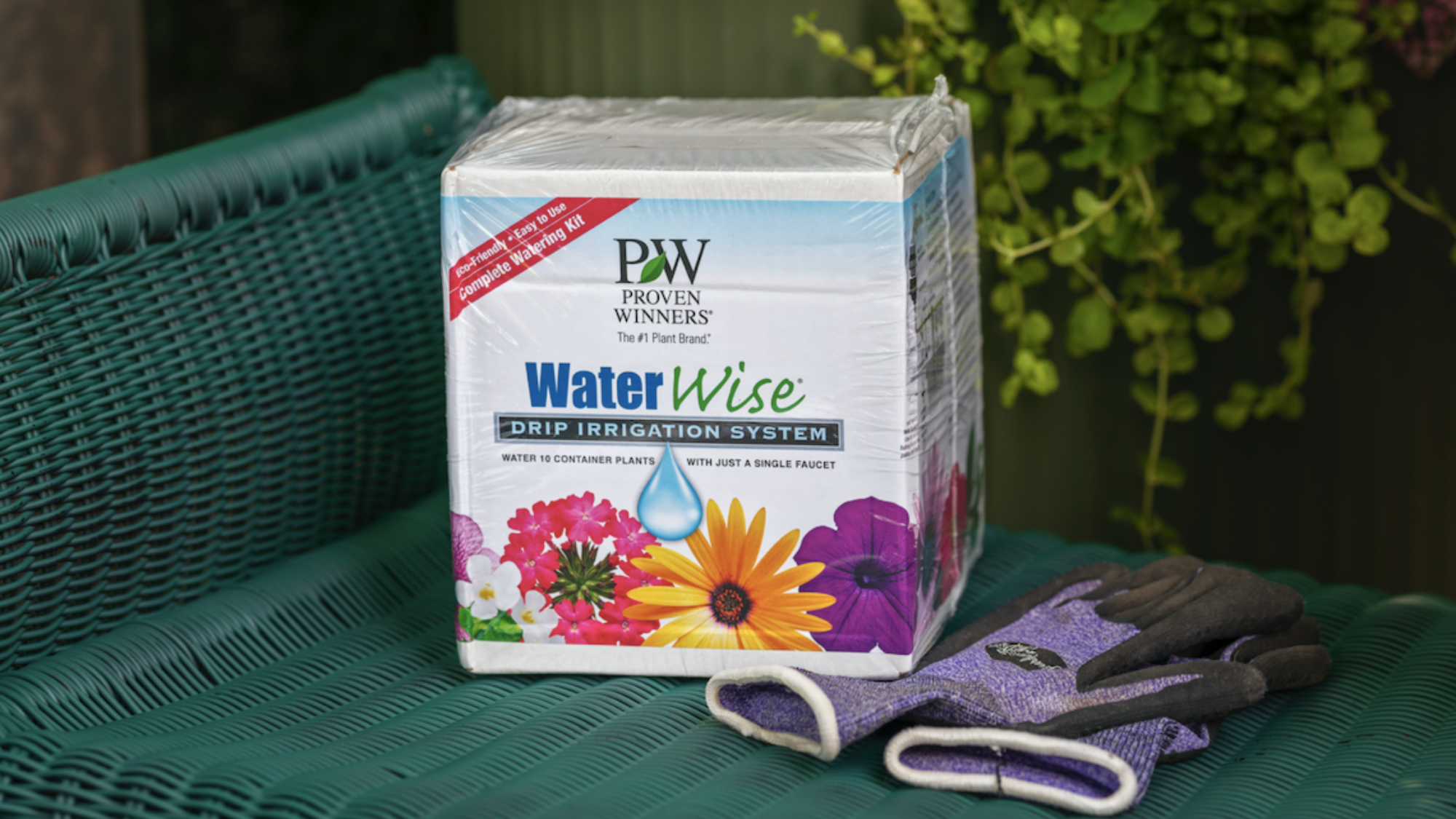 Proven Winners waterwise drip irrigation system is ideal for small gardens and can accommodate up to 10 potted plants from a single faucet. 
What the users say
The Proven Winners WaterWise Drip Irrigation System scores highly on Amazon with 77% of users giving it five stars (average score of 4.5 out of 5). Positive reviews praised how easy it is to install and the price. Negative reviews cited issues with the connections popping off and another user said it was "too complicated to use".
If you have more plants to cover, you can use additional drippers to expand to 30 containers.
It's a comprehensive kit consisting of vinyl tubing, drippers, barbed tees and crosses, nail clamps, a faucet adapter, support stakes and backflow prevention valve. 
The system is easy to use and durable, but it's lacking a timer, which is recommended on the packaging (but not included). Also the narrow ¼" tube is slightly limiting. You can extend with a second kit but you still won't be able to get much water through a small tube, says David Jordan, Senior Irrigation Engineer at Waterwise Solutions.
---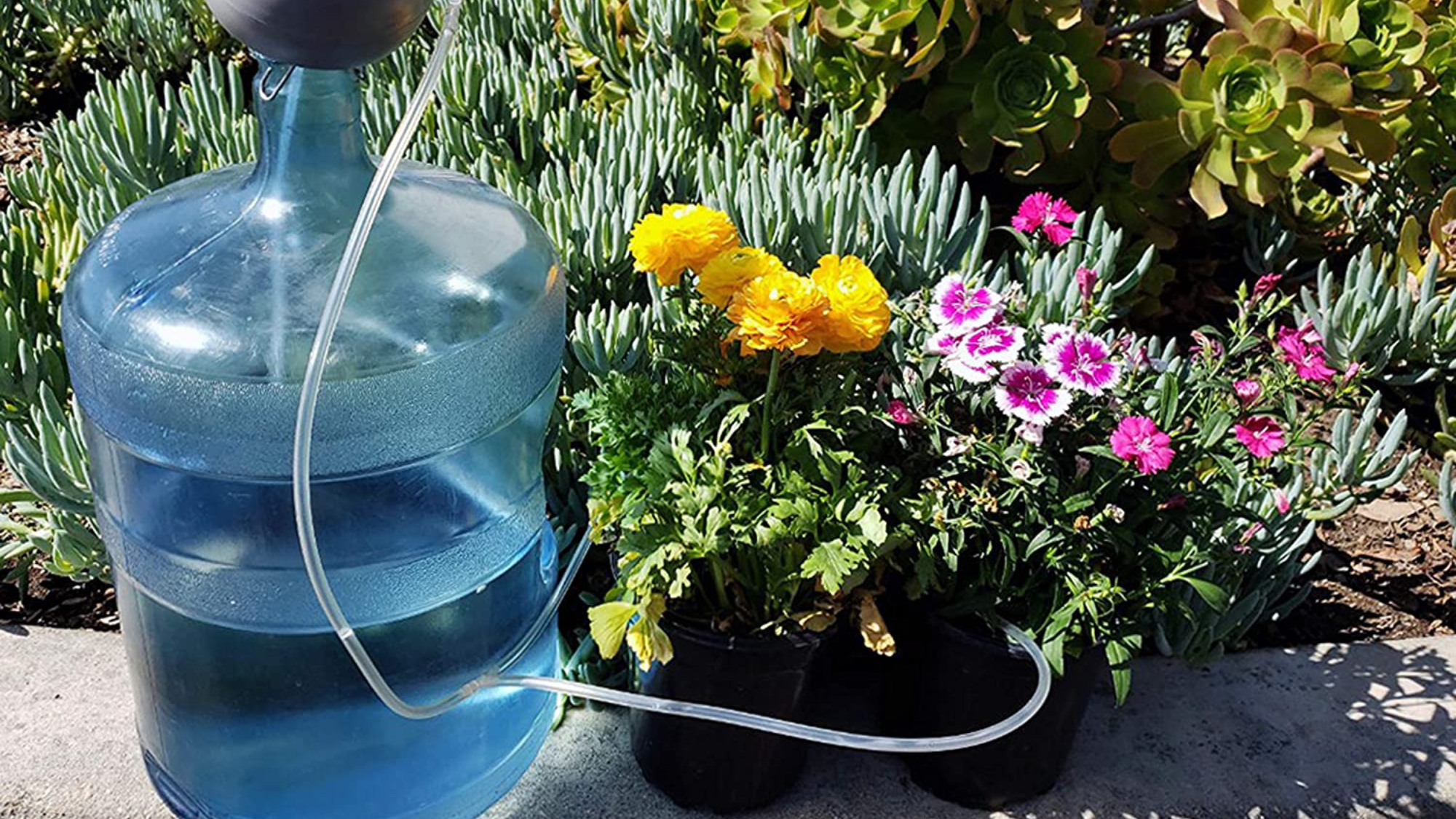 The Instapark automatic watering system is best suited to anyone who doesn't have access to a garden faucet, making it ideal for balconies as well as indoor plants.
What the users say
The Instapark Automatic Watering System scores 4 out of 5 on Amazon, with 55% of users giving it the full five stars. Positive reviews praised the easy set up and useful timer. One user said: "For the price, I expected cheaper materials and manufacturing, but everything seems to be of very high quality. I appreciate the analog controls because they're simple and seem quite durable." Negative reviews complained that the unit needed recharging weekly. 
It's easy to use, and while some of the components look a bit flimsy they are actually more durable than they look. The watering system charges via micro-USB port and there's USB-to-USB cord included.
If you want to charge it from a wall socket, you will need to dig out your own USB to wall socket converter (or an old microUSB phone charger).
The product uses a vacuum pump, which has more potential to go wrong, and if you have a larger garden you'll need more connections and stakes to expand the network. But overall this is a decent and affordable starter kit for anyone new to irrigation systems.
---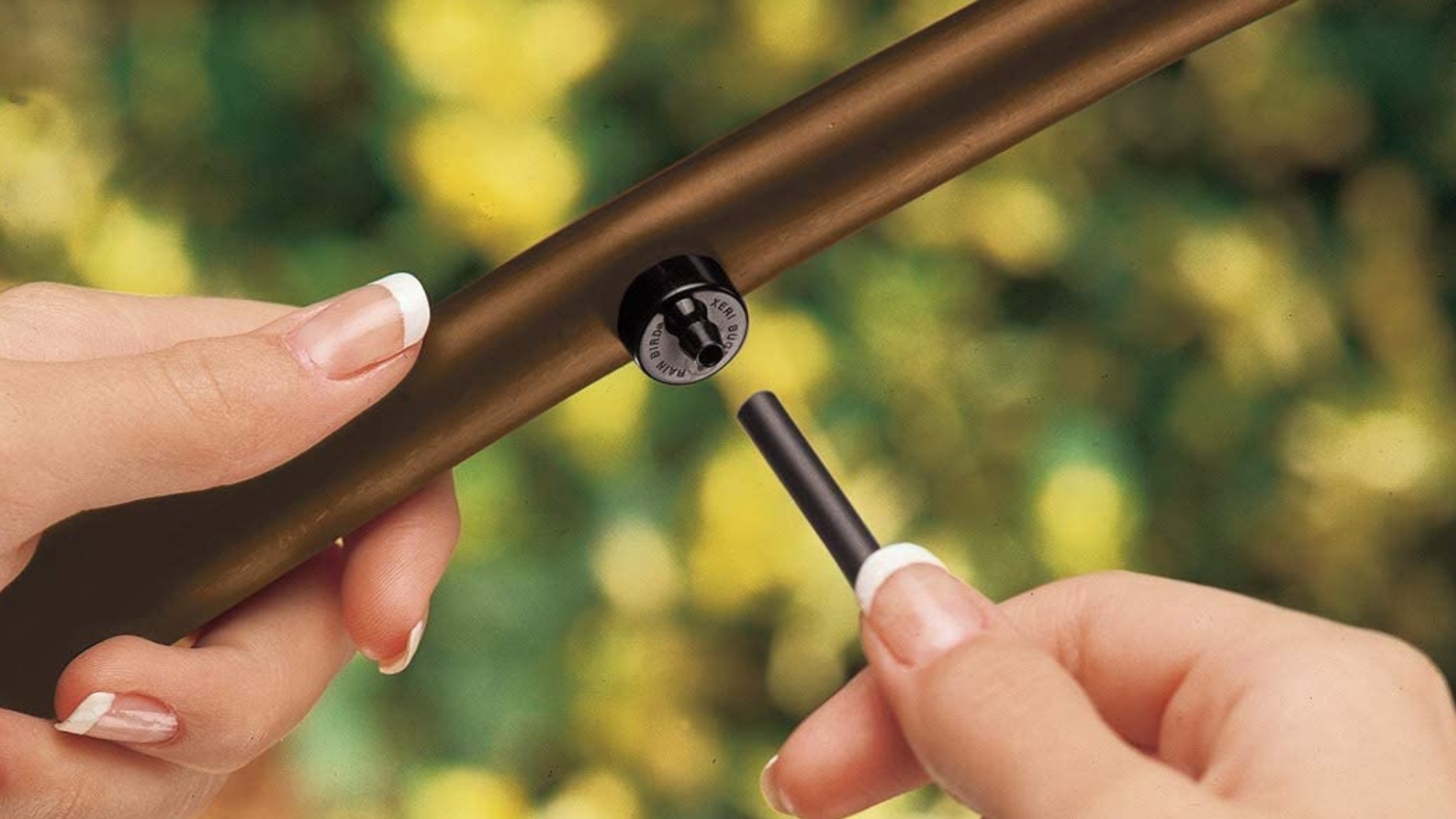 What should you look for in a drip irrigation system?

Why you can trust Top Ten Reviews
Our expert reviewers spend hours testing and comparing products and services so you can choose the best for you. Find out more about how we test.
"Drip irrigation is a gentle, slow, and very water-efficient way of watering your plot. In its simplest form it works with a perforated 'soaker' hose connected to your tap, when the water is turned on it 'leaks' water very slowly along its length providing moisture to your plants," says Morris Hankinson, founder and managing director at Hopes Grove Nurseries.
"The holes are microscopic and so water does not spray out, it just leaks very slowly – almost like beads of sweat along its length. They certainly make a great solution for watering a new hedge. The biggest disadvantage is that it's not suited to containers, window boxes and hanging baskets – the things that need the most watering when the weather is warm.
"This is where the more refined types of drip irrigation come in. There are very many different types of spaghetti leads, emitters and sprayers. Different types are suited to different situations, such as hanging baskets or flower borders. They are all connected to a 'main' (usually hose-pipe sized) that joins up all the areas you need to water and terminate in a tap fitting so the system can be turned on. 
"The next natural progression would be an automatic timer so that you don't need to remember to water (or if you are away on vacation). And the level after that would be a small weather station that monitors sunshine, temperature and humidity and adjusts the amount and frequency of water applied."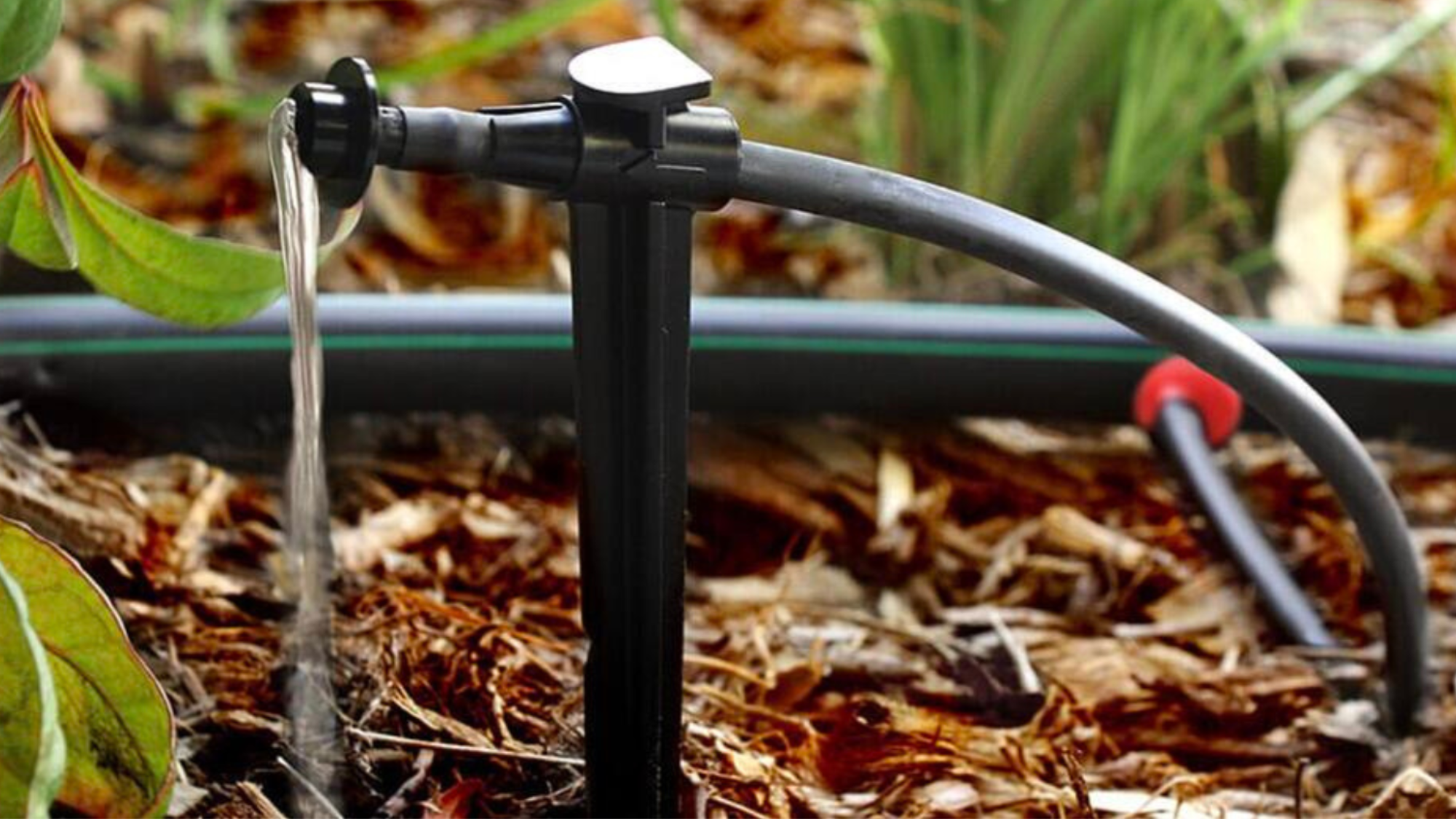 Why do you need a drip irrigation system?
There are a few different reasons why you need a drip irrigation system, says Hankinson:
Time saving 
"Our busy lives don't always allow for watering the garden every day in the summer. When combined with an automatic timer it is definitely a regular and mundane job saved!
Water saving 
"Drip irrigation makes for a massive reduction in the water needed to keep your plants flourishing. Hardly anything is lost to evaporation."
Great for more inaccessible plants 
"High level hanging baskets and window boxes would be a prime example of when a drip irrigation system is most useful.
Flexibility 
"You can water when it suits, even in the middle of the hottest day without danger of scorching foliage. Water is delivered directly to the root system."
But not all drip irrigation systems are created equal, warns Hankinson. "It's important to buy good quality fittings, as poorly made ones can fail or leak early on, or even break when you are setting your system up.
"Drain your system down if hard frost is forecast. Like domestic plumbing the pipes will burst if ice forms inside and it's a real bind to replace it all! This is normally as easy as disconnecting from the water source, and removing the bung at the other end so that any water in the system is released.
"Keep your system as simple as you can as unnecessarily complicated things often break. And don't water plants in the ground every day – it will cause your plant roots to develop close to the soil surface for their daily hydration fix. If the system fails, the plants will not be drought resilient. Give them a good soak, but only once a week.
"Also don't forget to turn it off. If you don't use a timer on your tap – then, please don't forget to turn it off. If it's on for the whole week because you forget, then it could turn your garden into a swamp (in a slow and controlled way you may not notice for a while) and add $40-$100 a week to your water bill!"
"I am a big fan of drip irrigation systems, but there are times when they might not be useful – particularly if you have a lot of small plants or seedlings as it makes it too fiddly to connect them all up to drippers. You would certainly be faster grabbing the watering can! And while much water is saved using drip irrigation because evaporation is reduced, some plants (such as Fuchsias and Hosta) really appreciate a misting over their leaves."