Let's face it, yard maintenance can be a right faff. If you're tired of toiling away at the weekends just to keep on top of your to-do list, you may be looking for a little help. The best electric lawn edgers allow you to achieve a manicured look without the hassle. They're a convenient solution for your landscaping needs. 
Don't be fooled by the name, these nifty tools can tackle more than just your lawn. They enable you to define crisp edges, whether that's along lawns, sidewalks, driveways, or flower beds. Those finishing touches make all the difference. Plus, the grass really is greener with an electric lawn edger. Sculpting boundaries can enhance the health of your lawn, allowing excess water to drain. 
Compared to a manual lawn edger, an electric model helps you fast-track your way to a pristine finish. It's the perfect solution if you don't fancy sweating it out and would rather spend your time relaxing in the garden. Unlike a gas model, you don't have the hassle of maintaining and refueling it.
When shopping for one of the best electric lawn edgers, you can take your pick from corded and cordless models. With a cordless device, you're free to roam around the yard without worrying about wires snagging on flower beds or other obstacles. On the other hand, corded models are a safe bet if you want a bargain buy and have a nearby power outlet.
Undecided about whether an electric lawn edger is right for you? If you're a traditionalist, you may be persuaded by a manual model. But if only maximum power will satisfy, check out our guide to the best gas lawn edgers. 
Best electric lawn edgers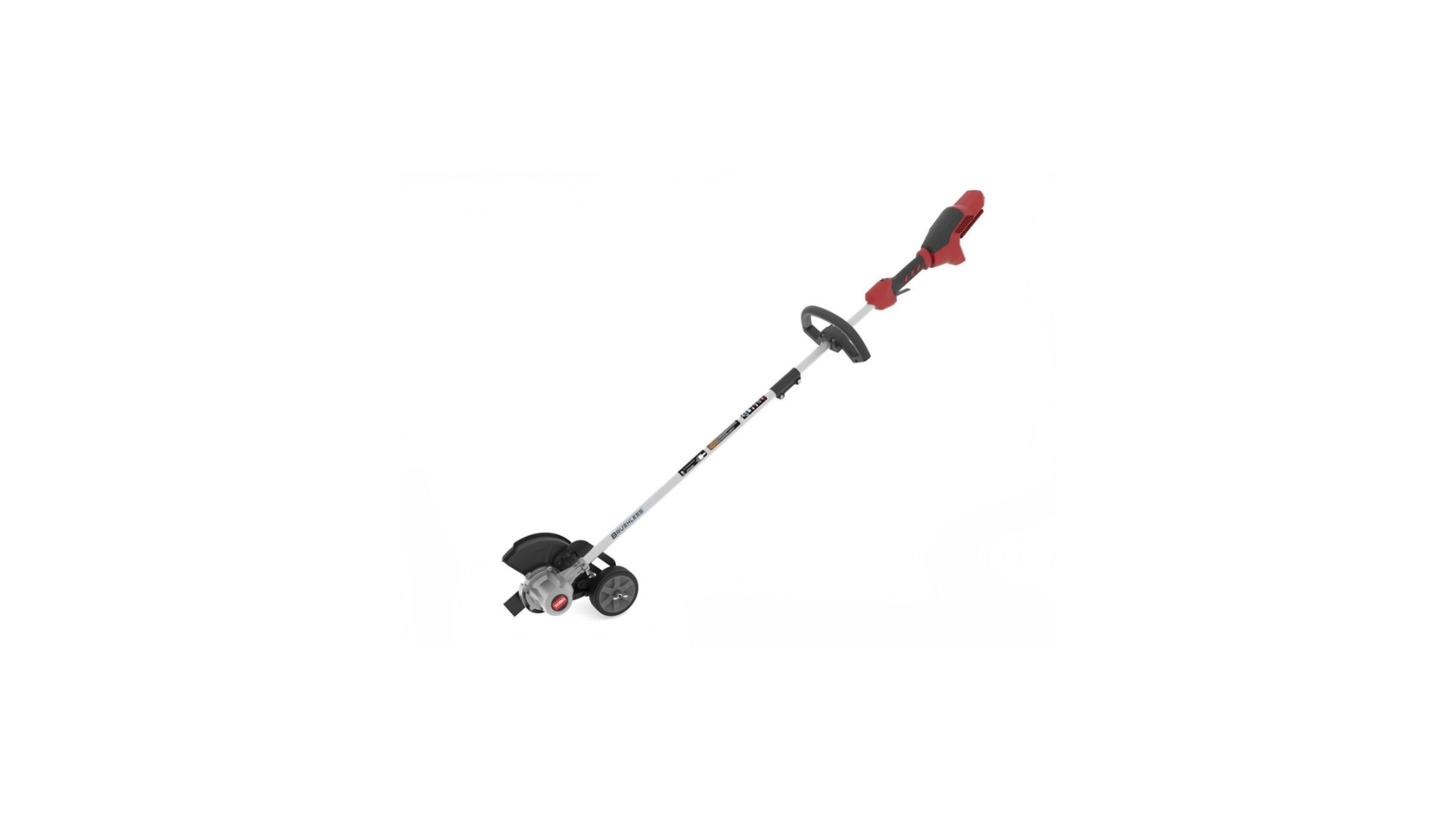 Looking to supercharge your way to a flawless finish? Look no further than the Toro 60v Max Cordless Electric Lawn Edger. Armed with a 60-volt battery and 3-phase brushless motor, this model helps you power through all your landscaping jobs. Plus, the sturdy build quality means you don't need to worry about accidentally bumping into concrete.
What the users say…
The Toro 60v Max Cordless Electric Lawn Edger scores 4.7 out of 5 with 194 reviews on Home Depot. An impressive 95% of customers recommend this product. The cutting performance is a winner, with people raving about the professional finish.
The main drawback is that it's on the heavy side and can be cumbersome to use. A few reviewers mention it's a learning curve, but you'll be rewarded once you get the hang of it.
The Toro 60v Max Cordless Electric Lawn Edger stands out with its stellar cutting performance. Overgrown edges are no match for the 8-inch carbon steel blade. You benefit from high-end features like the RunSmart onboard intel, which automatically adjusts the power according to the task. This clever tech gives you a boost when needed and conserves battery when you switch to lighter tasks. The variable speed trigger puts you in control. 
At $299.00, the Toro 60v Max Cordless Electric Lawn Edger is a splurge, though you'll be pleased to know the price includes the battery and charger. It may be worth the investment if you want a cutting-edge device. 
---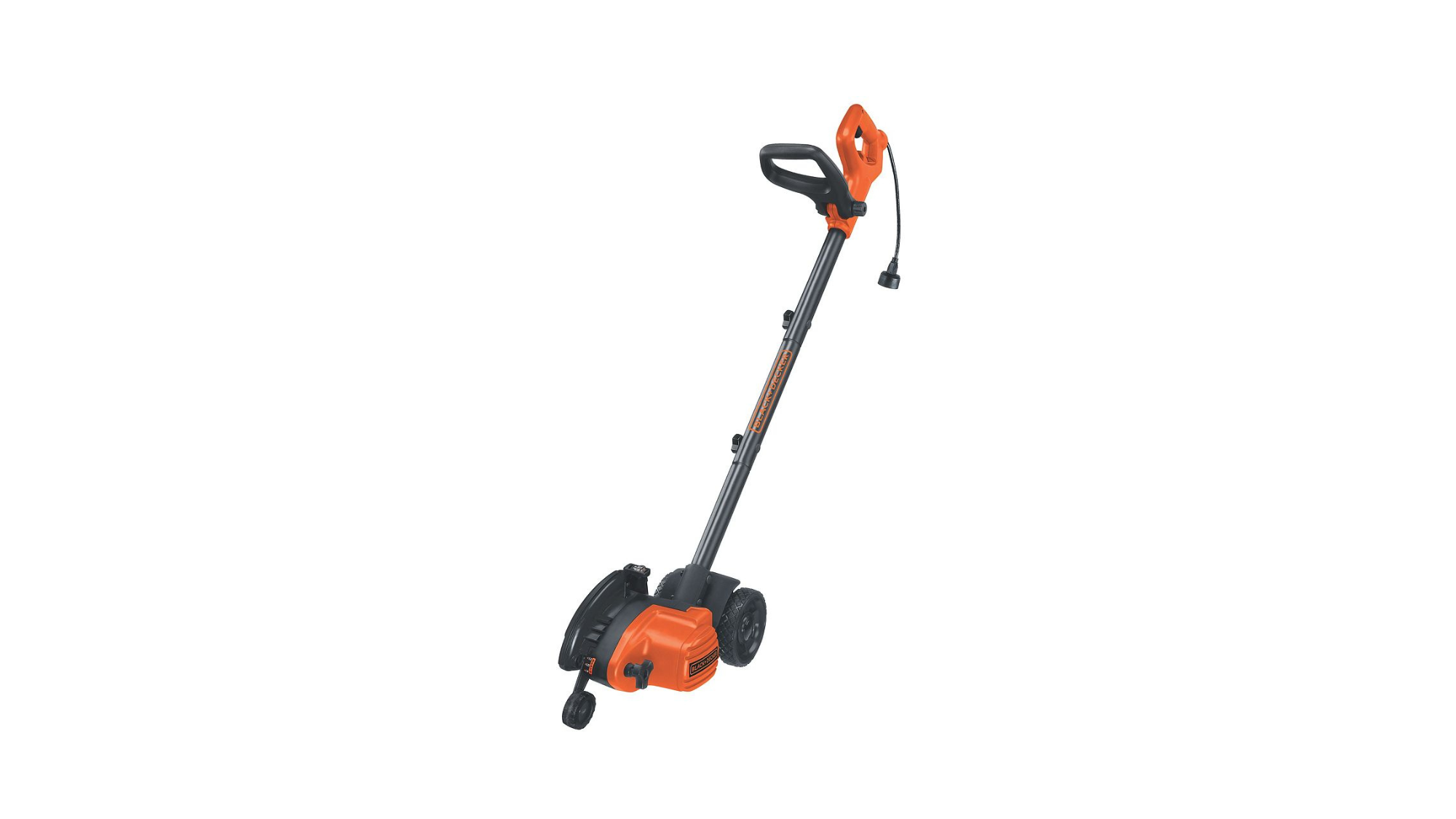 The Black + Decker Edge Hog 2-in-1 Lawn Edger & Trencher does double duty, serving as both an edger and a trencher. It certainly earns its place in your garden shed – a great choice if storage space is at a premium.
The main draw of the Black + Decker Edge Hog 2-in-1 Lawn Edger & Trencher is its versatility. Whether you want to spruce up the edges along sidewalks, driveways, and lawns, or you're digging out flower beds, this trusty tool has your back. Thanks to the nifty pull-up edge guide, you can quickly convert it into a trencher, allowing you to tackle jobs like installing outdoor lighting. 
What the users say…
The Black + Decker Edge Hog 2-in-1 Lawn Edger & Trencher scores 4.5 out of 5 with 4379 reviews on Amazon. Customers are impressed that it makes short work of trenching and delivers clean results, even with neglected edges.
The negatives? A few reviewers mention the blade guard snags on overgrown grass. A couple report that it can be tricky to balance. Yet overall, customers feel that this edger is well-built. 
If you're left-handed, you're in luck. The thoughtful design of this model enables ambidextrous use. Other clever features include the cord retention system to minimize the chance of the plug coming out. Plus, the serrated blade offers extra grip.
The handle is a pistol grip rather than a traditional T shape which may not be to everyone's taste. That said, you get plenty of bang for your buck with this dual-purpose tool, which will set you back just $139.99.
---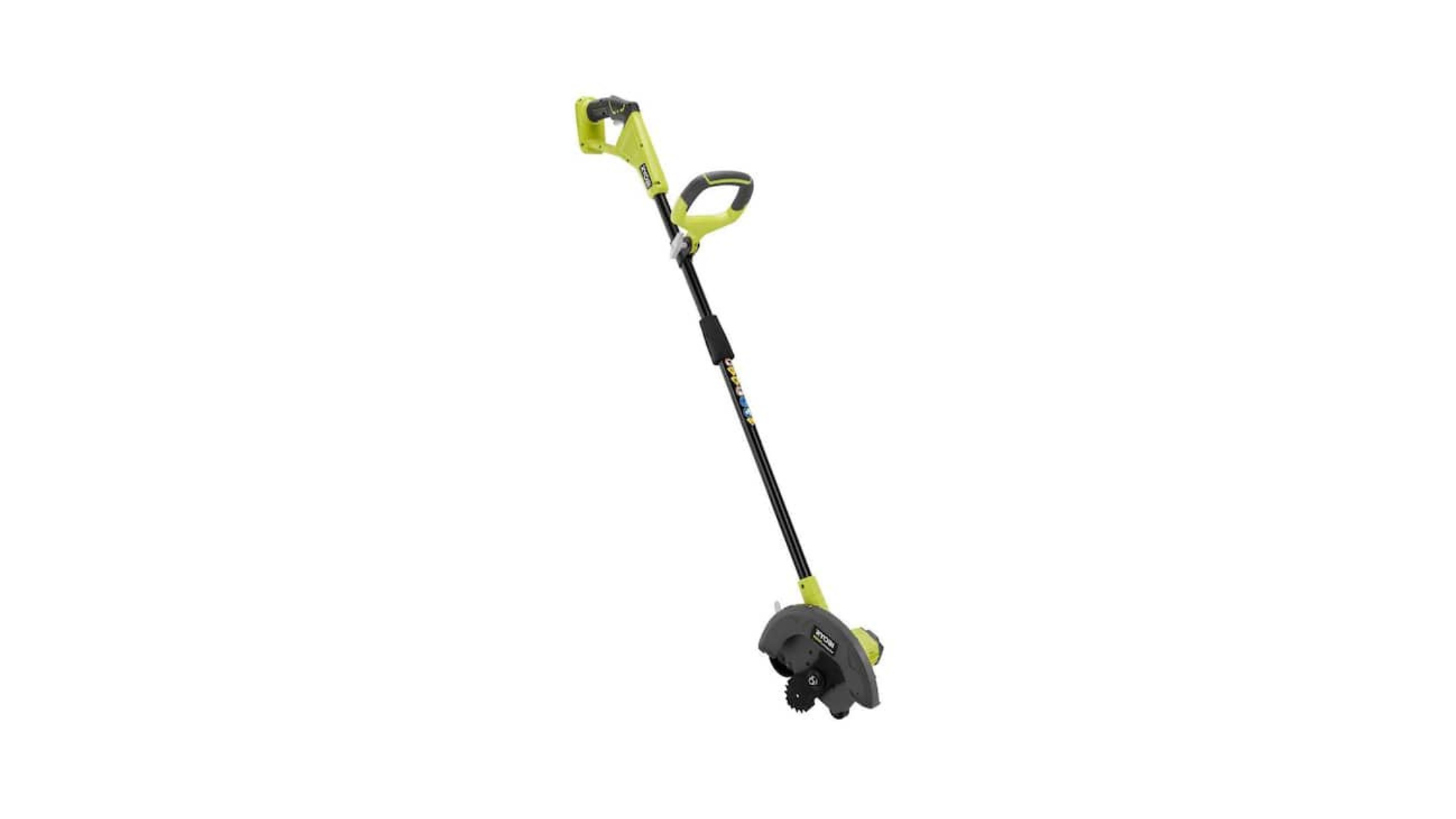 Let's face it, equipped with the wrong tools, edging can be a chore. But with the Ryobi ONE+ Cordless Battery Edger, you can sculpt defined edges without breaking into a sweat. Weighing in at 8.2 Ib, this lightweight model makes edging a doddle. After all, the last thing you want is to lug an unwieldy tool across the yard. It's a superb choice if you experience back pain or mobility issues.
What the users say…
The Ryobi ONE+ Cordless Battery Edger scores 4.1 out of 5 with 5161 reviews on Home Depot. People rave about the ease of use, with the lightweight design taking the chore out of edging. 
The main criticism is that it uses up power quickly, so you may need to recharge the battery more frequently. One reviewer comments they wished they made a 40V version. 
Ryobi is known for its innovative battery-powered tools. The ONE+ Cordless Battery Edger is no exception. Thanks to the fuss-free cordless design and the battery-powered operation, it makes short work of neatening up the lawn and giving boundaries an edge. 
Our main qualm is the battery life. You may run out of juice quickly with tough jobs that drain the battery. It may not be the best choice for tackling tough overgrowth or a large plot. But if you simply want to keep on top of small jobs, the Ryobi ONE+ is more than enough. It offers decent value for money at $139.00.
---
If you're new to electric edgers, they can be intimidating. The DeWalt 20v cordless battery-powered lawn edger is easy-to-use, perfect for beginners. The nifty edge guide helps you nail a precise finish. Plus, you can adjust the depth to your liking with a simple lever. 
The DeWalt 20v cordless battery-powered lawn edger is built to last. The edge guide protects the blade from wear and tear from concrete, maximizing its longevity. The brushless motor promises longer runtimes and an extended lifespan. If that wasn't enough, it's backed by a 3-year warranty to give you peace of mind. 
What the users say…
The DeWalt 20V cordless battery-powered lawn edger scores 3.6 out of 5 with 155 reviews on Home Depot. Many praise the comfort, with one reviewer describing it as "a pleasure to use." People are also impressed with the effortless operation, making edging a breeze.
The main criticism is that it bogs down in tough conditions. In this scenario, users recommend incrementally increasing the depth for best results. A handful of users report the assembly is tricky and requires force.
Comfort is essential in any tool, and this electric edger doesn't disappoint. The adjustable handle can be adapted to suit your body type. It's small, lightweight, and easy to handle, taking the chore out of yard work. 
At $189.00, the DeWalt 20v cordless battery-powered lawn edger falls into the more expensive bracket, especially when you factor in that it doesn't include a battery. But it may be worth it for the confidence boost. 
---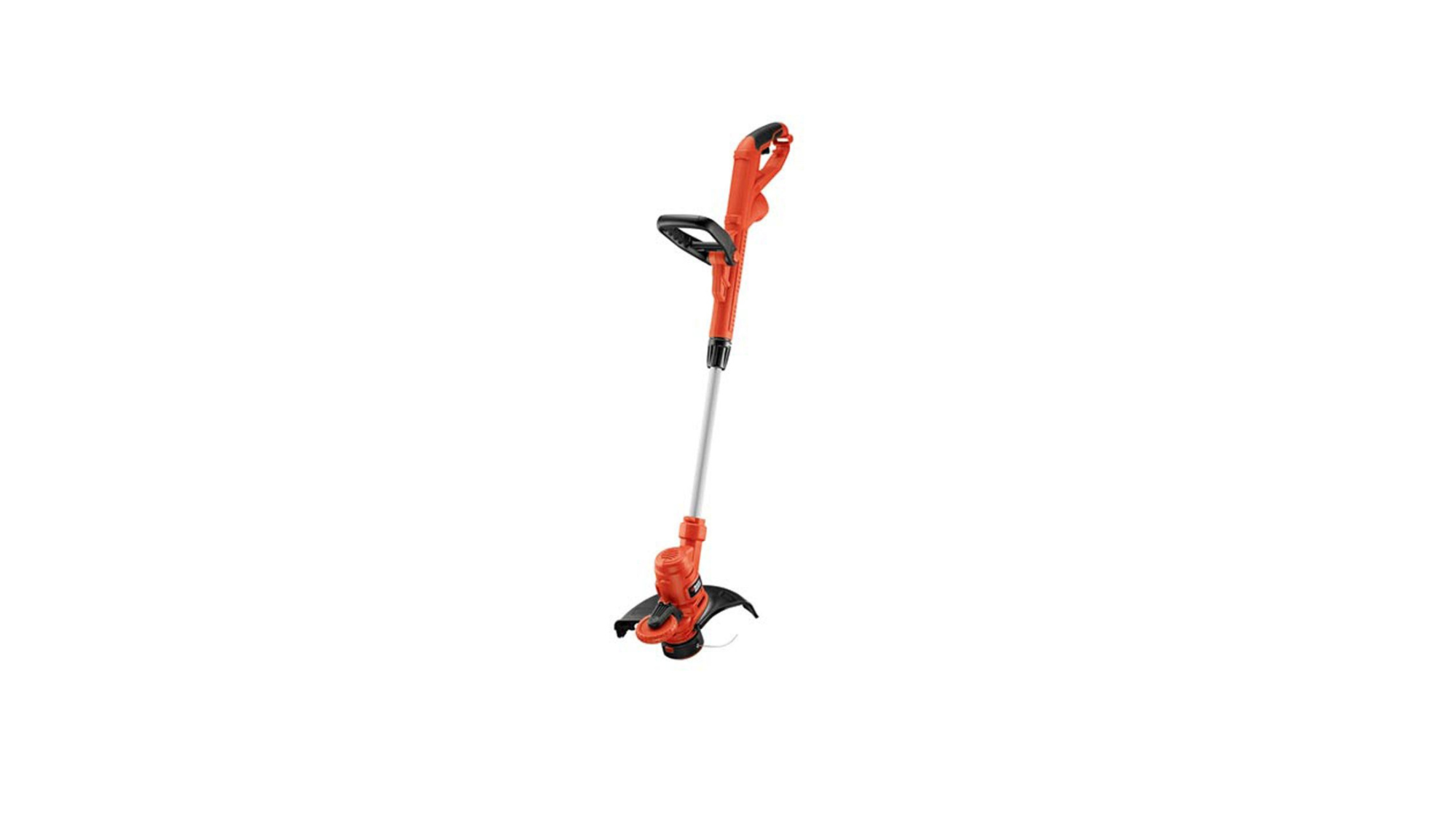 If you don't fancy forking out for a premium model, the Black + Decker Corded 2-in-1 String Trimmer & Lawn Edger could well be for you. At a mere $99.00, this tool is perfect for cost-conscious buyers. While it doesn't come with all the bells and whistles of a luxury model, the adjustable handle is a nice touch for added comfort. 
This lawn edger doubles up as a string trimmer enabling you to tackle a variety of garden tasks. Whether you're looking to neaten your driveway or eliminate pesky weeds, this versatile tool gives you a helping hand. Plus, this dual-purpose device saves on storage space.
What the users say…
The Black + Decker Corded 2-in-1 String Trimmer & Lawn Edger scores 4 out of 5 with 2652 reviews on Home Depot. People love that it's lightweight and easy to use. Many are pleased with the bargain price.
As for the downsides, a few customers complain about spooling defects, resulting in the device using lots of string. A couple of reviewers suggest it's vital to take care when winding the twine, or it can result in flying debris.  
The Black + Decker Corded 2-in-1 String Trimmer & Lawn Edger is perfect for tackling those hard-to-reach areas missed by your lawnmower. The Smart Edge mode enhances precision for a polished finish.
This corded model is best suited to spaces with easy access to a power outlet. Be aware that the plug doesn't fit into all outdoor extension cords – it's worth checking compatibility before you commit. 
---
Considerations when buying an electric lawn edger
What should you look for in an electric edger?
Why you can trust Top Ten Reviews
Our expert reviewers spend hours testing and comparing products and services so you can choose the best for you. Find out more about how we test.
Electric lawn edgers offer a convenient way to keep on top of lawn maintenance. But picking the right one for you can be confusing. Here are our pointers.
Fit for purpose
First up, consider what you want the tool for. What is appropriate for your needs? A no-frills device may be sufficient if you simply want to neaten up a small area. But when tackling tough conditions, it's worth investing in something more heavy-duty. User reviews are a good indication of whether the tool would suit your scenario. 
Some edgers are multi-purpose. These 2-in-1 tools can save you money if you require both.
Cordless vs. corded
A quick way to narrow your options is to choose between cordless and corded models. The difference? Cordless models offer the ultimate convenience, ideal for larger plots. 
On the other hand, corded models are a more budget-friendly option. The trade-off is they can be more cumbersome to operate, especially if your yard is full of obstacles.
Tempted by cordless? Remember to check the battery life and the charging time to avoid running out of juice. 
If you opt for corded, consider where you will plug it in and whether the cord length is sufficient. 
Performance
The performance of your lawn edger is an essential consideration. Several factors play a role. Typically, a higher voltage tool indicates it's more powerful, though that's not always the case. 
The type of motor also affects performance. Brushless models offer superior cutting ability and increased longevity, but their brushed counterparts tend to be more affordable.
Price
Your budget will be a deciding factor. Some lawn edgers are supplied as a tool only, while others include a battery, so remember to factor this in when weighing up your options. 
Added extras
You can reap the benefits of fancy features if you're prepared to pay a little more. Higher-end models usually offer more customization, including a choice of cutting depths and adjustability. Automation is another luxury – look for swanky models that adjust the power according to the task. 
---