The best inflatable pools are a great way to stay cool in summer and have fun with family and friends. And with so many options to choose from, there is a pool out there for every budget, style and yard size.
Inflatable pools are a convenient solution if you can't afford an in-ground or above ground pool, or if you are short on space. There are a ton of high quality inflatable pools out there so to help you make a decision we've rounded up the best of the best, below. We've considered everything from price, size, durability to capacity so you can make an informed purchasing decision.
When choosing a new inflatable pool, think about how much space you have in your yard, as well as how much you can afford to spend. Many inflatable pools have added features like slides, sun canopies and even water sprayers to keep you extra cool.
The most premium (and expensive) inflatable pools come with filter pumps and tend to be made from extra thick material for longevity. But if you're after something a little cheaper and pared-back, we've also included more budget options, too.
So now it's time to read on to find out our top inflatable pool picks. If you want to browse other outdoor entertainment options, check out our guide to the best hot tubs and the best inflatable hot tubs or the best swim spas.
Best inflatable pools in 2023 
Why you can trust Top Ten Reviews
Our expert reviewers spend hours testing and comparing products and services so you can choose the best for you. Find out more about how we test.
We've rounded up the best inflatable pools that you can currently buy. While we endeavor to review every product that we highlight, some of the reviews for this guide are still in progress. However, any unreviewed products will sum up the key specs, features and user reviews to help you make the best decision for you and your household.
The best inflatable pools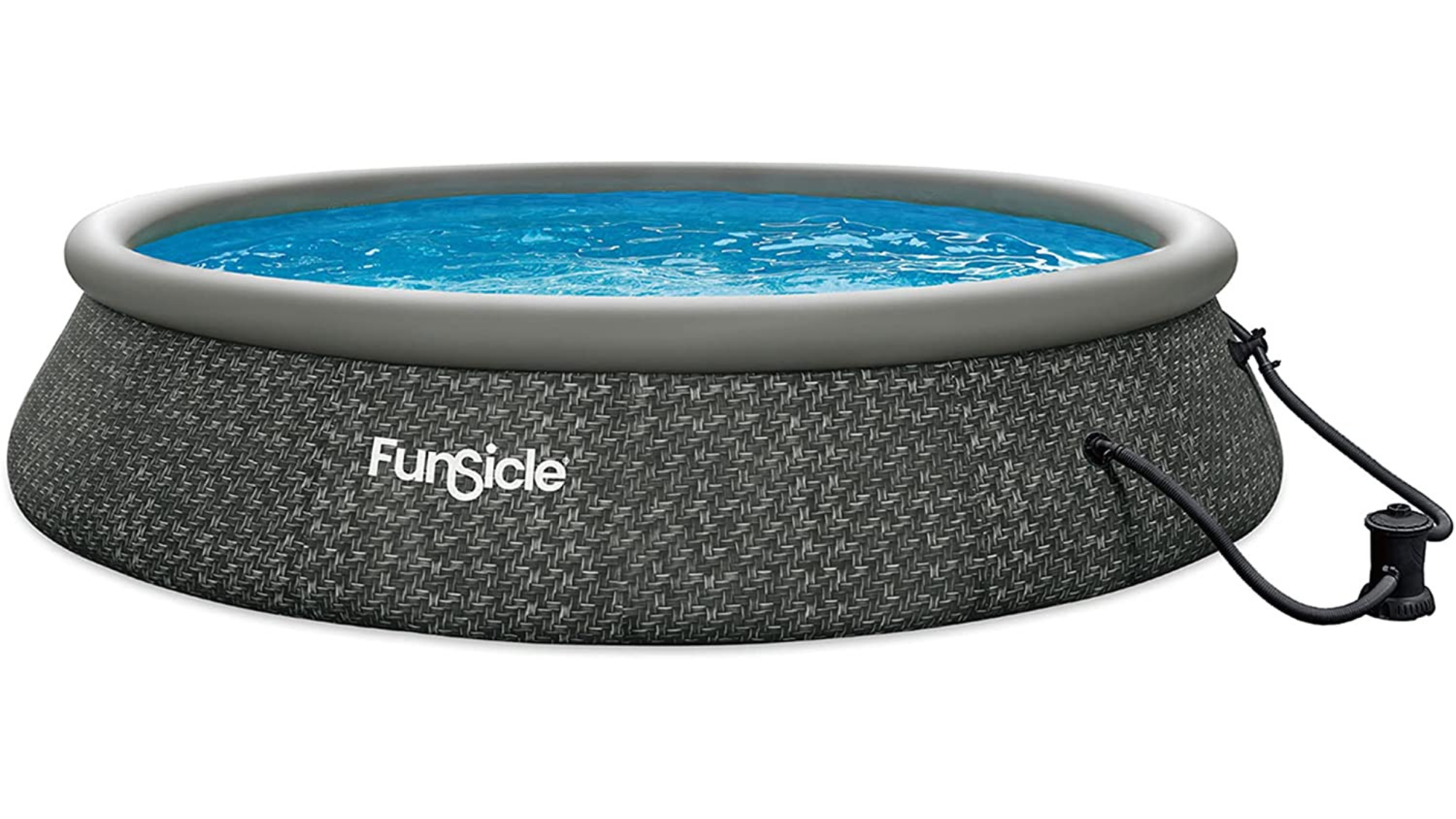 The Funsicle P1001536A is a nicely designed inflatable pool suitable for children aged six and above. In fact it's so big (15 ft. x 36")  that it is ideal for adults, too. You can comfortably fit seven to eight people in the pool so this is a great choice for parents with older kids, or just big kids who want a place to cool down in the summer!
What the users say…
The Funsicle quickset inflatable pool scores 4.9 out of 5 on the Target website. Fans of the pool say it is super easy to set up, and they love the design and how it can hold so much water. Positive reviews also praised the quality and price, while one user said: "Perfect pool for the little ones, especially for my husband who has a fear of deep pools." Negative reviews cited issues with the pool taking a while to fill up.
The pool is really quick and easy to set up – you just inflate the top ring and watch the pool rise as it fills with water. It's also very durable and is made from 3-ply ToughMesh material. It's a little on the pricey side, but it's made from tear-resistant polyester and PVC material and can accommodate a lot of people, so it's a great product for the summer.
It comes with an RX cartridge filter pump to keep your water clean, as well as a 2-in-1 drainage plug that makes it super fast to drain and put down.
Funsicle is also a sustainable company that runs a recycling program with TerraCycle so when your pool has come to the end of its life you can recycle it for free to keep it out of landfill.
---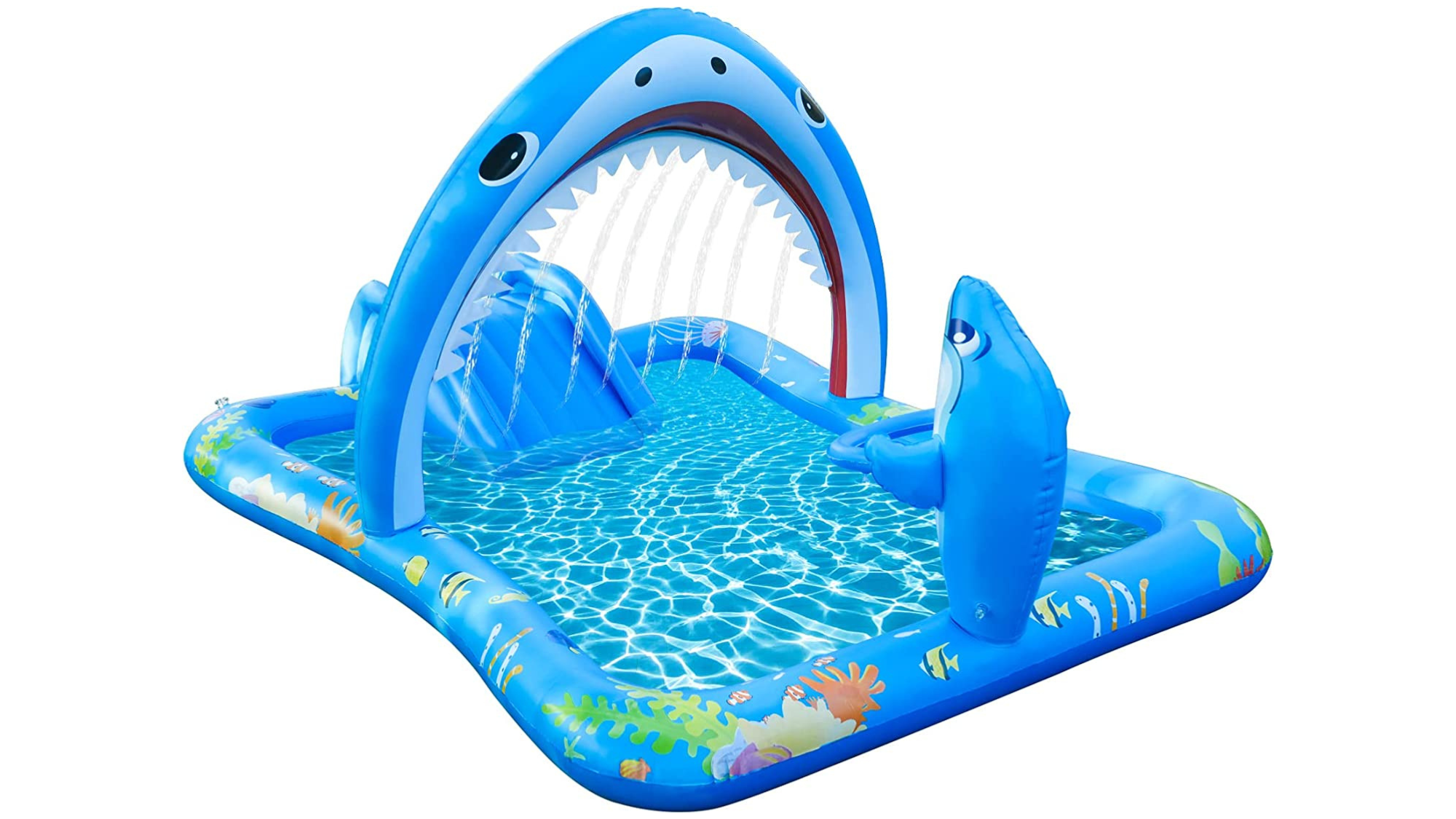 This fun Onory inflatable kiddie pool will keep kids entertained for hours with its arched water curtain, dolphin ball ring toss and water slide. Simply attach your garden hose to activate the shark water sprinkler to keep your children extra cool this summer.
What users say…
The Onory inflatable kiddie pool scores five out of five on Amazon, and zero negative reviews. Fans of the pool agree it's a "great play center for kids" who love having fun in the water and they love the fact that it is multi-purpose. One user said: "The product is good quality and the price is very cheap" while another praised the water sprayers, saying they add "an exciting element to the playtime".
With a double lock for extra sealing, the pool is quick to inflate and deflate, as well as easy to move and store away after use.
It's not the biggest of pools at 94" x 75" x 53", but it's a great size for toddlers who want to splash around and have fun in the sun. Made from UV-resistant polyvinyl chloride, it's durable and great value for money. It can also double up as a ball pit in the winter months.
---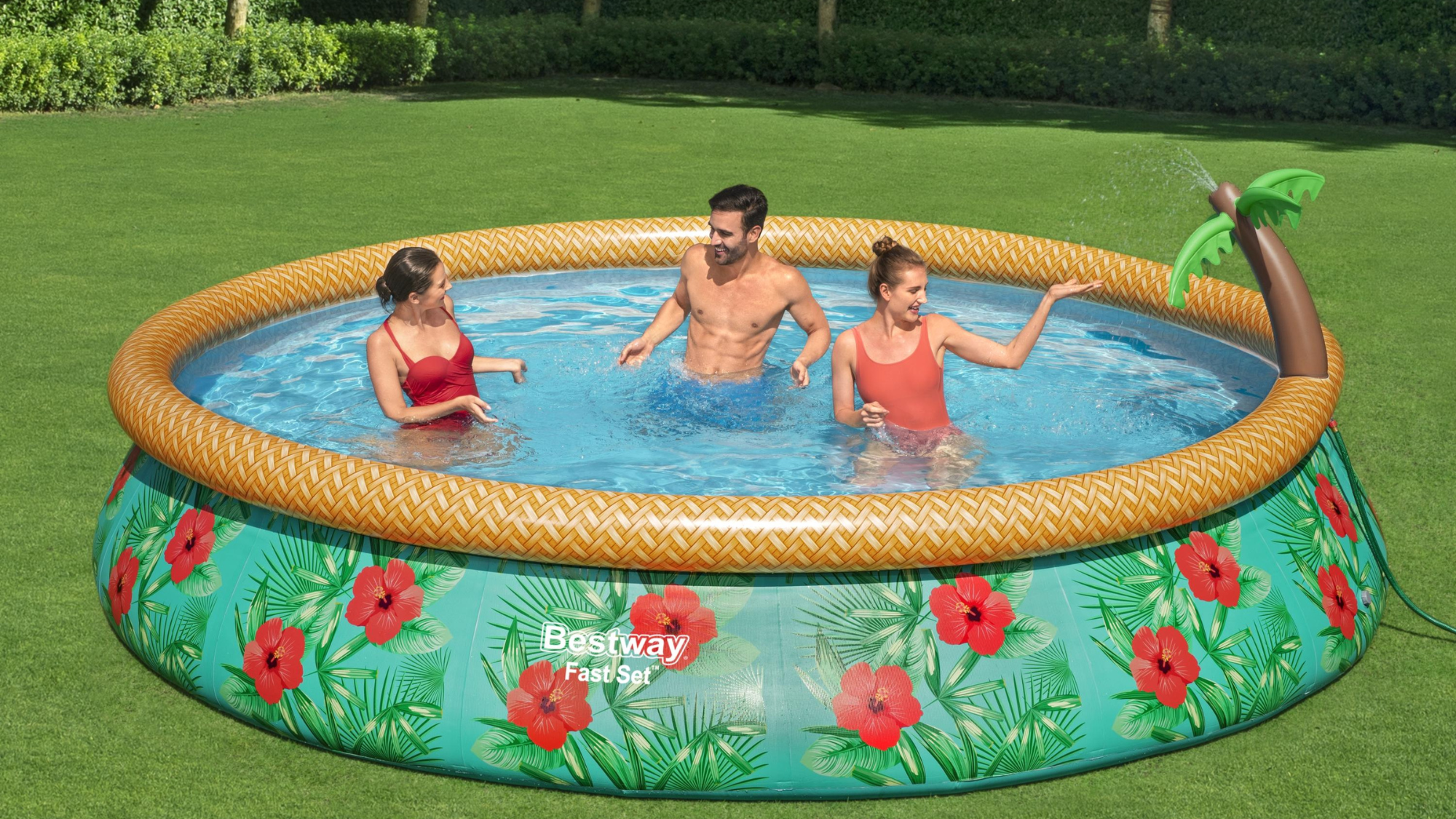 The Bestway 57415E round paradise palms inflatable swimming pool set has a pretty tropical floral design and is large enough (33" x 15 ft ) to fit the whole family. It also has printed paradise palms on the inner liner in line with the tropical theme. 
What the users say…
The Bestway 57415E paradise palms inflatable swimming pool set scores 3.4 out of five on Amazon, with 40% of users giving it the full five stars. The product received praise for the fun palm tree sprayer as well as how easy it is to set up and use. Negative reviews however cited issues with the pool staying inflated, as well as the palm tree sprayer falling down regularly. One user said: "This pool has not stayed inflated since the first day I set it up, it has to be re-inflated every other day. The palm tree was a cool idea, only it lays flat on the top of the water even when it is fully inflated."
The inflatable palm tree doubles as a water sprayer when connected to the garden hose, and this is a feature that kids and adults alike will love to help them stay cool in the sun.
The pool is quick to inflate in just ten minutes although it does need 2-3 people for assembly. It has a simple fill-and-rise setup process – just inflate the top ring and watch as the pool rises as it's filled up with water. 
The pool comes with a 530 gallon per hour filter pump to keep the water clean, and is made from extra strong tritech material with three separate layers reinforced for strength to prevent punctures.
It's also super easy to drain thanks to the flow control valve, so you can store it away for the winter ready for another summer of fun.
---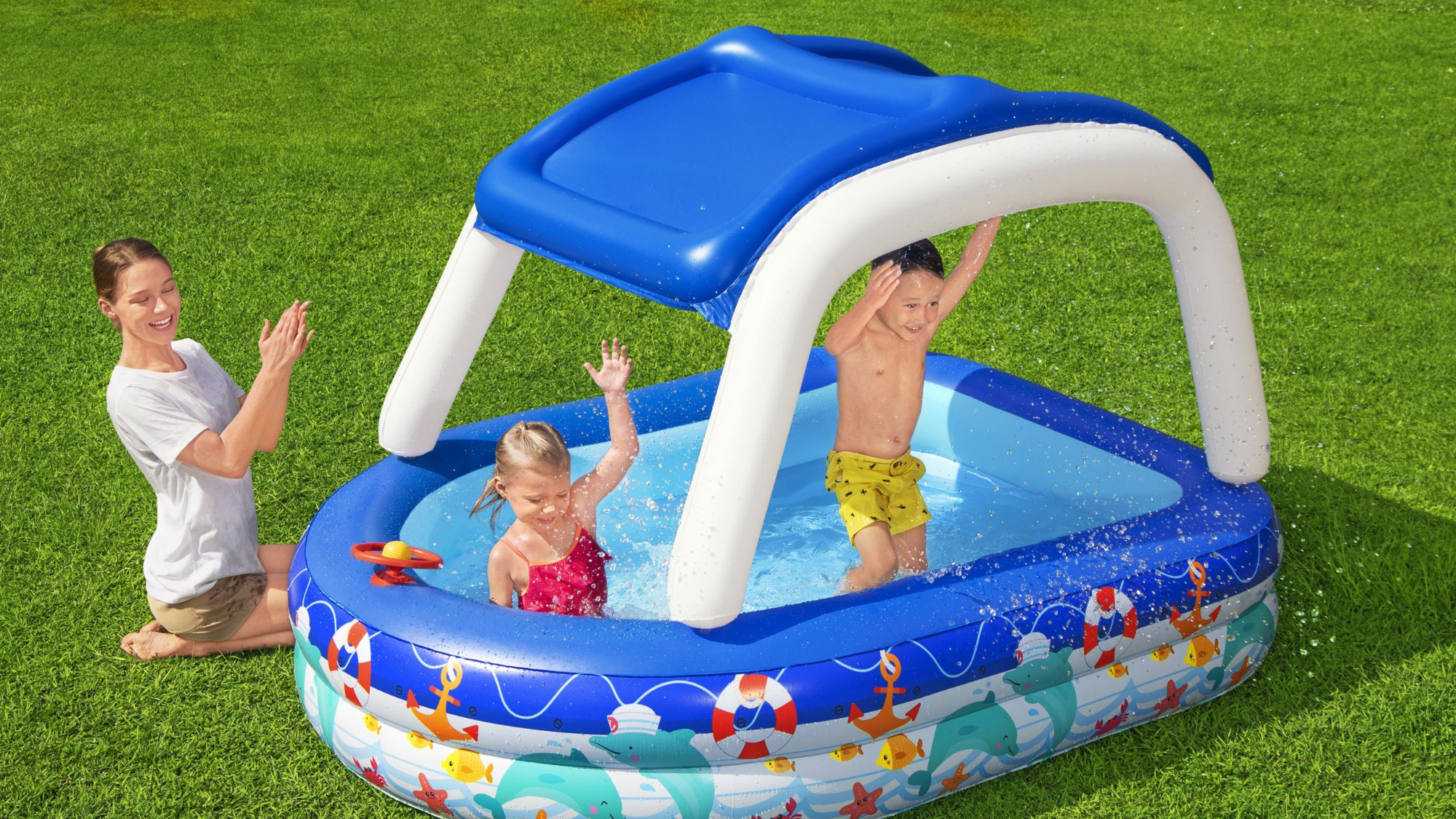 The Bestway H2OGO! Sea captain inflatable family pool offers great value for money, and a good choice for families with small children. 
What the users say…
This inflatable pool gets 4.2 out of 5 on the Walmart website. Positive reviews praise the size of the pool and how it's good value for money. Many users commented on how useful the sun shade was, with one saying: "It doesn't take up a lot of space and is easy to put up, take down and pack away."
Negative reviews cited issues with the pool being flimsy. One reviewer complained: "It blows over at the most gentle breeze."
It's incredibly quick and easy to set up, so your kids can spend more time in the pool splashing around and playing.
With its fun ocean theme, it's ideal for younger children because of its small capacity and sea captain graphics. Kids will love pretending to be captain of the sea and playing with the built-in steering wheel and horn. 
And parents can feel reassured that their children will be protected from the sun with the removable canopy, which will keep them cool. Made from durable PVC this fun paddling pool should last for summers to come, and when it's time to put it away it's super easy to deflate and fold up.
---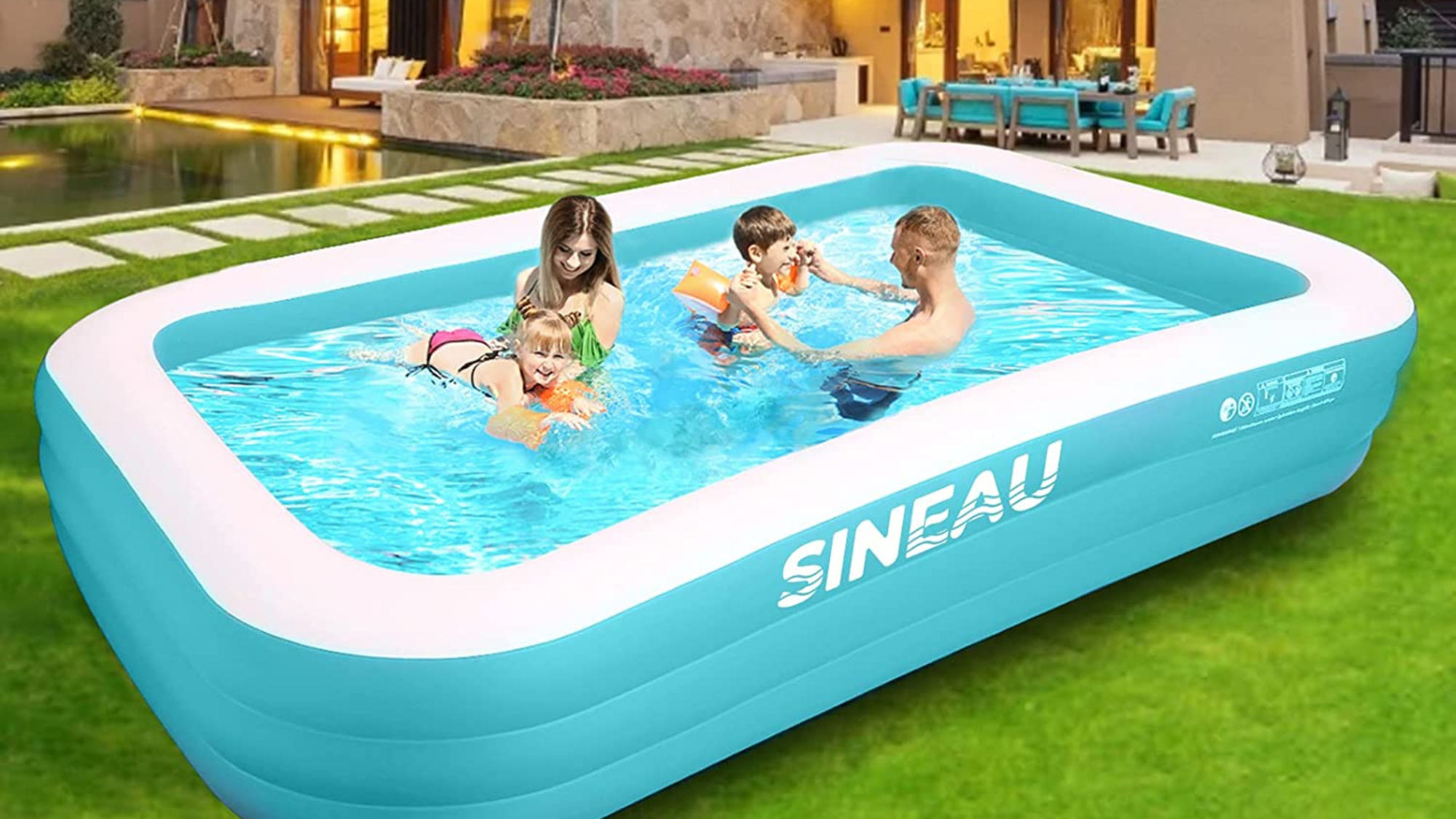 The SINEAU SI-HF003 oversized inflatable pool has a large capacity (120″ x 72″ x 22) and can easily fit two adults or 3-5 children (age 3+). The pool is also deep enough to allow for some swimming, making it a great choice for older kids – or even pets who want to cool off in the water.
What the users say…
The SINEAU pool scores five out of five stars on Amazon. Fans of the product say it's heavy duty, with one user saying: "The pool was even sturdier than I expected and held up well during a pretty aggressive day of play. I'm looking forward to trying it out in the summer, especially with the convenience of the draining option since that has always been a sticking point with our previous inflatable pools." There is very little criticism of the pool, apart from the fact it doesn't come with a pump.
Another great feature of this inflatable pool is how easy it is to set up. You just inflate it using an electric air pump (not included) and it's ready to enjoy in 3-4 minutes. It also comes with inbuilt 3 curve water valves that double the drainage speed when it comes to putting the pool away.
The pool is made from high quality BPA-free materials, which can withstand heavy use and is resistant to punctures and tears, ensuring that your family and furry friends can enjoy the pool for years to come. 
Because the pool has three individual air chambers, each with double intake and free flow exhaust valve, it's suitable for adults and can withstand the extra weight without causing air leaks. It's also multi-purpose and can be used as an indoor ball pit in the winter.
---
What should you look for in an inflatable pool?
So what should you look for in an inflatable pool? We spoke to Brooklyn-based pool and maintenance expert Karel Williams, who is also a Master Plumber at Emergency Plumbing Squad, to find out.
First and foremost, safety should always be your number one priority, says Williams. "Inflatable pools can be fantastic fun, but they also come with their own set of risks. If you have small children or pets, it may be prudent to set up some kind of fencing around the pool. Remember, an ounce of prevention is worth a pound of cure.
"Aside from that, one thing's certain – inflatable pools come in all shapes and sizes, and the best one for you largely depends on who will be using it. Some are perfect for kids to splash around in, while others are sturdy and deep enough to accommodate adults. However, not all pools are made equal.
"Can you imagine how fantastic it feels to have a durable pool that lasts for years? To gauge durability, look for pools made of robust vinyl or those with a frame for added support. Also, check out the user reviews – they can often provide valuable insights into the longevity of the pool.
"Next think about costs. Inflatable pools can be as affordable as $100, and they can also run into the thousands for high-end models. So you'll be glad to know that there's something to suit every budget. But do keep in mind that the initial cost is just the tip of the iceberg. You'd also need to consider ongoing maintenance costs, like the price of a good filter pump to keep the water clean and free from algae.
"In light of this, it's important to remember that setting up your pool requires more than just inflating and filling it with water. You need to make sure the ground is firm and flat, and you also need to check if there are any zoning restrictions in your area.
"And in addition to that, you'll need to think about storage. A well-maintained inflatable pool can last for many summers, but it's crucial to store it correctly during the off-season. Make sure it's clean and dry before packing it away to prevent any mold or mildew buildup."