If you're a fan of stockpiling culinary bargains, batch cooking, have a big family or just need a lot of space for your party food, then a large freezer could be the answer.
But with so many different options to choose from – from a chest freezer, upright or integrated one – how do you find the right large freezer for you?
Firstly, consider the size you need and also the space you have to house it. There's no point investing in a big chest freezer if you live in a tiny apartment, for example. Budget often plays a big part in what you can buy, and chest freezers tend to be more affordable than upright ones. Plus, they are easy to access because they open from the top. However, these kinds of units are best suited to being kept in a shed or garage, so bear this in mind before purchasing.
The best large freezers come with digital displays, touch controls and some are even controlled via apps – allowing you to monitor and track your freezer's progress even while on vacation. More expensive freezers are 'frost free', which just means they don't need defrosting as often.
As your large freezer is always on, opt for one with an ENERGY STAR rating to help lower costs. A good warranty can also protect your investment should you run into any issues.
Read on for our pick of the best large freezers 2023, and don't forget to check out our guides to the best freezers and also how to clean a freezer.
Best large freezers
Why you can trust Top Ten Reviews
Our expert reviewers spend hours testing and comparing products and services so you can choose the best for you. Find out more about how we test.
While we've reviewed some of the freezers within this guide, we're still in the process of reviewing all of them. Products without a review will include an overview of the specs, pros and cons and features that matter – plus, we'll round up the most useful user reviews to help you make an informed decision on the best large freezer for you and your household. 
Best large freezers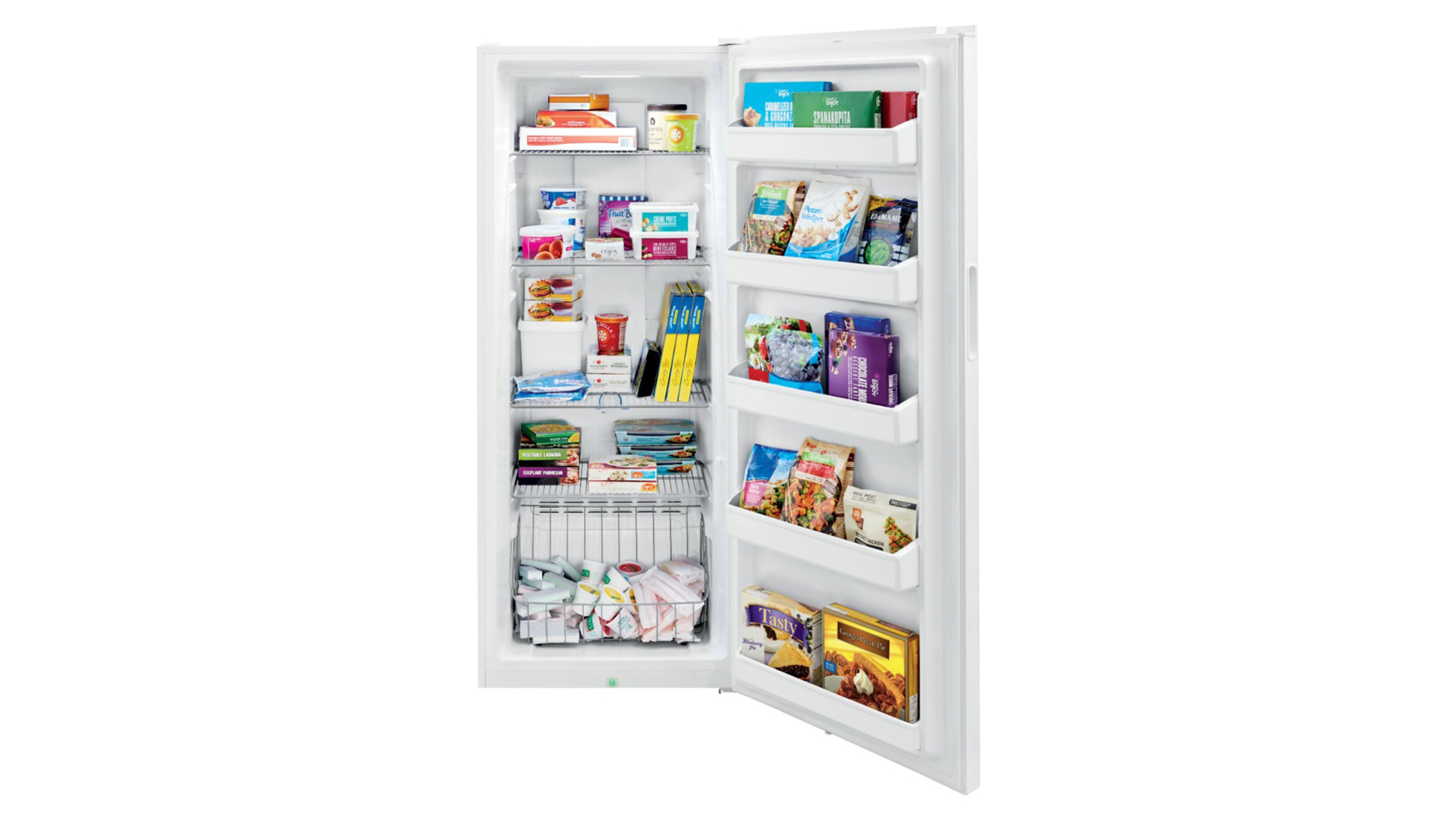 The Frigidaire FFFC25M4TW is a beast of a chest freezer with a cavernous 24.8 cu. ft. capacity, making it ideal for big families, party planners and anyone who loves stocking up on a bargain.
It has a temperature range of -15F to 10F and is suitable for garage storage in most climates.
What the users say
The Frigidaire FFFC25M4TW scores 4.3 out of 5 on Amazon, with 73% of users giving it the full five stars. Positive reviews said the freezer was "huge" and it was great for stocking up with food during winter. There were very few negative reviews, but one said the temperature control was confusing to use.
The adjustable temperature control lets you manage the ideal climate for your food, while the power-on indicator light lets you know the freezer is working.
Inside this freestanding model, you'll find 'space wise' adjustable baskets, which allow for optimum organization. The heavy duty sliding plastic baskets come with customizable color coded clips so you can label your goods by category or date.
The lock with pop-out key is a handy feature, too. It ejects the key after the freezer is locked so you won't accidentally forget to take it out. It also comes with casters so is easy to move around.
---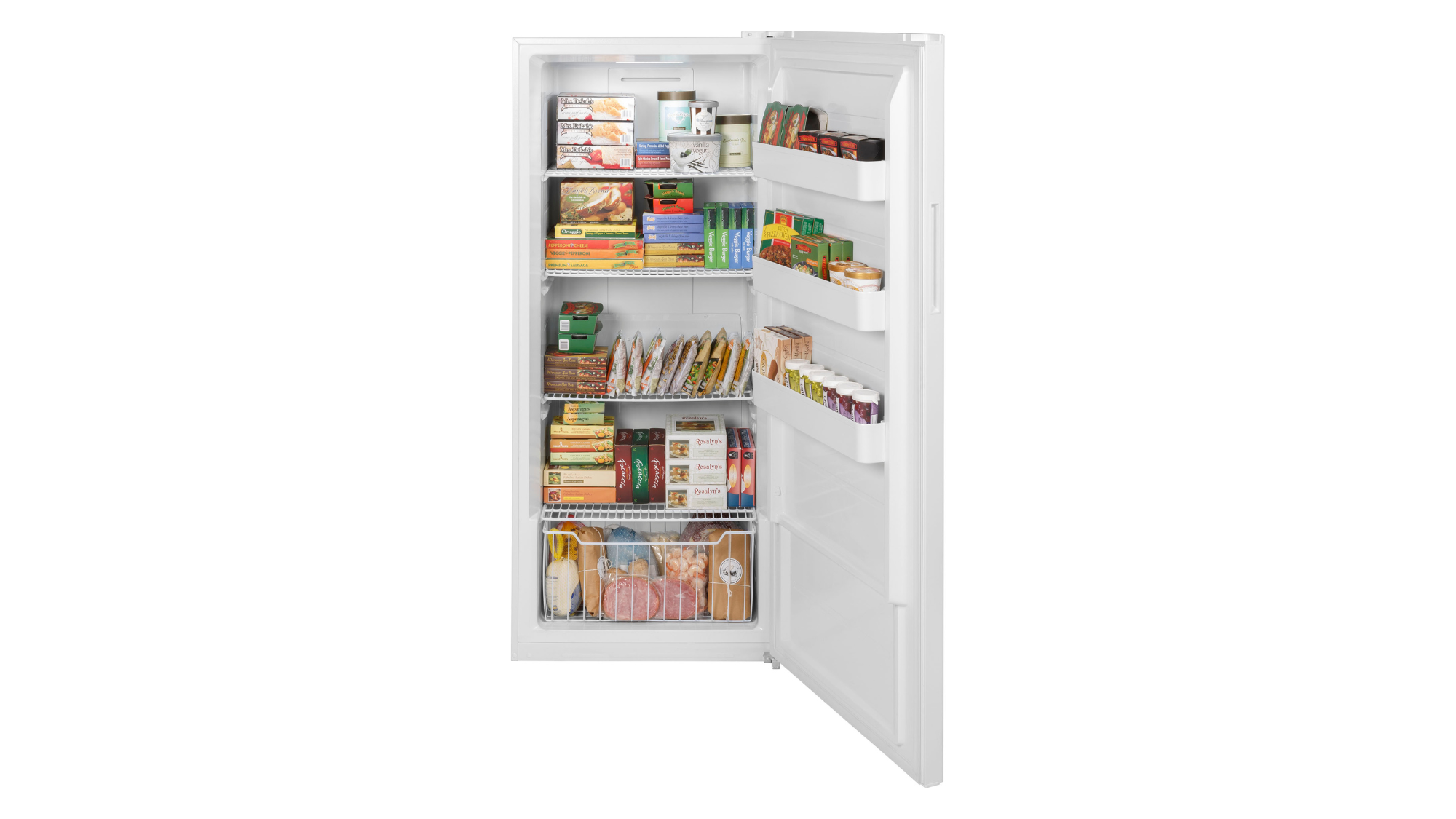 The GE U501210291 21.3 cu. ft. upright freezer is a big unit with a simple but effective design.
It's frost free, so that means it's easier to defrost and lower maintenance than units without this feature. It also has an alarm system that alerts you if the door is accidentally left open or the temperature drops.
What the users say
The GE U501210291 scores 4.1 out of 5 on Amazon with 66% users giving it five out of five. Fans of the freezer love its big capacity and say it seals really well when closing. However negative reviews say the seal is too strong, and it's hard to open the door without great force. One user said the temperature "fluctuates wildly" and it is loud.
The freezer automatically lights up when the door is open so it's easy to find what you're looking for. It has four shelves, four door bins and a deep storage basket so there is more than enough space for a big household. Although some reviews say it would be handy to have an edge to the shelves to stop food falling off the shelves.
And it comes from one of the US's most reputable brands, GE Appliances, so you know you are paying for quality.
---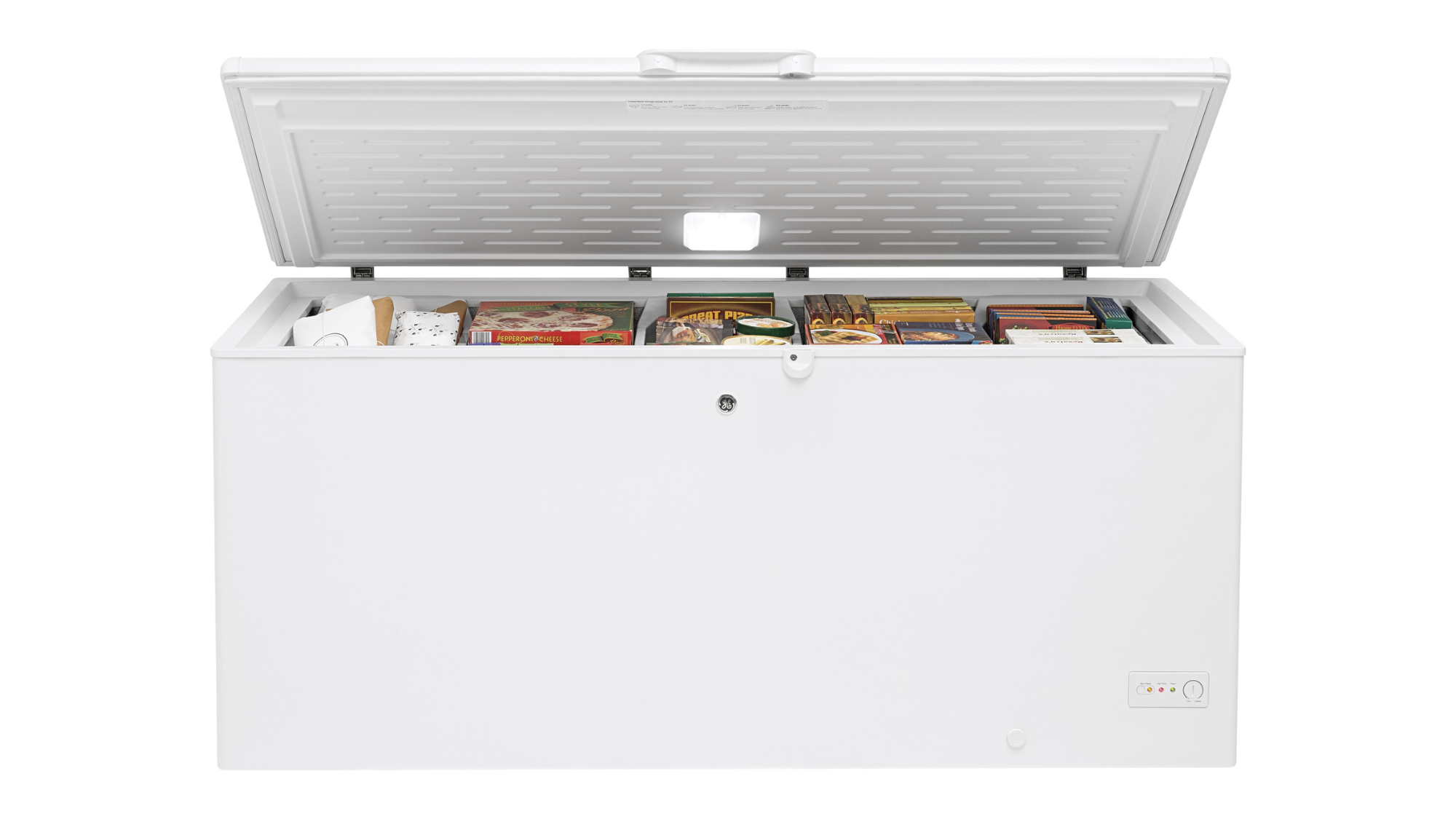 The GE FCM22DLWW garage ready 21.7 cu. ft. chest freezer offers plenty of storage space for frozen food. Cooking fans will love how much room there is – it's basically a batch meal cooker's dream! 
It has five sliding baskets for easy organization and an LED light that comes on as soon as you open the lid. 
What the users say
The GE FCM22DLWW scores 4.3 out of 5 on Best Buy, with users praising how big and quiet it is. There weren't many negative reviews but one user said he had an issue with the freezer lid sealing properly.
It comes in a simple white design, and is lacking quick freeze and Sabbath mode, but the sheer size of the thing should keep most people happy – provided you have the space to house it. Coming in at 33-3/8" x 73-1/4" x 33", it might be too big for some households.
The GE 21.7 cu. ft. chest freezer also comes with a child lock, and is designed to perform in temperatures from 0F to 110F. If the temperature rises, the alarm will be activated.
One of the standout features of this unit is it is ENERGY STAR certified, meaning it should save you money on bills. Overall it's a decent no-frills chest freezer that won't break the bank.
---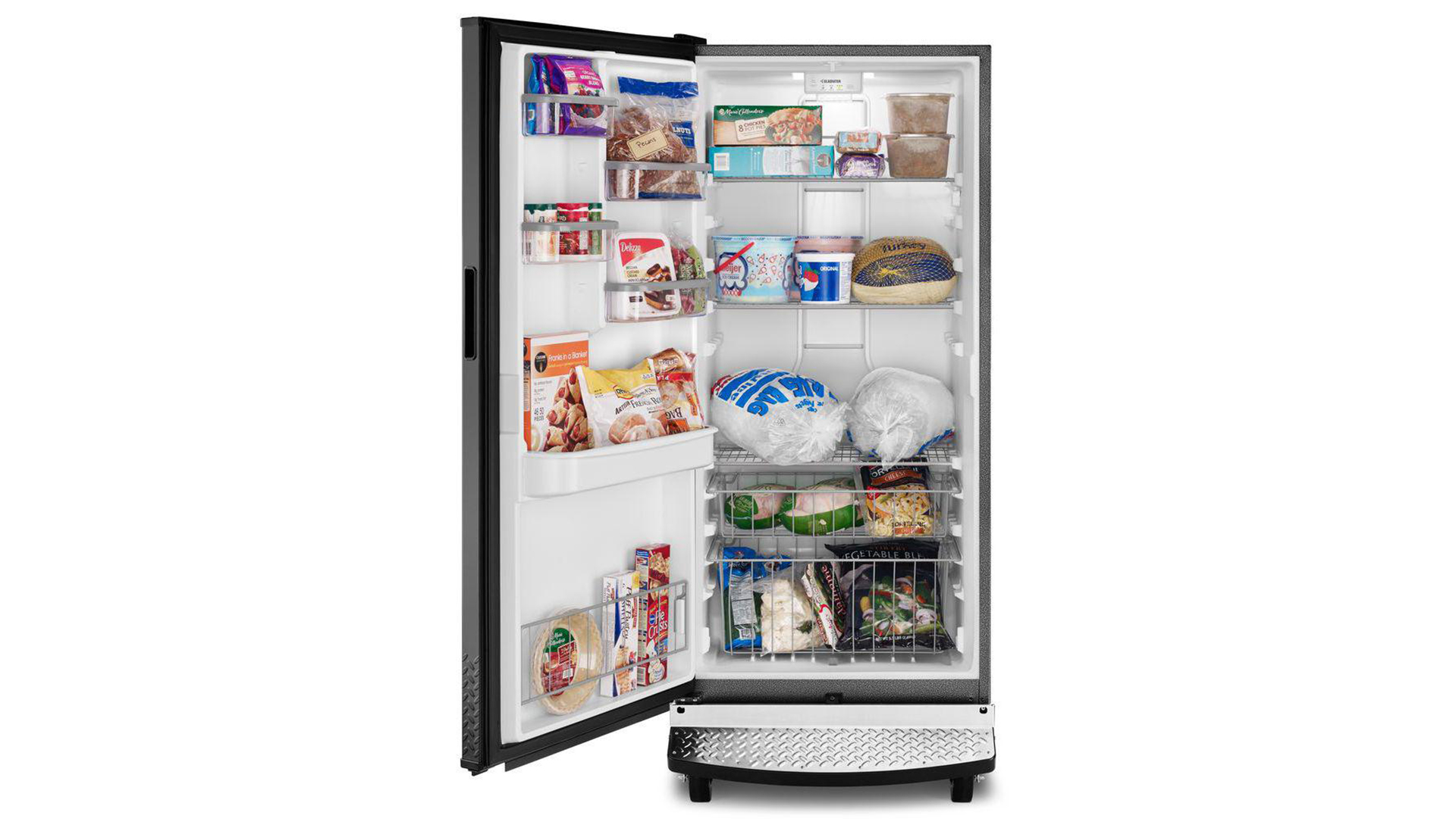 As the name implies, the Gladiator 17.8 Upright Rolling Garage freezer is a solid choice for your garage. It offers versatile and space-saving storage and has a large 17.8 cu. ft. capacity that party planners will love.
What the users say
The Gladiator 17.8 upright rolling garage freezer scores an average rating of 4.5 stars out of 5 on Home Depot. Fans of the unit praise the foot pedal that opens the freezer door, while others loved the casters that make the freezer portable. Negative reviews complained that the foot pedal wasn't fitted to the freezer initially and some additional storage baskets would have been helpful.
The extra thick and durable glass shelving is sturdy while the scratch-resistant metal shelving is designed for heavier items. They are also easy to wipe down, making long term maintenance simple.
While this freezer doesn't have specific temperature controls, there are three cold settings, which work well enough.
The biggest pull of this freezer is the unique metal pedal that provides hands-free door opening. It's ideal for when you are carrying groceries and are struggling to open the freezer. It also comes with heavy duty casters that make it easy to move around, plus a one year warranty.
---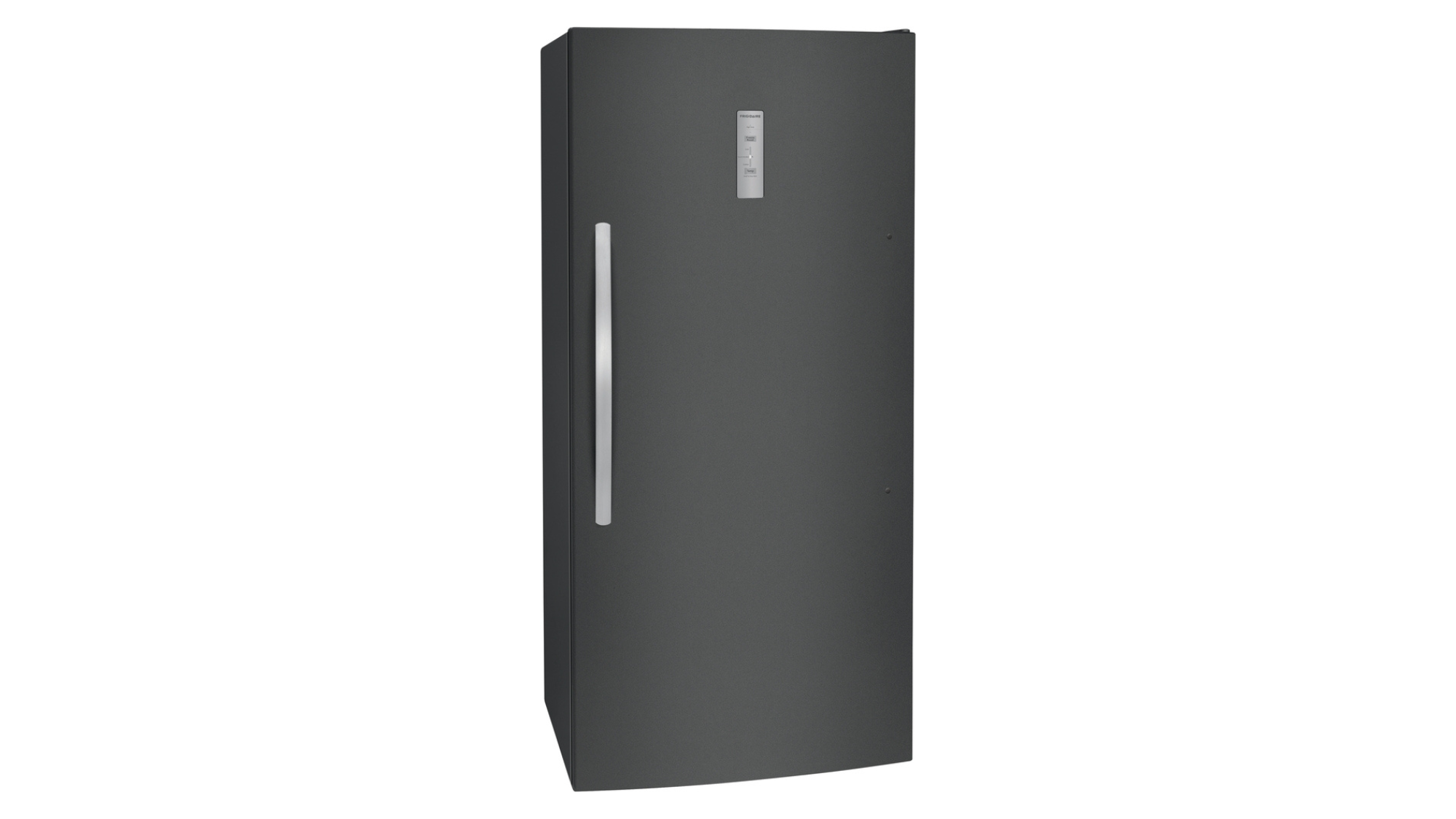 The Frigidaire FFUE2024AN upright freezer fits into the same space as a traditional 17 cubic foot model but with an increased 20 cu. ft. capacity. It has an impressive tight seal that locks in cold air, keeping food frozen for two days if there is a power cut.
Frigidaire's 'EvenTemp Cooling System' uses a variable speed compressor and smart sensing technology to constantly circulate cool air around the unit.
What the users say
The Frigidaire FFUE2024AN scores 4.9 out of 5 on Best Buy. Fans of the freezer say it keeps food frozen efficiently, and it receives praise for its "elegant design" and size, with one user calling it "my food savior". There are very few negative reviews of this appliance, but one user said it was a shame it only came in black finish.
The Frigidaire FFUE2024AN's flexible strorage enables you to easily organize your frozen favorites with four adjustable, full-width glass shelves, deep bottom basket, and five spacious door bins.
It comes with an alarm that will be activated if the temperature rises or you leave the door ajar by mistake, and the interior LED lighting makes for easy access to your frozen food.
The unit is very low maintenance thanks to its frost free design, so you won't need to waste time chipping away ice in your freezer ever again.
With an ENERGY STAR rating, you can be sure that it won't cost you more than it needs to run and the auto-close doors help to avoid any messy spillages or leaks. Designed to perform in temperatures from 0F to 110F, you can safely keep it in your garage or shed and the door can be installed to open left or right based on your preference.
---
What the experts say
What are the benefits of having the largest freezer?
We spoke to kitchen appliance expert James Bethell, Cooling Product Manager at Haier Europe, to find out what are the benefits of having a large freezer.
He says: "Larger freezers can allow consumers to save on their food bills because they are great for storing batch cooked meals. Using an oven or hob is more costly than ever, so batch cooking allows people to create multiple meals in a single cooking session. This also can limit food wastage and further increase savings. 
"You can also fit bigger food items in a larger freezer – for example, your Thanksgiving or Christmas turkey or XXL pizzas."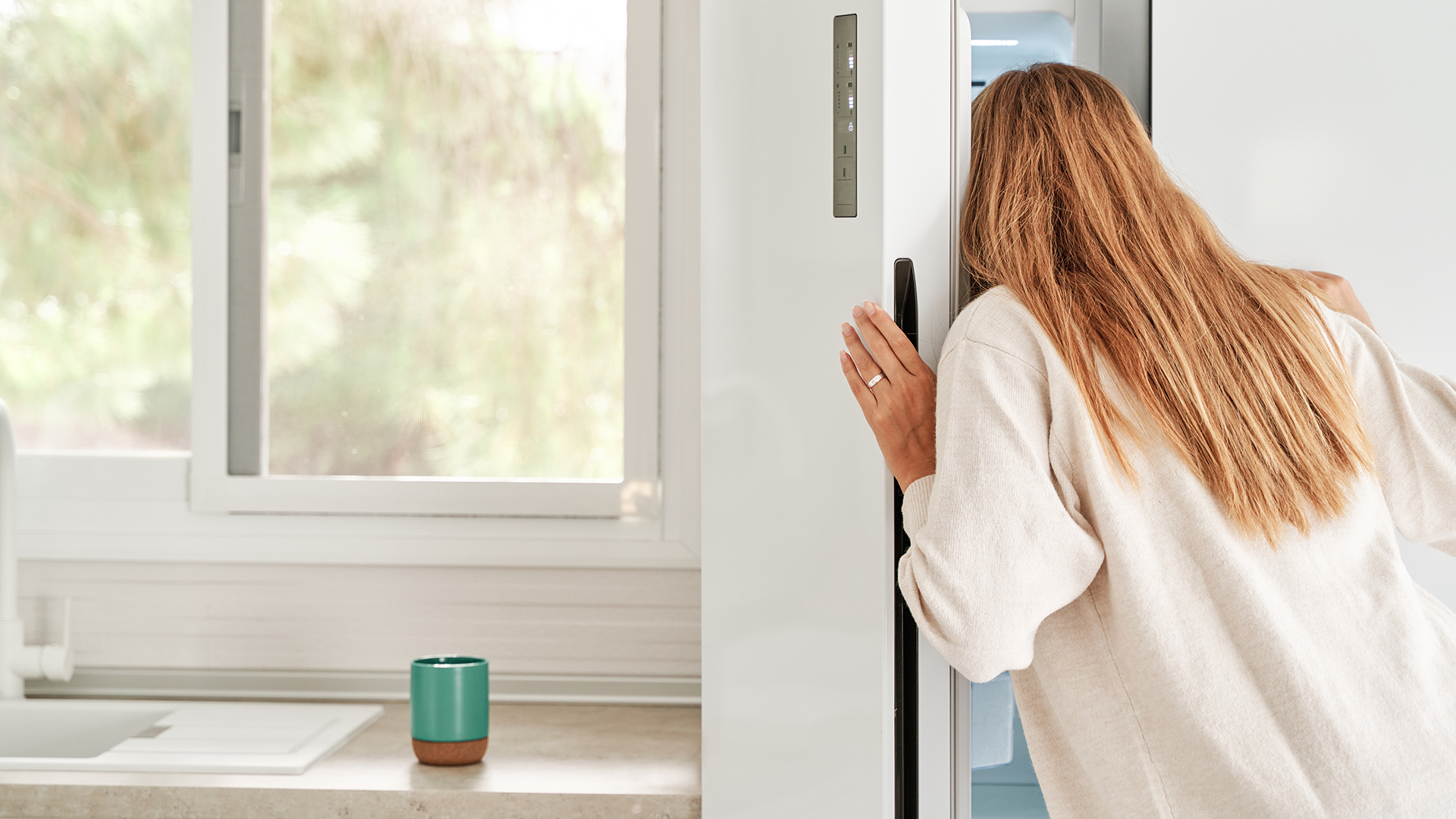 What are the downsides to having the largest freezer?
The main potential downside to having a large freezer is the initial investment as well as running costs, explains kitchen appliance expert Bethell. Plus, if you have a lack of space, it's might not be a wise choice.
"Another con could be if someone doesn't make the most of their large freezer. For example, they forget what they've got in it and end up duplicating foods they already have or don't need."
He adds: "Although typically larger freezers can be more of an upfront investment, they are becoming increasingly efficient and consume less energy than years gone by.