Want to save time and money when it comes to cooking? The best microwaves are a great economical option that could help you slash your energy bills, too. This popular kitchen appliance is a really convenient way to cook, reheat and defrost food, while maintaining the vitamin and nutrient content of the food. 
"There are some myths out there that microwaves remove nutrients from cooking but that's not the case according to many doctors, including at Harvard University (opens in new tab)," says Wes Wright, founder and CEO of CookOut News (opens in new tab).
"Microwaves can also be helpful for meal prepping because they are great for heating prepared food," says Wright. "Plus, it's a healthy way to cook because, unlike some other methods, you aren't usually cooking with oils in the microwave." If you're wondering, what should I look for in a microwave, Wright has some further insight. "Placement of the microwave in your kitchen is the first thing you should consider: is it going to be on a counter or mounted somewhere? That will narrow down your selection," he says.
Another important factor when buying a new microwave is the wattage – a general rule is the higher the wattage, the faster it cooks. As well as freestanding/solo microwaves, which tend to be the cheapest and most basic option, you can choose from grill or combi ones. Grill microwaves have an extra internal grill, while a combination microwave can also roast and bake. 
Wright says: "Some of the newer microwaves feature voice control, remote starting, and barcode scanning for cooking. But for me, those aren't worth paying extra for, because I don't use my microwave in that way." You can expect to pay more for these smart features. 
Best microwaves
Why you can trust Top Ten Reviews
Our expert reviewers spend hours testing and comparing products and services so you can choose the best for you. Find out more about how we test.
Whichever style you choose, you can enjoy meals in minutes with our edit of the best microwaves. We've rounded up our favorite models that are currently available to give you and your household a useful appliance that should last you years. 
Best microwaves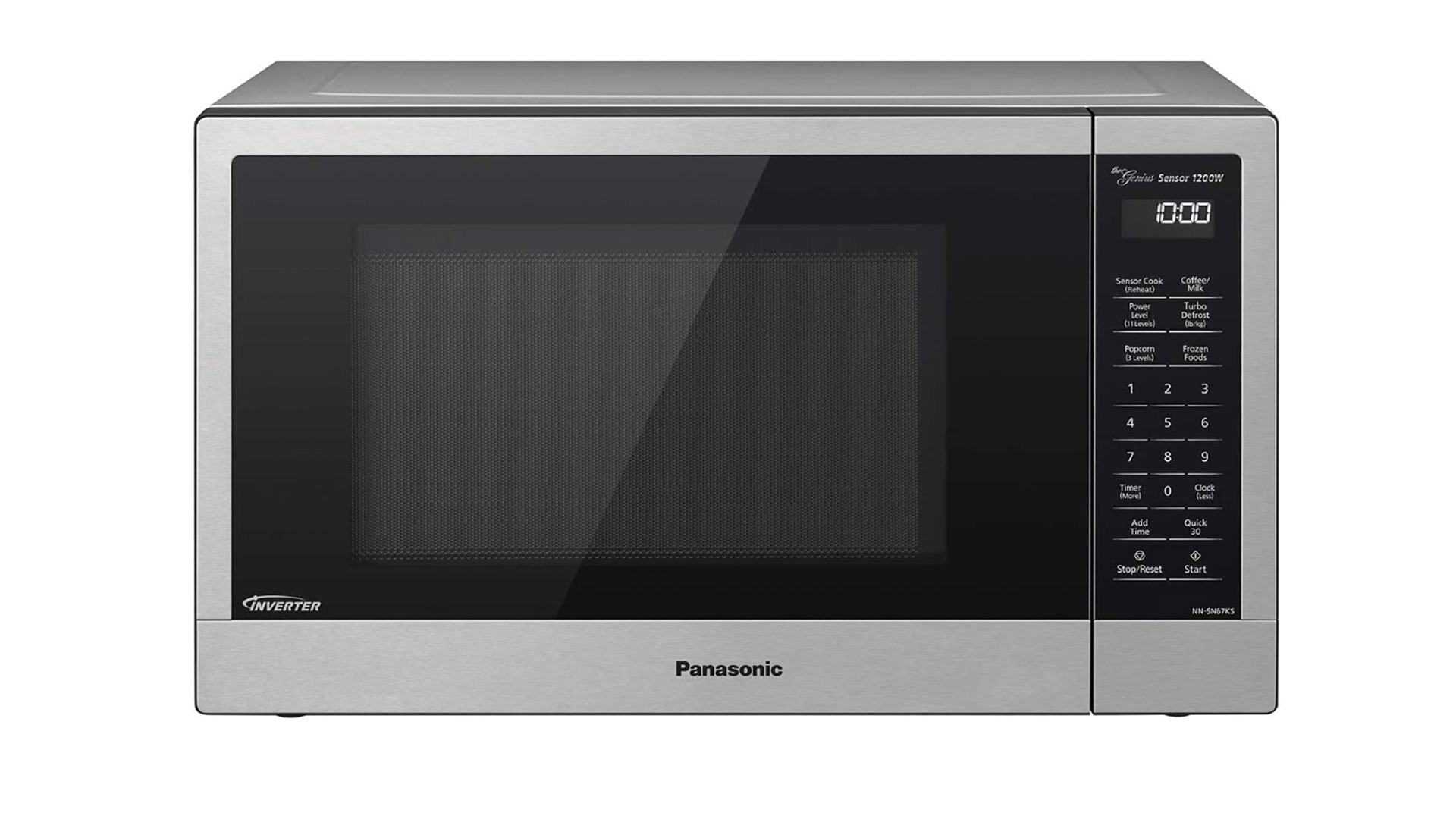 The Panasonic NN SN67KS regularly tops the list for best microwaves because of its large capacity and ability to evenly cook food, especially from frozen. 
What the users say…
The Panasonic NN SN67KS gets 4.5 out of 5 stars on Amazon, with 68% of reviewers giving it the full five stars. Positive reviews said it was easy to clean and did a great job heating and defrosting foods. One reviewer/parent of a newborn praised it because you can turn the sound off, and another said: "This microwave cooks better than any other I have ever used. That being said, the controls are a bit difficult to use." Other negative reviews raised issues with the microwave interfering with their wifi and it being a bit noisy.
It's quite expensive, but with a 1200 watt power rating and 1.2 cubic feet footprint, it's a good choice for families. It comes with 'inverter heating' technology, a faster and more effective way to cook food than pulsing microwaves. This clever tech provides a steady stream of heat and helps avoid creating hot or cold spots in the food. 
With 11 power levels, the Panasonic NN SN67KS has a so-called 'genius censor', designed to auto-adjust power and cooking times based on the humidity inside the microwave oven. It also has a child lock, something parents will appreciate. However, one of the biggest pulls of the Panasonic NN SN67KS is how efficiently and evening it heats frozen meals, without creating overly hot or cold spots. We also love the 13.4" turntable, which is big enough for larger plates and microwave-safe containers.
It comes in black, white or silver, and has a neat and narrow control panel that is easy to use. Bear in mind however, this is a big microwave that takes up a lot of counter space, so you'll need somewhere permanent to house it.
---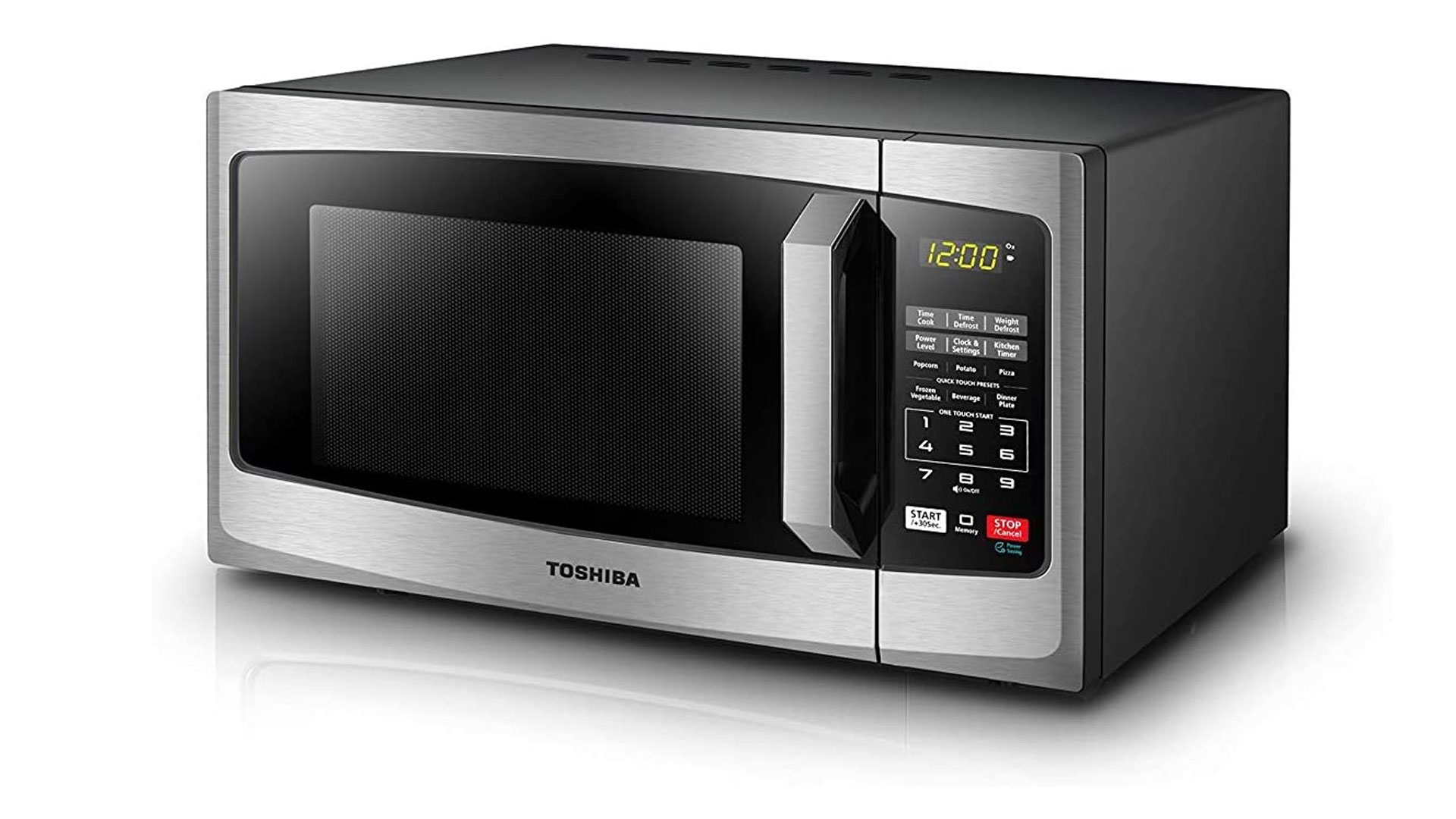 The Toshiba EM925A5A is a mid-range microwave oven with a classic stainless steel design and all the basic functions you need to cook, reheat and defrost food. 
What the users say…
Amazon reviews give the Toshiba EM925A5A 4.5 out of 5, with 74% giving the product a full five stars. Positive reviews praise its retro 'mid century' style, and the clear and bright digital display. One user said it was the "best microwave ever". Negative reviews said the power cord was too short, while others said the user interface was clunky for some of the advanced functions.
It has a small footprint but a large 0.9 cu.ft. capacity, and the 10.6" removable turntable is big enough to accommodate a 10" pizza.  It comes with 10 power settings, including 6 preset programs, as well as a child lock, clock, kitchen timer and eco mode. There's also a mute function that turns the buzzer off (ideal for parents!).
It's nice and compact, too, meaning it won't swamp your kitchen counters. With 900W it's powerful enough and a decent product at a decent price. Sure, it doesn't have any bells and whistles of more expensive models but it works well and is a good budget-friendly option.
---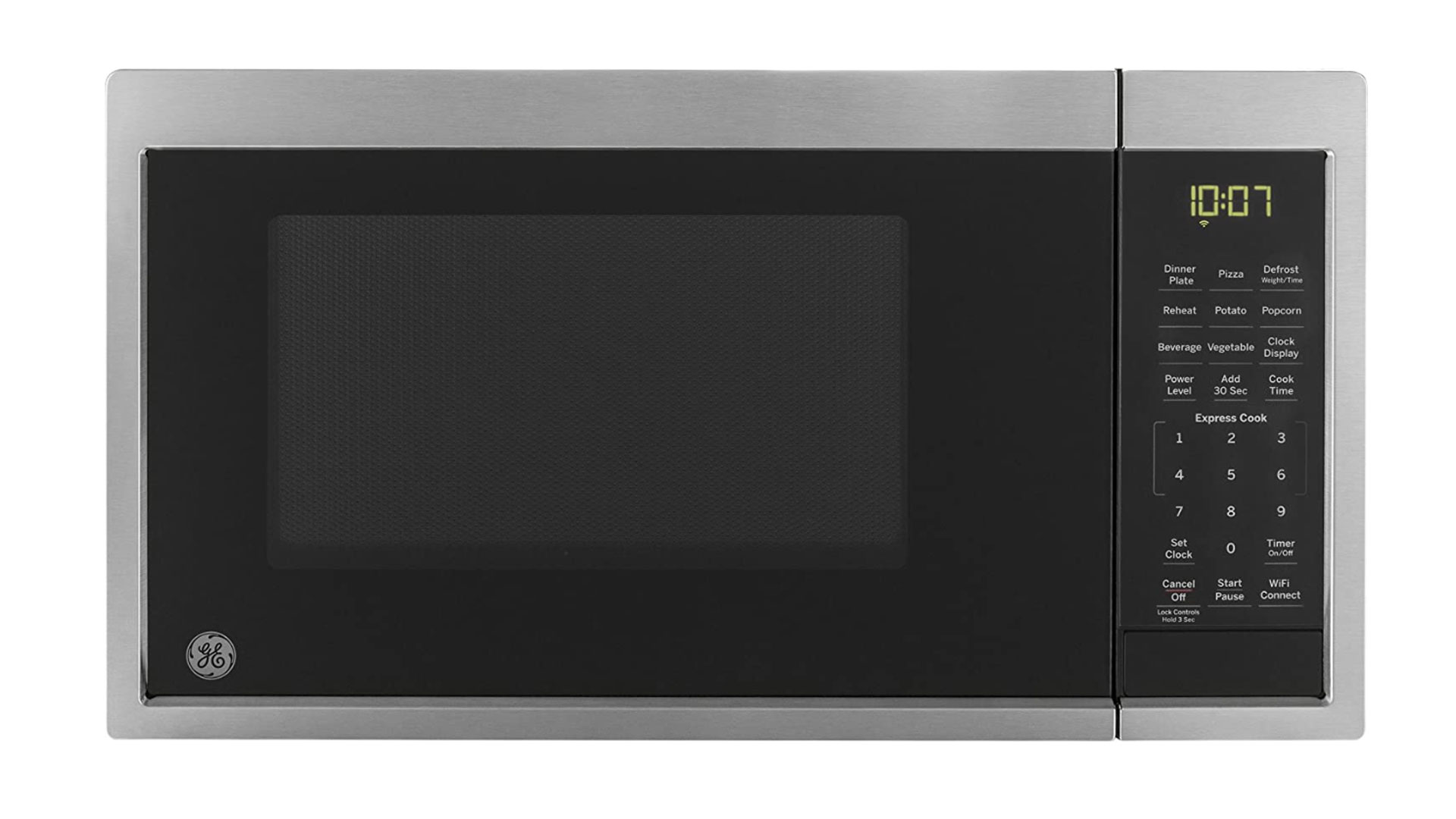 The GE Scan-to-Cook Microwave promises to make life easier by using voice control instead of buttons. 
What the users say…
Amazon reviewers gave the GE JES1097SMSS 4.2 out of 4 stars, with 61% giving it top marks. Fans of the product enjoyed the voice-activated controls, with one user saying: "The voice control will be extremely useful for me as my vision continues to get worse." Negative reviews cited issues with connecting to wifi, while one said after a power failure none of the control panel buttons worked.
While this is a great idea in theory, in practice, issues with connectivity meant that Google Assistant or Alexa didn't always act on our request. You can also use an app to scan barcodes on food to automatically set the cook time on the microwave. Again, this sounds like a great way to reduce the effort involved in cooking, yet we found that out of the 7000+ barcodes listed for foods, very few were for fresh vegetables.
Take away the whizzy tech and smart features and you've still got a fairly decent microwave, albeit a bit small and underpowered for the price. And while we like the Alexa and Google Assistant integration, we didn't feel the Scan-to-Cook feature added enough value to justify the cost.
---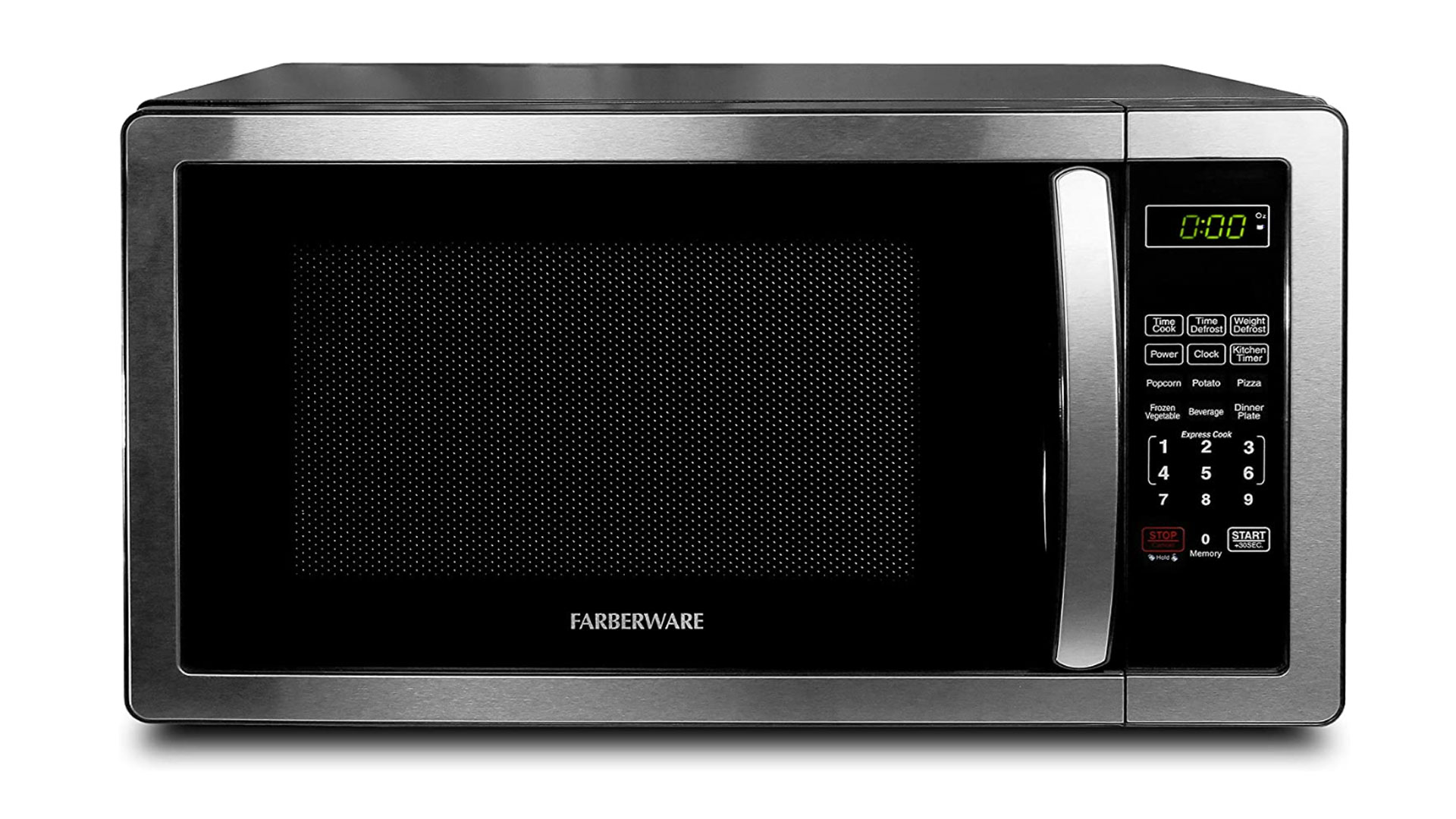 The Faberware FMO11AHTBKB is a no-brainer for anyone who wants a compact and budget-friendly microwave oven. 
What the users say…
Reviews on Amazon give this microwave 4.5 out of 5, with 74% giving it five out five stars. Fans of the product praised its design and said it was easy to clean, user-friendly and powerful. Negative reviews claimed it was a bit loud, and only suitable for cooking small meals.
With 10 power settings and 1000W power, it is a basic but decent appliance that won't take over your kitchen counter.
We love the memory function that lets you store your most customised settings, as well as the easy to clean interior. It has six one-touch cooking presets for popular meals and snacks including baked potato, popcorn and pizza, as well a defrost by weight or time mode to make quick work or meal prep. It also has a keypad lock to prevent unsupervised use.
The downside of the Faberware FMO1AHTBKB microwave is it's rather noisy, and that includes the cooking and opening and closing the door. It also smudges easily, but nothing a damp cloth can't sort out. But if you're short on space and need a decent value microwave that performs well, this is a good option.
---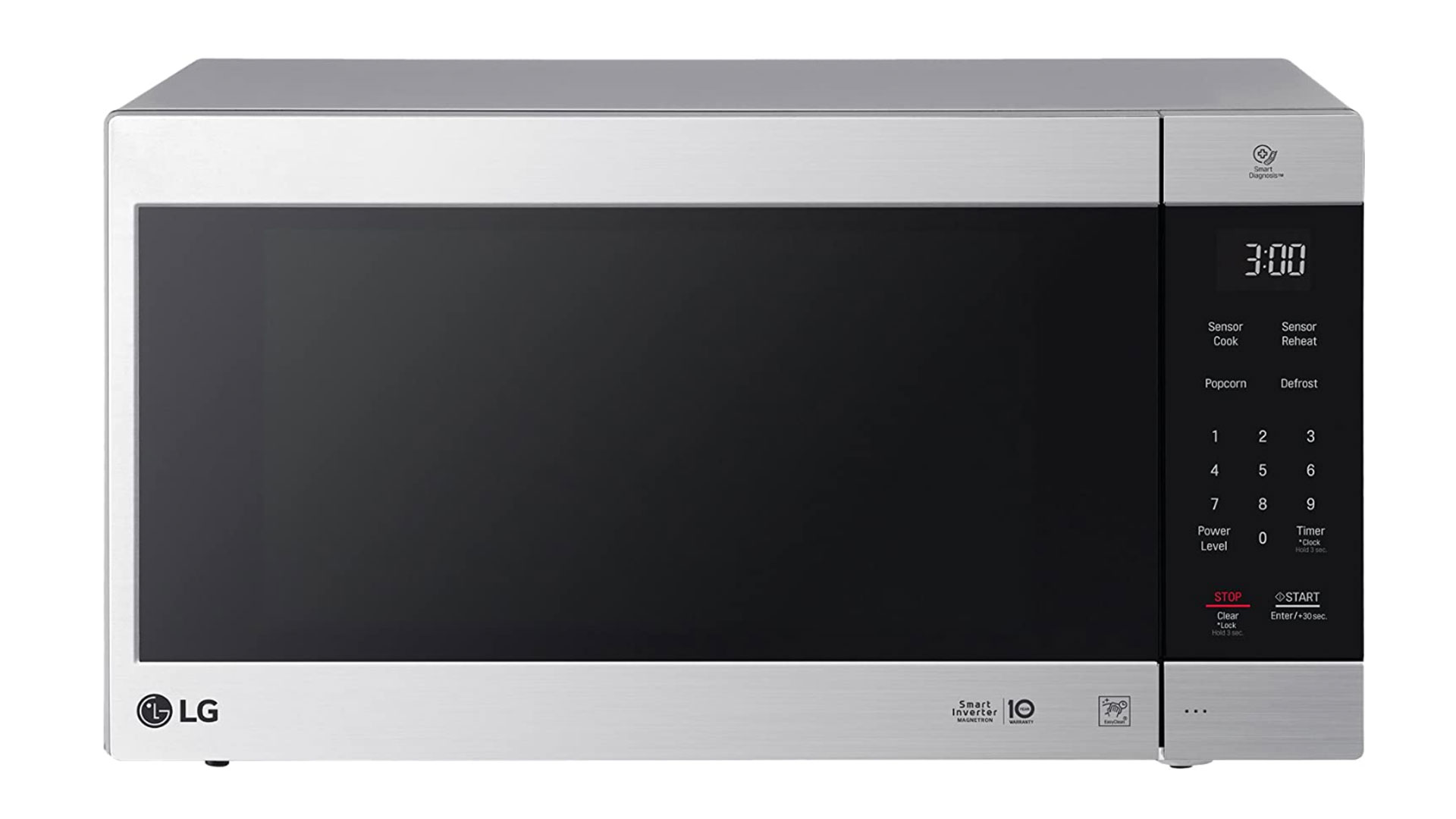 The LG LMC2075ST is a well-designed and attractive microwave with some excellent design features that make it simple to use. 
What the users say…
Reviews on Best Buy give this product 4.5 out of 5 stars. Positive reviews praised the microwave for being quieter than other microwaves. One ecstatic user said: "Best microwave I ever had! I cannot say one bad thing about this microwave – definitely recommend." Negative reviews said cleaning the glass on the appliance was "a pain" and that it was expensive.
From smart sensors that auto-adjust the temperature and cook time to the 'EasyClean' large 2.0 cu. ft interior, it's perfect for families and lovers of big portions alike! The microwave's antibacterial coating is designed to resist stains and build-up, making cleaning the appliance a breeze.
The LG LMC2075ST comes with a six-wheel turntable (rather than the standard three), which means heavier items won't tip or spill. The microwave also plays a song when it's finished, instead of a traditional beep, which, like Marmite, people will either love or hate.
Buying advice for the best microwaves
What to look for in a microwave?
There are a few factors to consider before buying a new microwave and these include size, wattage, power levels, safety and smart features and of course budget.
Size
Wright says: "A standard sized microwave is usually in the range of 1.5 to 2 cubic feet. To pick the capacity you'll need, measure the size of any bakeware you plan to use in it and make sure it fits."
Wattage
"You'll want a microwave that's around 700 – 1,000 watts because most microwave meals use that as a basis for cook time. If you go over or under, your food will more often be undercooked or overcooked respectively."
Power level
Also take into account power levels – most freestanding (also known as solo) microwaves let you adjust this to suit different foods, as you don't want to cook everything on full power. Higher settings work best for liquids, including soups, drinks or veggies. Medium power is ideal for ready-made meals while low power is better for delicate jobs like melting chocolate or butter. Many of the best microwaves offer reheating and defrosting modes, too. 
Smart and safety features
Newer models have microwave inverter technology, which uses a continuous stream of heat at reduced power to cook foods more evenly than traditional pulsing microwaves. Other smart features include voice-activated controls, and barcode scanning (via an app) to activate an auto-cook time. Investing in a microwave with a clear view door will mean you don't need to keep opening it to check on the food. Some come with a child lock function that disables the control panel, avoiding the risk of children accidentally starting the kitchen appliance unsupervised. 
Budget
Wright recommends spending between $200 – $350 for a microwave. Expect to pay more for smart features and microwaves that include additional cooking methods like grilling and baking.