Before you leap into buying this fun and healthy backyard activity set, check out our guide to the very best trampolines on the market today, from products featuring safe and sturdy net enclosures to galvanized steel frames that are rust-resistant. 
Trampolining is a fun and effective form of exercise, whatever your age. It's also a low-impact workout for the joints, as the mat reduces stress on ankles, hips and knees by absorbing some of the shock. Your kids will also develop their gross motor skills and improve their coordination and balance while having fun and burning off energy.
The best trampolines prioritize safety features, with galvanized steel frames that protect the product from rust, reinforced jumping mats and sturdy net enclosures that provide a safe landing. They also feature water- and UV-resistant materials, so being outside in all conditions won't degrade them.
Before you decide to jump in, it's worth measuring up your available space and ensuring you leave a reasonable perimeter of space around your trampoline, considering the diameter of your chosen model. You'll also need to check the total weight capacity of a trampoline and ensure you don't go over it. 
We've rounded up some of the best trampolines available below, complete with key specs, user reviews, and warranty information, to give you peace of mind when choosing. And don't forget to ensure an adult supervises children at all times when on the trampoline. Happy bouncing!
---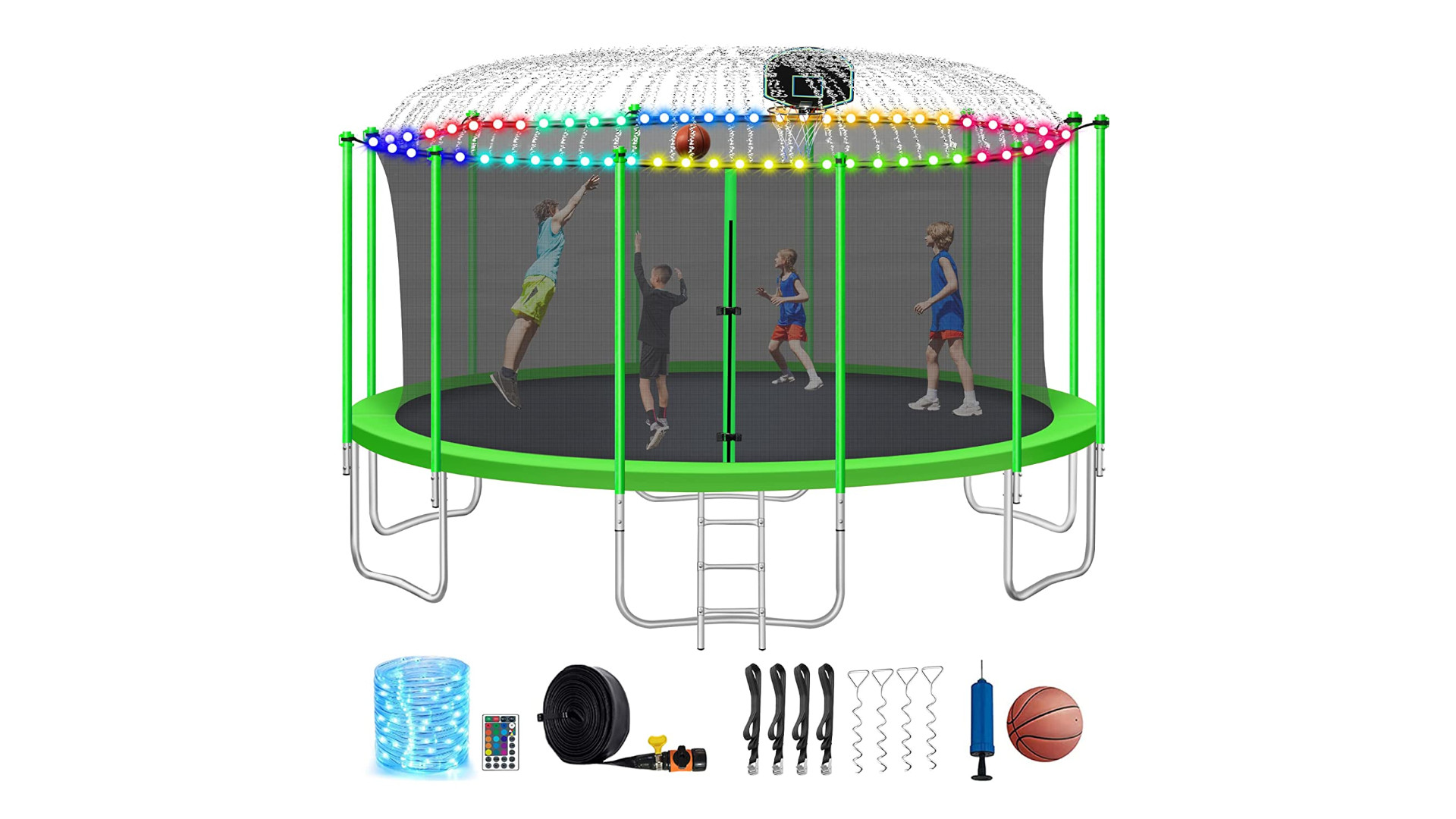 If you're looking for a trampoline that will keep the kids (or adults) entertained for hours and encourage them to exercise, the LHX Trampoline for Adults and Kids has got to be your top choice. 
What the users say
With an impressive 4.7 stars out of 5 on Amazon, users love their LHX trampoline. They say the company offers excellent customer service, the set-up is easy, and the considerable weight capacity provides plenty of fun for kids and adults alike. One user commented, "I have built 5/6 trampolines so far for my kids, and this one was definitely the easiest and best one yet." However, one negative review on Amazon reports the ladder is quite steep and skinny, while others had problems with wind storms trashing their trampoline because they didn't use the anchor stakes.
This all-in-one party trampoline set is 16ft in diameter and features a basketball hoop set, a sprinkler system, a ball inflator and multicolored trampoline lights around the perimeter to boot.
LHX says its trampoline has been tested for 50,000 jumps, 5,000 hours and can hold up to 1500lbs, making it an excellent choice for birthdays and parties. The high-density safety net offers UV protection, while stake anchors allow extra stability and peace of mind.
The springs, stakes and metal frame are all galvanized, giving extra strength and durability, and LHX offers a 24-month warranty on all accessories, with the frame covered for 18 months.
---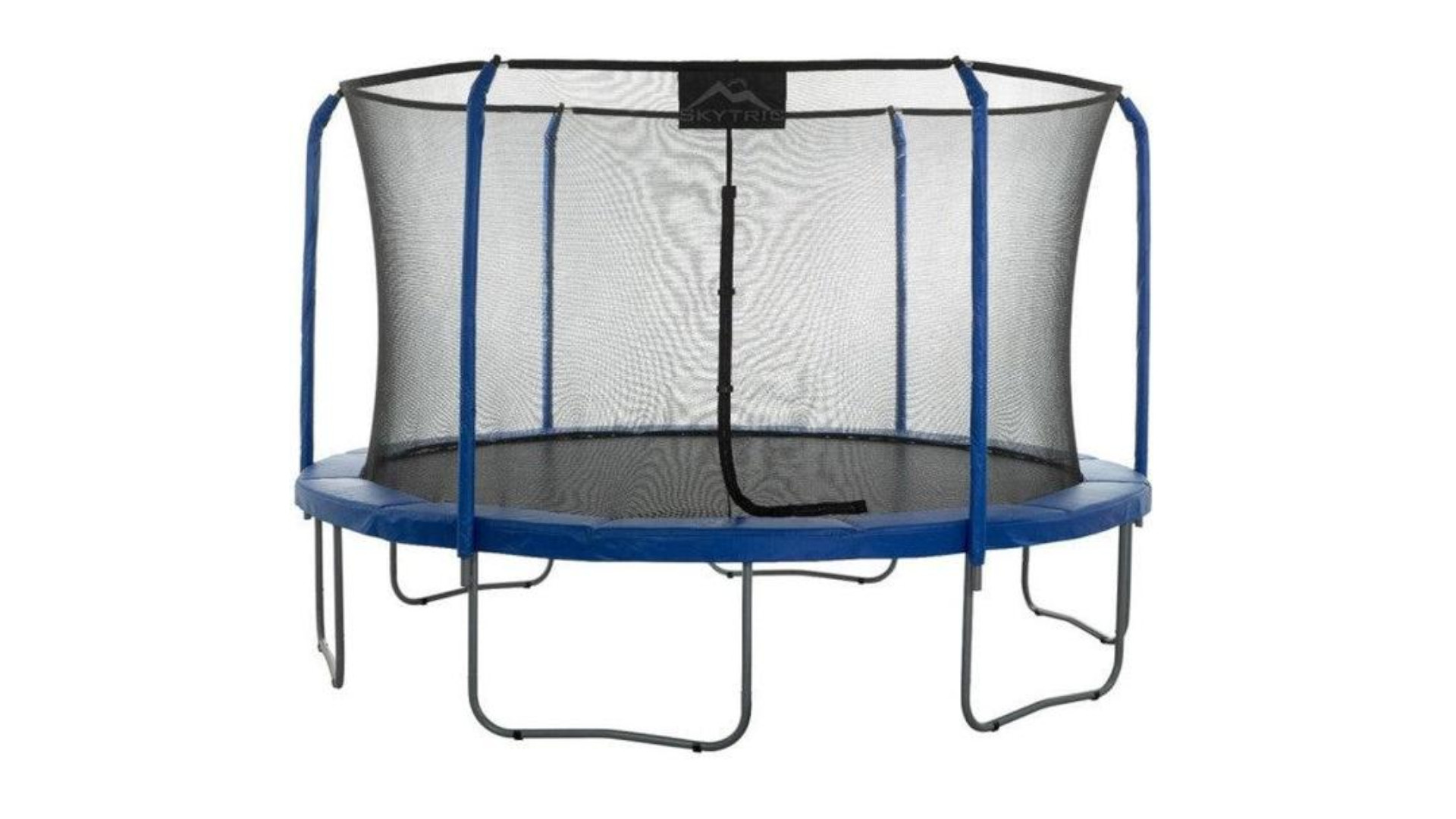 The Machrus Skytric 13ft. Round Trampoline Set is designed for kids and adults bouncing together, with a combined weight capacity of 330 lb.  
What the users say
The Machrus Skytric 13ft. Round Trampoline Set has an impressive 4.6 stars out of 5 on Home Depot, with 85% of all purchasers recommending it. They like how easy it is to assemble while providing their children with a fun but safe jumping environment. As one user says, "Well made and worth every penny we paid. Our daughter and her friends love it!" Negative reviews are mostly individual issues with missing parts, but some customers find the enclosure hard to attach to the main frame.
The jumping mat is made of premium PP mesh material and is UV and water-resistant. An additional eight rows of reinforced stitching add peace of mind, reducing the risk of tearing, ripping, or deteriorating over time. 
This spacious trampoline measures 13ft across, with plenty of room for whoever is jumping. It also features a net enclosure and foam-covered surround posts to keep your kids safe while jumping around. Each surround post has a sleeve cover to protect it from the elements and ensure the foam lasts longer. 
Easy to assemble with straightforward instructions, the Machrus Skytric 13ft. Round Trampoline Set uses push-button connectors to attach the surround posts to the trampoline. 
---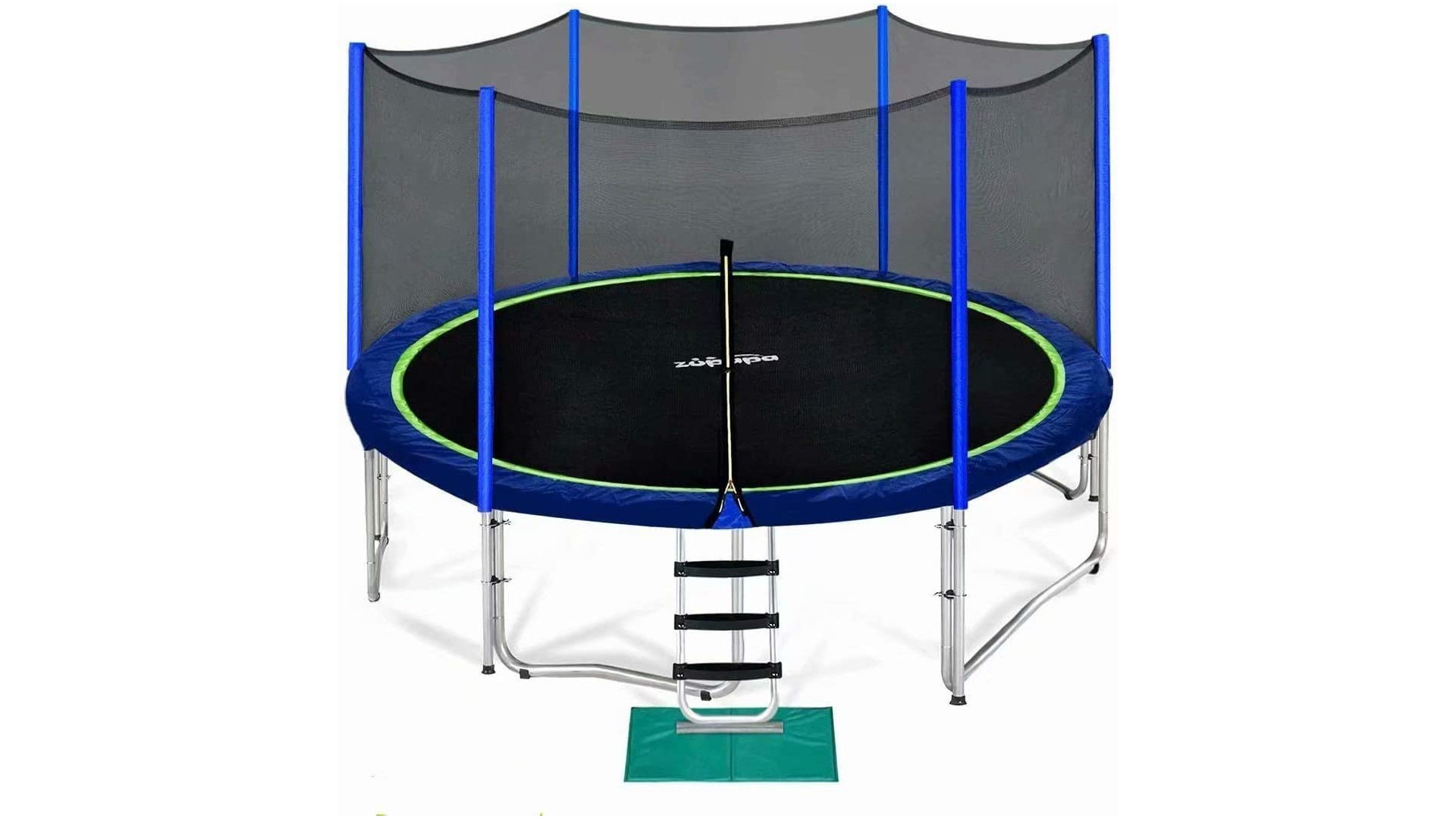 The Zupapa No-Gap Design Trampoline for Kids offers a no-gap design to help stop little hands and feet from being caught in the gaps between the enclosure and the jumping mat. It's also designed to meet and exceed ASTM safety standards.
What the users say
With thousands of 5-star ratings on Amazon, it's clear that the Zupapa No-Gap Design Trampoline for Kids is a firm favorite with parents. They praise how well-made this product is and say the customer service is excellent, with one happy customer remarking that Zupapa is "very very fast to respond and super helpful."  Some customers have provided more critical reviews, however, reporting defective parts such as poles and mats, and some worry about the net poles' quality and safety. 
The maximum capacity weight of 423 lbs means you can have multiple jumpers without concerns about the trampoline giving way while the net poles extend to the ground, offering more stability. These sit alongside the sturdy W-shaped legs of the trampoline itself. 
The jumping mat is anti-UV, protecting it from sun damage, and the steel frame uses the latest hot-dip galvanizing technology to reduce the risk of rust. This Zupapa trampoline also offers 12 more springs than an average trampoline  – improving bounceability.
The warranty is impressive too. With a 10-year warranty on the frame and a 2-year warranty on the mat, safety pad enclosure net and springs, you'll have peace of mind for longer. 
---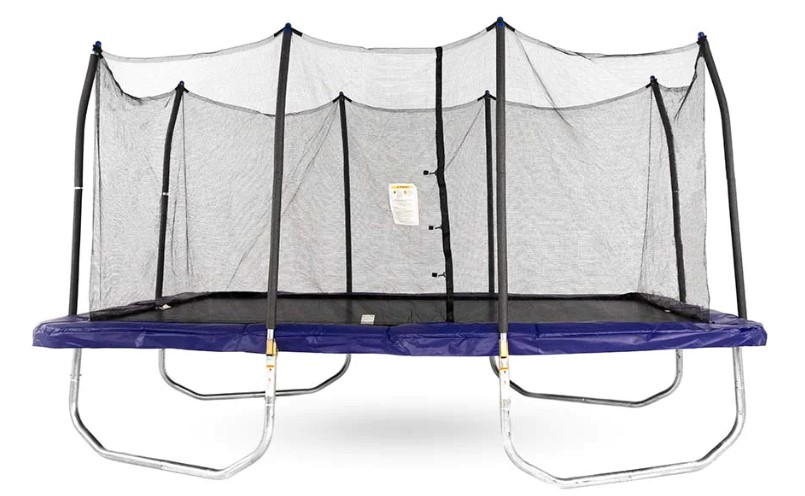 The Skywalker Trampolines 15 ft. Rectangle Trampoline offers buddling athletes and gymnasts more room to flip and trick with its rectangular shape and even bounce across the mat. 
What the users say
Over 700 customers have given the Skywalker Trampolines 15 ft. Rectangle Trampoline the full 5-star rating on Walmart, with many enjoying the extra room it offers for bouncing. They also like that the enclosure net comes attached to the poles – making assembly much more manageable. One happy customer summed it up: "Thrilled with our purchase! This trampoline assembled fairly easily, seems very sturdy, and was a great buy!" Negative reviews mention parts of the trampoline being damaged on arrival, and a few customers have remarked that the safety net tore within weeks of use.
The no-gap enclosure system reduces the risk of getting caught at the sides of the trampoline, while the dual zipper and latch clip closure system keeps kids safely inside during jumping. 
The frame is made of galvanized steel, protecting it from rust and poor weather, while the extra-thick spring pad and foam-padded poles offer extra safety while exercising or having fun. 
Skywalker Trampolines all feature reinforced T-sockets made of galvanized steel at each leg and enclosure joint. The manufacturers say this improves stability and prevents structural twisting. 
---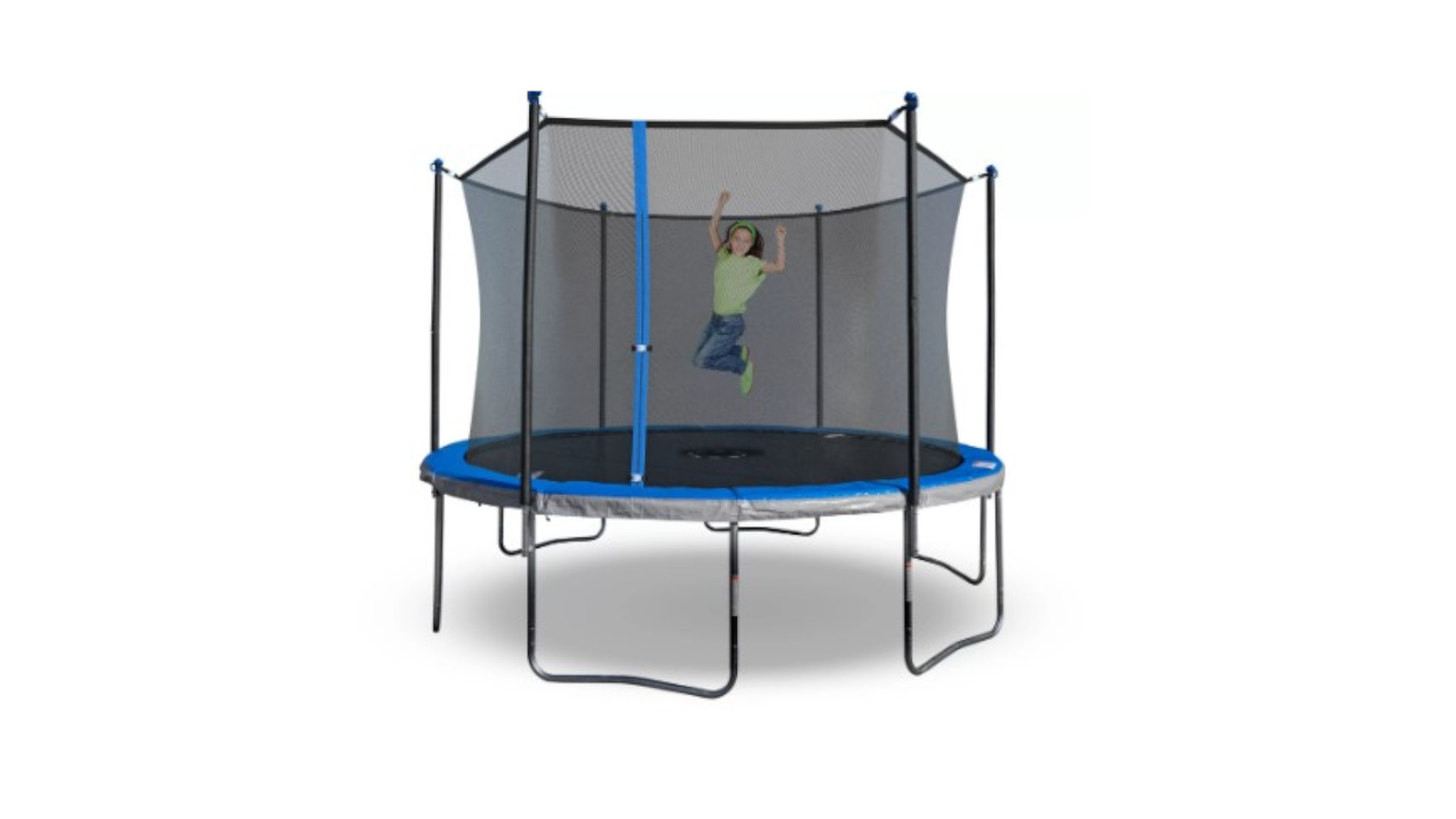 This TruJump 12ft trampoline and enclosure combo features a classic steel pole safety enclosure and a UV-resistant net, allowing your kids to exercise and have fun while staying safe inside the trampoline.
What the users say
The Trujump 12 ft. Trampoline scores a solid 4.5 out of 5 stars from almost 200 reviews on Wayfair. Many users praised the materials' quality, the fast delivery and the easy assembly. Negative reviews are fewer, but some customers needed help putting the trampoline together, while others reported missing parts.
TruJump says their patented double weld leg joint is the safest and strongest on the market, preventing bending and breaking at the leg connection. The double-galvanized steel frame adds extra durability and stability. 
The spring cover is foam padded to reduce the risk of injuries, while a zipper closure offers extra tension to the UV-protected enclosure net.
This trampoline also comes with a spring loading tool, making assembly quicker and easier. 
---
 What should you look for in a trampoline? 
Why you can trust Top Ten Reviews
Our expert reviewers spend hours testing and comparing products and services so you can choose the best for you. Find out more about how we test.
First and foremost, safety is your top priority when it comes to choosing a trampoline that you or your children can use safely.  Trampolines with features such as safety nets or enclosures are a good start – make sure yours attaches securely with no gaps or spaces where children can fall through and has a sturdy, weather-resistant zip closure or latch-entry system.
Look for models that have sturdy, padded frames, ideally constructed from galvanized steel that is rust and corrosion-resistant. Ensure the mat is made from sturdy material, has reinforced stitching and plenty of padding around the edges. Additional UV protection in the material will protect it against wear and tear and exposure to the elements. 
It's also a good idea to check the user reviews and opt for a model with plenty of good reviews that appear genuine and unsolicited by the manufacturer or seller. Ensure your trampoline choice meets regulation safety standards set out by ASTM (formerly the American Society for Testing and Materials). Look for a decent warranty too. Some warranties cover the lifetime use of the trampoline and all its parts, such as the jumping mat, frame and springs, while others offer limited warranties on the frame or mat only. 
Spring-free trampolines that don't feature metal springs are popular for children as they reduce the risk of a child trapping body parts in the spring mechanisms. They also require less maintenance than spring trampolines and are quicker to assemble. 
You'll also need to consider the size of your backyard when deciding how big to go. You don't want a trampoline that's too snug against a wall or fence, as this could increase the risk of injury. Aim for at least 8ft of clear space between the edge of your trampoline and a wall, fence or other hard objects.
Always double-check the trampoline's weight capacity, especially if you or other adults also intend to use it. 
Finally, look for trampolines that are relatively easy to assemble and have clear instructions, or even online video tutorials, to follow. This will help to reassure you that you've put it together correctly and safely.