The Bestway 57415E inflatable swimming pool set brings the summer vibes with its tropical theme and cheeky palm tree sprayer.
Adults and kids alike can all enjoy this large capacity (33" x 15ft) inflatable pool, which comes with a thick 3-plyer liner for extra durability.
Bestway 57415E Paradise Palms: Key specs
Dimensions: 180″ x 180″ x 33″
Capacity: 2556 gallons
Shape: Round
Color: Multi
Suitable for: 3+
Price: $347
The pool is quick to inflate in just ten minutes, although it's a 2-3 person job. It has a simple 'fill-and-rise' process – you just inflate the top ring and watch as the pool rises as it's filled up with water. 
The Bestway 57415E comes with a filter pump to keep your pool water clean and it's super easy to drain thanks to the flow control valve, so you can store it away for the winter ready for another summer of fun.
Bestway 57415E: Design
The Bestway 57415E is an above ground inflatable pool with a summery tropical theme of red and green flowers. It's a huge 33" x 15 ft. inflatable pool, which can easily accommodate 8-10 children or six adults. It comes with a thick 3-ply TriTech liner that is built to sustain frequent use.
It's very easy to set up but because of its size you'll need to rope in 2-3 people to help. Assemble it by simply laying it flat in the position you will be using it, then inflate the top ring and then watch the pool rise as you fill it with water.
Bestway 57415E: Features
This inflatable pool is super fun with it's large capacity, tropical design and cheeky palm tree sprinkler that sprays water when connected to a garden hose. It's something the whole family can enjoy, and is big enough to accommodate both children and adults – something everyone will appreciate during a hot summer.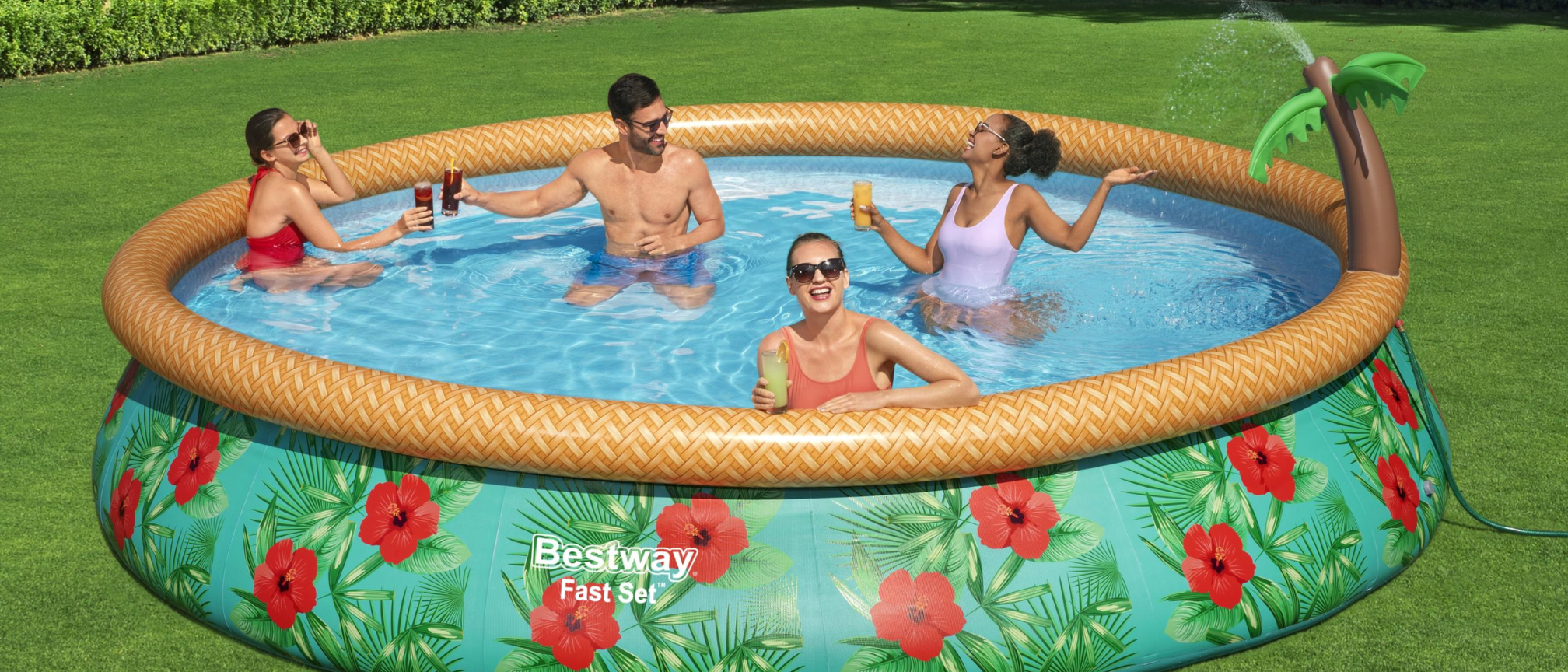 The Bestway 57415E comes with a 530 gallon per hour filter pump to keep your pool clean all summer. Another useful feature is the flow control valve which allows you to quickly drain the pool and store it away for next summer.
Bestway 57415E: User reviews
The Bestway 57415E paradise palms inflatable swimming pool set scores 3.4 out of five on Amazon, with 40% of users giving it the full five stars. Users love the palm tree sprayer as well as how easy it is to set up and use. Negative reviews cited issues with the pool staying inflated, as well as the palm tree sprayer falling down regularly.