Key specs
Type: single grip
Cord length: 10 m
Shaft diameter: 26 mm
Weight: 3.2kg
Cutting width: 33 cm
Line diameter: 2 mm
Warranty: up to 2 years (may vary based on location)
Looking for a straightforward solution to keep long grass in check? If so, the Black + Decker GH3000 lawn trimmer could be your ideal choice. 
With a 33 cm cutting diameter and 700W of electric strimming power, this model is more than a match for tidying around medium-sized lawns. Like most of the best lawn trimmers (also known as 'string trimmers', 'line trimmers' or 'strimmers'), the GH3000 is designed specifically to cut areas of long grass in awkward places, such as around plant pots and the bases of trees. If you need a garden tool to mow the main lawn area, you should be looking at one of the best lawn mowers instead. 
Despite its affordable price point, the Black + Decker GH3000 has some excellent features and accessories. These include a wheel edge guide for accurate lawn edging, 'E-Drive' (which is Black + Decker's high-torque gear system), and an adjustable auxiliary handle to help you get the perfect grip, whether you're trimming horizontally or vertically, high or low. The shaft can switch positions, to suit either trimming or edging applications. 
Bundled in with the strimmer and its standard spool, you also get a HDL cap and four heavy duty lines (HDLs), which are tough enough to cut weeds as well as soft grasses. And perhaps most importantly for users who are particularly statuesque or petite, you can change the length of the strimmer using its telescoping shaft. 
This lawn trimmer runs off household/mains power, so you don't need to worry about battery charging or runtime. With that said, you should bear in mind that you'll need a power source close to the garden area, in order to use the lawn trimmer with its 10-meter cord. 
British readers should note that the GH3000 is known by an alternate name in the UK: the Black + Decker GL7033.
Black + Decker GH3000: First impressions
The Black + Decker GH3000 made a great first impression on our reviewer, when it arrived in its space-efficient, fully-recyclable packaging. Inside the box, the components looked smart and well-built.
Setting up this line trimmer is pretty straightforward. However, the product isn't exactly "plug-in-and-play", as there are a few components you'll need to assemble before use.
First, you attach the guard around the strimming head. To do this, you remove the screw that's already attached to the guard (screwdriver not included), and then slot the guard into place and fix it there using the same screw.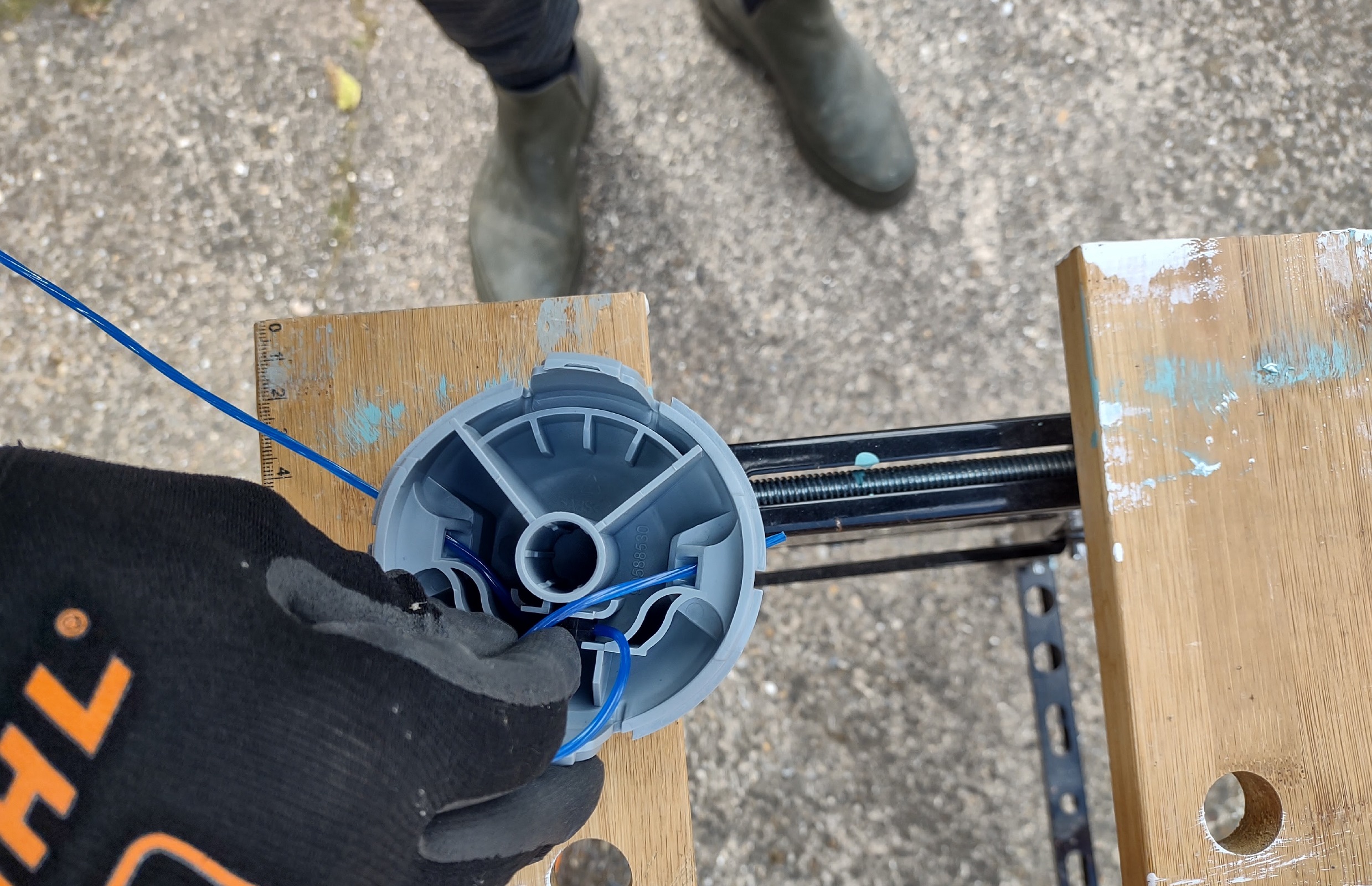 You may want to switch the trimming line and spool during initial setup, depending on whether you're going to cut tough weeds or grass during your first use. Installing the trimmer's second handle is a simple case of depressing the buttons on both sides of the tool, and sliding the handle over them. Ahead of subsequent trimming, you can use the orange button on one side of this handle to change its angle to suit your grip.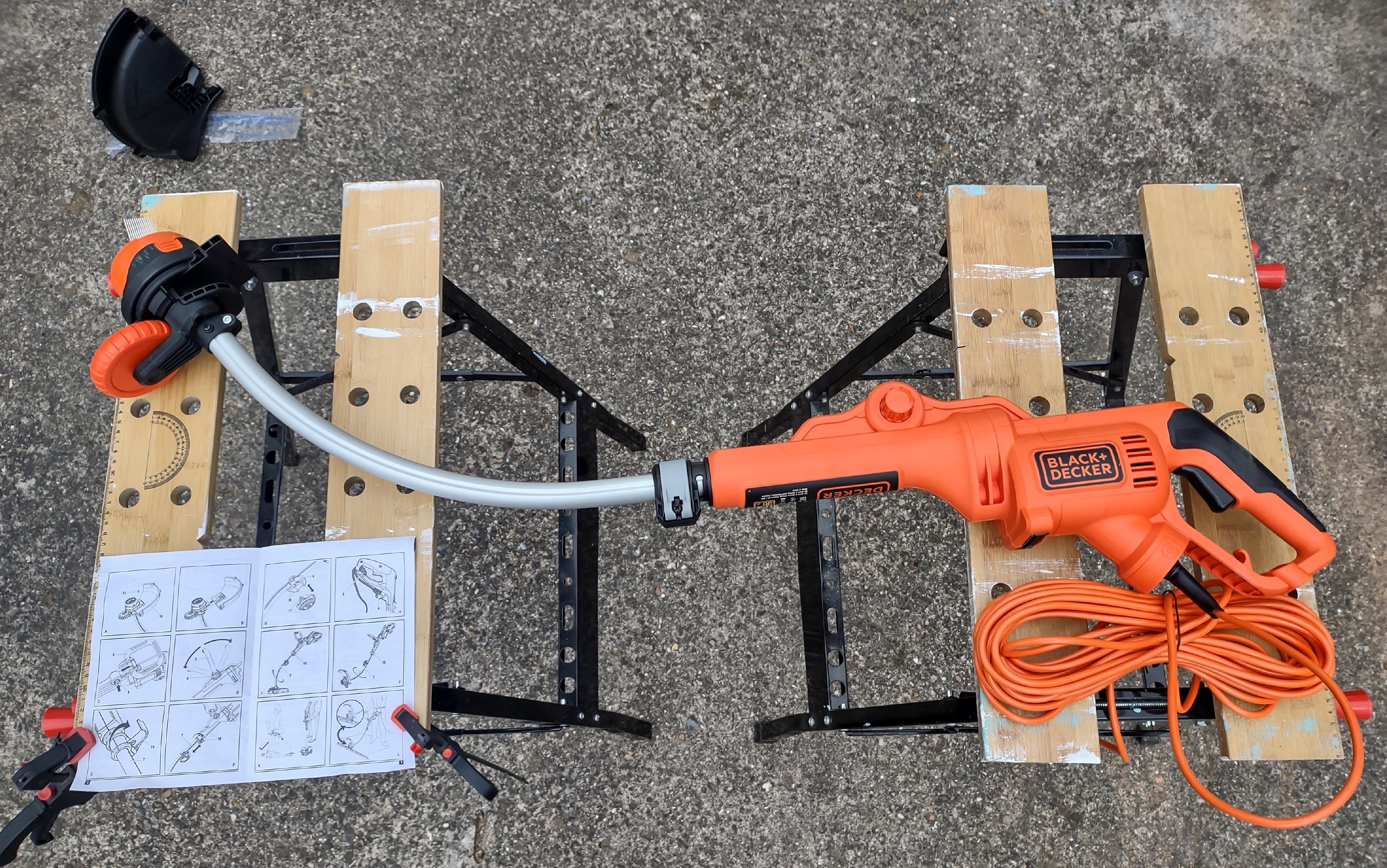 At this stage, it's also a good idea to get to know the mechanism for changing the angle and length of the shaft, which is based around a simple clasp. This will help you to adapt the lawn trimmer for vertical edging or horizontal trimming, as required.
In total, set-up took our reviewer about 15-30 minutes. Some handy gardeners will undoubtedly complete the process faster than us!
Black + Decker GH3000: Pricing & availability
List price:  $99/£92 
Whichever side of the pond you're on, you can purchase the powerful GH3000 and get some change from a hundred-note. This places the GH3000 somewhere towards the higher end of the affordable electric line trimmer spectrum. 
For a gas-powered or premium electric alternative, you'd be looking at paying double the GH3000's price tag. 
It's worth noting that this line trimmer is sometimes available at a discounted rate from sellers such as Amazon. Other stockists include Walmart and Home Depot. 
Score: 4/5 
Black + Decker GH3000: Design
As you'd expect of a Black + Decker lawn trimmer, the GH3000 looks great and is robustly built. The trigger is smooth and responsive, and we found the components smooth and easy on the hand (although you should wear gloves while you're actually trimming, as well as goggles). We were also happy to note that the GH3000 is not too heavy, with a nicely balanced weight distribution that makes for easy mowing. 
There's only one colourway for this line trimmer: the bright orange common to most Black + Decker products. The power cable is a similarly bold shade of orange, which is a major plus point for safe visibility on the lawn. 
Without adding unnecessary gimmicks, Black + Decker has equipped the GH3000 with an ideal set of features for edging and trimming the average lawn. 
The trimmer runs off a 700 W motor, powered by household/mains electricity, which rotates the trimming line and spool at 7,000 RPM. You can feel the force of the tool while you work. 
There are two different spools, and two types of trimming line, supplied with the GH3000. A standard spool and line (for cutting regular lawn grasses) are fitted to the line trimmer as standard. And also bundled in with the trimmer is an HDL cap and four HDL line attachments, which can be used for cutting tougher plants, including many varieties of weed. The HDL lines are pretty short, so we would recommend buying some additional spares, in case your initial supply gets worn out quickly. Switching between the standard spool and the HDL cap is as easy as pie. 
Other key features include the trimmer's adjustable shaft, which can be retracted/extended and rotated to suit the required cutting position, and the guide wheel next to the guard, which you can push along the ground during edging. The GH3000 is single speed, although you can manually influence the line speed by feathering the trigger. 
Score: 5/5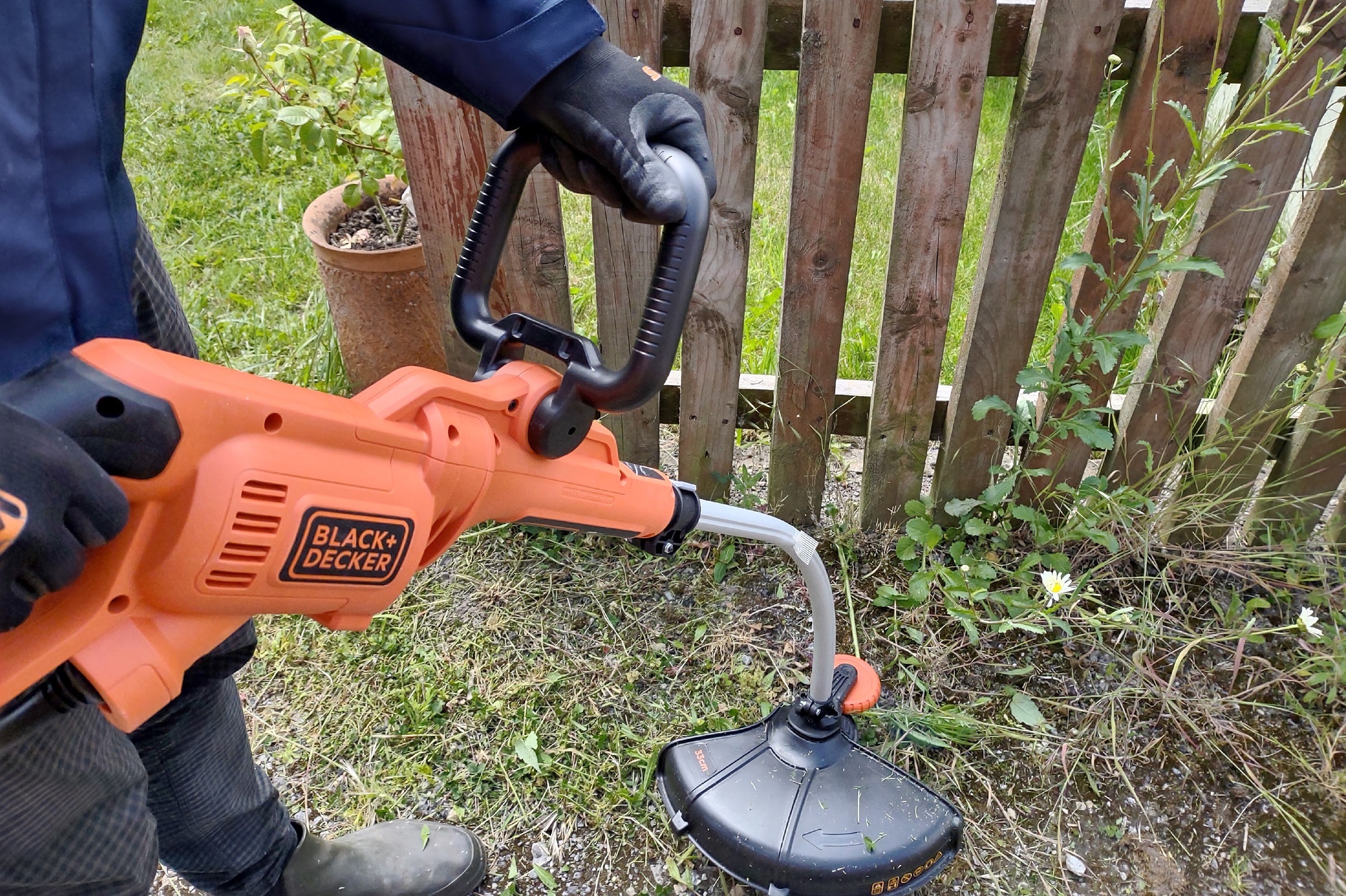 Black + Decker GH3000: Performance
Using the Black + Decker GH3000 lawn trimmer is nice and easy, provided the tool is set up and used correctly. Before you start trimming, think carefully about which orientation you want the shaft to be in, as this will greatly affect performance. You should also take care to select the most suitable trimming line and spool/cap for the task at hand.
I found it easy to strim really precisely with the GH3000. In one area, we wanted to cut down most of a patch of weeds, while leaving some lovely tall daisies standing in the middle of the patch. Using the strimmer's guard as a guide (and with the HDL attachments in-place), we were able to achieve the desired result.
The GH3000 also proved to be highly effective at edging my lawn. A majority of long grass was successfully cut after just a few passes, creating a pleasingly neat and tidy edge.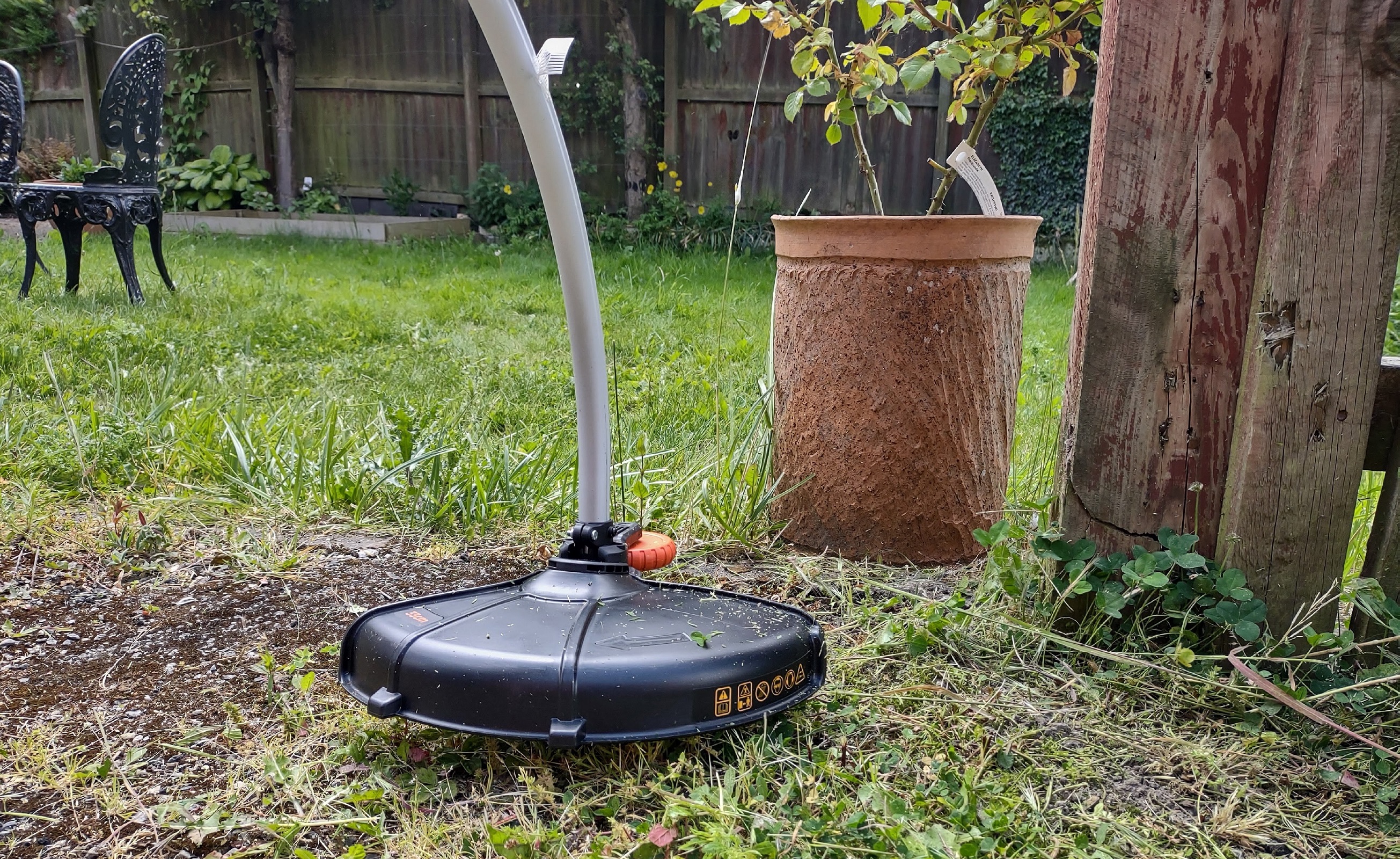 Be sure to follow the instruction manual's advice, and strim with the head of the strimmer at a slightly raised angle (the manual states 20°). This will minimize contact between the trimming line and the ground. Remember: it's difficult to use a tool of this type over bumpy areas, as you'll risk catching the ground and quickly wearing away the trimming line. 
Our decibel meter showed that the GH3000 was never louder than 89 dB during our testing, which is about as loud as a blender. In our experience, the operating noise of the GH3000 was not especially off-putting, with a moderately high-frequency sonic profile. The advisory label on the GH3000 warns that the tool could operate at volumes as high as 96 dB, which is considerably louder than anything we experienced during testing. 
The long, slender profile of the GH3000 makes it pretty convenient to store in a garden shed or garage. For optimal space efficiency, retract the shaft to its shortest extent before storing. 
Keeping the GH3000 clean is simple, too. Most of the components can be wiped clean with a cloth or rag, although you may find it helpful to use a scraper to remove detritus from the underside of the guard. Pay special attention to clearing the ventilation holes on the body of the tool, as this will reduce the risk of overheating during ongoing use. 
One easy maintenance task that you will need to carry out fairly often is replacing the trimming line. Compatible 2 mm line is widely available. 
We were pleased to note that the GH3000 comes efficiently packaged, almost entirely in recyclable card and plastic pouches. 
Score: 4/5
Black + Decker GH3000: What the experts say
Black + Decker's Joe Handley says the GH3000 is particularly suitable for users who need to do a lot of trimming, or who don't often use battery-powered appliances. 
"A corded, electric strimmer like this one can be more convenient than a cordless model, as you don't have to worry about the battery running out and charging it up," he says. 
On the flipside, choosing this corded model could cause problems for gardeners who don't have a solution to run household power to the lawn. 
"Corded electric strimmer's require a nearby power source to operate so before purchasing ensure your garden has convenient access to power outlets," Joe advises.
How does the Black + Decker GH3000 compare to competing models?
If you like the sound of the GH3000, but you'd prefer to use a cordless, gas-fuelled alternative, then you might want to consider the Troy-Bilt TB25CB. This is another curved-shaft line trimmer, with a powerful trimming action. However, the TB25CB lacks some of the GH3000's features, such as the guiding wheel and auxiliary handle. 
There are some other worthy options to weigh up in the Black + Decker line trimmer range, too. One particularly well-reviewed cordless option, which runs off a lithium-ion battery, is the LST140C 40V Max Lithium String Trimmer. Or, if you prefer a corded model with similar features to the GH3000, but you'd rather trim with a straight-shafted tool, the Black + Decker GL900 is also worth a look.   
Should you buy the Black + Decker GH3000?
Swipe to scroll horizontally
Black + Decker GH3000 score card

| Attribute | Notes | Rating |
| --- | --- | --- |
| Price & availability | Fairly high mid-market price, available via a wide range of retailers | 4/5 |
| Design | Well made, highly adjustable, corded operation | 5/5 |
| Performance | Excellent trimming performance , guaranteed runtime | 4/5 |
This is a highly effective, well-made lawn trimmer with all the basic features you're likely to need to maintain an average lawn area. The question is: what more could you want? 
Some lawn trimmers do possess some additional features that you won't get with the GH3000, such as cordless power, or a four-wheel base for lawn mowing. The only customers who really need to look elsewhere, would be those who really care about those extra-special bells and whistles. 
For most gardeners, the Black + Decker GH3000 would make an excellent choice. The adjustable second handle, turnable and extendable shaft, and choice of two types of trimming line, all make this a supremely versatile lawn trimmer that can suit a wide variety of lawns and users. 
Warranties on the GH3000 may vary depending on location. Typically, the warranty on this product will cover you against defects that become apparent within two years of your purchase, provided that the product is used as intended in a domestic context. If you require more specific details, ask the retailer. 
How we tested the Black + Decker GH3000
Our reviewer tested the Black + Decker GH3000 33 cm Lawn Trimmer 700W by using it to trim overgrown grass and weeds in his garden – especially around the edges of the lawn. The reviewer assembled the trimmer and tested all of its key features, in order to provide a comprehensive overview of the product.  
See more about how we test.