The cheapest washer and dryer combos offer affordable solutions to all your laundry needs. Not only are they convenient in that you don't need to transfer your wet laundry from a washer to a dryer – but they're space-saving too. So they're perfect for households with small utility rooms or kitchens. 
The best washer and dryer combos are also time-saving. Having both laundry functions in one machine means you don't have to hang around waiting for a washing cycle to finish before starting the drying cycle – a washer-dryer combo will do all of this automatically. 
It's also possible to save money on your energy bills with a washer-dryer, especially if you opt for a model with a high energy rating or is Energy Star-certified. 
Bear in mind that washer-dryer combos may not always dry your clothes as effectively as a standalone dryer, and if your machine breaks down, you won't be able to use either function. If you prefer a separate washer and dryer, check out our guide to the cheapest washer and dryer sets instead.
But if it's an affordable and highly-rated washer-dryer combo you're after, you're in safe hands. We've checked out the cheapest washer and dryer combos on the market and selected the very best appliances for you, including top loading, front loading, and portable washer dryers that you can take anywhere. 
We've also reviewed key specifications, top features, customer reviews and available warranties on each product to help you find the cheapest washer dryer combo that offers value for money and convenience. 
Where to shop the cheapest washer dryer combos
Why you can trust Top Ten Reviews
Our expert reviewers spend hours testing and comparing products and services so you can choose the best for you. Find out more about how we test.
• Browse washer dryer combos at Home Depot
• Shop for the best deals on washer dryer combos at Walmart
• Discover washer dryer combos at Lowe's
The cheapest washer-dryer combo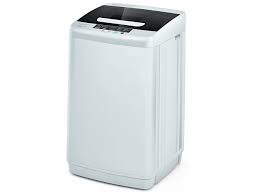 The Costway Full-Automatic Washing Machine is one of the most affordable and highly-rated washer dryers on the market today.  
What the users say…
The Costway Full-Automatic Washing Machine scores an impressive average 4.7 stars out of 5 on Walmart and 4.3 stars out of 5 on Amazon, making this appliance our top user-rated recommendation. Users love how easy the washer dryer is to set up and use and praise its high performance and quiet operation, with one user commenting, 'This little washer has handled everything I could throw in it.' Some users report issues with the drainage hose falling off, but even they give it a great rating after securing the hose more effectively. 
Despite its low price setting and small capacity, it offers plenty of high-quality features, including a stainless steel drum for efficient rinse and dry, automatic unbalance detection to reduce unnecessary noise and an LED display control panel for easy operation. It also offers 8 wash cycles and 10 water levels to suit all your laundry needs, including delicates, heavy spoiling, speedy wash, and soak and wash. 
The 11lb/1.5 cu. ft. capacity allows you to fit in a set of underwear, a jacket and coat, a bed sheet and blanket, a T-shirt and trousers. A child lock is included which is a great additional feature at this budget. 
Measuring just 19D x 19W x 33.5H inches, the Costway Full-Automatic Washing Machine also weighs just shy of 58lbs, making it easy to transport and place anywhere in your home, apartment building, dorm or RV. 
Full automatic, the washer dryer moves seamlessly from washing to drying without you having to lift a finger or even be at home. Expect a wash to take around 57 minutes for a heavy load, while a lighter load takes just 36 minutes. 
Costway offers a warranty of 365 days on this washer dryer with a 30-day No Hassle Returns policy. 
More of the cheapest washer dryer combos
Buying advice for the largest washing machines
 What should you look for in a washer dryer combo? 
Deciding on a washer dryer can be complicated, given that so many models are available on the market. So how do you know which appliances will suit your household and your budget and give you peace of mind that it will clean and dry your clothes effectively without breaking down or developing a fault? 
We've rounded up some key factors you need to take into consideration when choosing your ideal washer dryer combo to help you find the perfect appliance for your needs:
Budget: As with any new large household purchase, your budget is critical. Consider the top end of your budget and try to find an appliance that offers the most features, energy savings and capacity that you can get for your money. Bear in mind that some additional features, such as a large capacity, Wi-Fi connectivity, or vibration reduction technology, may be out of reach with a smaller budget. 
Features: As with any washer, you'll want a good selection of washing cycles to fulfill all your laundry needs, especially if you have heavily soiled or delicate items to launder. Even affordable washer dryer combos should offer a selection of cycles, although top-end features such as steam sanitizing or anti-static may be beyond your reach. Consider what's essential and narrow your search to include appliances that will serve most of your laundry needs well at a price you can afford. 
Warranty: If you're worried about paying for repairs and extra parts further down the line, look for at least a 1-year warranty on parts and labor. The bigger your budget, the longer your warranty is likely to be. 
Capacity: Consider how much you'll use your washer dryer and whether it suits your household needs. If you have a big household with a lot of laundry, go for a larger capacity if you can afford it. On the other hand, if you only need to clean small laundry loads, a capacity of around 1.5 cubic feet is perfect.
Energy efficiency: With energy prices rising, there's no better time to look for a washer dryer that can save you money on your energy bills. Look for appliances with high energy ratings or features and settings that can help you reduce your water and energy usage. 
User reviews: Here at Top Ten Reviews, we always check out the user reviews to find out how real customers rate their purchased appliances. It's a good idea to scroll through the best and worst reviews to get an idea of what users like, and don't like, about a particular product. You'll get a better picture of your chosen model's performance, durability and features. 
Brand customer service: No matter which appliance you plump for, it's essential to check out the brand's reputation for refunds, repairs and other customer service issues. There are lots of third-party review sites that assess brands' trustworthiness and reliability that you can check in advance before you hit 'add to cart.' 
Noise level: If you're out all day while your laundry is being done, you probably won't need to worry about how noisy your washer dryer is. However, if you work from home, prefer to do your laundry in the evenings, or have small children or close neighbors, it's a good idea to check out the noise level of your washer dryer. Some washer dryers come equipped with noise-reducing technology, while others have spin cycles that can make quite a racket. Checking the decibel level of spin speeds within the specifications and reading user reviews will give you a fuller picture.