Many first-time inflatable hot tub buyers quickly come to the question of Coleman vs Intex. The two brands produce other outdoor products too, but their inflatable hot tubs are by far some of the most budget-friendly and easy-to-install models available to take that prime spot in your backyard. 
The Coleman SaluSpa and the Intex PureSpa can't match the number of features and the hydrotherapy capabilities of the best hot tubs. However, these inflatable hot tubs are kinder on your wallet and still provide a therapeutic water-based massage. Another big advantage is that they're easy to inflate and deflate at home, meaning that you don't need to call in outside forces to assist in the installation process. 
None of the best inflatable hot tubs are exactly the same, and that's certainly true of Coleman vs Intex. The Coleman SaluSpa is priced at $649.99, making it $150 cheaper than the $799.99 Intex PureSpa. Another difference is that while the Coleman SaluSpa claims to fit up to six people, the Intex is designed for four. Then, there's the quality of the design and the difference in features to account for.
Comparing the two inflatable hot tubs side by side is the best way to tell which tub is best for your backyard and budget. We're putting the Coleman SaluSpa and Intex PureSpa under the microscope to declare a clear winner. The design, price, and features are more different than you might think between Coleman vs Intex.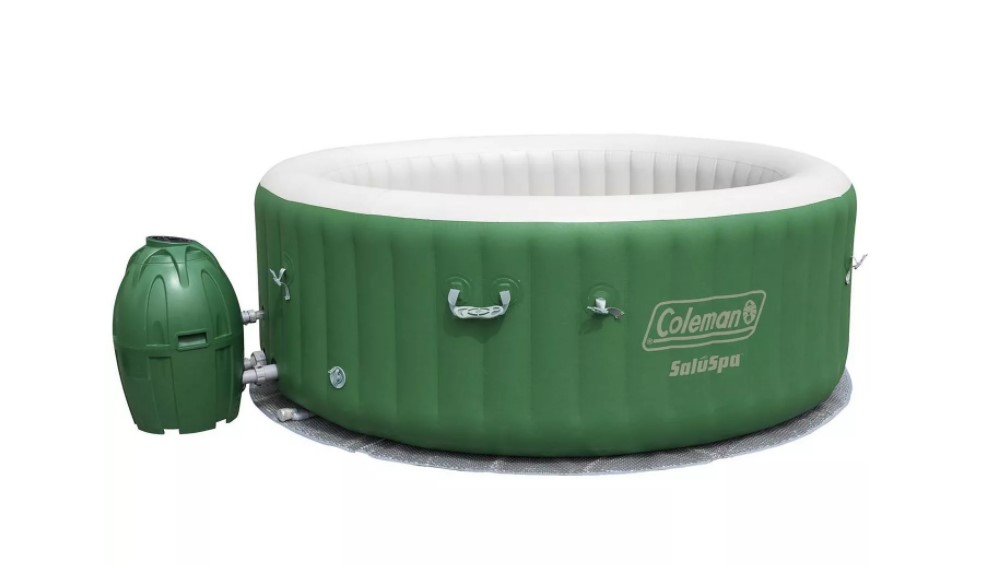 Coleman SaluSpa inflatable hot tub
Capacity: 242 gallons
Size (inflated): D77″ x D28″ 
Max temperature: 104 degrees F
Number of persons: 4
Number of jets: 140
The Coleman SaluSpa offers the ultimate spa experience, without the high price tag. Stable, durable, and with a few fun features that let you dictate temperature and jet pressure, it's a great affordable alternative to a professionally installed hot tub. Inflate and deflate as you need, Lift and move with ease thanks to handles, the Coleman has a simple set-up and is easy to maintain. 
It does only hold 4 people, so if you're wanting to host and invite friends, there won't be enough space, but if you're wanting a home hot tub for you and your family or just a few friends, then this is the tub for you. 
For
Reasonably priced
Cushioned floor
Easy control panel
Against
Only fits 4
Heater and bubbles won't work simultaneously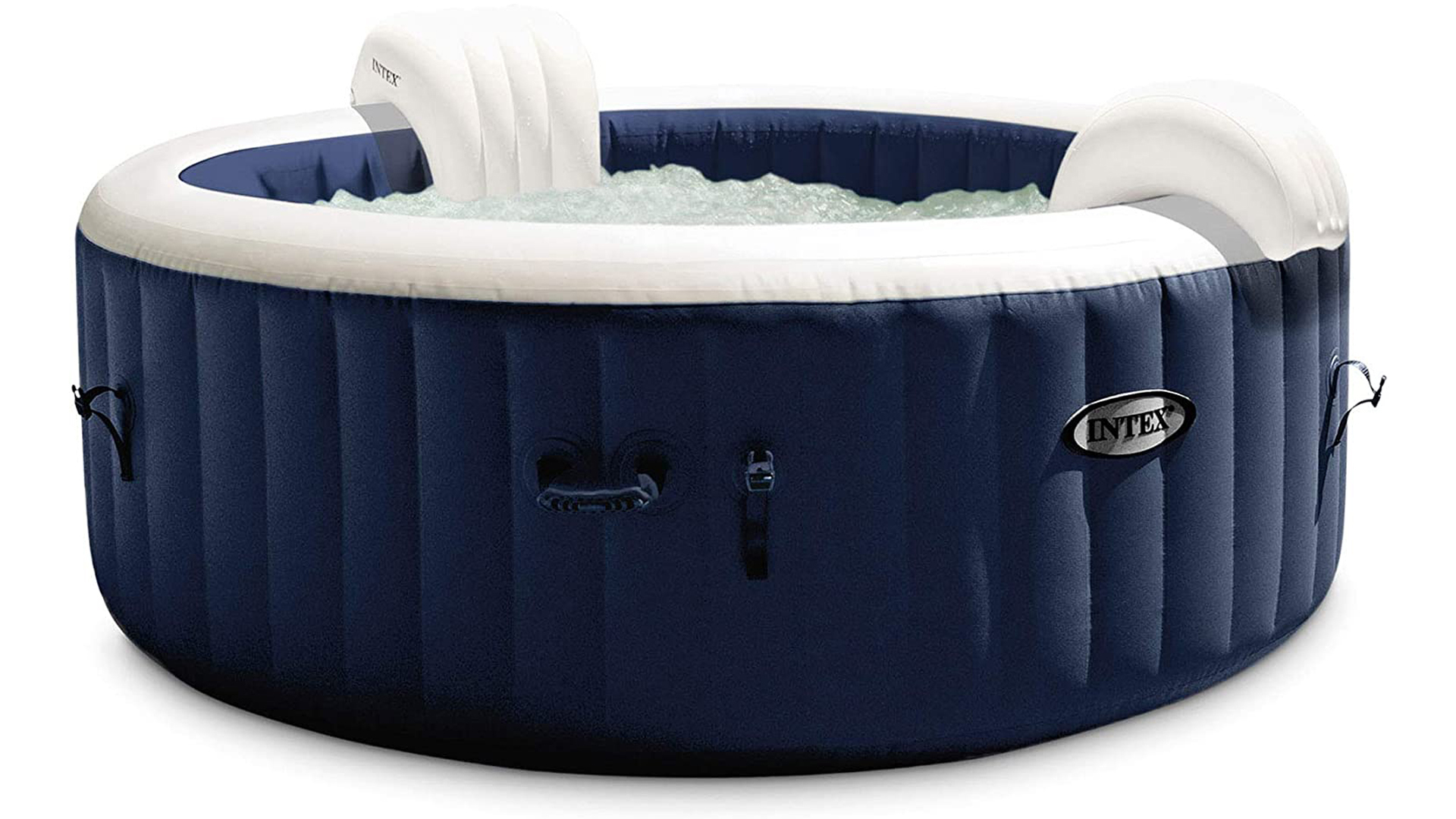 Intex PureSpa Portable Bubble Jet Spa
Capacity: 210 gallons 
Size (inflated): D85″ x D28″
Maximum temperature: 104 degrees F
Number of persons: 6
Number of jets: 170
The Intex spa is on the more expensive side of the hot tub market, but it offers an indulgent spa-like experience with an impressive amount of jets, extra durable fiber tech, and built-in hard water treatments. With all the frills, the Intex PureSpa has a range of luxurious built-in features. It may have a higher price tag, but you won't have to buy any add-ons. 
It fits up to 6 people, so you can bring the party to the hot tub, and let your larger family enjoy the experience too. It's worth noting the jet temperature isn't that hot when turned on, but if you're looking for hydrotherapy the jet spa still really lives up to relaxation claims. 
For
Bubble massage experience
Headrests included
Fits up to 6
Against
Expensive
Complaints of low temperature with jets turned on
Coleman vs Intex: Design
According to Coleman, the Coleman SaluSpa can squeeze in up to six people, but we reckon that this is ambitious given its 77-inch diameter, 28-inch depth, and capacity of 242 gallons. This is not much larger than the Intex SaluSpa, which is more sensibly labeled as a four-person inflatable hot tub. 
The Intex PureSpa holds 210 gallons, but it otherwise has almost identical dimensions. Therefore, like the Coleman SaluSpa, we consider the Intex PureSpa to be comfortable for four or pleasantly spacious for two. Both hot tubs reach a maximum temperature of 104 F, standard for hot tubs.
Both hot tubs are easy to set up and stow away yourself. However, the Coleman SaluSpa makes life slightly easier by providing built-in lift handles, something that's missing from the Intex PureSpa (it provides a carry bag, instead). 
Considering that the Coleman SaluSpa only weighs 88 lbs when empty, it's impressively stable. Vertical beams and vinyl wall panels ensure that the structure doesn't collapse when put under pressure. Two layers of PVC sandwich a layer of polyester mesh, also providing a rigid and weatherproof structure. 
Notorious for its durability too, the Coleman SaluSpa has a cushioned floor and ground cloth to provide padding for the feet and protection from dirt or debris. 
In comparison, the Intex PureSpa is geared more towards comfort with two built-in headrests. That's not to say that the structure isn't durable, though. The three-ply laminated material is puncture resistant and PVC helps the structure to keep its shape. However, it doesn't have quite the same level of reinforcements as its competitor.
Winner: Coleman SaluSpa
Coleman vs Intex: Features
The Coleman SaluSpa and the Intex PureSpa are kitted out with a generous 140 jets. The Coleman SaluSpa's AirJet bubble massage system provides a gentle massage, but the pressure can be altered using an egg-shaped digital control panel. Intex PureSpa has a similar system. The bubble intensity of the 140 jets are also controlled using a tiltable digital panel.
In both cases, the control panels can also be used to control the water temperature. However, users complain that running the jets causes the water temperature to drop, a common limitation with inflatable hot tubs. In its favor, the Coleman SaluSpa can automatically detect when the water temperature falls too low and switches on the water heater automatically, saving you some trouble.
Both hot tubs are pretty equal in terms of most features. They both come with an insulated cover, although the Coleman hot tub cover has clips to keep out children and pets. Both have a chemical dispenser to inject chlorine into the water and a water filter, but users report that the Coleman hot tub filters don't last very long. A standard one-year warranty accompanies each purchase.
However, we think that the Intex PureSpa has the best entertainment and comfort features overall. LED lighting and built-in headrests elevate the hot tub experience. Plus, it has a built-in hard water treatment system to prevent calcium build up, something that the Coleman SaluSpa lacks. The Coleman SaluSpa's main saving grace is that it has a power-saving timer, which users can use to control the temperature of the spa for 72 hours before use. 
Winner: Intex PureSpa
Coleman vs Intex: Price
The price is often the first thing users see when they are comparing the Coleman SaluSpa with the Intex PureSpa. However, there's more to the equation than just the upfront cost. How much are the running costs per month? Does the hot tub have energy-efficient features to limit future spendings? Is there any need to invest in additional add-ons, such as headrests or hot tub covers?
Both inflatable hot tubs have energy efficient designs. Heat is conserved using PVC material and insulated hot tub covers. There's also no need to fork out on someone to install the hot tub, as both models are inflatable at home.
The Coleman SaluSpa costs $649.99, making it $150 cheaper than the $799.99 Intex PureSpa. In the big frame of things, $150 is not much. However, you might wonder exactly what you're paying an extra penny for. 
The Intex PureSpa comes with headrests and LED lights, two key features which are missing from the Coleman SaluSpa. If you want the added comfort of headrests of LED lighting when you're lounging in the latter, you'll have to fork out on detachable headrests and floating LED lights separately. Headrests typically cost between $30 and $50 and LED light accessories typically cost between $20 to $30. 
Overall, this works out to be cheaper than buying an Intex PureSpa, but some may find the accessories to be more fiddly to install and use. Both hot tubs are reasonably priced for what you get, so it's up to you whether you want the convenience of built-in features being already provided.
Winner: Tie 
Verdict
The Coleman SaluSpa and the Intex PureSpa are neck and neck for the majority of their design and entertainment features. Therefore, it's the small details that will ultimately help you to decide which hot tub is ideal for your backyard. 
When it comes to design, the Coleman SaluSpa's durable PVC layered structure and built-in handles slightly takes the edge over the Intex PureSpa. Granted, the Intex PureSpa does come with built-in headrests, acing the comfort factor, but this also explains why it is slightly more expensive upfront. Families or dog owners might find that the Intex PureSpa's clip-free cover is a deal breaker too. The Coleman SaluSpa's clips are far safer in the event that a child or pet tries to fiddle with the cover when it's not in use.
If you want the entertainment features of a traditional hot tub without the premium price, the Intex PureSpa will get you closer than the Coleman SaluSpa. It has two contoured headrests and built-in LED lighting, which you can only get for the Intex PureSpa as additional accessories. 
In the end, it depends exactly what you want to use your hot tub for. If you're purely interested in a long-lasting inflatable hot tub that you can depend upon for a water-based massage, the Coleman SaluSpa will be a budget-friendly and efficient choice. However, if you want to entertain guests or add extra ambience to your soaks, the Intex PureSpa is likely to be worth the little extra dollar.