Looking for an oven that combines convenience, versatility and value for money? Competitively priced at $199.99, this 30L countertop oven from Cosori features no less than 12 cooking options, including air fryer, pizza and rotisserie modes. 
Cosori 12-in-1: Key specs
Price: $199.99
Dimensions (LxWxH): 20.1×16.5×12.1in
Capacity: 30L
Presets: 11
Temperature range: 80°–450°F / 27°–232°C
Weight: 19.6lb
Energy rating: 1800W
Warranty: 2 years
Vesync Co. is the parent company for Cosori, which is based in Shenzen, China and was founded in 2012. Starting out as Etekcity, they were soon accompanied in 2016 by brands: Cosori and Levoit and have gone on to make award-winning products in a relatively short space of time. Though a Chinese-based company, customer service is based in the U.S.
In this review we'll run through the features offered by the Cosori 30L 12-in-1 air fry oven as well as scour reviews to see what customers had to say about the product and reveal expert insight before weighing it all up and deciding whether or not it's good value for money.
Cosori 12-in-1: Design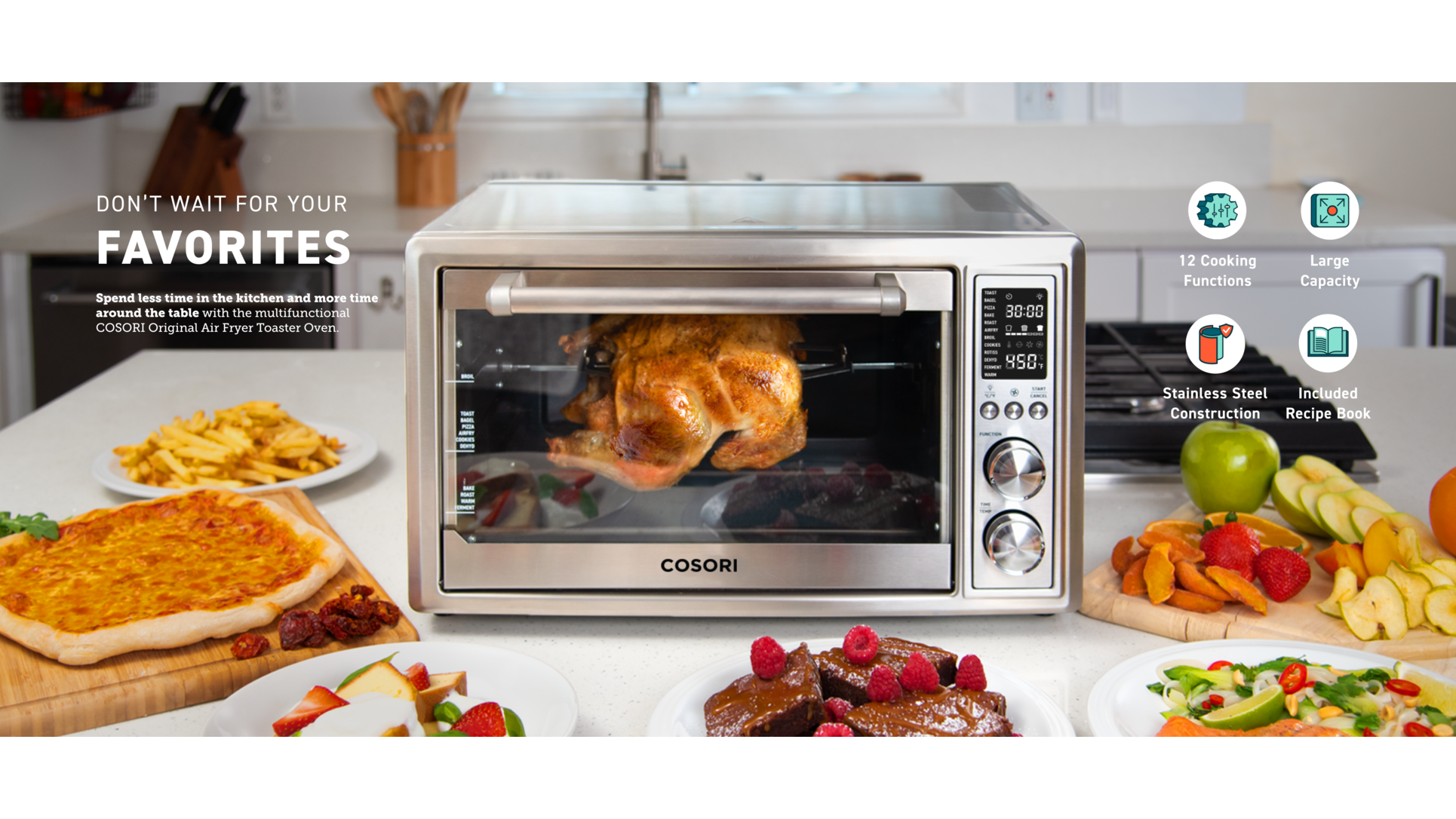 The Cosori 30L Air Fryer Oven (CO130-AO) comes in silver, though there is also a smart version (CS130-AO) that is available in black or silver and currently costs the same at $199.99.
With dimensions of 20.1×16.5×12.1in and a weight of 19.6lbs the Cosori packs in loads of features into a compact package and would be ideal for those without much kitchen space or without a full-size oven.
It has a Stainless steel construction for a premium feel and Cosori also claim cleaning to be "Hassle-free" with its non-stick interior, however some of the comments online recommended cleaning after every use to maintain it and make sure grease didn't get baked in.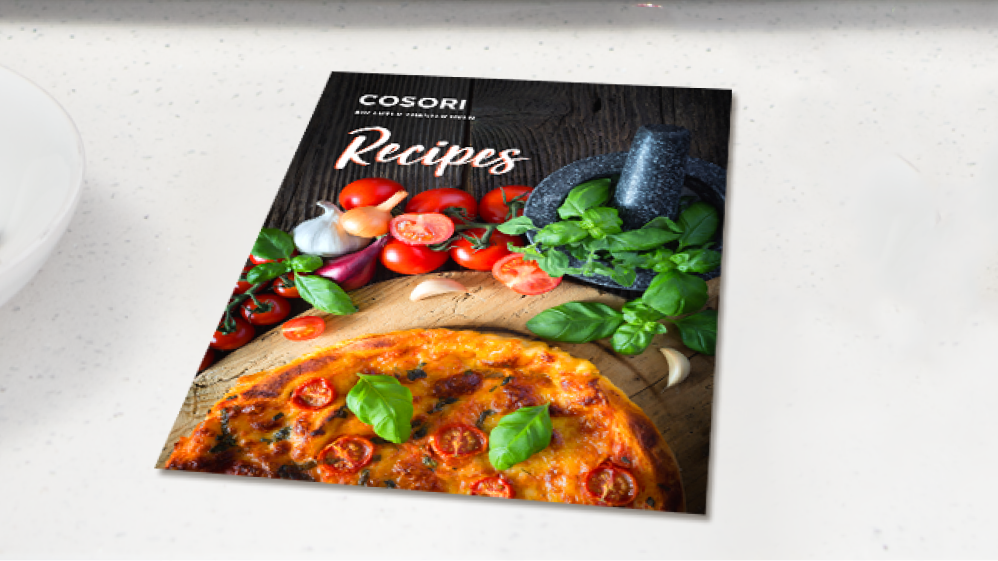 Customers also noted how easy to use the Cosori 12-in-1 is, with its user-friendly LED display and twin dial controls. It also comes with a free recipe book that boasts 100 original recipes tailored by Cosori chefs to get the most out of its 12 individual cooking functions.
The interior cooking space is 30L: large enough to fit in a 13in pizza, six slices of toast, or a 5lb chicken.
Cosori 12-in-1: Features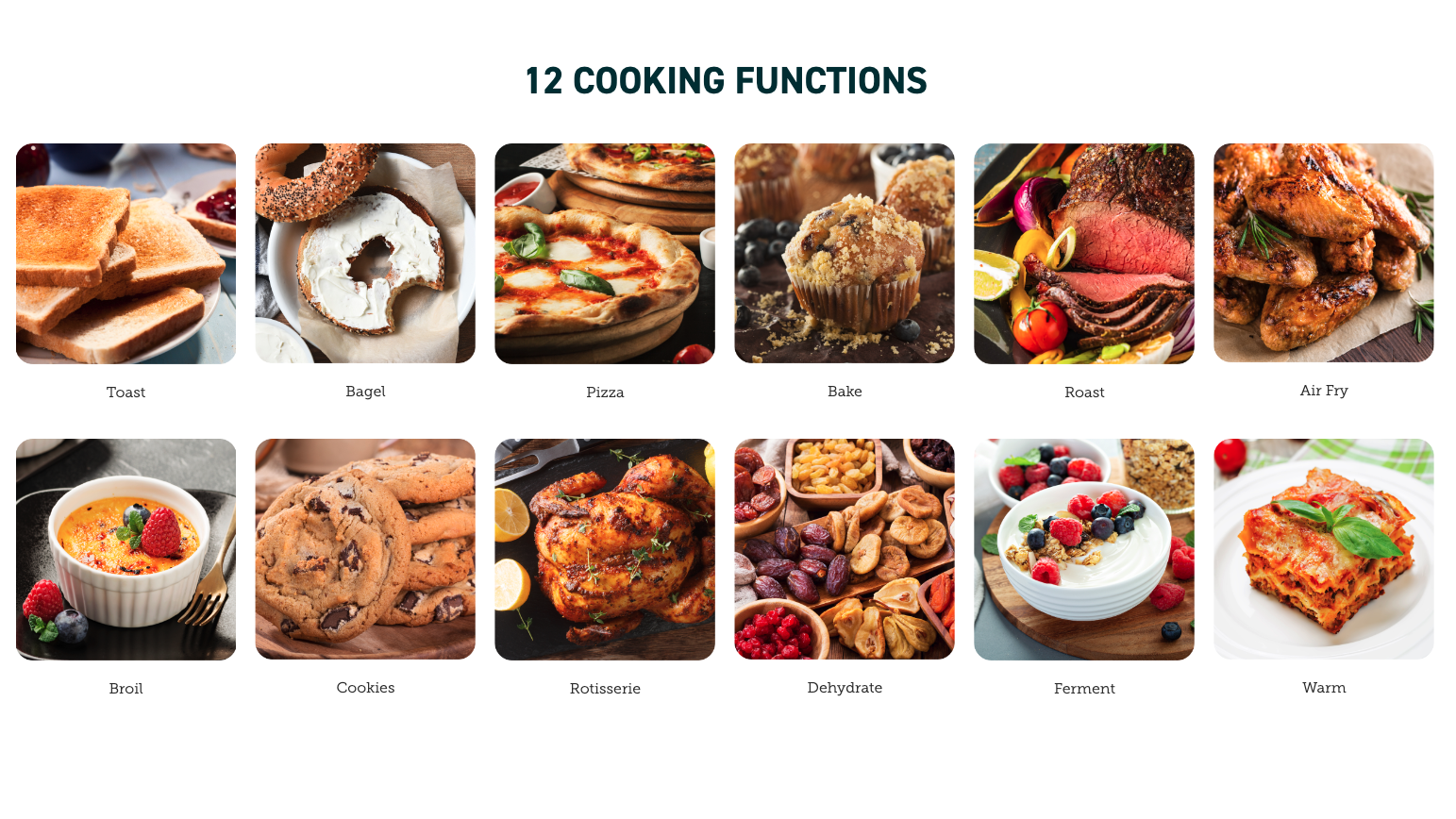 Don't be fooled by the Cosori 30L 12-in-1's sleek proportions, it squeezes in no less than 12 different cooking functions: Toast, Bagel, Pizza, Bake, Roast, Air Fry, Broil, Cookies, Rotisserie, Dehydrate, Ferment and Warm.
In addition, it has 11 presets so you can quickly get cooking with the touch of a button: Toast, Bagel, Pizza, Bake, Roast, Air Fry, Broil, Cookies, Rotisserie, Dehydrate, and Ferment.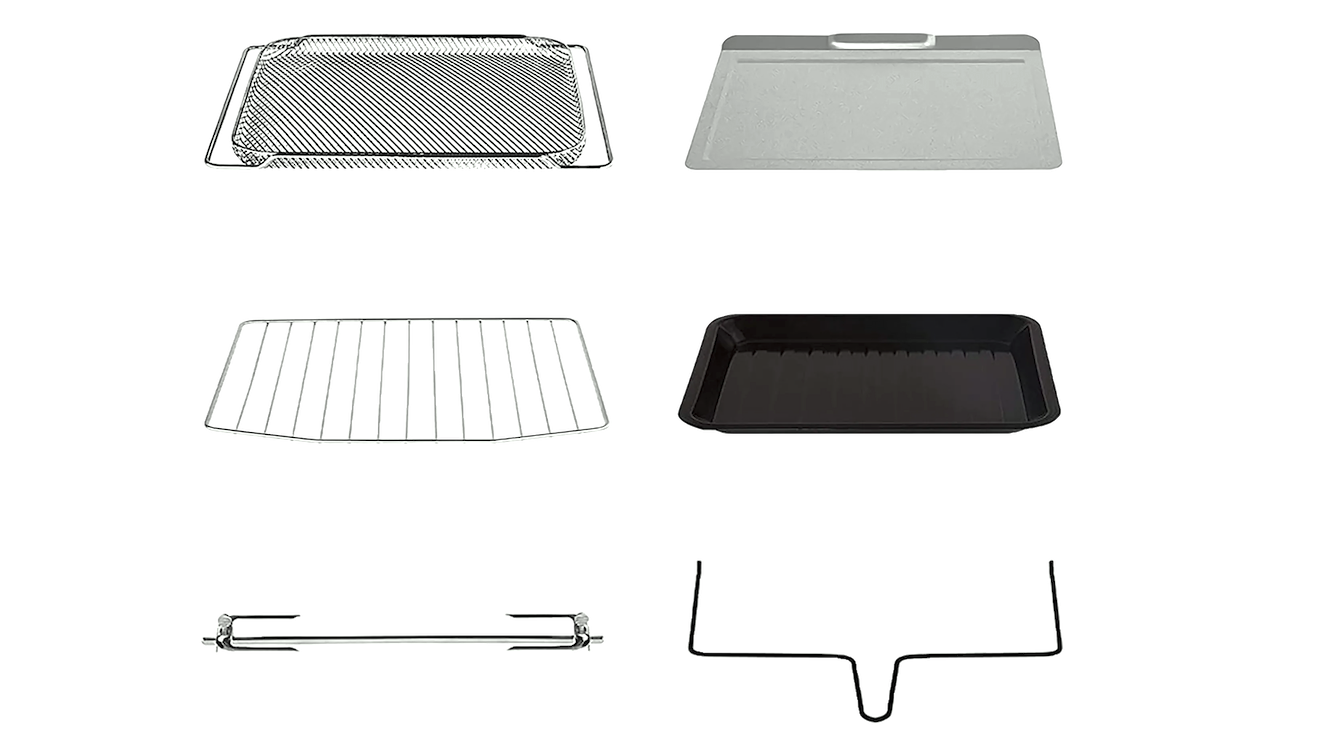 To make the most of the 12 different cooking options the Cosori 12-in-1 comes with a plethora of accessories including a wire rack, food tray, crumb tray, fry basket, rotisserie fork set and a rotisserie handl. Also in the box you'll find the user manual, quick reference guide and a recipe book with 100 recipes cultivated by Cosori chefs to get the full potential out of your countertop oven.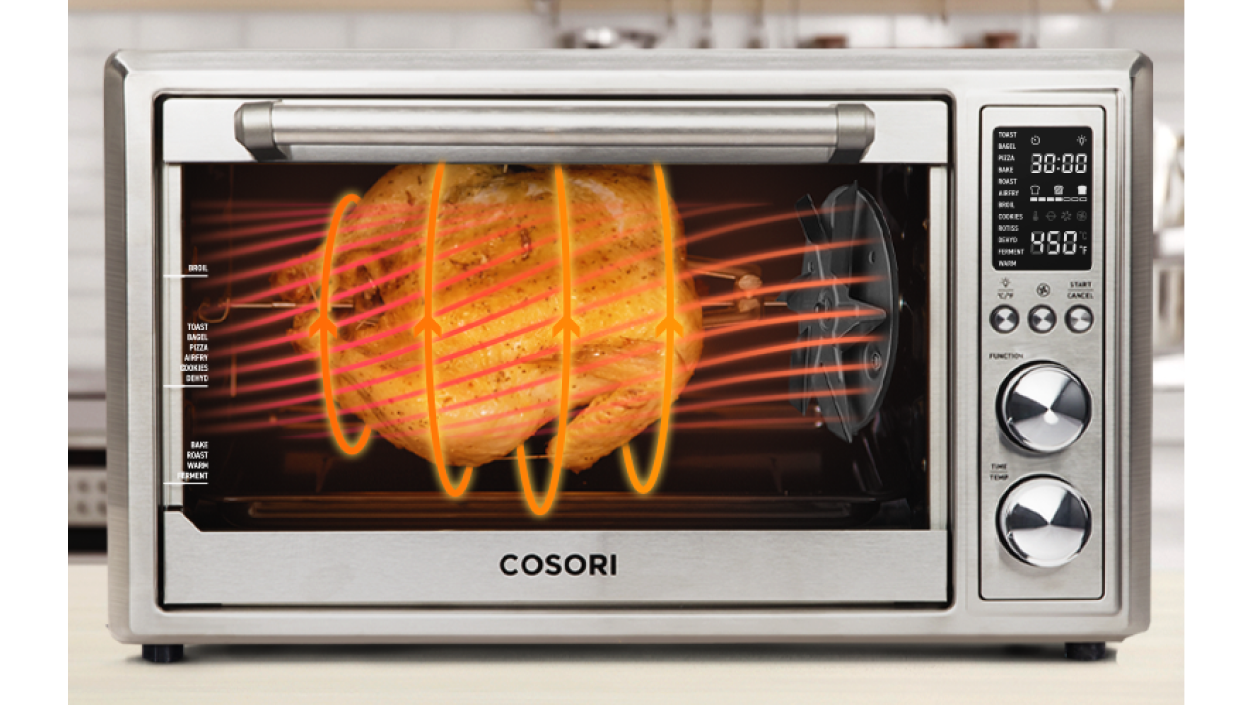 The rotisserie mode is said to cook chicken 30% faster with the improved air circulation, so could be an energy efficient way to cook your meals compared to a conventional convection oven.
Cosori 12-in-1: Price and availability
The Cosori 12-in-1 countertop convection oven comes with a two year warranty from the manufacturer and has an RRP of $199.99. 
At the time of review it was readily available from the official Cosori site, as well as retailers including Amazon, Best Buy, Target and Macy's, all of which stuck firm to the $199.99 price point at the time of review.
Cosori 12-in-1: User reviews
The Cosori 12-in-1 countertop convection oven had an impressive score of 4.6 out of 5 stars on the official Cosori website. 86% of customers left an impressive score of 4 stars or higher.
One customer left top marks after owning his oven for four years, he had the following in-depth insight: "Use maybe three times a month or more, use it cook chicken and leg of lamb. tried the air fryer, but not my choice of cooking. too healthy….Use the Rotisserie 100 % of the time.
"Some of the reviews I have read, it smokes…well if you do not keep it clean it will smoke, mine smokes when I cook the lamb. A lot of fat and oil. Not healthy, but delicious. In the summer I cook the lamb on the deck, but in winter I put a sheet pan (for balance} on the gas stove top and use the exhaust fan to remove the smoke. Just for the lamb the chicken (I brine the chicken) does not smoke.
"The other complaint was the glass breaks…well IT IS NOT A SHELF, do not put anything on it. It is not the strongest and it gets very hot. wait till it cools till you clean it. Science….The other big complaint was it was hard to clean. well after cooking the Lamb I can attest to that. But like any other too you own you have to keep it clean. Makes cleanup easy.
"I have owned this oven about four years now and one button push and you are on your way. Cannot get any simpler. Four pound chicken 1 hr, four pound leg of lamb about 1.25 hours. Bon Appetit"
While another happy customer simply said: "I so enjoyed mine that I ordered one for my son and daughter-in-law. This Product works very well"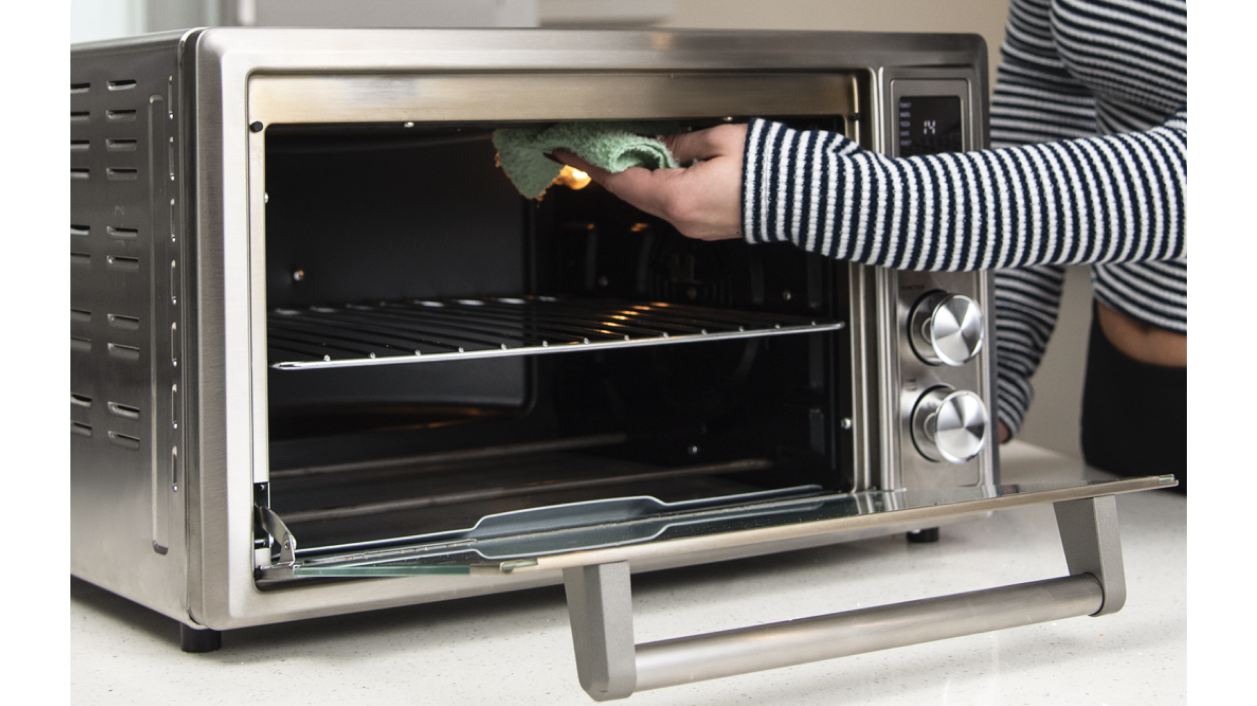 There were only two negative comments left in the reviews, with one saying they had received an item with missing parts which to us sounds like a factory defect, while another left a one star comment saying: "Been burned too many times and so now it is in that trash" and "metal finish in oven is poor and difficult to clean". As mentioned in the previous positive comments it would seem a good idea to clean the Cosori after each use to ensure grime doesn't build up to keep the clean up managable.
Cosori 12-in-1: Expert reviews
Alan Nguyen, reviewer for www.healthykitchen101.com gave it a solid score of 8.4/10 and had the following to say about the Cosori Air Fryer Toaster Oven:
"If you're looking for an excellent large toaster oven, whether you're a beginner or an experienced cook, look no further.
"With 1800 W of power, four nichrome heating elements, and a powerful convection system, the oven performed consistently great in our tests. Its handy accessories like the rotisserie kit and air fryer basket further prepared the machine for anything we could throw at it.
"In addition, the cooking process felt worry-free thanks to a well-designed LED display, cooking functions, feature toggles, and an automatic preheat phase.
"Of course, the oven wasn't without some minor flaws. While the cooking chamber was spacious, it didn't have a non-stick coating to help with the cleaning."
Should you buy the Cosori 12-in-1?
The Cosori 12-in-1 sits in that sub-$200 sweet spot and packs in no less that 12 different cooking options that make it an extremely versatile countertop cooker and energy efficient too, so is fantastic value for money.
Customers loved how easy it is to use the Cosori and its small size makes it ideal for small kitchen spaces, or even in addition to a full-size oven when you want to cook smaller meals and use one of the versatile settings such as air frying or rotisserie.
The 30L version can fit in most items you're looking to cook, though obviously it won't be able to cook everything that a full-sized oven can do. But for its size it does. stellar job.
Some of the downsides customers noted was that the glass door broke when customers had rested food trays on the door, or put cold water on it to clean it straight after cleaning which shocked the glass, so if you follow some simple steps to avoid this you shouldn't encounter this problem.
The other main drawback appears to be interior which is supposed to be non-stick, though many customers noted it was difficult to clean. Regular cleaning after every use should help go some way to stop  a large build up of grime and make it more manageable to keep in tip-top condition.
How does the Cosori 12-in-1 compare to competitors?
Cosori's CS100-AO is a Smart Air Fryer Toaster Oven that costs a little less at $149.99 so could be a better choice for those on a strict budget. Like its bigger sibling it has 12 cooking functions, smart features, though has a smaller capacity of 25L – in real terms that's big enough for four slices of toast or a 12in pizza. It's also a little taller with dimensions of 16.3×16.9×15.5in.
It's also worth considering the Cosori CS125-AO which is much the same as the Cosori 12-in-1 30L we reviewed here, but is a little smaller at 25L and omits the rotisserie feature, so only has 11 cooking modes in total. It's otherwise much the same but costs $30 less at $169.99
If you're looking a larger full-size oven, we gave the GE JB750SJSS 4.5/5 stars and called it "a great mid-price oven with a good capacity and excellent features". If you have the space for a full size convection oven this would be a great choice as it features dual burners, a large 5.3 cu. ft oven space and is reasonably priced for a mid-range cooker at $909 and can often be found on sale discounted even further too.