If you've been on the hunt for the best pool vacuum (opens in new tab) or the best pool cleaner (opens in new tab), then the Dolphin Nautilus CC Plus Robotic Pool Cleaner from Maytronics is a serious contender. Well designed, easy to use and maintain, it means you can spend less time cleaning your pool and more time enjoying it.
Simply plug it in, carry it to the water, press "on" and drop it in to get to work. Suitable for swimming pools up to 50 ft. long, it can accommodate multiple designs, from rectangular, circular or kidney-shaped.
Key specs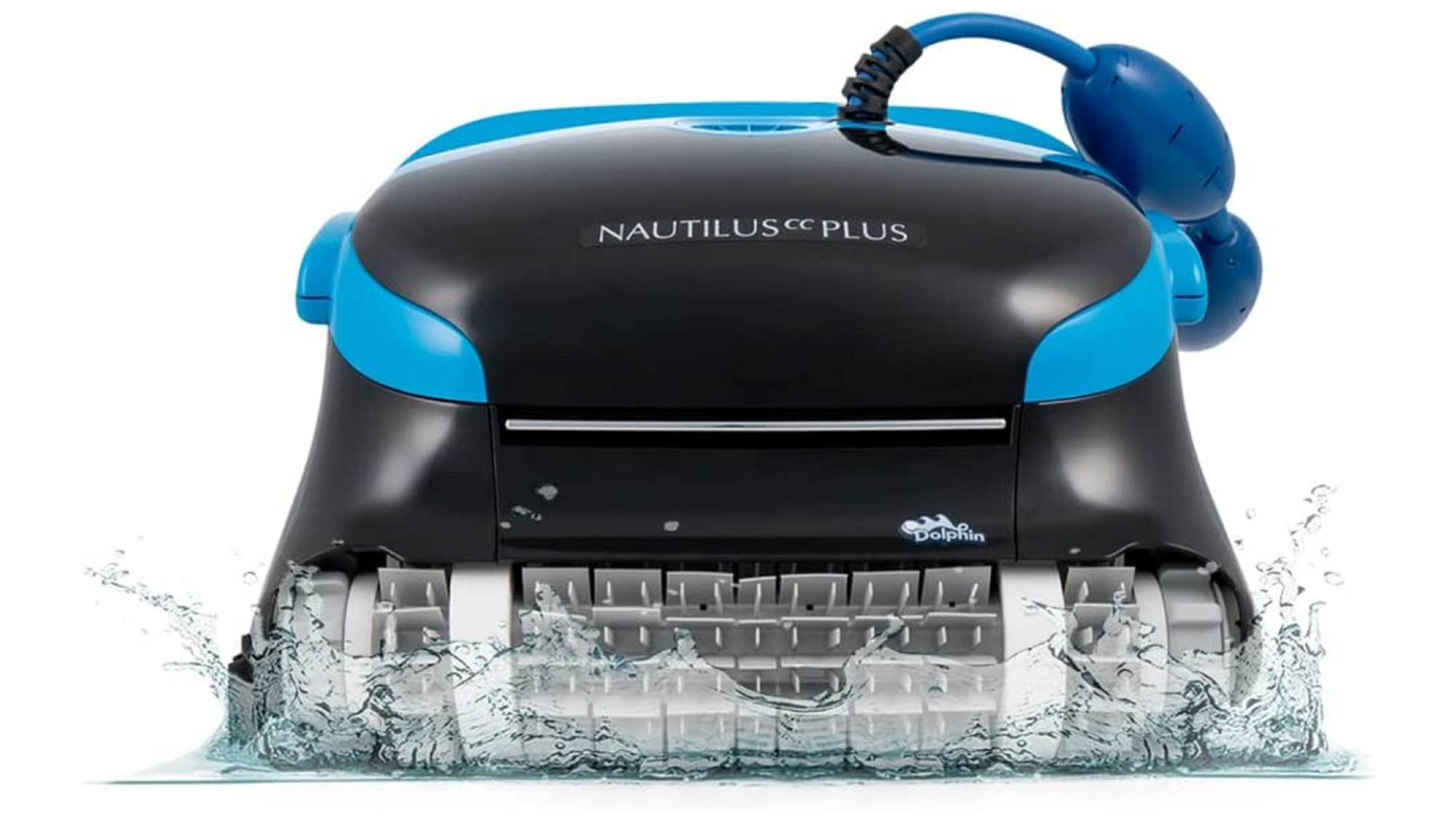 Clean time: 2 hours
Cable length: 60ft swivel cable
Suction rate: 4,233 gallons an hour
Pool size: up to 50 ft.
Weight: 22 lbs
Brushes: 2 rotating
Smart features: navigation tech
The Nautilus CC Plus has wall-climbing capabilities and 'CleverClean' smart navigation system that that's designed to map out a pool's shape to make sure every corner is covered. Plus, it's dual filter should scoop up all the debris and dirt with ease. I love how this device is completely independent, so there are no external vacuums or pumps, and its dual brush cleaning means the pool floor and walls should be cleaned in just two hours.
Dolphin has been around for 35 years and has a great reputation for durability, performance and hassle-free pool maintenance. It might be on the expensive side, but it's no surprise the Nautilus CC is a bestseller as it offers a serious bang for your buck. 
In this review, we'll take a deeper dive into the spec, pros and cons and user reviews so you can make an informed decision before you buy.
Dolphin Nautilus CC Plus Robotic Pool Vacuum Cleaner: Design
The Nautilus CC Plus by Maytronics comes in a blue and black design and weighs around 20 pounds, which is similar to a lot of its rivals. Made from plastic with soft but powerful scrubbing rollers, it also comes with a power supply (about a quarter of the size of the cleaner), which stays on the side of the pool. The 60 ft. cable is long enough for pools up to 50 ft, and I like that you can just plug the Nautilus in without having to worry about charging a battery or it running out of juice half way through a clean. 
It also has a tank-style tread design that means the vacuum cleaner doesn't get stuck going over or around obstacles, as well as superior scrubbing power thanks to its two rotating brushes. The two big suction points easily get rid of dirt and debris, while the handle is good and sturdy and makes it easy to lift the cleaner out of the pool.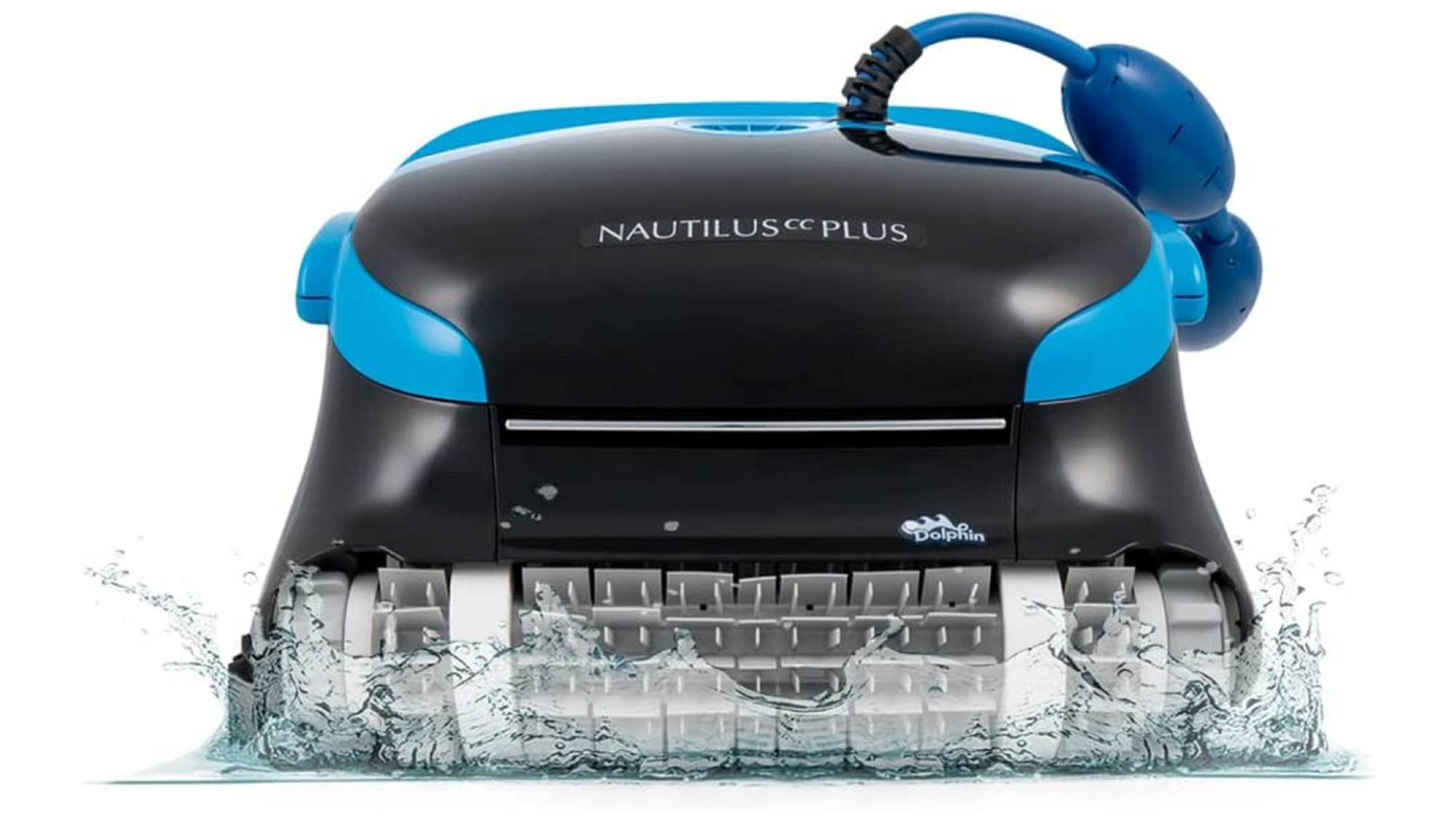 Inside the cleaner is a Styrofoam buoy that helps it to float. The innovative vacuum cleaner comes with climbing rings that help it stick to the walls and climb up the pool for multi-surface cleaning. This is one of its big pulls – as it's designed to reach the water's edge with ease so that every inch of the pool gets a thorough clean. 
Dolphin Nautilus CC Plus Robotic Pool Vacuum Cleaner: Features
The Dolphin Nautilus CC Plus robotic pool vacuum cleaner is an impressive machine that makes life easier so you can spend more time enjoying the water rather than cleaning it. You can program it to do three weekly cleans: either once a day, every other day or every third day. I love how it has an automatic shut-off so once it's finished it will stop running. It's also designed to be nice and quiet, which is a plus when you're relaxing by the pool.
The Nautilus CC Plus does an excellent job of tracking up and down the sides of the pool, breaking the water line to make sure every corner is cleaned of debris and dirt. It does this using its 'CleverClean' technology, a standout feature, which enables the appliance to map out the entire pool, creating the best route to clean every surface thoroughly. This tech also helps it detect and avoid any obstacles like goggles or pool toys, moving around anything in its path and then returning back to the area that needs cleaning.
I was also impressed by the power supply – it's very energy efficient thanks to the CleverClean mapping technology mapping out the most efficient cleaning route.
The Nautilus CC Plus has a fast water release system that removes excess liquid when you take the cleaner out of the pool, so that it's lightweight and easy to maneuver, even after running a full two hour cycle.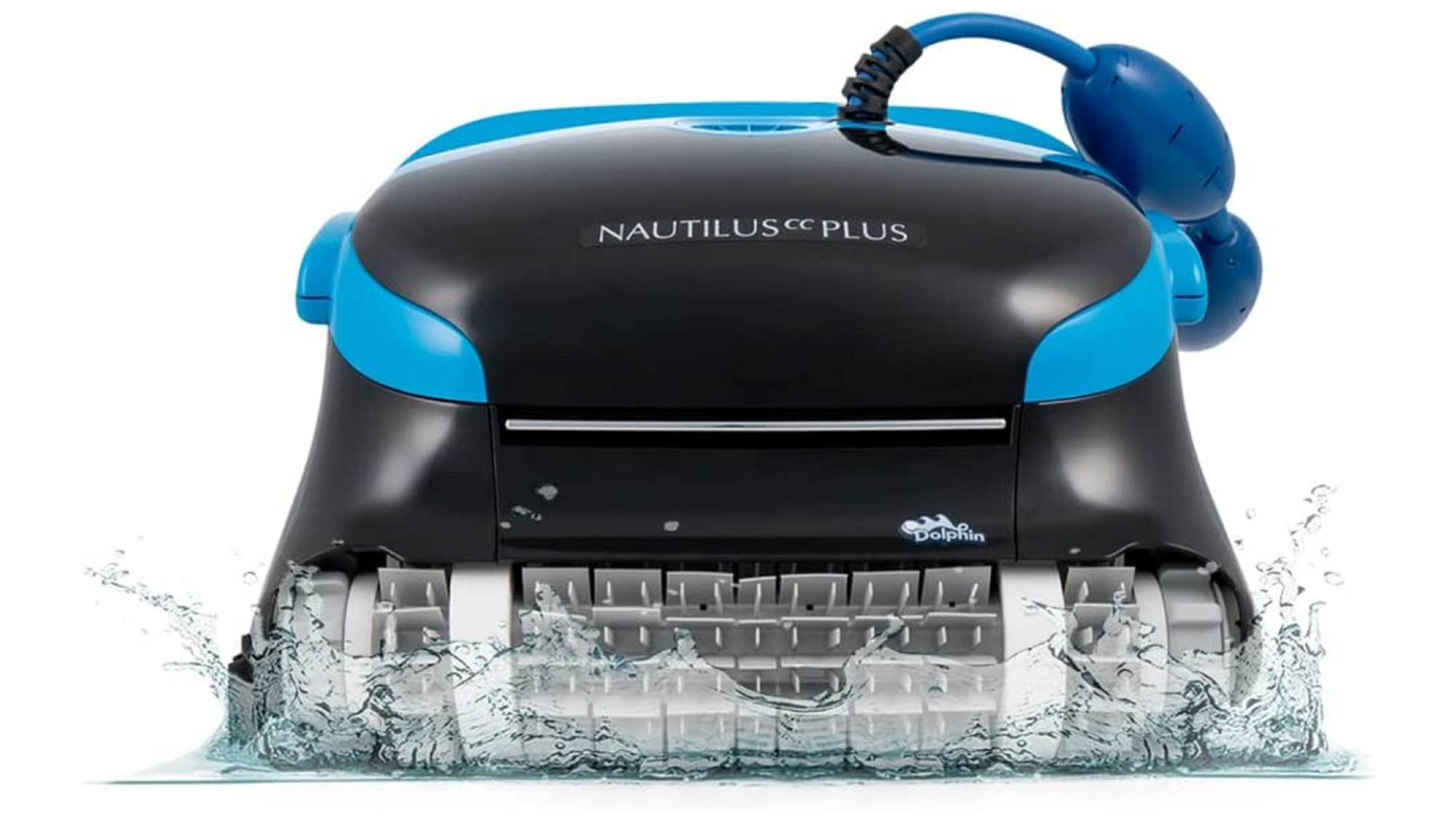 One thing I love about the Nautilus CC Plus is how easy it is to clean and maintain. It requires minimal upkeep besides keeping it out of the rain or direct sunlight. It's important to note that the power supply is water resistant, but not water-proof, so keep this somewhere dry when not in use.
Also avoid putting it in direct sunlight when you're using it as it could over-heat. You're not meant to swim when the vacuum cleaner is in the pool but you can keep it in the pool and programme it to clean on a regular basis. I prefer to take mine out, as I don't want to swim around cords or risk my children messing around with it.
Features:
·       Wall climbing capability
·       Easy access top load filter
·       Tangle-free cable
·       Plug in power supply
·       Smart navigation (CleverClean)
·       Drain cleaning
·       Pools up to 50 ft.
·       Quick water release
Dolphin Nautilus CC Plus Robotic Pool Vacuum Cleaner: Price and availability
·       $899 / £720 
This is a midrange robotic cleaner and comes in at the price you might expect for one that has wall-climbing capacity. You can get a cheaper machine for a few hundred dollars, but they often need to be attached to the pool's pump to work. So this is more of an investment piece to take the hard work out of pool cleaning, and while it's pricey, it's worth it.  
If budget is no issue and you need a top of the range robot with endless features, you're looking at around $1,300 or more. And if you do have any problems the Dolphin Nautilus CC Plus has a two-year warranty. 
The Dolphin Nautilus CC Plus is available to buy from Maytronics, Amazon and Walmart.
Dolphin Nautilus CC Plus Robotic Pool Vacuum Cleaner: User reviews
This pool vacuum cleaner gets 4.5 out of 5 stars on Amazon with 78% of reviewers giving it the full five stars. 
Positive reviews praised it for having excellent suction, and great pool coverage with one saying: "I cannot say enough good things about my Dolphin. It has changed my attitude about pool cleaning! It works hard at cleaning the bottom and sides of the pool." 
Negative reviews cited issues with the high price, as well as the cleaner being hard to spot target dirty areas. One said; "I take the robot close to the pool area that needs to be cleaned so that there is a higher chance for the robot to clean up the part, or simply leave the robot running for hours. 
"The robot can definitely save lots of manual cleaning effort but don't expect it to do a perfect job. Also it is unable to clean flat steps at the side of the pool."
Dolphin Nautilus CC Plus Robotic Pool Vacuum Cleaner: Expert reviews
Hugo Guerrero, a certified House Cleaning Technician from New York, says the Nautilus CC Plus is his all time favourite and top pool cleaner because it can clean deep pools up to 50 ft. long. "It is also easy to use since you only need to turn it on and drop it in the pool. It does the rest. It will scan the pool and scrub the walls and floors. Dolphin Nautilus Plus is set at a 90-degree angle.
"It has a variety of settings, and you can use the automatic schedule if you have other cleaning tasks to avoid having to start it manually. The main aim of using cleaning tools is to make work easier, and this Dolphin cleaner delivers just that with impressive results. It picks up a lot of dirt and grime, and unlike another cleaner that gets stuck in the pool from cable twirling, this cleaner is tangle free. It's also lightweight, making it easy to place in the pool and remove after cleaning. Dolphin Nautilus features a durable and sturdy design, and its performance is impressive as it is both powerful and efficient. It is my absolute best based on how it maps the floor and walls, and its performance remains consistent even in the long term.
Should you buy the Dolphin Nautilus CC Plus Robotic Pool Vacuum Cleaner?
The Nautilus CC Plus is super convenient and offers superior cleaning thanks to its unique CleverClean tech that finds the most efficient route to save energy and time. With its tank-style tread and dual scrubbing brushes it easily clears away dirt and debris, avoiding obstacles as it goes. 
It's nice and quiet too, meaning you won't be disturbed if you are in the yard while it's operating. Yes, it's on the pricey side but it's worth the investment to make your life easier.
How does the Dolphin Nautilus CC Plus Robotic Pool Vacuum Cleaner compare to competitors?
If budget is no issue, the Polaris 9650iQ Sport (opens in new tab) ($1,349) is a high tech user-friendly robotic pool cleaner you can control from your phone.
A much cheaper option is the Hydrus Roker Plus ($274.50), which packs a lot of power thanks to its brushless dual motor. It is super easy to operate and maintain, and comes with auto docking for easy retrieval.
If you have kids, the Hayward Wanda the Whale pool cleaner (opens in new tab) is another budget choice that they'll love. It's rather basic but does a decent job of cleaning small pools.