According to its makers, the Dyson Gen5detect Absolute is Dyson's most powerful cordless vacuum cleaner. Featuring a host of unique features and tools and an impressive runtime of up to 70 minutes, Dyson promises advanced suction power, HEPA filtration, dust detection, and a piezo sensor that picks up and displays all particles captured on an LCD screen. 
The Dyson Gen5detect Absolute comes with an array of accessories, transforming from a handheld vacuum to a stick vacuum in seconds. It also provides three separate heads for hard floors, carpets, upholstery, dusting, and crevice tools. The extra capacity in the dustbin means you can vacuum your whole house without emptying the bin, while the extended runtime gives you complete control over your cleaning routine. 
If the Dyson Gen5detect Absolute isn't the cordless vacuum cleaner for you, or your budget is much smaller than the price tag, check out our best vacuum cleaner guide. There you'll find the best robot, cylinder, and stick vacuums, all tried and tested by us.
Meanwhile, this review closely examines all the features and accessories the Dyson Gen5detect Absolute offers. We also test battery life, suction power, and ease of use to see if they live up to the high expectations we tend to have of any new Dyson vacuum.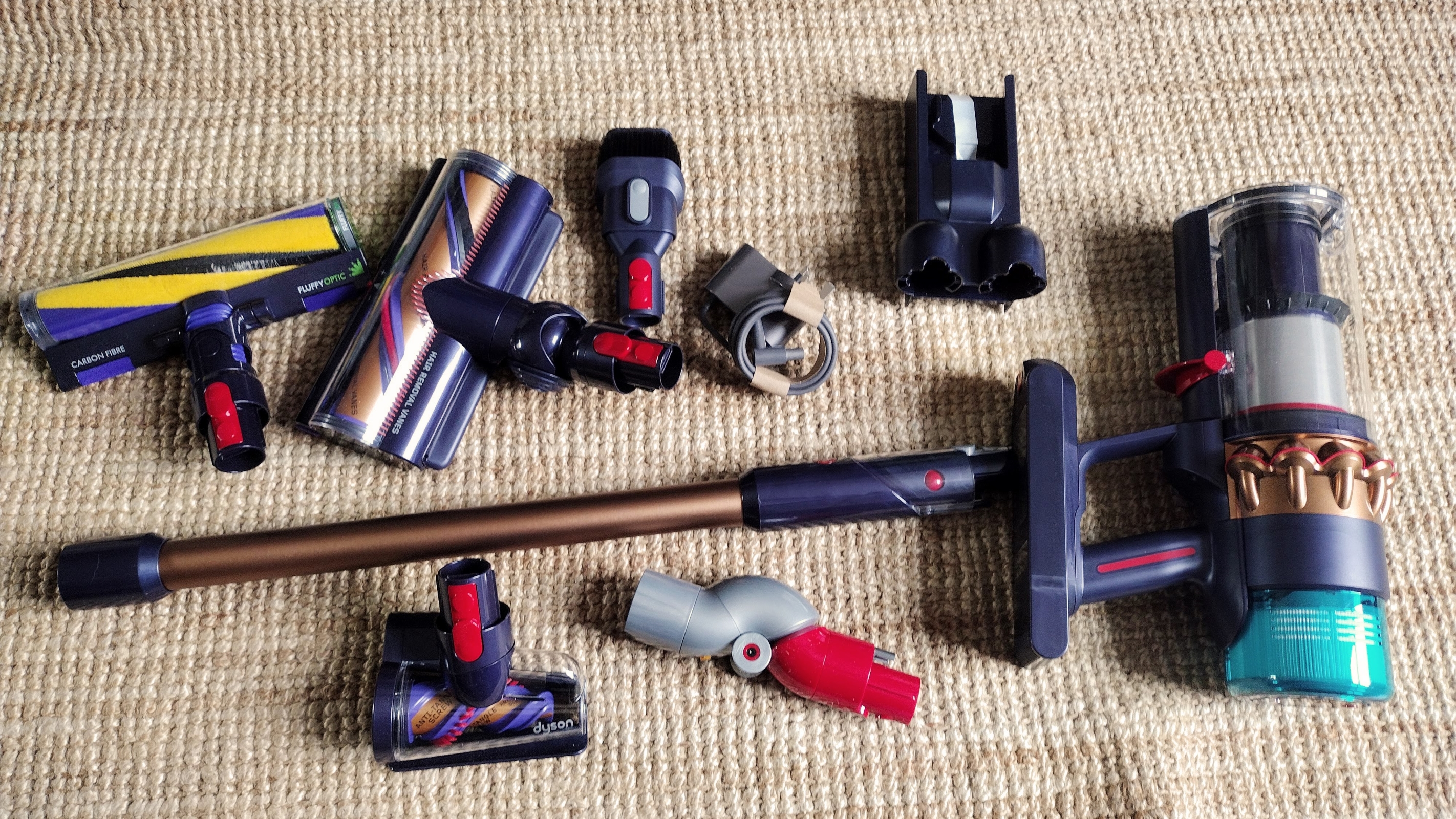 Dyson Gen5detect Absolute: Product specifications
Type: Cordless
Dustbin capacity: 0.2 gallons
Suction power: 262AW
Battery life: Up to 70 minutes
Battery charging time: 4.5 hours
Suitable for: All floor types
Dimensions: 50.23 x 10.8 x 9.8 in (with stick)
Weight: 7.7 lbs
Storage: Wall-mounted or freestanding
Warranty: 2 years
 Joanne Lewsley is Top Ten Review's Customer Advisor for vacuums, cleaning, and air quality. She's a UK-based freelance writer and editor covering health and lifestyle reviews, news, and features. 
Joanne tested this vacuum over several days in her home, where she lives with her husband, son, Golden Retriever dog, and long-haired cat. 
Dyson Gen5detect Absolute: Price & availability
The Dyson Gen5detect Absolute is at the very top of Dyson's vacuum offerings, so it requires a big budget of around $949.99 / £849.99. 
Of course, the features and functionality that Dyson offers are superb. The brand is also well-known for customer support, service, and quality.  A 2-year warranty will also give you peace of mind should any repairs or replacements be necessary. 
The Dyson Gen5detect Absolute is available in an exclusive prussian blue and copper color which can only be bought from the Dyson website.  If that isn't your prefered color and / or are happy with a purple stick, then the Dyson Gen5detect can be bought from Best Buy or Target.
Dyson Gen5detect Absolute: First impressions
Like all Dyson products, the Dyson Gen5detect Absolute comes in 100% recyclable packaging, with no plastic or polystyrene in sight. So you can recycle every last piece of packaging without any concerns.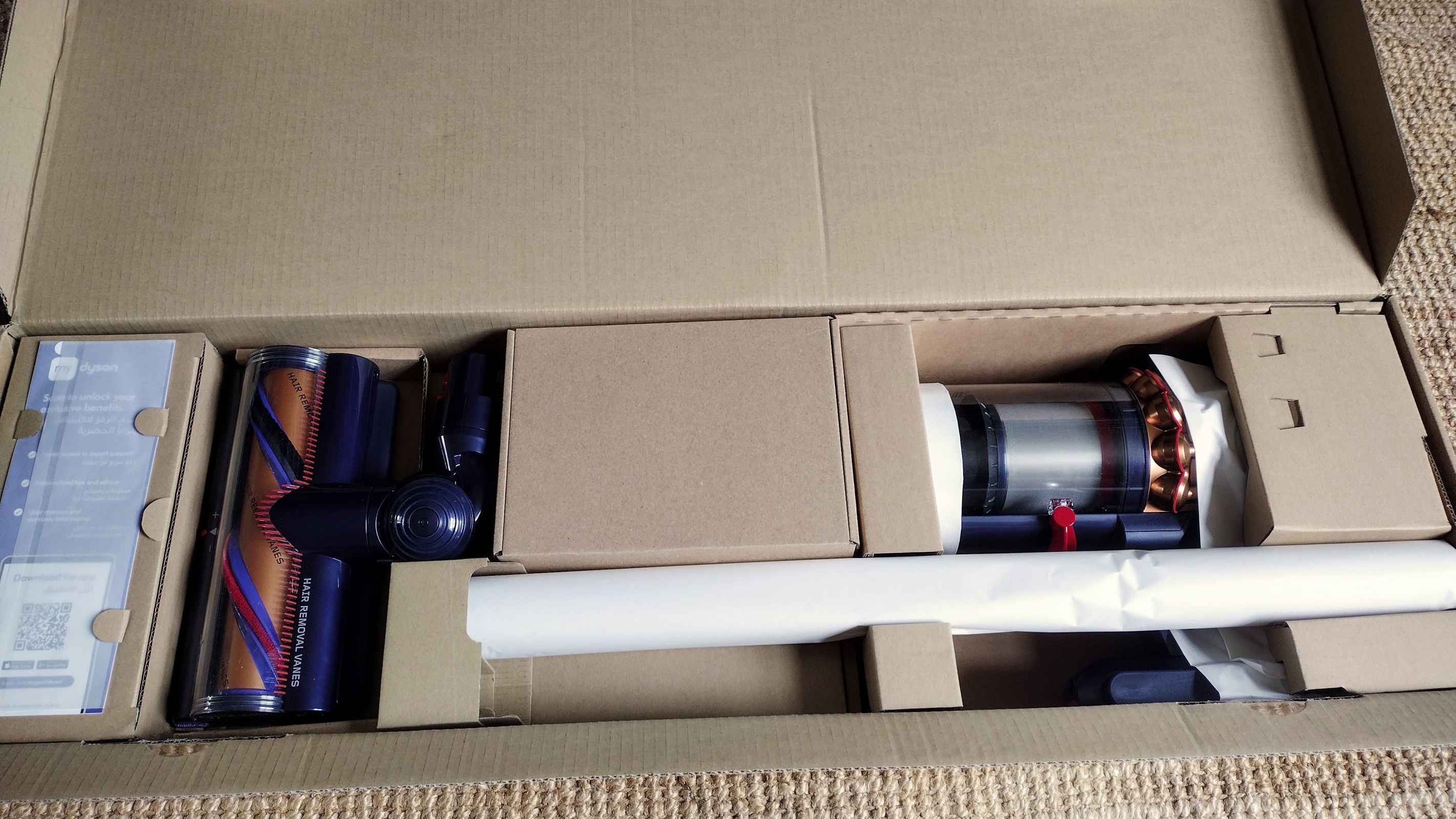 Rather than a manual, the vacuum comes with a QR code that links to the My Dyson app. Here you can register your product, activate your warranty and find information on everything relevant to your specific Dyson appliance. This includes a user guide, information on getting started, care and maintenance, help using the tools and accessories, troubleshooting advice, and much more. No need to add your warranty and manual to an over-stuffed drawer  – it's all online on your smartphone or laptop. 
Almost all the information comes with a useful video to illustrate any instructions. A 'digital assistant' is also available to help you find the information you need if it's unavailable via the app. 
In any case, putting the vacuum together is easy and intuitive. The filters are already in place, so there's no need to assemble the base unit, which incidentally comes partially charged so you can get started immediately.  The battery unit is already installed, and this is easy to remove if you wish to charge the battery separately.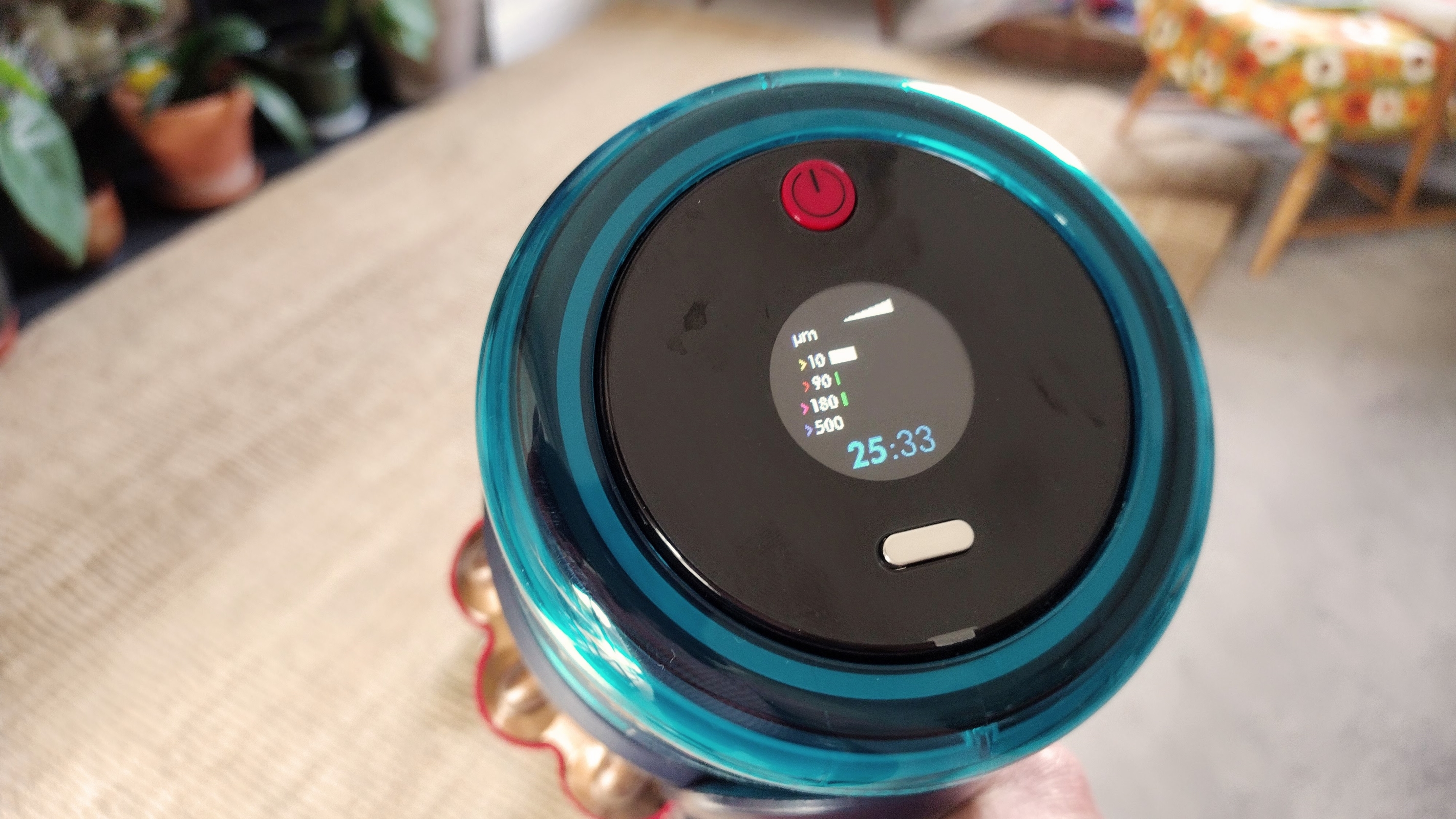 The Dyson Gen5detect Absolute features a new colorway different from Dyson's standard orange, purple and gray. Instead, the unit and accessories come in a rich, deep Prussian Blue and Rich Copper, giving the vacuum a luxurious, high-end look and feel.
A large LCD screen at the back of the unit displays the number of particles your vacuum cleaner collects during vacuuming. You can also toggle through three power modes and check how much battery life is left. It will also flag if you must clear a blockage or clean the filter.
As with the Dyson V12 Detect Slim, the significant change from previous models to the Dyson Gen5detect Absolute is removing the trigger button. Whereas with previous Dysons, one would have to hold the trigger in continuously, the Dyson Gen5detect Absolute now features a simple power button just above the LCD screen that you touch once to turn on and once to power off. Much easier to operate with the bonus that it eliminates finger fatigue.
The Dyson Gen5detect Absolute keeps the attractive scalloping of the V12 on the base unit. Above the deep, wide handle, the filter is housed in a transparent blue plastic casing, leading into the Prussian blue and Rich Copper casing. This colorway is repeated in the wand and various attachments, with red or gray to pick out any essential buttons and connection points.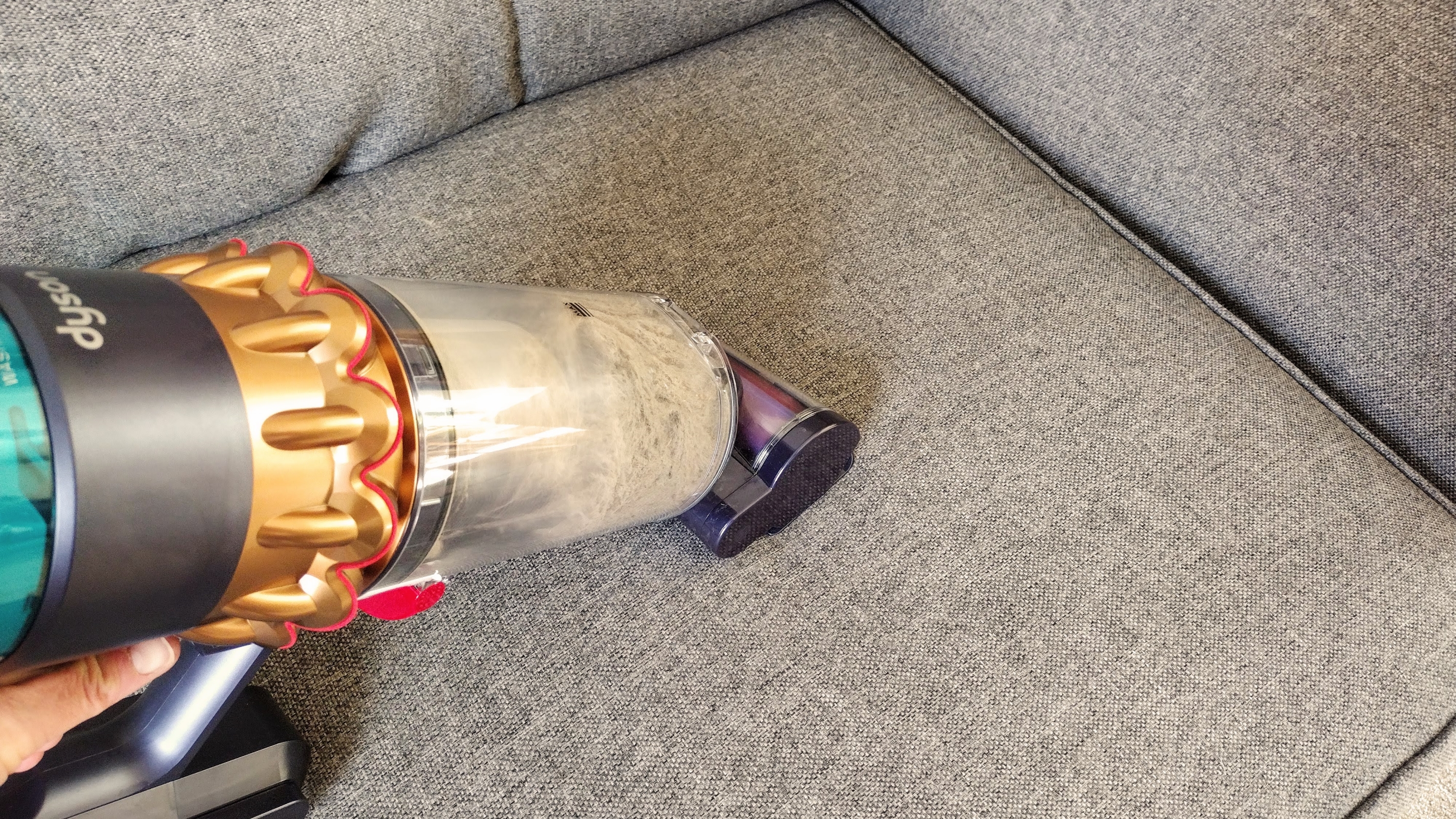 Dyson Gen5detect Absolute: Performance
We've already tested plenty of vacuums in our home, including previous Dyson models, so we were interested to see how the Dyson Gen5detect Absolute tackled pet hair, dirt, and debris in our three-bed home, given that we have a child, two long-haired pets, and two adults who work from home. 
First up was a general vacuum to see how long the battery lasted and how well the three brush heads coped. We were impressed with how much dust and pet hair the vacuum picked up on its first pass in a large carpeted room. 
We also found the Hair screw tool was just the right size for cleaning stairs, and it also picked up an incredible amount of fur and dust. The crevice tool is perfect for along the sides of stairwells and sofas and makes a great car vacuum. The duster brush is ideal for sweeping gently along skirting boards, ornaments, and photo frames. 
Next, we tried the Fluffy Optic™ cleaner head. If you think Dyson's claim that it shows twice as much invisible dust is a bit of an exaggeration, think again. This shows up everything, from the tiniest specks in the hallway to the giant dust bunnies lurking under the wardrobes. There's nothing more satisfying than using this cleaner head on a hard floor!
Each brush head maneuvers beautifully around furniture and into tight spaces leaving no dusty gaps or corners behind.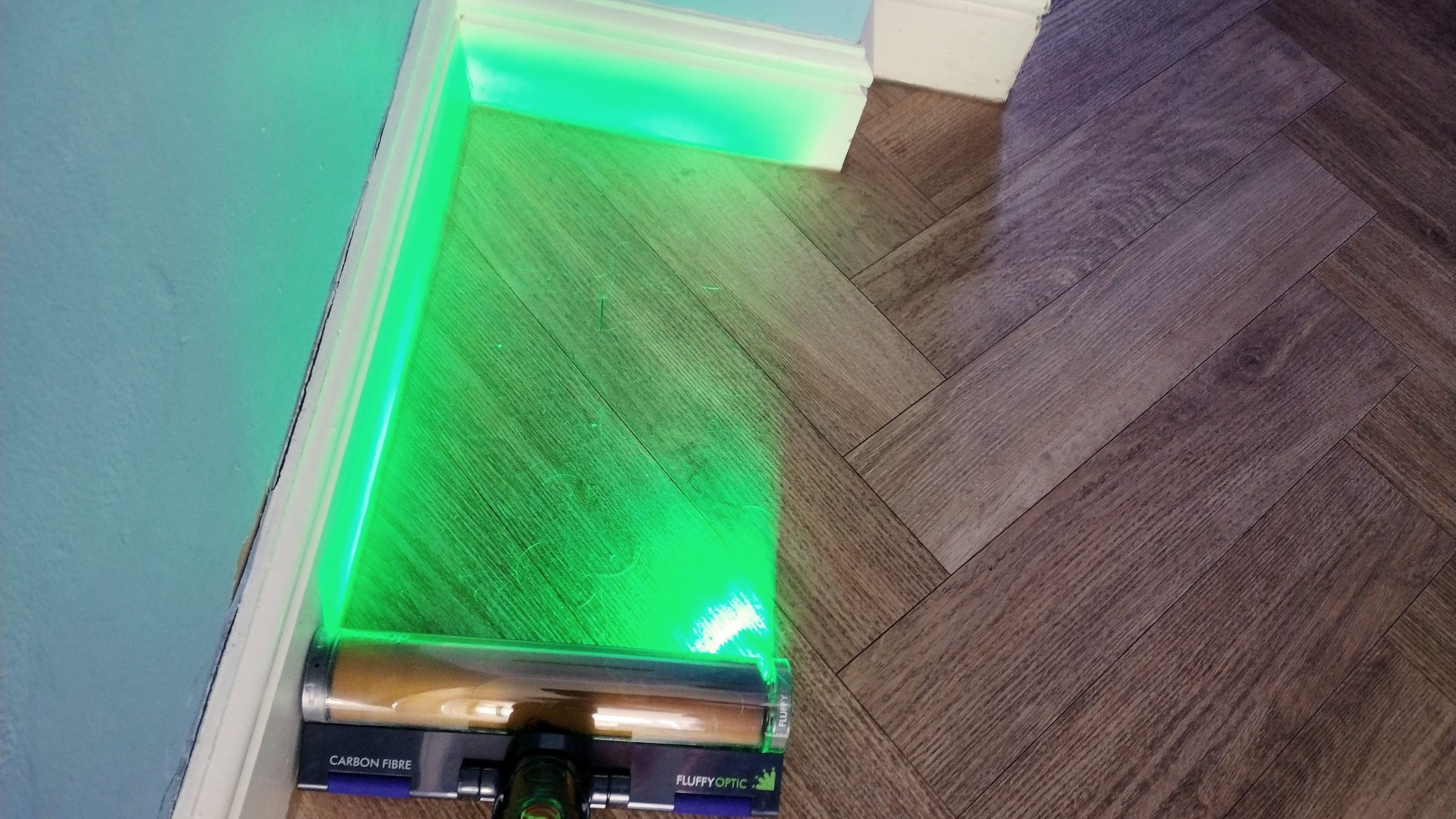 As with the Dyson v12 Detect Slim, you can see the particles being vacuumed up on the LCD screen. While it's fairly interesting and shows how well the Dyson is coping with larger and smaller particles, it doesn't feel particularly relevant after a while, although many may disagree.
It's easy to empty the dust cup too. A lever at the side of the cup can be pushed down, and the cup opens to push everything out of it. You can also pump the lever several times to eliminate any packed-in dirt. 
While Dyson claims up to 70 minutes of running time, it's important to note this would only apply to eco mode. Vacuuming our dusty, hairy home full of pet hair, kibble, and cat litter on Auto mode took more power as the vacuum sensed more particles. So our vacuum session lasted just over 30 minutes long before the battery needed recharging. However, that was enough time to vacuum almost every room, including the stairs and sofa. Just one rug in the spare room was left unvacuumed from the session.
The battery takes around four and a half hours to charge fully. If you have a large home and want to get it all vacuumed in one session, you may have to invest in an extra battery that you can swap over to or use eco mode throughout. 
Our at-home testing also included checking how good the Dyson Gen5detect Absolute was at sucking up fine particles, such as flour, and larger particles, including oats and cookie crumbs, on carpeted floors and hard floors. Tests were performed in a 210-square-foot living room with a thick carpet and rugs and a 73-square-foot kitchen with a hardwood floor. 
Whichever head we used, for carpet or hard flooring, we found the Dyson Gen5detect Absolute sucked up every last particle, usually in one or two passes. 
We also checked the noise level of the Dyson Gen5detect Absolute during operation and found that Dyson has made their most powerful vacuum cleaner even quieter than previous models. We recorded noise levels of between 65 and 73 decibels, depending on which mode you use. This is considerably quieter than the Dyson V12 Detect Slim, which reaches levels of 83 decibels.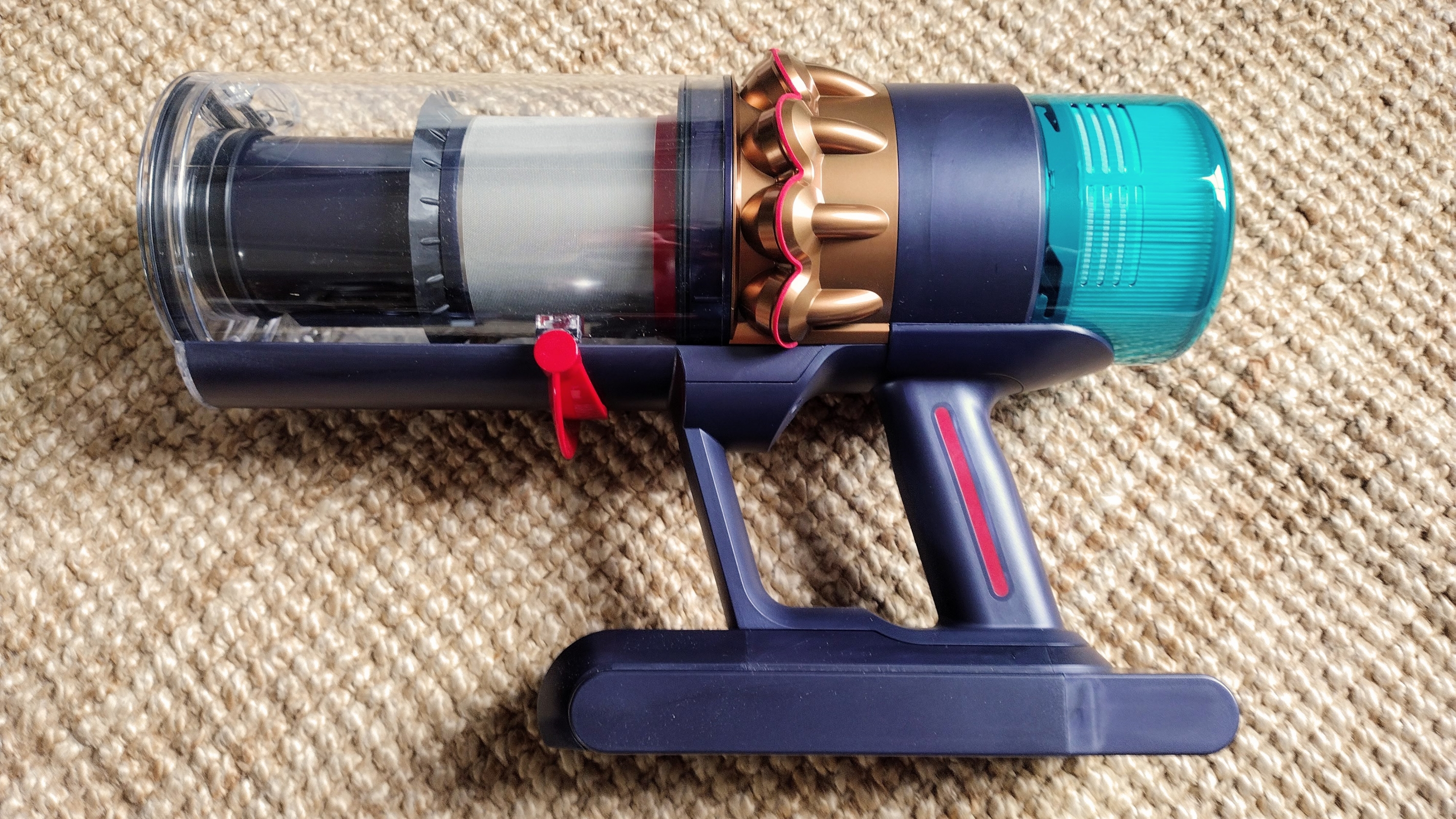 Dyson Gen5detect Absolute: Expert comment
Cleaning expert for Housetastic and cleaning business owner Karen Barrigan says, "The upgraded motor on the Dyson Gen5detect Absolute delivers up to 262 air watts of suction, making it a very powerful machine. Another improvement on this model is the laser light on the fluffy floor head. The beam is much brighter and now easier to see in the daylight. This is great as it allows you to identify more dirt, dust, and crumbs that may have accumulated on the floor. In addition, the longer runtime makes it an ideal stick vacuum for those with larger homes".
However, Barrigan also points out how heavy and expensive the vacuum is. "For some users, the extra weight may make it difficult to use for long periods of time. Another downside to this model is the high price point. It's significantly higher in price compared to many other cordless vacuum models."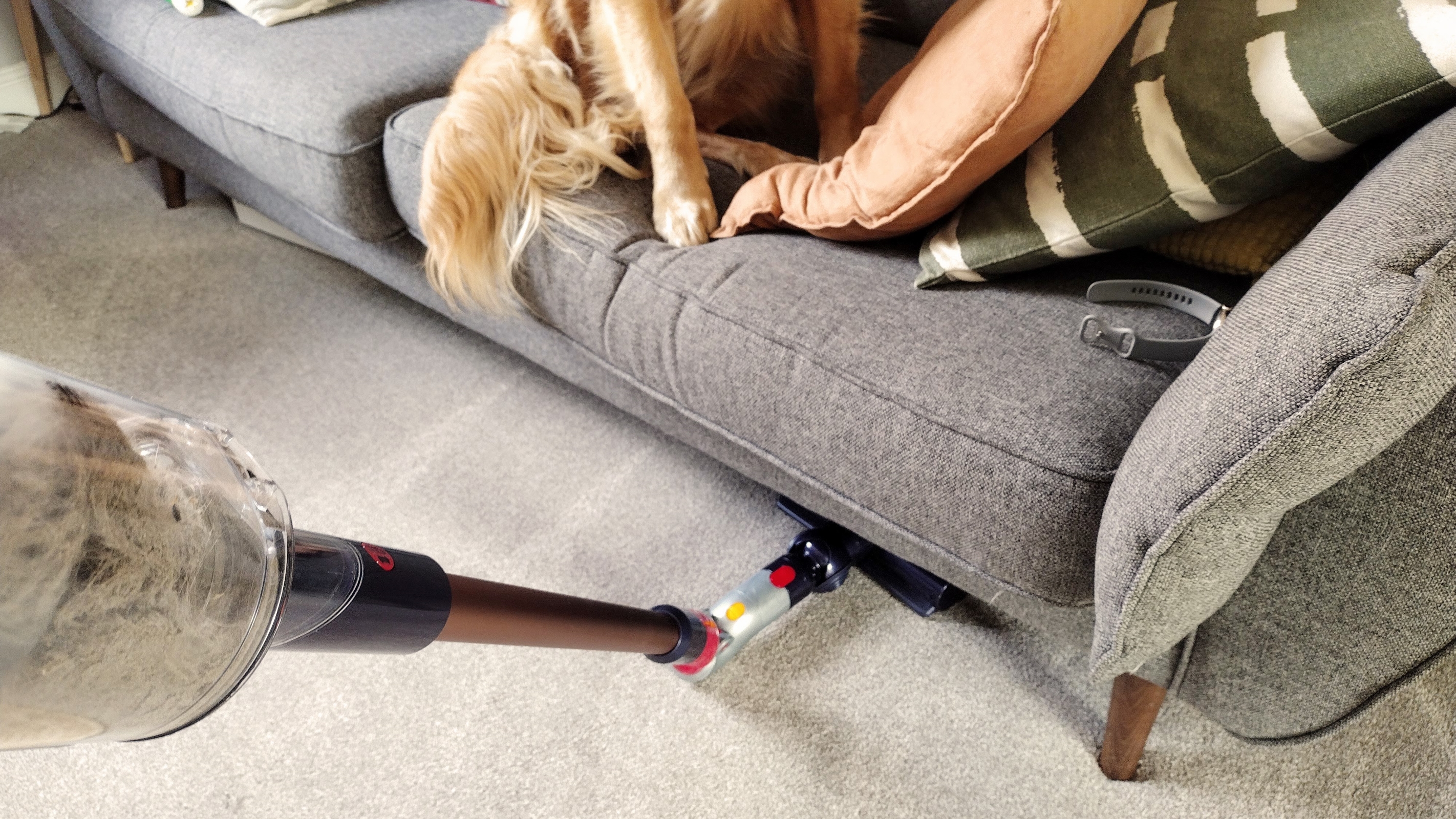 How does the Dyson Gen5detect Absolute compare?
If you have a smaller budget, the Levoit VortexIQ 40 Flex is similar to the Dyson in terms of performance. It's incredibly effective at cleaning, sturdy and well-made, and comes with many accessories. It's also much more affordably priced than most Dyson models.
However, it doesn't include laser detection, real-time particle data, and an LCD screen.   
The Aspiron Cordless Vacuum Cleaner is a tiny fraction of the price of the Dyson. It's very light and easy to use, and it features LED lights and a good-sized dust cup. However, maneuverability is an issue, with nowhere near as much flexibility as the Dyson, and some accessories are poorly made. 
If you prefer the sturdiness of an upright vacuum cleaner, the Bissell CleanView OnePass worked consistently well on hard flooring, carpets, stairs, and upholstery in our at-home testing. Of course, pet owners will benefit from the excellent suction power that comes with this model too. 
Should you buy the Dyson Gen5detect Absolute?
Buy it if…
Don't buy it if…
How I tested the Dyson Gen5detect Absolute
I tested the Dyson Gen5detect Absolute vacuum in my three-bedroom house, home to a messy child, two long-haired pets, and two adults. I tested the battery life and assessed the performance of the vacuum using the different brush heads provided, noting how much debris, dust, and hair were collected.
I also evaluated how effective each setting was on the vacuum cleaner. Part of my testing included how well the vacuum cleaner picked up smaller and larger particles, including cookie crumbs and flour.  Finally, I evaluated how easy the vacuum was to maneuver and maintain and how convenient it was to store away when not in use.
Read more about how we test.
First reviewed: July 2023