The Electrolux ELFW7637AW is a front-loading washing machine with a 4.5 cu. ft capacity, steam function and 15-minute Quick Wash option. It also boasts Energy Star certification for guaranteed energy efficiency and 11 cycle modes. It costs anywhere between $999 and $1599 depending on sale prices and your color choice, so before spending a considerable amount of cash let's take a look at its pros and cons to work out if the Electrolux ELFW7637AW is good value money.
Electrolux ELFW7637AW: Key specs
Price: $999
Dimensions: 38x27x32"
Noise level: N/A
Capacity (cu. ft): 4.5
Cycles: 11
Energy Star certified: Yes
Warranty: 1 year parts and labor (Motor: 10 years, Tub: Lifetime)
Founded in Sweden in 1919 household brand-name Electrolux has been making consumer appliances for over 100 years. With a well established history of making quality washers since the 1950s, it's no surprise that Electrolux models frequently appear in our best washing machines buying guide. 
Let's weigh up the pros and cons of the Electrolux ELFW7637AW and see what the experts and customers have to say about it so you can make an informed decision before committing to your purchase.
Electrolux ELFW7637AW: Design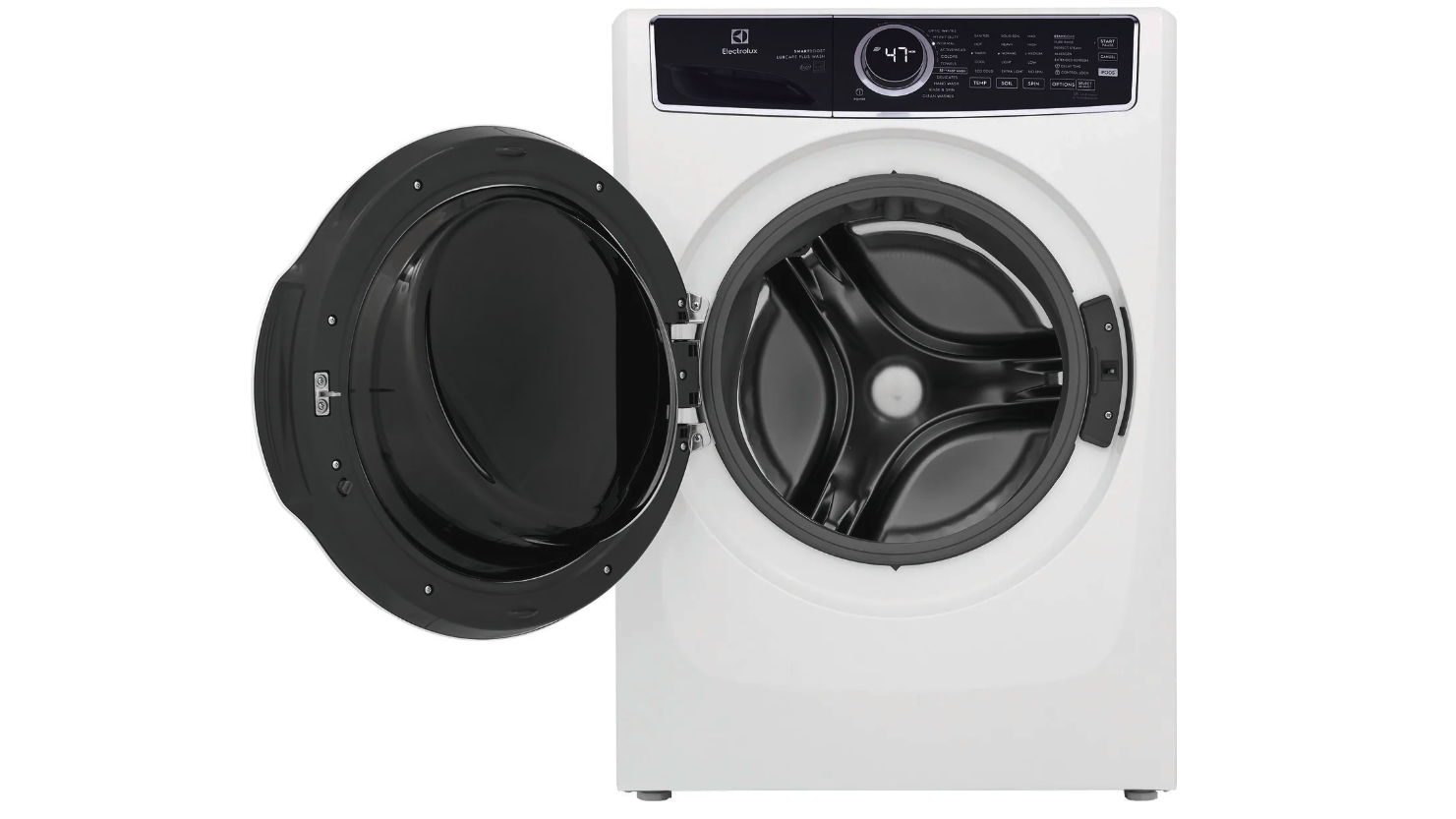 The Electrolux ELFW7637AW comes in two color options: Titanium and White, with the Titanium model being the more premium design with a higher RRP of $1,549 which is $100 more than the white version. It's also worth noting we'd found both the Titanium and White variations on sale for around $1,099 and $999 respectively. So the white model would be the one to go for if you have a strict budget of $1000. You may end up needing to spend the extra if the Titanium option fits in more with the aesthetic of other appliances in your kitchen or laundry room.
It has dimensions of 38x27x32" and weighs 217lbs. The door is also reversible so you can remove it and flip the hinge around to open out to the left or right depending on what you require for the space it will be going in. Its flat top means it can also be stacked with an appliance such as the Electrolux electric (ELFE7637AW) or gas (ELFG7637AW) dryers.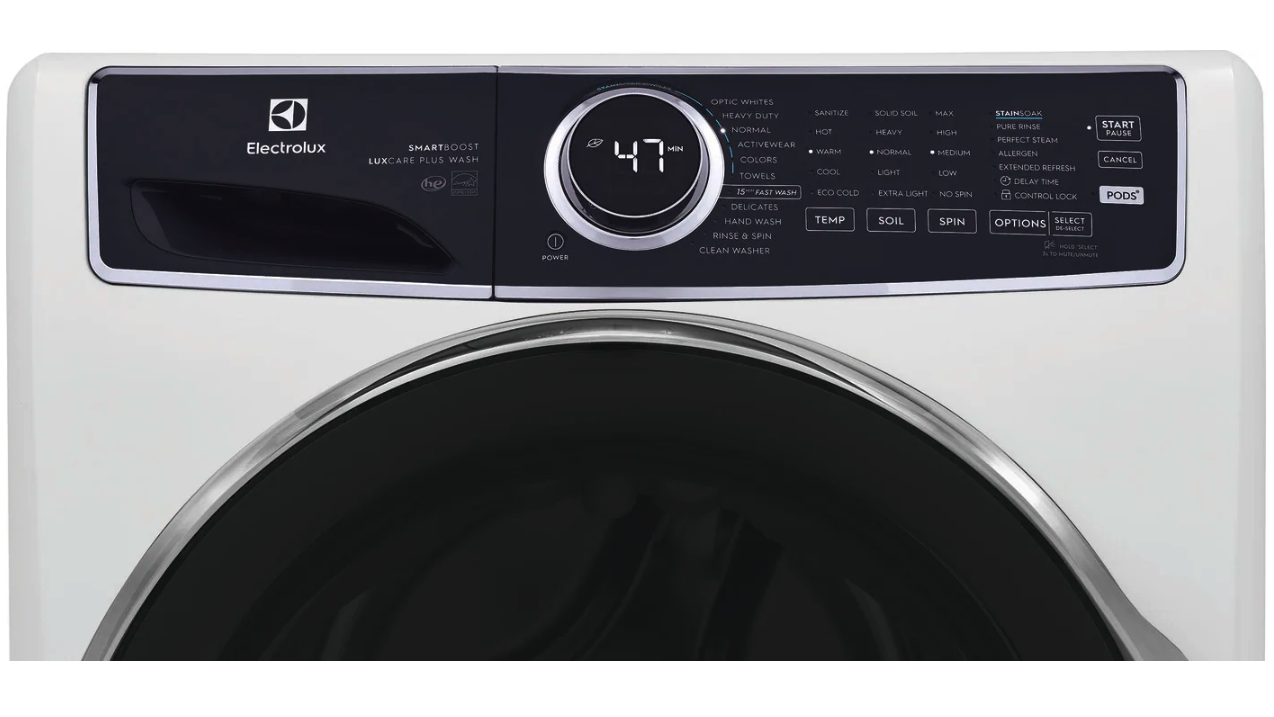 The control panel sits on the front face of the machine at the top and has a physical dial to choose between its 11 cycles (Activewear, Clean Washer, Colors, Delicates, Fast Wash, Hand Wash, Heavy Duty, Normal, Optic Whites, Rinse and Spin, Towels). It also features a touch display for setting options like the allergen mode, delay or steam.
The drum is made from stainless steel for a premium feel and it has a maximum spin speed of 1,300rpm – a notable advantage of front-load models compared to top-loaders is that they have a faster top spin speed so help your laundry, towels, bedding and so on dry faster.
The machine also comes with a standard 1 year warranty covering parts and labor, as well as 10-year guarantee on the motor and a brilliant lifetime warranty on the tub for added peace of mind.
Electrolux ELFW7637AW: Features
The Electrolux ELFW7637AW has some nifty features, though you'd expect as much from a washing machine with a pricetag over a $1000. Notable key features are the 4.5 cu. ft capacity drum – quite large for a front-load style washer though still smaller than a top-load iteration. That said it can spin very fast, which is the compromise you'll need to weigh up.
If you hate your washing come out full of wrinkles you'll be glad to hear the ELFW7637AW has a Perfect Steam option. There's also an Optic Whites™ feature that allows you to add bleach so that whites come out 'extra bright'. It's also designed to prevent the redeposit of dirt and other residues.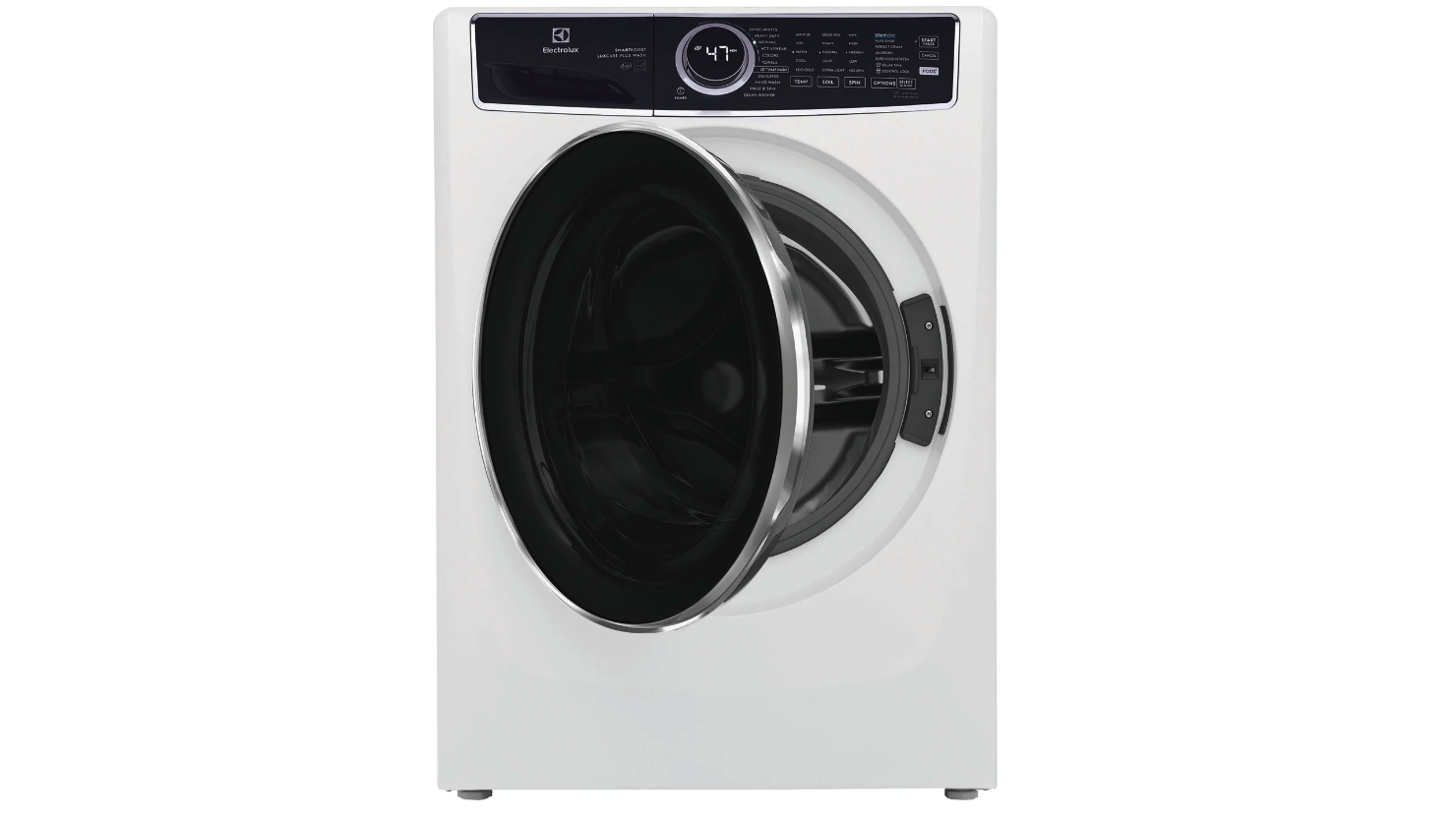 Alongside the usual detergent, prewash and fabric softener dispenser drawers, the ELFW7637AW also has dispensers for bleach and PODs, a nice feature to include that not even all high end machines have.
The Electrolux ELFW7637AW has an Energy Star certification which means it's been independently tested and meets Energy Star's strict requirements for water and electric efficiency. It was awarded Energy Star's 'Most Efficient' rating so it should be economical and easy on your utility bills.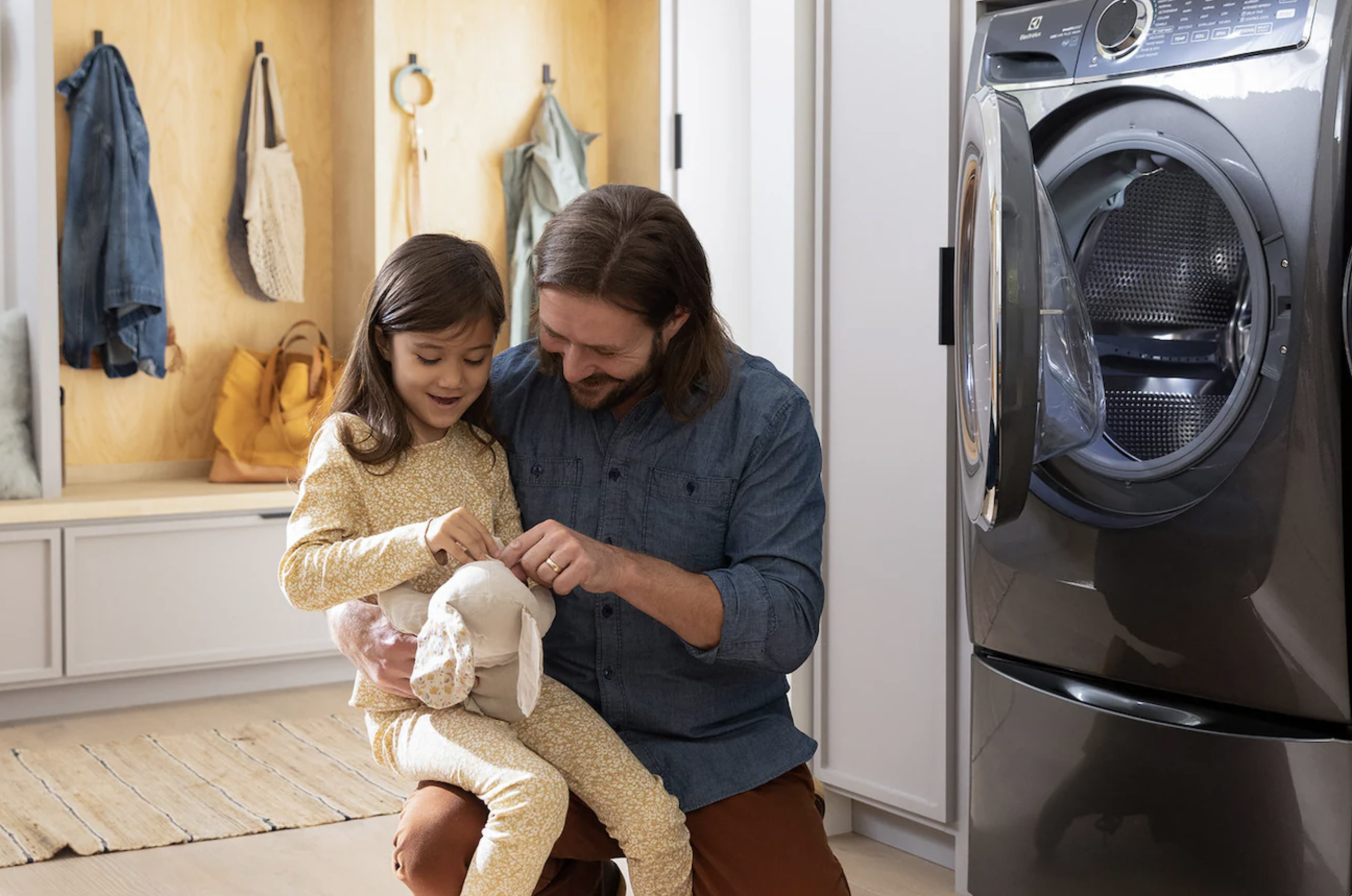 If you need your washing done in a hurry the Electrolux ELFW7637AW has a Fast Wash option which can complete a wash on 3lbs of laundry in a rapid 15 minutes.
In addition to the 11 cycle modes, there are eight extra options: Allergen, Delay Start Time (1-12 hours), ExtendedRefresh, Extra Rinse, Perfect Steam, Pure Rinse, Stain Soak and Steam. There's five washer spin speeds too – up to 1,300rpm and five Soil Levels: Extra Light, Light, Normal, Heavy and Solid Soil.
Its SmartBoost® technology premixes water and detergent before the cycle begins to maximise cleaning power with Electrolux claiming it is the 'most effective stain-removing washer'.
Electrolux ELFW7637AW: Price and availability
The Electrolux ELFW7637AW comes in two colorways, Titanium or White. The Titanium model has an RRP of $1,549 though we found it on sale around $1,099. The White model is a little more affordable with an RRP of $1,449 marked down to $999 just squeezing into that sub-$1000 sweet spot.
At the time of review we found it in stock on the official Electrolux website direct from the manufacturer and also at retailers including Gringer & Sons, PC Richard & Son, Home Depot and AJMadison.
Electrolux ELFW7637AW: User reviews
Over on AJMadison, the ELFW7637AW amassed a very impressive 4.8 stars out of 5 from over 5800 reviews meaning negative comments were few and far between.
Some top comments included this five star review which said, "Washes clothes efficiently and gently. Machine is quiet. Has a control lock for my 4 year old and great useful settings for any need.
"We have always owned an Electrolux vacuum, so we were familiar with the brand and durability of the product. We have also always owned a Maytag Washer. Our washer needed to be replaced. We went to a trusted Appliance Dealer looking for a Maytag. We were shown the models, but then advised to look at an Electrolux.
"We love the washer. It is so quiet, compared to the Maytag. The features are multiple but easy to use. The results are outstanding.
"Great washer. Controls are easy and intuitive. Clothes are noticeably cleaner than our previous washer which was very surprising. We reversed the door and the instructions were clear and it was pretty easy, although I recommend having someone to help hold while you tighten screws. Easily the best washer we have ever used."
A few comments noted the roughness of the interior drum which some customers said was a bit too rough on their laundry, "Don't buy this washer unless you want to by an entirely new wardrobe for your family! It has snagged majority of our clothes to the point of throwing them away!"
These negative issues were however few and far between and the overwhelming customer response was positive so we're inclined to believe that these customers received defective units.
Electrolux ELFW7637AW: Expert reviews
Versus.com (opens in new tab) gave the Electrolux ELFW7637AW a score of 76 points out of a total of 100, comparing its most prominent features against others in its price category and giving more weight to the most important features customers look for. 
They showed the the Electrolux ELFW7637AW performed better than standard with an annual power consumption of 85kWh against the average of 183.73kWh. They were also impressed with its large drum volume which came in at 127.4L, 54% higher than the average 82.41L. They also liked that it has 5 spin speeds compared to the average of just 4.
They also noted there is no direct drive motor, height adjustment, aqua stop, child lock or pause option. 
Should you buy the Electrolux ELFW7637AW?
The Electrolux ELFW7637AW is expensive at around $1,500 full price, though becomes much better value if you can find it on sale at around $999-1100 depending on your color preference.
It packs in some great features such as its 4.5 cu. ft capacity which is fantastic for a front-loading machine. It has a strong set of 11 cycles and plenty of options for customisation too, including the steam setting, bleach and pod dispensers, stainless steel drum, top spin speed of 1,300rpm and great efficiency with its gleaming Energy Star certification.
Some customers complained that the pump was a little on the loud side in operation and that the interior drum was a little rough on clothing. It also has no smart features or Wi-Fi which we'd expect from a washer in this price range. However, if you can put those issues to one side it offers decent value for money at its discounted price around $1000.
How does the Electrolux ELFW7637AW compare to competitors?
The Samsung WF42H5000AW was rated our best front loading washing machine which is about $300-400 cheaper than the Electrolux model (depending on your color choice) though you do get less features. Notable omissions are the fewer cycle modes at just eight and no steam functionality. It also has a slightly lower capacity of 4.2 cu. ft but like the ELFW7637AW it omits Wi-Fi and Smart features.
The Maytag MVW6500MBK is a top-load style machine that was named our 'Best washing machine for households with pets. It has a larger 5.4 cu.ft capacity, an impressive pet hair removal filter and also boasts 12 cycles. It's on sale for a similar price of around $999, though its top-load design may be a deal-breaker depending if your space washing machine space sits underneath a countertop. Though if you have pets the Maytag is definitely one to consider.
The LG WM9500HKA was named our 'Best large capacity washing machine' due to its mammoth 5.8 cu. ft capacity, making it ideal for large families and bulky items. It also has a few more cycle options with 14 to choose from, a front-loading design and has Wi-Fi and Smart features. That said, it doesn't come cheap, costing around $2,000!