The Frigidaire FRFN2823AS is a fridge-freezer unit with French doors refrigerator at the top and pull out freezer at the bottom. It boasts unique CrispSeal® crispers which are air tight to block dry air and keep your fruit and vegetables fresh as well as has handy features like large door bin storage and a full-width deli drawer. It also has a PureAir Ultra II filter to remove any intrusive odors.
Frigidaire FRFN2823AS: Key specs
Price: $2,699
Dimensions (WxDxH): 36×35.7×70″
Refrigerator capacity (cu. ft): 19.8
Freezer capacity (cu. ft): 9
Ice maker: Yes
Water dispenser: No
Energy Star certified: Yes
Warranty: 1 year parts and labor
Founded in 1918 in Indiana, USA, The Frigidaire Company is a household name that customers have been buying reliable USA-made appliances from for over a century. Esteemed electronics and appliance manufacturer, Electrolux, took ownership as the parent company of Frigidaire in the 1990s. 
In this review we take a closer look at the advantages and drawbacks of the Frigidaire FRFN2823AS to see if it's one you should consider if you're in the market for a new American-style fridge freezer.
Read more: Best mini fridges 2023
Frigidaire FRFN2823AS: Design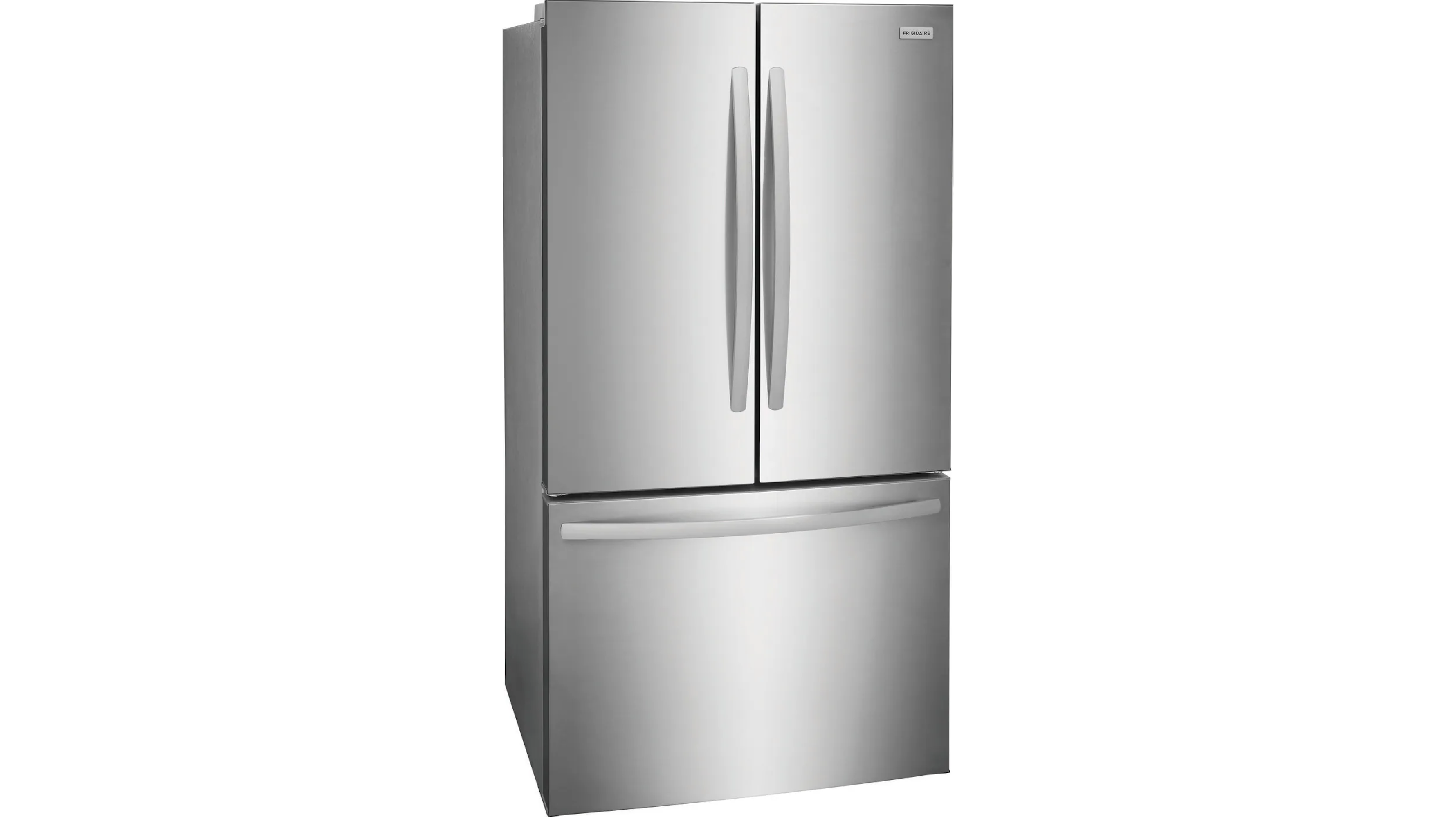 The Frigidaire FRFN2823AS has dimensions of 36×35.7×70″ (WxDxH) so be sure to check it will fit in the space you wish to place it and also bear in mind that its dual French doors swing outwards. 
It's only available in a single color option which is a Stainless Steel finish, though some customers might be dissapointed by no other color variations that would show up fingerprints a bit less.
The Stainless Steel model has an RRP of $2,699, though at the time of review you can save $500 and pick it up for $2,199 which is a considerable saving.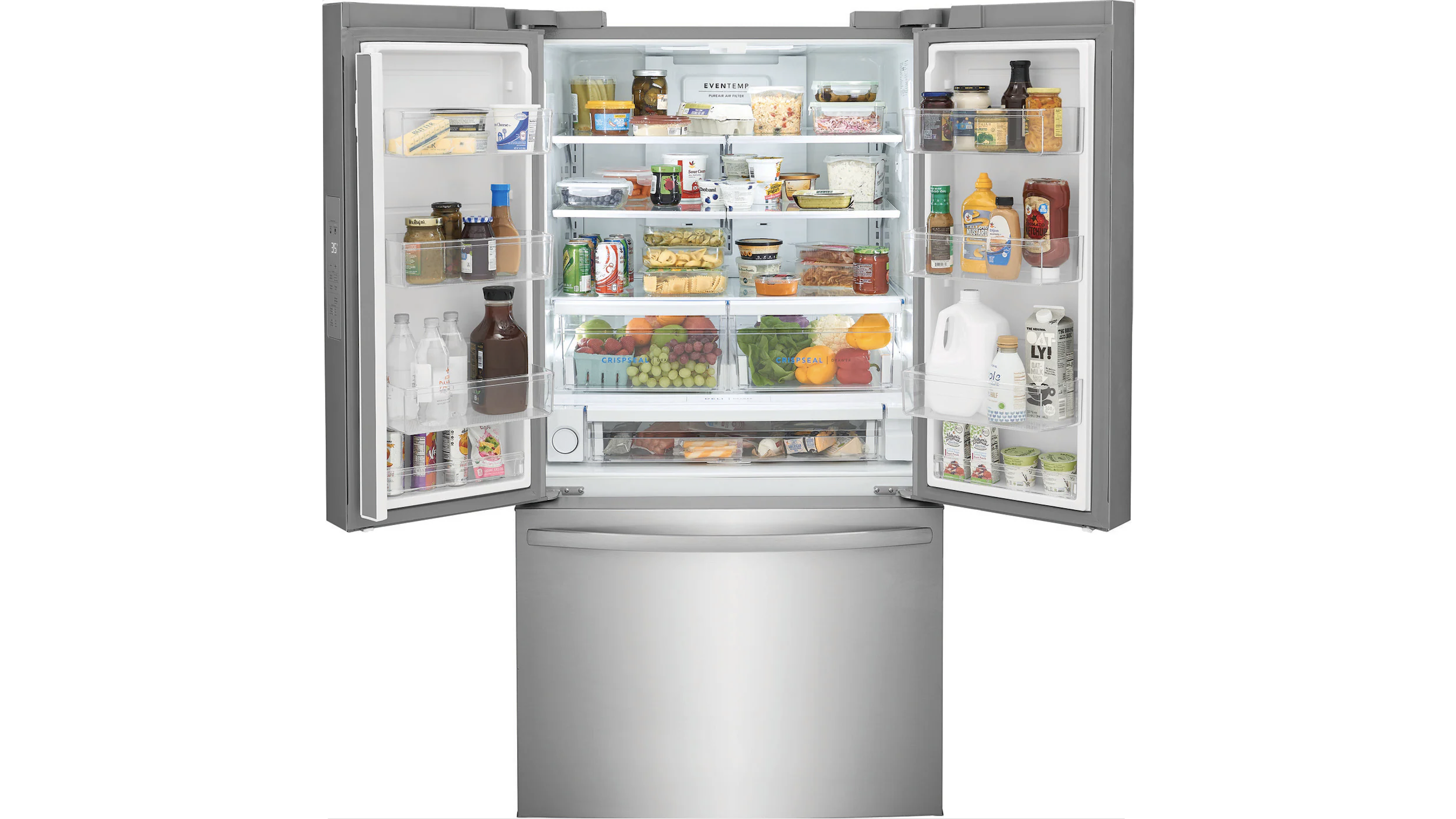 The refrigerator takes up the whole of the top half of the appliance, with swinging French doors opening up to reveal a large space with a capacity of 19.8 cu. ft. The fridge doors house large door bins for milk, jars and condiments, while the shelves use a rack system so you have plenty of flexibility to adjust the height of shelves, or even remove them entire for times when you need the extra space. Such as fitting in your Thanksgiving turkey.
The pull out freezer found on the bottom half pulls out with an impressive storage capacity of 9 cu. ft – that's notably larger than some American style fridge-freezers we've reviewed recently that had only 7 cu. ft on the freezer side.
Frigidaire FRFN2823AS: Features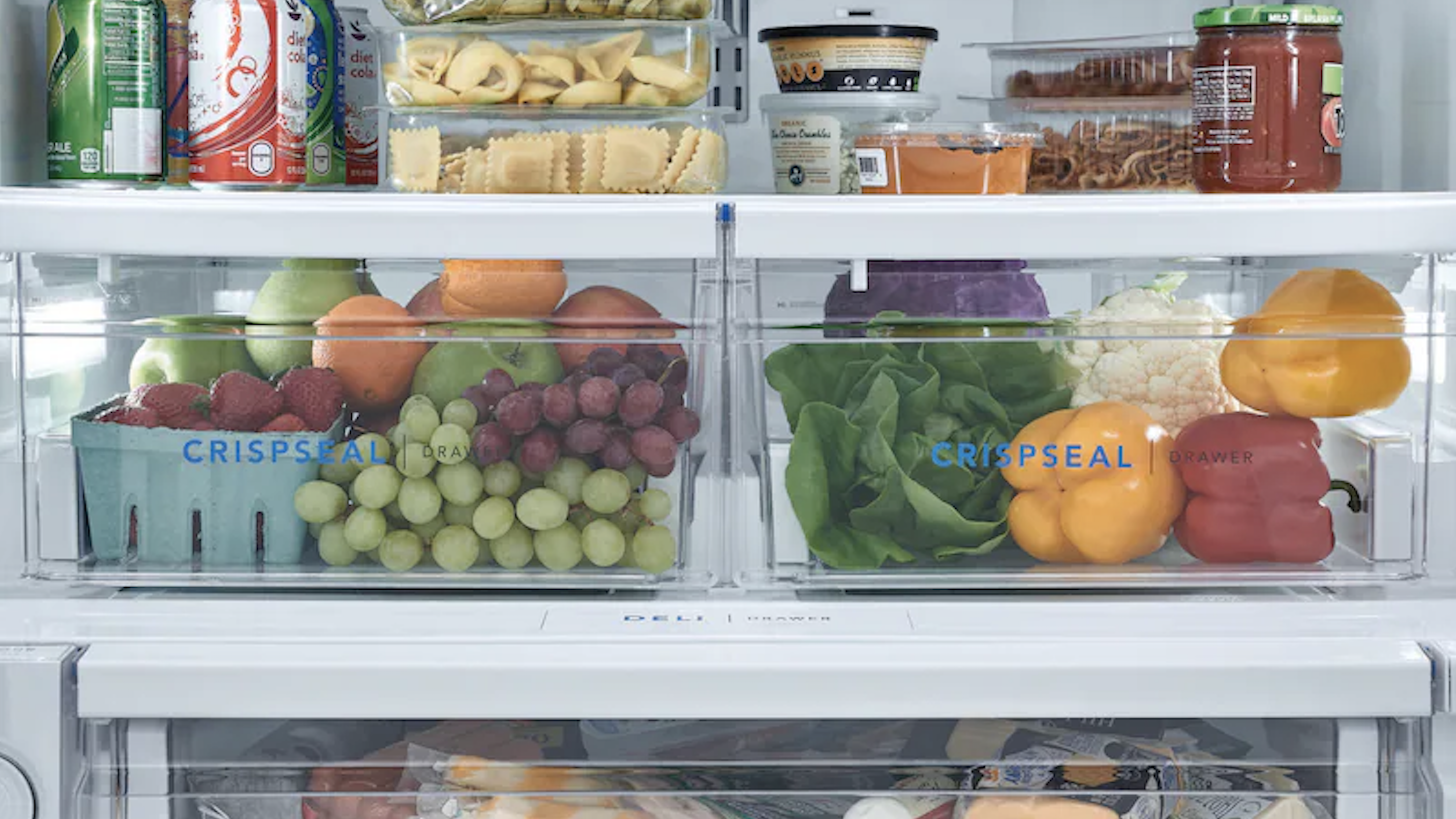 One unique feature of the Frigidaire FRFN2823AS that we haven't seen on its competitors is a set of sealed crisper drawers. The CrispSeal® Crispers feature a seal that blocks out dry air from entering your crisper. Frigidaire claims this will keep produce fresh for longer and avoid premature shrivelling.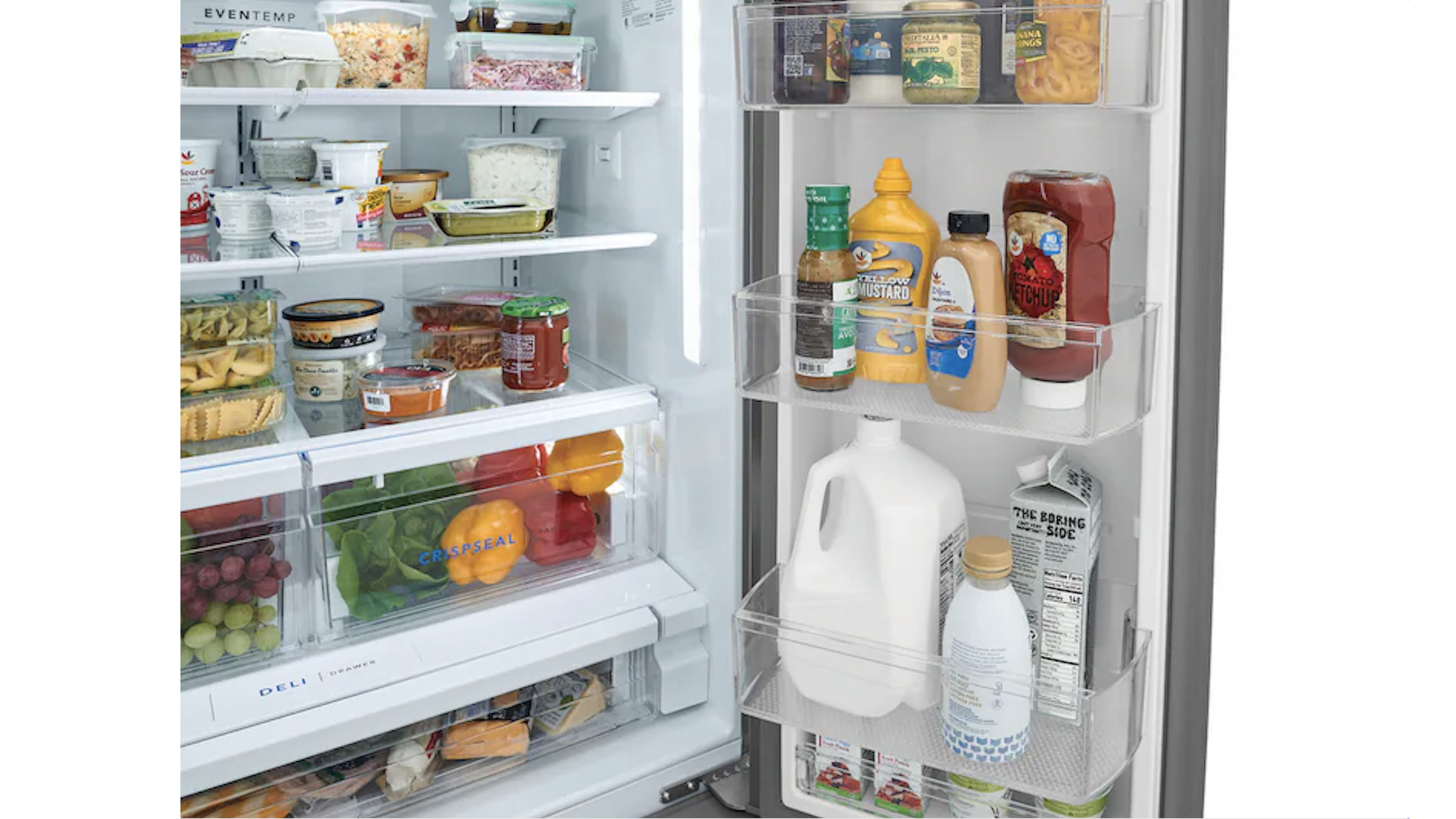 Also on the spec sheet is Auto-Close Doors which Electrolux says will "ensure your doors are never left slightly open by automatically closing once the door is ajar 5″ or less" to avoid food from spoiling. 
The Frigidaire FRFN2823AS boasts an EvenTemp™ Cooling System which uses a variable speed compressor to quickly react to temperature fluctuations. It also constantly circulates cold air throughout the fresh food and freezer compartments to keep food fresh and reduce freezer burn.
Frigidaire FRFN2823AS: Price and availability
As the Frigidaire FRFN2823AS is only available in a stainless steel finish there's no price differences that we see between color variations on some other appliances.
It has an RRP of $2,699, which makes it one of the more premium refigerators on the market, though was marked down too $2,199 on the official Frigidaire website where you could save $500.
At the time of review there were even better savings to be had at other retailers. Best Buy had it on sale for $1,999.99.
It was also in stock and available to buy from retailers including Gringer & Sons, PC Richard & Son, Lowe's and AJMadison to name but a few.
Frigidaire FRFN2823AS: User reviews
At the time of writing the Frigidaire FRFN2823AS had a very healthy score of 4.5 out of 5 stars on the official Frigidaire website from over 100 reviews.
Overall customers were showing a lot of love for their purchase, with one customer leaving top marks, saying: "Love the amount of space in the refrigerator and the freezer! The layout of the refrigerator is great! We are pleased!"
While another happy customer said: "We are still loving our new Frigidaire. It has a lot of room and seems to run very quietly. We see now why some would like a "finger-print resistant" model, but we don't have children in the home, so we have learned to handle the doors with the back side of the handle. This keeps everything shiny and clean. Makes lots of ice, but not quickly, so plan ahead."
As with any product that has a lot of reviews there were of course some less favorable comments. Let's take a look at what some customers didn't like about the Frigidaire FRFN2823AS…
One customer left a 3 star review, saying "I can imagine the fridge might be too noisy for some, but it doesn't bother me much. Ice maker sounds. Weird gurgling noises at times"
While another said: "Nice large capacity, Great layout. Just 1 MAJOR problem. Ice maker cycles every 100 minutes. Only makes 8 to 10 cubes that are close to 1 inch. The time needs to be shorter!"
The main complaints were that the ice machine took too long to make its ice, others commented it was loud and multiple customers commented saying their doors weren't aligned properly on arrival of the unit and had to call an engineer out to sort this issue out so that it would seal properly.
Frigidaire FRFN2823AS: Expert reviews
Heather Connell, Sr. Experience Marketing Manager, Food Preservation for Electrolux Major Appliances, North America had the following to say about the Frigidaire FRFN2823AS: "This Frigidaire Gallery French door refrigerator offers a freshness system that maintains the taste and texture of even your most delicate foods. Our freshness system is packed with technologies that keep food fresh and reduce food waste, such as our advanced crispers, cooling system, and our genuine air and water filtration.
"This French Door refrigerator offers our advance CrispSeal® Plus Crispers with Auto Humidity that automatically removes excess moisture plus an added ethylene filter reduces the gas emitted by many fruits and vegetables that causes spoiling. Also includes our SpaceWise® Organization System that maximizes usable space and our Adjustable Temp Drawer that offers 3 temp settings to fit consumer needs. This refrigerator does it all to help families deliver tasty, healthy meals and reduce food waste."
Should you buy the Frigidaire FRFN2823AS?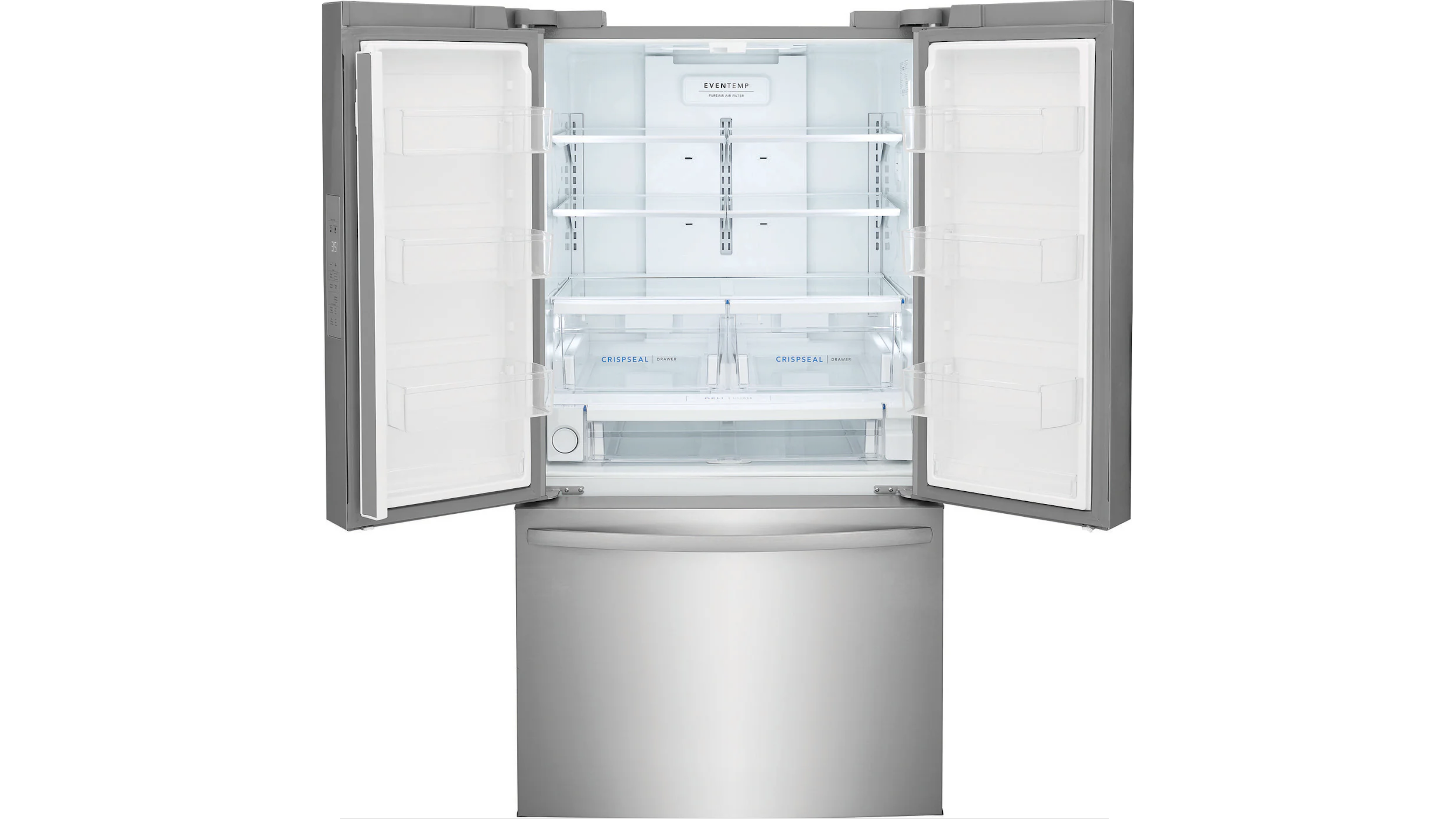 The Frigidaire FRFN2823AS refrigerator is a premium model that you pay a premium price for. While it covers the basics very well – decent size, great cooling capabilities and nifty CrispSeal crisper drawers, it's a solid fridge but feels a little middle-of-the-road. 
LG's similarly priced LG LRSOC2306S for example, has Smart features, a craft ice maker, filter water dispenser and eye-catching ClearView glass door. The Frigidaire FRFN2823AS is comparable in price but lacks any standout features.
That being said if you're after a really well made refrigerator and you don't necessarily need all the bells and whistles (or think they're a bit gimmicky) then the Frigidaire FRFN2823AS is a rock-solid option to go for that should last for many moons and be a dependable appliance for large families, provided its single stainless steel color option fits in with the color scheme of your kitchen.
How does the Frigidaire FRFN2823AS compare to competitors?
The Whirlpool WRS325SDHB is considerably more affordable at just $1,619 and is available in four different colorways, so you're more likely to find a design that fits in with the rest of your kitchen. It does have a lower maximum capacity on the fridge size at 15.44 cu. ft, the freezer capacity is similar at 9.11 cu. ft. For its price it is great value for money, packing in an ice maker, filtered water dispenser an internal LED lighting. If your budget can't quite stretch to the Frigidaire FRFN2823AS then Whirlpool's American-style refrigerator would be a great option to consider.
The LG LRSOC2306S is a side-by-side American-style refrigerator that has a similar price to the Frigidaire model we looked at in this review, costing $2,332. But it has notably smaller fridge and freezer sections at 14.8 and 7.7 cu. ft respectively. The perks of this model is that it has a show-stopping ClearView glass door that allows you to look inside the fridge by knocking on it, it's also been made to sit flush with counter tops and has both water and ice dispensers. The latter is capable of making craft ice balls for fancy cocktails and coffees.