The Frigidaire Gallery FGID2476SF is a great dishwasher for busy professionals or families who need clean, dry dishes fast. It features 2 racks and 14 place settings, making it a good choice for small families with a moderate amount of dishes to clean. 
Frigidaire Gallery FGID2476SF: Key specs
Dimensions: 23 x 24 x 33 inches
Controls location: Top
Noise level: 49 dBA
Place settings: 14
Racks: 2 large racks and 1 small cutlery rack
Cycles: 5
Energy Star certified: Yes
Warranty: 1-year limited warranty
If you are looking for the best dishwashers (opens in new tab) then the Frigidaire Gallery FGID2476SF is a good option. We will break down and assess the specs, features and user reviews to help you compare this dishwasher to other models that you may be interested in.
One feature that really stands out is its 30-minute clean cycle. Paired with the EvenDry technology, your dishes can go from soiled to clean and dry within an hour. If you are short on time, or entertaining guests last minute, you can simply turn on the Quick Clean cycle and collect your fresh dishes soon after. The brand claims its OrbitClean wash system covers four times the area of a conventional dishwasher, so you can get a quick but efficient wash.
The Frigidaire Gallery FGID2476SF was released in 2017 and has built up a good reputation online, with a large number of positive reviews from verified customers at reputable retailers. If you are in the market for other home appliances, be sure to check out our guides to the best ovens (opens in new tab) and the best freezers (opens in new tab).
Frigidaire Gallery FGID2476SF: Design
The design of the Frigidaire Gallery FGID2476SF is sleek and modern. As it is built-in, it will slot in with the rest of your kitchen units, saving a lot of space compared to regular dishwashers. It has a smooth stainless steel tub with a bar handle, and top controls so that you don't have to bend over or crouch to start a wash cycle. 
Frigidaire does have some front-control models, but this particular model is top-controlled. Top-control dishwashers can be a lot more convenient than front-control, as you can start a wash cycle while standing.
The controls are electronic touch-control operated, which stands out to us as a potential flaw. Over time, touch controls tend to lose sensitivity and can become quite hard to use. The stainless steel finish on the dishwasher is beautiful and is also smudge-proof – great if your hands are dirty or greasy after loading it up with dishes.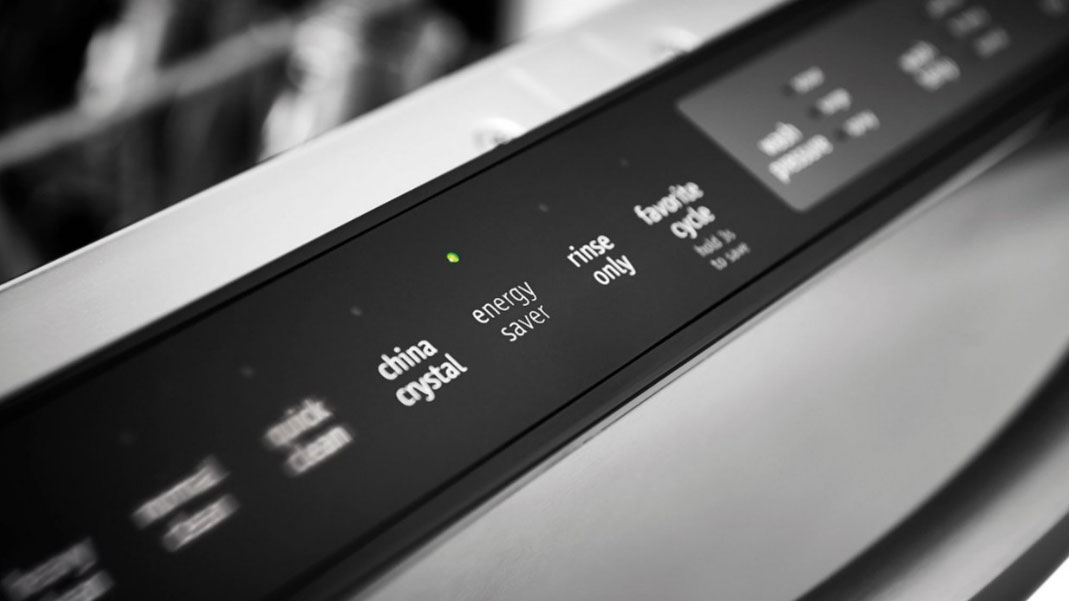 The interior of the dishwasher has three racks and a decent-sized stainless steel drum which won't tarnish from detergents or steam. The bottom rack is for large dishes and cooking pots, the top rack is for glasses, mugs and cooking utensils and the small top rack is for cutlery and utensils.
Frigidaire Gallery FGID2476SF: Features
The Frigidaire Gallery FGID2476SF has a number of features that stand out and help to clean and dry your dishes. The OrbitClean Wash System uses four times more water coverage than other brands for a complete clean, covering every angle to ensure your dishes are spotless. It also utilizes EvenDry technology to make your dishes come out of the wash cycles as dry as possible. 
If you are short on time, then the Quick Clean option will have your dishes go from soiled to clean and dry in half an hour. Throughout all 5 different wash cycles, Frigidaires DishSense technology will automatically adjust the cleaning time based on the level of cleanliness – saving you both energy/water and money. Overall it is a very efficient dishwasher, as the brand claims it uses 15% less water than a conventional dishwasher.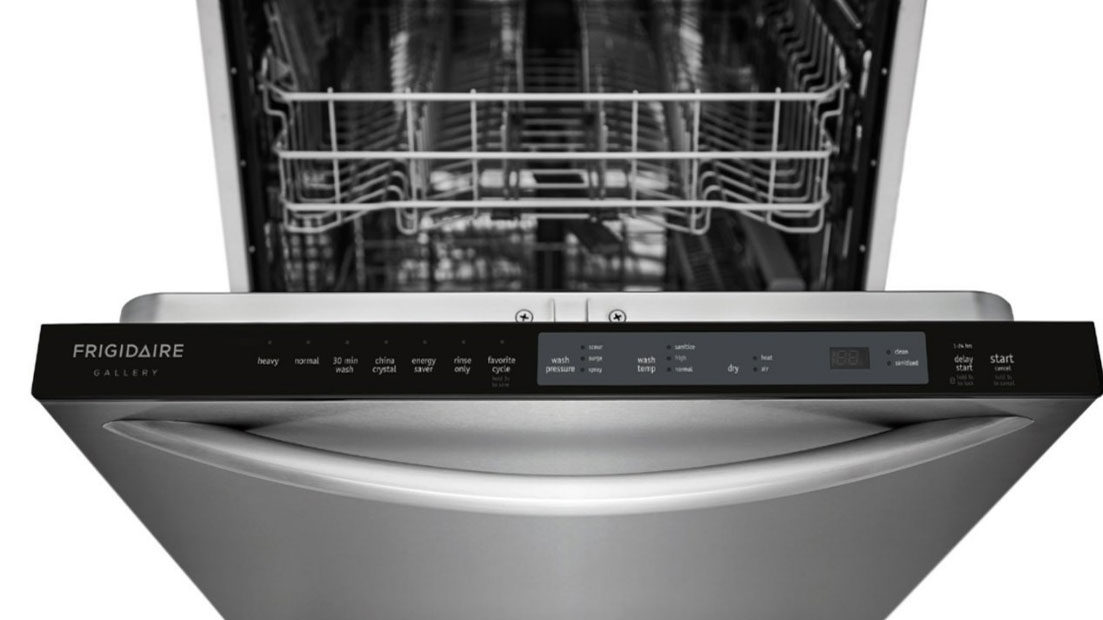 If you want to set your dishes to be cleaned at a specific time, then you can use the 24-hour delay start system to set a cycle to run in advance – great for fitting around a busy schedule. The wash cycles are also quite quiet at only 49 dBA, so you can wash your dishes at any time of day without disturbances.
The racks are fully adjustable, utilizing SpaceWize technology to fit oversized dishes and kitchen tools for a thorough, efficient clean. The door stays put at any angle that you open it for easy access, and the dishwasher comes equipped with LED lights at the base which glow blue when your dishes are washing and glow green when your dishes are clean.
Frigidaire Gallery FGID2476SF: Price and availability
The Frigidaire Gallery FGID2476SF usually retails at $879.00 / £720. This dishwasher boasts a large number of smart features, and for the price, it is definitely a great option. For around $200 extra you could invest in a dishwasher with a number of smart cleaning features. If you don't need smart features, then this is definitely a top pick. 
The dishwasher comes with a 1-year warranty, which could be higher, but Frigidaire customer support will help you through any problems that occur after the warranty has expired or been voided. 
Frigidaire Gallery FGID2476SF: User reviews
On the Frigidaire website, the Gallery FGID2476SF has an average customer rating of 4.3/5 stars. Frigidaire is different from a lot of other manufacturers when it comes to reviews – they are very transparent and actually highlight the most useful critical reviews on their website. 
The positive reviews are heavily focused on the quiet running of the dishwasher, and its ability to clean things such as wine glasses and large pots. One user says "Love the quiet running feature. Also like the ability to wash wine stems and keep them secure in place". 
The small number of negative reviews are generally focused on the control panel, with a highlighted review stating "Only lasted maybe 2.5 years. Control panel shot". 
Due to Frigidaire's transparency, the reviews are from verified sellers and any negative ones are not hidden, meaning you can check the latest reviews and use them to help you make a purchase accordingly. Almost all negative reviews get a direct response from Frigidaire, where customers are usually invited to call customer support to help resolve the issue. 
Should you buy the Frigidaire Gallery FGID2476SF?
Overall, for the price you get a reliable dishwasher with a large number of cleaning features. The ability to either have your dishes clean and dry within 30 minutes or delay your wash for up to 24 hours makes this dishwasher ideal to fit any schedule. 
If you are often entertaining at short notice, or go through a lot of dishes then this could be a solid choice for you. This dishwasher does not have any smart features, but in our opinion, it makes up for it in cleaning performance.