The Frigidaire GCRE3060AD is billed as the world's first range cooker to include an Air Fry function. It boasts a solid feature set including a 3000W Quick Boil mode, customisable hob rings that can be tailored to the size of pots and pans you wish to use as well as a self clean mode. It's also competitively priced and available in two color options.
Frigidaire GCRE3060AD: Key specs
Price: From $849
Dimensions (WxHxD): 30x48x29.25"
Oven capacity: 5.7 Cu. ft
Air fry: Yes
Hobs: 5
Weight: 175.75 lbs
Energy rating: Up to 3,900W
Warranty: 1 year parts and labor
Founded in 1918 in Indiana, USA, The Frigidaire Company is a household name that customers have been buying reliable US-made appliances from for over a century. Esteemed electronics and appliance manufacturer, Electrolux, took ownership as the parent company of Frigidaire in the 1990s. 
In this review we take a closer look at the advantages and drawbacks of the Frigidaire GCRE3060AD to see if it's one you should consider if you're in the market for a new range cooker.
Frigidaire GCRE3060AD: Design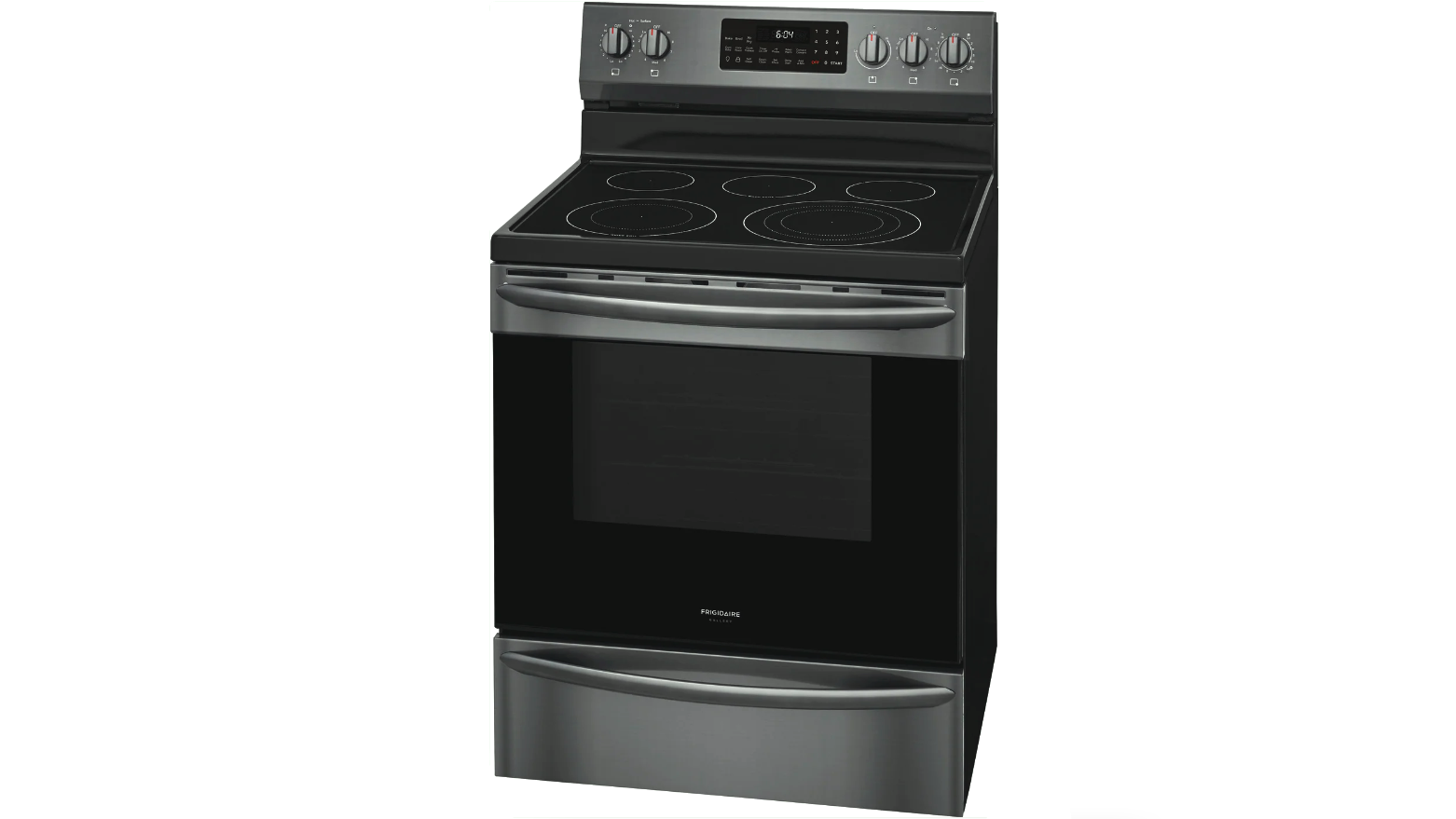 The Frigidaire GCRE3060AD is available in two colorways: Black Stainless Steel or Stainless Steel. The black version has the more premium finish of the two with an MSRP of $1,549 which is $100 more than the standard Stainless Steel version.
The Black Stainless Steel option claims to be Smudge-Proof® with Frigidaire claiming it has a "Beautiful new finish with an easy-to-clean fingerprint resistant surface".
At the time of review both models were on sale at $600 below the MSRP, making them considerably better value for money.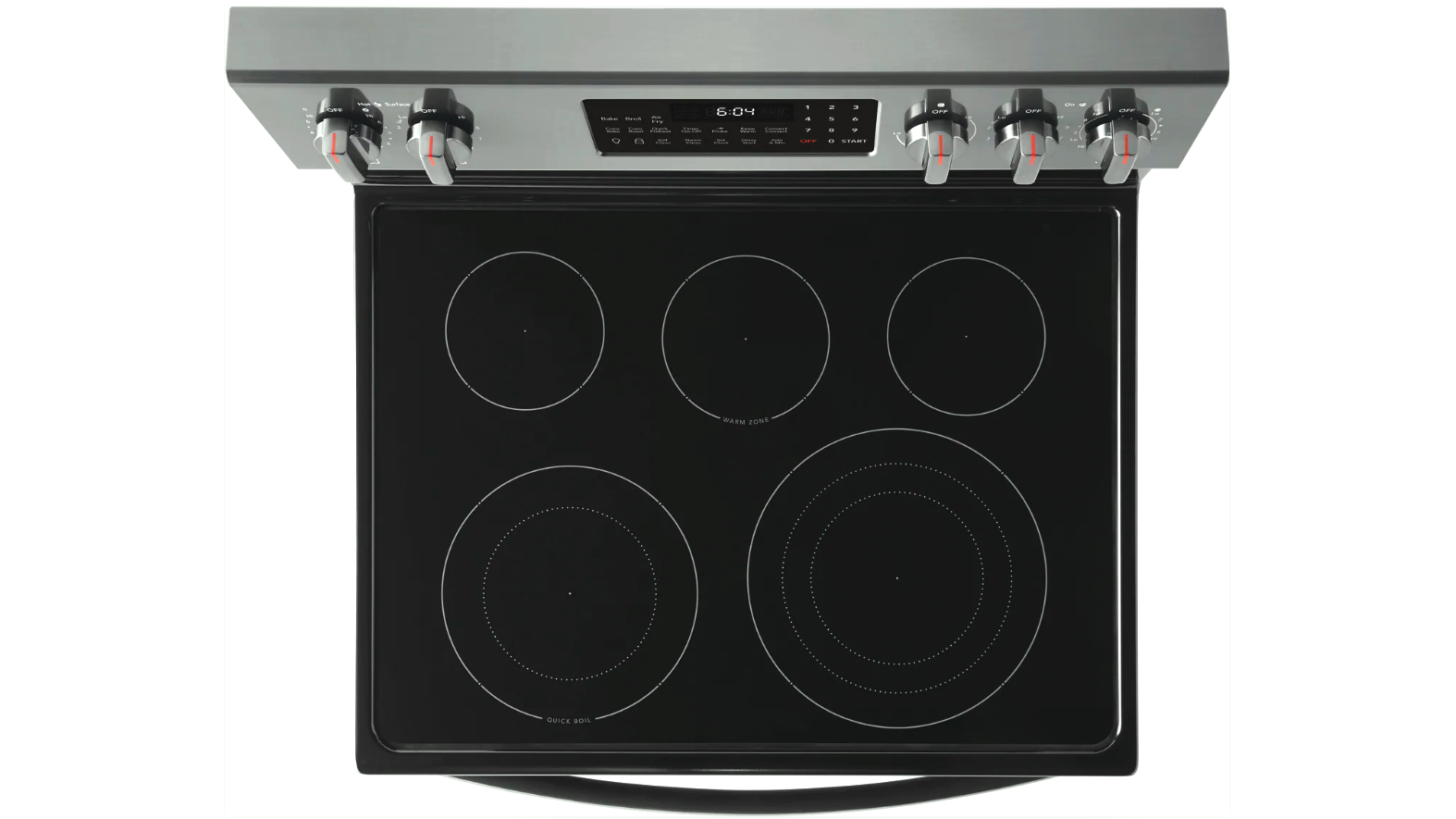 One interesting design choice is the hob ring options. While it looks like there are five hob rings, there is in fact a total of eight, as the front two have SpaceWise® Expandable elements, meaning you can heat up a smaller area if you have a smaller pan to save energy.
The front right hob features a SpaceWise® Triple Expandable element, and can be adjusted between 6″, 9″ and 12″ depending on the size of your pot or pan.
The GCRE3060AD is a 30″ range and the first to boast an Air Fry function. It has dimensions of 30x48x29.25" (WxHxD) and weighs 175.75 lbs so be sure to check the dimensions of your oven space to ensure it will fit before parting with your money.
Frigidaire GCRE3060AD: Features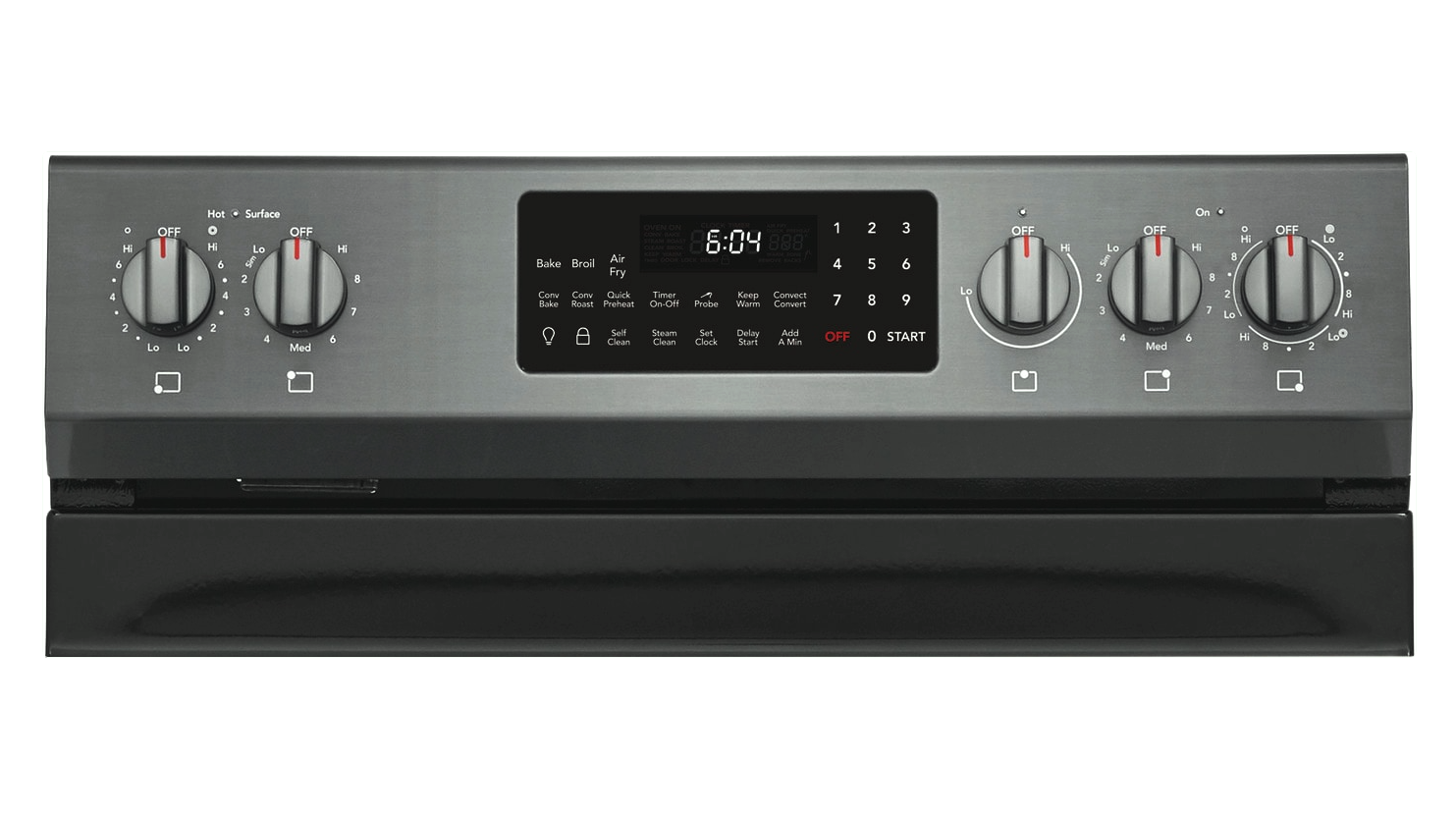 One downside is that the controls are found at the back of the hob so you have to reach over it to change settings. On this control panel you can use the dials and touch display to change between cooking modes such as Air Fry, Bake, Broil, Convection Bake, Convection Convert, Convection Roast, Delay Clean, Keep Warm, Preheat, Probe, Self Clean and Steam Clean.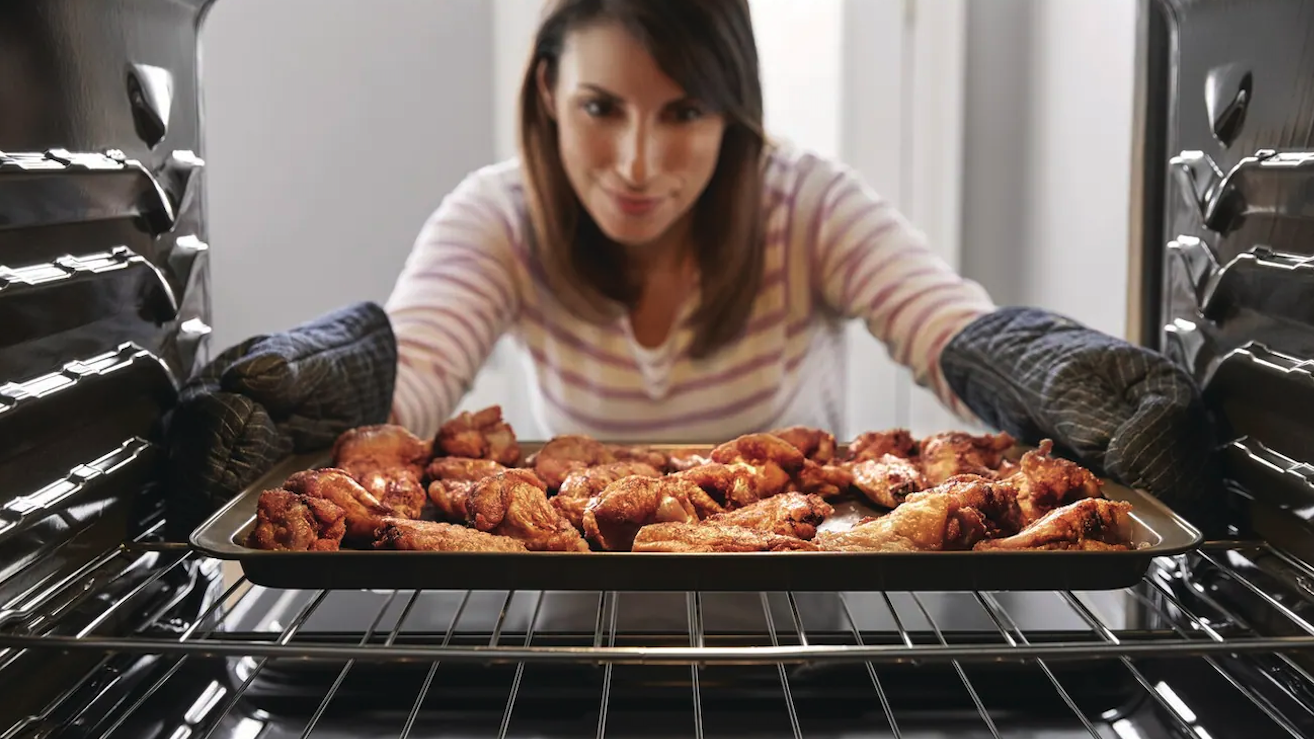 The Frigidaire GCRE3060AD claims to be the first range on the market to feature an Air Fry function. Frigidaire says this feature will "Deliver all of the flavor and none of the guilt. Air Fry allows you to make healthier and delicious meals for the entire family – right in your oven. The first range on the market to include Air Fry."
There's an optional ReadyCook™ Air Fry tray too which Figidaire claims will deliver perfectly crispy and delicious Air Fry results, faster than nonstick bakeware.
It also boasts a True Convection oven with a capacity of 5.7 Cu. ft. This is said to have a powerful convection fan and third heating element that evenly circulates hot air throughout the oven. The convection element is rated for 900W, while the baking elements is rated for 3,500W. Frigidaire boasts the True Convection delivers faster and more even multi-rack baking.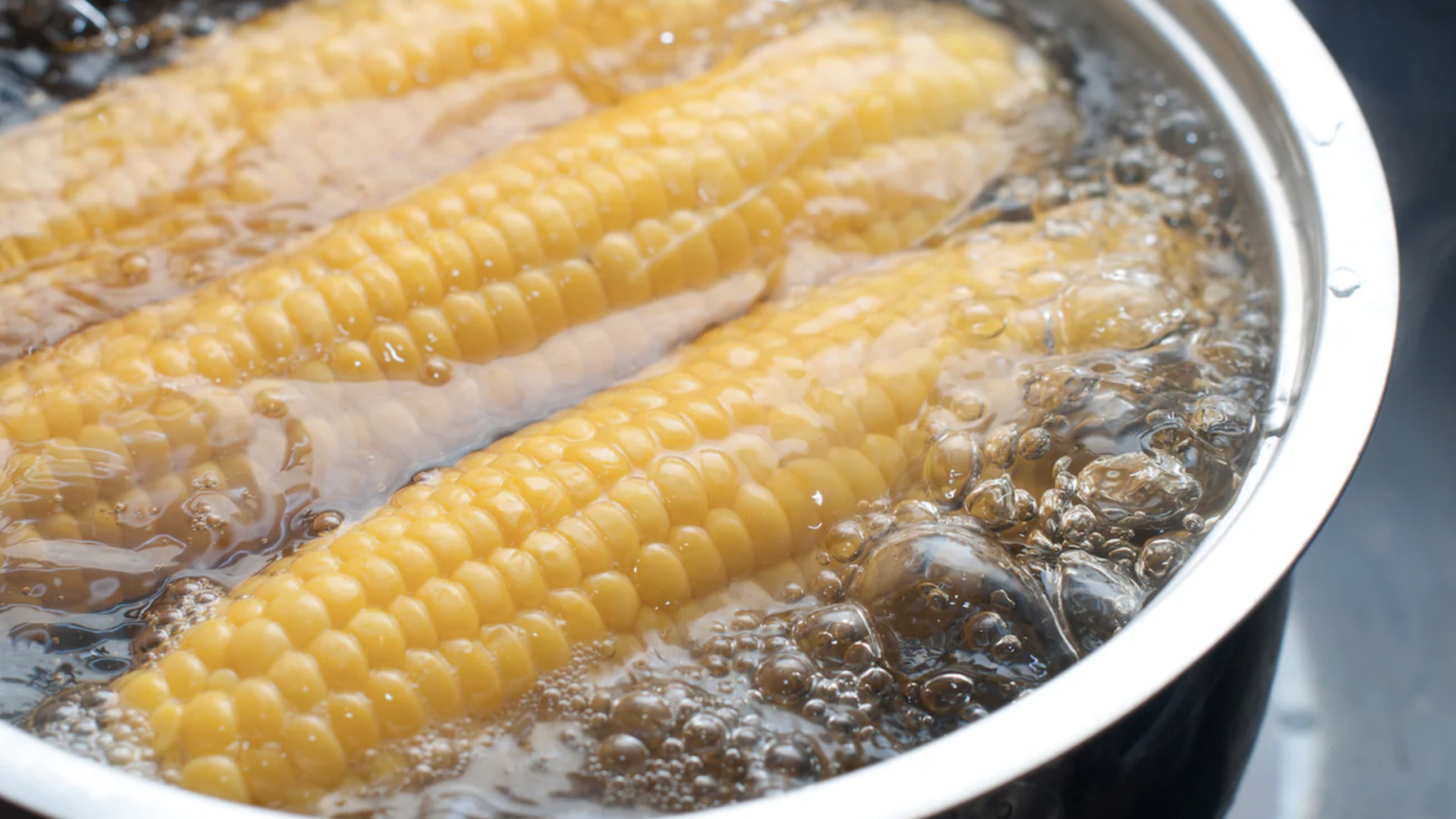 An incredibly powerful 3,000 Quick Broil Element promises to get water up to boiling temperature in no time at all, with Frigidaire claiming you can "Get meals on the table faster". 
Also on the spec sheet is a Quick Preheat mode as well as a Fast Steam Cleaning Option. The latter is a 30 minute light oven cleaning that's chemical-free, odor-free, and fast. There's also the One-Touch Self Clean mode, available in 2, 3 and 4-hour cycles.
Frigidaire GCRE3060AD: Price and availability
The price of the Frigidaire GCRE3060AD varies depending on your color choice. The Black Stainless Steel has a fingerprint resistant Smudge-Proof® coating and costs a little more with an MSRP of $1,549, compared to the $1,449 of the Stainless Steel version.
While expensive, both models were on sale at the time of review and $600 below their MSRP's, at $949 and $849 for the Black Stainless Steel and standard Stainless Steel options respectively.
At the time of review both color options were available directly through the Frigidaire official website. We also found stock available at retailers including Best Buy.
Frigidaire GCRE3060AD: User reviews
The Frigidaire Gallery 30″ Freestanding Electric Range with Air Fry has garned an impressive score of 4.6 out of 5 stars from over 8,000 reviews – impressive!
74% of customers left top marks for the Frigidaire GCRE3060AD with customers giving lots of praise. "Love the multiple size options for the stovetop (i.e. can activate hotplates multiple ways to heat pots of different sizes). Lots of options for how to run the oven as well, more than I've seen before on a typical oven. Sleek look and works great!"
While another happy customer said, "Everything I have cooked has come out terrific. The cakes rise perfectly, the food that is baked is perfect and anything cooked on the stove top is great. Lots of choices with burner size and temperature. My stove was in good condition but I wanted to upgrade and this is a perfect one to move to".
Just 2% of users gave this appliance one star, with complaints including the oven noise being very loud, and one user comparing it to a "jet engine".
Others users claimed it overcooked food, "The oven has overcooked anything I have made so it is all dry and not good". Multiple users found the hob hard to keep clean "Glass top very hard to clean my previous glass top wiped off perfectly this you have to actually actually scrub".
We also think it's only fair to call out Frigidaire's apparantly poor customer service with numerous reviews saying they were put on hold for extended periods with no resolution such as this comment "We tried to contact Frigidaire several times, each time we were kept on hold for over 1 hour. When it seemed that our call regarding the stove was to answered, we received an automated message that all lines were busy and call back at another time… There is virtually no way to get help regarding a $1300 appliance, even after we purchased an extended warranty. Completely unreliable company". We hope Frigidaire step up a gear and improve its customer service after reading some of these negative reviews as it tarnishes an otherwise well reviewed product.
Frigidaire GCRE3060AD: Expert reviews
Heather Connell, Sr. Experience Marketing Manager, Food Preservation for Electrolux Major Appliances, North America had the following to say about the Frigidaire GCRE3060AD:
"The Frigidaire Gallery 30" Freestanding Electric Range is packed with features that consumers love and want in their range, including a flexible 5 element cooktop, true convection in the oven cavity and Air Fry. Now consumers can make healthier, delicious family-sized air fried meals, right in their oven."
Should you buy the Frigidaire GCRE3060AD?
Now towards the end of its product cycle the Frigidaire GCRE3060AD is nicely discounted with savings of $600 off its original MSRP, so is a good value buy. Users liked its versatility and broad range of features such as air frying, quick boil, self cleaning and customisable hob rings to suit the pans and pots you want to use.
Customers disliked the loud noise from the convection oven, found the top glass hard to clean and also noted long waiting times on hold to Frigidaire customer service. These small issues aside due to its current heavy discounting it is incredible value for money and you'd be hard pushed to find a sub-$1,000 range that comes close to its feature set.
How does the Frigidaire GCRE3060AD compare to competitors?
We gave the GE JB750SJSS 4.5/5 stars and called it "a great mid-price oven with a good capacity and excellent features". If you have the space for a full size convection oven this would be a great choice as it features dual burners, a large 5.3 cu. ft oven space and is reasonably priced for a mid-range cooker at $909 and can often be found on sale discounted even further too.
The LG LWC3063BD comes packed to the brim with all the bells and whistles that you can expect from a premium $4,000 cooker. It has dual ovens: a TurboCook Speed oven with a microwave built-in as well as a true convection one. It also boasts Smart capabilities. The downsides are it's high bar to entry with its pricey RRP and many users found the microwave beeping to be very annoying as it needs to be switched off manually every time.
If you're short for kitchen space you may be interested in the Cosori 30L 12-in-1 countertop oven. It sits in the sub-$200 sweet spot and packs in no less that 12 different cooking options that make it an extremely versatile countertop cooker and energy efficient too, so it's fantastic value for money and ideal if you have a kitchen with limited space or would like a versatile option with plenty of different cooking options.