When it comes to audio equipment and headphones, JLab doesn't need introducing. The JLab Go Air Pop are a reliable and versatile pair of earbuds that are on the cheap end of the spectrum yet don't compromise on build or audio quality, ideal if you're looking for every day earphones that won't set you back too much.
JLab Go Air Pop: Key specs
Type: Earbuds
Wireless: Yes
Noise cancelling: No
Battery life: 11 hours + 24 hours from charging case
Charging method: USB-C included in charging case
Warranty: 1 year
These earbuds come in a light portable case and in a variety of colorways to choose from, from teal to brick red and the classic slate or black. For the price (less than $25), the earbuds and case don't feel flimsy and can withstand frequent daily use, including during exercise and in the rain. 
If you're an audiophile looking for the highest quality earphones to listen to music, then these are definitely not the right choice for you. However, they're a great pair to take everywhere from the gym, to work, or just to listen to tunes and podcasts on the go. 
I tested these earbuds over the course of a few months to test their audio quality, ergonomics and comfort, ease of use, and of course, durability. I have been really impressed with their performance, so read on to find out if they're the right pair for you.
For other listening options, check out our guide to the best headphones, which contains a variety of models for all needs and budgets.
JLab Go Air Pop: Design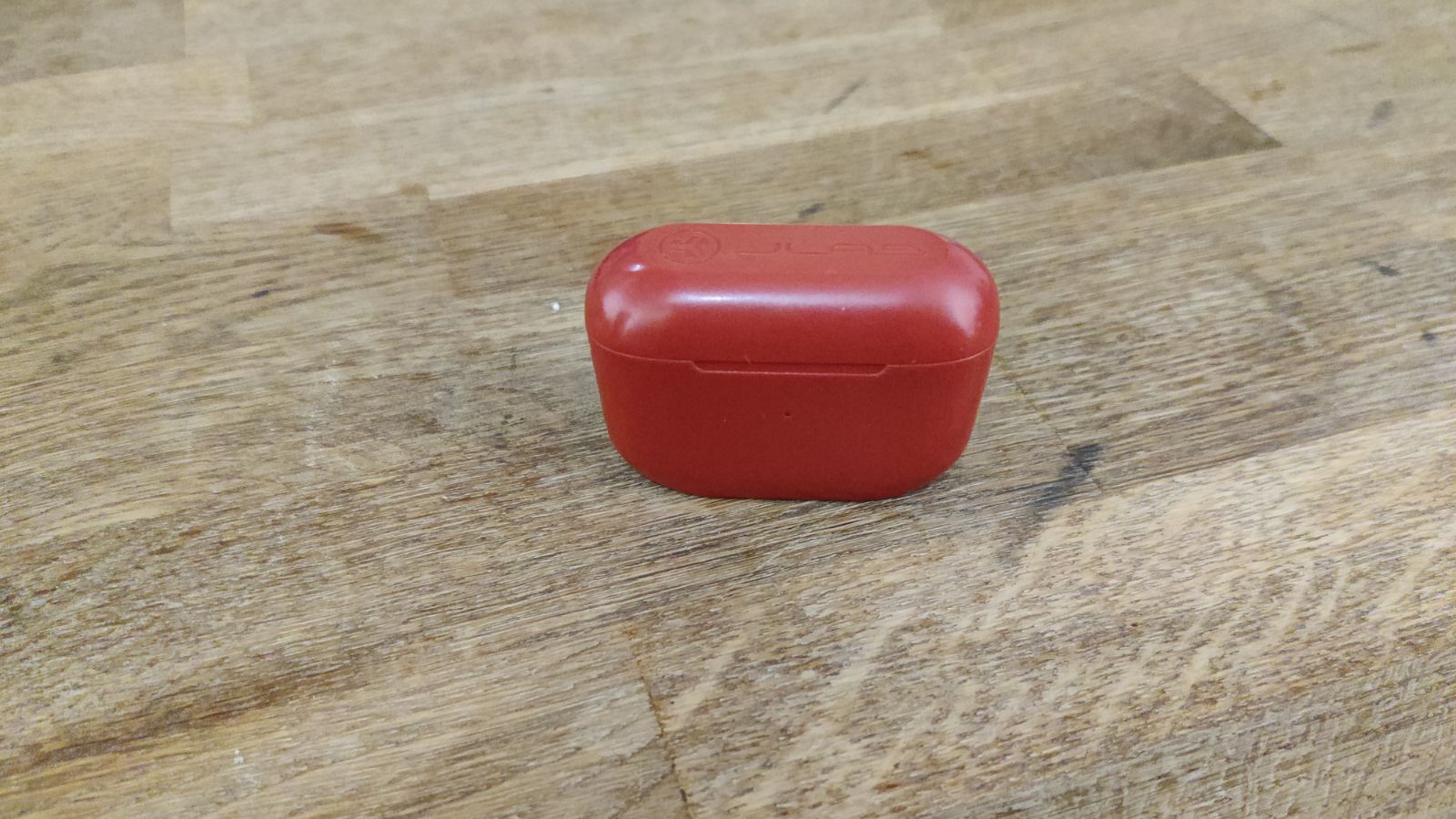 The JLab Go Air Pop come in a standard-looking charging earbud case that clicks open and shut and has space to store and charge the earbuds when not in use. The lid mechanism doesn't feel too flimsy the case is nice and light, great for slipping into your pocket before you go out. 
The case has a charging cable attached to it which neatly tucks underneath it when not in use. You can plug the case in to a USB port on a laptop, or directly into a plug. 
In terms of design, these earbuds also look pretty standard. They're very small, light and compact, and don't have the "wing" you can find on Airpods for example. The downside of not having this wing is that the earbuds controls are on the earbud themselves, which can be a bit fiddly when you're putting them in.
The earbuds also come with three different sizes of silicone inserts to adjust the fit as needed. As someone with really small ears, I often struggle to find earbuds that fit properly, and most importantly stay in while I exercise and walk about. I fitted the Air Pop earbuds with the largest silicone inserts and found them really comfortable to wear, even for long periods of time, and was pleased with how snuggly they fit. 
As I mentioned above, the JLab Go Air Pop come in a variety of colors: red, teal, lilac, black, slate or graphite. It's nice to have the option as these are regular-use, every day earbuds so you could match them up to your phone or accessories, for example.
JLab Go Air Pop: Setup and usability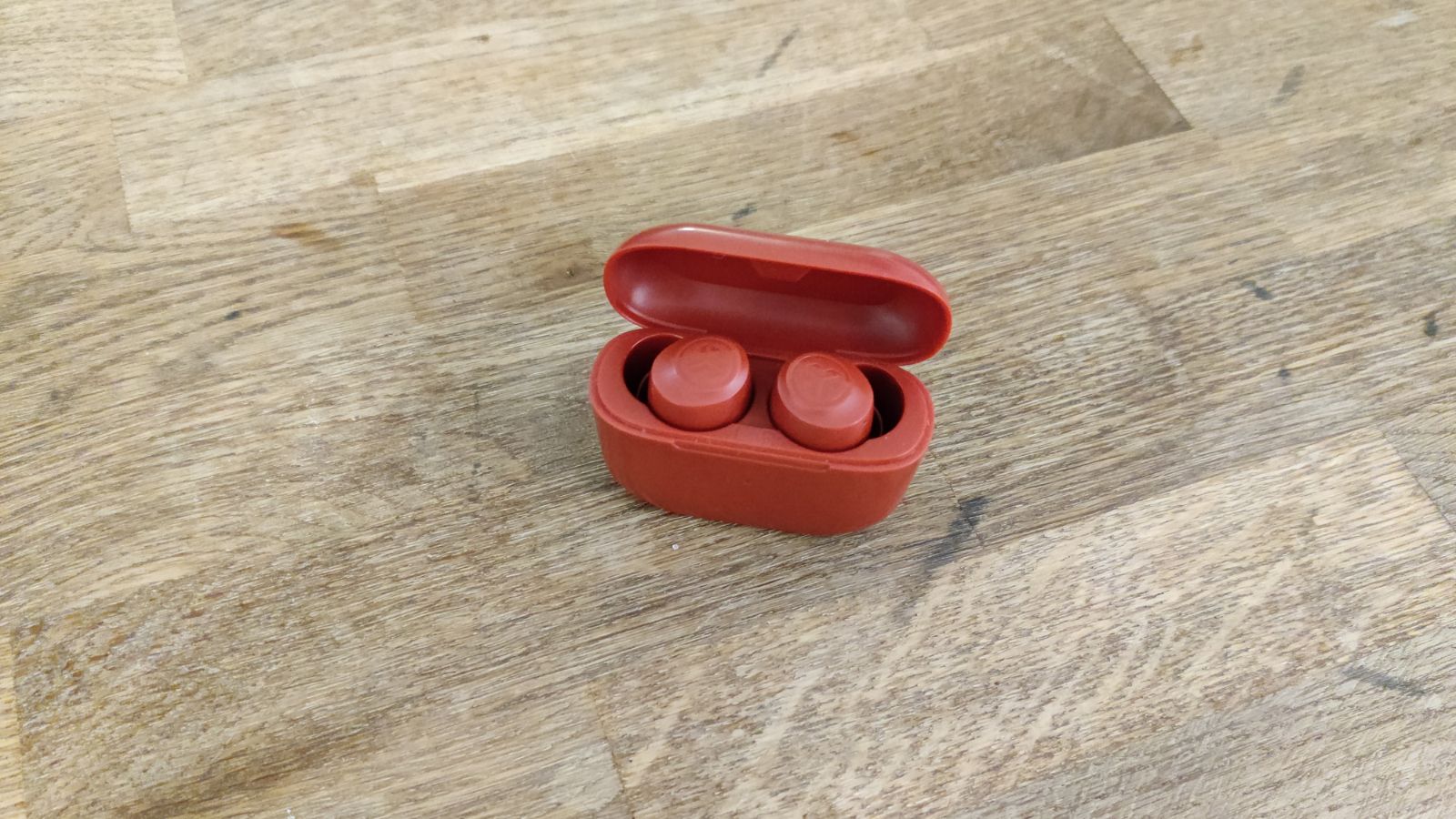 The JLab Go Air Pop connect to your devices using Bluetooth 5.1, which is known to be a bit unreliable with Android devices. I am an Android user myself, and from the moment of connection onwards, I had very few issues with these earbuds. Apart from the occasional and very short dropoff in one earbud, the connection is strong and steady across a variety of devices, from laptops to phones. 
Setup is relatively easy, as you only have to make sure the earbuds are charged before you can connect to your devices. It took me all but 5 minutes from taking them out of the box to start listening to music. 
The earbuds are controlled by tapping them in various sequences, as follows:
• Single tap: volume up on right earbud, volume down on left earbud, or answer call
• Double tap: play/pause on right earbud, voice assistance on left earbud, hang up a phone call
• Press and hold: forward track on right earbud, backward track on left earbud, reject incoming call
• Triple tap: EQ preset change on either earbud
The small, compact design means it's easy to accidentally trigger those controls while putting the earbuds in or adjusting their position. The sensitivity of these touch controls is also not the most reliable – I found I sometimes had to tab multiple times until my content was paused, or that I accidentally paused content instead of putting the volume down.
JLab Go Air Pop: Audio quality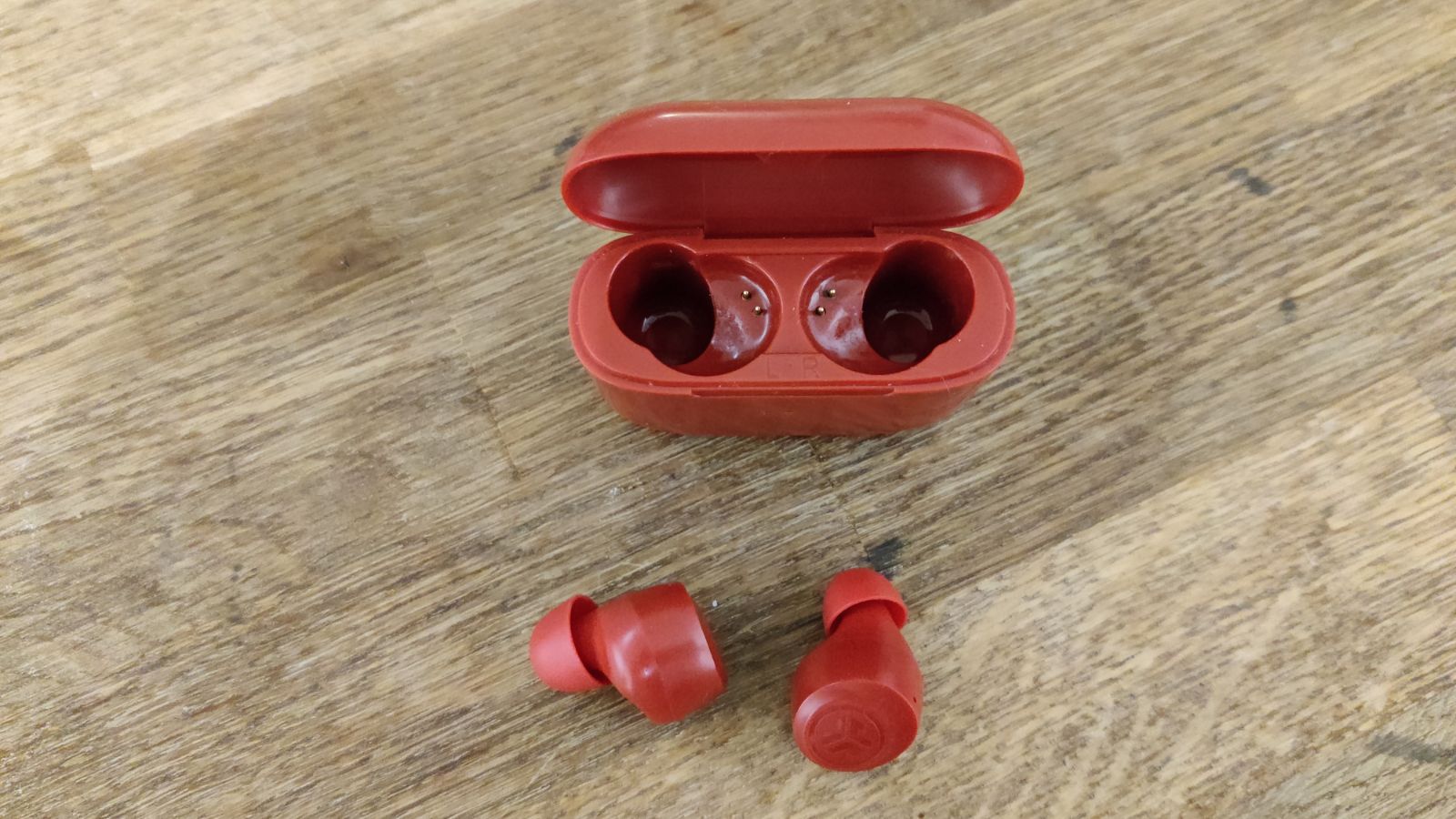 The JLab Go Air Pop's audio quality is just fine. It won't blow you out of the water, especially if you're an expert audiophile and used to high quality equipment, but for everyday use, it does the job perfectly well.
I used them for everything from listening to my favorite podcasts to pop music for workouts, or to make phone and video calls. These earbuds have three EQ options: Bass Boost, Balanced, and JLab Signature. The Bass Boost preset makes a big difference for music with large amounts of base, but I tended to keep the earbuds on "Balanced" for most uses. 
In terms of mic quality for audio calls, these earbuds are great for making calls in quiet places, but the mic is very sensitive to surrounding noise, so if you're around a bit of wind or in a busy place, the person you're calling might struggle to understand you. 
The other thing of note is that the JLab Go Air Pop don't have ANC per se, they rely on a tight fit to block out some of the surrounding noise. While I found this a good thing to ensure safety while walking after dark, if you're after a pair of earbuds with active noise cancellation, you'll want to look elsewhere.
JLab Go Air Pop: Battery life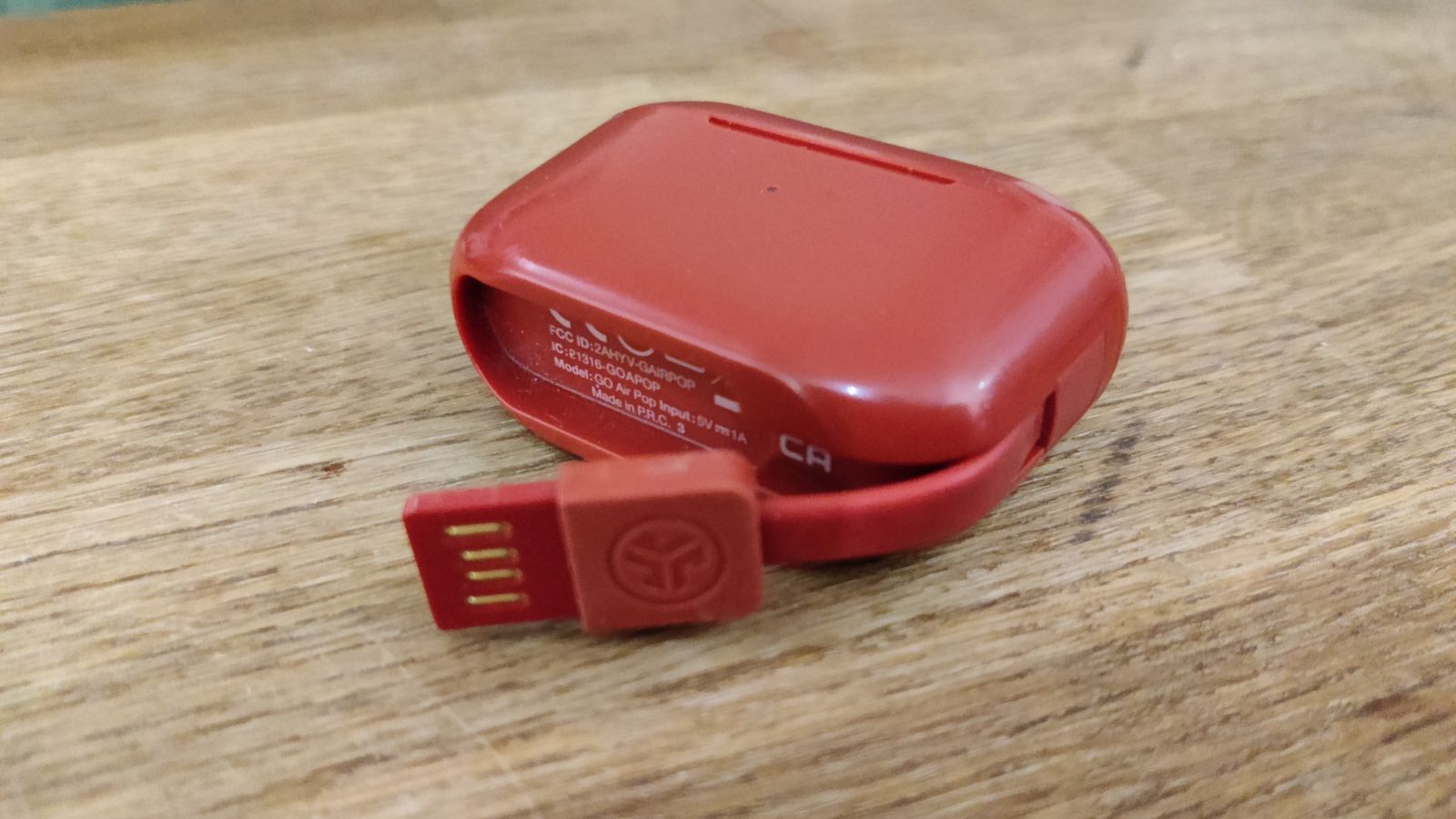 The battery life is perhaps where these earbuds shine brightest. Having tested a range of wireless earphones, I always found battery life to be a bit underwhelming, and resented having to charge most pairs every day. 
But not with the JLab Go Air Pop – the brand claims these have an 8-hour battery life, but I found this to be closer to 12 hours of constant use. The case when fully charged adds another 24 hours, so even with regular use, you might find you only have to charge these earphones once every couple of days. 
You also have a bit of time between the low battery warning and the earbuds shutting down, which means you could put the case on to charge when you first hear it. 
For the price, the battery life is really impressive, and one of the best I've seen on wireless earbuds. 
JLab Go Air Pop: User reviews
At the time of writing, the JLab Go Air Pop scored 4.4 stars out of 5 on Amazon, from 21,653 ratings. Positive reviews praised the really good value for money, the battery life and comfort of these earbuds, with one user saying "Stop looking now if you want a pair of low budget earbuds. I had to return two pairs with decent Amazon reviews that cost around $10, which taught me that spending at least $20 is mandatory. I found multiple reputable websites that declared the JLab Go Air Pop to be the best budget earbuds, and these did not disappoint! The sound quality obviously won't challenge very expensive earbuds, but the audio quality is more than adequate for those among us who aren't audiophiles."
The few negative reviews highlight some issues coming out of the box, and some difficulties with the touch controls. One user also highlighted that "If you don't start playing music right away, or if you pause a song for a few minutes the earbuds will automatically turn off. Then the only way to get them to turn on is to put them back in the case and take them out. That's a problem if you leave the case at home or in the car. With other jlab earbuds you can press and hold for 3 to 5 seconds and they turn back on. Not with the go air pop earbuds though."
JLab Go Air Pop: Price and availability
With a base price of $24.88 on Amazon, there is no doubt that these earbuds are in the budget category. However, I found everything from the audio quality to the durability to be above average and really really impressive for the price. As an added bonus, there are frequent discounts on JLab earbuds, and they are currently 6% off at Amazon.
Should you buy the JLab Go Air Pop?
If you're after a cheap but durable pair of earbuds that can withstand most use cases, then I would recommend these in a heartbeat. While they're some of the cheapest headphones I've seen, I've been using them consistently for a couple of months with no issues at all.
However, if you're looking for something a bit fancier that will guarantee a better microphone, fantastic audio quality, and features like Active Noise Cancellation, then you could consider something like the Bowers & Wilkins PX wireless headphones.