The KitchenAid KDTM404KPS dishwasher has one of the highest user ratings on our list, and for good reason. KitchenAid is a very reputable brand, with a history of making high-quality, efficient home appliances. 
KitchenAid KDTM404KPS: Key specs
Dimensions: 33 5/8 " x 23 7/8 " x 26 3/4 " inches
Control Location: TopFront
Noise level: 44 dBA
Place settings: 16
Racks: 3
Cycles: 5
ENERGY STAR certified: Yes
Warranty: 1 year, limited
This dishwasher features three racks and 16 place settings, making it perfect for larger families with a lot of dishes to clean. If you are in the market for the best dishwashers (opens in new tab) then this review will help if you are considering the KitchenAid  KDTM404KPS. We will assess and break down the specs, features and user reviews to help compare this dishwasher to other models.
The third rack in this dishwasher stands out when compared to other models for its size. Most third racks are suited mainly for cutlery or utensils such as spatulas and wooden spoons, but this model can fit six-inch glasses, mugs and bowls. While it is not the quietest dishwasher on our list, it is still quieter than most at only 44 dBA – this should be quiet enough to run wash cycles at any time with minimal disturbances.
The KitchenAid KDTM404KPS has garnered thousands of positive reviews online, making it one of the best dishwashers if you are looking to buy a new one. If you are looking for other home appliances be sure to check out our guides to the best ovens (opens in new tab) and the best freezers (opens in new tab).
KitchenAid KDTM404KPS: Design
The design of the KitchenAid Top Control Dishwasher is clean and minimalistic. It is a built-in model, so it is designed to be fitted alongside the rest of your kitchen units and cupboards, saving space when compared to a conventional freestanding dishwasher. It has a bar handle on the front panel, which isn't as convenient as a recessed handle, but it fits the overall look of this model. 
This particular dishwasher is top-controlled, a feature that we prefer over front-controlled models. With front controls, you often find yourself bending over or crouching to start a wash cycle, which isn't something you want after a long day. The controls on this dishwasher are activated by touch sensors, which could be a slight problem in the long run as touch controls tend to lose their sensitivity over time. 
The front panel has a fingerprint-resistant PrintShield stainless steel finish which is ideal when you have been loading greasy dishes into the machine. Any soiling on the front panel can be cleaned easily with a damp cloth, cutting down on cleaning time.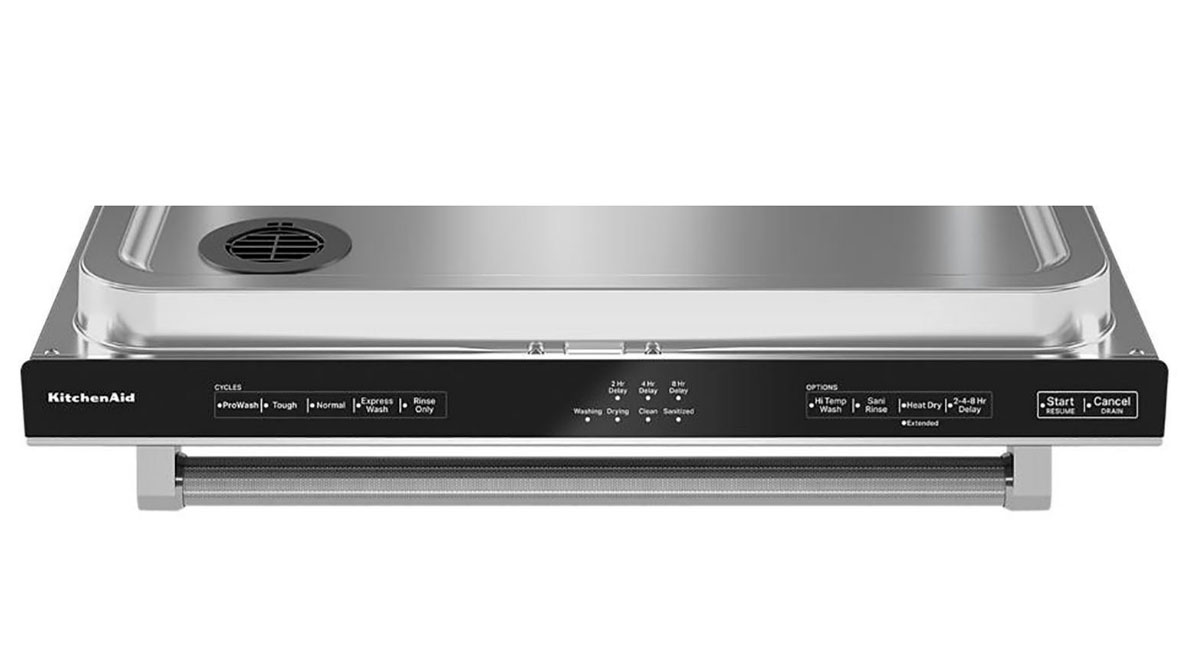 The interior of the machine features three sizable racks and a large stainless steel drum that will last a long time and won't tarnish from any residual steam or detergents. There is one rack on the bottom for plates and cooking pots, a middle rack for glassware, bowls and mugs and a third removable top rack that can be used for utensils or more glasses and mugs. The third rack is considerably larger than the ones in other dishwashers, which is perfect for larger families with a few extra cups or bowls to wash.
KitchenAid KDTM404KPS: Features
Aesthetics are important, but without features to back them up, they are meaningless. KitchenAid has definitely delivered on that front, with a number of different attributes to help make your dishes shine and come out of the dishwasher dry. 
The five wash cycles can clean anything from heavily-soiled cooking pots to glasses and the heat dry function will help dishes to come out dry and ready for cooking or storage in your cupboards and drawers. The removable third rack is great for when you want to fit extra tall glasses or unusually shaped dishes on your second rack – the middle rack is also adjustable, which aids this process.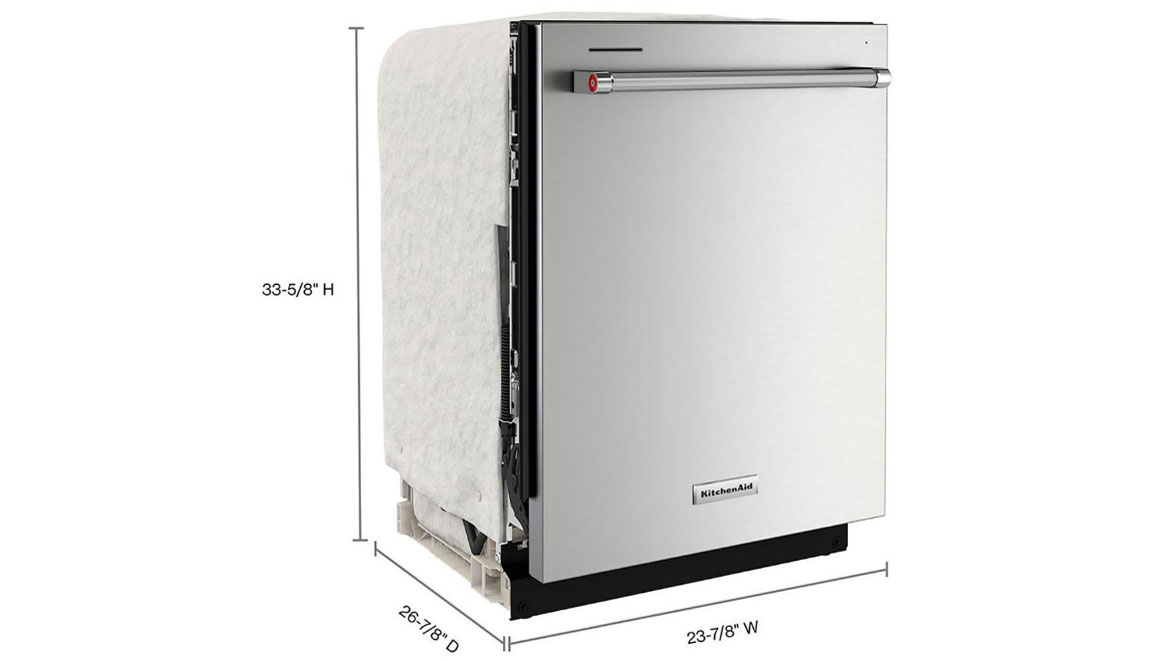 The leak detection system provides peace of mind with three levels of protection against potential sources of leaks – if the dishwasher detects a problem then it will stop filling, drain the tub and notify you that service is needed. The third and middle racks have SatinGlide technology so that they can move as smoothly as possible for easy loading and unloading.
If you are worried about running costs or environmental impacts, then rest assured KitchenAid has thought about this issue too. The ProWash Cycle uses sensors to measure soil levels throughout the cycle and adapts wash time and water temperature as needed, avoiding any excess energy or water to be wasted – this dishwasher is also ENERGY STAR Certified backing up its eco-friendly cycles.
This dishwasher features an Advanced Clean Water Wash System that uses microfiltration to continuously remove food residue and particles during the wash and rinse cycles and will circle fresh, clean water to dishes in all three racks. This will allow you to wash heavily soiled cookware and delicate glassware in the same load without streaks or sticky residue. The exterior of the dishwasher has a PrintShield Finish that is resistant to smudges and fingerprints. The coating can be cleaned easily with a damp soft cloth so that you can spend less time cleaning.
If you have young children, you will be pleased to know that there is a Sani-Rinse option that eliminates 99.999% of food bacteria by adding a high-heat final rinse to sanitize dishes or baby bottles. This dishwasher is also Kosher consumer-friendly.
KitchenAid KDTM404KPS: Price and availability
The KitchenAid Top Control Dishwasher usually retails for around $1,099 and is available at a number of reputable retailers such as Best Buy, Lowe's, or directly from KitchenAid. 
The dishwasher comes with a one year limited warranty for parts and labor. KitchenAid also has a good customer support network that can help with any problems or questions that users may have.  
KitchenAid KDTM404KPS: User reviews
The KitchenAid KDTM404KPS is one of the highest-rated dishwashers on our list, with an average rating of 4.5/5 on KitchenAid's website. The majority of positive reviews praise its efficiency and quiet cleaning, with one user saying "We're two years into the KitchenAid dishwasher with the third rack. My wife loves it…….so quiet, and works like a champ. She especially enjoys the third rack at the top for long-handled items, small glassware and other small stuff. We felt we splurged a bit on this one but are very glad we did."
The small number of negative reviews are generally critical of the warranty, as different parts' warranty expire at different times. One dissatisfied user says " It developed a problem within 6 weeks after installation. Contacted KitchenAid for warranty service. Waited almost 2 weeks for Cone Appliance Repair to show up. Was told parts needed to be ordered and they would be shipped to me."
Should you buy the KitchenAid KDTM404KPS?
Overall, the numbers really speak for themselves with this model. Users are overwhelmingly pleased with the KitchenAid Top Control Dishwasher, but it is best suited for large households. If you are single, a couple without children, or in a smaller apartment, then you might want to consider a more compact model. If you are expecting smart features, then this might not be the best choice for you as it doesn't have any – but in our opinion it makes up for it in cleaning power.  
How does the KitchenAid KDTM404KPS compare to competitors?
If you are on a budget, then you may want to go for the Whirlpool WDF520PADM, which has similar cleaning features for half the price. 
If you want a similarly priced dishwasher that comes with smart features, then the LG Smart Dishwasher with Quadwash could be the one for you.
If you are looking for a cheaper option that is a similar size with similar features, then the Bosch 300 Series might be the choice for you – it is around $100 cheaper and very similar performance-wise.