Tech company Rakuten Kobo launched its first Elipsa e-reader in 2021, and the E-Ink tablet's stylus made it an iPad (opens in new tab)-worthy rival and one of the best tablets (opens in new tab) for creative or business-minded users. However with e-reader heavyweight Amazon releasing a big-name rival in early 2023, in the form of the Kindle Scribe, Kobo is back with a follow-up.
Kobo Elipsa 2E: Key Specs
Type: E-Ink Reader
Screen: 10.3-inch
Resolution: 1404×1872 Carta
Dimensions: 22.7 x 19.3 x 0.75 cm
Weight: 0.86 pounds
Storage: 32GB
Battery: 2,400mAh
The Kobo Elipsa 2E is largely an iterative update, with the same price as its predecessor and only a few changes, but those upgrades — like a newer stylus or more storage — make this a worthy competitor to the contemporary and similarly-featured Amazon Kindle. It's also comparable to the ONYX BOOX Note Air 2 (opens in new tab), which has an identical screen and a stylus, but more storage and a higher price.
To boil it down to its core functions, the Kobo Elipsa 2E has two main purposes: reading and for writing, with the latter marking a key extra function over many other e-readers, Kobo and otherwise.
Coming bundled with the Kobo Stylus 2, the Elipsa 2E lets you mark up documents and books, or create your own notebooks. The sketching functionality is fantastic, with handwriting recognition, automatic graphics and easily-switchable stylus functions… that is, unless you're trying to mark up a document, which is turned into a hair-pulling experience by one annoying issue that'll be detailed later.
Of course, you can also use the Kobo Elipsa 2E as a long-lasting e-reader to check out the newest digital books. But are you willing to pay the high price tag just for this?
Kobo Elipsa 2: price analysis and competition
Costing $399, the Kobo Elipsa 2E costs exactly the same as the original Elipsa, so unless you can find a pre-owned version of the original with a much lower price, we'd recommend you opt for the newer model.
For context, the Amazon Kindle Scribe is a little cheaper at $339, but it only offers half the storage, at 16GB to the Kobo's 32GB. The aforementioned ONYX BOOX Note Air 2 offers even more at 32GB, but its price is $499.
That cost of the Elipsa 2E doesn't include the $69 price of the optional folio cover, which you can see pictured in some of the review images, or Kobo Plus. We'll explore this additional subscription later, but it costs $9.99 per month for either the eBook-only or audio-book-only options, or $12.99 monthly for the joint package, with a 30-day free trial letting you test it out.
The Elipsa 2E could be considered a premium e-reader due to the fact it costs more than most others on the market, and that's because stylus-toting E-Ink devices like this cost a lot more than pen-free rivals. If you just need an e-reader for reading, without the note-taking functions, you can buy a cheaper model from any of these companies.
Kobo Elipsa 2: design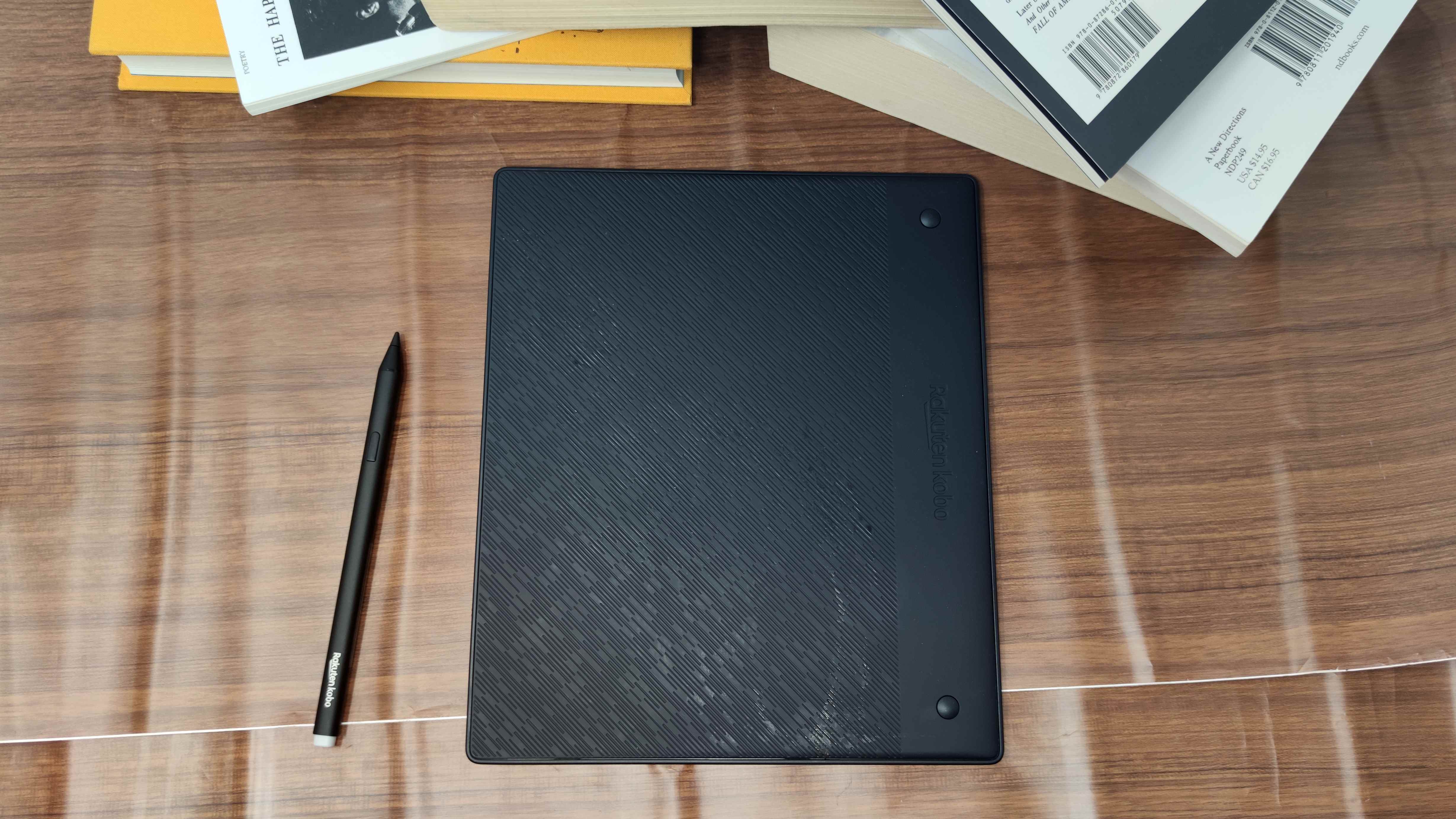 The distinguishing feature of an e-reader is the E-Ink display – this screen tech emulates the look of ink on paper, and it's popular for three main reasons. Firstly, it looks a lot more like book, emulating the original reading experience; secondly, this screen tech reduces eye strain if you're staring at the display for a long amount of time; thirdly, it's much, much more battery efficient than traditional LCD or LED screens, making devices that use E-Ink last a long longer.
Beyond that, the Kobo Elipsa 2E is your standard rectangular tablet. It has a power button and charging port on the right edge, and it's also a little thinner on one side than the other. With a 10.3-inch screen, it's fairly big as e-readers go, and we found it more comfortable to hold with two hands than one, though it's a lot lighter than many rival devices.
The Elipsa also has Bluetooth connectivity, so you can connect it to Bluetooth headphones or a speaker to play audiobooks, though there's no physical audio jack to plug it in.
Kobo Elipsa 2: note-taking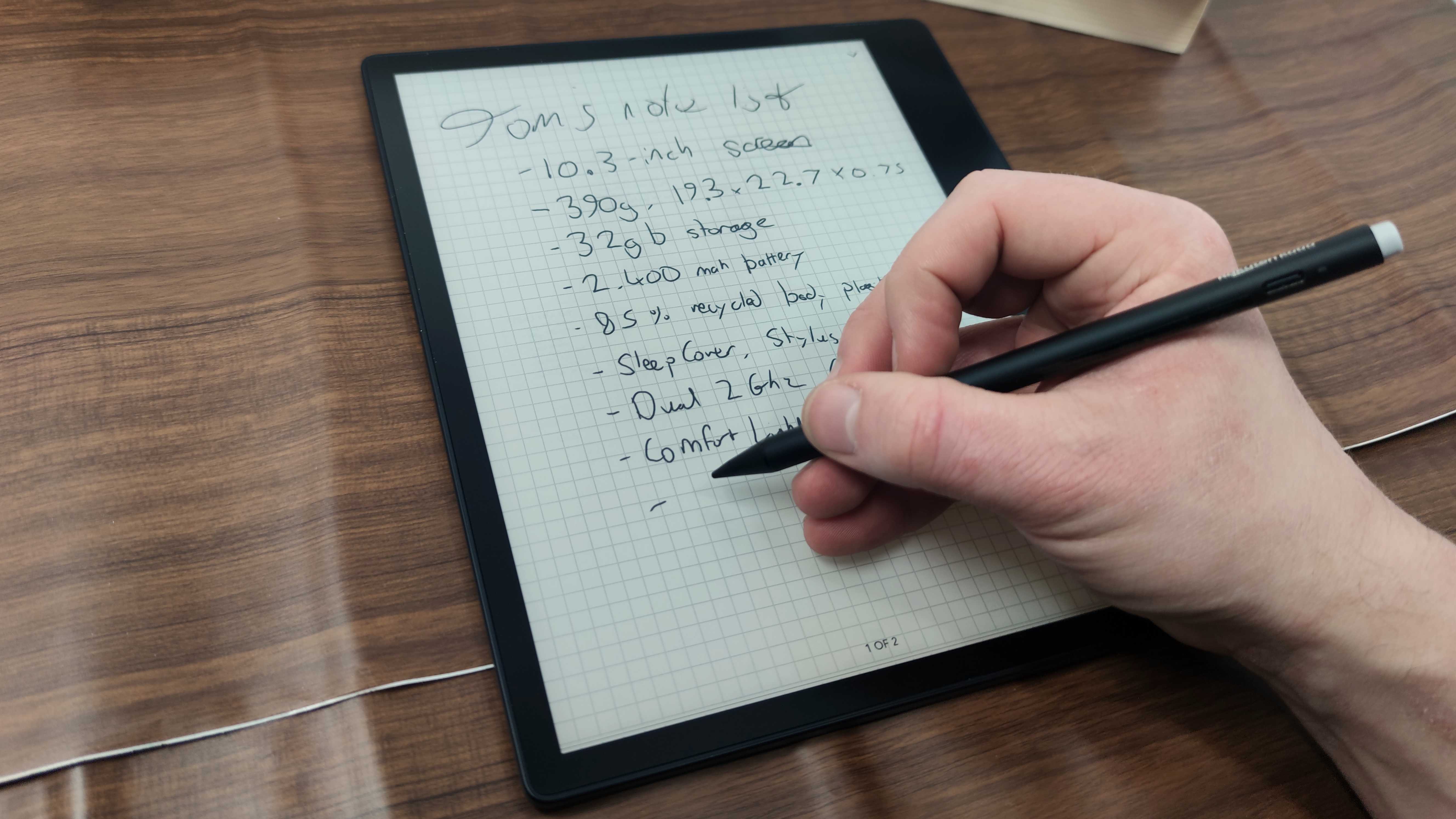 If you're looking into the Kobo Elipsa 2E instead of Kobo's many other e-readers, it's probably for its stylus-enabled note-taking functionality. The Elipsa offers two modes: simple and advanced notes.
Simple notes turns your e-reader into a glorified notepad — you write documents down with the stylus and they appear on the display. Easy.
Advanced offers an array of extra tricks. For example, you can double-tap on a word you've written and the device will convert it into typed text, or draw a box around a word or phrase to easily highlight it, or underline a word to turn it into a heading, or create or remove line breaks by swiping up or down on a word.
This range of tricks makes the Kobo a fantastic device for creating a wide range of note documents when you work — no longer will your notes be a hastily-constructed series of scribbles but a flow chart, mind-map, bullet list or typed document.
Enabling this is the Kobo Stylus 2, which has some design improvements over the original. It's comfortable to hold, and an easily-reachable button near the tip turns the pen into a highlighter. Flip the pen around and there's an eraser, like on a pencil, and you can use this to scribble out your notes.
Kobo Elipsa 2: reading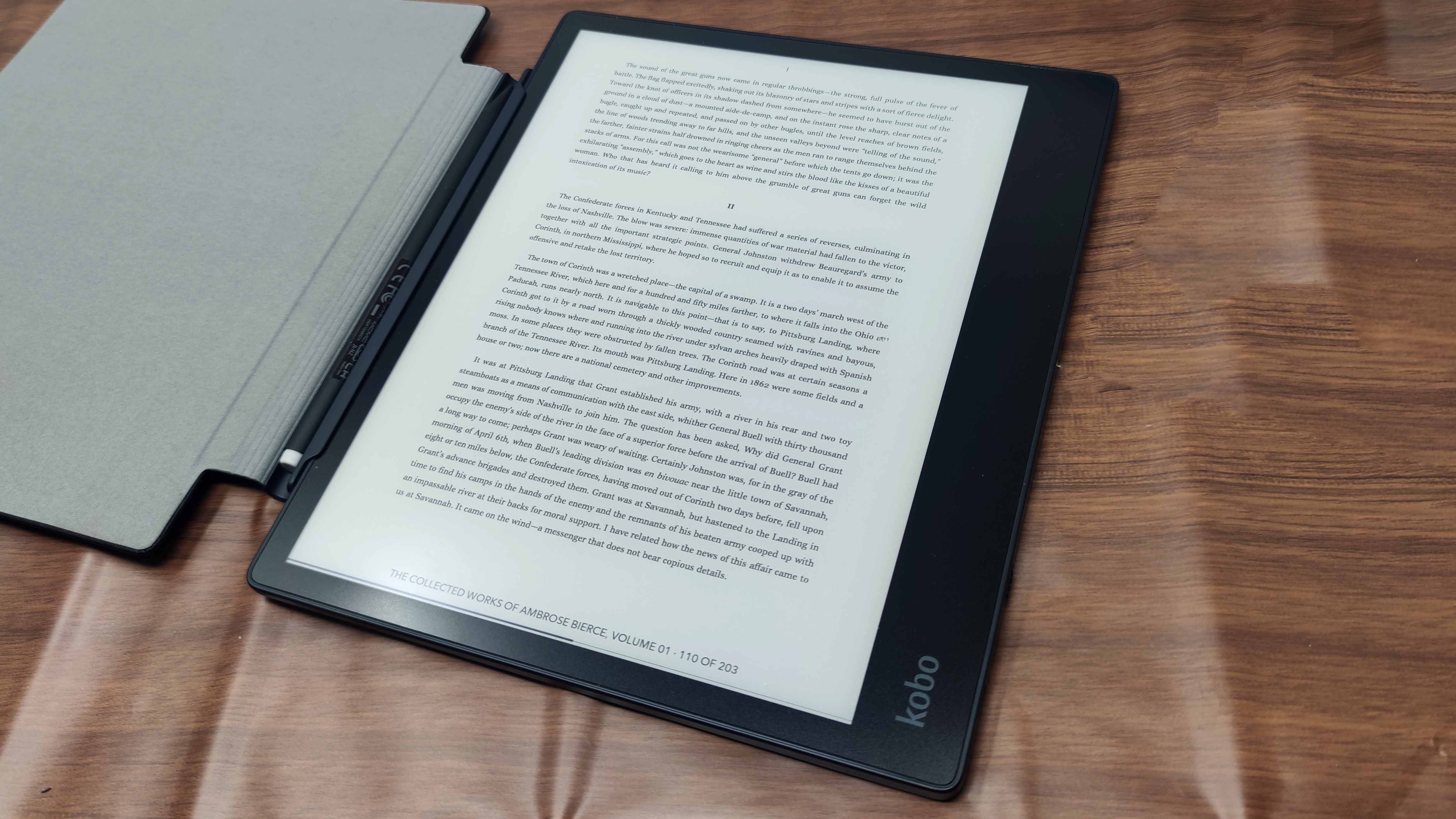 Despite this talk about note-taking, the Kobo Elipsa 2E is an e-reader at heart, and the key task for these devices is for… well, reading!
Thanks to its 10.3-inch screen, eBooks and documents look big when viewed on the device; between that and the E-Ink here, you're less likely to get eye strain when reading on this than on a traditional LED-screen device. You can also pinch and zoom to resize text.
Tap at the top of the display, and you can bring up tools to change things like font size and space, line spacing and margins, and even what font the text uses, giving you the freedom to adapt a book to how you best read.
Unlike on some rival e-readers, there are no physical buttons for changing pages when reading on the Elipsa 2E — you need to tap the right edge of the display to move a page forward and the left edge to go back. This generally works well, and during testing there were only a few instances in which the screen didn't respond.
If you want to navigate through larger swathes of text, tapping at the bottom of the screen brings up a bar to let you scrub through the book, as well as a chapter tool to let you see a table of contents and easily jump to a specific part of the book.
Tools like a built-in dictionary and the ability to highlight excerpts of text let you enjoy books that little bit more, but no feature is as handy as the mark-up tool. With 32GB storage on the Kobo, there's an absolutely huge amount of space for books – we're talking space for tens of thousands of novels.
Kobo Elipsa 2: markup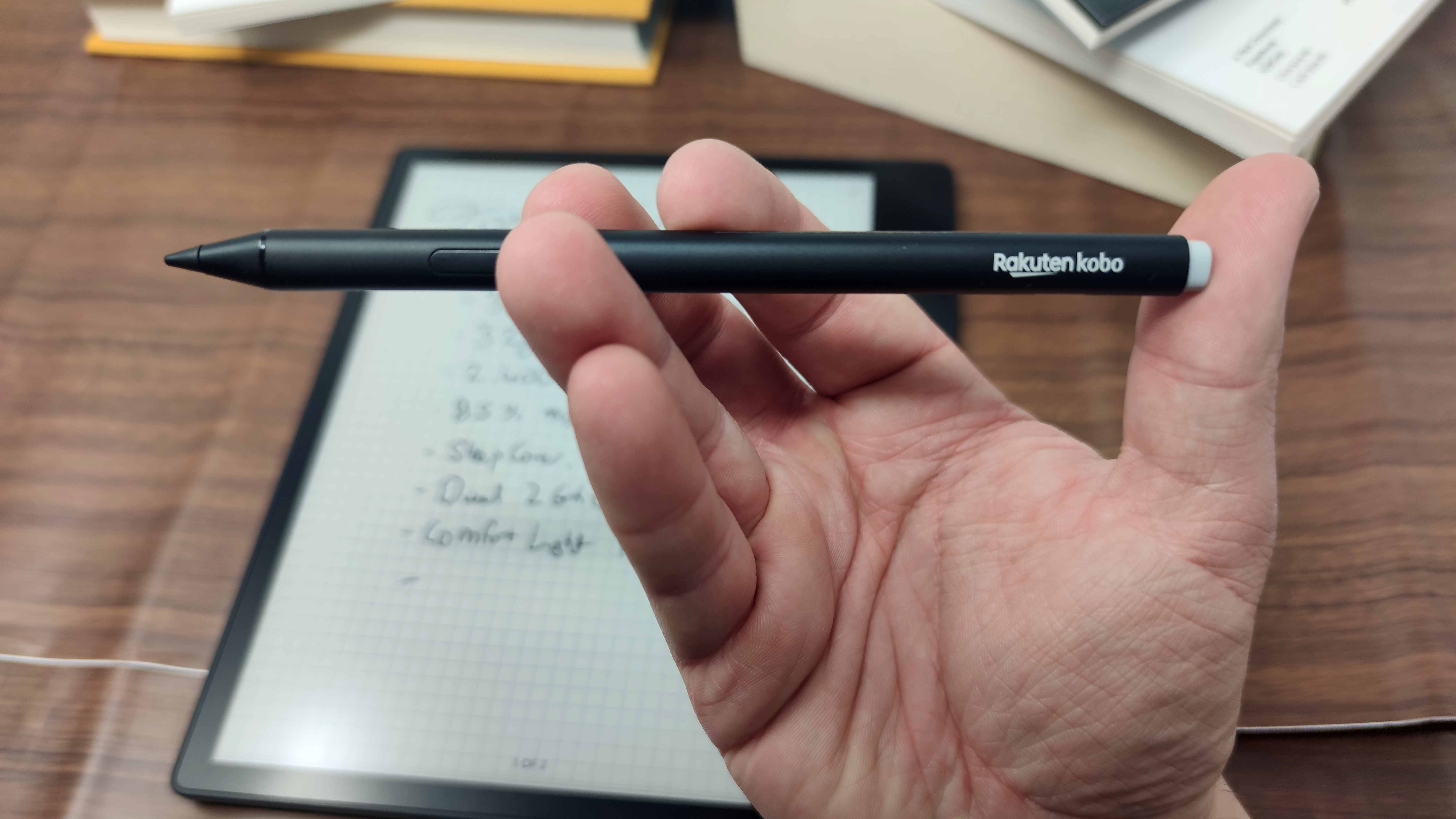 Thanks to the Kobo Stylus 2, when you're in an ebook or document, you can easily pick up the pen and start scribbling over what's there.
You can't remove the existing text, but this lets you add your own annotations and notes very easily.
However there's a catch that ruins this feature. Tapping on the side of a document flips you over to the next page, but this isn't necessarily a finger tap, and simply leaning the side of your hand on the E Ink screen — supporting your hand as you write — will sometimes move you over to the next page.
Frequently during testing we'd try to write a note on a page, but the Elipsa would move us over to the wrong page.
Kobo Elipsa 2: store and e-books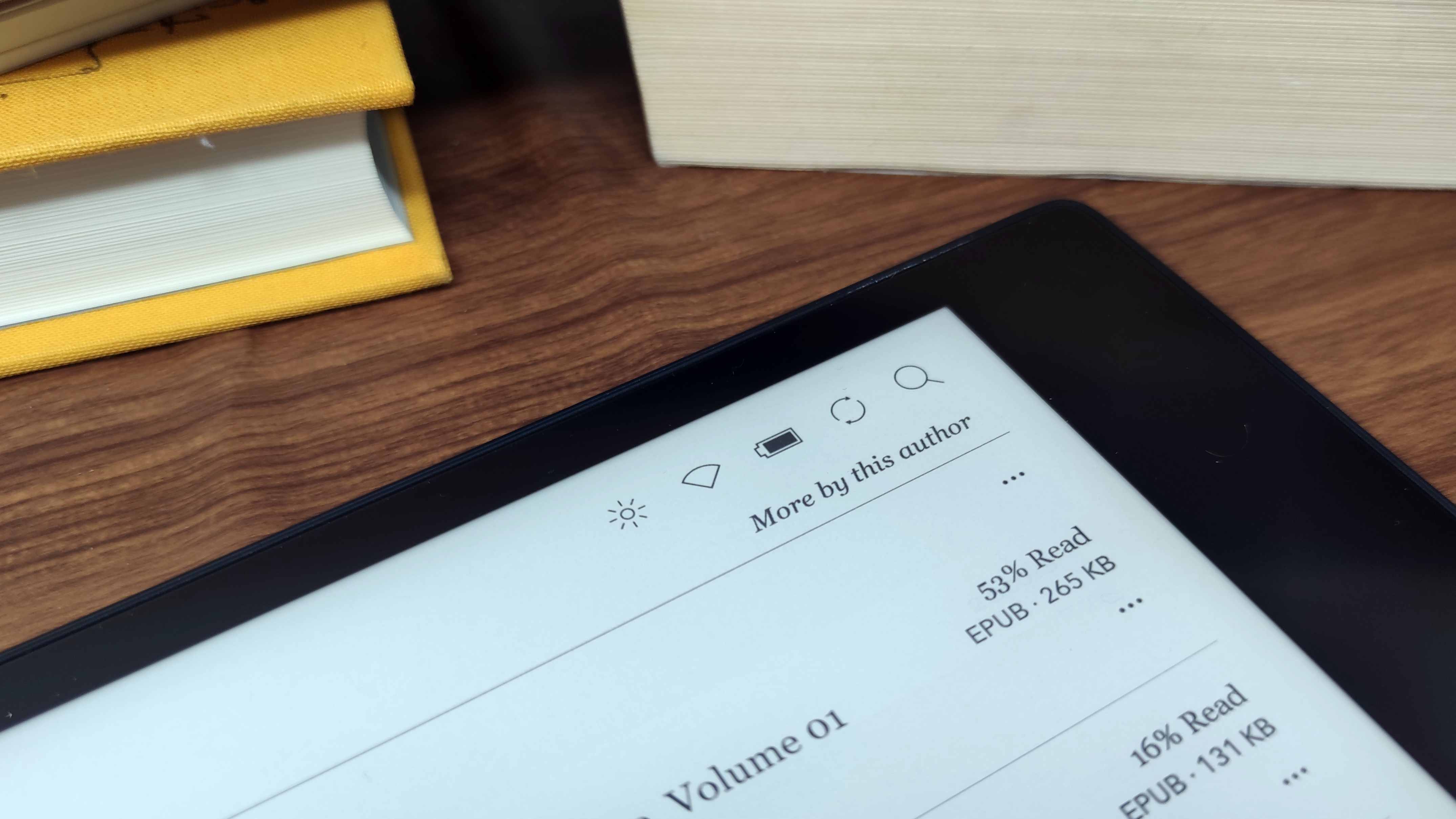 When you're looking for new things to read on your Kobo Elipsa 2E, you can use the built-in store to browse for new material.
While you can easily search the store to find the book of your choice, the navigation is a little more confusing if you're just browsing. While you can browse by genre, there's little way to narrow your selection down after that – for example, there are (at time of writing) over 176,000 books tagged 'Fantasy', but if you search by this tag, or even specifically by 'Epic Fantasy' (34,000), you can then only sort the list by recency of publishing, most popular or best sold. It's a little hard to parse this library if you don't already know what you're looking for.
Kobo has an online store you can access through your web browser, and while this isn't a whole lot different, you can always open a second tab to search for recommendations this way!
The store also lets you browse the Kobo Plus library — this offers you unlimited downloads of eBooks or audiobooks (depending on the tier you opt for) to your device, as a rival service to Amazon's Kindle Unlimited. Voracious readers will find this an affordable way to read new books.
If you don't want to rely on the built-in store or Kobo Plus, or if you simply want to add your own documents onto the Elipsa 2E, you can, and we found doing so simple. 
All you need to do is plug the device into your computer using a USB-C cable, find the files you want to add to the Kobo and drag them into the file for the device — it took us only seconds to add scripts we wanted to mark up and documents we needed to take notes on.
Oh, and if you wanted your Kobo for even more entertainment, it also has a few built-in games like Sudoku, Klondike, a block sliding game, a word search and several more card games.
Kobo Elipsa 2: battery life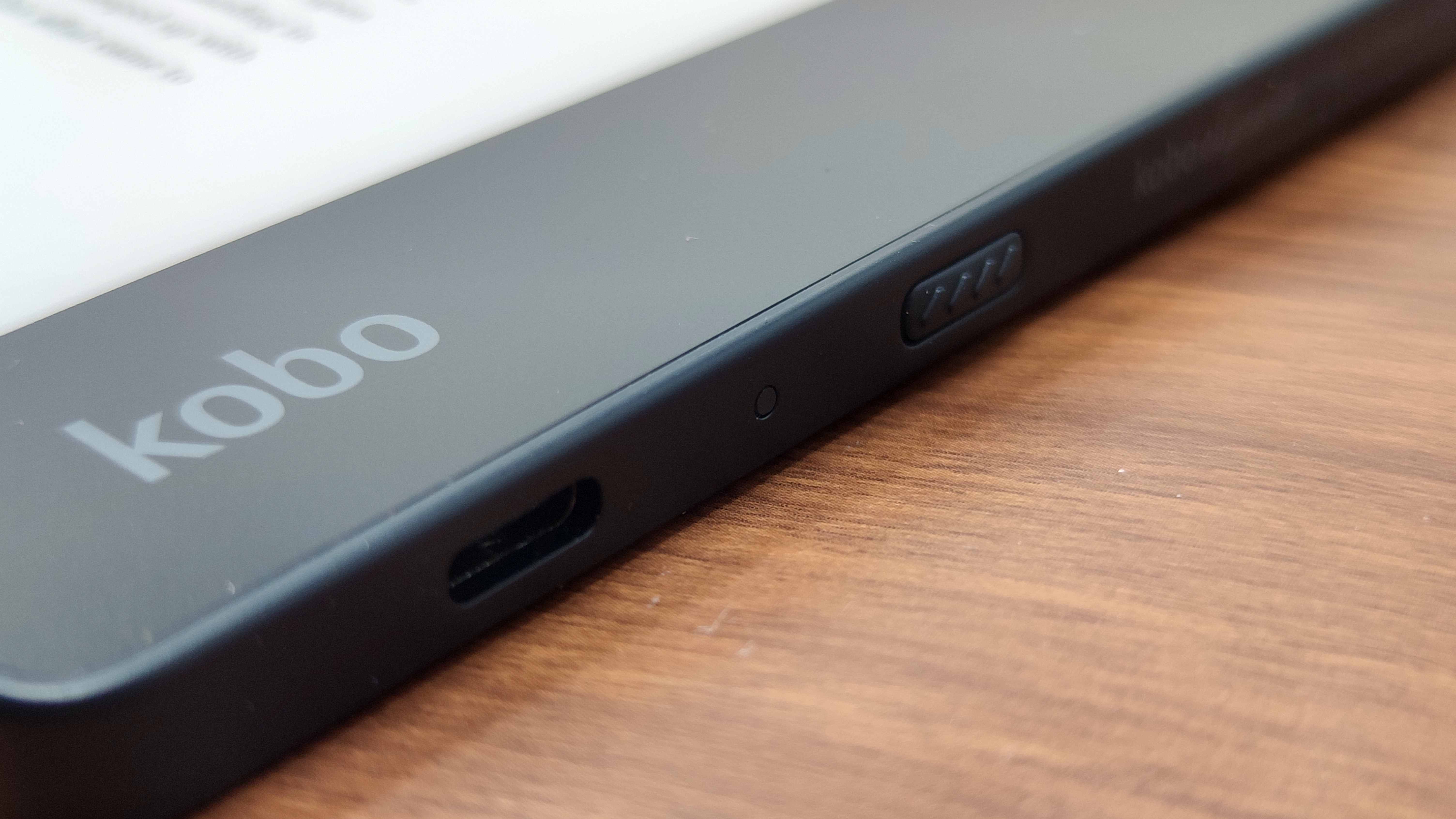 Kobo's official battery estimation for the Elipsa 2E, as per its website, is "weeks" – while this is quite a nebulous guess, based on our own testing, we'd emphasize the plural.
With a bigger battery than its predecessor, the Elipsa 2E has a really impressive battery life. In fact, it's so impressive that we couldn't fully test it – two weeks into our testing period, after on average about an hour of use daily, the battery was still on 63%. 
Based on that, we'd make the conservative estimate that the Elipsa 2E will last for four weeks of use for this kind of activity. Of course prolific readers or note-takers might burn through that power quickly, but it'll still easily outlast your iPad or Android tablet.
Charging is done with a USB-C port on the right edge of the device – the Stylus 2 also has this port, so one cable will power both devices. You can't share power between the stick and the slate, though.
Kobo Elipsa 2: verdict
The Kobo Elipsa 2E isn't a device if you just want an affordable e-reader, and that's not what Rakuten is trying to make here.
This is one of the best e-readers on the market for people who want note-taking functionality, with enough features and storage space to make it a handy portable creative or business companion, without a price that breaks the bank.
While we did have one or two small issues with it, these quibbles may not even rise for you depending on your use cases, and most of them are ones common with all e-readers, not just Kobo ones.