Want a healthier, greener lawn? A lawn mower with a mulcher is your new best friend. A mulching lawn mower is essentially a lawn mower with a bag that's designed to transform your grass clippings into mulch. This material releases vital nutrients as it decomposes, providing your lawn with a nutrient boost.
With a lawn mower with a mulcher, the grass really is greener. Not only does it return goodness to the soil, but it's also a fantastic way of preventing the lawn from drying out during hot spells. Plus, mulching can reduce the chances of unsightly thatch building up.
It's not just about looks. A lawn mower with a mulcher is an environmentally friendly choice. It allows you to organically fertilize your lawn, naturally releasing nutrients like nitrogen. Plus, it reduces the amount of waste sent to landfill, so you can feel good in the knowledge that you're doing your bit for the planet. Even better, it spares you the job of fertilizing your lawn and the associated costs.
If you want to keep your options open, you'll find lawn mowers compatible with other accessories like a bagger. This saves you from having to commit and gives you flexibility. 
When choosing one of the best lawn mowers, attachments are just one of the factors to weigh up. A key decision is whether you want a gas or an electric mower. Gas models boast unrivaled power, while electric mowers are a more sustainable option. Check out our guides to the best gas lawn mowers (opens in new tab) and the best electric lawn mowers (opens in new tab) to walk you through the key considerations. 
For now, we've rounded up the best lawn mowers with a mulcher to keep your lawn lush. We'll help you decide whether a lawn mower with a mulcher is right for you with buying advice about the pros and cons. 
Best lawn mowers with a mulcher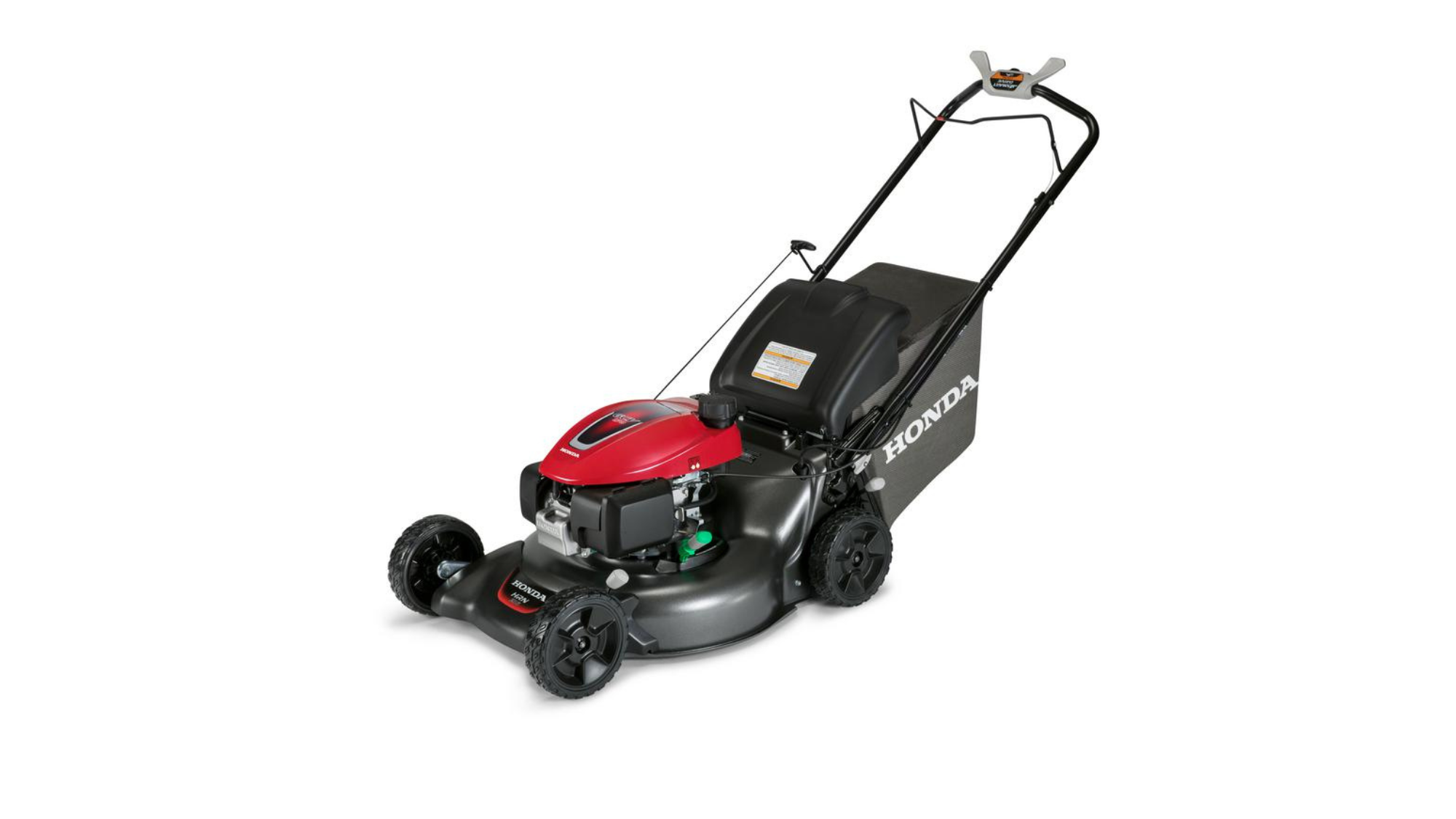 As you might expect from the manufacturer that set the record for the fastest lawn mower, the Honda HRN216VKA packs a punch. 
What the users say…
The Honda HRN216VKA attracts seriously impressive reviews, scoring 4.6 out of 5 with 6299 reviews on Home Depot. People love it for the sheer power of the engine and the dependable starting. For a gas model, people are pleasantly surprised by its quiet operation, a perk if you're concerned about mowing near buildings or neighbors. In terms of downsides, a few complain that it's almost too powerful, making it hard to keep up with. It's not the easiest to clean, so bear this in mind. A handful mention that some parts are made of plastic, but it still offers good value at $549.
This self-propelled model boasts a powerful 170 cc engine, making quick and easy work of lawn maintenance. 
With reliable starting performance, you can wave goodbye to the frustration of your lawn mower not cranking. This model is self-propelled, sparing you the physical exertion of pushing it up hills, ideal on an uneven plot. 
A big draw for this model is its versatility, with 3 options for grass clippings. Take your pick from mulching, bagging, and discharging. Easily switch between the 3 with the slide clip director – no need for attachments. 
Thanks to the twin-blade system, this mower produces small clippings, which are brilliant for mulching as they decompose more quickly, giving your grass a quick nutrient fix.
---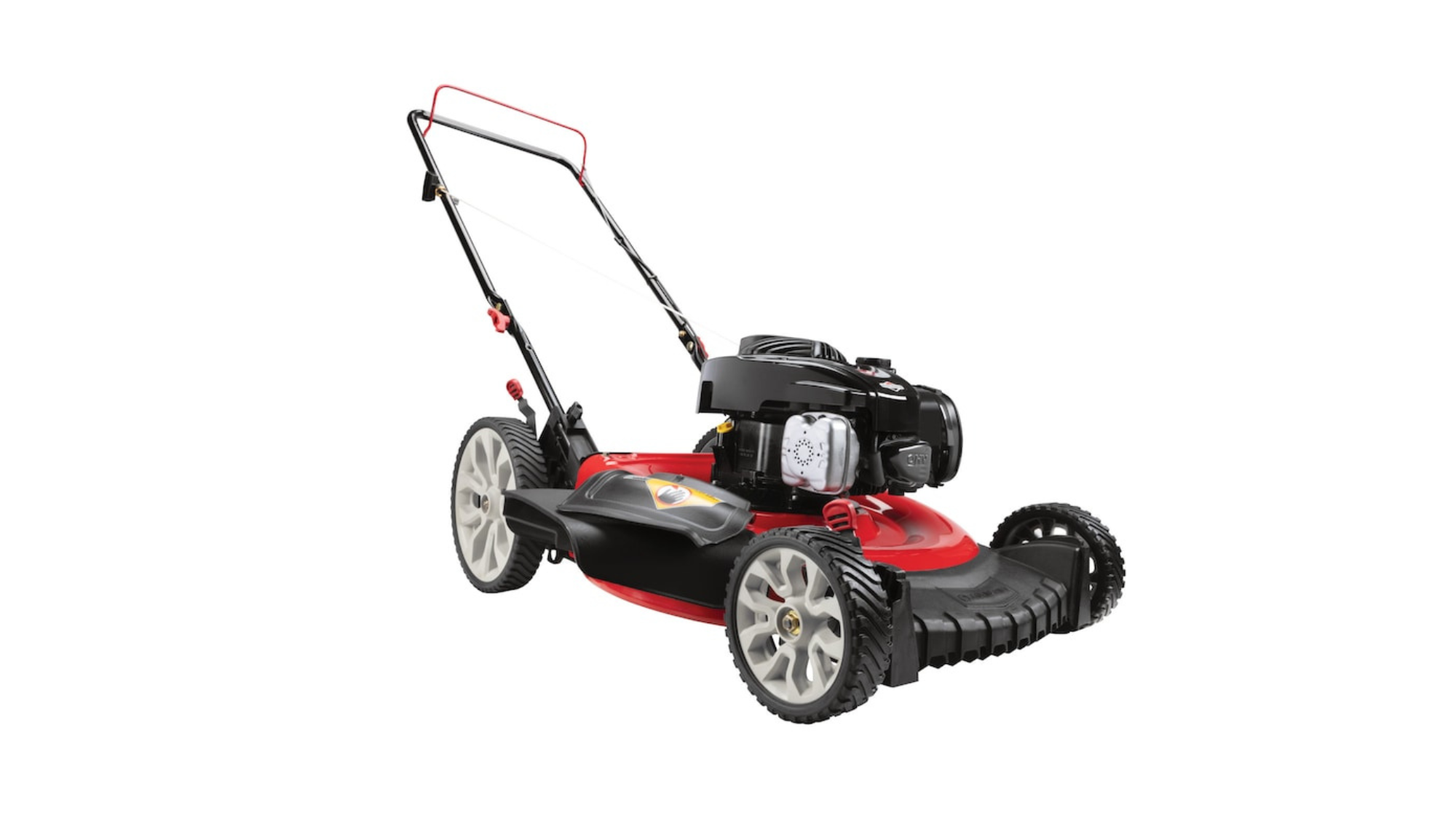 The Troy-Bilt TB100 is a nifty mower, perfect for small to medium-sized yards. 
What the users say…
The Troy-Bilt TB100 scores a solid 4.4 out of 5 from 1634 reviews on Home Depot. People love that this mower is lightweight and easy to push. Several reviews praise the easy starting, making for a dependable mower. So, what are the downsides? The trade-off for it being compact is that it has a smaller gas tank. On larger plots, you may need to refuel to complete the job, though it shouldn't present an issue for a smaller yard. A handful of reviews mention it's awkward to refuel because of the position of the oil inlet and dipstick.
At 60 Ib, it's super lightweight for a gas model, making it a fantastic choice for people with back problems or limited mobility.
This diminutive machine delivers a great cut, thanks to the TriAction cutting system. It produces small clippings, ideal for mulching. The hose attachment is a thoughtful design feature, making this mower easy to clean. 
For the ultimate convenience, this mower comes ready assembled. Simply unfold the handle and off you go. 
If you're on a budget, the Troy-Bilt TB100 won't break the bank at $369 (at the time of writing). Plus, that price includes a mulching kit. As you might expect, it doesn't come with the luxuries of more expensive models, though it allows you to mulch the lawn for less. One downside is that you don't have the option to attach a bagger.
---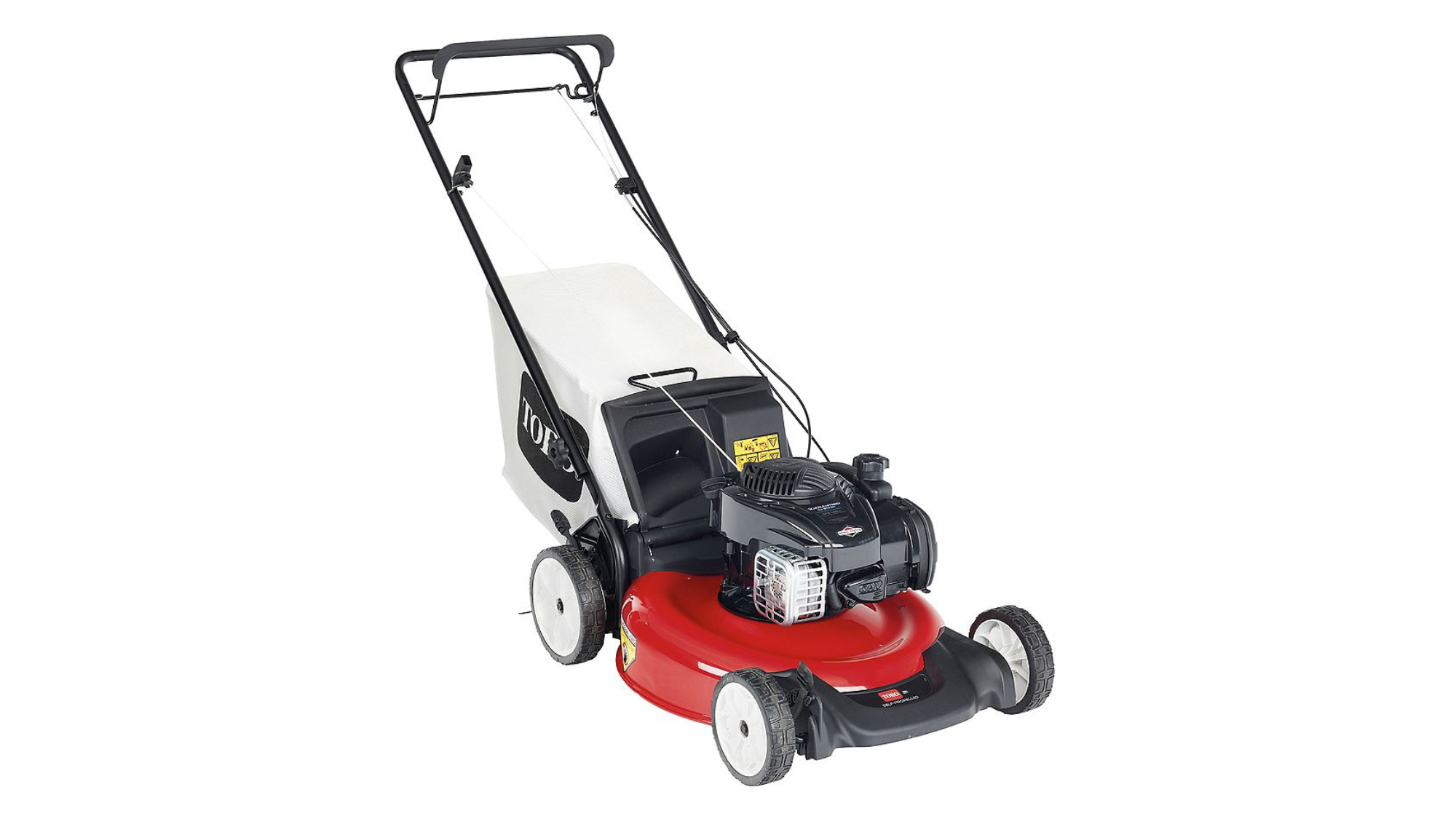 The Toro Recycler 21352 promises the power of gas with less maintenance. 
What the users say…
The Toro Recycler 21352 scores a reassuring 4.3 out of 5 out of 9270 reviews on Home Depot. People are impressed with the power and quality of the machine with its sturdy steel-gauge deck. The clean, precise cut is another big draw.
The main downside people mention is the cap design on the bagger. The fit is not entirely snug which some mention results in grass clippings escaping. A few users report the self-propelled function is a learning curve. Finally, a couple of reviewers suggest the grip on the tires could be better, though overall, people are satisfied with their purchase. 
With this model, there's no need to change the oil – simply top up when needed. For this reason, it's ideal for homeowners new to gas mowers, taking a load off your mind.
The patented cutting technology results in ultra-fine clippings. This is welcome news if you're looking to mulch your lawn, as the small trimmings decompose more quickly, helping to nourish your grass. It's named 'the recycler' because of its ability to return vitamins and nutrients to the soil. 
Versatility is a plus, with 9 choices of cutting height. You can easily switch between mulching, bagging, and side discharge. 
The Toro Recycler 21352 is self-propelled, saving you from the exertion of a push mower. At $399, it's entry-level for a self-propelled model and offers good value. 
---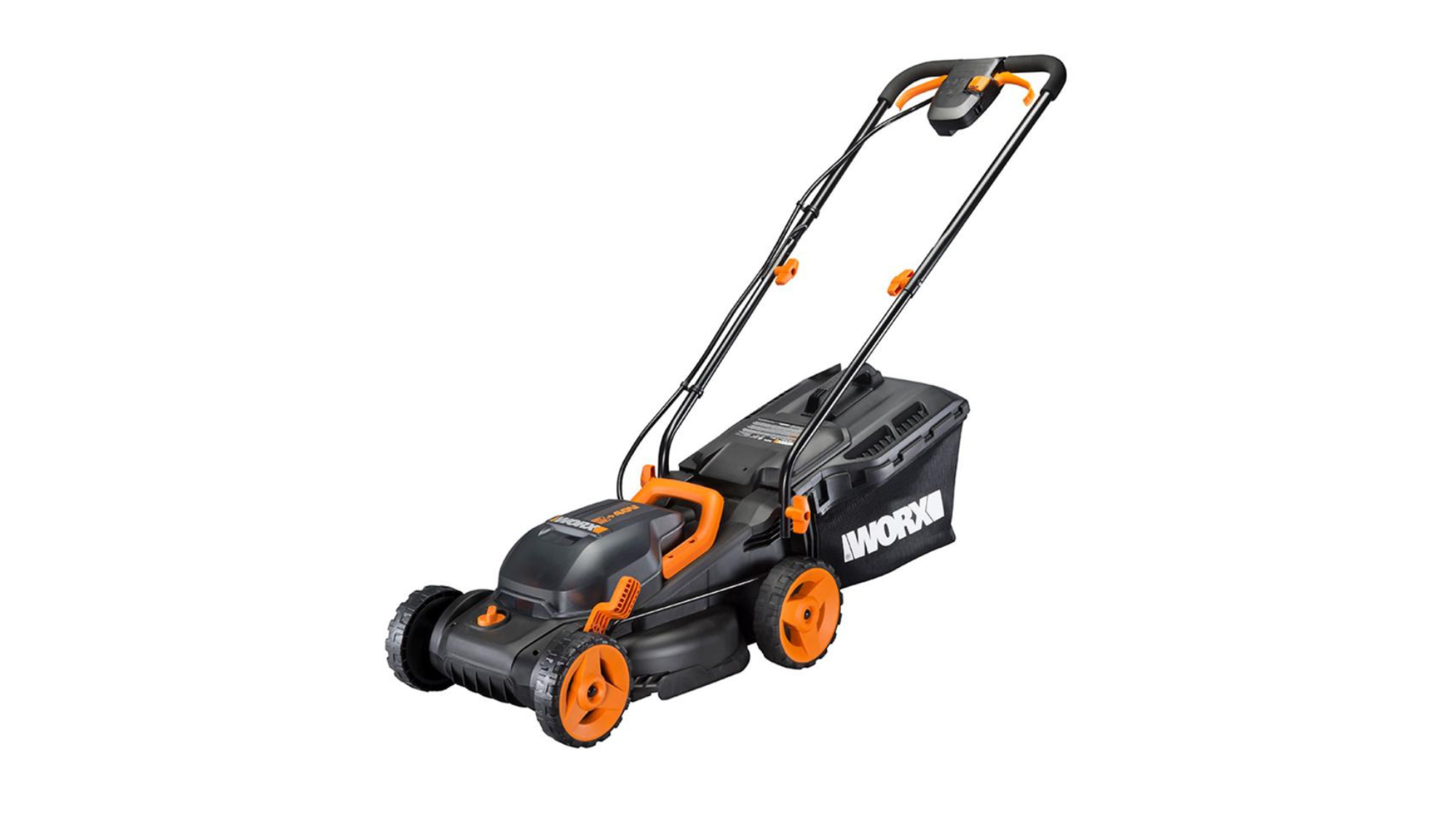 The Worx WG779 could be a match for you if ease of use is a priority. 
What the users say…
The Worx WG779 scores a commendable 4.4 out of 5 with 544 reviews on Home Depot, with 89% recommending this product. People love that it's lightweight and maneuverable, allowing it to tackle hard-to-reach areas. Reviewers are also impressed with the way it handles hills. Not everyone is a fan of the handle design, with a few reviews mentioning the position is awkward. The battery life draws mixed reviews, with some complimenting it and others suggesting it doesn't last long enough. Whether it's right for you may boil down to the size of your yard.
This battery-powered model saves you the faff of refueling. Plus, it's cordless, which makes navigating obstacles like flowerbeds a breeze. With a narrow deck, this lightweight machine is nimble – an ideal candidate for tackling tight spaces. It's a great choice if storage space is limited, as you can stow it away easily.
Thanks to the battery-powered operation, this model is kind to the planet, as you avoid the emissions of a gas mower. It also comes with a mulching kit, which makes it a sustainable choice.  
At $335, it falls into the middle range of mowers on our list. 
The drawbacks? Bear in mind that this mower is significantly narrower than others, meaning you will need to make more passes to cover the ground. Due to its diminutive size, this mower may be best suited for small yards.
---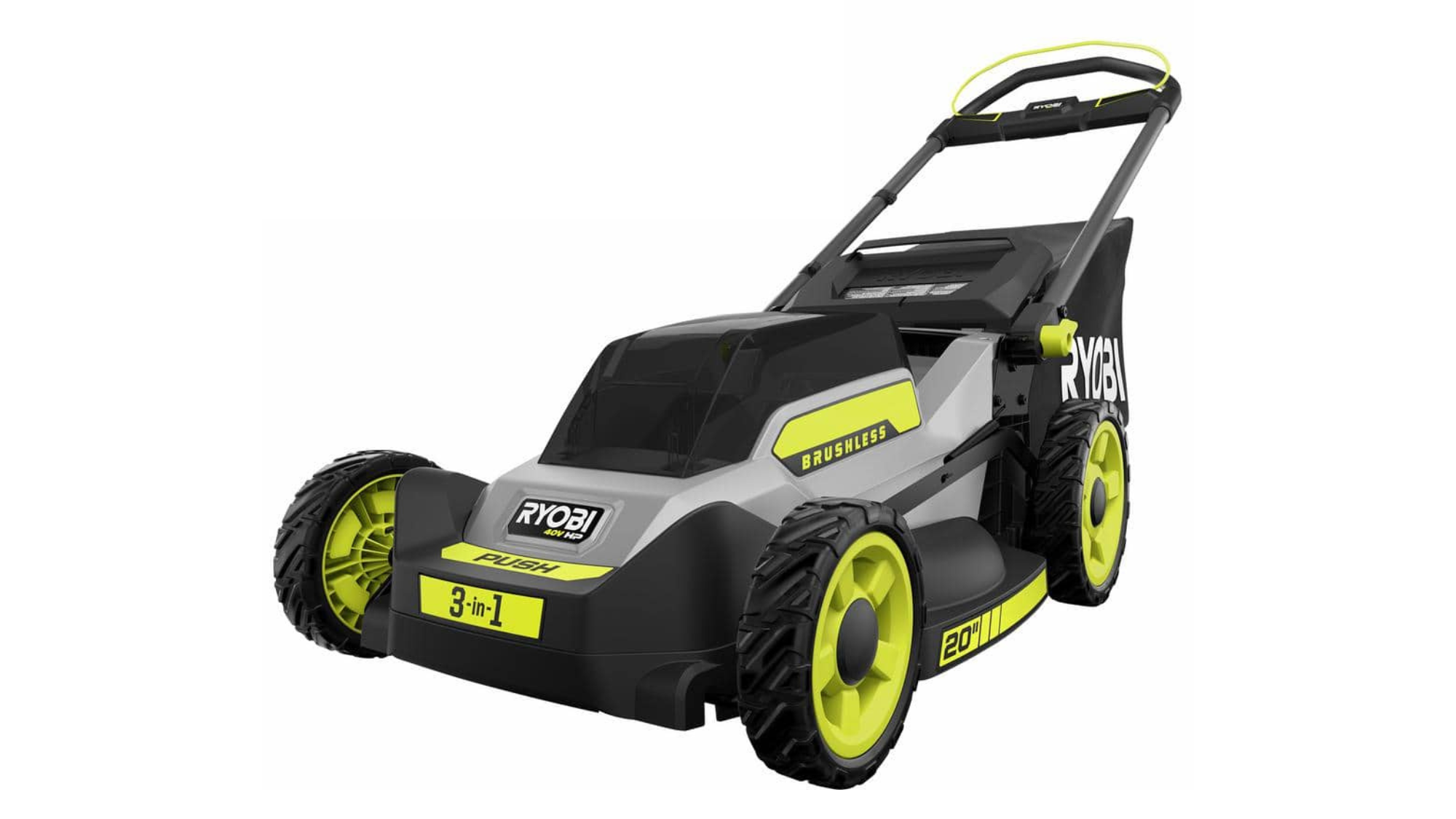 If you're a battery-powered mower skeptic, the Ryobi RY401170 may be the one to convince you otherwise. 
What the users say…
The Ryobi RY401170 is a crowd-pleaser, with a score of 4.7 out of 5 out of 2171 reviews on Home Depot. An outstanding 94% of reviewers would recommend this product. People rate it as a gas replacement mower and love the fast charging. Many are impressed with how quiet it is, ideal when mowing near buildings and neighbors. Out of the very few negative reviews, a few report issues with faults, though the 3-year warranty should give you peace of mind. A handful of reviewers complain about the battery life, so it may not be ideal for the largest yards or in tough conditions.  
This machine promises the performance of gas without the hassle. If you are caught out by the batteries, you'll be pleased to know it offers fast-charging capabilities. 
With this model, you benefit from the convenience of cordless, so you don't have to worry about getting the wires in a tangle. It delivers a superior cut and offers options for mulching, bagging, or side discharge as well as 7 cutting deck positions.
The Ryobi RY401170 has a 20-inch cutting deck which is on the small side. On a positive note, it takes up less storage space, plus the folding handles allow you to stow it away vertically. On the other hand, the narrow frame means it will take you more time to cover the ground. 
Buying advice for a lawn mower with mulcher
Pros and cons of having a lawn mower with mulcher
Why you can trust Top Ten Reviews
Our expert reviewers spend hours testing and comparing products and services so you can choose the best for you. Find out more about how we test.
Unsure whether a lawn mower with a mulcher is right for you? When selecting a lawn mower, it's crucial to properly weigh up your choices. 
What the expert says…
"A lawn mower with a mulcher ultimately provides a greener look to your lawn," says Adam Stally, Owner and Group Managing Director of Horace Fuller.
"Lawn mowers equipped with a mulcher are beneficial for numerous reasons besides the obvious one of saving time from disposing of the collected grass clippings. [It gives you] a healthier lawn from the grass roots in the soil receiving elevated levels of essential nutrients and moisture," says Adam Stally, Owner and Group Managing Director of garden machinery supplier Horace Fuller (opens in new tab).
Plus, a mulch retains moisture during hot weather. "[There's] less need to water your lawn, saving water usage and reducing the risk of diseases and weed growth," adds Adam. So a mulcher offers benefits for both you and your lawn. 
So what are the trade-offs? For those who like a super-manicured look, you might not be so keen on leaving grass clippings on the lawn. If you're concerned about the mess, look for a model that produces fine clippings – they will be less noticeable and decompose more quickly.
A lawn mower with a mulcher can be problematic if your lawn already has diseased patches or is infested with weeds. "A mulching lawn mower during the damp season can negatively contribute to a weed problem. If disease is already present in the lawn, mulching will only lead to spreading this throughout. Any weeds about to seed should not be mulched as this would distribute the seeds into larger areas of grass and harm it as a result," cautions Adam.
We recommend treating the disease and eradicating weeds before using a lawn mower with a mulcher.