The LG LDT7808BD is a high-tech dishwasher that is jam-packed with smart features and impressive cleaning technology. LG is a reputable manufacturer, with a history of making high-tech, durable home appliances and devices. 
LG LDT7808BD: Key specs
Dimensions: 23 3/4″ x 33 5/8″ x 24 5/8″
Controls location: Top
Noise level: 42 dBA
Place settings: 15
Racks: 3
Cycles: 10
ENERGY STAR Certified: Yes
Warranty: 1 year
This dishwasher features 3 racks and 15 place settings, making it a great choice for large families with a lot of dishes to clean. If you are looking for the best dishwashers (opens in new tab)then the LG LDT7808BD could be a good choice. We will assess the specs, features and user reviews to compare this dishwasher to other models that you may be considering. 
This dishwasher is best for tech-savvy individuals who can make the most of its smart features and Wi-Fi connectivity. The LG LDT7808BD is one of the more expensive options on the market, so if you think you won't use smart features then it isn't really worth the extra money. If, however, you love IoT and the idea of being able to control your dishwasher from your smartphone, then this could be the model for you and your family. The Wi-Fi connectivity allows you to control your dishwasher with Google Assistant and Amazon Alexa, so you can start or stop cycles with your voice. 
The LG LDT7808BD was released in 2019 and has garnered thousands of positive reviews online, making it a reliable choice if you are in the market for a new dishwasher. If you are looking for other home appliances be sure to check out our guides to the best ovens (opens in new tab) and the best freezers (opens in new tab).  
LG LDT7808BD: Design
The LG LDT7808BD has a modern and minimalistic design. It is a built-in model, so it is designed to slot in neatly alongside your kitchen cabinets and units, saving a lot of space when compared to a conventional dishwasher. It has an ergonomically pleasing bar handle on the front panel. We are fond of the aesthetics of this dishwasher, with its sleek, minimalistic look and high-quality stainless steel finish.  
LG does manufacture some front control dishwashers, but this particular model is top-controlled. We much prefer top controls, as front controls often mean you have to bend over or crouch to change settings or start cycles. The controls are touch-operated rather than buttons, which could be a minor inconvenience in the long term as touch controls often lose their sensitivity and can become hard to use. The stainless steel finish is fingerprint resistant, which is great when you have been loading greasy dishes into your dishwasher. The smudge-proof surface can be easily wiped down with a damp cloth, making the cleaning process very easy.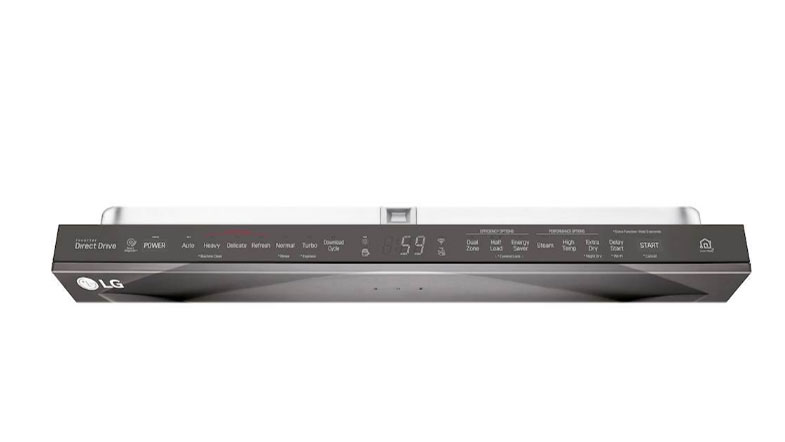 The interior of the dishwasher features a large stainless steel tub that won't tarnish from water, steam or detergents even after hundreds of washes. It also features three racks, which is absolutely ideal for larger families who have many dishes to clean. There is one rack on the bottom for large items such as plates, serving dishes and cooking pots, a rack in the middle for glasses, mugs, bowls and measuring cups, and a third rack at the top. The third rack is much larger than the ones featured in other dishwashers, so you may be able to fit some smaller plates or bowls on it.
LG LDT7808BD: Features
This dishwasher is feature-rich, with a number of different smart features and high-tech cleaning aids that help make your dishes shiny and clean after every cycle. 
The 10 wash cycles can clean anything from glasses to the most heavily soiled dutch ovens, and the Hybrid Condensing Drying System aims to have your dishes dry so that they are ready for immediate storage in your cupboards and drawers. Its three racks help you to organize your dirty dishes into racks, with the bottom rack being best for larger pots and dishes, the middle rack for bowls, glasses and utensils with the top rack being reserved for extra glasses and utensils.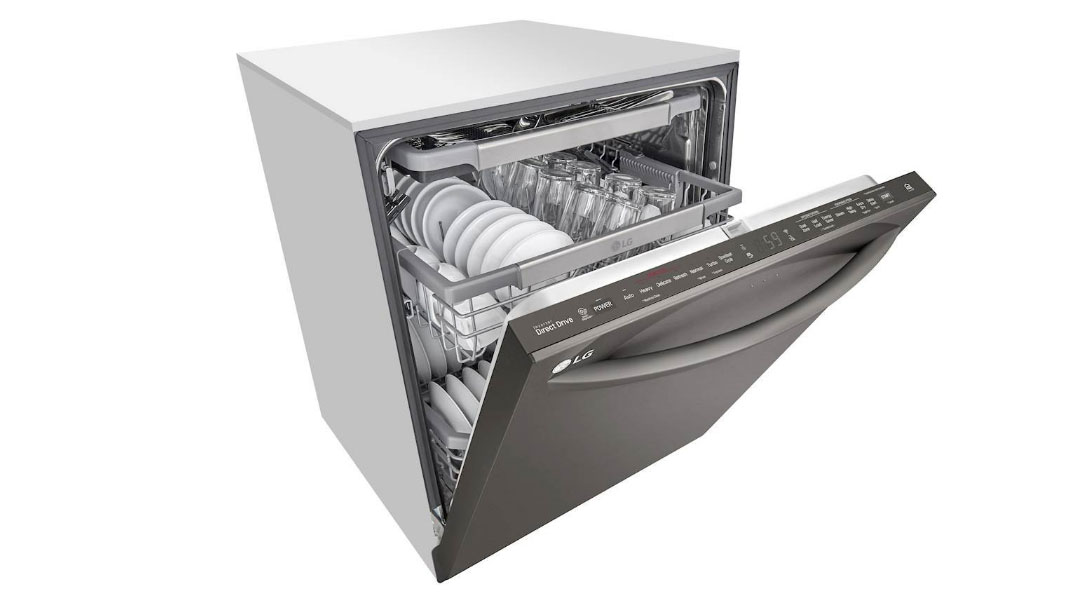 It would be silly to talk about this dishwasher's features without mentioning its Wi-Fi connectivity, as it is what truly makes this model stand out from the crowd. You can connect to this dishwasher with your smartphone so that you can start or stop cycles, change settings and even get live diagnostics from anywhere – the appliance can also connect to Amazon Alexa or Google Assistant so that you can start cycles simply by talking. The soil sensor will automatically adjust your cycles according to the soil level of your dishes, so you don't need to worry about running a second cycle or scrubbing your dishes after they're washed.
If you are short on time and need dishes cleaned quickly, the express cycle will have your dishes clean and dry within an hour – perfect for when you need to cook or entertain at short notice. The safety float feature will identify leaks and alert you to any problems with your dishwasher. While the warranty is quite short, LG has a responsive and thorough customer support service that can help you through any problems during the lifespan of your dishwasher. If any problems arise after the warranty has expired, LG can point you toward information to help you diagnose and solve any problems.
The racks are BPA-Free nylon-coated which is better for you and your family as well as the environment. The drain hose is treated with antibacterial products to keep everything clean and safe – paired with the three-stage filtration system, you don't need to worry about your dishwasher harboring germs or mold that could make you sick.
LG LDT7808BD: Price and availability
The LG LDT7808BD usually retails for $1,299.99, which is definitely on the higher end of the spectrum in terms of price. While the dishwasher has a number of impressive cleaning features, you are mainly paying extra for its smart capabilities. If you are not very tech-savvy or don't see yourself utilizing the Wi-Fi connectivity in the long run then we don't think it is worth spending an extra few hundred dollars on this machine, when there are many other models that clean just as well for a lot less money. If however, you have been searching high and low for a top-of-the-range dishwasher with smart controls, then this could just be the model for you. 
It is also worth noting that this dishwasher does fluctuate in price, with it often dropping in price by up to $300 at Best Buy, especially around Black Friday and other shopping holidays – if this purchase is not urgent, then you might want to hold off for a sale to get one at a lower price. 
LG LDT7808BD: User reviews
The LG LDT7808BD has an average rating of 4.3/5 stars on Best Buy's website (opens in new tab) from verified purchasers, with the majority of positive reviews praising its performance and smart features. One customer called it "A necessary tool in today's modern home" with another happy customer saying "It cleans everything and dried perfectly. It is so quiet that you barely know it's on". 
To be entirely fair, a lot of the negative reviews are about Best Buy's installation service, rather than the dishwasher itself. Of the critical reviews that are about this model, the vast majority are targeted at the drying function. A lot of users have had problems with their dishes still being wet after the dishwasher has run a drying cycle, with some users even stating that they have to dry them manually. One dissatisfied user stated, "The dishwasher does not dry the dishes and you end up having to hand dry them with a towel, and if you do not leave the door open they can start to stink". 
Should you buy the LG LDT7808BD?
Overall, this dishwasher is powerful, effective and aesthetically pleasing but the hefty price tag is only really worth it if you or your family are going to use the smart features frequently. If you think you will only use the smart features for a week before the gimmick wears off, then it is probably not worth spending so much extra money on. There are other dishwashers that can match this dishwasher's performance without Wi-Fi connectivity. 
If smart features are your thing, then you will definitely be happy with the LG LDT7808BD, as it truly has everything that a tech-savvy IoT fan needs, and is definitely worth the money for these individuals – even more so if you can bag one during a clearance sale or on Black Friday. 
How does the LG LDT7808BD compare?
If you are on a budget, then you may want to go for the Whirlpool WDF520PADM (opens in new tab), which has similar cleaning features for half the price. 
If you want a cheaper but high-tech dishwasher without any smart features then you may want to check out the Bosch 300 Series (opens in new tab). 
If you are really looking to push the boat out and invest in a top-of-the-line dishwasher regardless of cost, then the KitchenAid KDTM404KPS (opens in new tab) is a great alternative choice.