The LG LRSOC2306S is an American-style side-by-side fridge freezer with with twin French doors that claims to be equal parts form and function, delivering the "wow factor you've been looking for, with capacity and organization you don't want to sacrifice". Its headline features are a quirky glass panel that allows you to see inside your refrigerator by knocking twice on it, an overall capacity of 23 cu. ft and a craft ice maker capable of creating show-stopping spherical ice balls perfect for cocktails.
LG LRSOC2306S: Key specs
Price: $2,332
Dimensions: 35.9×70.5×28.9″
Refrigerator capacity (cu. ft): 14.8
Freezer capacity (cu. ft): 7.74
Ice maker: Yes
Water filtration: Yes
Energy Star certified: Yes
Warranty: 1 year parts and labor
Electronics giant Goldstar, which later became LG Electronics, was founded in 1958 and has a long established history for creating electronics such as phones, radios, refrigerators, TVs, washing machines and air conditioner units. It's perhaps no surprise that refigerators and freezers produced by South Korea's 4th largest company frequently appear in our best fridges buying guides. 
In this review we take a closer look at the advantages and drawbacks of the LG LRSOC2306S to see if it's one you should consider if you're in the market for a new American-style fridge freezer.
Read more: Best mini fridges 2023
LG LRSOC2306S: Design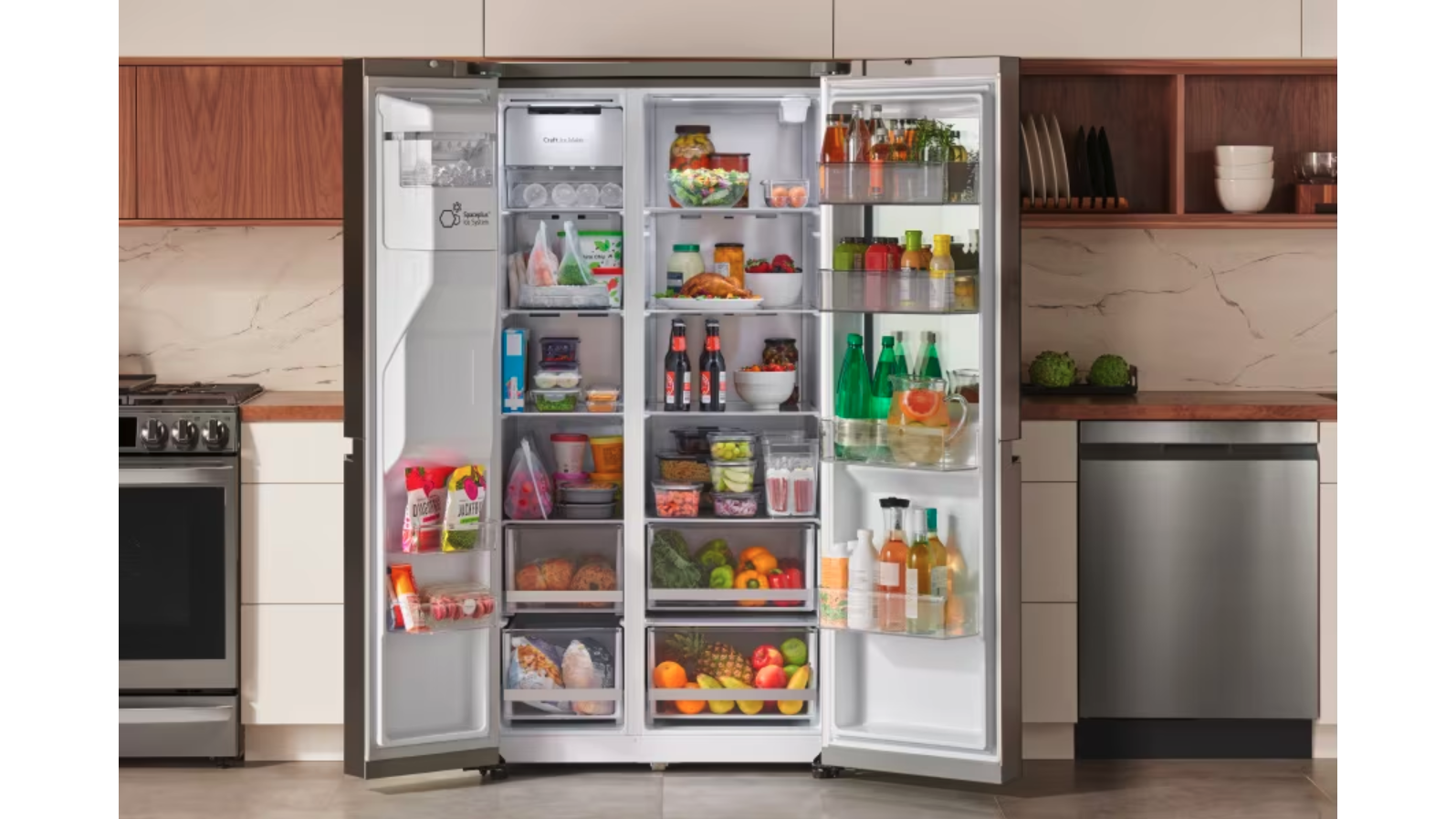 LG's LRSOC2306S comes in two colorways: Printproof® Stainless Steel or Black Stainless Steel, with the latter costing about $100 more than the regular stainless steel at $2,443.
It has dimensions of 35.9×70.5×28.9″ (WxHxD) and LG say it's the perfect counter-depth at 28.9″ deep so should sit flush with your countertops for a premium and professional finish.
One of the key design features that sets the LG LRSOC2306S apart from its competition is the futuristic InstaView® clear door that allows you see inside of the top half of the fridge compartment. By default the glass is tinted black, but knocking on it twice turns it clear and allows you to see inside which is a fun feature that also saves some energy instead of opening the door every time you want to see inside.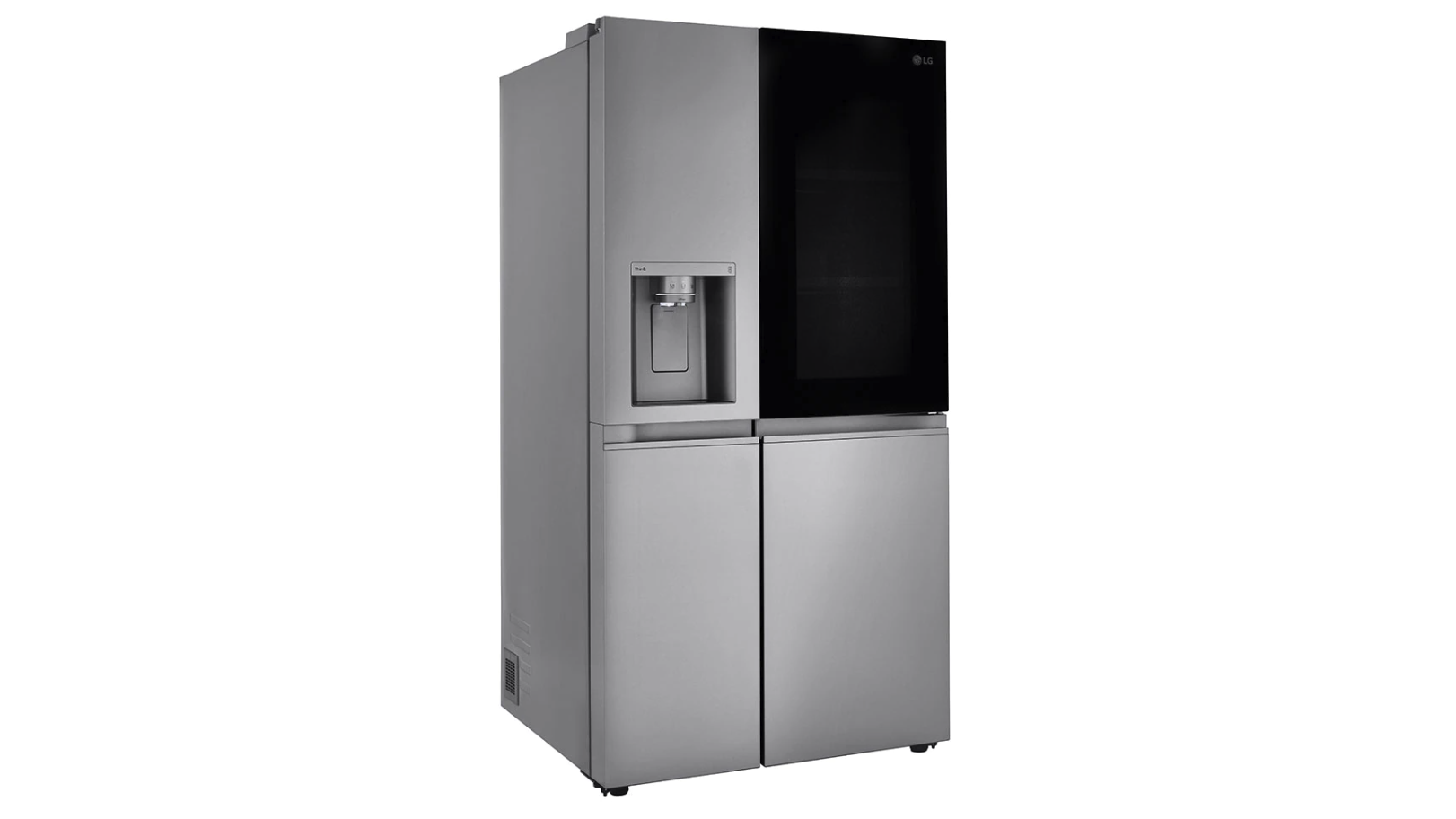 Open the French doors of the LG LRSOC2306S and you'll find the refrigerator on the right with a capacity of 14.8 cu. ft, and the freezer on the left with a capacity 7.74 cu. ft. There's a good mix of shelves, door bins and drawers and the shelves can be moved around to fit in larger items when needed.
The water dispenser sits on the exterior of the freezer door and has a flat shelf for you to put your glass on. The ice maker however is found on the inside of the freezer door so does eat into the overall freezer space, and one reason why the freezer capacity is about half that of the refrigerator side.
LG LRSOC2306S: Features
As you'd expect from a refrigerator costing over $2,300 the LG LRSOC2306S comes packed to the rafters with noteworthy features. 
In addition to the aforementioned design choices, like the InstaView see-through fridge door it has a craft ice function, perfect for impressing guests with cocktails or iced coffee and is guaranteed to make it a showpiece and talking point when you have guests over.
It also boasts a Door Cooling+ feature which uses blasts of cold air to make sure the door contents stay cool. LG also says it ensures that cold air in the freezer reaches more shelves, more evenly.
On the spec sheet is LG's ThinQ® technology which gives the refrigerator smart functionality and lets customers use the LG ThinQ app to control key features such as changing the temperature of the fridge or freezer from anywhere.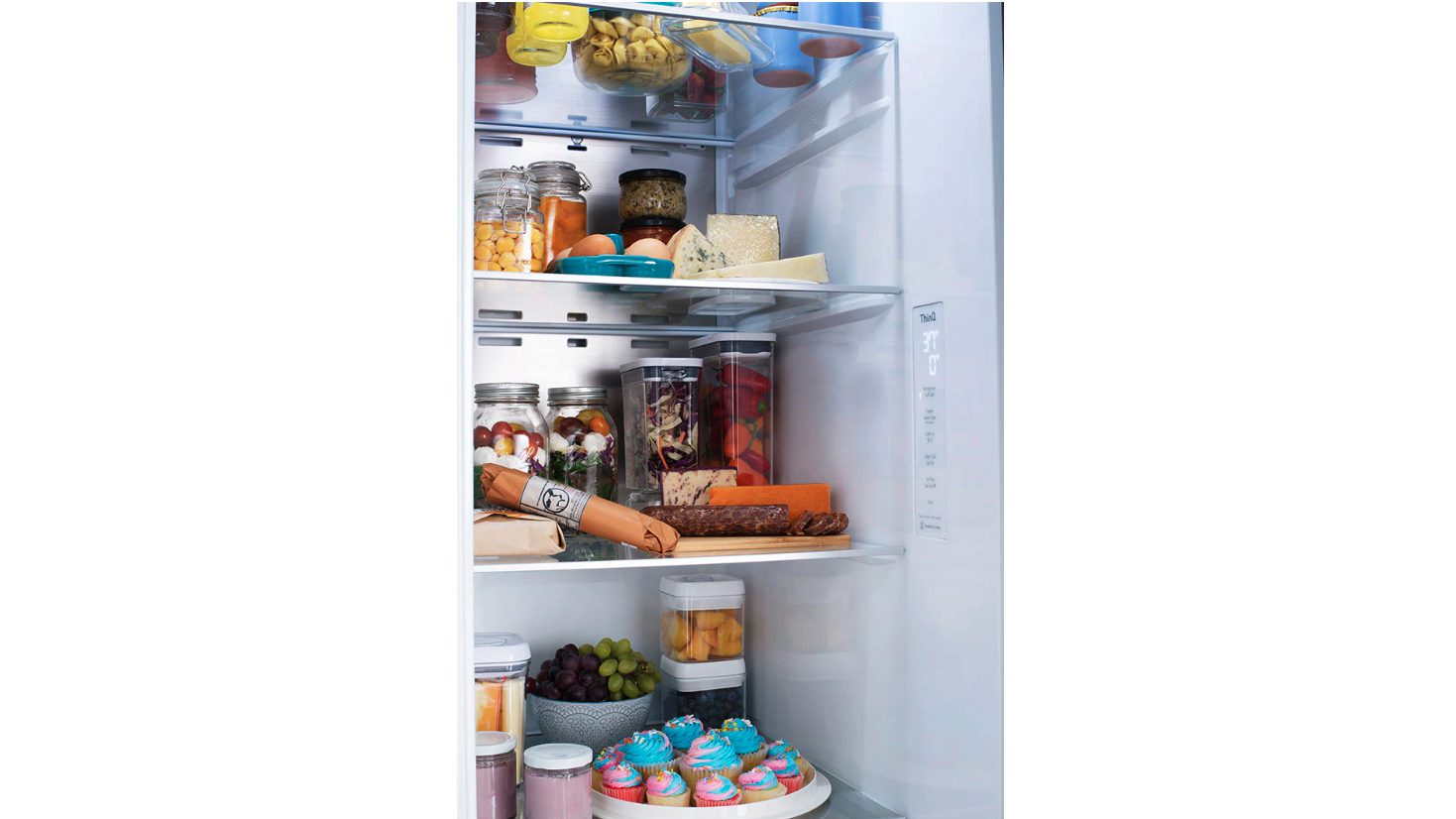 Linear Cooling™ means the LG LRSOC2306S keeps temperatures stable to a precise 1° F so your food stays fresher for longer. 
It also has a Cool Guard Interior Panel. These are metal panels on the interior of the fridge that help maintain the cold temperatures compared to the plastic interior you'll find on most budget fridge freezers. It also adds a premium, pro-style look to the interior space.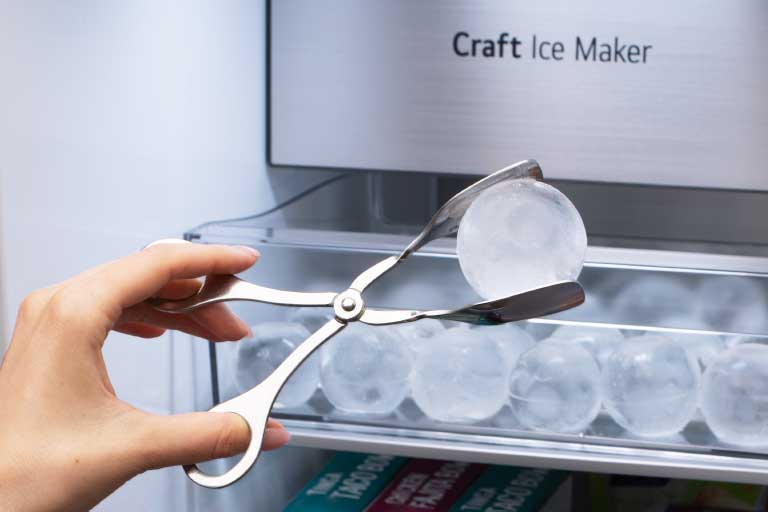 Many ice makers on these style of fridge freezers are capable of creating the standard cubed and crushed ice. In addition to both of these, the LG LRSOC2306S can create Slow-melting Craft Ice™, with LG saying you can "bring one of the hottest trends home with the Craft Ice™ maker that automatically makes batches of three or six slow-melting Craft Ice™ per day". It's certainly a unique feature and its ice spheres are sure to impress guests with drinks like cocktails, mocktails and iced coffee.
It also features a UVnano™ dispenser which uses UV-C light to clean the nozzle after 24 hours and keep your water supply fresh.
LG LRSOC2306S: Price and availability
The LG LRSOC2306S is available in two different color options, both boasting that fantastic and cool-looking see-through door. The Printproof® Stainless Steel option costs $2,332 while the Black Stainless Steel colorway costs a little more at $2,443.
At the time of review the LG LRSOC2306S was out of stock on the official LG website and discontinued at Abt and The Home Depot. However, it was still in stock at Best Buy and US Appliance.
LG LRSOC2306S: User reviews
At the time of writing the LG LRSOC2306S had a score of 3.8 stars out of 5 on the LG website from 38 reviews and over on Best Buy it had 24 reviews with an impressive average of 4.6 out of 5 stars. Here are what customers loved and disliked about their LG side-by side refrigerator. 
One customer left top marks, saying: "LG has pioneered new product concepts for over a decade and this new entry is exceptional. The compact design featuring instant-view window, hidden recessed grips, no-fingerprint finish, craft ice maker+ cubes and crushed in-door ice/water dispenser, easy to clean tempered glass shelfing, and super efficient/quiet cooling are among the many details distinguishing this model….which replaced a 7 year old 30 cu. ft Samsung. Glad we made the change and more than happy with LG."
While another said: "BEST FRIDGE AND ICE MAKER EVER. I love the ice features especially the craft ice the perfect complement to a long day at work" and another said: "Love the craft ice. Love the window. My fridge is noticed & examined and loved by every guest in my home"
One happy customer left a 4 star review with only their main compaint being the doors: "I am happy with everything with the exception that the doors open too wide! We have a tight space for the refrigerator and had an older full size french door that opened fully and no issues. This is a counter depth and had to cut off a 1 1/2 inches off my counter top so we could open the doors! Even with that, the freezer door will not open fully and hits the wall!"
Other users noted that the ice dispenser was loud when dumping its ice periodically into the ice bin and also there is no drip tray on the ice and water dispenser so a few customers noted that the ice would often fall out onto the floor and leave a wet patch that would need mopping up.
"The only issue I have with this particular fridge is the Ice Tray on the outside of the freezer door. There's no tray on the bottom where you would place your glass/cup (the tray would catch the falling ice/water) so the crushed ice sprays all over and chunks fall all over the floor."
LG LRSOC2306S: Expert reviews
Brandt Varner, Vice President of Product Marketing in Home Appliances for LG had the following to say about the LG LRSOC2306S:
"This Side-by-Side refrigerator is the perfect combination of storage and design for entertaining at home. The modern counter-depth design doesn't compromise on storage, with a generous 23 cu. ft. of space, it's an organizer's dream.
"You don't even need to open the door to see what's inside, with the LG InstaView® window, you can peek inside the refrigerator with just two quick knocks on the window, making it easier to grab what you need without letting all the cool air out. 
"With all this space, nothing beats the convenience of having more food when you need it, while also impressing your friends with LG's exclusive slow-melting Craft Ice™ for better-tasting drinks from cocktails to smoothies."
Should you buy the LG LRSOC2306S?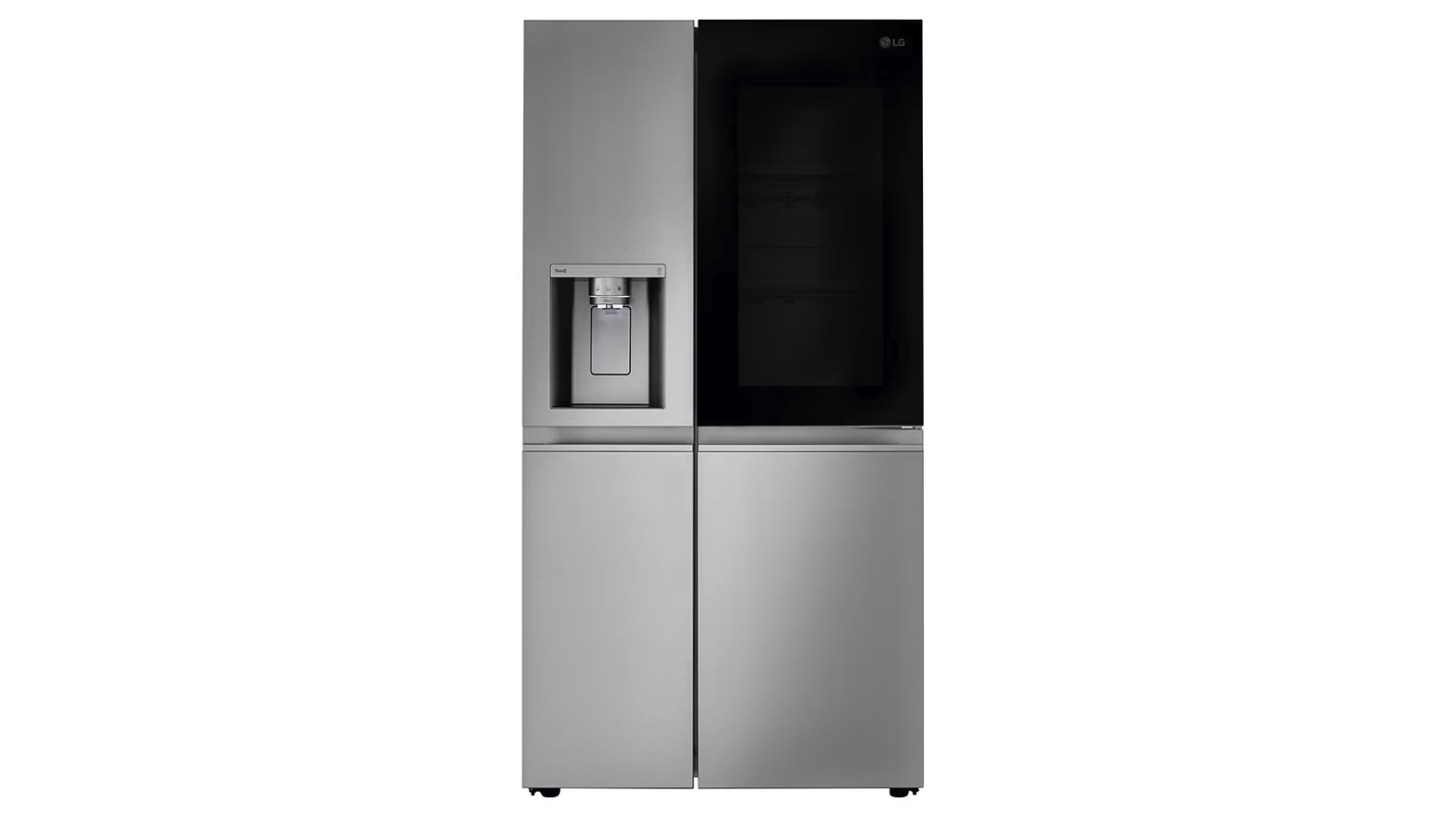 Costing $2,332 or $2,443 (depending on your color choice) the LG LRSOC2306S is one of the more expensive American-style refrigerators on the market and there are certainly better value propositions from other manufacturers (see our comparisons below) that will leave less of a dent in your wallet.
The LG LRSOC2306S covers all of the basics well, decent fridge and freezer capacity (though the freezer would benefit from being slightly larger), water filtration, dual ice dispensers with a craft ice balls option, flush counter-depth design with its quirky see through fridge door, but at this price-point we'd expect nothing less from such a high-end appliance with its substantial price-tag.
That said, the LG LRSOC2306S does have some unique features that make it stand out, such as its ClearView fridge door and Craft Ice dispenser, so if you're looking for a show-stopping talking point in your kitchen rather than just a refrigerator, then it would be worth spending the money on it. This is of course down to personal preference.
How does the LG LRSOC2306S compare to competitors?
The Whirlpool WRS325SDHB is a great option for those on tighter budgets as it has an RRP of $1,619, though can even be picked up on sale occasionally around $1,300 – that's $1,000 less than the LG model in this review! While easier on the wallet, it doesn't scrimp on features, it has a large overall capacity of 22.5 cu. ft, an ice maker, water filtration, is Energy Star certified and comes in four different colorways. Okay, it doesn't have a fancy see-through glass door or the ability to make craft ice but if you don't need those features, it's considerably better value for money.
The Fridgidaire FRFN2823AS is similarly expensive at $2,699 (though at the time of review was discounted down to $2,199). It has an interesting design with French doors for the fridge at the top and a pull out freezer drawer at the bottom. It has a larger overall capacity of 28.8 cu. ft, CrispSeal crispers that seal shut to block out dry air and has automatically closing doors too.