LG's LWC3063BD double oven is a premium model that sits right at the very top end of the market for consumer ovens with a price-tag of (take a breath) $4,000! As you'd expect from such an expensive model it has premium quality and would look brilliant in a bespoke kitchen with its wall mounted design it can sit flush with your cabinets. It also has an incredible skillset and innovative features. We'll dive into all this and more in this review so you can work out whether it justifies the high asking price.
LG LWC3063BD: Key specs
Price: $3,899-4,099
Dimensions (WxHxD): 28.5×43.4×23.5″
TurboCook Speed Oven: 1.7 cu. ft
True Convection Oven: 4.7 cu. ft
Weight: 194lbs
Energy rating: 7.8kW
Warranty: 1 year parts and labor
Electronics giant Goldstar, which later became LG Electronics, was founded in 1958 and has a long established history for creating electronics such as phones, radios, refrigerators, TVs, cookers, washing machines and air conditioner units. It's perhaps no surprise that cookers produced by South Korea's 4th largest company frequently appear in our best fridges buying guides. 
In this review we take a closer look at the advantages and drawbacks of the LG LWC3063BD to see if it's one you should consider if you're in the market for a new American-style fridge freezer.
LG LWC3063BD: Design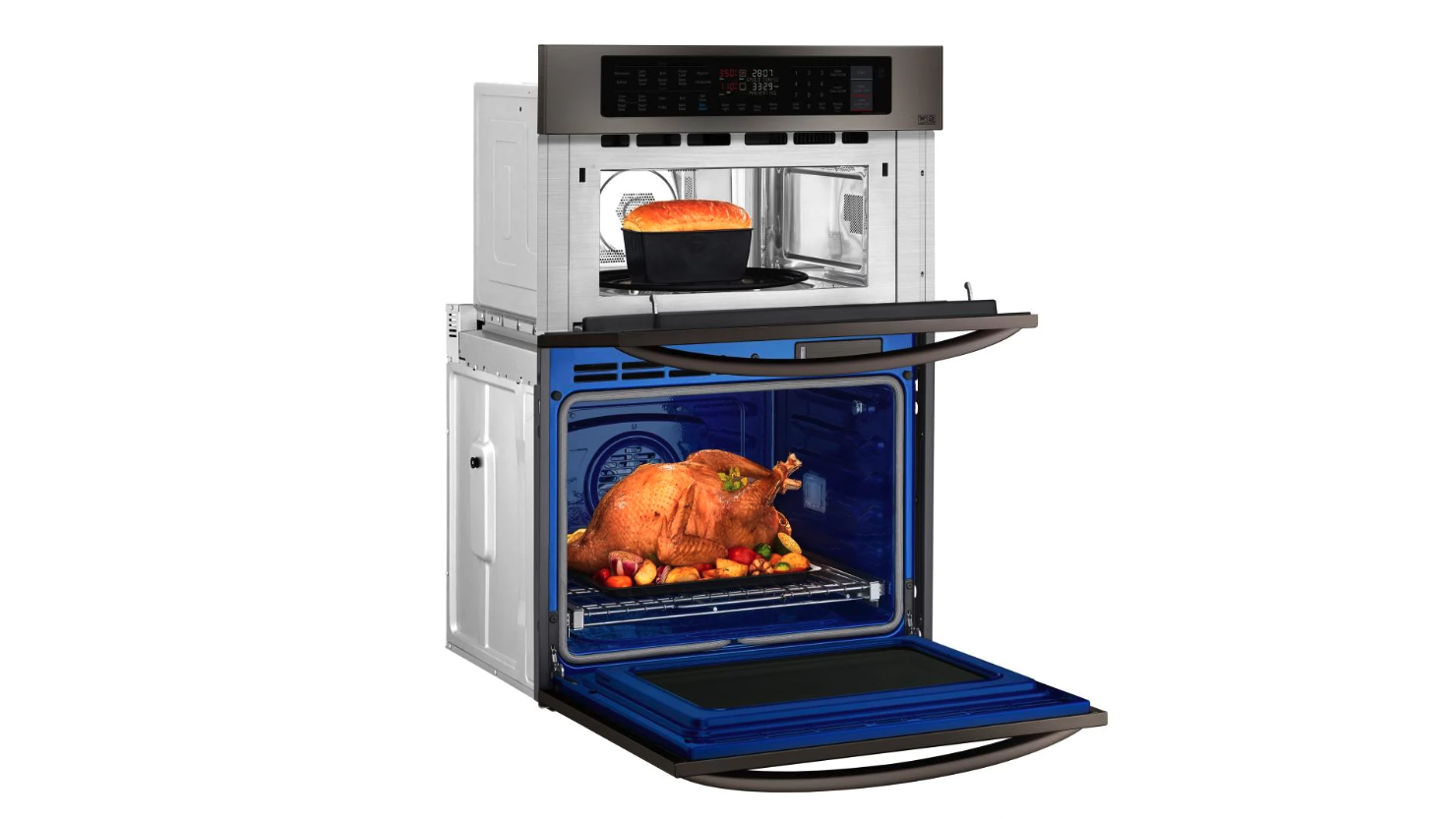 The LG LWC3063BD is a stainless double-wall oven with a overall oven capacity of 6.4 cu. ft. This space is however divided up into a small 1.7 cu ft TurboCook Speed Oven to get smaller items cooked in rapid time (it also features a microwave), and a 4.7 cu ft True Convection Oven.
The overall size of the appliance is 28.5×43.4×23.5″ and weighs 194lbs. It's available in Stainless Steel with an RRP of $3,899, or Black Stainless Steel with an RRP of $4,099. Both colorways are scratch resistant, though the black version is the only one to have a PrintProof™ finish which should mean fingerprints don't show up on it as much. Both color options also have a stainless interior cavity material with an enamel coating.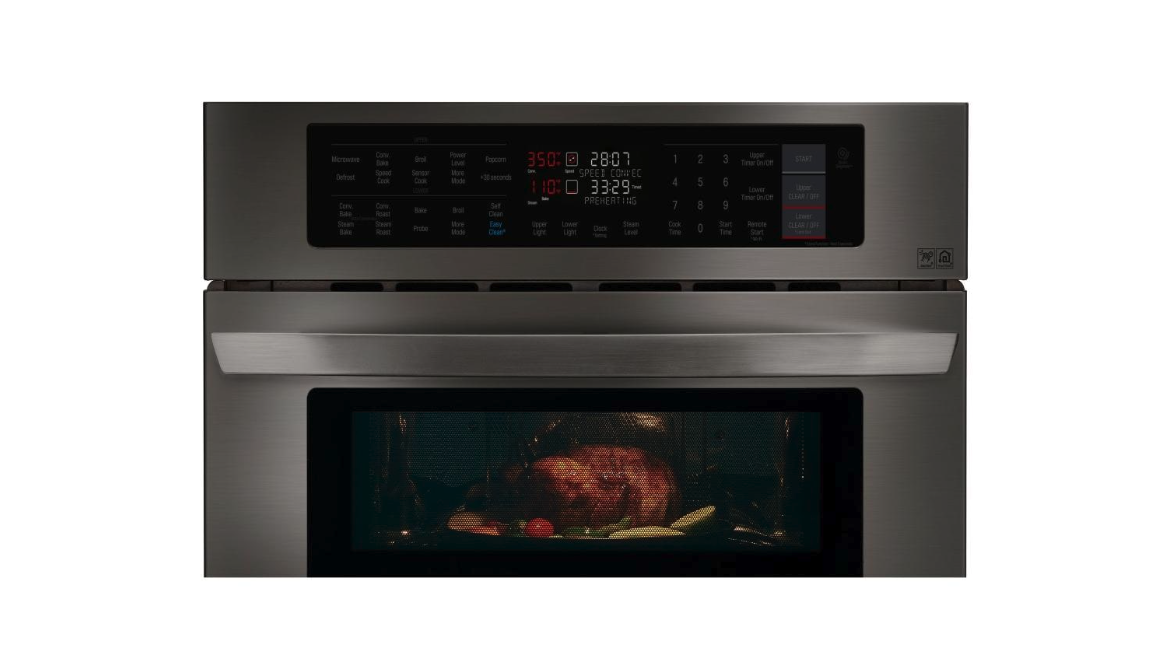 The LG LWC3063BD has a sleek and practical design, though costing around the $4,000 mark a high quality, premium finish is to be expected. It also boasts WideView™ windows so you can clearly see the inside of your oven as food is cooking.
There's intuitive SmoothTouch™ glass controls too. This helps add to the sleek aesthetic and the smooth surface can be easily wiped clean.
The TurboCook Speed Oven at the top contains a broiler, microwave, baking element and convection elements, while the True Convection Oven below has a broiler, bake and convection elements. The lower oven also has five different rack positons.
LG LWC3063BD: Features
The LG LWC3063BD claims to cook up to four times faster than a traditional oven without preheating using LG's TurboCook technology. This pacy oven is designed to give you the speed of a microwave without sacrificing results. Using instant-on Infrared Heating™ you can heat up lightning fast with no need to preheat the oven.
When it comes to grilling, LG claims that it can produce grilled results up to 20% faster than conventional methods using the Infrared heating element to lock in juices. LG also claims it will give you the same seared flavor from a conventional grill without the need to preheat your oven.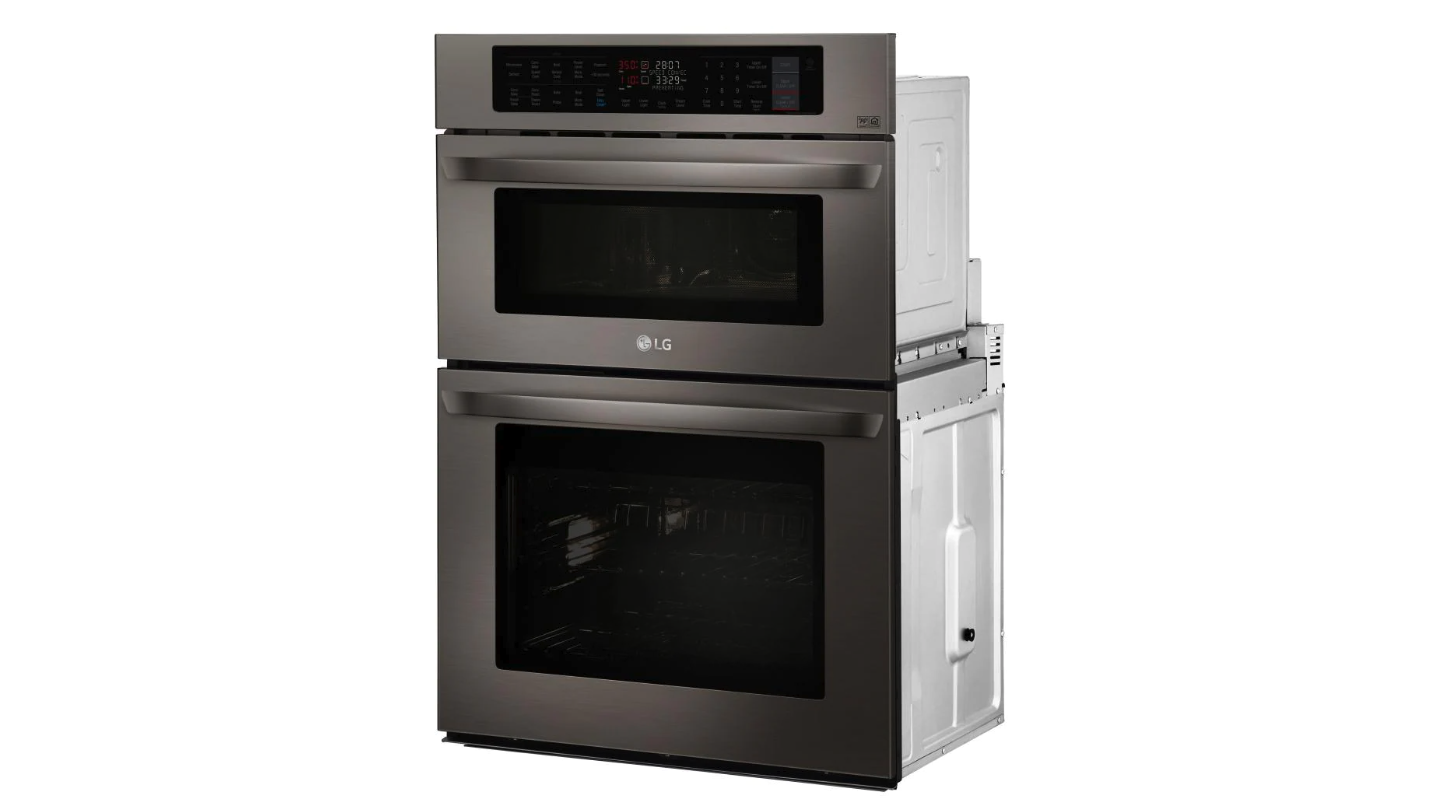 Cleaning your oven doesn't have to be a chore. That's according to LG anyway! The LG LWC3063BD features an EasyClean® mode which claims to leave your oven sparkling clean, without strong chemical fumes or high heat in just 10 minutes. All you have to do is spray the oven interior with water, press EasyClean® and then in 10 minutes, quickly wipe away any leftover grime.
Steam cooking evenly distributes moisture and can be a healthy way to cook. The LG LWC3063BD has a refillable water reservoir to create steam so you can steam cook nutritious, tasty dishes. 
The LG LWC3063BD has a roster of preset cooking functions including: defrost, reheat and melt. There's 50 options to choose from, covering everything from frozen to fresh, apps to entrees, so they should help take the guesswork out of cooking.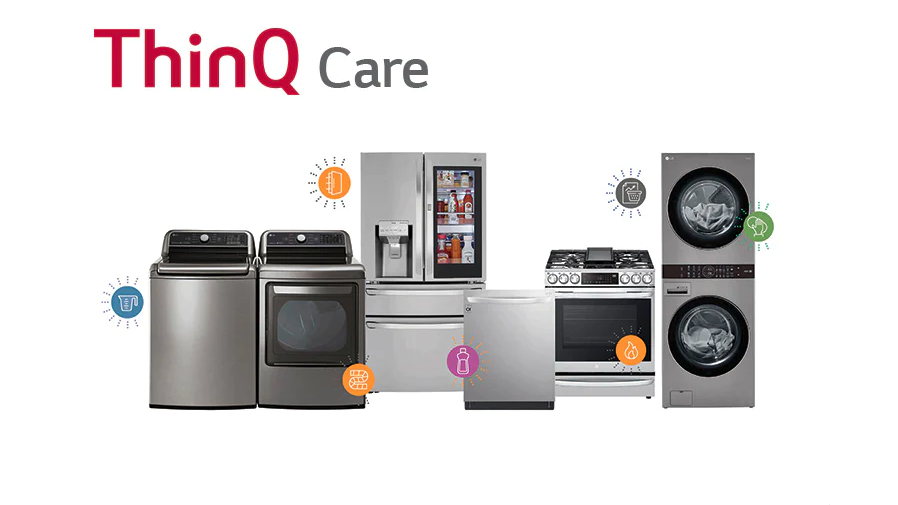 The LG LWC3063BD boasts smart capabilities using LG's ThinQ app. ThinQ Care gives you proactive smart alerts to keep your appliances running smoothly. Get notifications about usage, maintenance, plus early diagnosis right on your smartphone. It also has features including SmartDiagnosis to troubleshoot any problems and the SideChef and Innit guided cooking platforms. It can used with Google Assistant and Amazon Alexa too.
LG LWC3063BD: Price and availability
The LG LWC3063BD is available in two color choices, Black Stainless Steel at $4,099 or Stainless Steel at $3,899, though at the time of writing the Stainless Steel model was discounted down to $3,399 on the LG official website making it the better value proposition.
At the time of review the Black Stainless Steel version was out of stock on the LG store and many of the big retailers, however the more affordable Stainless Steel version was in stock on the LG store and also in stock at Best Buy, PR Richard & Son, Costco and US Appliance.
Other big retailers that LG suggested were Sears, The Home Depot, Abt and Lowe's, though these were all out of stock too.
LG LWC3063BD: User reviews
The LG LWC3063BD currently sits on an impressive 4.1 stars out of 5 on the official LG website from over 330 reviews.
One very satisfied customer gave it full marks claiming it was the 'Best Double Oven EVER!!!' and made the following comments: "This double oven is the best addition and upgrade to my kitchen. It has allowed me to enhance my baking skills to a whole new level. All my desserts get perfectly cooked and is super easy to control thanks to its wi-fi connection.
"Controlling it from my phone allows me to be able to do other different activities without been concerned about ruining my dishes. Its style and design are absolutely gorgeous: so modern and elegant. They are super sturdy but lightweith so I didn't have to be concerned about adding extra weight to my cabinets.
"I have received so many complements not only about how fast and efficient they are but also about their high-end look. My kitchen looks amazing! Now, I can look forward to have in more guests at home because that will give me a new opportunity to use them."
The biggest complaint we found from reading customer reviews with regards to the microwave, with many saying it has an annoying beep after you've used it until you manually switch it off: "Just bought this and found out that after every use, you have to manually clear the microwave after each time using it. Opening the door and taking the food out doesn't end the process. It will continue to beep at you and say END OF CYCLE until you physically clear it. Such a terrible feature pretty much ruins the other features"
LG LWC3063BD: Expert reviews
Brandt Varner, Vice President of Product Marketing in Home Appliances at LG had the following to say about the LG LWC3063BD:
"No more re-making dinners – LG's TurboCook™ Combination Double Wall Oven offers just the right cooking option for the best results the first time. The top speed oven gives you the speed of a microwave with the crispness of an oven, and the bottom oven offers both convection and steam cooking, providing multiple options to please any family member.
"We're excited to support families in providing a delicious meal during the hustle of the week, with up to 20% faster cooking, no preheat required, all with our modern and easy-to-clean black stainless steel design."
Should you buy the LG LWC3063BD?
The LG LWC3063BD costs between $3,399 and $4,099 depending on whether you go for the Stainless Steel or the more luxurious and fingerprint-resistant Black Stainless Steel iteration. With such a high bar to entry it's more of a case of 'can you afford to buy' rather than 'should you buy', as we expect the cheaper models in our comparison below will suffice for what most people need a cooker to do.
That said, it's a wall mounted model that is sure to be a showpiece in any kitchen and if it fits in with the other furnishes and fixtures then it could be worth the money to you. Let's not forget it does have some very impressive features, like the dual ovens, Smart capabilities and Infrared heating which can get food up to temperature in record time without the need to pre-heat the oven. So you'll need to weigh up whether these features justify its high price-tag as it's between three and four times more expensive than other ovens that we've highly rated (see comparisons below).
How does the LG LWC3063BD compare to competitors?
We gave the GE JB750SJSS 4.5/5 stars and called it "a great mid-price oven with a good capacity and excellent features". It has a large capacity, delay bake function and dual burners, but we disliked that its controls are found right at the back of the machine so you have to reach over the hob. At $909 it's more of a mid-range offering so of course is substantially cheaper than the LG we looked at here. But if you're looking for a model with a hob too and you're on a strict budget, this would certainly be a good one to consider.
The Frigidaire GCRE3060AF Smart Oven has has in-built air frying and triple burners and we gave it 4.5/5 stars in our Best ovens 2022 round-up. It has a brilliant air fry mode, steam clean function and is a generous size too. It has an RRP of $1,149 so is considerably less heavy on your wallet than LG's LWC3063BD but as model with a hob it doesn't look quite as neat as the LG which can be mounted into the wall flush with your cabinets. We also found the cooktop a little hard to clean and disliked that the control are at the back so you have to reach over the hob to use them. These small issues to one side, it's a great value proposition.
The Samsung NV51K7770SS was named our 'Best single oven for dual cooking needs'. It has just a single oven compared to the LG's dual setup, but it features Wi-Fi and smart features as well as has a steam cooking option. While a single oven it has dual convection cooking zones, aimed at giving you the flexibility of a double oven. Though not cheap at $2,299, it's half the price of LG in this review.