It's LG vs Whirlpool, and the battle for the best refrigerator is on. This is where you will find the ideal brand to serve all your food and drink chilling needs. This gives you an overview but also puts the best two models from each brand against each other side by side.
While LG is a Korean brand known for TVs, white goods, and even once smartphones, Whirlpool is an American corporation focusing on home appliances.
Whirlpool offers four refrigerator types, and LG offers five – but it's the quality that we're interested in. A stand-out feature for LG is the InstaView door that lets you knock to make the screen display what is inside the fridge. Whirlpool offers huge choices with over 100 models to pick from, a main feature being superbly efficient storage options.
Two stand-out refrigerators are the LG 36-inch InstaView Door Refrigerator, while from its competition we have the Whirlpool 36-inch Fingerprint Resistant Stainless Steel French Door Refrigerator.
So which is the best French door refrigerator for you?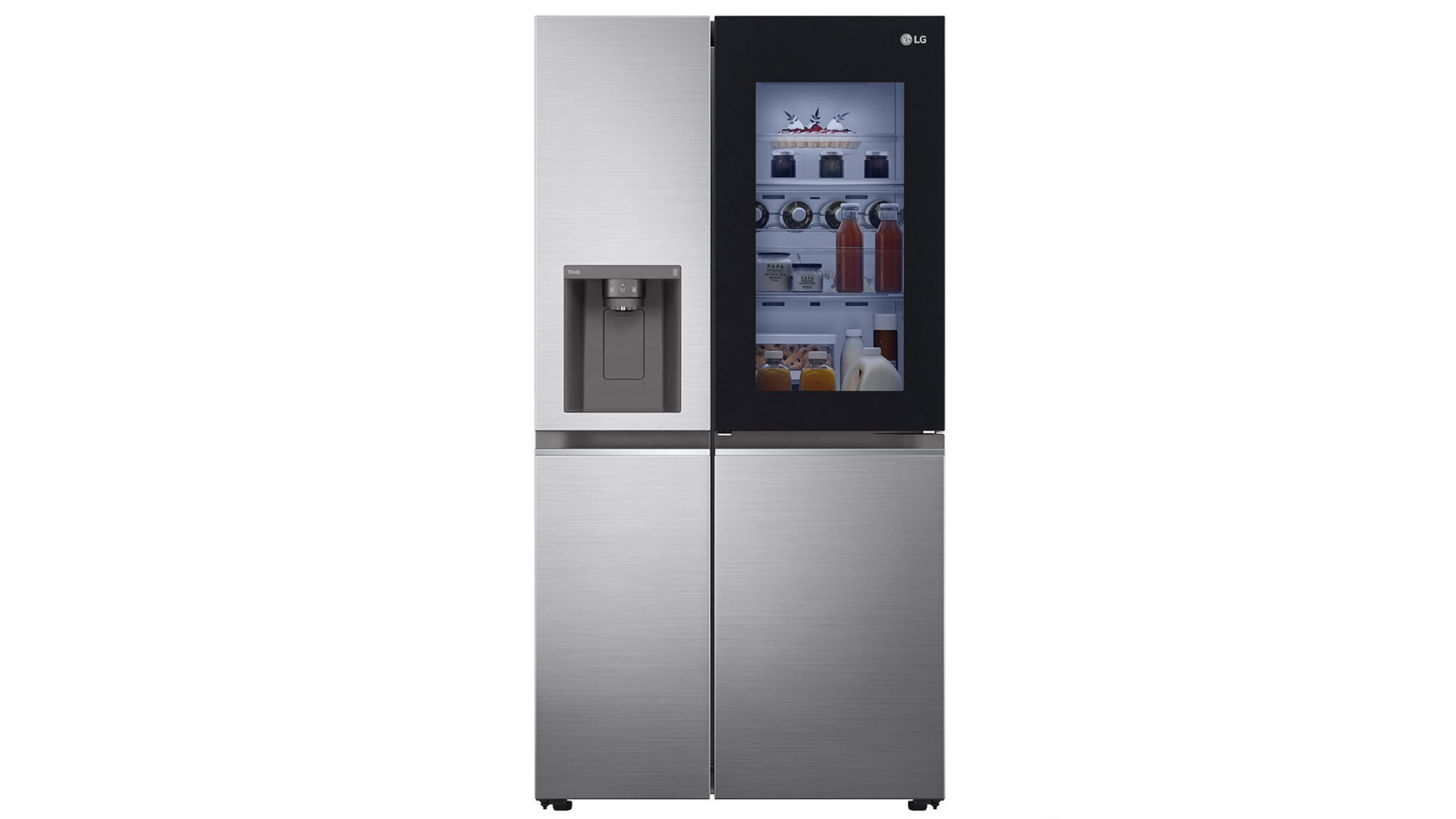 LG 36-inch InstaView Door Refrigerator
Overall capacity: 23 cubic feet
Shelves: 6
Door bins: 6
Dispenser: Water and ice
This fridge packs in lots of capacity while also offering that stunning InstaView screen on the front which lets you see what's inside your fridge without wasting energy opening the door and letting out the cold. You also have a UV light toting water and ice dispenser for the cleanest output.
The smart temperature control ensures food stays fresh for longer, while the LG ThinQ connectivity lets you control it all from your smartphone or voice commands. Plus, that metallic finish looks premium and enhances the room this sits within.
For
InstaView door
UV filter water dispenser
Smart connected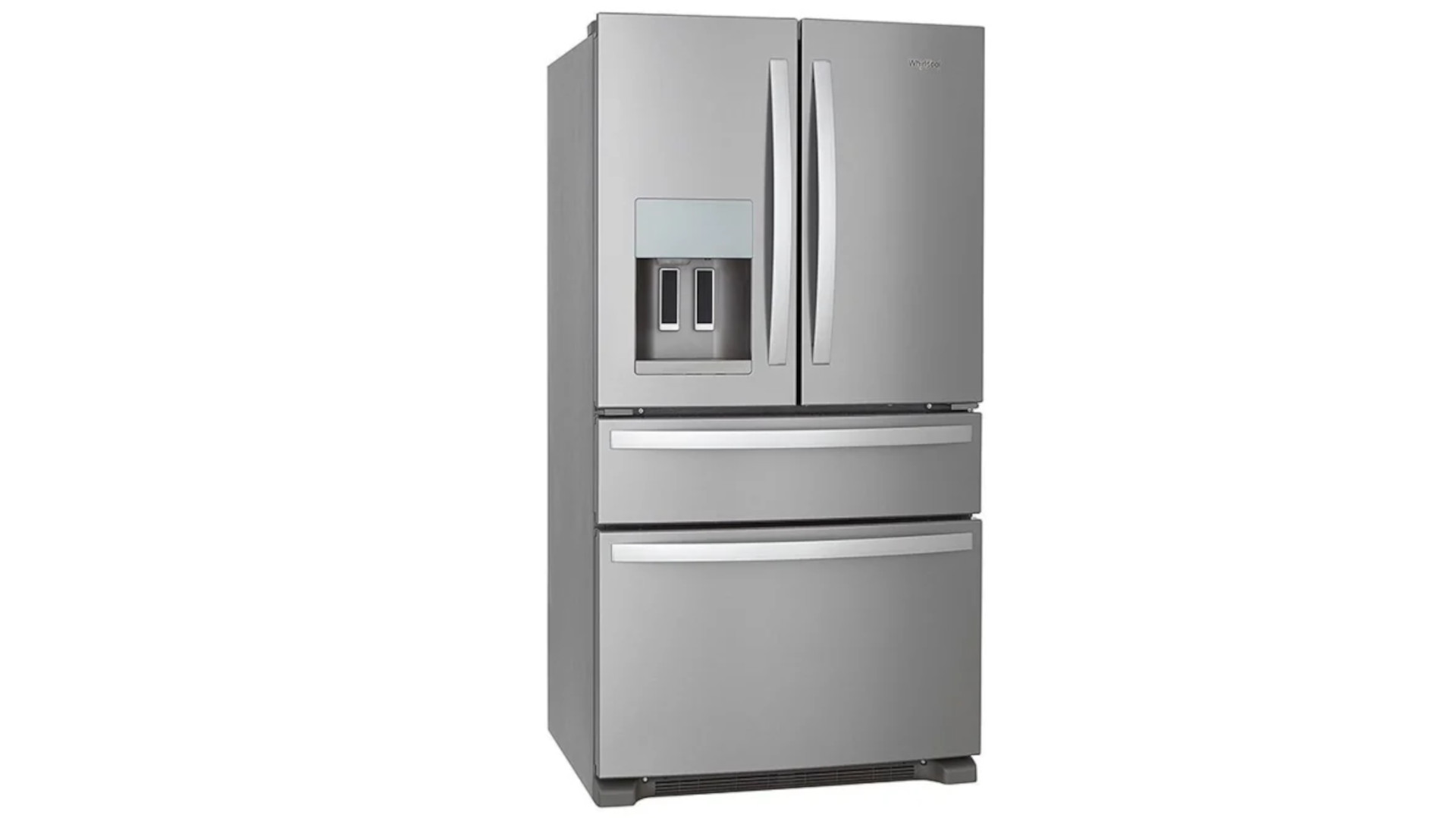 Overall capacity: 23 cubic feet
Shelves: 6
Door bins: 6
Dispenser: Water and ice
Whirlpool is known for its storage efficiency, and that shines here with specially designed MicroEdge Glass Shelves. Rather than the usual metal frames that collect debris, these are built to contain minor spills and make cleaning the inside easier.
There's also that five-draw design with a thaw drawer, meaning there should be a perfect space for everything at the right temperature. The measured ice and water dispenser is another great feature, allowing you to leave the cup to fill, knowing it won't go over.
For
Fingerprint resistant steel
Five door design
MicroEdge glass shelves
Measured ice/water dispenser
Against
Very expensive
Large for capacity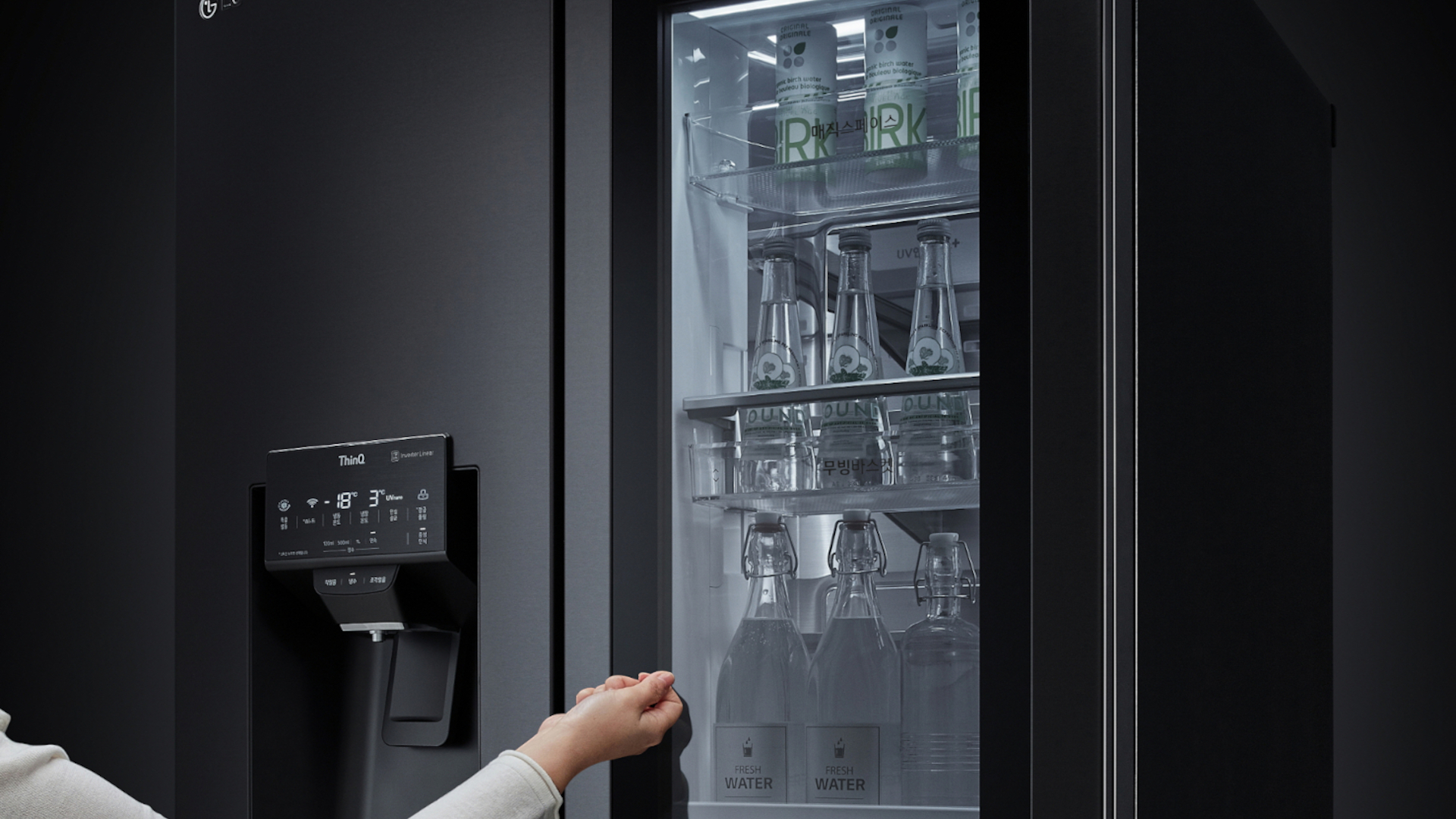 LG vs Whirlpool: Features
When it comes to features, both LG and Whirlpool pack in plenty of unique extras to make their models stand out. The bottom line here is that LG appears to focus more on technological advances while Whirlpool keeps its sights set on perfecting what's already there and could be refined better.
Using the above examples, LG has added smart WiFi connectivity for app controls – which might sound great but may not actually be that useful to many people. At the same time, Whirlpool has worked on perfecting its shelf design to ensure that spills are collected, and cleaning is as easy as possible.
That isn't to say LG doesn't also offer some really useful tech, like its InstaView door. This lets you knock on the glass to view the fridge without opening the door. If you're a regular fridge checker, this could cost you in dropped temperatures as the door opens, and you need to pay as your fridge cools again – not to mention shortening the life of your fresh produce. So this no-open way of looking in is a useful feature advance. 
There are also LG models with door-in-door offerings that let you open a smaller section of the fridge to access regular items, keeping the less reached for food fresher for longer – while saving you on bills at the same time.
Both LG and Whirlpool offer models with ice makers and water dispensers in the doors. While LG offers UV light filtration, Whirlpool's measured fill is a great feature that automatically fills a cup without overflowing. It might sound simple, but not having to wait for a larger cup to fill is a really useful convenience when you're in a rush. 
It's also worth noting that many Whirlpool and LG units come with dual ice makers, meaning there is some in the refrigerator door with more waiting in the freezer – for a total of five pounds of ice. Enough even for a party, then. While Whirlpool offers quantity, LG also focuses on quality with round "craft" ice cubes which can stay cooler for longer making them ideal for drinks.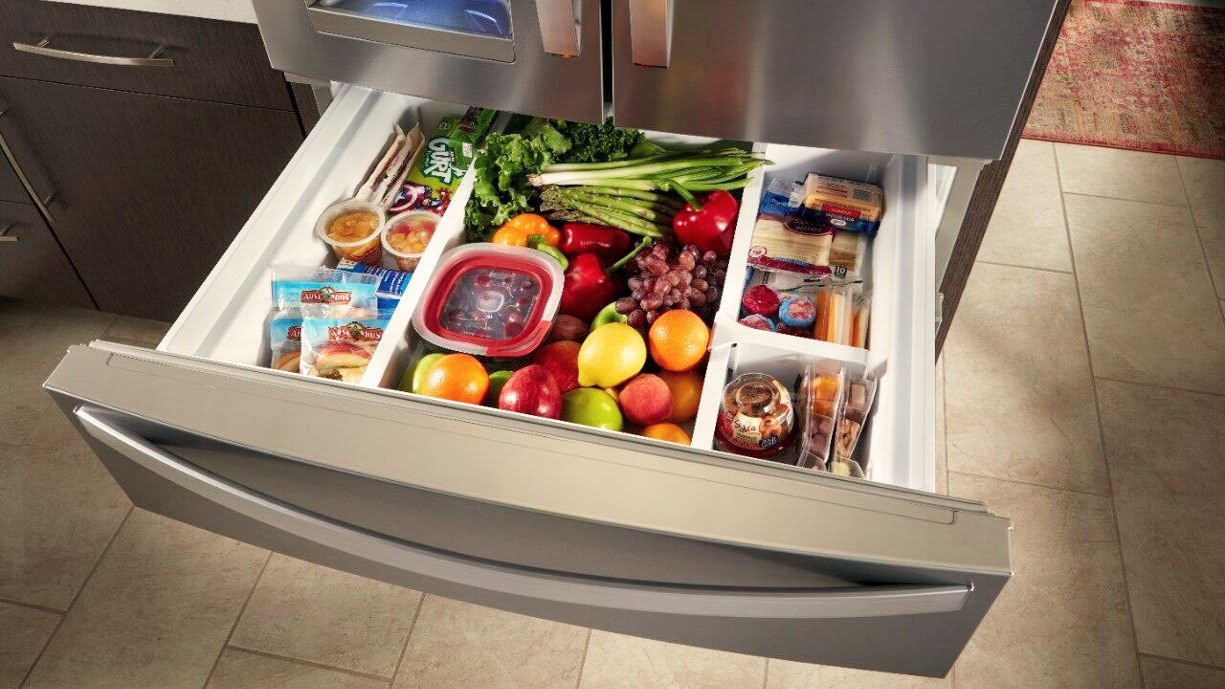 LG vs Whirlpool: Capacity
While capacity varies across models for each of the brands here, how well the storage within is laid out can make all the difference. Efficiency is key, where you get the maximum storage with easy access while keeping your kitchen's external footprint as minimal as possible. 
The five-door design of the Whirlpool model above, for example, gives a broad range of storage options in varying temperatures. You also have a freezer, dual drawers, and a fridge with two doors. But this also adds a thaw drawer which is ideal for transitioning from the frozen section ready for use from the fridge without leaving food out in your kitchen.
Customization is also a big feature, with the ability in both brands to vary how the inside of the models are laid out. Although Whirlpool stands out here, it typically has high efficiency and offers lots of smaller sections to keep food well-placed. Many offer in-door can caddies to free up shelf space, ideal for cans or bottles. Plus, you get adjustable gallon door bins, allowing you to place as you need with enough height for varying items.
You can't talk about capacity without also considering lighting, as this lets you actually find what you have laid out. While both models offer LED lighting, LG focuses on specific lighting arrangements to ensure maximum clarity throughout the refrigerator spaces.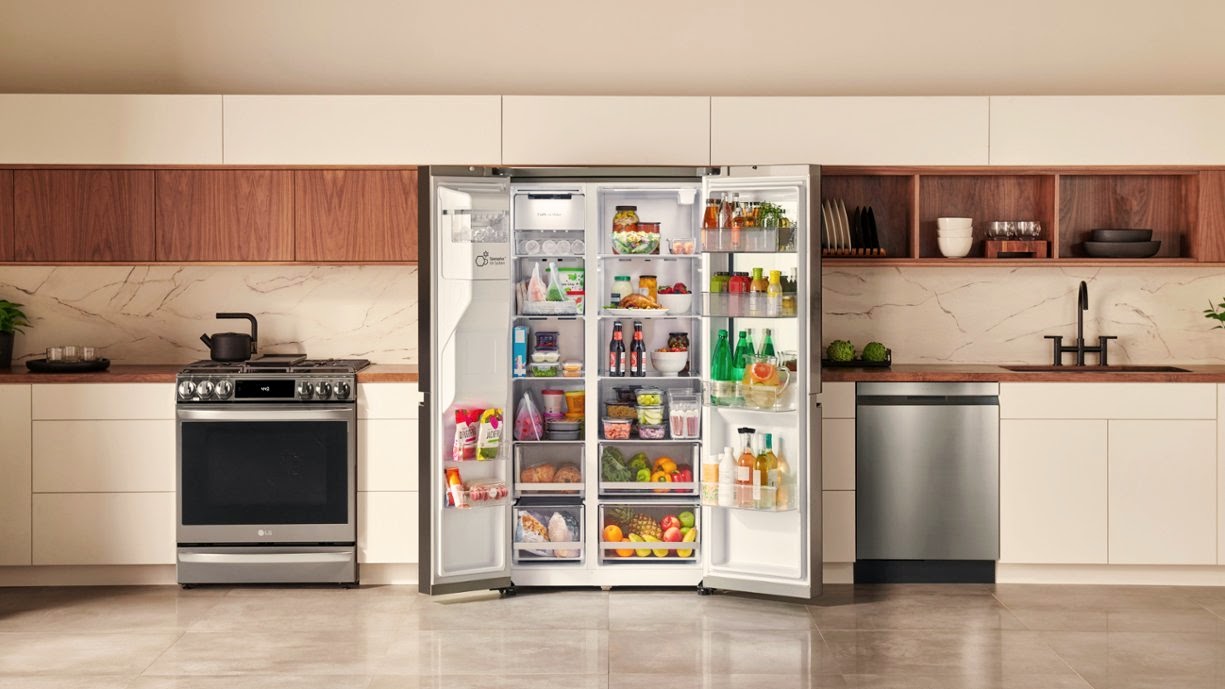 LG vs Whirlpool: Price
In the LG vs Whirlpool price battle, the range is so broad it can be difficult to compare. However, it can come down to sales which help make a choice here. You get a lot for your money with both models – although arguably more cutting-edge tech from LG. But it's when you see the drop in prices during sales times, like Black Friday, that you may find yourself forming a preference.
LG typically offers many models that appear in big sales, so you can expect an opportunity to pick one up for far less during these times. However, with the high upfront charges on premium LG refrigerators, that cost may be prohibitive to many. Although it's worth keeping in mind, these are built to last so that cost can be spread over many years—more on that in the warranty section below.
Most LG refrigerators come with an Energy Star rating meaning while you might pay more upfront for buying one of these units, you will save money in running costs over the longer term.
LG vs Whirlpool: Warranty
It's also worth considering how that cost is spread in terms of reliability over the longer term. With LG, you can expect to get an impressive five-year warranty, meaning it's built to last – and with the inverters on many models covered for 10 years, you can expect these to go the distance. 
With Whirlpool, the warranty is far less at a one-year standard which can be extended – but for peace of mind, this doesn't seem as reassuring after that first-year sealed parts are still covered for five years, which include compressor, evaporator, condenser, dryer and connecting tubing.
Whirlpool does include parts and labor and offers its servicing setup meaning you can expect to find a fix quickly and easily, carried out by a qualified professional.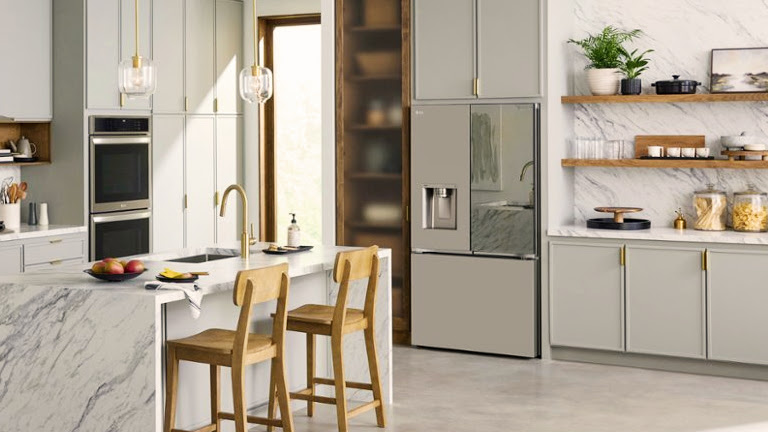 LG vs Whirlpool: Verdict
The LG vs Whirlpool refrigerator battle varies across models, features, pricing, and longer-term reliability. So while no one model may come out on top for you, it's worth thinking about what you need and can live without.
If you want all the latest tech features, like smart connectivity and see-thru doors, then LG is the brand for you. But if you want a simpler-to-use refrigerator that is well-refined in its offerings and storage solutions, then Whirlpool could make your life easier.
It may come down to price, and LG offers some very high prices but can be nabbed in sales. And when you consider that longer warranty, it is a very compelling choice. Specifically, if you can pick up the LG 36-inch InstaView Door Refrigerator in a sale or afford it upfront, this superb refrigerator will serve you well for years to come.