The Maytag MHW8630HW is a premium front-loading washing machine with an RRP of $1,399. Though one of the more expensive washing machines currently on the market the Maytag MHW8630HW crams in loads of useful tech to make washing easier.
Maytag MHW8630HW: Key specs
Price: $1,399
Dimensions: 38.63x27x32.94"
Noise level: N/A
Capacity (cu. ft): 5
Cycles: 14
Energy Star certified: Yes
Warranty: 1 year parts and labor (DD Motor and Basket: 10 years)
The headline features include a large maximum capacity of of 5 cu. Ft (impressive for a front-load model), 14 wash cycles to choose from, smart capabilities, a 15 minute quick wash ideal for small loads that need cleaning in a hurry, steam and a late add feature so you can throw in garments like a sock that may have fallen out of your wash basket mid-cycle.
The Maytag Washing Machine company has a strong pedigree, founded in 1893 and bought by the highly reputable and household brand Whirlpool Corporation in 2006. With such a prestigious history in washing machines it's no surprise that Maytag products frequently appear in our best washing machines buying guide. 
In this review we take a closer look at the advantages and drawbacks of the high-end Maytag MHW8630HW as well as scouring the internet for expert opinion and customer feedback to see if it's one you should consider if you're in the market for a new washing machine.
Maytag MHW8630HW: Design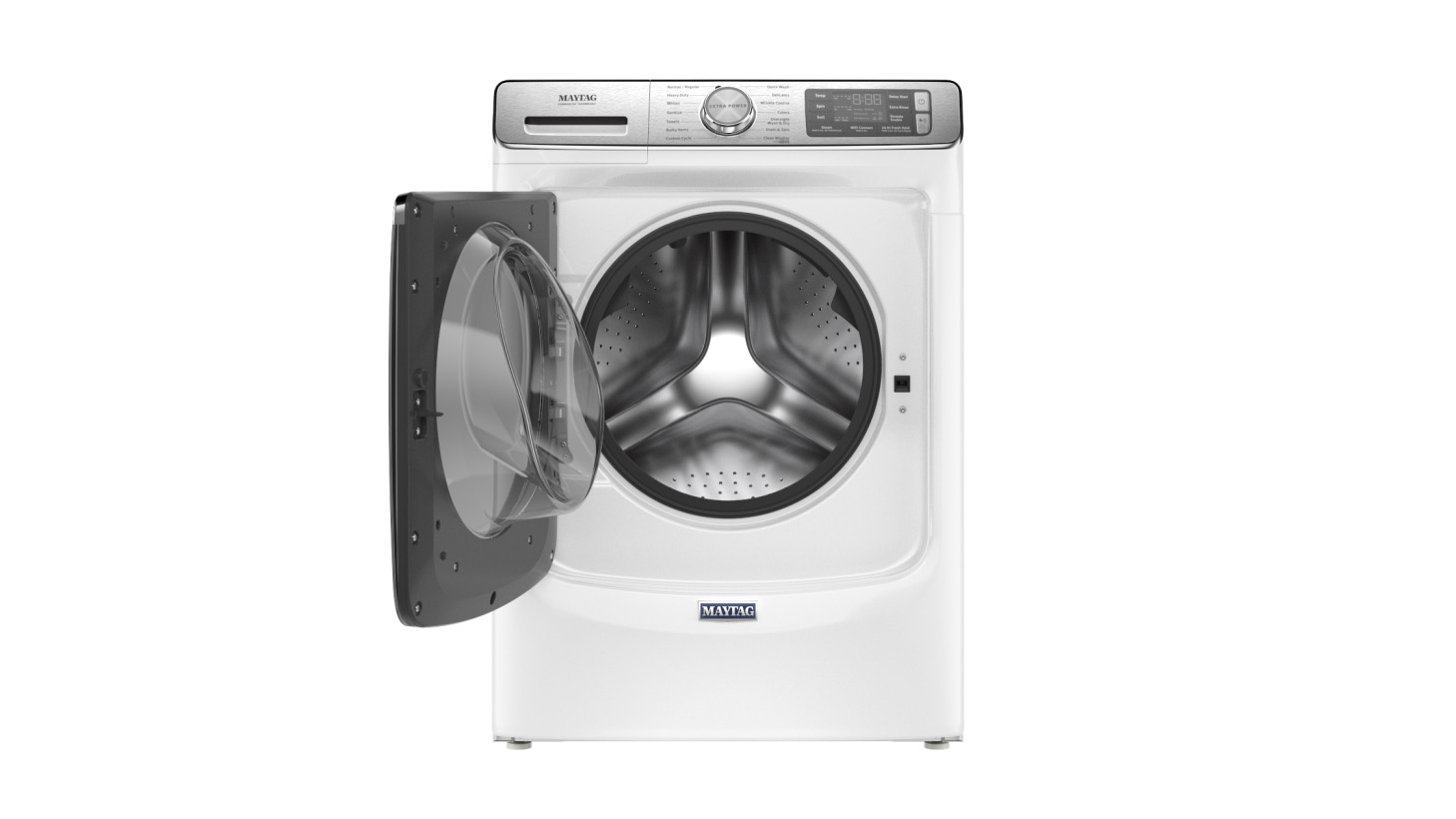 The Maytag MHW8630HW comes in a smart, utilitarian white or slate finish, with a silver control panel on the front at the top and a large glass door. While the door cannot be reversed it does open the opposite way to the matching Maytag electric dryer (MED8630HW), also available in the same color options with silver control panel and glass door. Maytag says "These washers are proudly assembled by hard-working employees in Clyde, Ohio."
On the front of the machine at the top you'll find the silver control panel with the detergent dispenser drawer, and a physical dial to choose from one of the 14 different cycle modes. The dial can also be pressed to enable 'Extra Power' for an intense pre-wash and extra agitation in both cold and hot temperatures to help remove stains.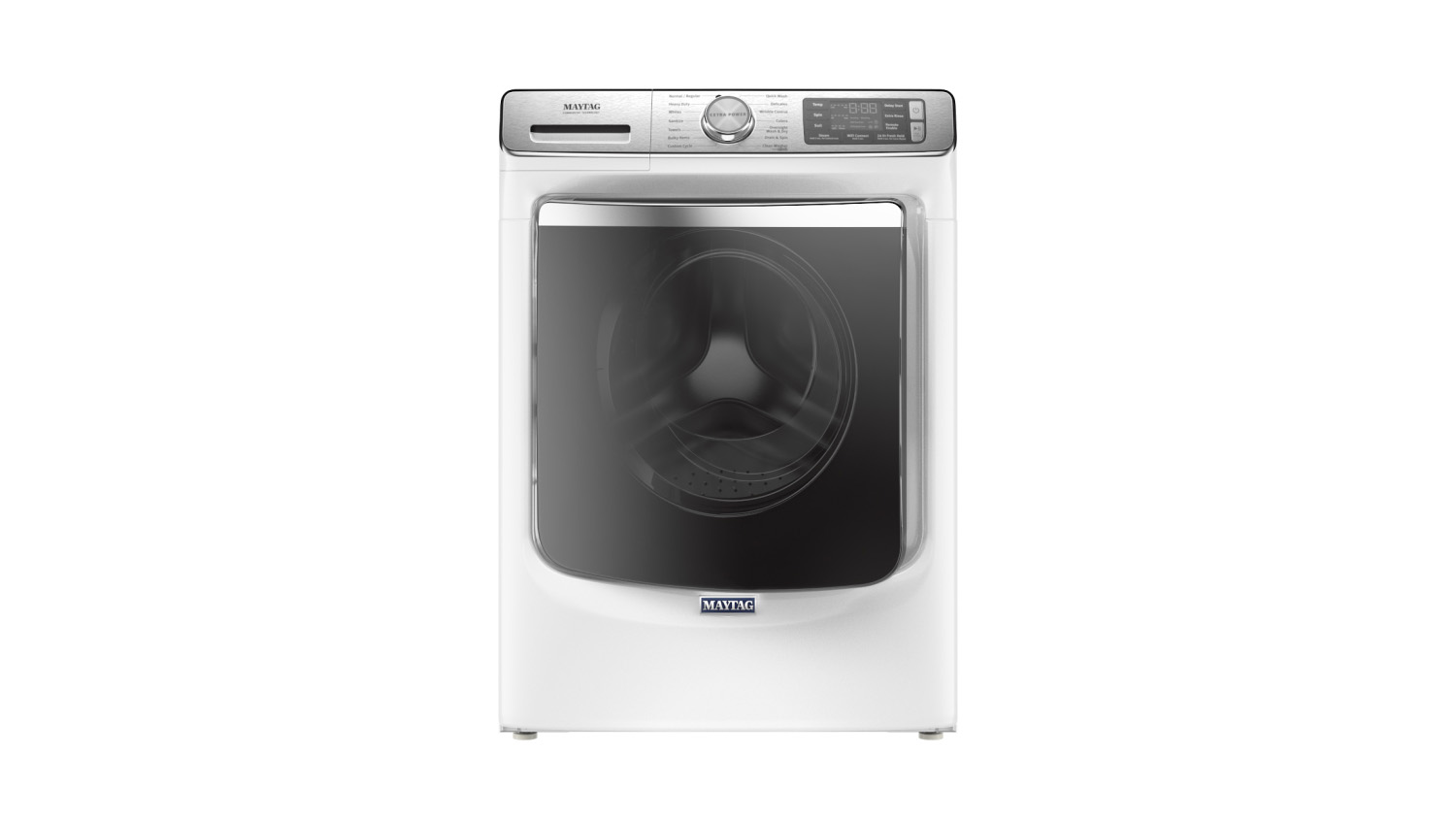 The touch panel to the right of the dial lets you set options like temperature, spin speed, soil level, steam, Wi-Fi, 24hr Fresh Hold, Remote Enable, Extra Rinse and Delay Start. It also shows you how long is left until the cycle is complete.
It has dimensions of 38.63x27x32.94" and as a front-loading design will fit under a counter worktop. It also has a flat top and can be stacked or put on a laundry pedestal if you'd like it to be a little higher up so you don't have to continually bend down to empty the washer drum. It has a net weight of 235lbs.
Maytag MHW8630HW: Features
As you'd expect from a device costing $1,399, Maytag's MHW8630HW comes packed to the rafters with desirable features.
It's Maytag's maiden voyage into smart appliances, and using the Maytag app customers who purchase the MHW8630HW will be able to monitor and control the washing machine when they're away from home, receive notifications and alerts and maintain your machine.
It can also be integrated with Amazon Alexa, Android, Google Assistant and Nest. A nice-to-have feature is the ability to create customized cycles and save your favorites in the Maytag app to send them instantly to your washer or dryer to start the load remotely.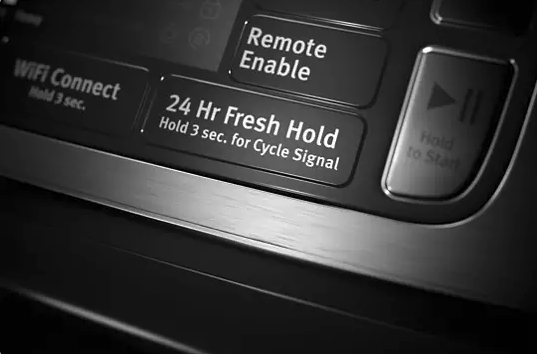 Leaving your laundry in a washing machine after a cycle with the door shut can lead to an undesirable smell that means you need to repeat the cycle to make your items smell fresh again.
Maytag's latest washer features a 24-Hr Fresh Hold® option which uses an internal fan to allow fresh air in and circulates the clothes with intermittent tumbling that Maytag say will keep clothes smelling fresh for up to 24 hours after the cycle has finished.
In addition to the 24-Hr Fresh Hold® there is an Overnight Wash & Dry cycle which uses the fan and intermittent tumbling to circulate air through the load throughout the night so clothes are dry by morning the morning – handy if you have an energy tariff that costs less during off-peak hours at night.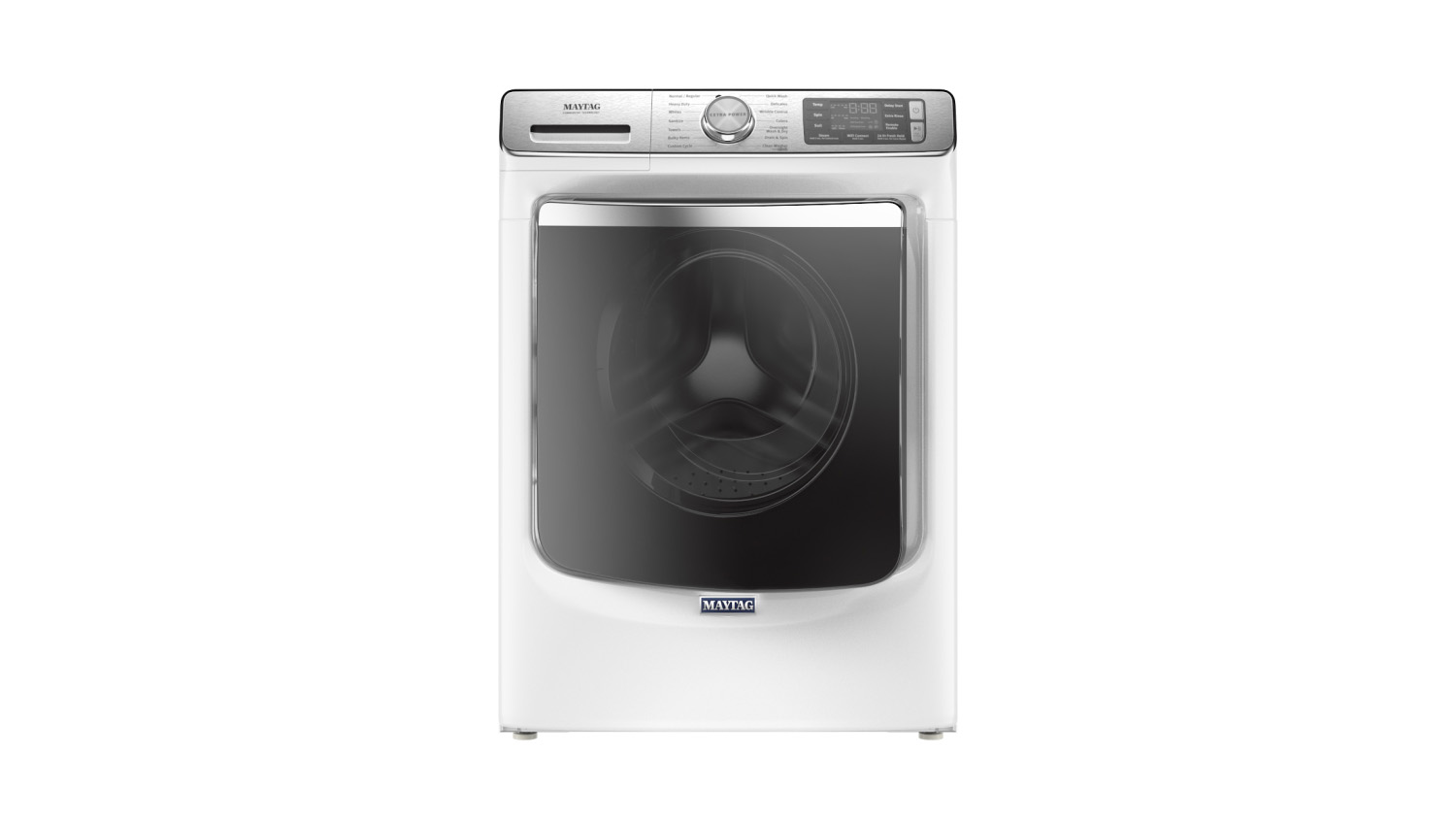 The physical dial allows you to choose from wide range of 14 cycle options: Normal/Regular, Heavy Duty, Whites, Sanitize, Towels, Bulky Items, Custom Cycle, Quick Wash, Delicates, Wrinkle Control, Colors, Overnight Wash & Dry, Drain & Spin and Clean Washer.
The wash basket is made of a durable and premium stainless steel and has a large capacity of 5 cu. ft which can handle up to 31 towels at any one time.
Another premium feature we'd expect from a high-end washer is the direct drive motor which is more durable and longer lasting than the belt drive motors found in more entry-level machines that wear out more easily.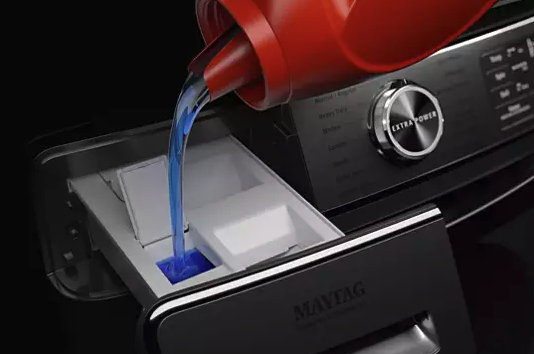 Also on the spec sheet is an Optimal Dose Dispenser which claims to add the right amount of detergent when it's needed, holding enough for up to 8 loads of laundry (based on a 3lb load). In addition to a 15 minute Quick Wash Cycle ideal for getting small, lightly soiled loads done in rapid time.
Maytag claim its Sanitize Cycle removes up to 99.9 % of household bacteria using the hottest water setting and there's a Steam Option for deep cleaning and to help combat wrinkles. To further cut down on creases there's the Wrinkle Control cycle which uses warm water and low spin speeds.
While no decibel level is stated on the Maytag website, the MHW8630HW features Advanced Vibration Control™ Plus. This automatically redistributes unbalanced loads with a ball-bearing balancing ring and six-point suspension system, while advanced software adjusts and recalibrates for each load. Many customers commented in reviews saying that this model was a very quiet machine too.
Other notable features include a Clean Washer with affresh® Cycle which Maytag suggests users run about every 30 cycles and allows a washing machine cleaner tablet or liquid chlorine bleach to be added to keep your machine in top condition.
Maytag MHW8630HW: Price and availability
At the time of review the Maytag MHW8630HW was still new out so there was little in the way of retailer discounting from its full asking price RRP of $1,399. That said, one of the few places we found it on sale was at AJMadison.com where it had been knocked down to $1,098 – a decent saving of $301. 
At the time of review there was no stock on Maytag's official website, though we expect they'll restock very soon. Other retailers listed on Maytag's Where To Buy page included Best Buy, PC Richard & Son, Do It Best and Home Depot.
Maytag MHW8630HW: User reviews
Numerous happy customers left top marks with comments such as "I love this Maytag Washer, my clothes smell great after the wash cycle", "I'm extremely pleased with my new washer and have had the opportunity to use it for a month now with great results" and "I purchased the Maytag Smart Front loader and have been very pleased with its efficiency and reliability. The washer is very quiet as well".
Another person left a glowing five star review, saying "We bought this for our new home about 6 weeks ago. I've done many loads of laundry without difficulty. I like the custom cycle feature as I like to use cold water, high spin, and lightly soiled settings. I use less soap than recommended on the package due to very soft water. The clothes are clean and fresh. It took some getting used to the start button which needs to be held a few seconds to start a cycle. I'm not a fan of that".
Alongside good reviews, there were inevitably some negative comments too, though it did receive considerably more praise than negative remarks. 
One unhappy customer had this to say about the auto detergent dispenser "The washing machine performs just fine. My issue is with the auto detergent dispenser. You fill it up and it dispenses the appropriate amount of detergent per load for several loads. If you alternate between detergents, you must wait until the dispenser is empty to use a different detergent. This is very inconvenient for households with different detergent needs."
There were also multiple comments about mold accumulating in the detergent dispenser drawer area with one person noting, "The good: This washer gets clothes clean, never a problem with that. I appreciate all the different cycles.
"The bad: The mold. We use Affresh every month as recommended. I have pulled the tray out and left the door open when not in use (no mold in drum area or around the rubber ring). The mold in the detergent area is horrible! The dispenser has to be COMPLETELY removed after use. If the detergent dispenser is left in place after laundry there will be mold. This is poorly designed. If we are meant to remove the tray each time, then you should have also designated a place for it to be put. I spray cleaner inside. I use a cotton swab and toothbrush to clean up inside. No other appliance requires so much maintenance. I have friends that have the same issue. It is ridiculous!"
Maytag MHW8630HW: Expert reviews
Sarah Armstrong – New Brand Manager for Maytag had this to say about the Maytag MHW8630HW:
"Our Smart Front Load Washer with Extra Power delivers powerful cleaning you can depend on. The Extra Power button boosts stain fighting on any wash cycle with an intense pre-wash and extra agitation so you can walk away while stains wash away.
"The 24-Hr Fresh Hold® option keeps clean clothes smelling fresh in the washer with an internal fan and intermittent tumbling that circulates air through clothes for up to 24 hours after the wash cycle ends.
"You can also remotely start or stop your appliance and get end of cycle notifications so no load is left behind."
Should you buy the Maytag MHW8630HW?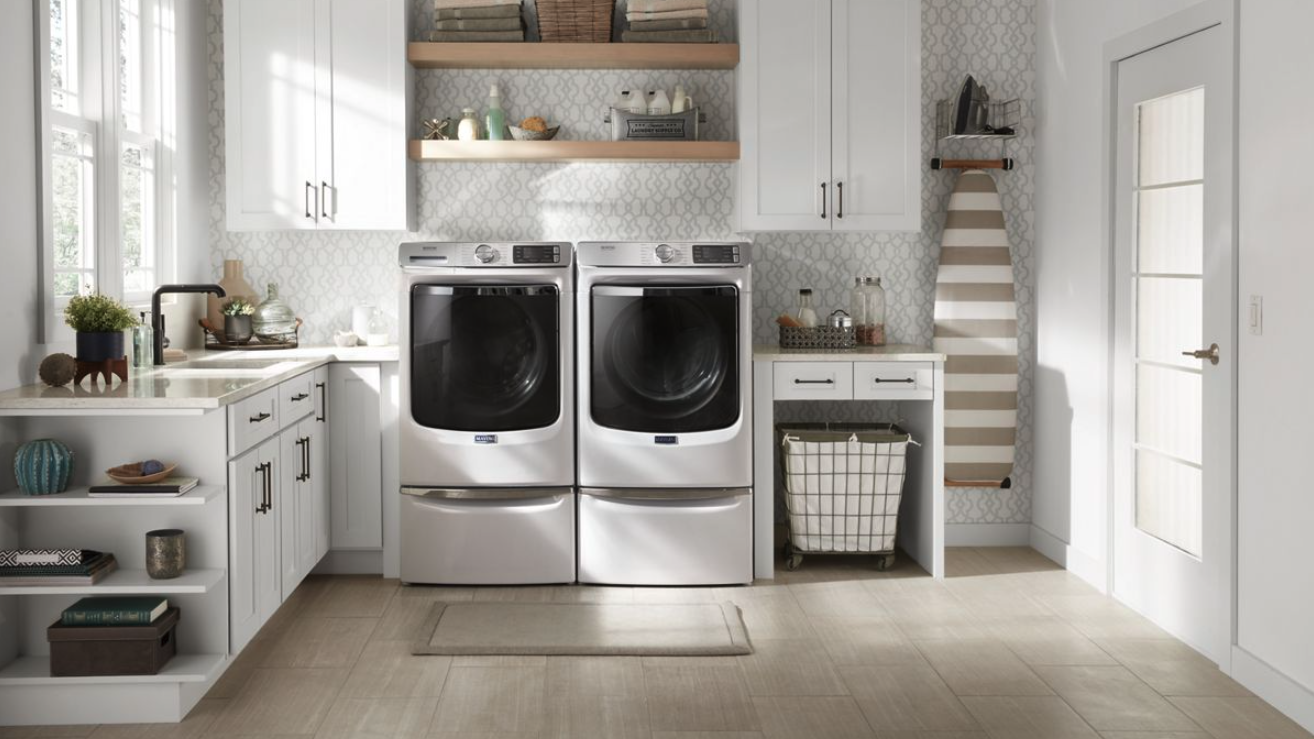 Maytag's MHW8630HW is expensive at £1,399, but packs in an incredible amount of features to justify its high RRP. It has a high quality finish and premium parts including a stainless steel drum, direct drive motor and is Maytag's first foray into smart appliances so has loads of convenient features using the Maytag app. It also squeezes in steam, sanitise and quick modes as well as an option that will keep your laundry smelling fresh when left inside for up to 24hrs.
The downsides are that it has a high bar to entry, costing $1,399. Users also noted you can't alternative between detergents easily when using the auto dispenser drawer, which makes it difficult to cater for people in your household with different detergent needs, such as powder instead of the liquid detergent.
Some customers also noted the detergent drawer was prone for mold building up, so would require removing and cleaning it and letting it air out after each wash. This makes it likely to take a bit of maintainence to keep it in tip-top condition and is not something we'd expect to see from a washer with such a high RRP.
These drawbacks aside, the Maytag's MHW8630HW is otherwise a well built machine, quiet and comes with a fantastic set of features. Be sure to check out the comparisons to our Best washing machines of 2023 below too, and see if there is a better option that caters for your specific needs.
How does the Maytag MHW8630HW compare to competitors?
The Samsung WF42H5000AW was recently named our 'Best front loading washing machine'. At $700 it's almost half the price of the Maytag MHW8630HW and you do get a lower specification as a result: boasting a 4.2 cu. ft capacity drum, has fewer cleaning cycles with just eight to choose from and also omits any Smart or Steam features. If you're on a tight budget the Samsung WF42H5000AW would be a good one to consider
The LG WM9500HKA (opens in new tab) was named our 'Best large capacity washing machine' and has a 5.8 cu. ft capacity, 16% larger than the Maytag on test here. It also has an identical number of cycles to choose from at 14 and a steam function, though the machine can't be stacked. It does however have smart features, but as it costs $2,000 we'd expect it to have all of the bells and whistles.
The Electrolux EFLW317TIW (opens in new tab) is a front-loading model that we named our 'Best value washing machine'. The positives of this model are it's more budget-friendly at $999 (often discounted down to around $764) and it's very energy efficient too. The drawbacks are there's no quick wash option, there's a basic five cycles to choose from and its capacity is notably lower at 4.3 cu. ft. But if you don't need all of the latest hi-tech gadgetry this would be a great option.