Miele's KM6320 is a top-of-the-range induction cooktop with a three zone PowerFlex cooking area for fantastic versatility and performance. It looks stylish with its black ceramic glass top and Stainless Steel frame. It also has a touch pad to control settings and is jam-packed with useful features that we'll explain in more detail in this review.
Miele KM6320: Key specs
Price: $2,599
Dimensions (WxHxD): 24.6×4.8×21.4"
Burners: 3
Heat type: Induction
Weight: 39 lbs
Energy rating: Up to 7,400W
Warranty: 1 year parts and labor
German appliances company, Miele, was founded in 1899 starting out with 11 employees, four lathes and a drilling machine to make cream separators and butter machines in Herzebrock, Germany. Fast forward to the present day and Miele is a global supplier of home appliances with a revenue of nearly $6 billion dollars. With such an impressive pedigree it's no surprise that Miele appliances regularly enter into our Best electric cooktops buying guides. 
Let's dive into the features and specification of the Miele KM6320 and compare it against user reviews before making a judgement on whether the KM6320 induction cooktop is good value for money.
Miele KM6320: Design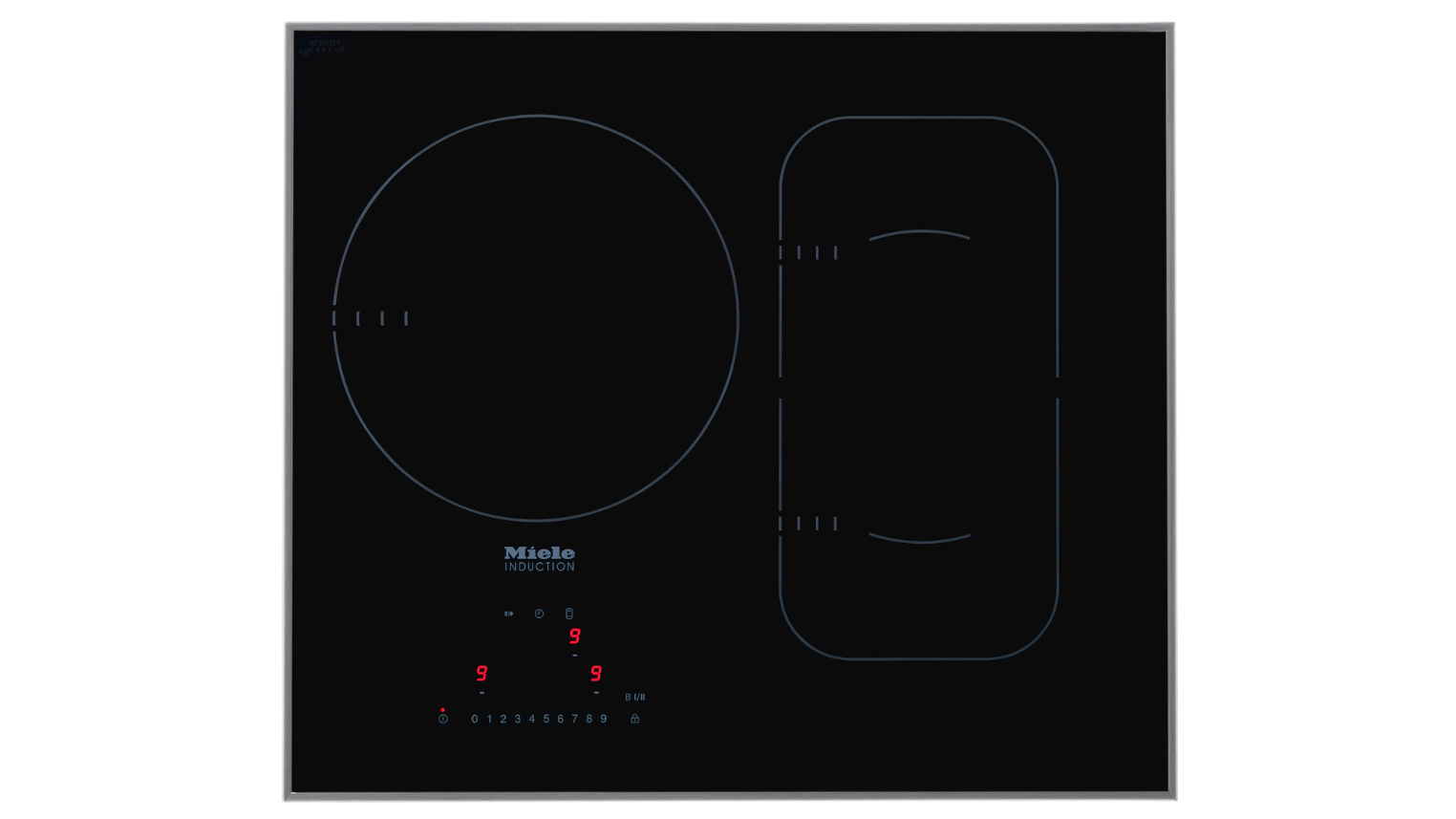 The Miele KM6320 comes in just the one colorway: black with an easy clean ceramic glass top. It has dimensions of 24.6×4.8×21.4" though if you want to mount it proud then the width will be 22.4" and the depth will be 20.5". It also weighs 39 lbs and has a stainless steel frame for a premium finish.
The Miele KM6320 is a 24" induction cooktop with multiple cooking zones. On the left you'll find the variable induction circular cooking zone that is a bespoke size between 180-280mm depending on the size of the pot or pan you place on it. It has a maximum energy rating of 2500W (3100W with the booster).
The second cooking area on the right is the PowerFlex bridge that has a size of 230x390mm and a maximum energy rating of 3550W, going up to 5000W with the booster, or 7700W with the TwinBooster!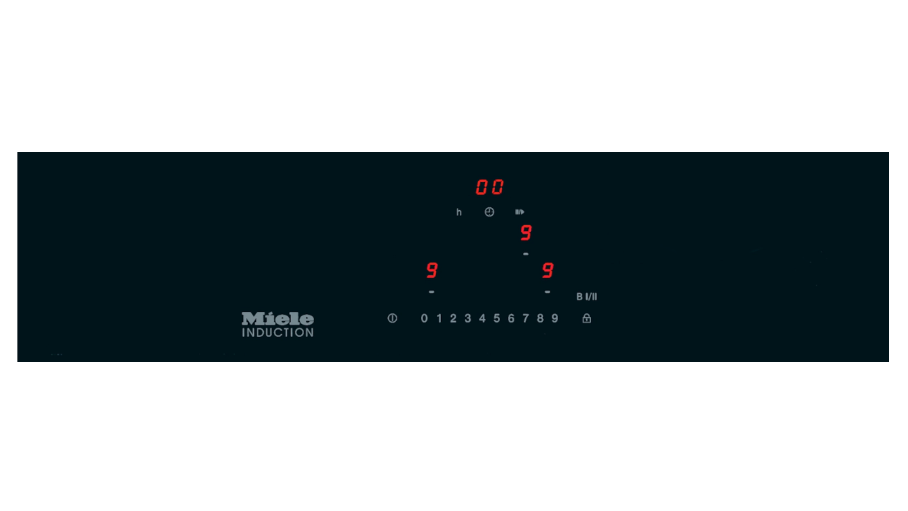 Settings can be changed using the touchpad sensors in the bottom left which has a display with red text against black, making it easy and clear to read.
Using the TwinBooster you can concentrate the power to heat your pots and pans up faster. TwinBooster is exclusive to Miele and helps target the induction heat to where it needs to be and can also combine two cooking zones into one for even better performance.
It also boasts pan size recognition so that energy is only used where it needs to be used and will accommodate awkward and odd pan shapes and sizes.
You can also keep dishes warm as the cooktop will intelligently monitor the temperature in the base of the pan to keep food at serving temperature without burning it.
The EasyClean ceramic glass also stays relatively cool making it safer and easier to clean too. Miele claims "Ceramic glass is very easy to clean. Splatters and other types of staining are easy to remove thanks to the smooth surface. It is particularly easy with induction cooktops as the surface remains relatively cool and hardly anything can burn onto it".
Miele KM6320: Features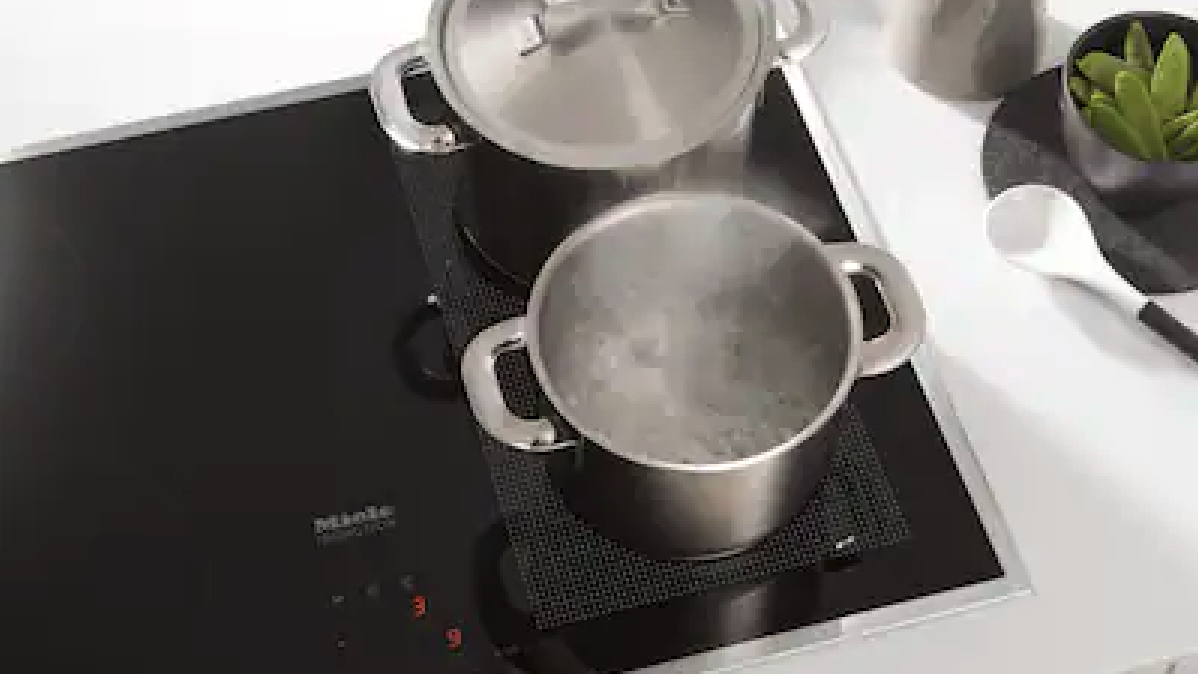 As a premium cooktop demanding absolute top-dollar at $2,599 (ouch!) you can bet the Miele KM6320 comes fully loaded with features. 
Large cookware can be heated quickly and easily using the PowerFlex multi-zone induction which is both versatile and flexible, changing size depending on how large or small your pots and pans are for better cooking efficiency.
It also boasts Miele's Con@ctivity which means a Miele cooker hood (also with Con@ctivity) can communicate with the Miele KM6320 wirelessly over WiFi to select the best fan setting which Miele claims will "ensure the optimum room climate at all times" and means you don't have to faff around with cooker hood settings when you need to be concentrating on making your meals.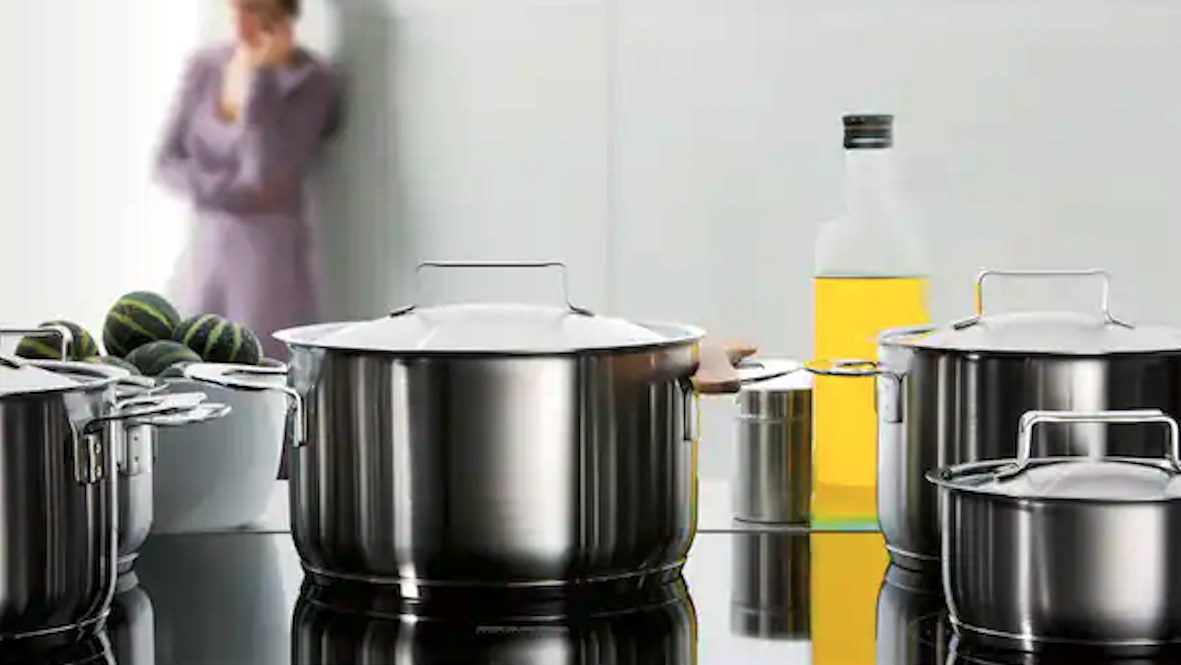 Then there's the Auto Heat-up setting which reduces the initial power boost to prevent burning. This Miele automatic setting turns down the heat from its initial power (for fast heating up) to a lower temperature (for further cooking). This is designed so that you won't forget to turn down the heat in time, and food will not burn and to also save energy.
There's a Keep Warm function to prevent cooked dishes from going cold. The Miele KM6320 monitors the temperature in the base of the pan and food is kept at serving temperature without it burning. 
Using the cooktop timer you can set the duration for your cooking zones separately so that they switch off automatically, or you can use the minute minder independently of the cooktop functions.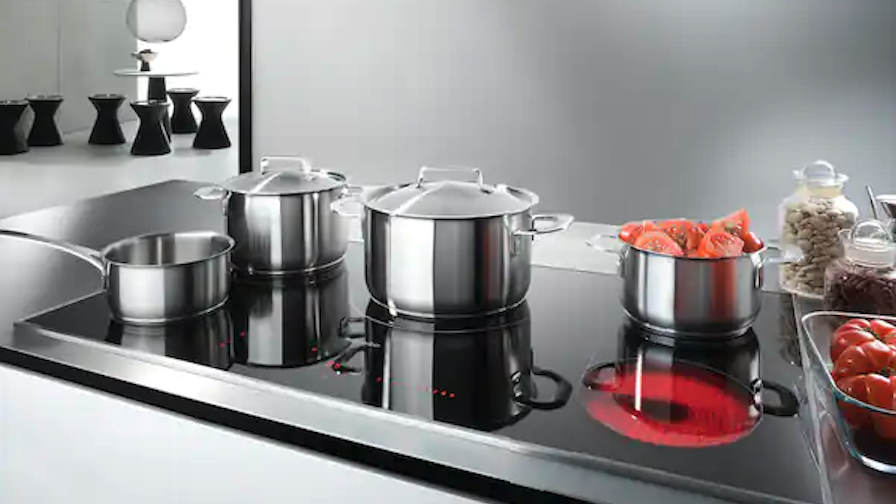 There's a whole raft of features specifically with safety in mind. Firstly, there's the Stop & Go function which allows you to reduce power to the entire hob with a single button press so that you can for example quickly answer the door. Miele claim in this mode "the cooktop can be left unattended for a short period without food overcooking or burning". When you return to the Cooktop, the previously set power levels can be reactivated with another single button press. 
There's also built-in overheating protection which switches off the heating elements automatically if the appliance detects extreme use to prevent components or the ceramic glass overheating. If liquid or another item gets onto the surface by accident the cooktop will also automatically switch off to prevent damage.
If the Miele KM6320 doesn't detect a pan on the hob then the cooktop will be switched off and if the cooking zone is left on for an unusually long time it will also be switched off.
A few last safety features worth pointing out are the Safety and System Lock functions. These both prevent accidental or unauthorized activation. The safety lock prevents inadvertent changes to your power settings while the system lock is designed to prevent accidental switch on by children.
Miele KM6320: Price and availability
The Miele KM6320 comes in black-only with a stainless steel frame for $2,599. At the time of review it was out of stock on the official Miele website, though AJMadison did have stock and listed it at $2,599 and currently had a rebate of up to $2,100 when buying multiple Miele products.
We also noted retailers including Designer Appliances, Abt and Big Centric had stock.
Miele KM6320: User reviews
With a strong average score of 4.5 out of 5 across several major retailers, most users praised the speed of the Miele KM6320, as well as the sleekness of its design. Several users praised the Stop & Go function, which enabled them to leave the kitchen unattended without the worry of burning anything.
There were no glaringly negative reviews, but the lack of a hot surface indicator could be an issue for some. The automatic shut-off that kicks in when the hob has been on for an unusually long time could be helpful in some situations, but a hindrance if you're intending to slow-cook over several hours
Miele KM6320: Expert reviews
Amber Nolan, freelance writer for Treehugger.com had the following to say about the Miele KM6320: "For eco-friendly cooking, an induction cooktop is an efficient option that doesn't require fossil fuels. This drop-in burner by Meile is compact, measuring 24.6 x 21.4 x 4.1 inches, and easy to clean thanks to its smooth surface.
"It has three cooking zones to accommodate different sizes of pots and pans, and you can even combine two of the zones into one to create a larger cooking area. It has digital controls, and recognizes the size of pans. Safety features include an indicator light to alert you when the cooktop is hot, overheat protection, and a safety shut-off".
Tom Hopper, from Kitchens at Miele GB has the following to say about the Miele KM6320: "Ideal for those who do not want to compromise on aesthetic or functionality, this stylish hob features three cooking zones and one PowerFlex Zones, ideal for cooking using larger pans.
"In addition, TwinBooster technology delivers extra power when needed. What's more, Miele's exclusive Conn@ctivity 2.0 technology allows users to fully concentrate on cooking, as the wireless hob to hood communication automatically adjusts the extraction power of the hood."
Should you buy the Miele KM6320?
While the Miele KM6320 is a premium product with a solid set of features for an induction cooktop its pricing left us scratching our heads. Even for a premium model, its asking price of $2,599 is extremely high and only one to consider if you have money to burn.
A competitor such as Samsung's NZ30K7880UG is also a top-of-the-range cooktop costing $2,159 but offers a similar range of features to the Miele, plus has the added benefit of smart app features and a nifty virtual flame. So if you've got a few thousand dollars to spend on a cooktop it would certainly be worth considering the Samsung.
Perhaps retailer discounting is yet to kick and hopefully over time and through its lifecycle the Miele KM6320 will come down in price to make it more competitively priced against other premium cooktops such as the aforementioned Samsung NZ30K7880UG. 
The Miele KM6320 is a solid cooktop made by a reliable and quality manufacturer and we loved features such as auto heat-up, keep warm and the flexible cooking zones as well as the efficiency that comes with the auto pan size detection. It also excelled when it came to safety features though it demands an extremely high price for it and at $2,599 there are better value options on the market (see comparisons below).
Miele is known for rigorously testing its products for 20 years worth of wear and tear, so if you bought a Miele KM6320 and it lasts for several decades then it would be good value but obviously we can't guarantee this and the warranty dissappointingly only covers one year parts and labor.
How does the Miele KM6320 compare to competitors?
The LG LCE3010SB Electric Cooktop was named our 'best electric overall cooktop' and has a total of five cooking zones and an RRP of $1,199, though can often be found discounted down to $899. It's a 30″ model (36″ option also available), boasts touch controls, an automatic shut off and a warmer function. It ticks most of the boxes you'll need from a cooktop and is 65% less than the Miele KM6320.
We gave the Frigidaire Gallery FGIC3066TB 4.5/5 stars and named it our 'best low-price induction cooktop' in our Best induction cooktops 2023 buying guide. It has four cooking zones as well as a bridge element, power boost and nine temperature settings. Like the Miele, it has pan size detection, though its burner areas are quite small. At $799, this Frigidaire model is incredible value for money.
Samsung's NZ30K7880UG Induction Cooktop was named our 'best high-end induction cooktop' and had plenty of modern features to justify its high $2,159 price. Though expensive and sitting at the top end of the cooktop market, it's still notably less expensive than the Miele. Samsung's offering has flexible zones, WiFi and app connectivity as well as virtual flame technology which mimics a real flame so you can easily see which surfaces are currently switched on at any time.