Nespresso is one of the go-to brands for convenient capsule coffee, and the brand has recently launched the top-of-the-range Nespresso Vertuo Creatista. 
Nespresso make two different style machines – one for its original coffee capsules and another for the newer Vertuo capsules. These Vertuo capsules incorporate an innovative technology whereby the machine reads a barcode on the capsule, then adjusts its brew settings according to the capsule you've inserted. It's clever stuff.
This is the best Vertuo model available right now and is packed with all the brand's latest features, so it's a surefire contender for inclusion in our best coffee makers guide. It's also the only machine to incorporate an automated milk wand and the build quality of this professional-looking, stainless steel machine elevates it above all the other plastic Nespresso Vertuo models you can buy. Put simply, it looks great on the kitchen counter.
However, all this technology comes with a hefty price tag, and it's the biggest Nespresso coffee maker we've seen. You'll need plenty of free counter space, then, but does it live up to its promise of being the best Nespresso Vertuo machine money can buy, or is it convenience over flavor? Keep reading to see our verdict.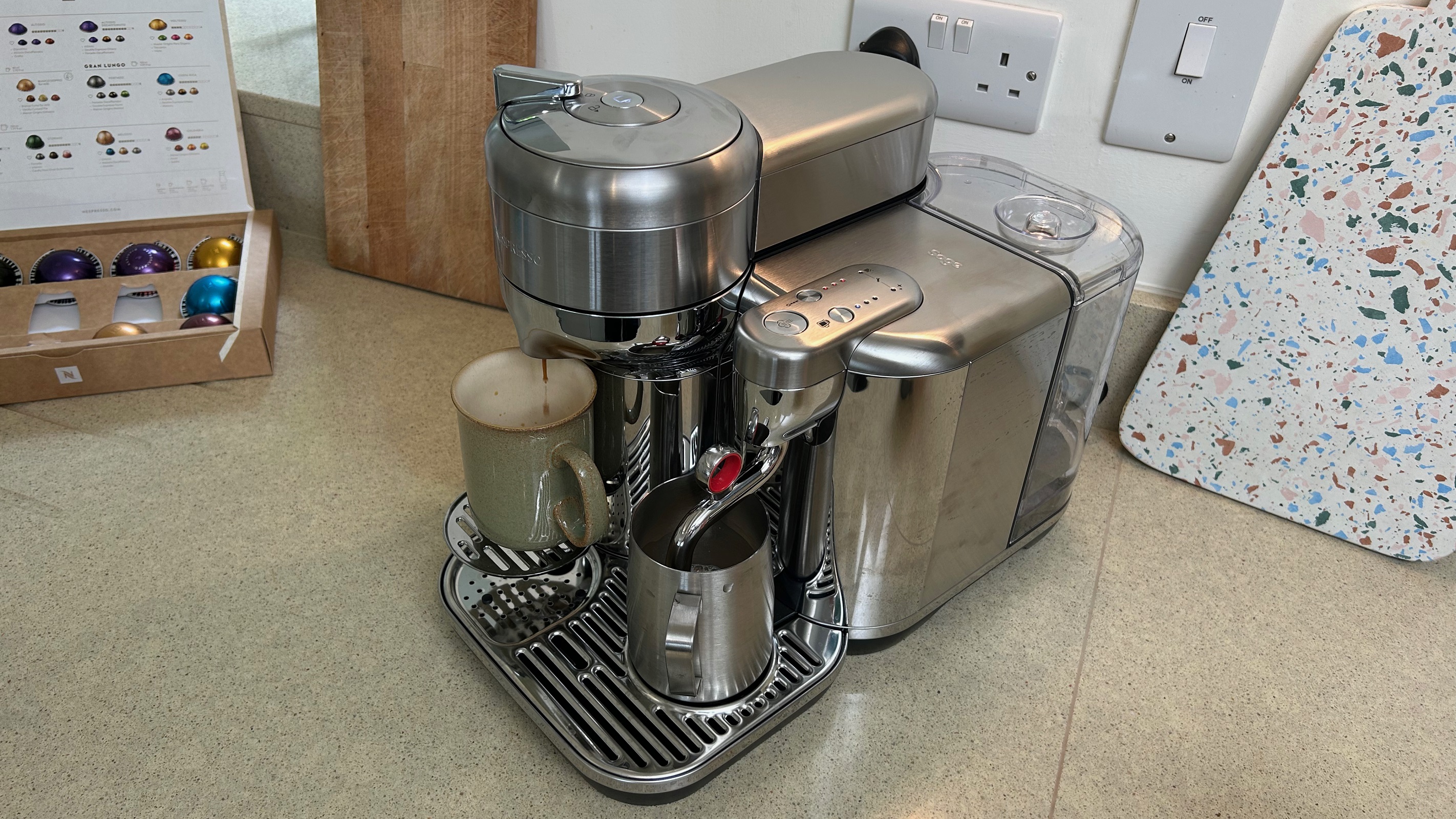 Nespresso Vertuo Creatista: Product specifications
Type of coffee: Nespresso Vertuo capsules
Milk frother: Yes
Brew size options: espresso, double espresso, gran lungo, coffee / mug, XL / alto, carafe
Water tank capacity: 67.6 fl oz / 2 liter
Milk capacity: 8 fl oz / 240ml 
Color: Stainless steel 
Material: Plastic, stainless steel 
Dimensions: 12.7 x 9.6 x 16.4 in / 32.2 x 24.5 x 41.7 cm (h x w x d)
Weight: 15lb / 8.7kg
Helen has tested hundreds of coffee machines in her 10-plus years of reviewing appliances. However, it's only in the last three years that she's developed a daily habit and, during that time, she has jumped into the world of coffee with both feet. She now has two specialty coffee subscriptions and uses a Breville espresso machine daily to create a flat white or a cappuccino. She's yet to master latte art, however, which is a continued frustration.
Helen used the Nespresso Vertuo Creatista at home for a week, and while she enjoyed the convenience and could appreciate the quality of this machine, she missed the flavor and rich crema she usually enjoys from her usual espresso machine.
Nespresso Vertuo Creatista: price and availability
The Nespresso Vertuo Creatista is the most expensive Nespresso Vertuo coffee machine at the time of writing. It'll set you back an eye-watering $749 / £649, which is at least three times the price of some of the cheaper Nespresso Vertuo machines.
The machine is available directly from Nespresso or Amazon, as well as other independent appliance retailers.
Nespresso Vertuo capsules are also available direct from Nespresso, and they start at $0.98 / £0.48 per capsule, but prices vary depending on the size and type of coffee you choose.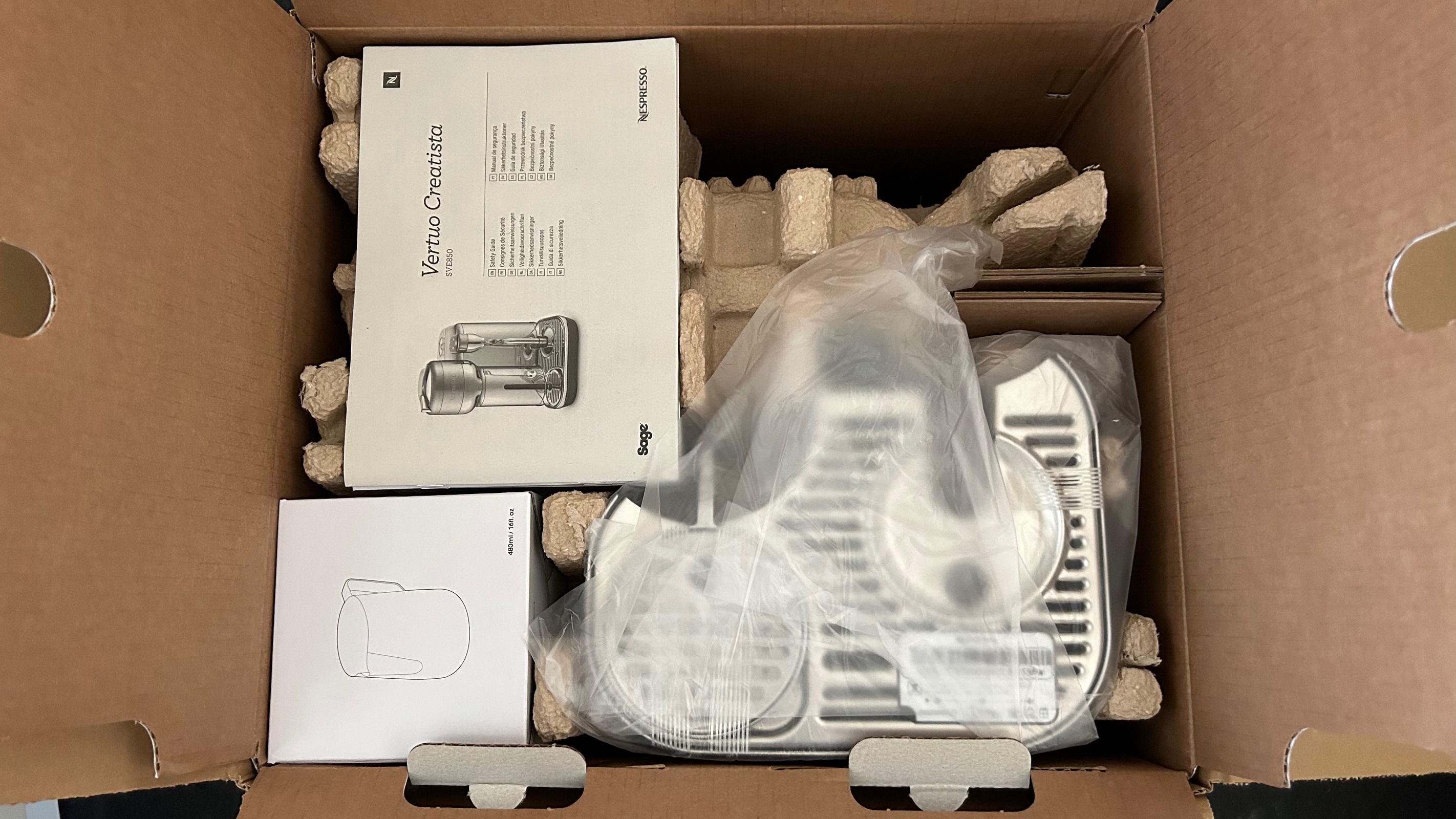 Nespresso Vertuo Creatista: first impressions
Apart from the outer plastic bag, the Nespresso Vertuo Creatista arrived packed mostly in easy-to-recycle cardboard. And as a certified B Corp, it's clear that Nespresso has committed to reducing its environmental impact.
The coffee machine lifts out of the box virtually fully assembled and ready to go, and the only genuine assembly was getting the drip tray into position. However, the manual advises washing all the removable parts and performing an automated rinse cycle before you start.
This part was easy, simply filling the tank with water and pressing the coffee button three times within two seconds. This started an automatic rinse so that any dust or manufacturing residues inside the machine were rinsed into a container I'd placed on the drip tray. I then rinsed the milk wand using a similar automatic rinse.
Next, I downloaded the Nespresso app and connected the machine to my Wi-Fi. The app walks you through the process, so you just need to know your Wi-Fi password. Having the device connected means it'll automatically update, you'll be guided through performing maintenance, and you will even receive coffee-making recipes and tips. You can also order capsules from here, but overall the benefits and functionality provided in the app are limited.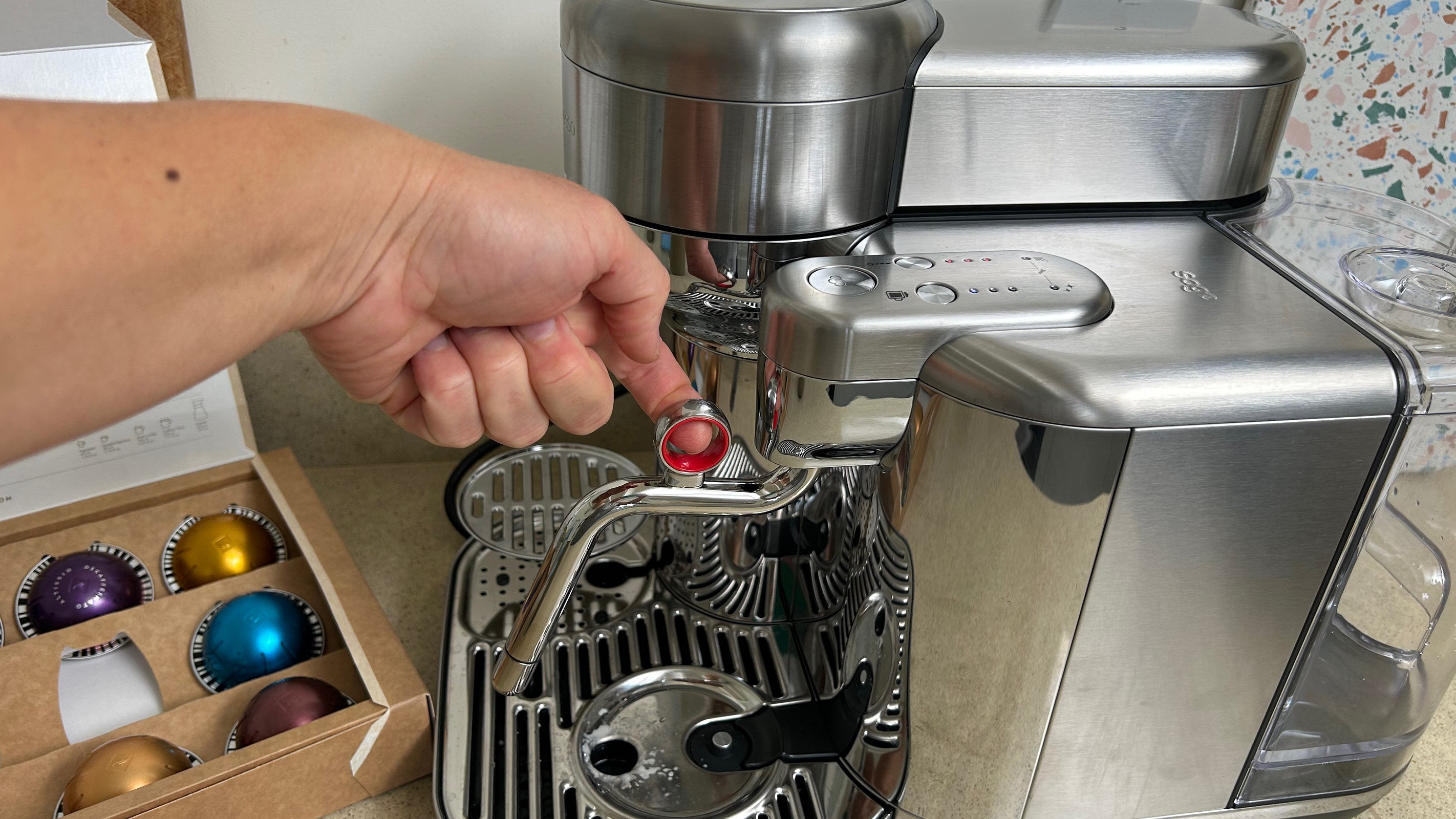 My first impression of the Nespresso Vertuo Creatista was that it's the biggest Nespresso machine I've ever reviewed, and I've tried most of them. It takes up as much counter space as some of the big bean-to-cup automatic espresso machines, which is surprising for a capsule coffee machine.
The second thing that struck me was the quality of this model in comparison to most of the other, usually-plastic, capsule coffee machines. Its robust stainless steel finish gives it a professional, modern, and streamlined appearance, and you'd never guess that this is a capsule coffee maker. Adds a barista-style steam wand and it looks more like an espresso machine than a capsule coffee maker.
It's immediately apparent that there has been plenty of attention to detail in the design, from the generous finger loop that allows the steam wand to be tilted upwards to the indent for your hand at the base of the removable water container. Nothing is clunky – everything is smooth, sleek, and well-considered.
The standout feature is, of course, the automated steam wand. But before you panic about learning barista milk frothing skills, know it's fully automated. All you have to do is place your milk jug on the drip tray – which includes a temperature sensor – then select one of three temperatures and froth levels. The machine automatically does the rest – you don't even have to hold the jug.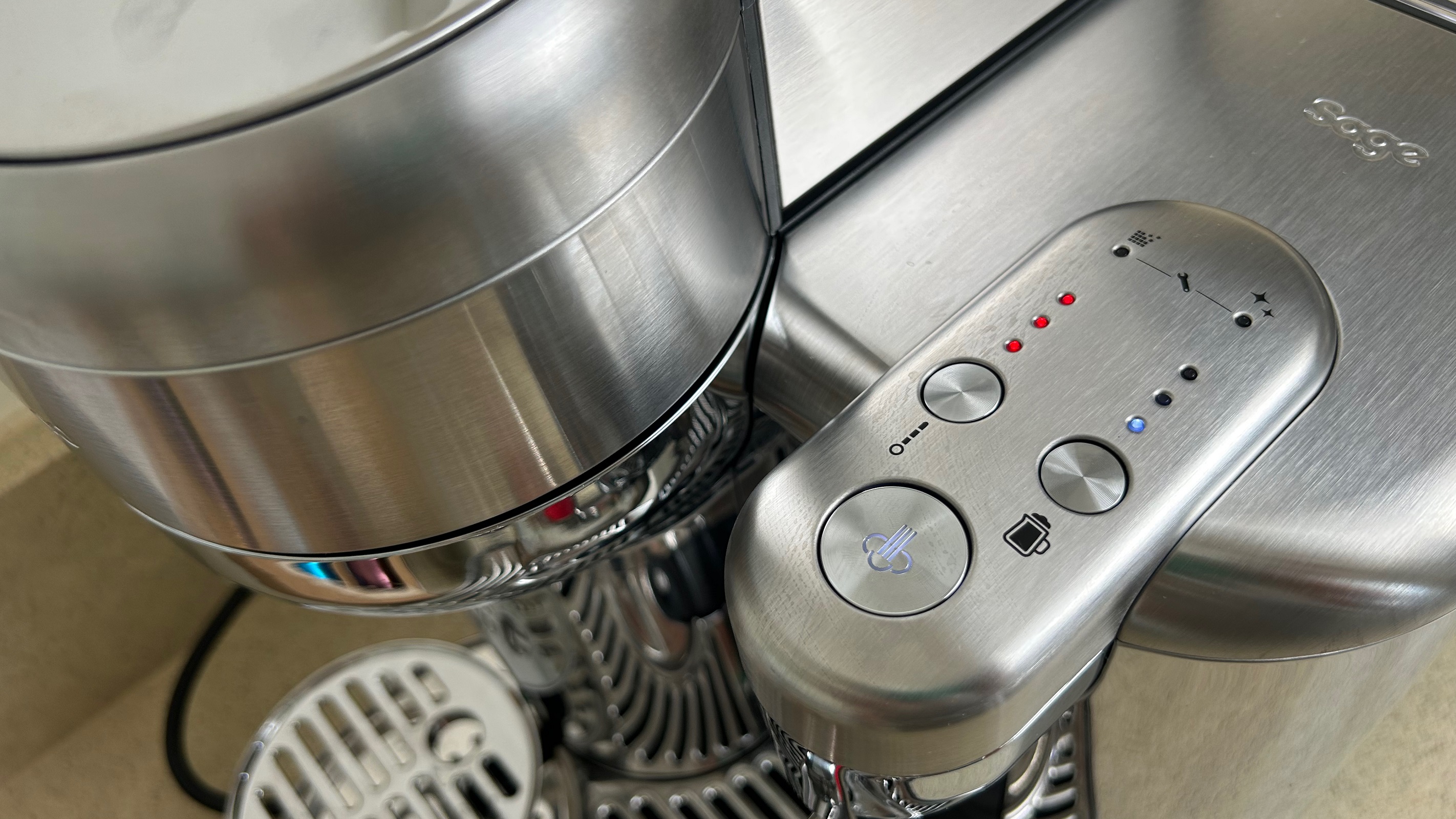 There's a similar ease to making coffee, too, with just one button whether you want an espresso, mug, or a carafe. The machine reads the barcode on the capsule, so it knows whether you've inserted an espresso capsule or mug capsule and automatically dispenses the correct volume of water. It then uses 'centrifusion' extraction technology to brew your coffee.
Nespresso Vertuo Creatista: user experience
Using the Nespresso Vertuo Creatista is really effortless. The hardest part of brewing a coffee is choosing your capsule, but then, by sliding the lever on top to the right, the brew head unlocks and lifts. Put a capsule in the slot, push the brew head down on top of it, and slide the lever back into the lock position. All you have to do then is press the button with a cup symbol, and it'll make your coffee. 
Next time you unlock the brew head, the used capsule is automatically ejected into the used capsule bin, which can hold 6-10 capsules, and pulls out from the side of the machine for easy emptying.
The cup support also has three different height positions, so if you're only brewing a shot of coffee, you can place your smaller espresso cup on the highest setting to avoid splashing. The lowest setting allows enough space for cups up to about 6 inches / 15.5 cm.
The initial heat-up takes around one minute. After this, it's ready to brew, and it'll make a single espresso in 55 seconds or a double in 75 seconds. If you want a larger coffee, the 5oz Gran Lungo takes around 1 minute 25 seconds, and the 8oz mug takes 1 minute 45 seconds. Brewing coffee maxed out my noise meter at about 78dB, but the sound level doesn't feel too loud or intrusive.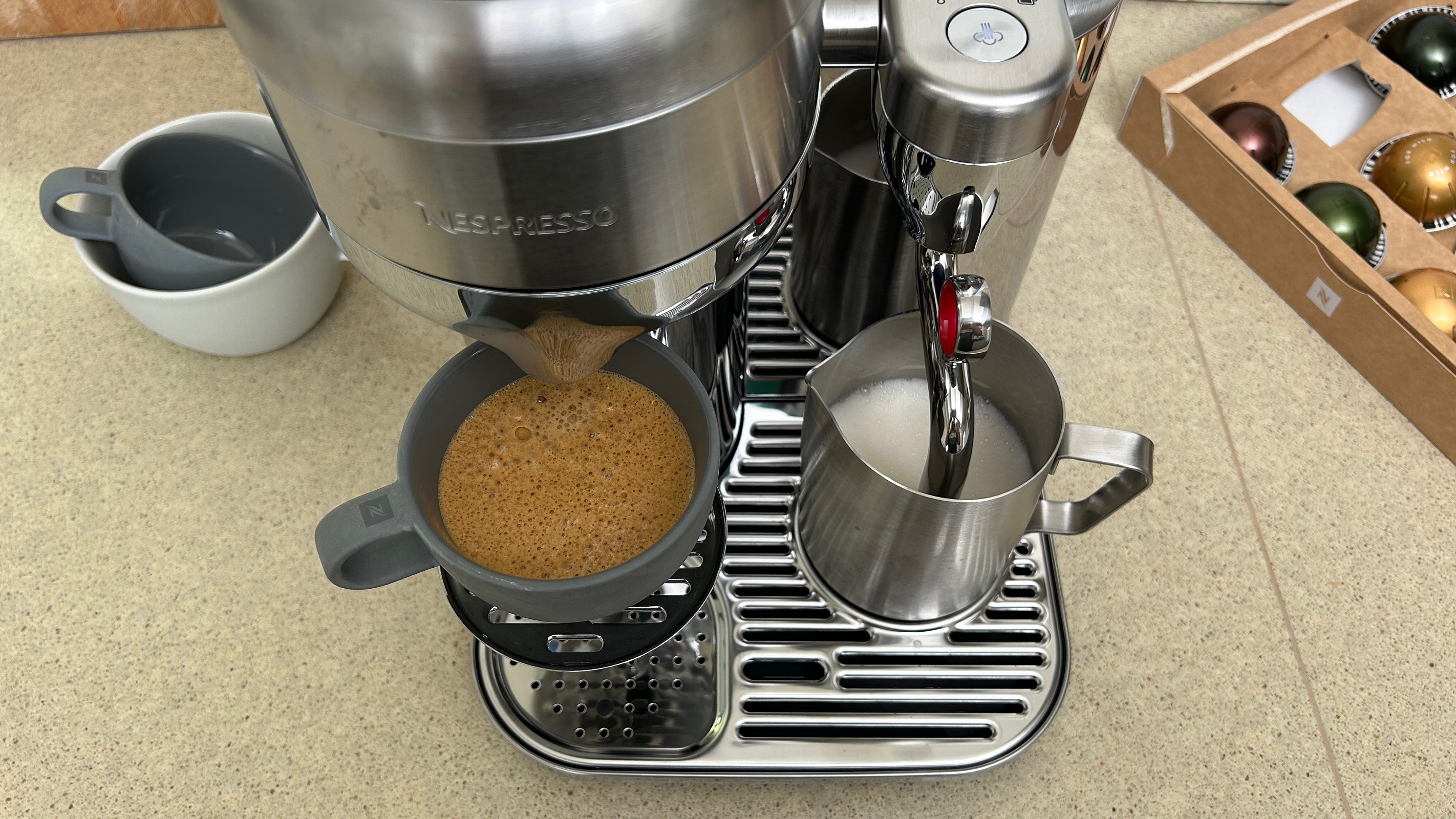 Unfortunately, there's no option to adjust brew settings, so you can't make the coffee hotter or stronger, but this is typical of a capsule coffee machine. During testing, most coffees hit the cup at between 140 – 160F, but the temperature will vary slightly between capsules.
You can adjust the milk temperature, however, with three options to choose from along with three foam levels. The milk was heated to about 140F on the lowest temperature setting, 155F on the middle setting, and 176F on the highest.
Using the milk wand is super simple, but it's worth noting that you can't heat more than 8 fl oz / 240ml at one time. Once the wand is in the milk jug and you've selected the temperature and froth level, press the steam button, and the coffee machine does the rest.
The milk texture is good, and the lower the foam level you choose, the more silky the microfoam it produces. On higher settings, it's a bit more bubbly, but the manual gives some advice on the settings for different coffee recipes, so you don't have to guess.
After the jug of hot milk has been removed, the milk wand automatically rinses, so you just have to wipe the outside. You can perform a more thorough rinse by placing it in a jug of water and holding down the steam button for 3 seconds to start the automatic clean.
Similarly, the rinse cycle I did when I first got the machine out of the box can be performed at any time. And when it needs descaling, it'll alert you with a light. As you'd expect, descaling is simple and automatic, but you have to be present to empty and refill the containers as needed.
Nespresso Vertuo Creatista review: taste test
Nespresso offers a wide variety of coffee blends, giving each combination an intensity rating for the strength of the coffee, and you can also read notes on flavor when buying. So the taste of the coffee will vary depending on the particular blend and intensity you choose.
I'm used to making my morning coffee in an espresso machine using ground coffee that I buy from a specialty roaster. For me, personally, there's no comparison in terms of flavor. Regardless of the blend (and I've tried several), Nespresso capsules always taste bitter to me. They lack the fruitiness and depth you get from a premium, freshly roasted, ground coffee, and I can rarely detect nuanced flavor profiles.
Having said this, it does depend on what you're used to. If you're happy with coffee from chain coffee shops or you're used to making it at home using vacuum-packed, store-bought coffee, you'll probably enjoy the flavor of the coffee from a Nespresso capsule – and plenty of people do. But if you're a coffee connoisseur, you'll likely find the flavor lacks depth.
Similarly, Nespresso Vertuo machines don't produce a thick, rich crema on top of an espresso. Instead, the crema is usually weak, thin, and bubbly. Again, you likely won't notice or even care if you're not an espresso fan. But a thick, rich crema is essential for the best barista-style coffees.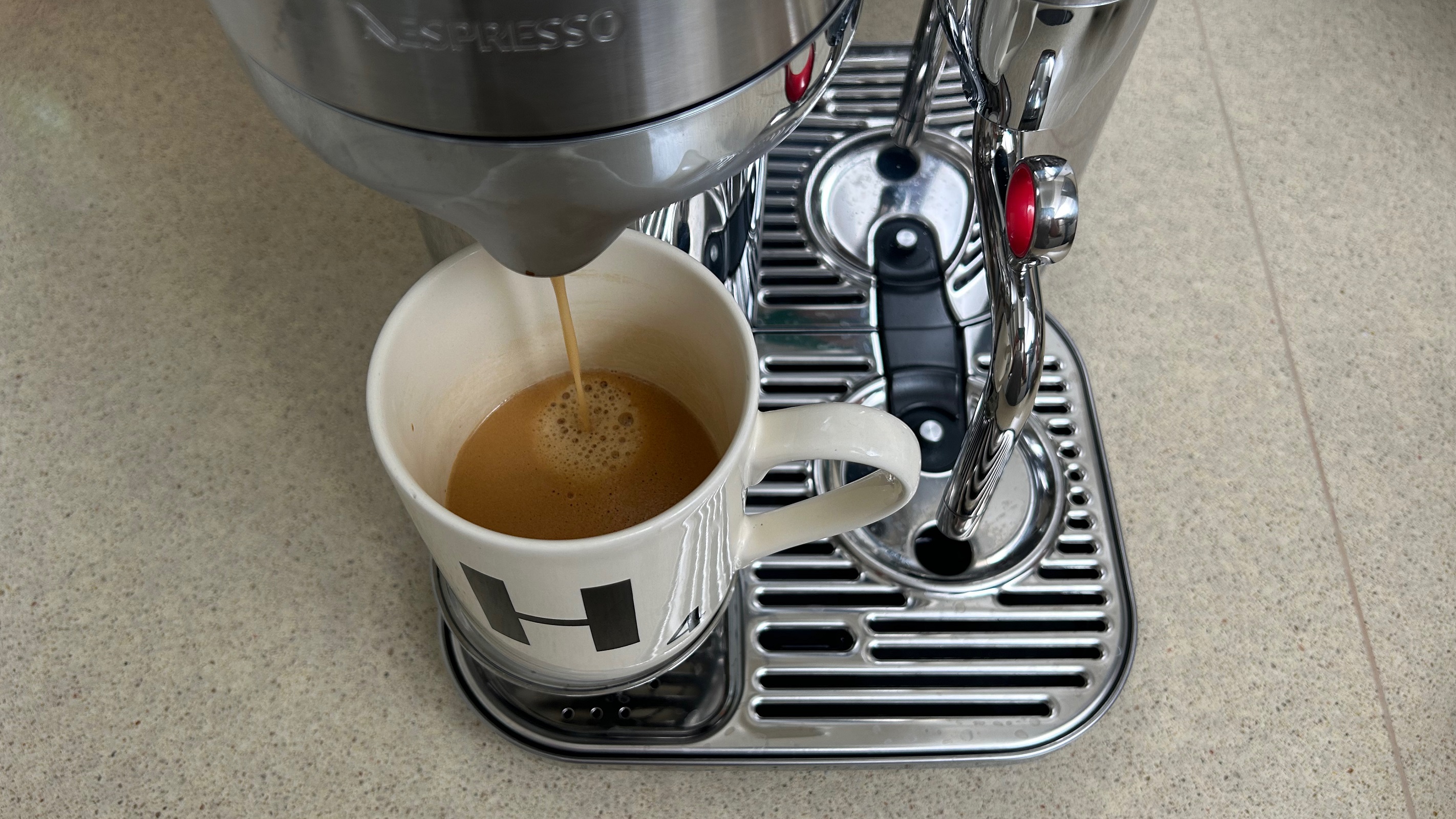 Should I buy the Nespresso Vertuo Creatista?
Buy it if…
Don't buy it if…
How does the Nespresso Vertuo Creatista compare?
If you're looking for a single-serve coffee machine but want to avoid the waste associated with using coffee capsules, it's worth considering The Scoop from Hamilton Beach. Not only does it create single-serve drinks using ground coffee instead of capsules, but it's also cheaper and more compact than the Nespresso Vertuo Creatista.
The Mr Coffee 12-Cup Coffee Maker is currently top of our best coffee makers guide, and, unlike the Nespresso Vertuo Creatista, this drip coffee maker will give you a carafe of coffee so you can keep refilling all morning. It's a good choice for larger households, and while it can't make barista-style coffees, it also offers excellent value for money.
However, if you want to create barista-style drinks, the De'Longhi 10-Cup Coffee Maker and Espresso Maker offers the best of both worlds. It can pour a carafe of drip coffee and deliver an espresso just as well. Furthermore, it's compatible with both ground coffee and capsules.
How I tested the Nespresso Vertuo Creatista
Used for a week in my own home
Tried most settings
Evaluated ease of use and cleaning
I used the Nespresso Vertuo Creatista in my own home to make my daily cappuccinos and flat whites, also trying out the larger coffee sizes. I mainly compared the flavor to my usual coffee, made in a Breville espresso machine.
I used a timer and thermometer to assess the drinks te Vertuo Creatista produced, making note of how easy it was to use and clean as well as any quirks that I noticed while it sat on my countertop.
Read more about how we test.
First reviewed: July 2023