The Ninja IG601 Foodi XL 7-in-1 Indoor Grill Combo might be the most expensive option on our round-up of the best indoor grills, but it definitely earns the price tag. With a grill plate that can reach up to 500 degrees Fahrenheit, it can help you get top results without having to fire up an outdoor grill. Serious home cooks are likely to find a lot to like here, as the Ninja IG601 can also be used as an air fryer and griddle, as well as settings to roast, bake, reheat leftovers, and even dehydrate ingredients.
We enjoyed the included booklet, which comes with guide times and temperatures for a variety of common foods. For a machine that can require a bit of a learning curve, this can help you to hit the ground running. Another feature that sets this indoor grill apart is the digital cooking probe, which allows you to choose your preferred level of doneness and leave the monitoring to Ninja's smart cooking interface.
During testing, we found that the Ninja IG601 offered a great cooking experience in each of the methods we tried, whether we were grilling meat, making grilled cheese sandwiches, pancakes, or using the air fryer to make snacks. Keep reading to see if it's right for you. 
Ninja Foodi IG601: Design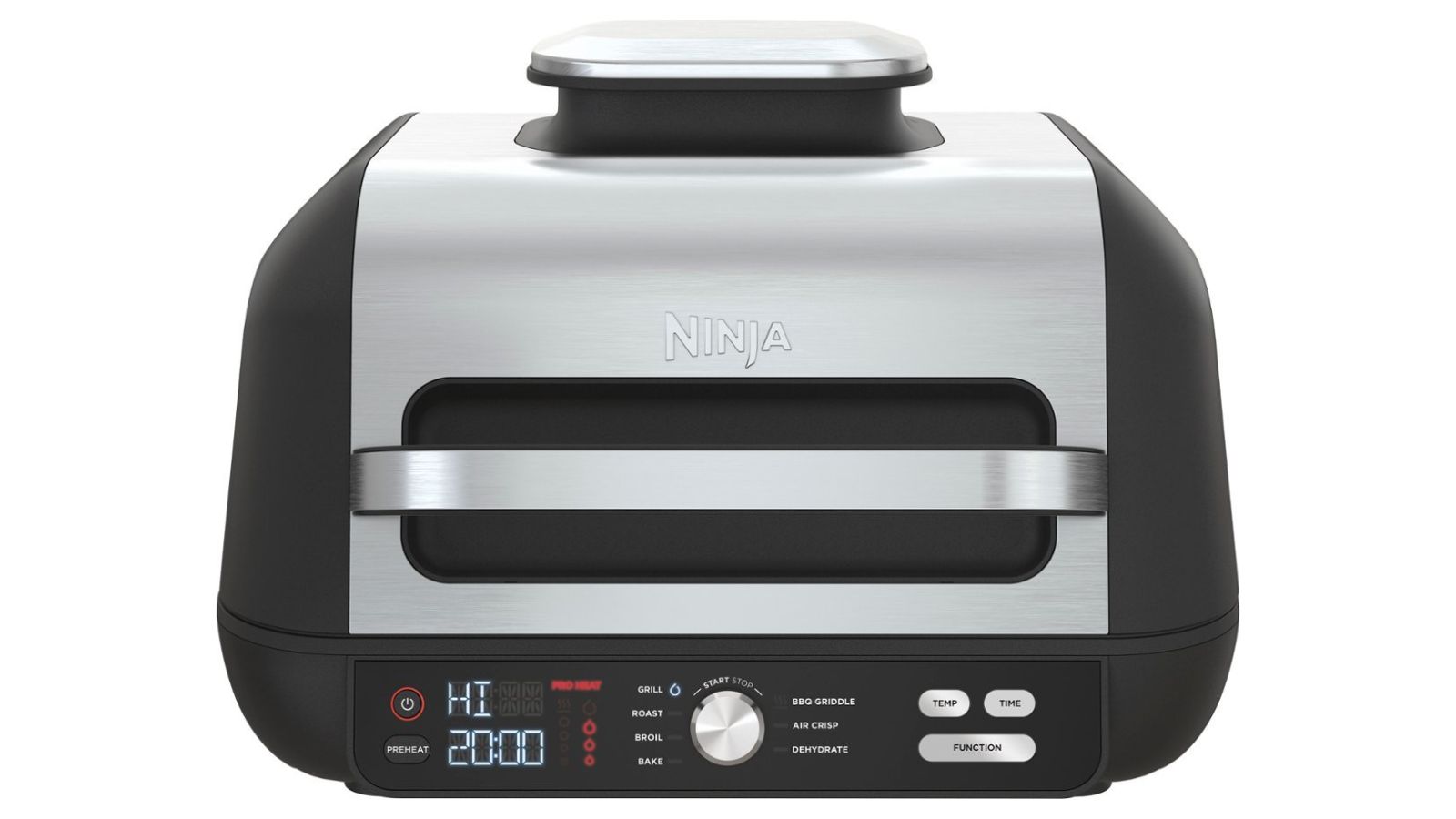 Capacity: Cook 4-6 portions, 3.8L Crisper Basket, Grill Plate fits up to 6 steaks, burgers or chicken breasts
Power (watts): 2460 W
Dimensions: 15.7″D x 17.4″W x 11.63″H
Weight: 12.4 kg / 27.5 lbs
Number of settings: 7 + customisation options for cooking time, temperature and doneness
Included add-ons: Grill plate, Griddle plate, 3.8 L crisper basket 
Dishwasher-safe trays?: Yes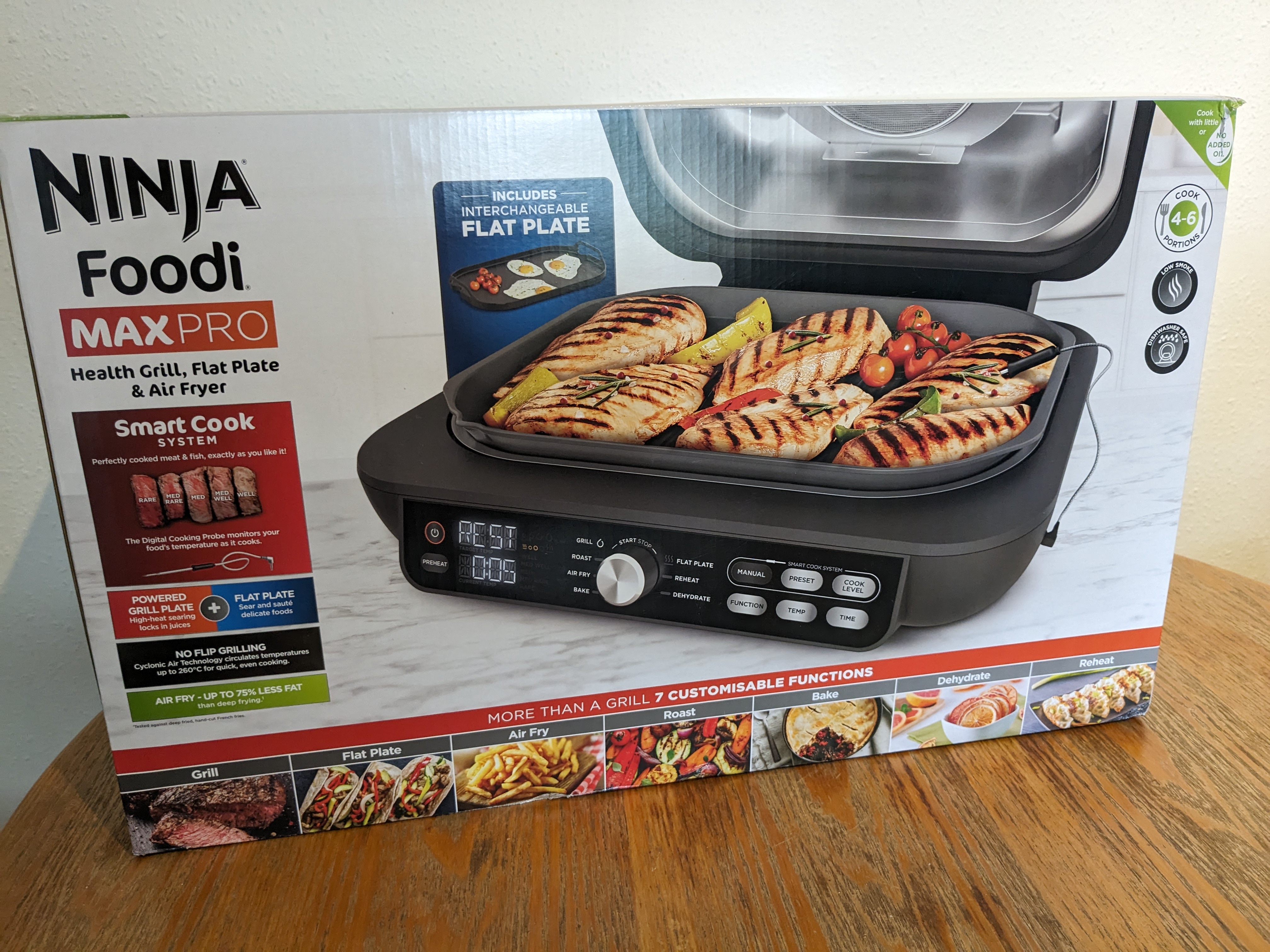 The Ninja IG601 takes up a significant amount of space, which is the downside of it being a 7-in-1 machine. Whilst it looks sleek when set up, the black and metallic unit requires a large surface, and it weighs a fair amount, too, especially once you add the grill plate. The included accessories are somewhat space-saving as they are stackable, though.
Using the grill is still fairly intuitive; installing the Powered Grill Plate is a simple case of clicking it into place inside the main unit, and accessories like the crisper basket or griddle simply sit on top of the grill during usage. Opening and closing the lid is easy and doesn't require any real effort, and the display is clearly labeled so it's easy to use.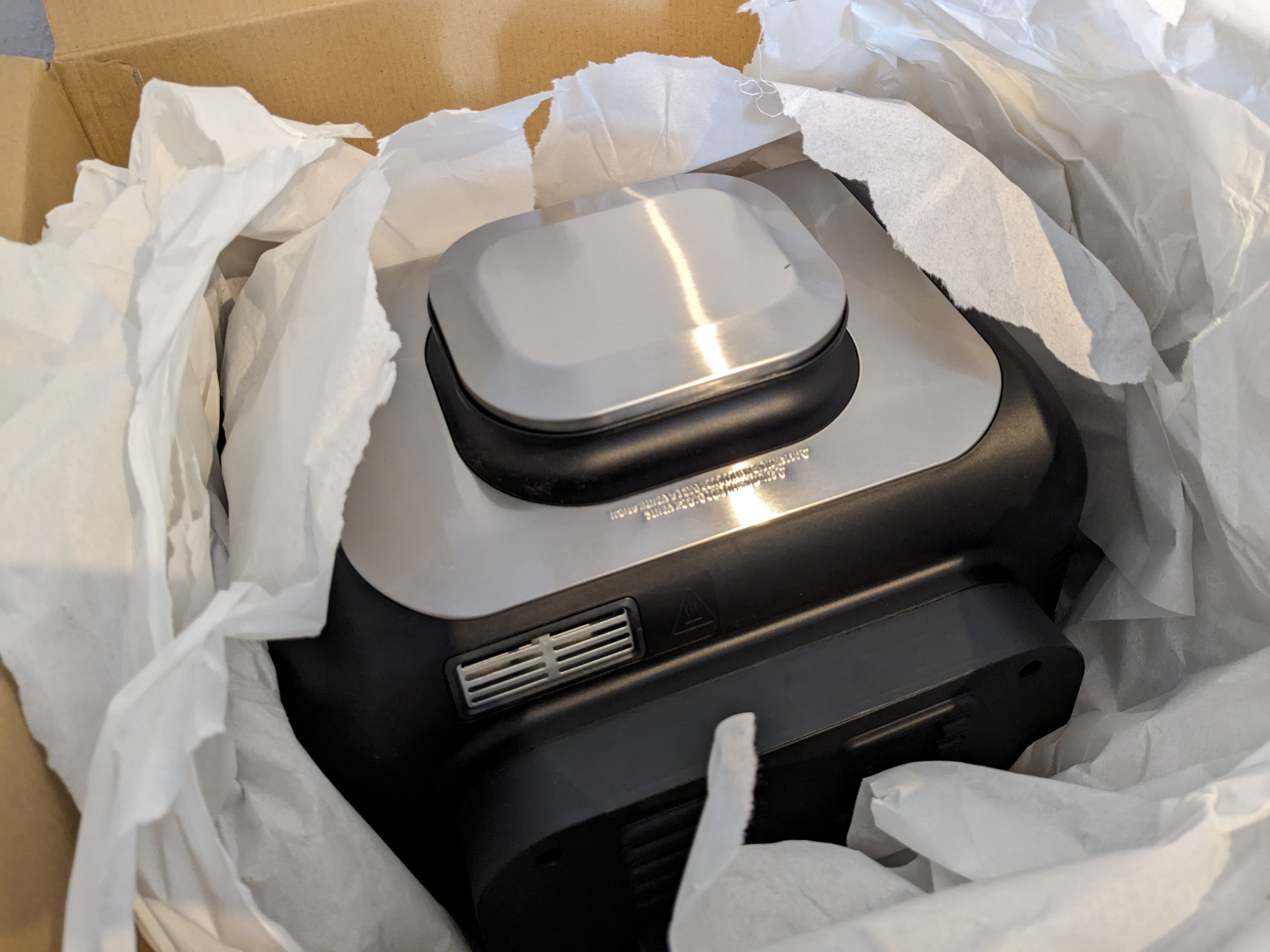 Ninja Foodi IG601: Features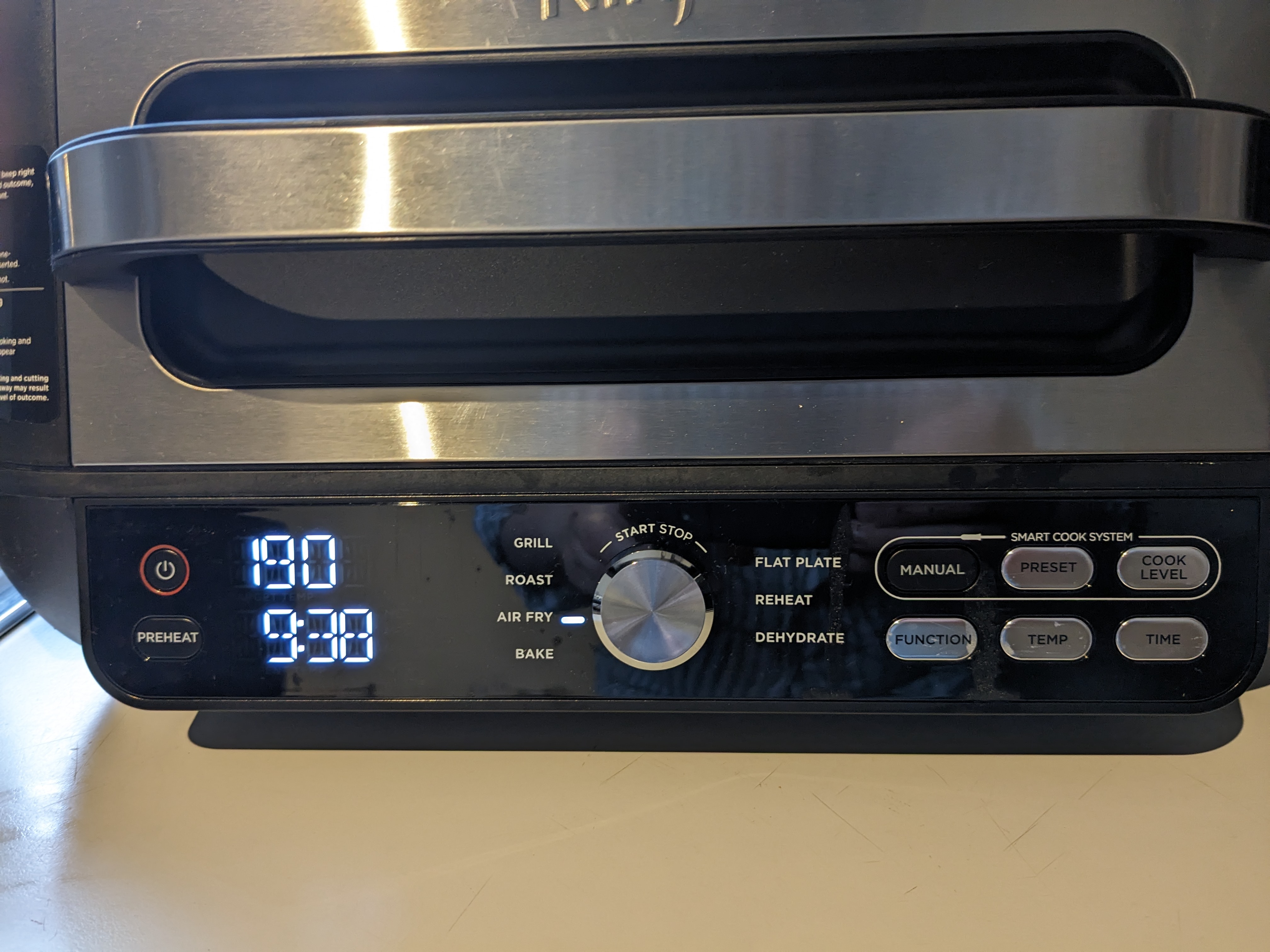 The Ninja IG601 Foodi XL 7-in-1 Indoor Grill Combo offers seven cooking options: grill, griddle, air fry, bake, roast, dehydrate and reheat, allowing you to make all kinds of foods from steaks to grilled cheeses and even baked goods like brownies and cookies. 
The unit comes with a display on the front with a dial that you use to select your cooking function or adjust settings like timings and temperatures. To select the temperatures or timings, just press the requisite button and then adjust the dial to your desired setting. Once you're all set, press the dial and the unit will start preheating (make sure you have the required cooking accessories in place first).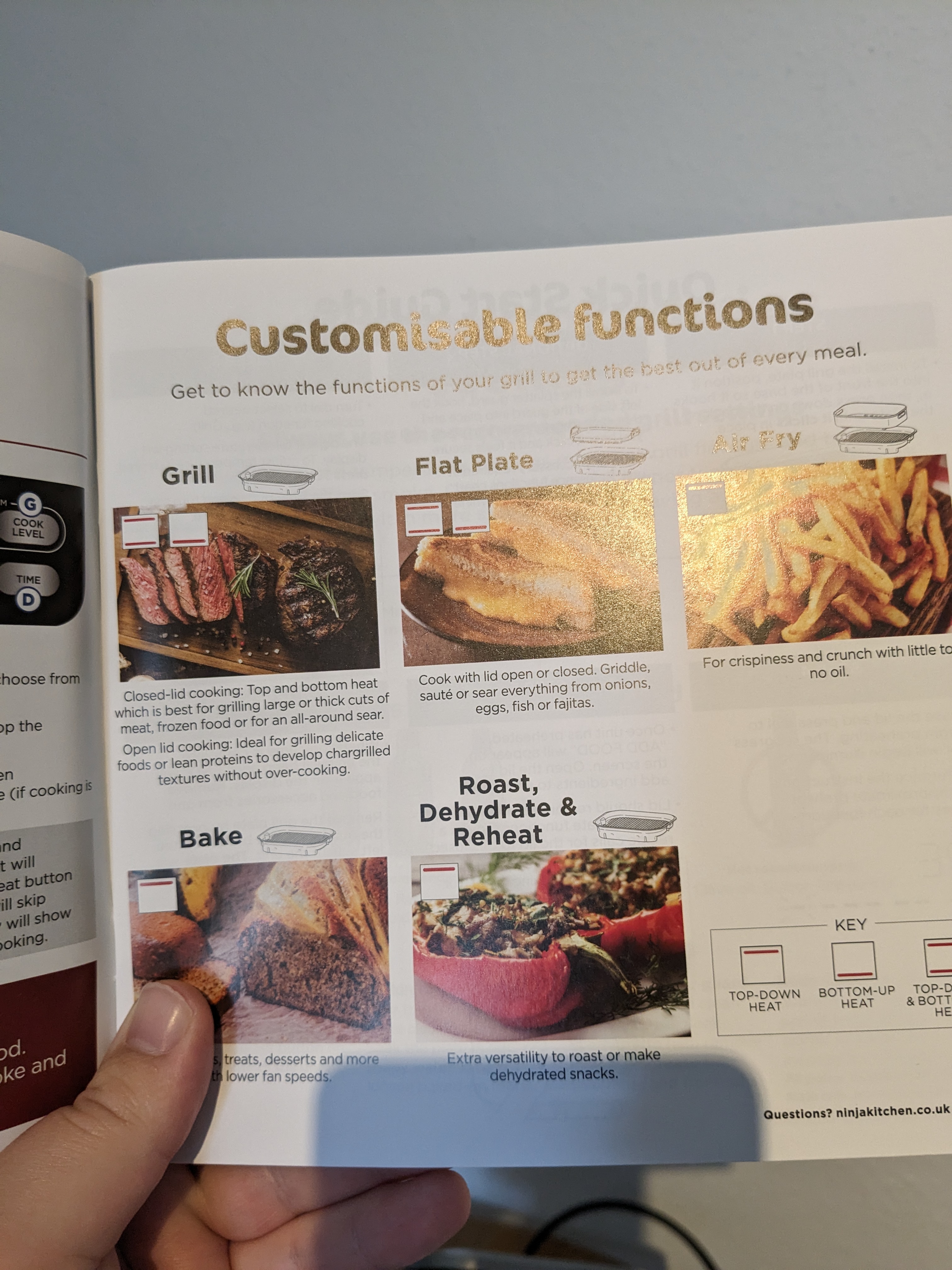 On the right side of the unit, you can also find the Digital Cooking Probe tucked away in a compartment (that is clearly labeled) To use it, you need to plug one end into the socket,  select the required cooking function, and then use the Preset and Cook Level buttons to select your preferred level of doneness, and set the unit away to preheat. Then, insert the probe fully into the thickest part of your meat, and add it to the grill with the probe fully inside the grill. 
If you're new to using an appliance like the Ninja IG601 Foodi XL 7-in-1 Indoor Grill Combo, the unit comes with full instructions and a Quick Start and Recipe Guide which clearly outlines how each of the unit's functions works, including step-by-step guides for using the Cooking Probe. In addition, the guide includes tips for reducing smoke indoors and suggestions for the right kinds of cooking fats to use, a table of recommended cooking times and temperatures for all kinds of foods and cooking functions, and even includes some sample recipes and suggestions for spice rub and marinade mixes.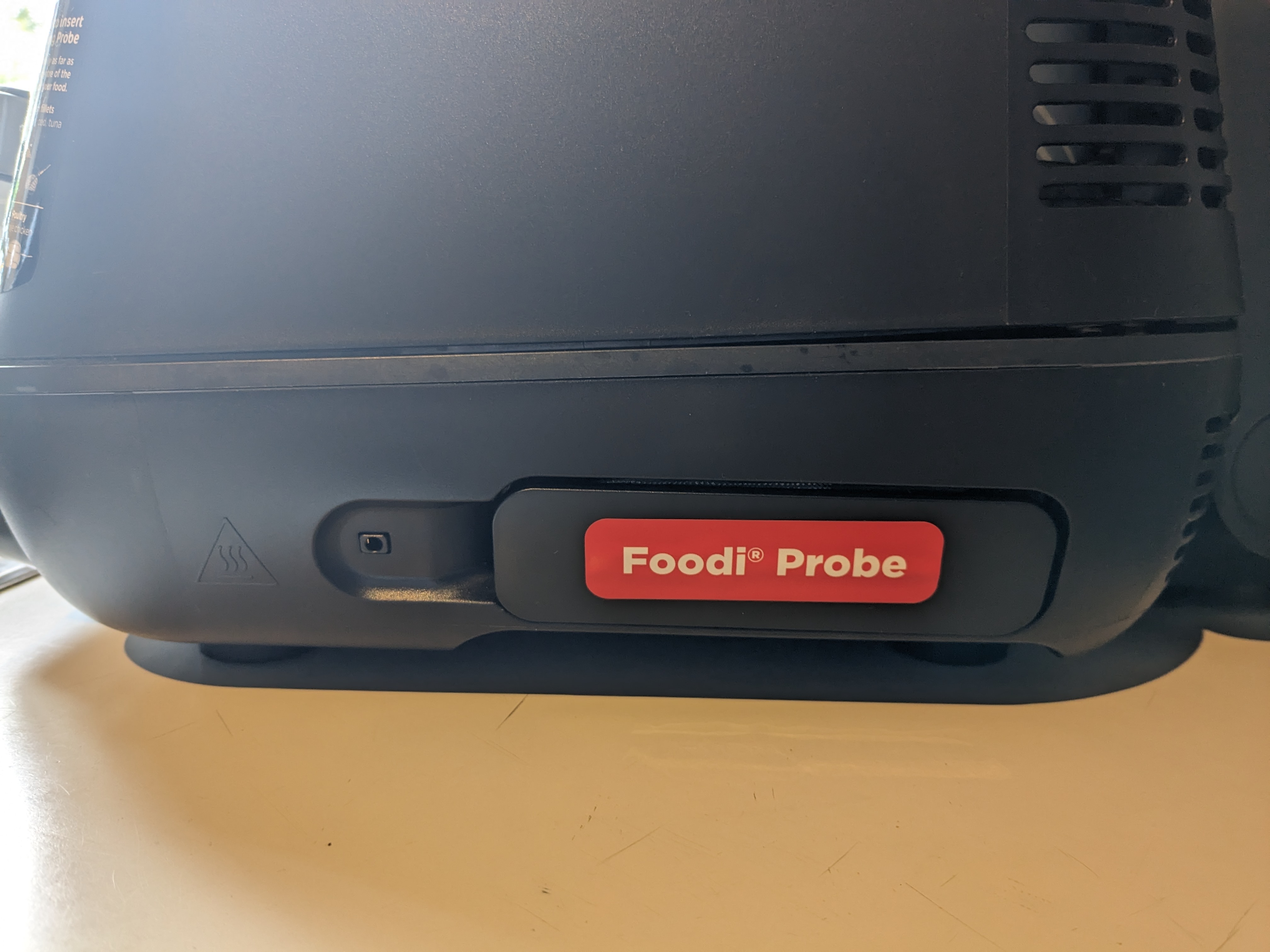 You can also expand your repertoire with additional accessories like the griddle cups for eggs, baking trays, a loaf tin and kebab skewers designed to work perfectly with your new machine. Unfortunately though, these will cost extra and are sold separately. 
Ninja Foodi IG601: Performance
The assembly process was fairly simple, though do be aware that the box is large and some users may find it difficult to remove from the box on their own. Each cooking plate was wrapped individually in paper, with the main unit secured in place in the box.
Once you've unboxed everything, setting up the grill is as easy as washing the different plates, and then pushing the main powered grill into place (you'll hear a click when it's in place correctly). 
The unit comes with a useful booklet that includes detailed instructions of setting up the machine, using the Digital Cooking Probe, and some useful advice such as which cooking fats to avoid using to minimize smoke or smells. It also lists some suggested recipes to help you get to grips with each cooking method that's on offer, and it includes a range of recommended cooking times and temperatures for common things you might want to make in your new machine.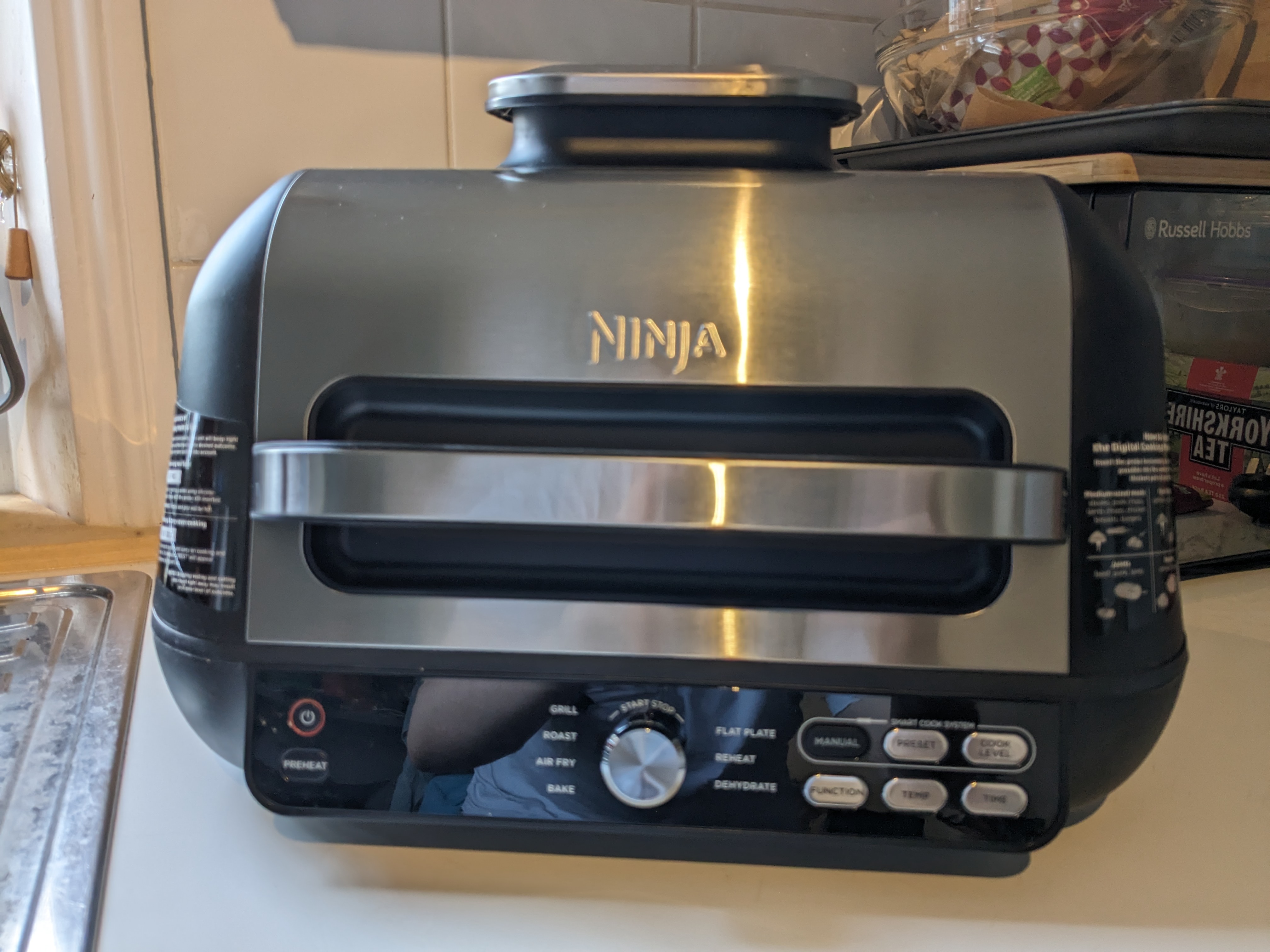 The Ninja IG601 Foodi XL 7-in-1 Indoor Grill Combo exceeded expectations in testing. Although it can take a little while to preheat for some cooking functions, we found that using it for the core functions (grilling, air frying, and frying on the griddle) produced great results each and every time.
We tried the Smart Cook System and Digital Cooking Probe by inserting it in a sirloin steak and using the medium rare preset option. Once you close the lid, the Foodi Max tracks the internal temperature (and displays it on the monitor) it's aiming for; it even alerts you to let you know when to flip the steak partway. It's worth noting that the probe is meant to be inside the unit during cooking, so it will be very hot when you need to remove it.
We also tried grilling a chicken breast following the timing & temperature setting recommended in the booklet (190 degrees C for 16-20 minutes, flipping 2-3 times throughout) without using the Probe.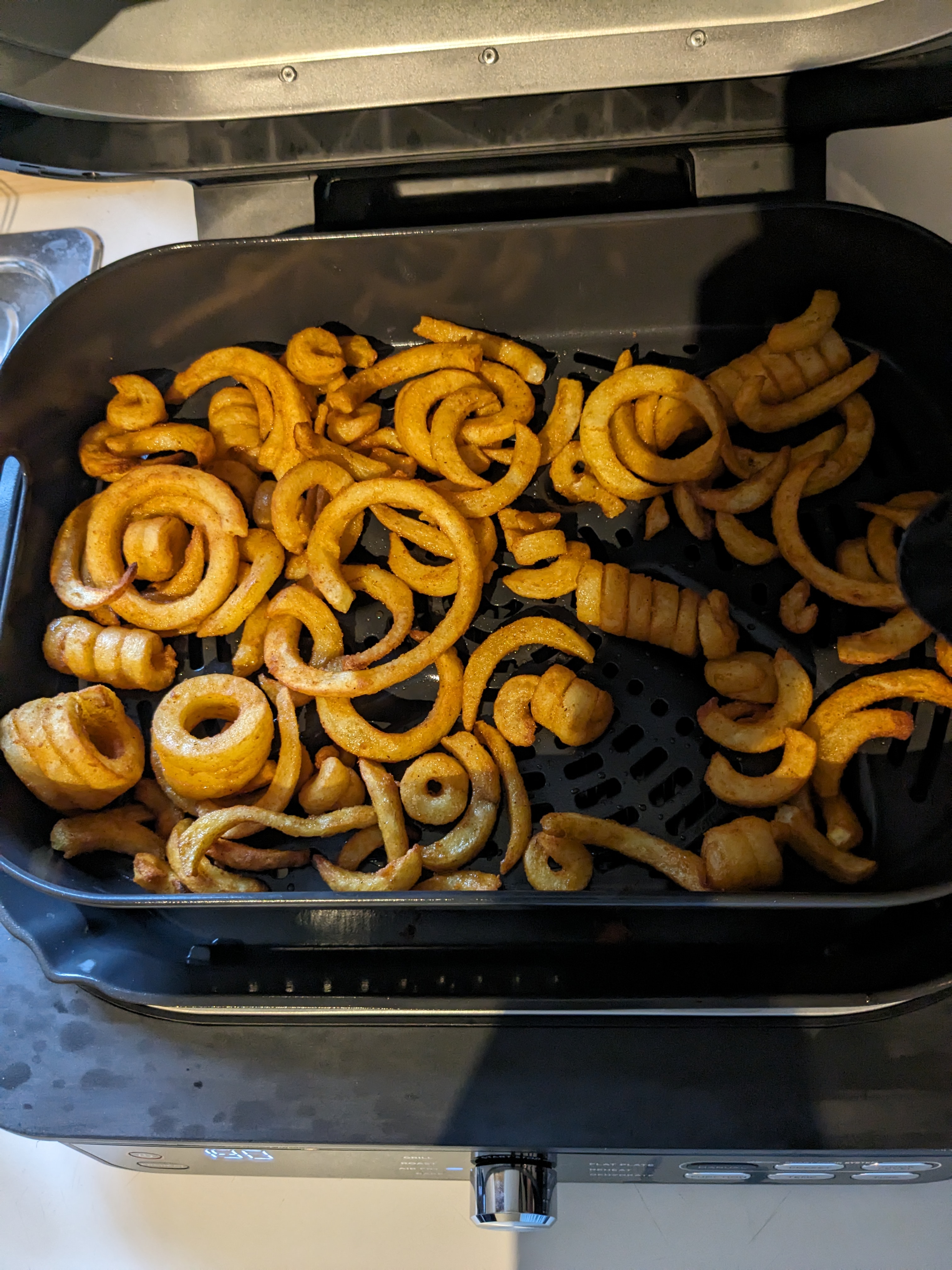 In both cases, the cooking process was simple and yielded impressive results. The sirloin steak was tender, cooked evenly, and had some decent grill marks, though it was slightly less pink in the middle than some medium-rare fans might like. The chicken breast was even tastier, coming out perfectly cooked and very juicy throughout.
The air fryer basket and flat plate accessories produced equally impressive results. Fries cooked in the air fryer were crispy and evenly cooked, whilst we managed to make fluffy American-style pancakes, sunny-side-up eggs, a large serving of nachos, and a grilled cheese perfectly well on the griddle.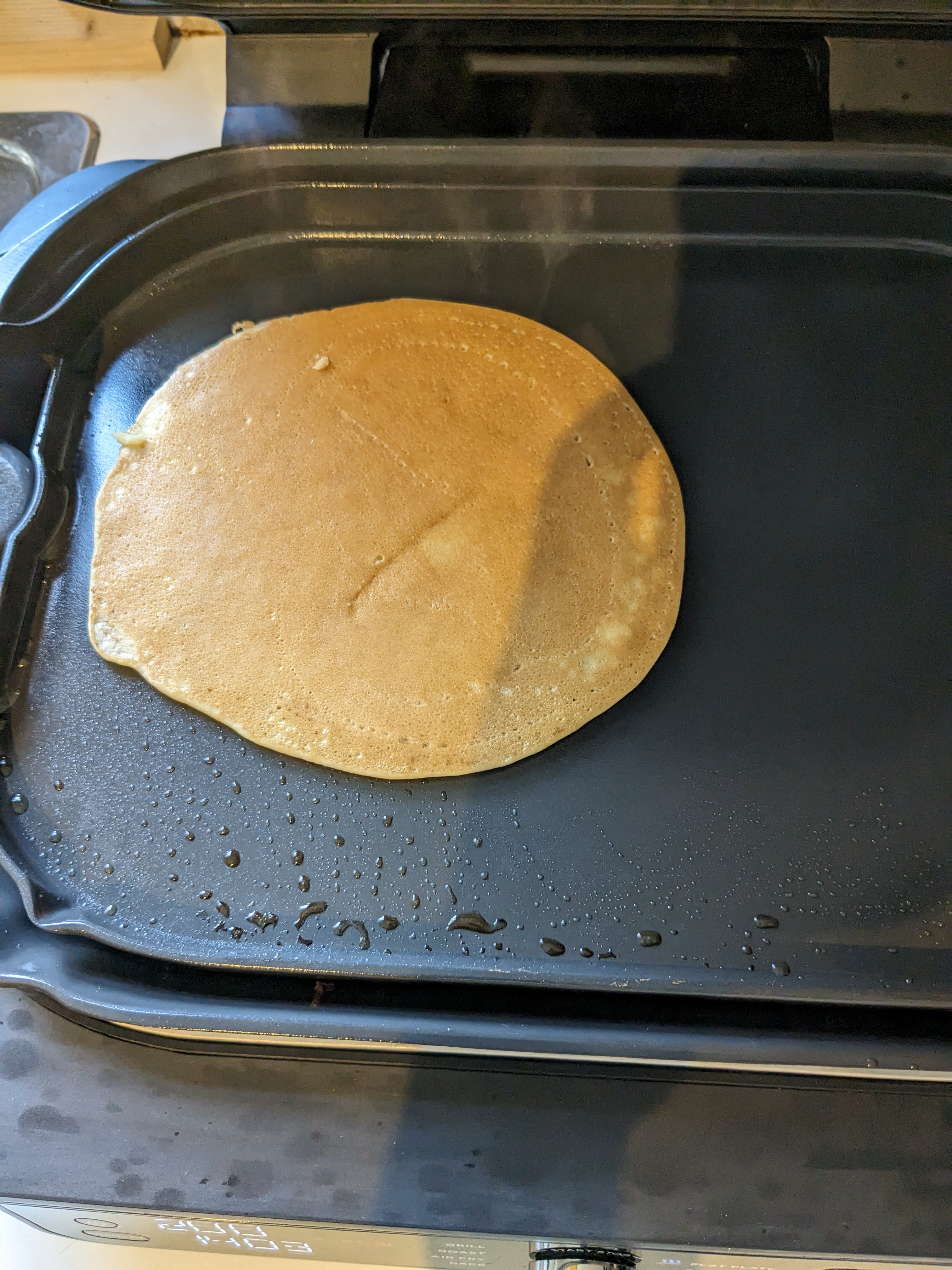 One issue you need to be aware of is that things tended to slide forward toward the grease trap at the front of the main powered grill plate, so it is worth keeping an eye on your meat during grilling to prevent it from slipping down. Also, be aware that the Digital Cooking Probe does get very hot during use, so be sure to grab an oven glove to remove it.
Volume-wise, the Ninja IG601 Foodi XL 7-in-1 Indoor Grill Combo runs a little on the loud side; using a decibel meter, the unit clocked in around 52 dB during cooking, but it's easy to tune out once you get used to it.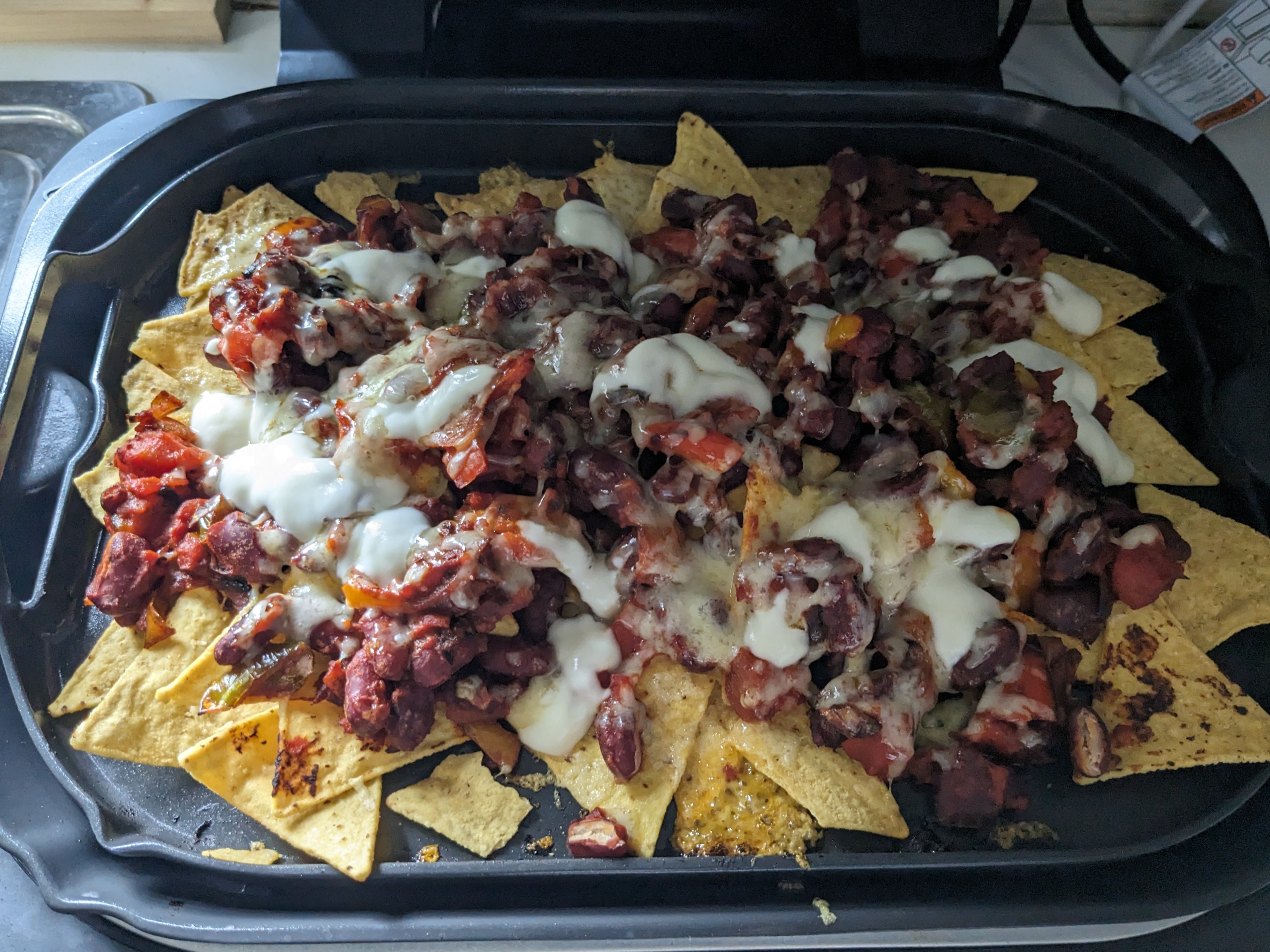 Ninja Foodi IG601: Care and maintenance
The main components you'll need to be cleaning regularly are the interchangeable cooking and grilling plates. Thankfully, cleaning instructions are provided in the manual, and the process really couldn't be easier owing to their non-stick ceramic coating. Just be sure not to use anything abrasive to scrub the plates to avoid damaging their coating. 
We found that food washed away with warm water and soap very easily, and had no trouble cleaning off things like excess fat or melted cheese. The instructional booklet also lists that all three plates (and the removable splatter guard) are dishwasher-safe for added convenience.
Ninja Foodi IG601: Online ratings
The price is arguably the single biggest factor against the Ninja IG601 Foodi XL 7-in-1 Health Grill; if you're looking for a new indoor grill on a budget, this won't be the right fit.
That being said, we felt that it more than earns its price tag. For that outlay, you're getting a lot more functionality than you would if you just bought a purpose-built indoor grill, both in terms of cooking functions and the range of customization options that you have to ensure you get great results during use. 
The Ninja Foodi Max Pro has a 4.5/5 rating on Amazon.com, from a total of 1376 ratings. Customers were quick to praise the quality of food produced and how easy the unit was to clean in general. 
However, multiple users highlighted the issue of meat sliding towards or even into the grease trap that we experienced during testing; one added some supports under the grill's front feet to elevate it a little.
Some users also mentioned issues with using the Digital Cooking Probe, especially if the meat is cold, though the instructional booklet does note that you shouldn't use the probe to cook frozen or thin cuts of meat, which could be the cause.
Should you buy the Ninja IG601?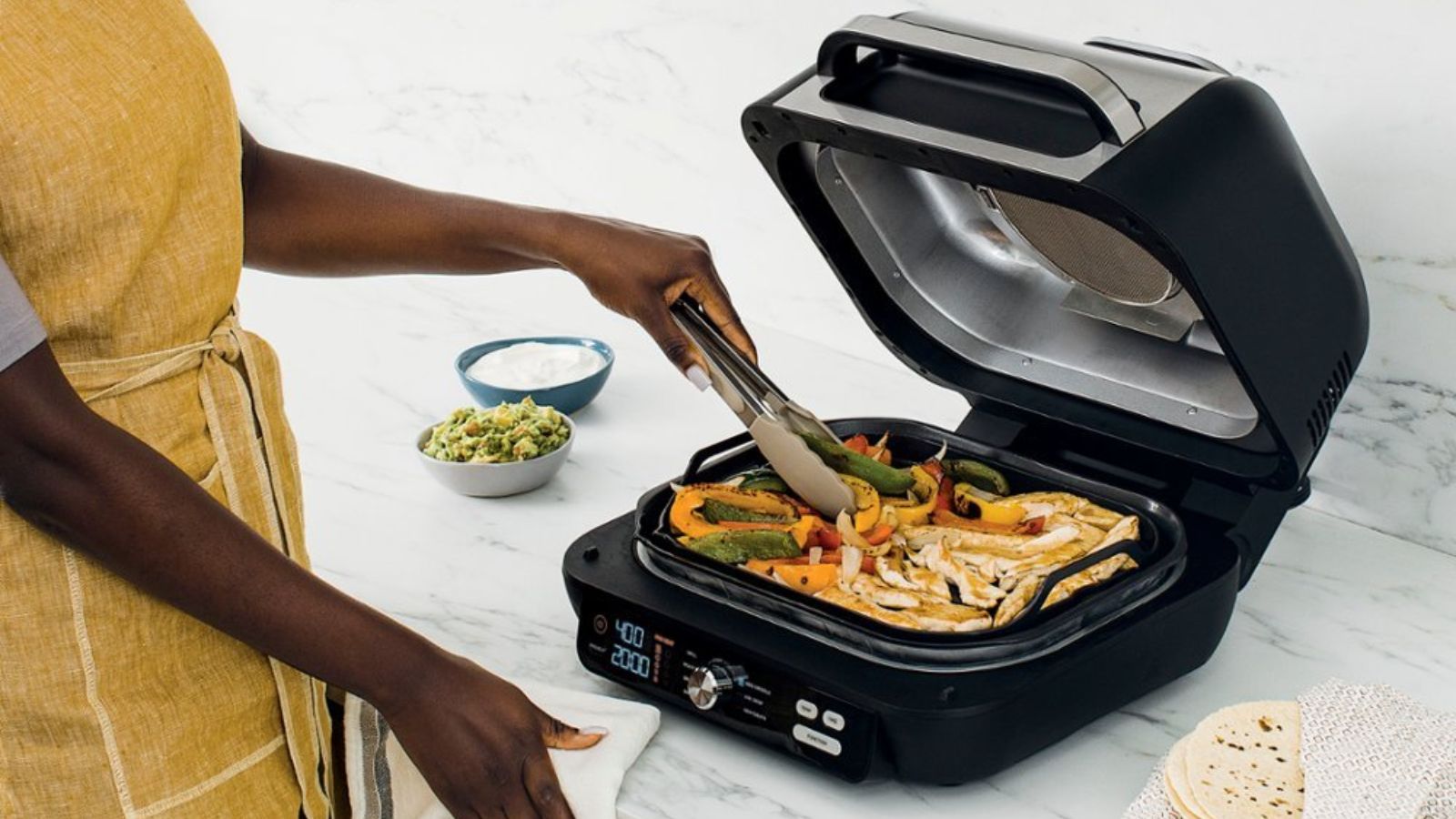 If you're looking for a new multi-purpose kitchen appliance, the Ninja IG601 Foodi XL 7-in-1 is likely going to make a great addition to your home. Whilst it's more expensive than our other top indoor grills, the Ninja IG601 produces great-tasting food and boasts a variety of features that make it worth the extra money. Plus, the included guide makes it very easy to get to grips with all the different ways you can use your new appliance right out of the box.
There are definitely more affordable options available for home cooks who don't need some of the features on offer with this complex appliance, or for anyone who doesn't have the space to dedicate to a large appliance like the Ninja IG601.