ONYX has distinguished itself from other e-reader companies with its attempts to mix e-readers and standard Android tablets, in an attempt to make not the best tablets but the most unique. The latest release, the BOOX Tab Ultra C, is its most concerted attempt so far. 
ONYX BOOX Tab Ultra C: Key Specs
Type: E-Ink Reader
Screen: 10.3-inch
Resolution: 2480 x 1860 BW, 1240 x 930 color
Dimensions: 22.5 x 18.45 x 0.67 cm
Weight: 1.05 pounds
Storage: 128GB
Battery: 6,300mAh
The Tab Ultra C has an E-Ink screen and stylus like some of the best e-readers, but also comes running the Android operating system, which includes the Play Store and all the apps you can dream of, instead of the relatively limited OSes of most e-readers. If you want to read Chaucer but then play Candy Crush, you'll find that the device works well for both.
While this sounds like you're getting the best of both worlds – the eye-friendly screen and big battery of an e-reader but the apps and features of an Android tablet – it's not quite as simple, as this novel concept doesn't quite stick the landing.
Because of the ONYX's mid-range processor, slow navigation and the natural screen ghosting of E-Ink, playing intensive games or watching movies is a hair-pulling process, and the sluggishness even makes word processing a chore.
However what the BOOX Tab Ultra C does, it does well: you'll get some of the finest note-taking and reading action of any e-reader, and for certain productivity or creative tasks, Play Store apps like Post-it, Docs or email platforms are incredibly handy.
The ONYX BOOX Tab Ultra C is an interesting experiment, and it's one that works well for certain specific tasks – but don't come in expecting a fully-furnished Android tablet.
Tom Bedford is a tech and entertainment reviewer. He spent several years as a writer and then editor for TechRadar, and so has experience testing devices like smartphones and tablets, smartwatches and fitness trackers, audio products, electric scooters, home entertainment gadgets and e-readers. He now works for WhattoWatch as a streaming expert.
ONYX BOOX Tab Ultra C: design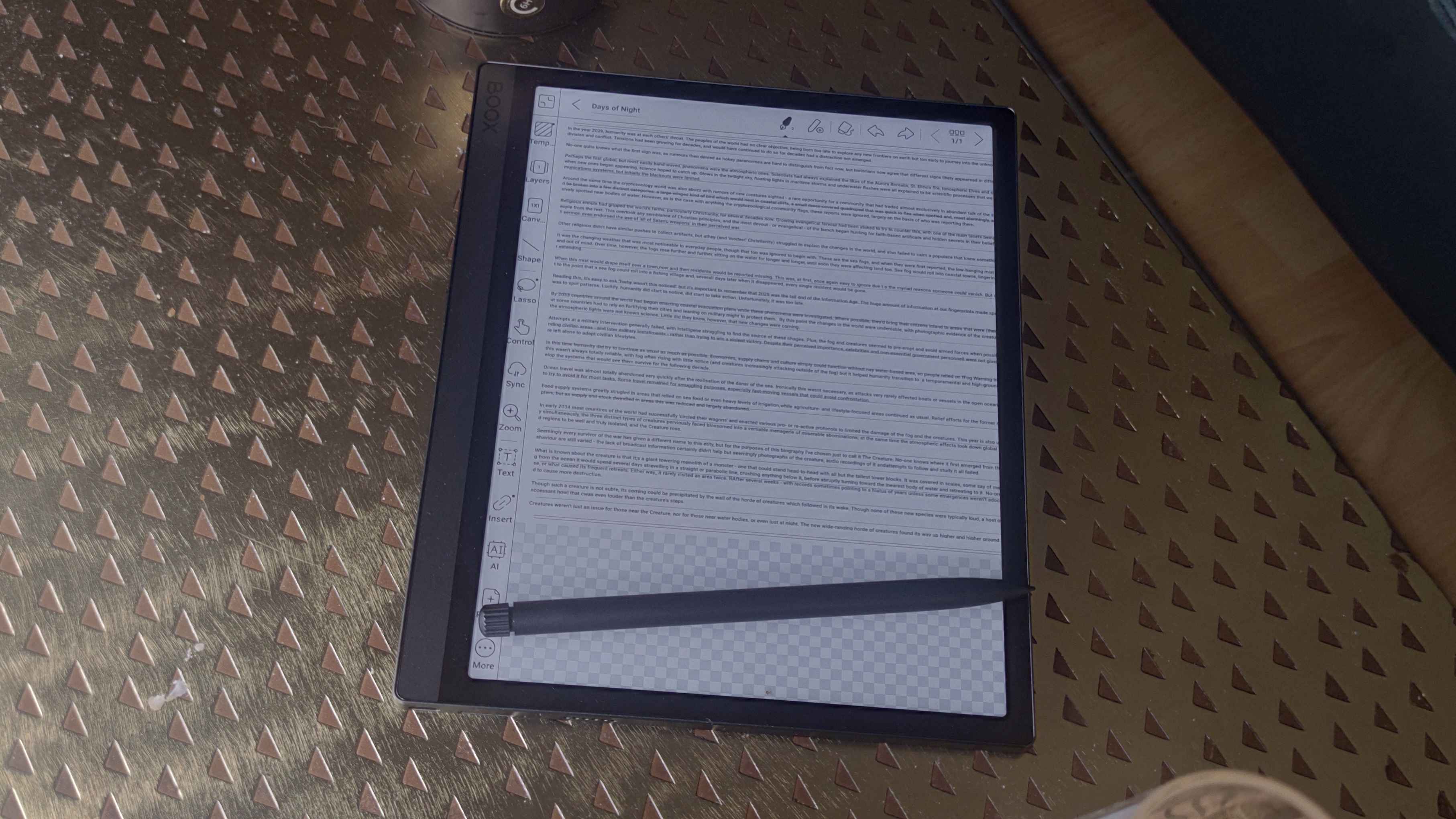 The Tab Ultra C boasts a big 10.3-inch screen, with a 2480 x 1860 resolution. It's an E-Ink display, and this screen tech resembles the look of ink on a page, which reduces eye strain for use.
Unlike most E-Ink screen gadgets, the ONYX has a color display, letting you optionally eschew the usual black-and-white look for reading books or using apps. This mode drops the resolution to 1240 x 930, and the screen doesn't have anything like the color vibrancy or contrast of an OLED display, but it's still useful for comic books or illustrated novels and lots of apps.
The ONYX BOOX Tab Ultra C generally looks like your standard e-reader, with a rectangular body, a chunky bezel at one edge of the display to hold, and a magnetic panel to hold the stylus when not in use.
Some tablet features pop up in the design too. There's a camera on the back, a SIM slot and several speaker grilles, all of which hint that this device has more features than the average e-reader.
ONYX BOOX Tab Ultra C: apps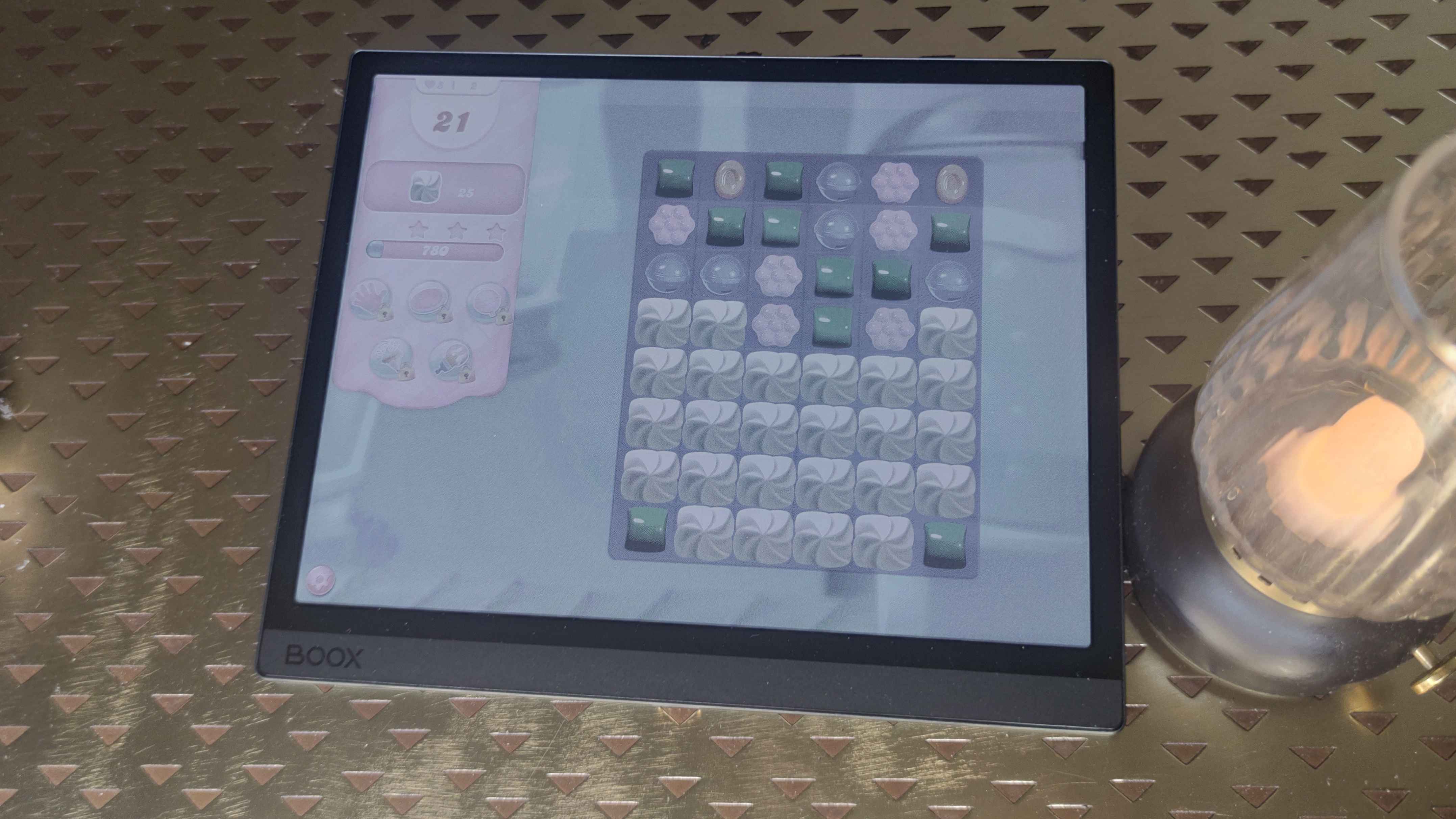 The reason we call the ONYX BOOX Tab Ultra C part tablet despite its e-reader design is that it uses the Android operating system which, most importantly, means it has access to the Google Play Store. Most e-readers have rather limited operating systems, with only basic reading and note-taking features, so this is a real perk of the device.
With the Play Store, you can download all manner of apps – we tested games like Candy Crush and Northgard, entertainment apps like Prime Video and Disney Plus and of course productivity tools like Post-it and Google Docs.
If you're excited for the ONYX to be the first streaming-service-friendly e-reader, you're out of luck – apps that require high visual fidelity, like streamers and intensive games, didn't work well. E-Ink screens have a 'ghosting' effect if the images change quickly, which means that previous stills from movies remained visible for a while. In combination with the desaturated look of the screen, movies were almost impossible to watch.
See an example below, of The Expanse, with multiple shots all layered above each other.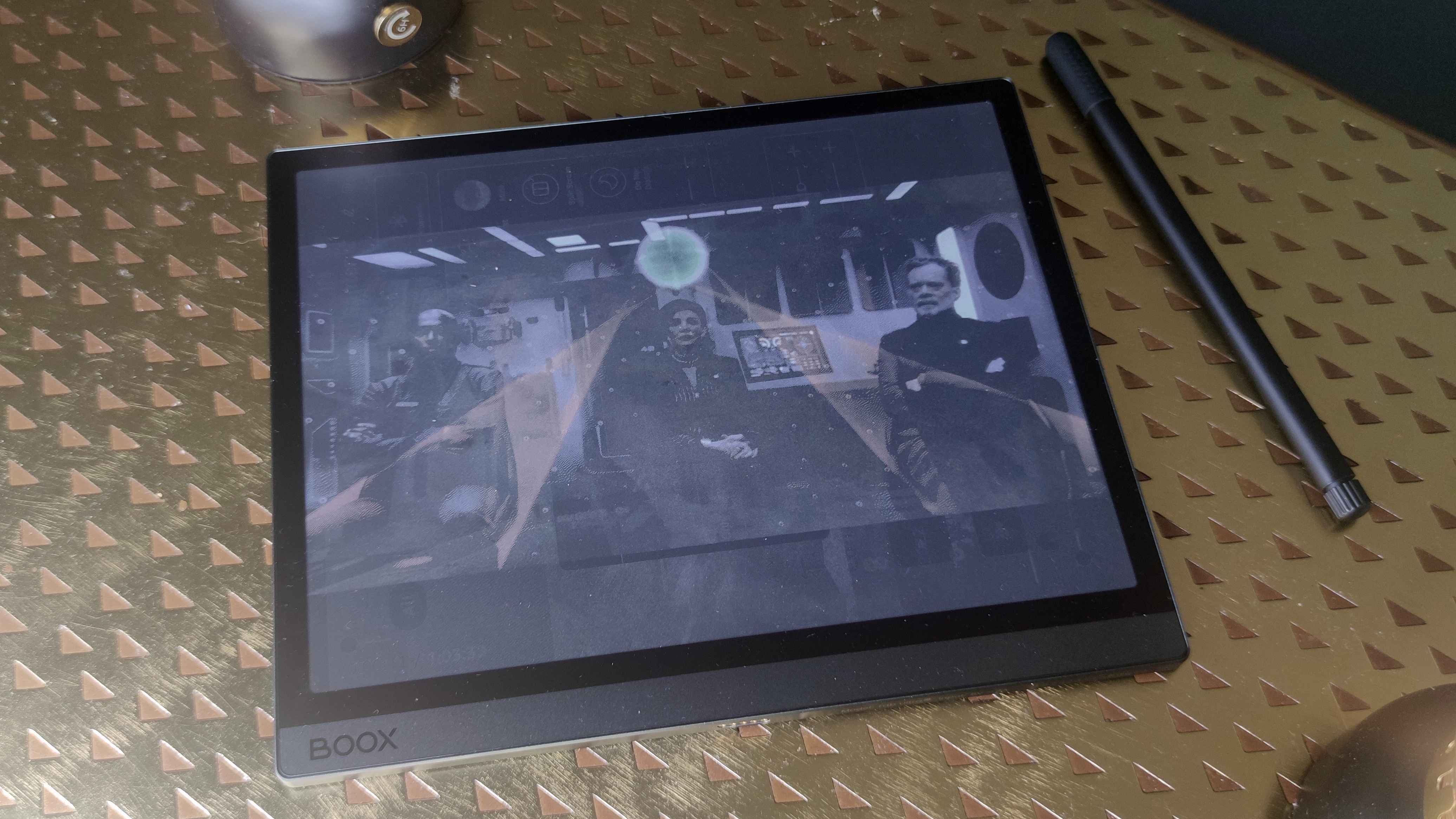 It doesn't help that the ONYX has the mid-range Snapdragon 662 processor, which wouldn't be well-suited to gaming or high-end processes on a standard tablet, and here it makes the Tab C a little sluggish. Navigation can be unresponsive at times, and apps would take a while to open.
For less-intensive functions; productivity tools, lightweight games like Candy Crush, news readers, social media platforms and the like, the ONYX BOOX Tab Ultra C fared much better. That's also true of audio apps, with the tablet's speakers and Bluetooth connectivity meaning that audiobook readers and music platforms were usable too.
So if you're looking for a device that's an ersatz tablet with some cool e-reader features, this isn't the device for you, but if instead, you're hoping for a premium e-reader with some useful tablet tools, you're the target audience here.
As mentioned in the design section, the ONYX has a rear-mounted camera – this is ostensibly for document scanning, and while you can actually use it for photography if you like, you'd get better results on a ten-year-old iPhone. It's best to stick to scanning.
To befit the number of apps you'll likely end up downloading, the Tab Ultra C has 128GB built-in storage – that's the standard amount most smartphones have, but a huge amount considering rival e-readers generally stick to 16GB or 32GB for top-end ones.
ONYX BOOX Tab Ultra C: note-taking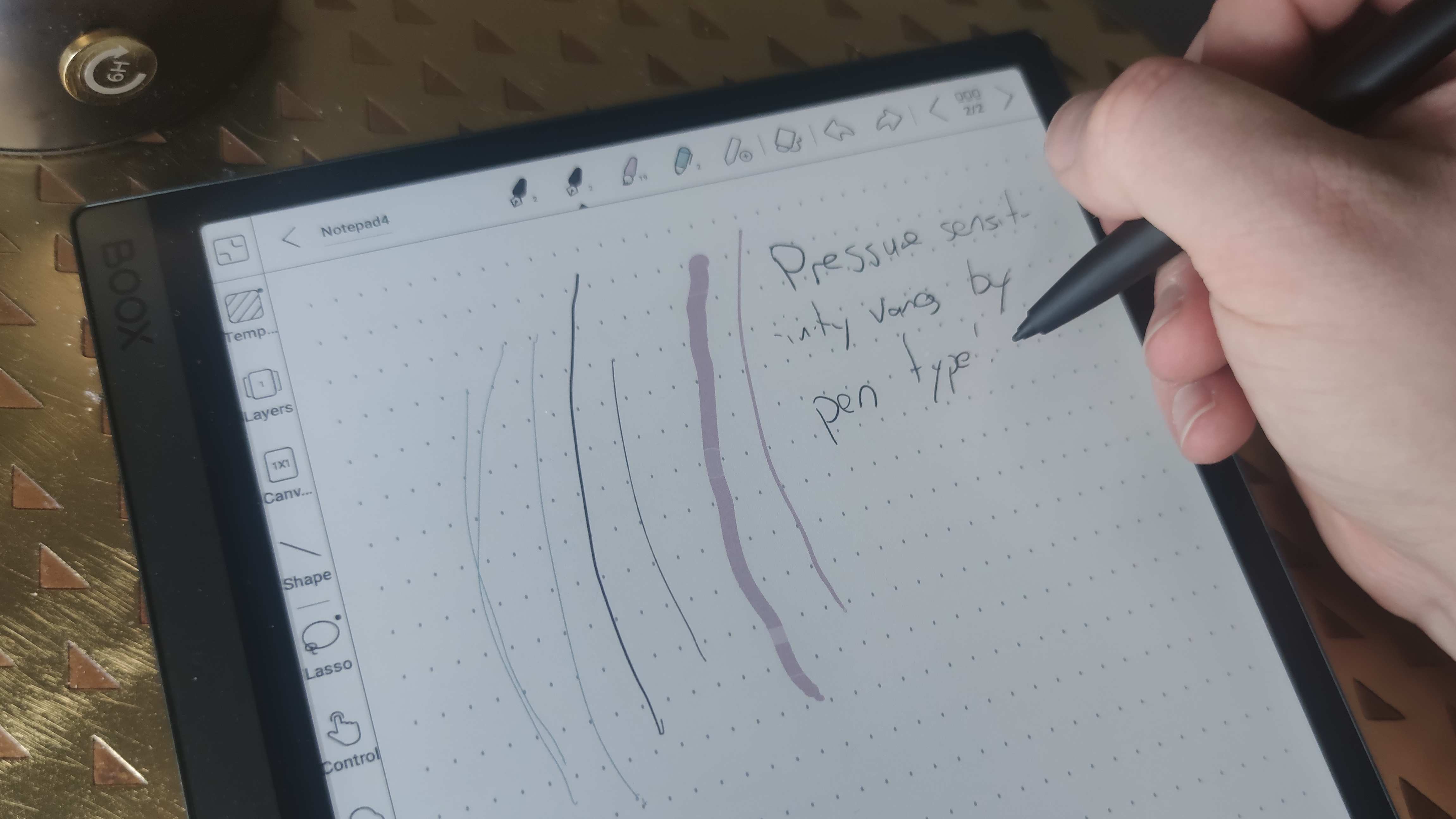 You can use the ONYX BOOX Tab Ultra C to take notes, using the Notes app, with text processing or stylus scrawling both options. 
The Notes app offers lots of versatility, with lots of tablets including grids, calendars, lined documents, grids and more – though it's worth pointing out that when we chose a lined document for word processing, none of the font sizes actually fit in the lines well.
In the note itself, there's an unrivaled level of tools and functions to help you create your document – in fact, upon first opening a note, it can be quite overwhelming to see all the task bars and columns with various options.
Lots of these functions grant you lots of customization over the stylus experience, from choosing the brush type, color and line width, and the device itself has responsive pressure sensitivity, so if you push down harder with the stylus you get a thicker line. Because of these features, the ONYX has a top-notch sketching experience, and you can do everything from scrawling notes to creating drawings and sketches using the Notes app.
Some of the other features in the Notes app include AI handwriting recognition, image insertion, text boxes and the ability to lasso and move notes. It's a versatile program, and while it takes some experimentation to get used to all the options at your fingertips, there are few e-readers that offer note experiences as in-depth as this.
It's not a perfect experience though, as the tablet isn't as handy for word processing, and if you head to the 'Keyboard' section of this review you'll find out why.
ONYX BOOX Tab Ultra C: reading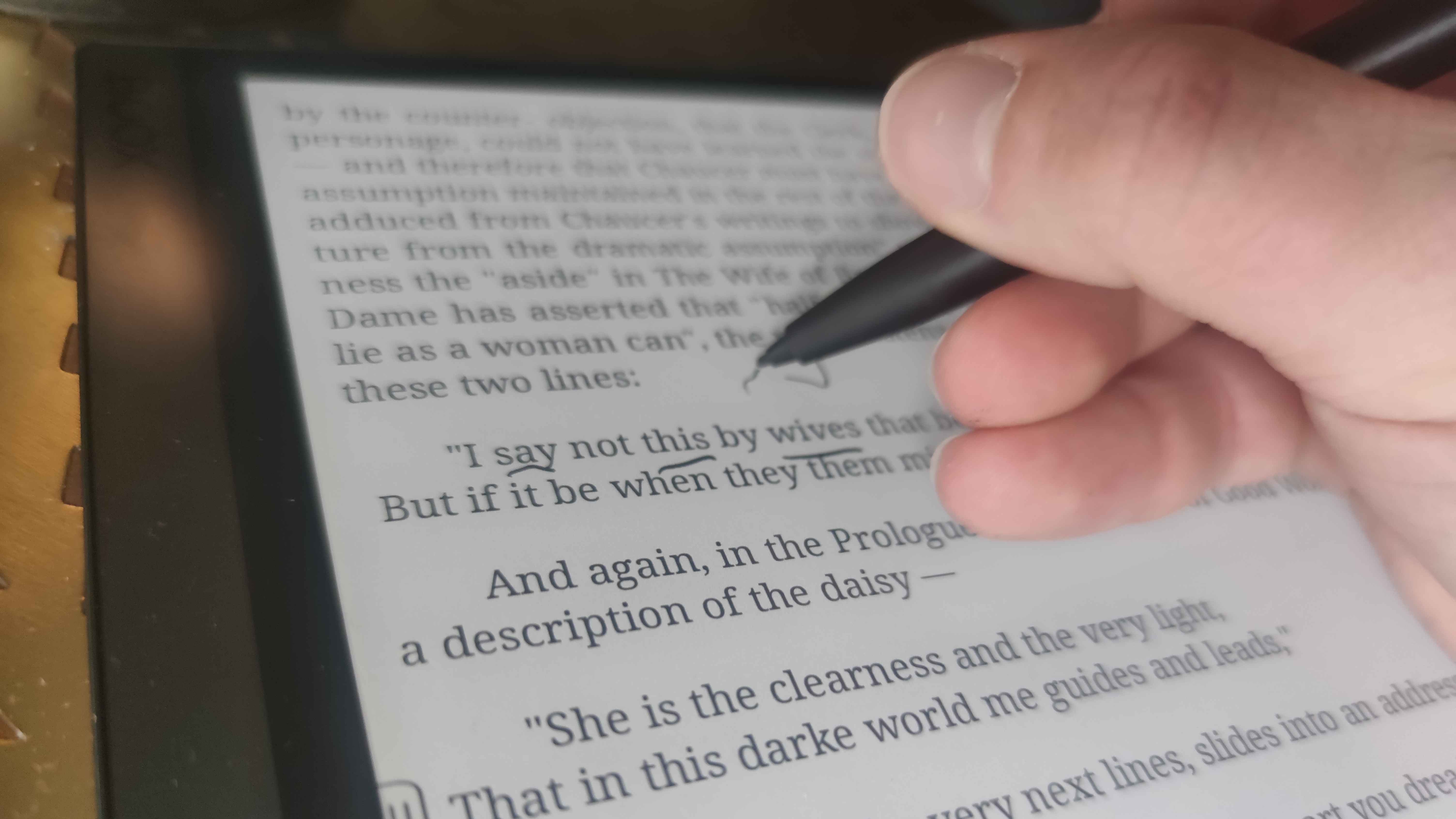 While the ONYX has plenty of fancy features, at its core an e-reader is for reading. Thankfully, the device is solid in this regard.
When you load up a book, you get a clean interface – no taskbar stealing screen real estate, no random buttons that you don't understand the function of, no massive boxout telling you your chapter, progress through the book and so on. Just the text (and some tiny information at the bottom, but it's so small that we can forgive it).
This lets you enjoy a book without distraction, and simply tapping on the edge of the screen lets you jump forward or back in your story. Sometimes we needed to tap twice if the first press wasn't registered, but it usually worked fine. There is a toolbar you can summon if you want, and this gives you some extra functionality. It lets you skip around in the book, lock the page, and also mark up the document using the stylus. 
This is one of the best mark-up experiences we've had with an e-reader – too often when testing these devices, we'll rest our hand on a display to mark up text, and the device will misconstrue this as a tap to skip pages. This wasn't an issue on the ONYX though, and we could easily press our palm on a page while annotating a quote without losing our place in the text.
To find books, you can use an onboard library that includes hundreds of classics from Project Gutenberg, but you're encouraged to use a BOOX app to send your own PDFs to the device. The library's selection pales in comparison to what's offered by Kobo or Kindle, so you better be versed in finding your own literature.
ONYX BOOX Tab Ultra C: battery life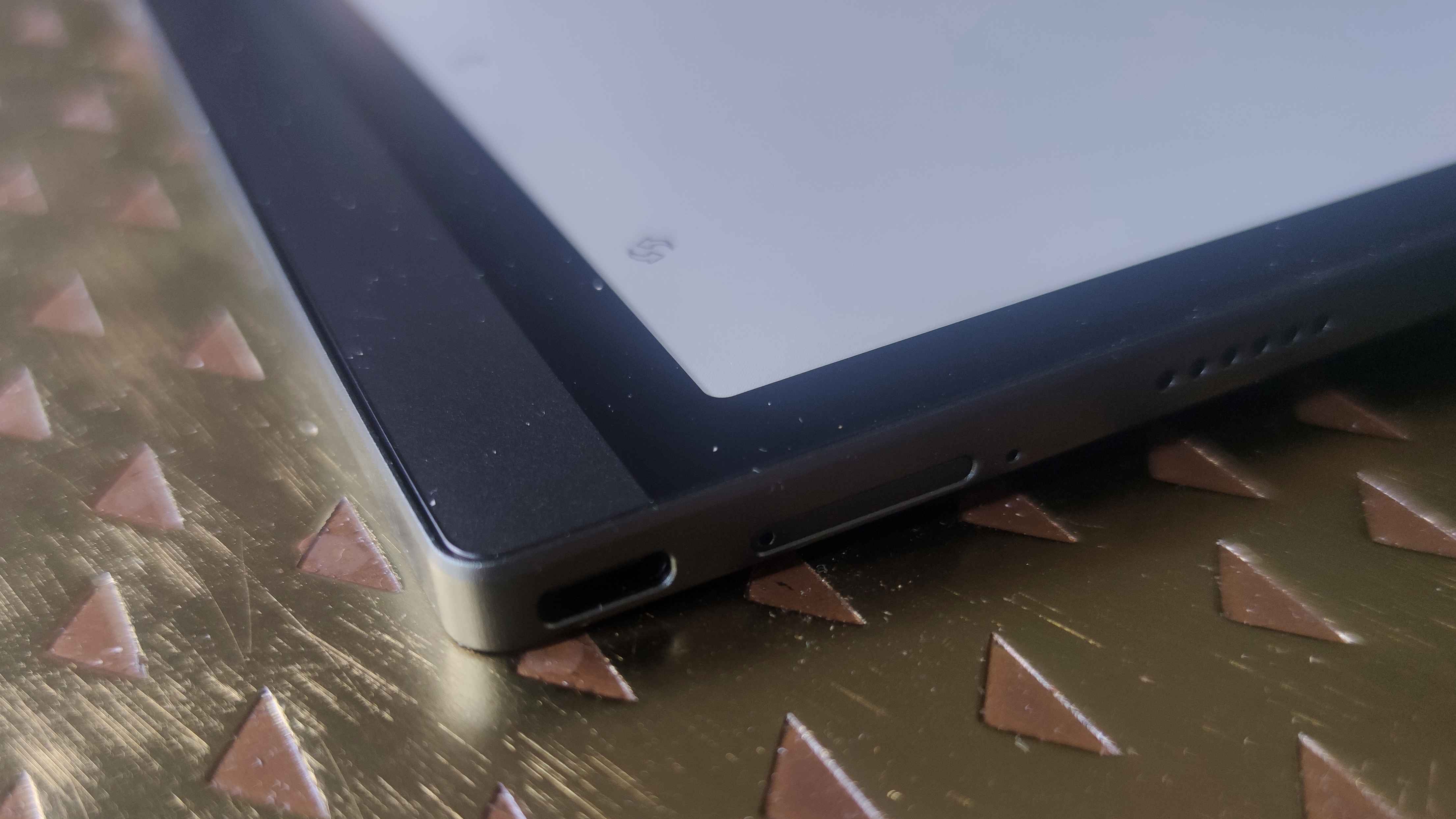 One of the main reasons you might pick the ONYX BOOX Tab Ultra C over a standard Android tablet is for one of the best e-reader strengths: battery life. E-Ink screen tech – even for color screens – is far less battery-intensive than the OLED you see in most tablet displays, so the ONYX lasts for ages between charges.
The 6,300mAh battery here would be a reasonable size for a standard tablet, but on the Tab Ultra C it keeps the device lasting for ages. In our initial testing period, a week after a full charge and after several hours of use, the device had only dropped by 40%. This was also with the device on standby when not in use – we didn't turn it off during this period.
This is the kind of device you could use intensively and still see it sail through several days of use, perfect for people who want a reliable workhorse. Battery life won't rival a 'standard' e-reader, ie one without the Play Store, but it'll leave tablets in its dust. Charging is done via USB-C, with a port on the right edge of the device (when the tablet's in landscape mode). 
ONYX BOOX Tab Ultra C: keyboard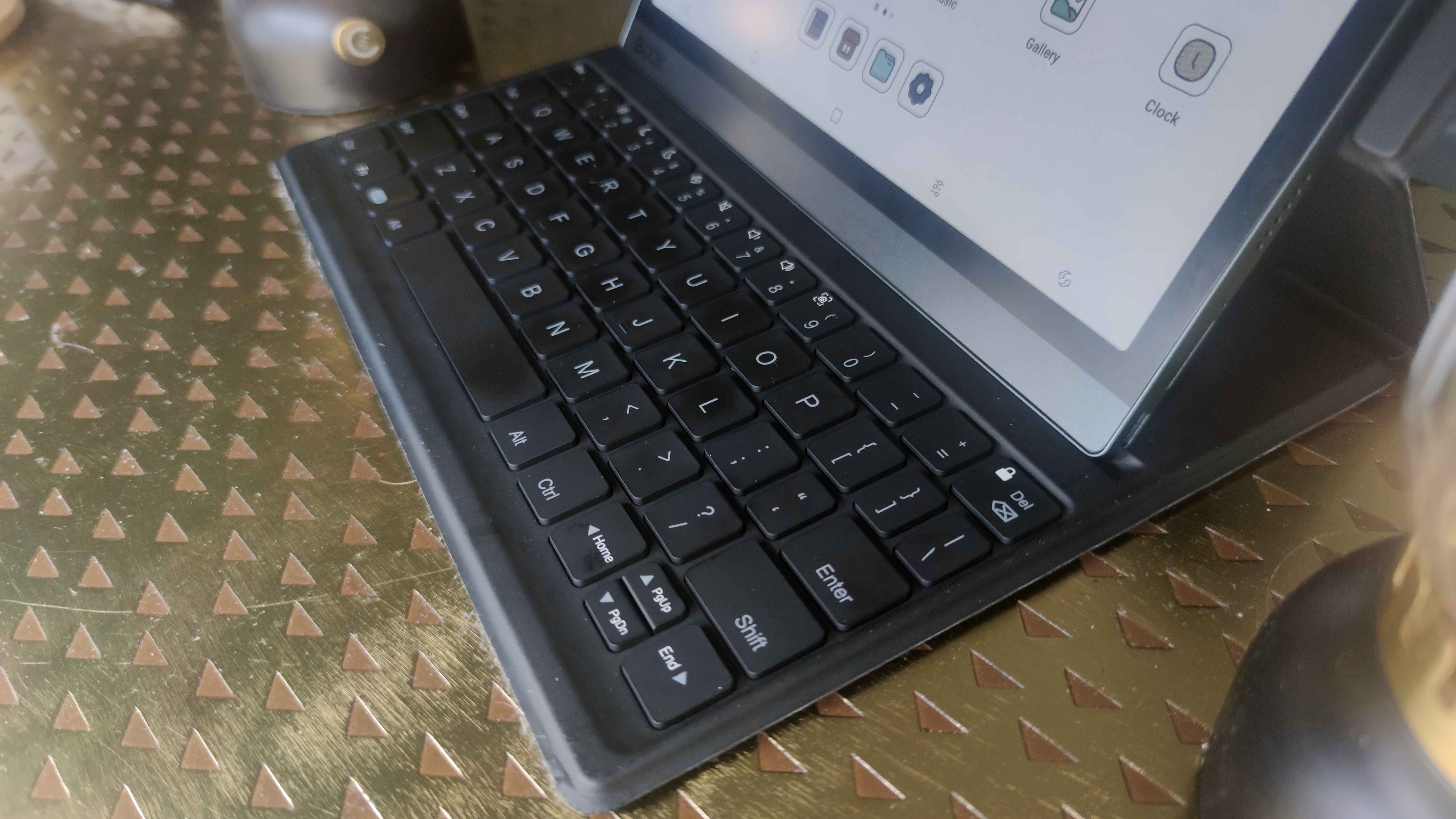 We tested the ONYX BOOX Tab Ultra C alongside its $109.99 keyboard folio, which offers typing functionality as well as the ability to prop the ONYX up with its stand, however, the experience left a lot to be desired.
As a stand, the keyboard seems quite useful if you want to use the device in landscape mode, whether it's to watch videos or use plenty of apps. However the folio's clasp, which keeps the stylus snug when it's closed, would hang over the top of the screen, blocking our view. This was a major annoyance, and while using the clasp's magnet to pin it backward was a temporary solution, it'd invariably flop forward before too long. 
The biggest issue was with word processing though – the Tab Ultra C's slow processor simply couldn't keep up with the kind of typing speed you can reach when using a keyboard. When trying to write notes, the letters appearing on the screen would lag words or sometimes even sentences behind what we'd typed. If you're the kind of touch-typer who never even reads what they're writing, this won't be an issue for you, but if you like to copy-edit on the fly it can be a pain – our plan to write this review on the tablet was abandoned thanks to this issue!
ONYX BOOX Tab Ultra C: Price
The ONYX BOOX Tab Ultra C won't be showing up on any 'cheap e-readers' or 'cheap tablets' lists – the device costs $599.99, so it's not a rival to your sub-$100 Amazon Kindle or even other stylus-toting e-readers like the $399 Kobo Elipsa 2E and ONYX BOOX Note Air 2.
The high price is because the device has tablet features as well as e-reader ones, though it's not quite fair to compare the ONYX to similar-price Samsung or Lenovo tablets either, as they're far more powerful with better displays, but lack e-reader features. If you mainly want a tablet, though, you can get one with similar specs to the ONYX for half its price.
So there are only two main rival devices; ONYX's own BOOX Tab Ultra is a non-color version of the C model, which started at $599.99 but is now available for cheaper at various retailers, and the Bigme InkNote Color+ is available at $699.99 so it's actually even more expensive.
Either way, this is a premium device and you need to be sure it's the one for you before you commit nearly $600 for it. You can optionally buy a keyboard folio for the device too, which costs $109.99, and we've got a whole section on that later.
ONYX BOOX Tab Ultra C: verdict
The ONYX BOOX Tab Ultra C is an interesting experiment that'll be a fun novelty to tech fans, but it's a little harder to recommend based on its price, its weaknesses and the competition.
For reading or note-taking, more affordable e-readers will be better for you, while gaming, movies, word processing and other apps will be better on mid-range tablets. 
So the ONYX is best for a certain type of professional who needs both note-taking and reading functionality but also wants particular apps from the Play Store  –  and will appreciate the long-lasting battery and quirks of the E-Ink screen.