If you're after the best pool vacuum then look no further: the Polaris 9650iQ Sport is quite possibly the most innovative pool vacuum cleaners you can buy today.
Controlled via the iAquaLink app (iOS and Android) or the unit itself, it's expensive at $1,349 but if you prefer spending time enjoying your pool to cleaning it, it's worth every cent. The app effectively turns your phone into a remote control so you can maneuver the cleaner exactly where it needs to go, and it also allows you to schedule a cycle while you're out so the pool is sparkling clean and ready to dive into by the time you get home.
Polaris 9650iQ Sport Robotic In Ground Pool Cleaner: Key specs
Clean time: Approx. 2.5 hours
Cable length: 70 " swivel cable
Suction rate: Vortex vacuum technology for maximum suction
Weight: 21lbs
Pool size: In ground up to 60 ft.
Brushes: Dual blade rubber brush
Smart features: Wifi enabled / app controlled
It has a sports-car style design with front four-wheel drive and four large rubber tires, dual brushes and a powerful Vortex vacuum with maximum suction. The Polaris 9650iQ Sport easily navigates the pool floor, sides, steps and even reaches the waterline for a thorough clean.  
There's a swivel mechanism built into the 70-foot cable so it won't tangle, and the large 5-liter canister is fuss-free to empty and clean. The robot vac also comes with a wheeled caddy for convenient storage and easy portability. You can buy a cover for the caddy at an extra cost to protect the cleaner form the sun and elements.
In this review I'll take a look at how one of the best pool cleaners (opens in new tab) performs, as well as design, pros and cons, and user reviews.
Polaris 9650iQ Sport Robotic In Ground Pool Cleaner: Design
The 9650iQ Sport looks very similar to the 9550 Sport, and both have a sports car-style design with a hard blue plastic casing with grey and black on the trim and the rubber wheels. The 9650iQ weighs 21 pounds and has a 70 ft. cable with a handy swivel mechanism to avoid tangles and trips. 
It has a powerful four wheel drive system that navigates the pool bottom and walls with ease, and the front rubber brushes help to dislodge grime and debris.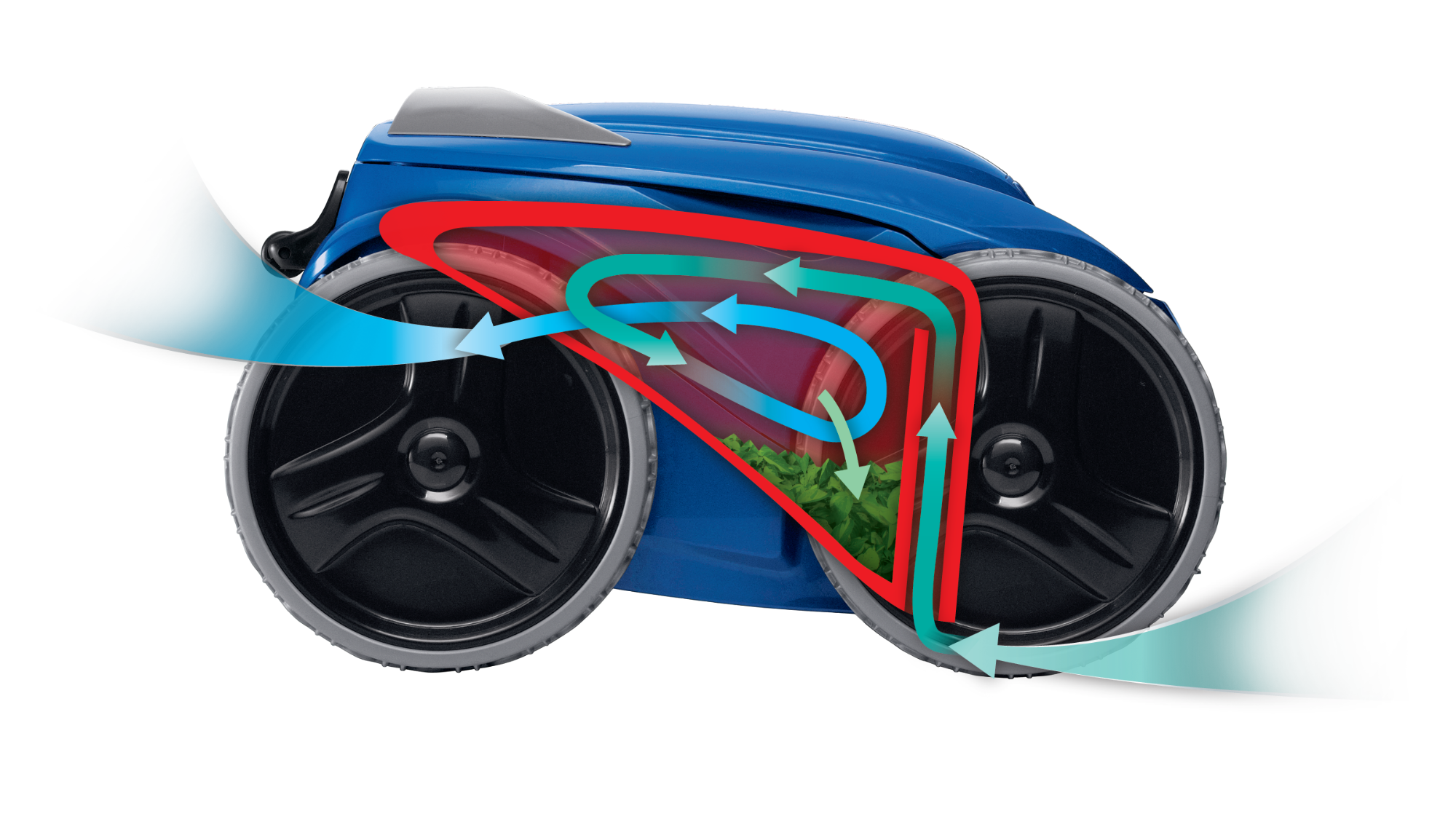 As with many of the best pool vacuum cleaners, dirt gets sucked up into the bottom of the machine and trapped in a large 5 litre canister, while clean filtered water goes back into the pool via a jet at the back. 
The canister is very easy to remove and clean without getting mucky – you just open it up, shake out any debris and hose it down.
Polaris 9650iQ Sport Robotic In Ground Pool Cleaner: Features
The standout feature of the Polaris 9650iQ Sport is you can control it all from the iAquaLink app (iOS and Android). This means you can operate your pool vac from anywhere at anytime, which is super convenient. So you can be at work and start it remotely, so that the pool is ready to swim in by the time you get home.
The app turns your mobile phone into a remote control, and allows you to customize cleaning cycles and runs from anywhere, anytime. You can configure it to clean the pool floor, the floor and walls, or just the waterline. 
You can monitor the cleaning status from your phone, with the app informing you of countdown time, when the canister needs changing and other troubleshooting tips. The app is lacking push notifications and sometimes I had trouble connecting to the wife but that could just be my home connection playing up. 
The Polaris 9650iQ comes with a long floating swivel 70-foot cable that helps keep it tangle-free, and a large capacity 5-litre canister to collect debris and dirt. The front of the cleaner also has two large scrubbing brushes to help remove stubborn grime. It has four large wheels that easily navigate raised drains and obstacles like steps.
The 9650iQ Sport is also very low maintenance. When the clean cycle has finished, you can activate the lift system via the app and it will climb the side of the pool wall so you can lift the cleaner out. As you begin to remove the it, excess water will automatically be expelled so it's not too heavy to remove.
Then just press the Polaris button on the top of the cleaner to open it and remove the filter, then hose it down to clean it.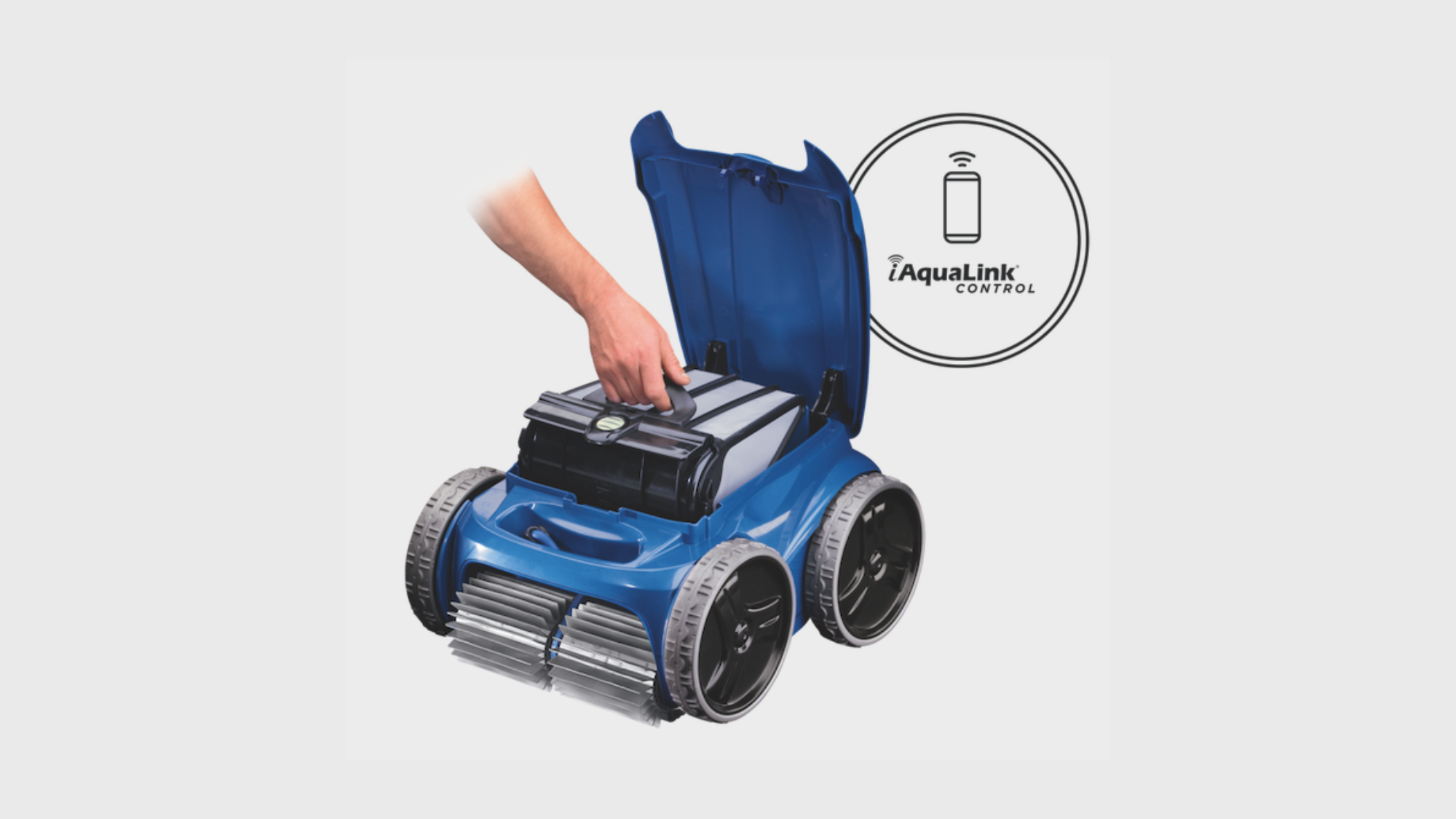 You can leave the cleaner in the pool ready for any scheduled cleans, but Polaris recommend you remove it when not in use to avoid damage from chemicals in the water.
To make sure it drains properly you need to store it vertically, which can be done on the caddy that comes included. It also has a hook for the cable.
Features:
·       4-wheel drive
·       App controlled
·       Large canister
·       Wall climbing capability
·       Easy lift removal system
·       Cleaning cycle: Variable programming
·       Cleaning modes: Quick clean, deep clean, waterline only, and custom
·       Caddy for storage and easy portability
Polaris 9650iQ Sport Robotic In Ground Pool Cleaner: Price and availability
 ·       $1349 / £2291.63
The Polaris 965iQ Sport is on the expensive side but it's worth the money if you've got the budget thanks to its smart features. 
It's available from Polaris Pool Systems, Walmart, Amazon and Home Depot.
Polaris 9650iQ Sport Robotic In Ground Pool Cleaner: User reviews
The Polaris 965iQ Sport gets 4.8 out of 5 stars on the Polaris website. Fans of the unit say it's expensive but worth it, with one user saying: "Easy to assemble. Mobile device control is mostly easy to set up," while another says "we love this pool cleaner. Saves us so much time".
Negative reviews however cited issues with connectivity via the app. One reviewer said: "Not the easiest to connect to Wifi but once this is done it works great."
Polaris 9650iQ Sport Robotic In Ground Pool Cleaner: Expert reviews
Professional cleaner Hugo Guerrero, a certified House Cleaning Technician (HCT) from New York, said: "With its thick rubber wheels and impressive cleaning ability the Polaris 9650iQ Sport can clean up to 60 feet.
"It has a variety of programming options to choose from and a sports car-like design, sturdy build and a four-wheel drive system for efficiency. You can operate it remotely from the app, but it does not have push notifications."
A spokesperson from Fluidra, that makes the pool cleaner, added: "This appliance would best suit a pool owner with an in-ground pool who wants the convenience of  app-enabled control. Using the iAquaLink® app (the highest-rated pool control app in the industry) so they can control their cleaner anytime, from anywhere – even if they're not already at home. 
"The 9650iQ is also a great option for Alexa voice control users who want to be able to turn on or off their robotic pool cleaner simply by saying so out loud."
Should you buy the Polaris 9650iQ Sport Robotic In Ground Pool Cleaner?
The Polaris 9650iQ Sport is a high performing robot vac that allows you to spend more time enjoying your pool than cleaning it. It's easy to use and maintain, does an impressive job of removing dirt and debris and when paired with the free iAquaLink app you can start it remotely, as well as schedule cleaning times and different cycles. 
You can even use your phone like a remote control and steer the cleaner around your pool. It's definitely on the pricey side, and I'd like to have push notifications included in the app, but apart from that it is a solid investment for pool owners everywhere.
How does the Polaris 9650iQ Sport Robotic In Ground Pool Cleaner compare to competitors?
If the Polaris 9650iQ Sport is too expensive for you, consider the Dolphin Nautilus CC Plus ($899), which regularly tops the list of best pool vacuum cleaners. It's easy to use and maintain while offering superior cleaning thanks to its smart technology that maps out the most efficient route of your pool.
If you don't need high tech features or app control, then the Hydrus Roker Plus is affordable, powerful and easy to use. It's ideal for small in-ground pools and is a time and cost effective choice at just $274.
The Zodiac G3 is another low price pool cleaner at $324 that gets great reviews on Amazon. Catering for small to medium sized pools, it uses a diaphragm system and large finned disc to suck up dirt and grime. As it's only got one moving part it's very cheap to maintain and repair.