In this article we'll take a deeper dive into the specifications, pros and cons, smart features and user reviews of the Samsung NE63B8611SS so you can make an informed buying decision. Still making your mind up? Check out or guide to the best electric ranges.
The Samsung NE63B8611SS electric range is a family favorite thanks to its large capacity of 6.3 cubic feet. It isn't cheap at $1599 but you get a lot of bang for your buck in terms of smart features and versatile cooking space. It's also incredibly stylish, which is what you'd expect from appliance giant Samsung.
Samsung NE63T8511SS: Key specs
Type: Slide-In
Size: 30"
Capacity: 6.3 cu. ft.
Cooktop elements: 5
Self-cleaning: Yes
Warranty: 1 year
This slide-in range fits in neatly with your countertops and has three cooking modes: air frying, convection and a dehydrator oven. The controls are at the front of the stovetop making it easy to use and clean.
As you'd hope at this price point, the electric range has WiFi-enabled controls so you can remotely monitor temperatures and times via your smartphone and the Samsung SmartThings app. There's also a spacious storage drawer at the bottom of the range to keep pots and pans, and parents will appreciate the safety lock that prevents children from operating the cooker.
If you have the budget, the Samsung NE63B8611SS is one of the smartest and best-featured electric ranges on the market today, but if you need a double oven or more powerful heating elements it might not be your first choice.
Samsung NE63B8611SS: Design
• Slide in design
• Stainless steel
• Three color choices
• Easy wipe glass surface
The Samsung NE63B8611SS electric range has a slide in design and comes in three colors: black stainless steel, stainless steel or white glass. It also has an easy to clean smooth glass surface. It's incredibly stylish, which you'd expect from a reputable brand like Samsung.
Samsung NE63B8611SS: Features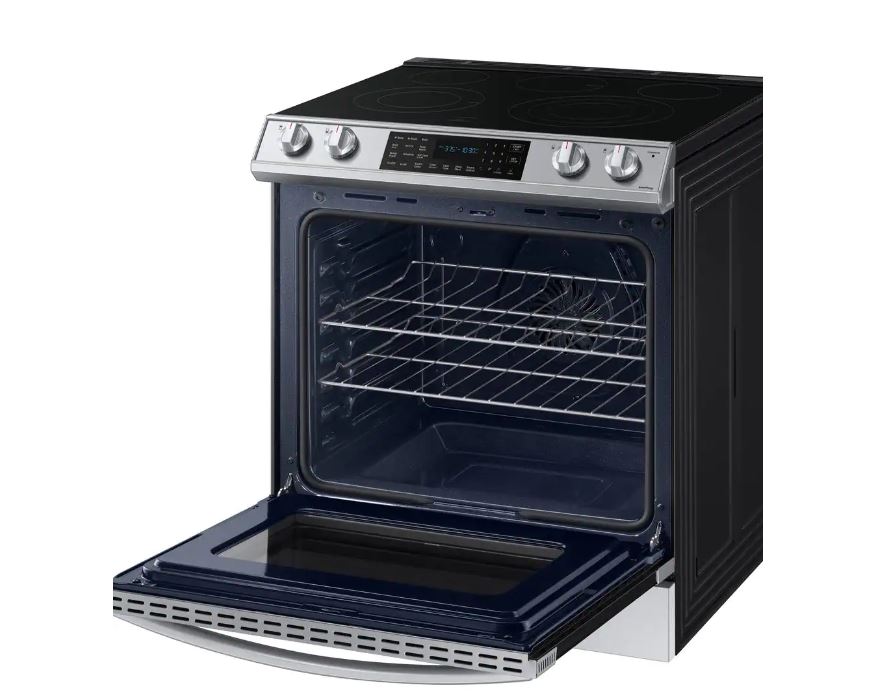 • 6.3 cu. ft.
• Convection oven
• Hyper efficient induction technology
• Dehydrator
• Air fryer mode
• WiFi enabled
• Voice control
• Child safety lock
• Fingerprint resistant
• Five element cooktop
Electric ovens are often slower than induction or gas, but the Samsung NE63B8611SS's large capacity and versatile range top more than makes up for this. 
There are five burners – two are dual zone and the three at the back are single zone. The back center burner is a warmer. As well as the generous stovetop, the 6.3 cu. ft. interior means you can fit multiple racks of food or the biggest Thanksgiving turkey without an issue.
The Samsung NE63B8611SS electric range has three cooking modes: convection, dehydrator and an air fryer, so you won't need to buy one of the best air fryers (opens in new tab). It comes with a limited one-year warranty, including parts and labor. 
The cooker is WiFi enabled and can be voice controlled by Alexa, Google or Bixby using the SmartThings app. Use your phone to preheat and adjust the oven temperature and timer remotely.
Samsung NE63B8611SS: Price and availability
$1599 / £1267
The Samsung NE63B8611SS electric range is expensive but it comes with some smart features including an air fryer, a convection oven and 'smart rapid heat' induction stovetops, which provide and maintain a faster heat. 
The cooker is available at Samsung, Best Buy, Amazon, Home Depot and AJ Madison.
Samsung NE63B8611SS: User reviews
The Samsung NE63B8611SS scores 2.3 out of 5 on Amazon, although on other online reviews, including the Samsung website, it is very highly rated (4.7/5 stars). Fans of the electric range praise its versatility, design and responsive stovetop. It is also very easy to clean and maintain. Negative reviews cited issues with the control keypad being too sensitive and the oven fan being louder than expected. And many reviewers said the stovetop was too responsive, with one reviewer saying: "The front electronic controls are so sensitive that even a light touch from your clothing or a paper towel can turn something on."
Samsung NE63B8611SS: Expert reviews
This range is a game-changer when it comes to cooking, offering a range of features that will make your life in the kitchen easier and more enjoyable, says Mark Walters, kitchen expert and founder of Marks Get Set (opens in new tab).
"The oven is perfect for anyone who loves to cook and wants to take their cooking to the next level. The Smart Rapid Heat Induction technology means that your pots and pans will heat up faster and more efficiently than ever before, while the Air Fry and Convection+ features allow you to cook your favourite foods to perfection. 
"There are so many great features on this range, it's hard to know where to start. The Smart Rapid Heat Induction technology is a standout feature, allowing you to boil water in just a matter of seconds. The Air Fry feature is also a game-changer, allowing you to cook your favourite fried foods using little to no oil. And with the Convection+, you can cook multiple dishes at once without having to worry about anything getting burned or undercooked.
"Another great feature is the SmartThinQ technology, which allows you to control your range from your smartphone. This means that you can preheat your oven or adjust the temperature while you're on the go, making cooking even more convenient.
"While there are so many great features on this range, there are a few cons to consider as well. The first is the price – this is a high-end range, so it may not be within everyone's budget. Additionally, some users have reported that the induction cooktop can be a bit finicky, and may take some getting used to if you're not used to cooking with induction.
"While it may be pricier than some other ranges on the market, the features and convenience that it offers are well worth the investment."
Should you buy the Samsung NE63B8611SS?
The Samsung NE63T8511SS electric range is on the best electric ranges you can buy today, with smart Wi-Fi controls and versatile cooking modes. It's expensive, and the air fryer is a little underwhelming, but bakers and foodies alike will love the even cooking process, stylish design and feature-rich appliance – provided they have the budget for it.
How does the Samsung NE63T8511SS compare to competitors?
If you want a slightly cheaper cooker, the Frigidaire GCRE3060AF ($1449) is one of the best ovens (opens in new tab) for smart feature fans. It has an air frying mode, and it's a convection oven, which means you'll get a more even bake.
Alternatively, if you don't want to splash as much cash, don't miss our GE JB655YKFS review (opens in new tab), ranked as our favorite oven overall, or the GE Profile PTD9000SNSS review (opens in new tab) – the perfect oven for keen bakers.