Samsung's NV51K7770SS/NV51K7770SG is a top of the range convection oven with a single 5.1 cu. ft capacity convection oven, though this cavity can be separated into two different cooking zones with differing temperatures for better versatility.
With prices starting at $3,849.99 you can bet this Samsung smart oven comes with some top-of-the-line specifications, with headline features including WiFi, a steam function, self-clean mode, stylish design, 7″ LCD display, soft close glass door and an easy glide rack.
Samsung NV51K7770SS: Key specs
Price: $3,849.99-$4,049.99
Dimensions (WxHxD): 29.8×28.6×24.4"
Oven capacity: 5.1 Cu. ft
Smart features: Yes
Weight: 150 lbs
Energy rating: Up to 4400W
Warranty: 1 year parts and labor
South Korea's largest business as of 2022, Samsung, has become a household name with a long history in consumer electronics and appliances dating back to its inception in 1938.
Samsung started exporting home electronics products and appliances overseas in the 1970s and has become the world's largest manufacturer of mobile and smart devices, so it's perhaps no surprise that many of its appliances including washing machines, refrigerators and ovens have WiFi and smart features built-in. With a long established history making household appliances, Samsung ovens regularly appear in our best ovens buying guide. 
In this review we take a closer look at the advantages and drawbacks of the Samsung NV51K7770SS to see if it's one you should consider if you're in the market for a new smart wall-mounted convection oven.
Samsung NV51K7770SS: Design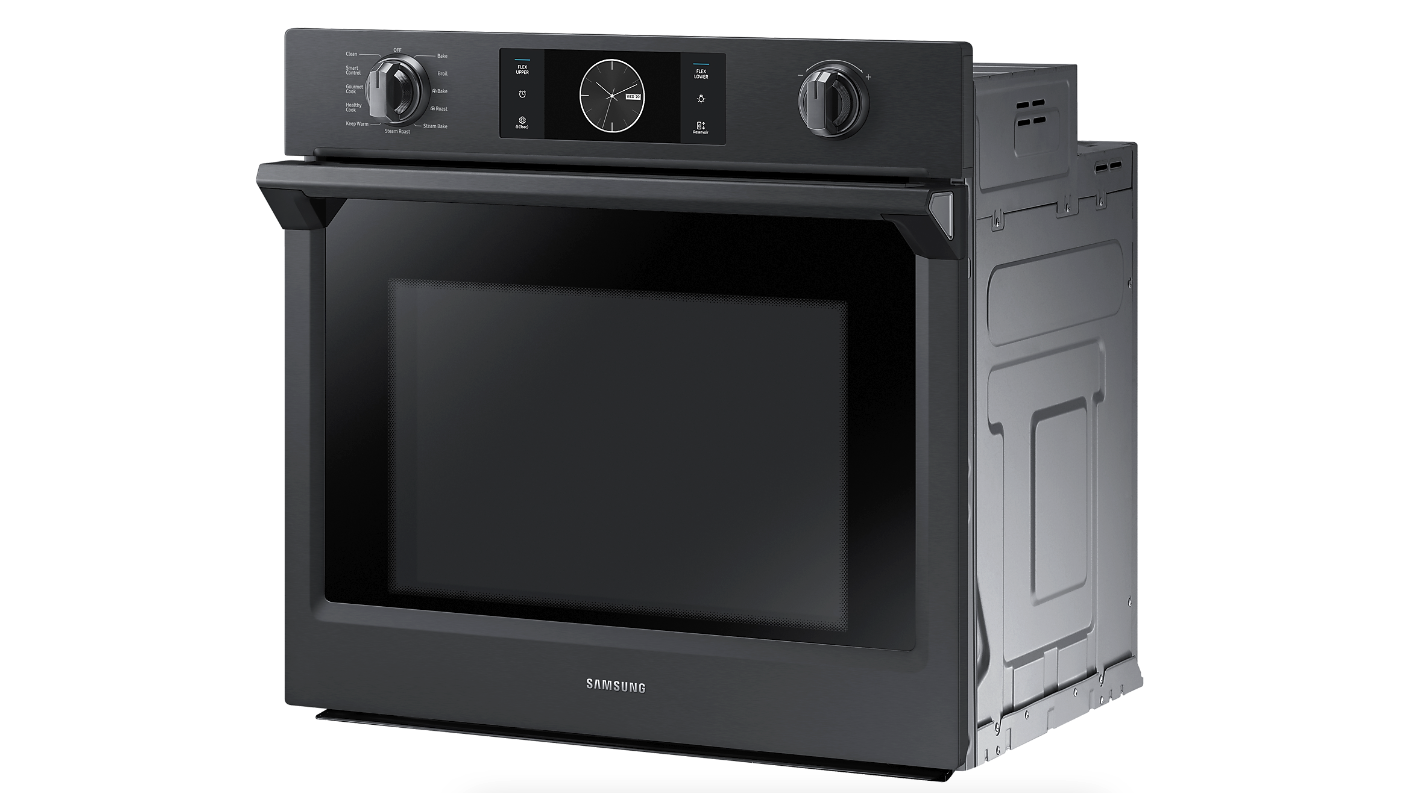 This Samsung oven is available in two colorways: a premium Black Stainless Steel model (NV51K7770SG) or Silver (NV51K7770SS) with prices starting with the more affordable silver variation at $3,999.99. It can be mounted under a hob or to a wall in a bespoke kitchen for a premium look and comes with a boat load of features all designed to make cooking easier and effortless.
This 30″ oven has dimensions of 29.8×28.6×24.4" and weighs 150 lbs, so be sure to check that it will fit in your kitchen space before parting with any money. The internal convection oven cavity is 5.1 cu. ft and has the ability to effectively be split into two different cooking zones (more on that later), the inside is also coated with enamel for easier cleaning.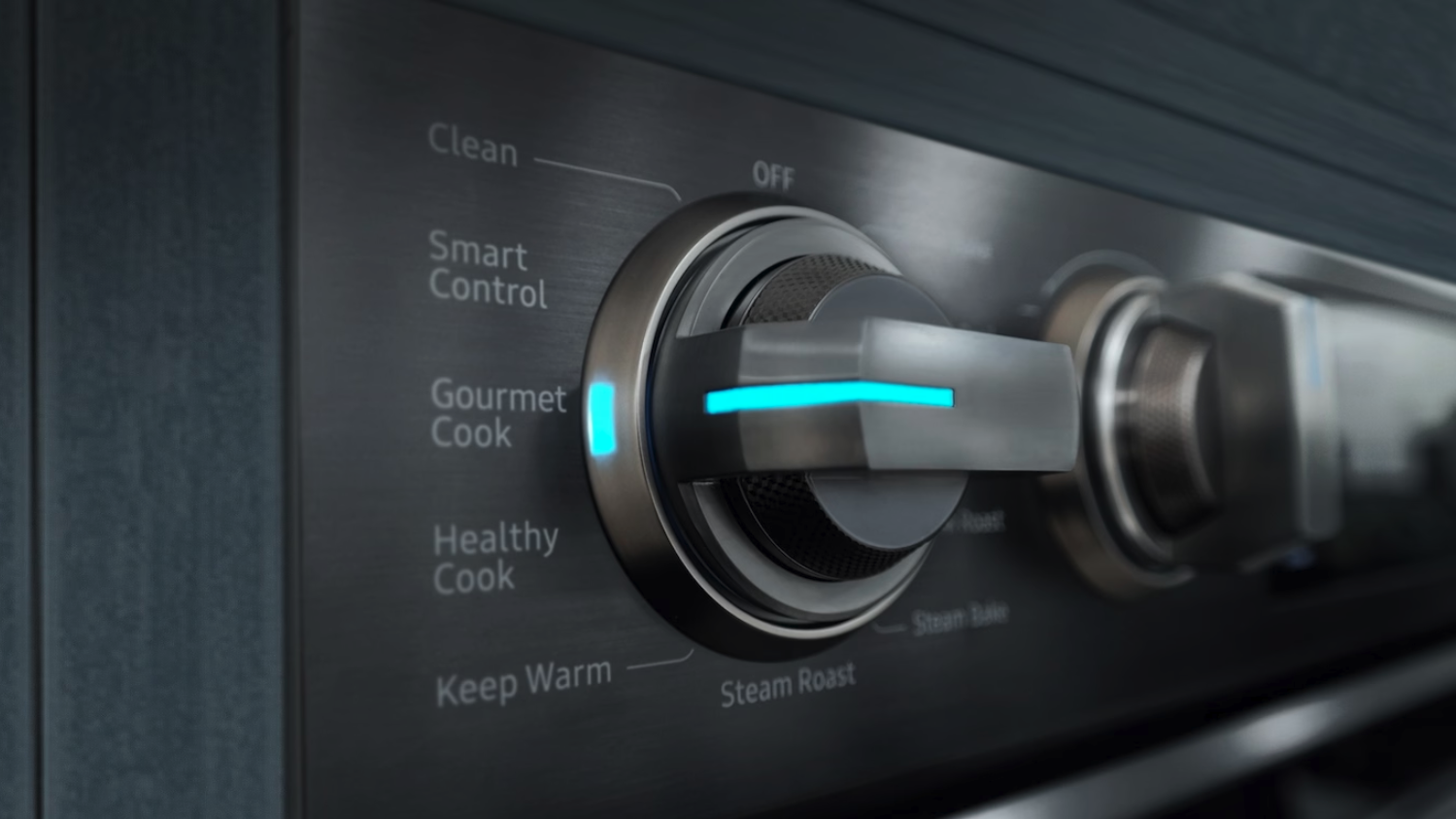 The Samsung NV51K7770SS (silver) and NV51K7770SG (black) has a stylish futuristic design with two large metallic knobs to control the burners and oven controls. Both dials are illuminated so you can see which settings are currently turned on. Samsung claims "Their large and robust design also makes them easy to grip and ensures enhanced usability".
The left dial allows you to set functions such as Clean, Smart Control, Gourmet Cook, Healthy Cook, Keep Warm, Steam Roast, Steam Bake, Roast, Bake and Broil. While the dial on the right allows you to turn the temperature up or down. There's also a substantial 7″ LCD display in the middle so you can dial in your settings clearly.
Also on the spec sheet is a drop down door with soft closing function. This makes it a little more safe and gentle to use with Samsung claiming it will "provide a more peaceful cooking experience". The hinge makes the door move smoothly in the final few centimeters, so it slowly and quietly comes to a stop.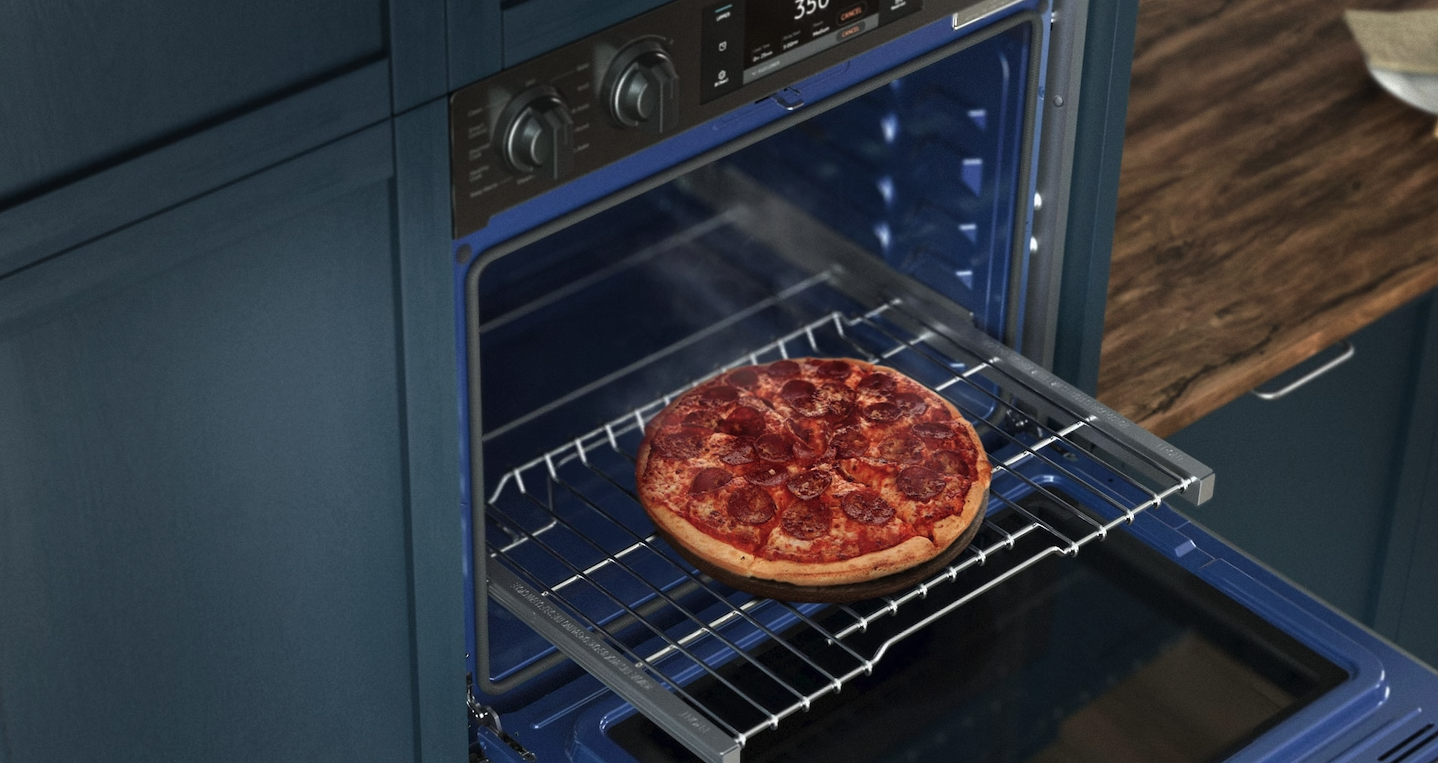 One design choice we liked the look of was the easy glide rack on the bottom shelf that sits on ball bearings and allows you to effortlessly pull the cooking rack out. However, the other two racks included are just the standard kind, and if you'd like them to also have this easy glide ball bearing functionality you'll need to fork out and buy them at an extra cost.
Samsung NV51K7770SS: Features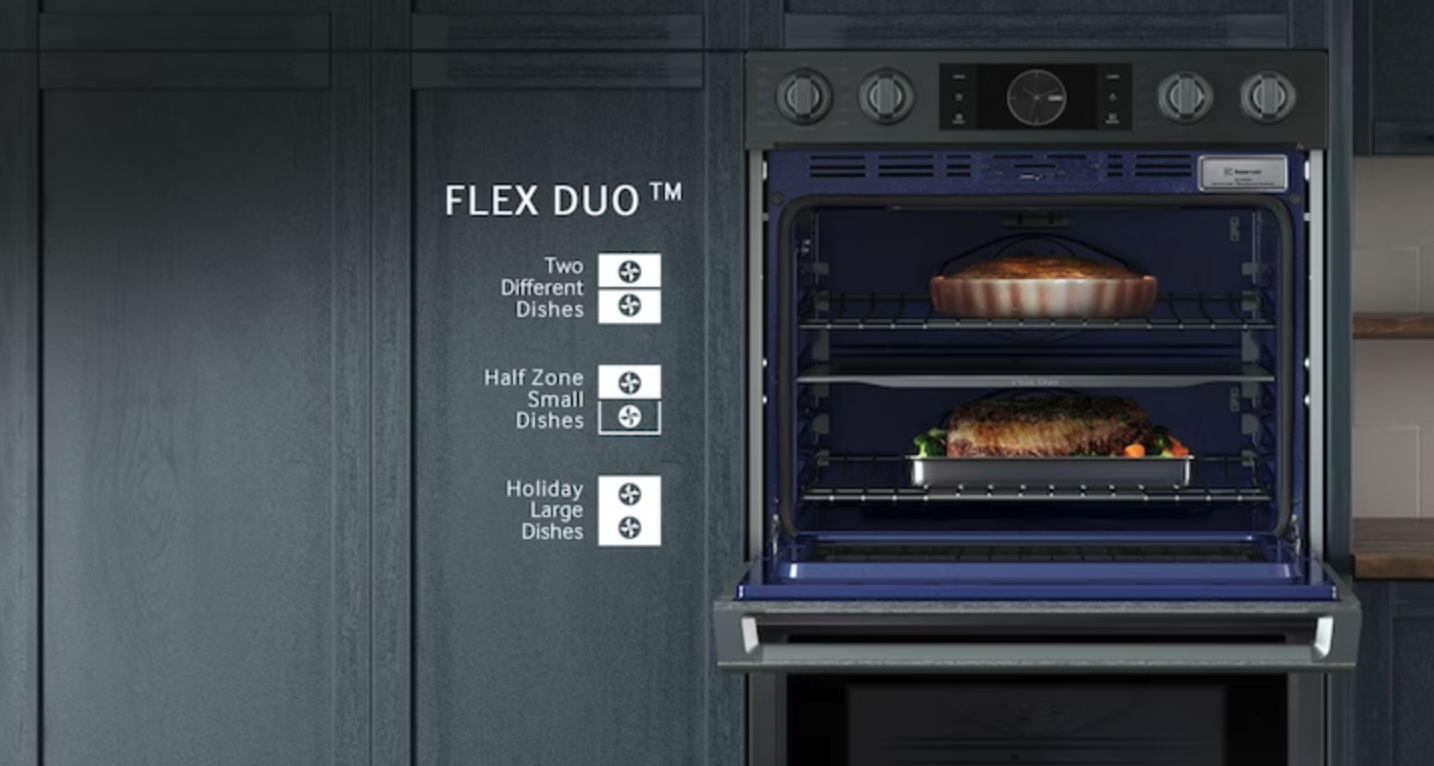 The Samsung NV51K7770SS has a single internal cavity of 5.1 cu. ft, but using its Flex Duo™ technology this can effectively be split in half with two different temperature zones. This means you could have two dishes that require different cooking temperatures and speeds in the top and bottom racks, or just use half the oven for smaller dishes to enhance efficiency. You can also set the whole internal cavity to the same temperature to cook large dishes such as a Thanksgiving turkey.
Samsung claims the dual convection system "cooks food evenly, so it's great for baking and broiling. Two fans distribute heat all around the oven, so dishes are cooked thoroughly and you can enjoy tasty results".
Another string in the Samsung's bow is the self-clean function. We all want cleaning to be as easy as possible, so the Hybrid Cleaning mode is designed to combine high heat and steam to pyrolyze food and dissolve grease, so it can be quickly wiped away. This is said to eliminate unpleasant odors without scrubbing and saves time too.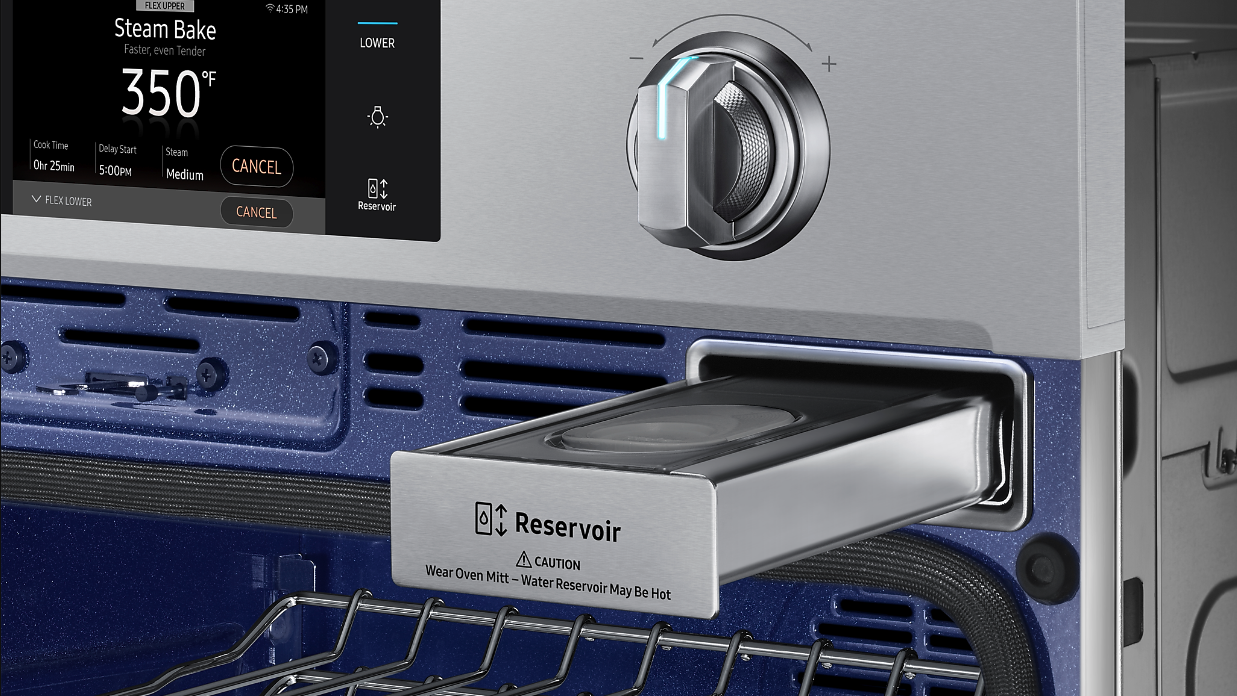 The high temperatures and dry heat from a convection oven naturally dries out food as moisture is evapourated away. High end ovens usually have a steam function to add moisture back into the cooking process and help deliver juicy and succulent results. 
On the Samsung NV51K7770SS you'll find Steam Roast and Steam Bake settings on the physical control dial as well as a water reservoir you'll need to occasionally top up to use the steam functions. The Steam Roast setting is said to ensure the best results when roasting, without food drying out. Roast meats, like poultry, pork and beef come out brown on the outside, but meltingly tender and juicy on the inside.
Samsung claims the steam cook functions deliver 'restaurant-worthy results' locking in moisture and vital nutrients while providing a crisp, browned outside and tender inside. 
It's also claimed that there's no need to preheat the Samsung NV51K7770SS, saving both time and energy. Samsung commented "You can begin cooking foods like frozen pizzas immediately, but still enjoy deliciously crisp and perfectly cooked meals".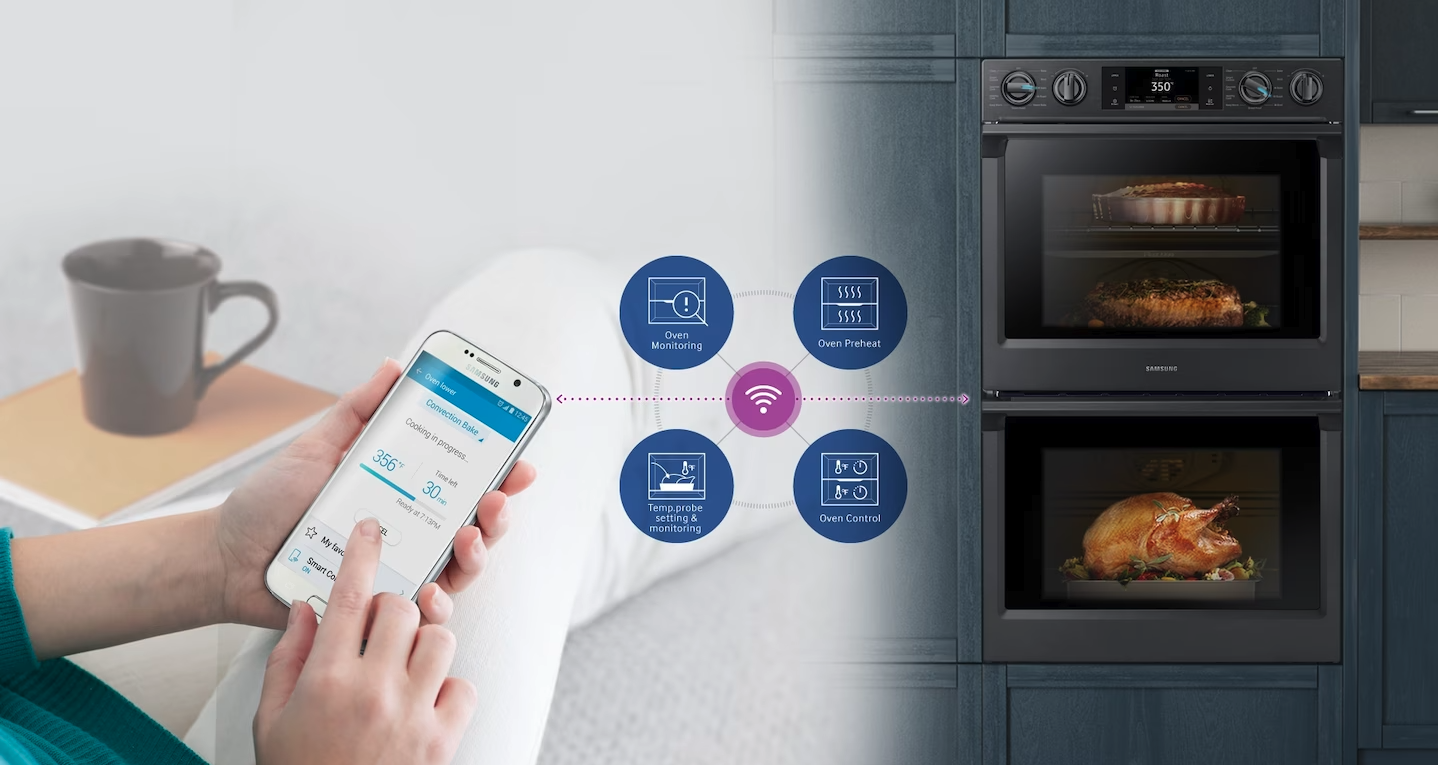 One of the world's leaders in smart tech and phones it's perhaps no surprise that Samsung's NV51K7770SS comes with WiFi and a plethora of smart features. It even has a huge 7″ LCD display which makes it feel like it has a mini tablet integrated the front control panel.
Using the free Samsung SmartThings app on an Apple iOS or Google Android smartphones you can remotely monitor and control the Samsung NV51K7770SS. Via the app you can monitor your cooking, turn on the preheat, control oven temperatures, monitor the temperature probe and more!
Samsung NV51K7770SS: Price and availability
This Samsung oven is available in Black Stainless Steel (NV51K7770SG) with a price of  $4,049.99 (marked down from $4,199.99) or Silver (NV51K7770SS) with an MSRP of $3,849.99 (marked down from $3,999.99) and was in stock on the official Samsung website at the time of review.
It's also available at retailers including Best Buy, Tepperman's, Bad Boy Superstore, The Brick, Branchaud and Tanguay.
Samsung NV51K7770SS: User reviews
On the Samsung official site the NV51K7770SS has amassed 56 reviews with an average score of 4.1 out of 5 stars with 68% of customers leaving top marks.
One customer left a five star review saying, "The oven heats up quick and cooks evenly. I like where you can have two ovens of two different temperatures or make it one big oven.
"On the oven racks I wish it came with two easy racks instead of one but I'll be purchasing another one. The only problem that we have is the app it seems like it only works on one phone we can't get it to work on a second phone, comes in handy when we were cooking the turkey and watching the temperature in the living room watching TV".
While another left a 5 star review saying, "This oven has been perfect for my small family of four. I've had it for over 2 years now, and since most of our baking typically only requires half the oven, the split functionality has been ideal. The oven heats up quickly, food cooks quickly, and with the addition of steam, meats stay moist and bread comes out perfect every time.
"I can't speak to other's experience in setting up the oven, but I found it to be a breeze, and getting it added to the Samsung SmartThings hub has helped me avoid keeping the oven on all night a couple of times that I forgot to turn it off (got distracted by the kids and forgot to turn it off)."
Moving onto features that customers were less fond of… Many users noted that the temperature was consistently unreliably low and failed to get back up to temperature when the door had been opened. One customer left a 1 star review saying "Temperature is always 25% to 30% lower than the setting. No software updates for the oven. Can't cook with it; not reliable".
Others noted that the oven would reboot while in the middle of cooking, causing havoc with their dishes. One dissatisfied customer left a two star review saying the Samsung NV51K7770S was "Designed by techs with no interest in real baking". They went on to say, "We bought this a month ago and I regret not checking the reviews first. The interface is a mess: we've burned multiple recipes just because the timers require a non-intuitive two-touch confirmation, the touchscreen is laggy, meaning you're frequently pushing the screen multiple times to get the feedback you want, and the temperature knobs make no sense at all (click back and forth to raise/lower temperature? On a rotating knob?) Oh, and the wifi/smart features don't work at all.
"The broiler is overpowered to the point of being unusable. High broil chars things in seconds, and even low broil requires you to use a lower rack to prevent burning too quickly.
"It bakes things just fine and it looks pretty, so there's that. But I'm deeply unhappy with Samsung's inattention to detail in this very expensive oven".
Samsung NV51K7770SS: Expert reviews
Top Ten Review's Home Editor, Sophie Bird, had the following to say about the Samsung NV51K7770SS:
"In terms of design, the Samsung NV51K7770SS is a single oven. However, thanks to dual convection cooking zones it offers the skillset of a double oven. You can cook two different dishes at varying heat levels within the single oven space which is great if you have a family with opposing dietary requirements. It also has the option to steam cook which will help to keep moisture in your dishes while you bake, broil, and roast your food.
"All of these features are made even more convenient thanks to WiFi connectivity. This not only means you can monitor your food from afar, but also that you can have your oven preheated for when you walk through the front door or finish watching your favorite show. It's not the most affordable in our round-up but there are often deals on this brand, so it's worth waiting it out to find a saving.
"The design of the Samsung NV51K7770SS is super sleek with neat additions such as knobs that illuminate blue when the oven is on, offering a premium finish that's also useful. This continues through to the easy-slide racks and Gourmet Cook feature that works on the color display to let you use the pre-programmed recipe guide to try out new dishes. Users commented on how useful the dual temperature cooking feature is and how quickly it preheats. Criticisms included how long the features took to understand, but once you've mastered them the oven is easy to use."
Should you buy the Samsung NV51K7770SS?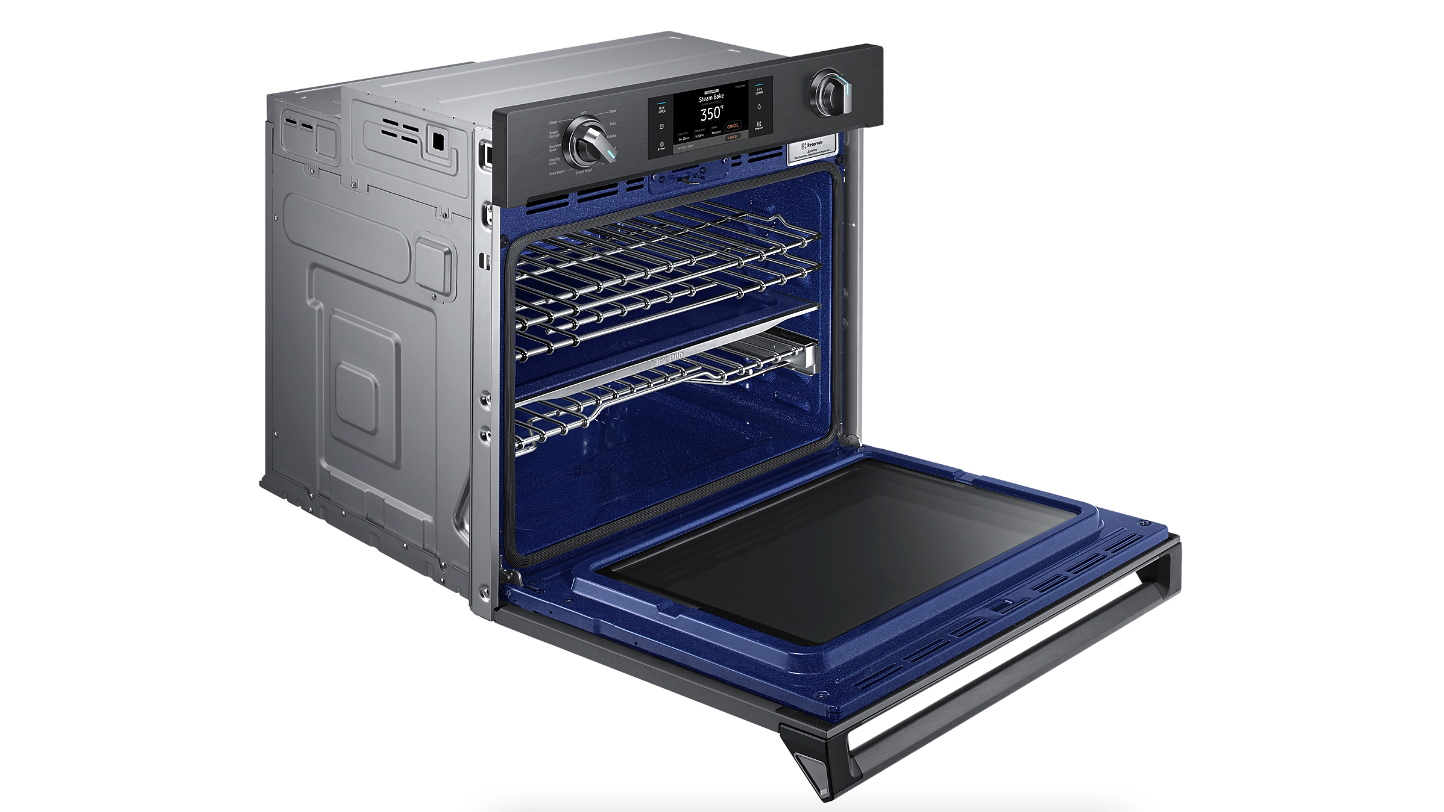 While the Samsung NV51K7770SS does have an impressive spec sheet and long list of handy cooking functions it was let down by numerous reports from customers saying that it had unreliable heating and would fail to get back up to temperature after the door had been opened. It's hard to say whether these customers were dealing with a faulty model but we did find multiple reports for the same issue. For a premium oven with such a high asking price we really expected more from Samsung. 
It could be that these customers received a faulty appliance, as 68% of customers on the Samsung website left top marks in their reviews, so clearly the vast majority by and large were very satisfied with the smart oven they'd received.
How does the Samsung NV51K7770SS compare to competitors?
We gave the GE JB750SJSS 4.5/5 stars and called it "a great mid-price oven with a good capacity and excellent features". If you have the space for a full size convection oven this would be a great choice as it features dual burners, a large 5.3 cu. ft oven space and is reasonably priced for a mid-range cooker at $909 and can often be found on sale discounted down even further too.
The LG LWC3063BD comes packed to the brim with all the bells and whistles that you can expect from a premium $4,000 cooker. It has dual ovens: a TurboCook Speed oven with a microwave built-in as well as a true convection one. It also boasts Smart capabilities. The downsides are it's high bar to entry with its pricey RRP and many users found the microwave beeping to be very annoying as it needs to be switched off manually every time.
If you're short for kitchen space you may be interested in the Cosori 30L 12-in-1 countertop oven. It sits in the sub-$200 sweet spot and packs in no less that 12 different cooking options that make it an extremely versatile countertop cooker and energy efficient too, so it's fantastic value for money and ideal if you have a kitchen with limited space or would like a versatile option with plenty of different cooking options.