The Samsung WA49B5105AV might look fairly basic in design but don't be fooled – this top loading washer is easy to use, has a decent size capacity and a powerful yet quiet motor that really gets clothes clean. And you know you are buying quality with Samsung, one of the most reputable electronics brands in the US.
Samsung WA49B5105AV: Key specs
Dimensions: 27.5" x 44.6" x 29.4"
Type: Top load
Noise level: Vibration reduction technology
Capacity: 4.9 cu. ft.
Cycles: 10
Energy Star certified: Yes
We love the deep fill tub that can handle large loads (read: less time spent doing laundry), and, as with all the best top-load washing machines – which have a hatch at the top of the appliance – the Samsung WA49B5105AV is really easy to load. This means it's great for anyone with mobility issues that make crouching down or bending over tricky.
It uses an agitator to help clothes rub together, blasting grime and dirt (although bear in mind this method can be a little tough on fabrics). It's Energy Star certified, so it uses less energy and water and helps to reduce the impact on the environment. This model also comes with an impressive 20-year warranty on the digital inverter motor. Don't miss our guide to the best front foad washers (opens in new tab) and our review of another good top loader, the Samsung WA50R5400AW (opens in new tab). 
Samsung WA49B5105AV: Design
The Samsung WA49B5105AV has a simple top loading design, with easy to use physical buttons (as opposed to touchscreen). The top load means it's less prone to mold around the seal, and it has a large 4.9 cu. ft. capacity and deep fill tub. It also makes it a good option for people with mobility issues, as there's no crouching down or bending over to load the laundry.
It comes in two colors: white and brushed black and has a footprint of 27.5" x 44.6" x 29.4".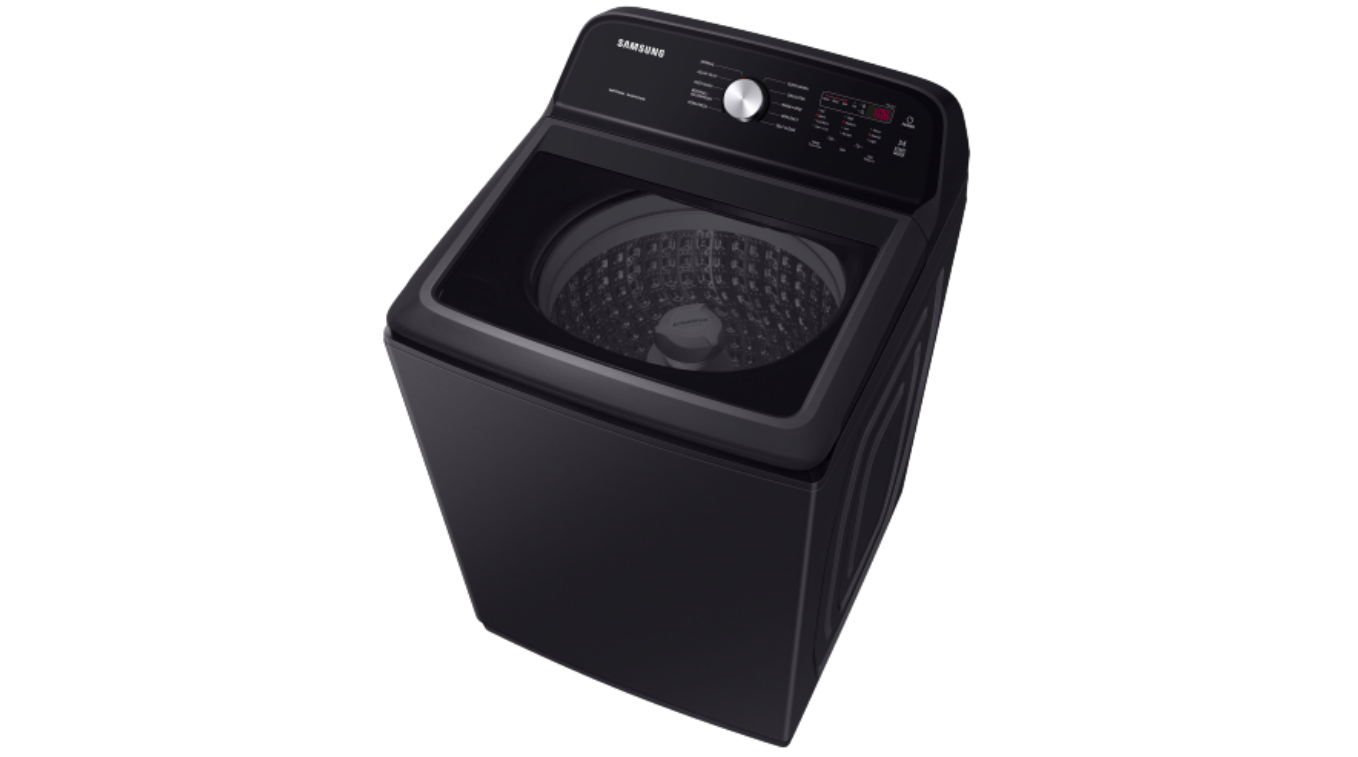 The big pull of this machine is it's so easy to use, and the Deep Fill setting allows you to input your max. water level during wash cycles, reducing water usage. 
The decent 4.9 cu. ft. capacity is designed to cater for bulky loads, and the Super Speed cycle coupled with the powerful motor means you can get a wash done in just over 30 minutes.
Samsung WA49B5105AV: Features
The Samsung WA49B5105AV top loader has a ton of features to make laundry life easier, including the Active Waterjet – a built-in water faucet – that means you can pre-treat stains at the machine. The Samsung WA49B5105AV also has a self-cleaning feature, which keeps maintenance to an all-time low.
It has 10 preset washing cycles and five temperature levels, and it comes with a child lock, deep fill tub and Smart Care tech to troubleshoot any issues. The soft close lid helps prevent injuries, and the ActiveWave agitator gets to work removing tough stains – but bear in mind this can seem a little noisy. On the whole though this is a quiet washer thanks to its vibration reduction technology.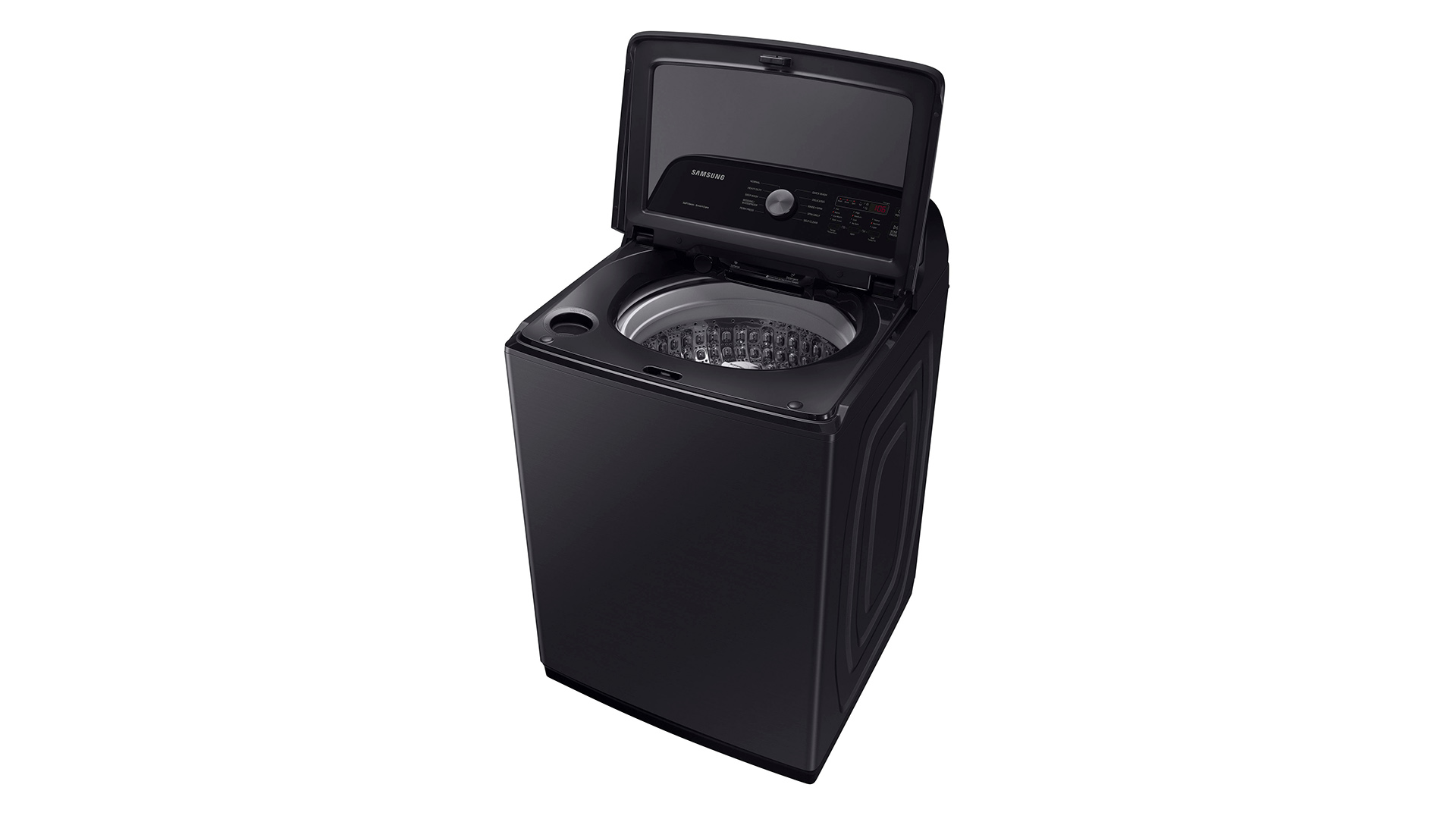 This model also comes with audio assistance and braille next to key control panels so it's easier to use for anyone visually and/or hearing impaired. The EZ Access tub design is easy to load and the Swirl+ Tub interior extracts more water, so that clothes dry quicker after a wash. It doesn't have any drying options but there is a matching dryer can you buy if you want the set.
Samsung WA49B5105AV: Price and availability
The Samsung WA49B5105AV 4.9 cu. ft. top load washing machine retails at $729 / £593 and has an impressive 20 year warranty on the digital inverter motor (limited to US assembled washers only). 
It also comes with 1-year warranty on parts and labor, 3 on the tub and 10 years on the direct drive motor. It falls under the mid to upper price bracket for top loading washing machines, but it does come with a lot of features to make laundry life easier.
It's available to buy from Samsung, Home Depot, Best Buy and Amazon.
Samsung WA49B5105AV: User reviews
The Samsung WA49B5105AV gets a lot of love from users. It averages a score of 4.9 out of 5 on the Samsung website, with users praising its performance, design and value for money. 
Several reviews mentioned how user friendly the control panel is, and how the large tub capacity achieved a thorough clean, even with large loads. Reviews also said the machine was very quiet, and energy-efficient. 
One user said: "I love the fact there are so many different wash options." It received mostly praise but the few negative reviews cited issues with reaching the bottom of the tub, especially for those who are short.
Samsung WA49B5105AV: Expert reviews
So what do the experts say about the Samsung WA49B5105AV? Laundry expert Joyce French at HomeHow.co.uk is a big fan. She says: "The ActiveWave technology is designed to reduce noises, vibrations, and tangling while also maintaining a powerful clean. This is great for those with smaller homes who want to minimise the noise coming from the washing machine. It's also great for people who like to put their washing loads on at night as the sounds and vibrations won't keep you awake. 
"The large capacity is perfect for families. You can easily clean clothes for the entire family in fewer loads. This is great for helping you to save on energy and gives you more free time to do the things you love. 
"With easy troubleshooting from your smartphone, you can easily diagnose any issues and find fast solutions when you need them the most. With a self-cleaning mode, you will never have to worry about keeping on top of cleaning your washing machine again. This is perfect for busy households or those who forget to clean their washing machine. The soft-close lid can help to keep your family safe. This is especially true if you have curious children who like to stick their fingers in places they shouldn't. 
"With 10 present washing cycles, you'll never be short of options. No matter what you need, you'll find a cycle that suits your washing requirements. If you want a washing machine that provides a powerful clean with low sound and vibration levels, this machine is perfect. It's a great option for big families and perfect for people who often have heavily soiled clothing items. Plus, it's a very aesthetically pleasing machine that looks great in any setting."
Should you buy the Samsung WA49B5105AV?
The Samsung WA49B5105AV is a decent mid-range top loading washing machine that can save you time and money thanks to its eco-friendly status and deep fill tub. Parents of young children will appreciate how much laundry they can get done in a single load. 
While some of the regular cycles take a while to complete, the Super Speed cycle does a decent job despite being a fast run. And it's one of the quietest washing machines (opens in new tab) we've reviewed – a big plus in our book.
How does the Samsung WA49B5105AV compare to competitors?
If you have pets, then you need to invest in the Maytag MVW6500MBK (opens in new tab) top load washer, which has a Pet Pro mode designed to remove hairs from laundry with ease. It comes with an in-built faucet for rinsing, making it ideal for garage use or for people with mobility issues who struggle to bend over for a front loading machine. 
If you have a bigger budget, and like the front loader style, try the GE PFW950SPTDS. It comes with GE's Dynamic Balancing Technology, which is designed to sense and rebalance uneven loads of laundry during the spin cycle – resulting in a quieter wash. With a big 5.3 cu. ft. capacity, it uses AI tech to customize your cycle settings automatically.
Another more expensive but worth the money option is the LG WT7900HBA (opens in new tab). Ideal for families or anyone with a big laundry basket it has a large capacity 5.5 cu. ft. drum and modern design. It is also packed with LG features including specialist washing functions and smart connectivity.