Samsung's WA55A7700AV is a premium top load style washing machine that comes with some quality features including a mammoth 5.5 cu. ft capacity suitable for large families, Smart capabilities via Wi-Fi and the SmartThings app as well as an automatic detergent dispensing system.
South Korea's largest business as of 2022, Samsung, has become a household name with a long history in consumer electronics and appliances dating back to its inception in 1938. Samsung got into the washing machine sector in the mid-70s so its no surprise a company with its experience makes high quality machines that often appear in our best washing machines (opens in new tab) buying guide. 
Samsung WA55A7700AV: Key specs
Price: $899
Dimensions: 27.5×45.8×29.4"
Noise level: N/A
Capacity (cu. ft): 5.5
Cycles: 12
Energy Star certified: Yes
Warranty: 1 year (20 years on direct drive motor)
Top load style washing machines are popular due to their fast cycle times, large capacities and energy efficiency. Samsung's WA55A7700AV top-loader has an incredible maximum capacity ideal for large families and will handle bulky items like comforters and towels with ease.
It's also Energy Star certified which means it meets Energy Star's strict performance requirements for energy and water consumption making it a good model to go for if your conscious of saving on utility bills.
The Samsung WA55A7700AV has an RRP of $1,299 though we found it reduced down to $899 on the Samsung official US website. At this price it does sit at the top end of the market alongside premium models like the Whirlpool WTW8127LC at $1,399 (sale price $999) and the Maytag MVW6500MBK at $1,299 (sale price $999).
In this review we assess the good and bad, scouring through hundreds of user reviews as well as comparing against its features and price point to work out whether the Samsung WA55A7700AV is good value for money.
Samsung WA55A7700AV: Design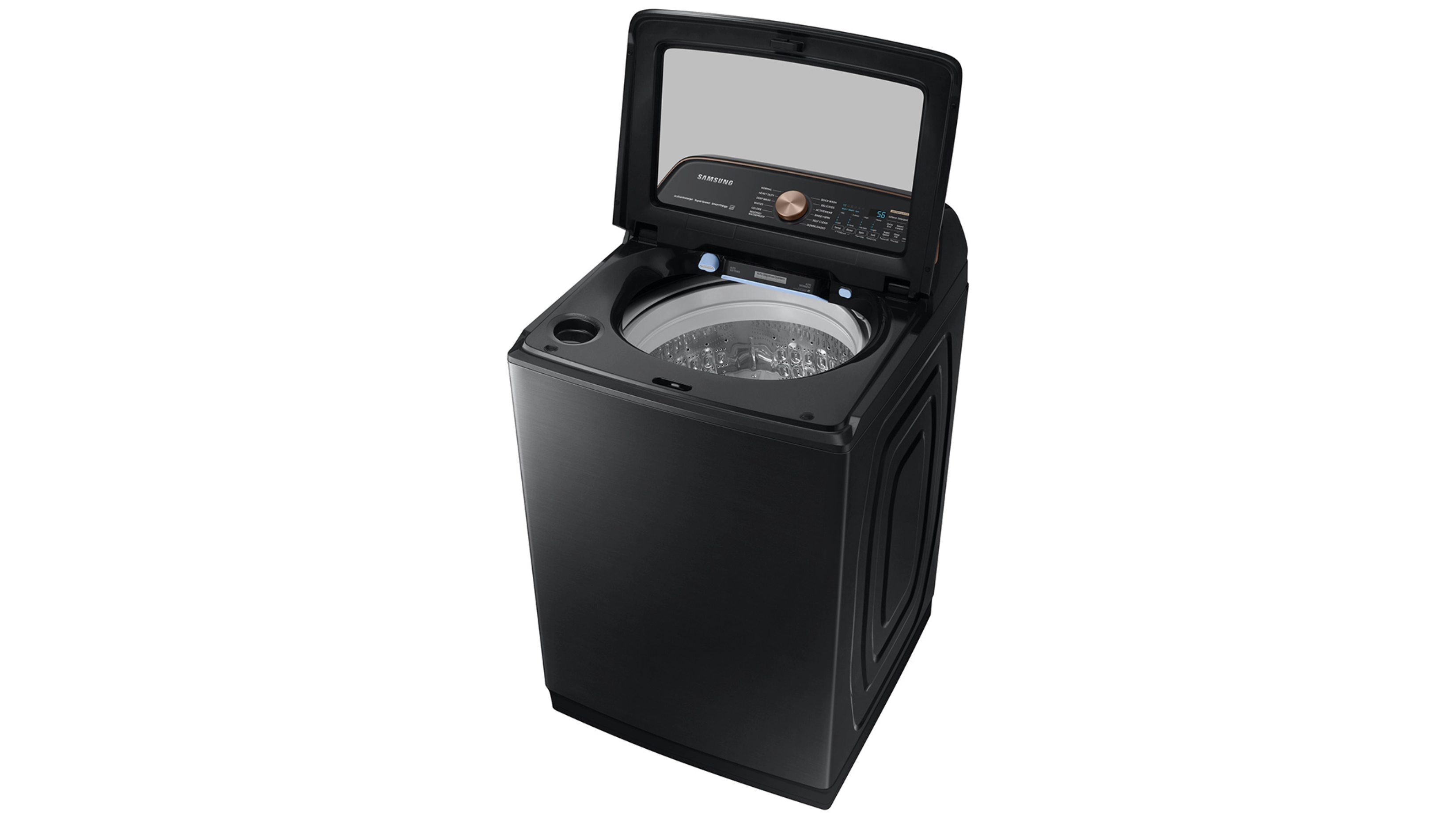 The Samsung WA55A7700AV washing machine measures 27.5×45.8×29.4" and has a top load design so be sure to check the dimensions will work with the space you plan to use for it before purchasing with any money. It also weighs 134.5 lbs.
Colorways are limited to just one: Brushed Black with an ice blue LED display and deep gray lid. So if you're looking for an appliance to match your other chrome or white units you are unfortunately out of luck here! It is however, perfectly paired with Samsung's DVE55A7700V 7.4 cu ft. smart electric dryer which also comes in a brushed black finish. We think the black design makes it look high-end and premium and will also show up dirt less and fingerprints compared to chrome or white colors.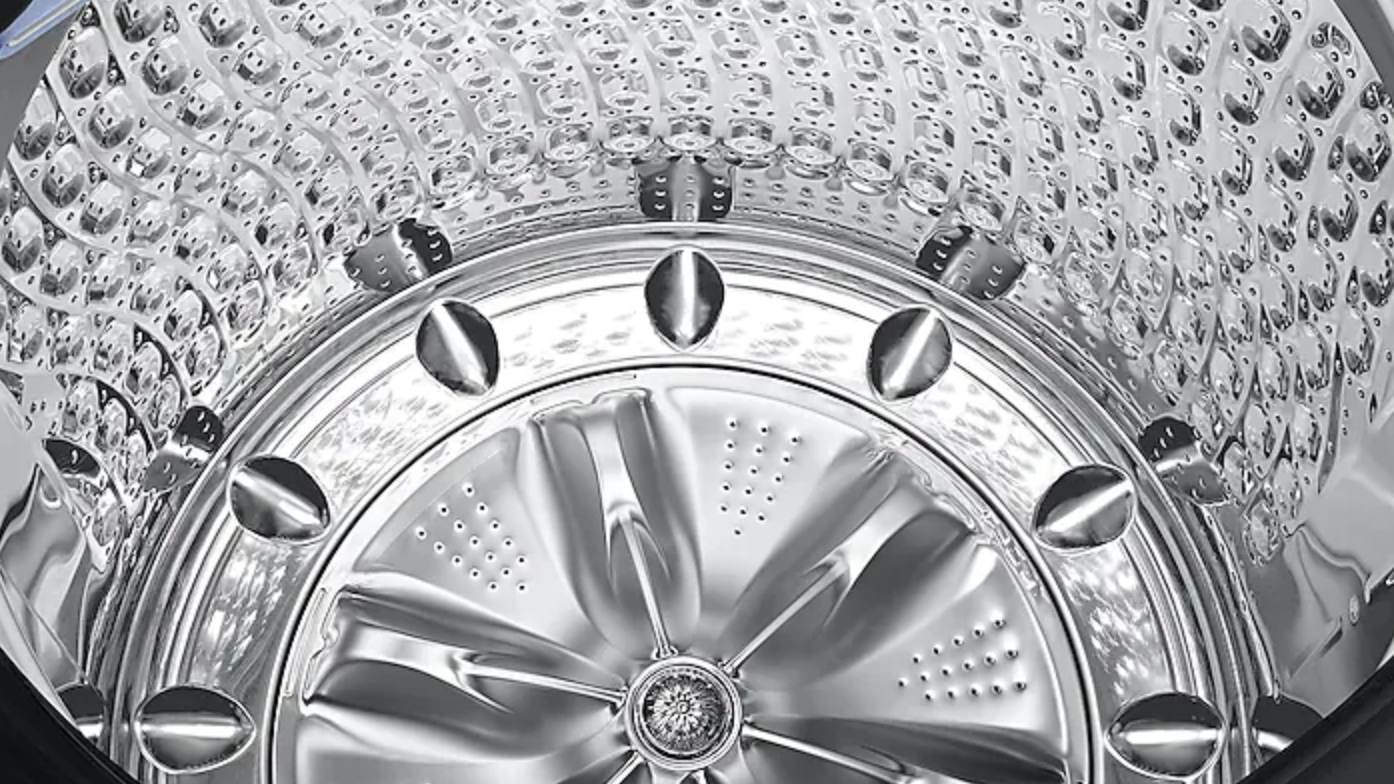 The WA55A7700AV features a durable and scratch resistant stainless steel tub and pulsator which gives the machine a premium feel too.
Another hallmark of high quality design is its durable glass lid. This means users can check on laundry even mid-cycle and it has a soft-close function to prevent it from slamming shut.
The control panel finishes off the machine nicely and looks smart sitting raised up just behind the soft-close lid. It has a physical dial to choose between 12 cycle modes and has a touch display panel for dialling in other settings. 
Adding to the accessibility of both the Samsung WA55A7700AV and matching electric dryer (DVE55A7700V/A3) or gas dryer (DVG55A7700V/A3) is the inclusion of audio assistance, playing a different sound for each option. It also features braille next to key control panel buttons so would be a great option for users with visual and hearing impairments.
Samsung WA55A7700AV: Features
With a street price of around $899 the Samsung WA55A7700AV sits at the top end of top-loading washers, though it packs in a lot of features which helps make it good value for money and justify its high asking price.
Aside from the obvious large 5.5 cu.ft capacity that makes it ideal for large families and bulky items like comforters and towels, it has creature comforts such as an Auto Dispense system that allows you to fill it up and forget about it. The machine will automatically dispense up to 12 loads of detergent and softener before you need to refill it, so is great for those looking to set it and forget about it for long periods of time.
Also on the spec sheet is a Super Speed mode that can run a cycle in just 28 minutes. This makes it one of the fastest machines on the market and great for when you need your favourite garments cleaned in a hurry.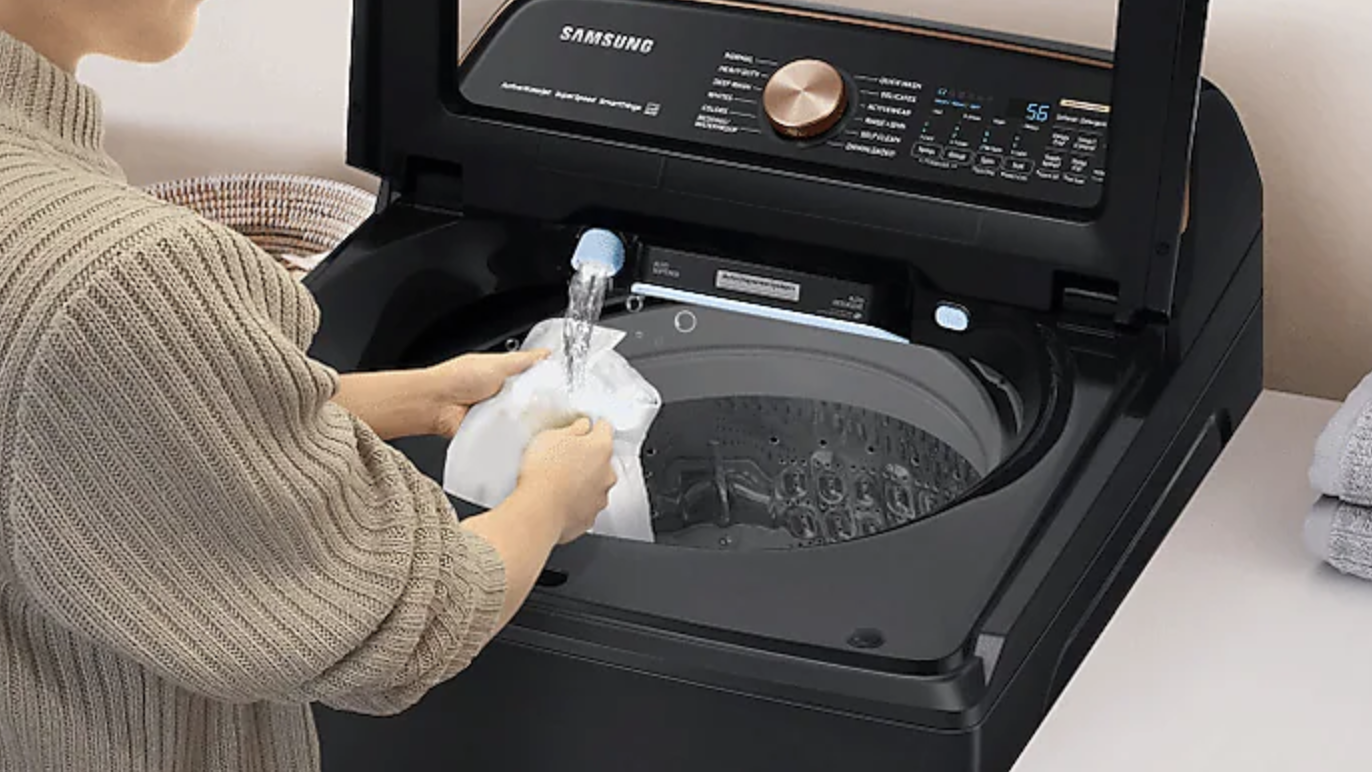 The Active WaterJet means you can pretreat soiled or heavily stained clothes with the press of button, adding convenience and removing the need to go back and forth to your sink.
There's a Deep Fill option to maximize the water level used during your washing cycle and claims to add water at the right time to ensure all items are thoroughly soaked.
Vibration Reduction Technology+ is also boasted to reduce noise and vibrations, though with no definitive noise level mentioned on the spec sheet you'll have to take their word for it. Customer reviews appeared to confirm the Samsung WA55A7700AV is a fairly quiet machine with one customer even going so far as to call it 'silent'.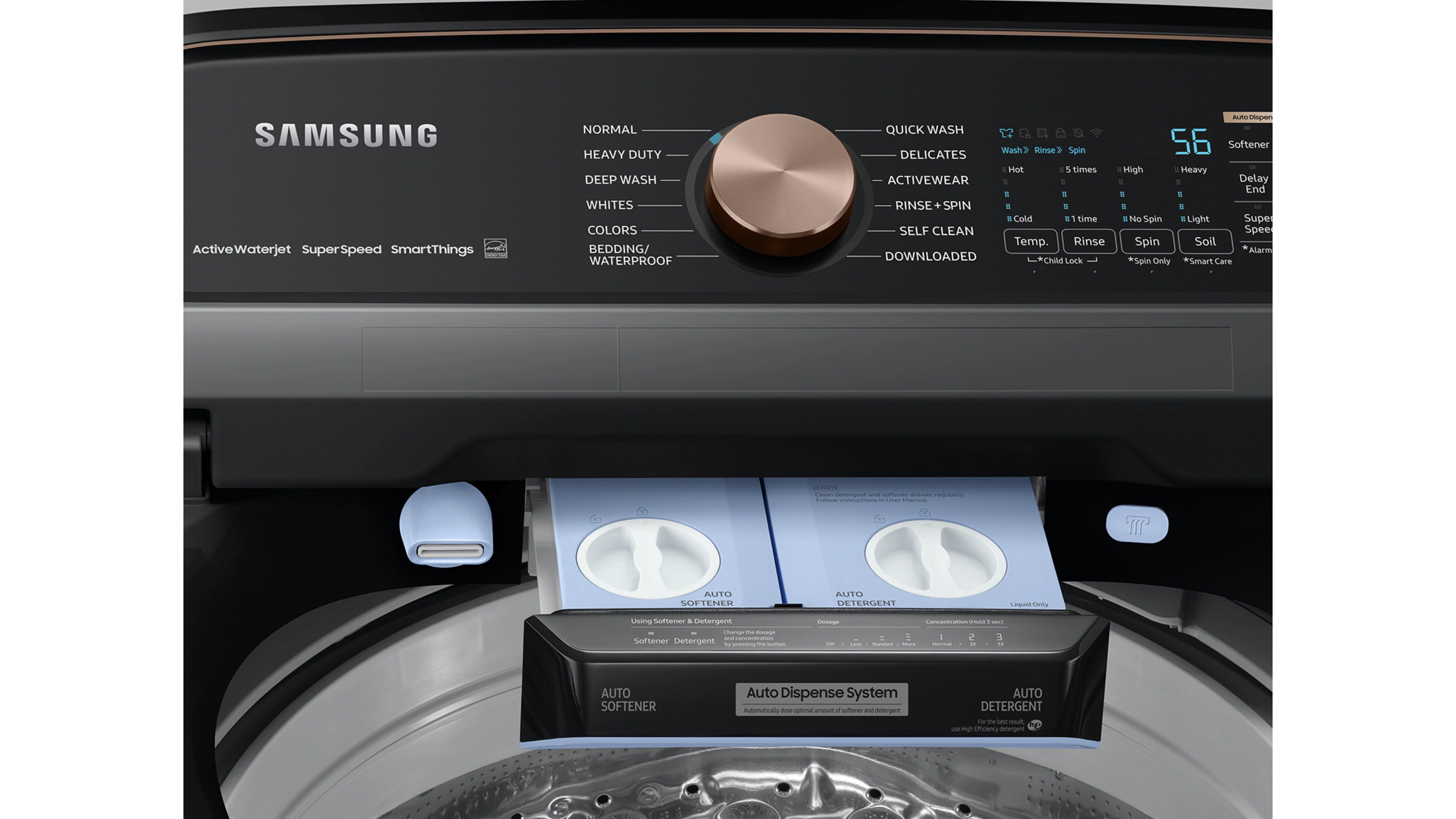 The pulsator and drum are made from stainless steel for a premium finish and also makes them scratch resistant and less likely to snag that with a plastic one. The tub pattern has also been improved to extract more water more quickly during the rinsing cycle and prevents fabrics from snagging during washing.
As you'd expect from a washing machine in this price range the WA55A7700AV has smart features. Connecting to a smart device over Wi-Fi using the Samsung SmartThings app you can remotely start the machine, schedule a cycle and receive end of cycle alerts to your smartphone.
Another feature we like the look of is the Self Clean mode. This keeps your washer tub fresh and clean and will notify you every 20 wash cycles when it is time for a cleaning.
Samsung WA55A7700AV: Price and availability
The Samsung WA55A7700AV has an RRP of $1,299 though in many stores we found it discounted down $899 which makes it much better value for money. 
At the time of review there were 14 different retailers available to purchase this model from. The Samsung US website and Percy's has it listed for $899, Home Depot and Abt knocked $1 off and listed it for $898, while US Appliance had the best savings at $846 including free shipping. 
Though pricey, the WA55A7700AV comes with a one year warranty on parts and labor as standard, plus you'll get a three year warranty on the stainless steel tub and a whopping 20 years on the direct drive motor. It's worth noting that to get the 20 year guarantee on the motor you have to make sure your machine was assembled in the US.
Samsung WA55A7700AV: User reviews
The Samsung WA55A7700AV currently sits at an average of 4.5 out 5 stars on both Samsung's official site and Best Buy, with each having 149 and 325 reviews left respectively. Here's some of the notable good and bad points customers raised…
One customer left a top score of five stars saying, "I wanted a basin equivalent to what could be dried in a load. I had no idea what a difference the size would make. I look forward to washing my comforters at home."
While another happy customer gave five stars saying "We bought this machine within the year and we haven't had one problem. The extra space and wireless features are exactly what I needed! There were updates needed and Samsung communicated quite efficiently with no need for us to call or have a walk-through. Best washing machine I have ever owned…so quiet too!". While another said "This is our first time having a top-load washer and so far it's been well! I like the option of the deep fill feature for comforters and heavy loads. You don't get the smell of the front load washer. It's been 3 months now and so far no issues.
As with any product that sells large quantities you're bound to get less favorable reviews too. We found customers to mainly comment on two drawbacks: the water level and the agitation. One customer said "When you wash a normal load on normal it doesn't give you enough water! I constantly have to push the blue button to just get the clothes submerged down in water." While another said "There's no rotation of the clothes while the washer is washing! The clothes just sit there from side by side movement! We're better off washing our items by hand!"
Samsung WA55A7700AV: Expert reviews
So what do the experts say about the SWA55A7700AV? Laundry expert Megan Wollerton at cnet.com (opens in new tab) gave it a mixed review and score of 6.2 out of 10. She says: "Samsung's $899 WA52M7750AW top-load washing machine has a large 5.2-cubic-foot capacity, an attractive display panel and a built-in sink."
"It doesn't remove stains well — at all. The Samsung Smart Washer app and related SmartCare troubleshooting feature is confusing to operate."
"Samsung's $899 WA52M7750AW has some pros — it's a good size, it looks pretty nice, and its built-in sink makes it easier to presoak and hand-wash clothes. Unfortunately, this washer got our second-worst stain removal score so far. Take a look at GE's $699 GTW685BSLWS and Kenmore's $830 26132 instead. While neither alternative model comes with a sink, both performed well and offer a solid overall value."
Should you buy the Samsung WA55A7700AV?
The Samsung WA55A7700AV was named our best top loading washing machine due to its huge 5.5 cu. ft capacity, solid 12 cycles to choose from, Smart features and creature comforts like its auto dispense system, all at an attractive price of $899 when it's on sale.
It also comes with a hard-to-beat 20-year warranty on the inverter direct drive motor, eco-friendly operation with Energy Star certification and has audio assistance in addition to braille making it a great option for those with hearing or visual impairments.
The downsides are some customers were unhappy with the water coverage, saying it didn't leave clothes completely soaked and clean unless put on the deep fill mode, and others were left unhappy with its amount of agitation and cleaning power, possibly as the model omits an agitator.
Overall, we think the features this machine is good value for money on sale for around $850-900, though be sure to have a look at our competitor recommendations below as there may be a better model that suits your specific needs at this price range.
How does the Samsung WA55A7700AV compare to competitors?
The Samsung WF42H5000AW was rated our best front loading washing machine and is about $200 cheaper at just $700, though the compromise is that it's a front load style and also has a 23% smaller capacity at 4.2 cu. ft. It also has fewer cycle options with just eight to choose from and doesn't have any Wi-Fi or Smart features, but would be a good choice if you're on a tighter budget.
The Maytag MVW6500MBK has a comparable maximum load at 5.4 cu. ft and was named our best washing machine for households with pets due to its impressive pet hair removal filter. Like the Samsung WA55A7700AV, it has 12 cycles to choose from. At $1299, often discounted down to $999 it's comparable to the Samsung model in this review.
The LG WM9500HKA was rated our best large capacity washing machine which has a slightly larger maximum capacity of 5.8 cu.ft, 14 cycle options to choose from, in addition to a handy steam function to reduce wrinkles. It is pricey though with an RRP of $1,999 (often discounted down to $1,750) so it's considerably more heavy on your wallet than the $899 for the Samsung WA55A7700AV.