The Smeg Drip Filter Coffee Maker is a stylish countertop appliance with that retro 50s vibe Smeg does so well. It comes in a wide range of colors to match your kettle, toaster etc and will brew up to 10 cups of coffee in one go. The 40-minute keep warm function works well, and you can select the aroma intensity according to preference. 
Unfortunately, there isn't a 'strong enough to stand a spoon in it' option for those of us who need a hard caffeine fix to jump start the day, but its programmable auto-start mode does ensure your coffee will be ready and waiting whenever you stumble downstairs. I also appreciated the generous 1.4 liter water tank with water level indicator on the side, and the reusable filter limits unnecessary waste.
The model we tested was the DCF02SSUK, which is the DCF02SSEU in the USA and Europe. The Smeg Drip Coffee Machine doesn't have many of the fancy gadgets or fiddly functions you'll find on more serious barista-grade machines but, for less than $300, it produces a decent enough brew to make it worthy of a place in our best coffee makers line-up. 
Smeg Drip Filter Coffee Maker: Product specifications
Type of coffee: Grounds
Brew time: 2-8 mins
Milk frother: No
Programmable: Yes 
Brew size options: 4 cup and 10 cup 
Water tank capacity: 1.4L
Carafe size: 1.4L
Power cord length: 1 meter 
Warming plate: Yes 
Coffee grinder: No 
Average Noise level: 43dB 
Color: Stainless steel (also in red, black, cream, slate grey, pastel blue, pastel green, white)
Material: Stainless steel, glass
Dimensions: 14.25 x 9.6 x 10 inches / 24.5 x 25.6 x 36.1cm (w x d x h) 
Weight: 7.5lb / 3.4kg 
Linda is a freelance journalist and has tested many products during the past two decades, including home tech, gym equipment, garden tools and even mattresses. Literally, paid to sleep! She works from her Devonshire home, always within five paces of a caffeine supply. 
Her preference is for Americanos, as strong and black as you please, and she has zero truck with the mocha-chocca-soy-latte-shot brigade. She put the Smeg Drip Coffee Machine to good use during a couple of particularly frantic weeks trying to lock down deadlines before school broke and was sad to see it return to Smeg HQ.    
Smeg Drip Filter Coffee Maker: price and availability
The Smeg Drip Filter Coffee Maker retails for $269.95 and is available to buy direct from Smeg, as well as major online stores such as Amazon in all the colors or Best Buy in black, pastel blue or pastel green.
Smeg Drip Filter Coffee Maker: First impressions
The water tank, which holds 1.4L, is accessed under the lid in the top. It's right at the back so I had to drag the appliance forwards to prevent the lid clipping on the shelving unit above. Even then I needed to switch to a jug with a longer spout to get the water in without pouring it over the sides. There is a gauge on the outside that shows the water levels, so you won't accidentally overfill, which is handy since it's hard to see inside as the lid doesn't hinge open quite wide enough. 
The Smeg Drip Filter Coffee Maker is undeniably good looking. Even if you're not particularly into mid-century design, there's nothing about the appearance of this machine to offend and the stainless-steel version I was sent coordinates neatly with our other steel kitchen appliances. Those with more colorful tastes may prefer the daring red or soft pastel options.
The packaging was nicely done, too, with zero plastic, and there were no tricksy components to construct or attachments to attach. The only addition inside the box, besides the instruction manual and warranty paperwork, was a lone coffee scoop.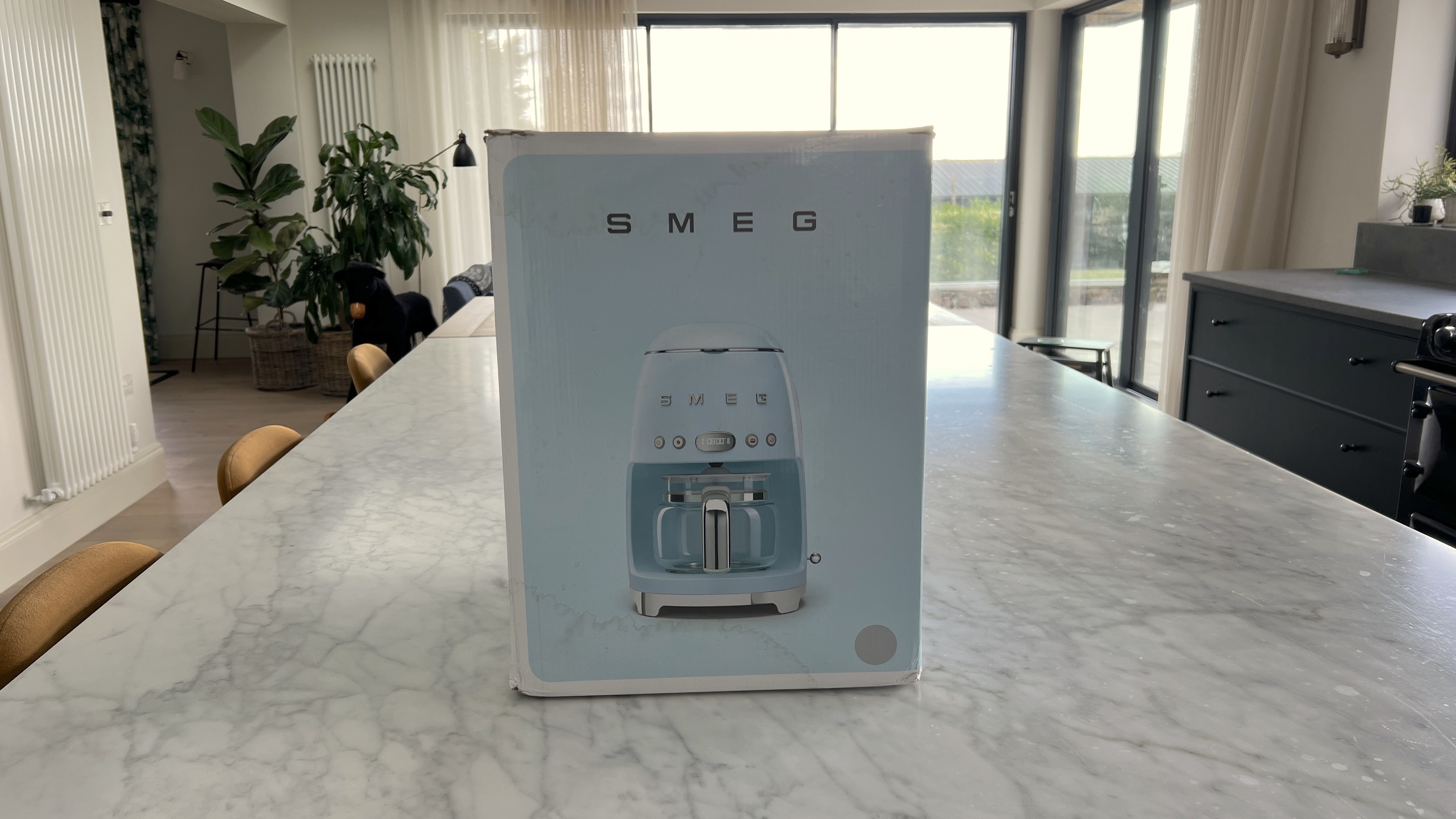 Admittedly, this coffee machine is rather on the chunky side and, standing at 10in / 36.1cm tall, it may not tuck under wall-mounted cabinets (aka top cupboards). Our usual caffeine supply is delivered by a Nespresso machine that's about a quarter of the size, so a few things were shuffled around the countertops to fit the Smeg Drip Coffee Machine in.  
Once plugged in, the set-up process is as simple as setting the time, intensity and water softness, which is all done via a toggle lever on the side. Being in Devon, I adjusted it to the soft setting, and of course the intensity was set to high! The instructions also recommend flushing the machine through before first use, for hygiene reasons, which is standard practice and was very straightforward.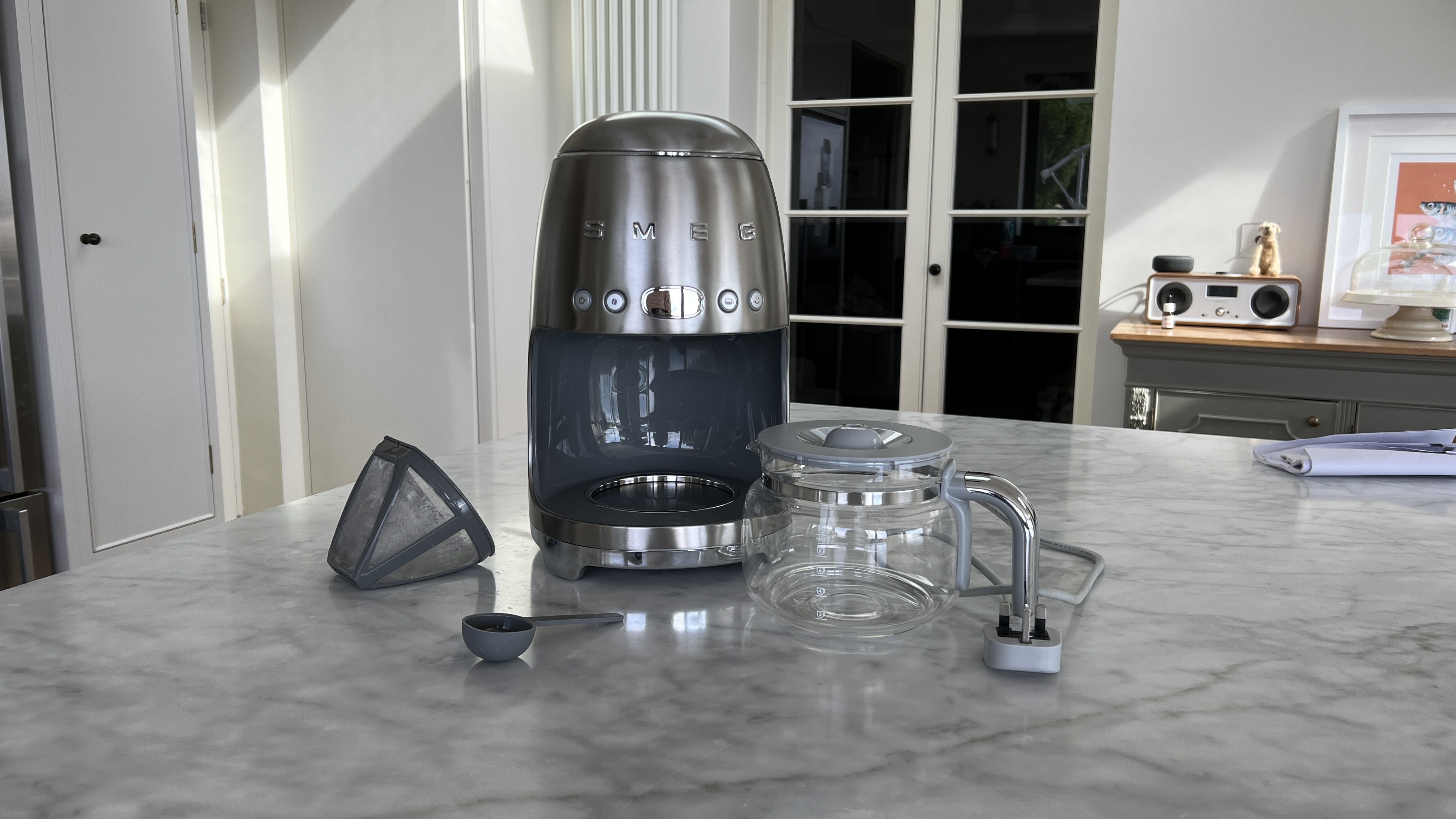 Smeg Drip Filter Coffee Maker: User experience
Once you've set the intensity and added water and coffee grounds (don't forget to put the glass carafe in position!), you just need to press the on/off button once to wake the machine, and then again to set it going. Very easy. The machine is nice and quiet, all you can really hear is the relaxing burble of percolating water. Our Sound Meter rated it at a very mild 43 decibels, which is similar to a quiet office environment or library.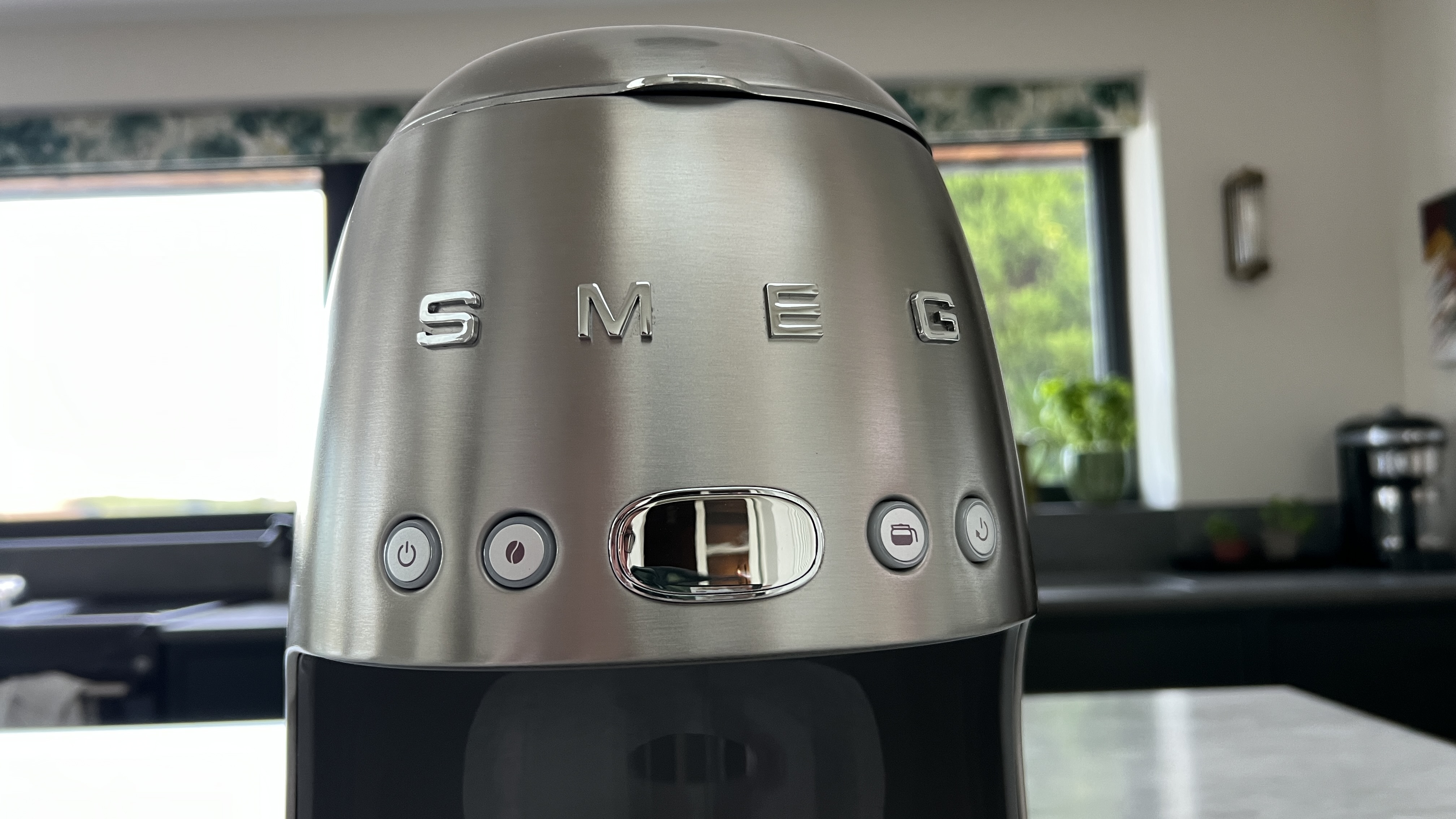 It takes a little experimenting to work out how many scoops of coffee grounds to put into the filter basket. The instruction manual recommends one scoop per cup but the cups in question can't be much bigger than an expresso cup. We use Emma Bridgewater mugs, and a full carafe of coffee will fill four of them. I ended up using four scoops to make two mugs of strong coffee, and I could almost stand a spoon in them.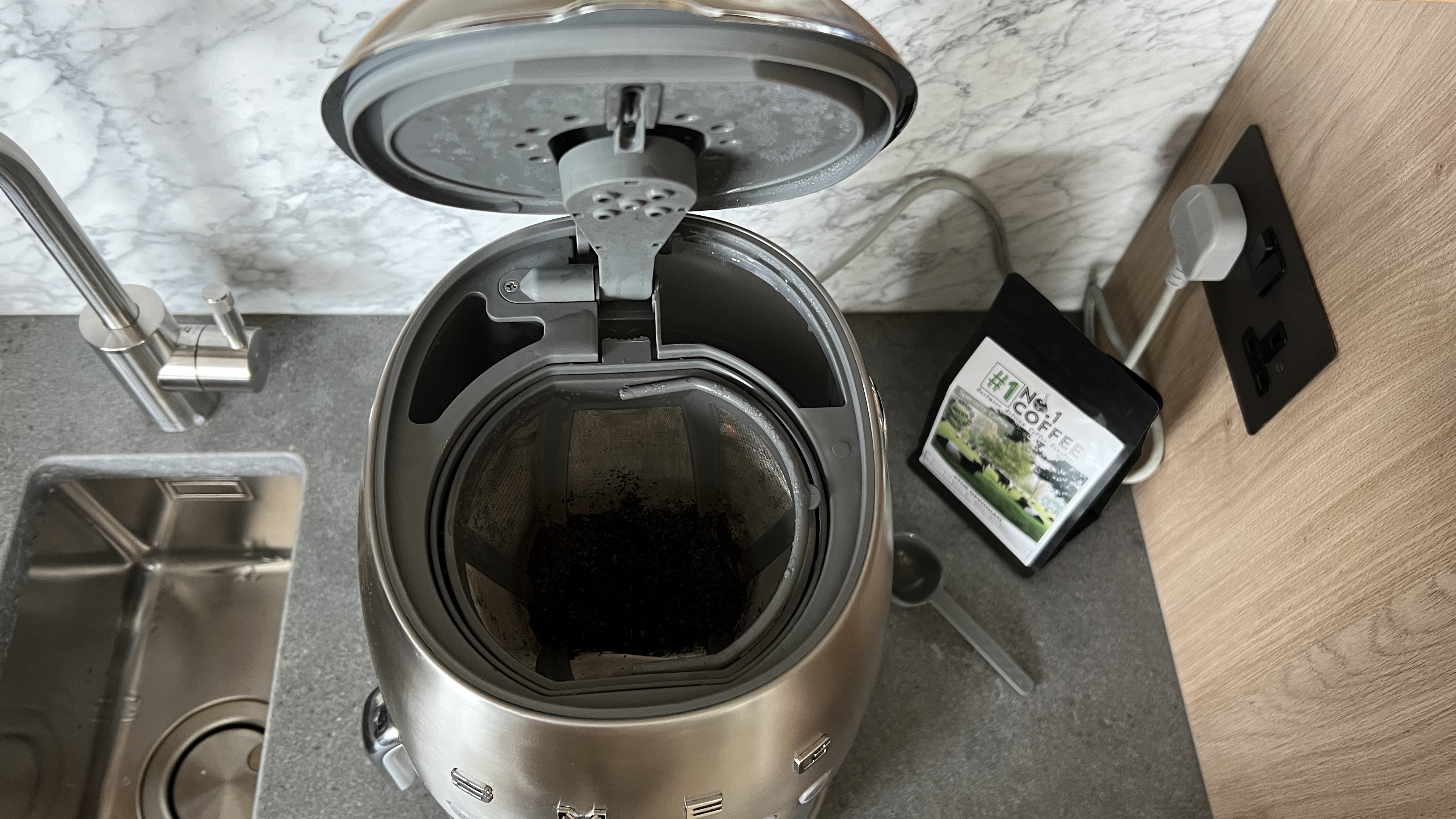 The Smeg Drip Filter Coffee Maker offers two main cup size options for brewing. You can either go for the full 10 cup (four mug) carafe or use the 4-cup button (just press it until the LED glows) to produce two mugs. The reason for these two options is less about volume control and more about flavor. The 4-cup option will drip the hot water through more slowly to ensure sufficient coffee is extracted when making fewer cups. This is not necessary when dripping through enough water for 10 cups. 
If you want just one full mug, or three perhaps, you've can either stay close and turn the machine off manually when you have enough in the jug. Or you could measure out exactly how much water you need in the reservoir each time, as it will of course stop when it's out of water. 
Mildly annoying; if you do stop brewing manually before the carafe reaches 10 cups, or opt for the 4-cup fill, you won't benefit from the keep-warm function on the hotplate for some reason I don't fully understand but possibly to do with the greater risk of the coffee pot boiling dry. 
The keep warm only lasts for 40 minutes anyway, due to EU law, which isn't very useful if you like to drink two-three mugs of coffee throughout the morning but isn't technically Smeg's fault. If you're caffeinating alone, this leaves you with two options: 1) brew one mug at a time, or 2) brew a full jug and then microwave any coffee that's gone cold before you're ready for your next hit.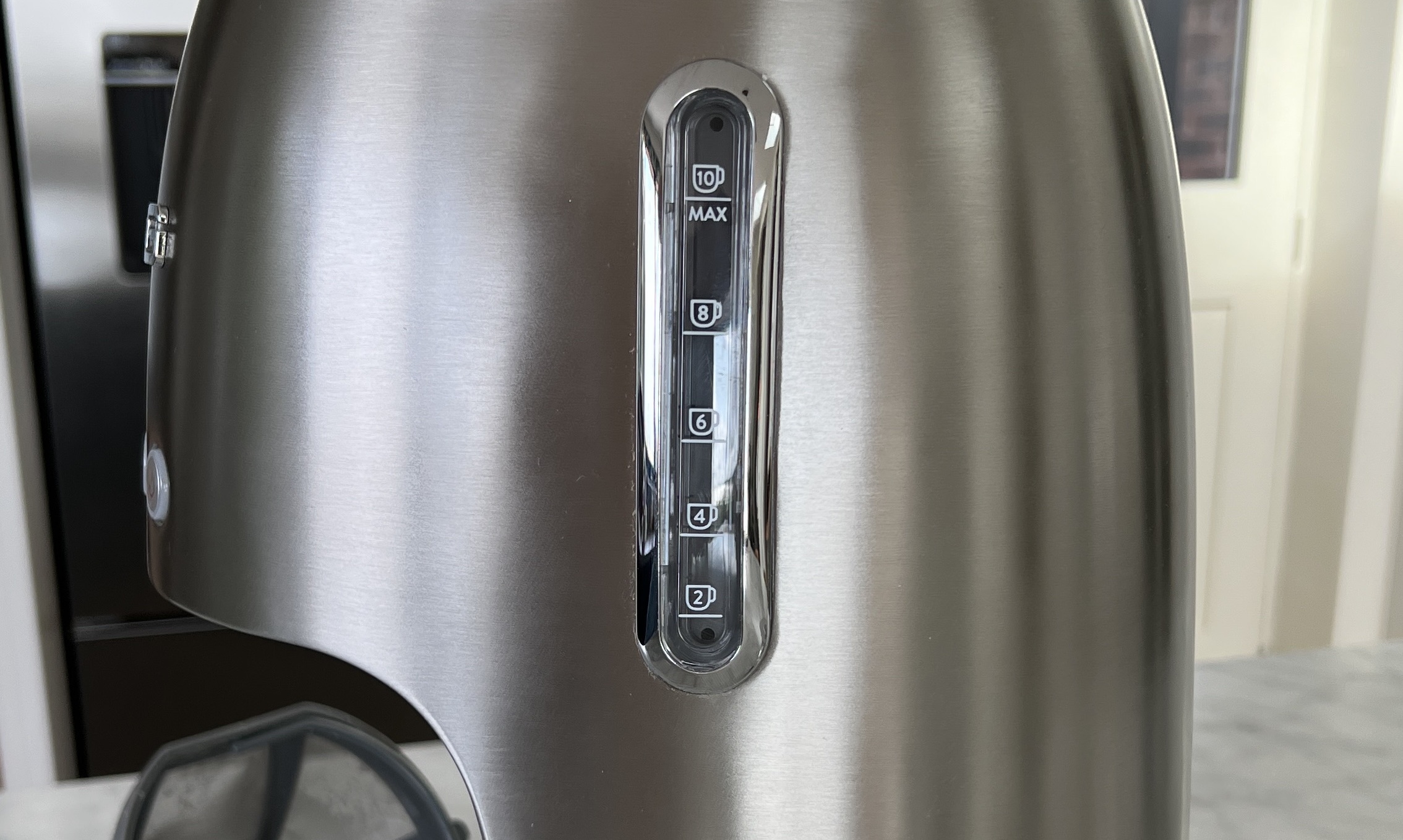 The Smeg Drip Filter Coffee Maker doesn't have a built-in water filter so if you live in a hard water area you will need to descale. The machine has a descaling icon that will tell you when to do so. This involves pouring descaler powder/solution into the water tank, then press the on/off button and auto start button down for five seconds and leave it to crack on with the job. 
When it comes to emptying the coffee grounds, the handle on the reusable coffee filter makes the process a breeze. Just pop the grounds into your compost bin and rinse the filter under the tap. Compared to our Nespresso machine, for which we send the pods away to be recycled (and then worry about the carbon footprint of the separate courier trip and thickness of the plastic disposal bag the pods go into), it seems an environmentally-friendly solution. Plus, with no milk frother pipes or milk attachment cannisters to keep clean, it is far more hygienic than some of the fancier coffee machines out there. 
The auto-start mode is also brilliant and is set in a similar way to the clock, using the toggle on the side. Remember to make sure there the grounds are loaded up, otherwise you'll be sipping hot water instead!
Smeg Drip Filter Coffee Maker: Taste test
The quality of your coffee beans will have a big impact on the taste and it's important not to use beans that have been too finely ground in a Drip filter machine otherwise it will just block and overflow. I used my favorite beans, from No. 1 Coffee (which are roasted locally and served at our beloved café down the road). They are available in medium ground format (or whole beans), which is perfect for the Smeg Drip Coffee Machine and meant I didn't have to grind them at home (handy since we don't own a grinder).
Even if you've nailed the beans perfectly, it's not plain sailing. A Drip filter machine can still deliver sour or bitter beverages by under-extracting the flavor from the grounds. Essentially this means blitzing the water through at speed rather than letting it drip slowly through. You may think the Smeg Drip Coffee Machine is slow compared to a pod machine, because it is (a full jug takes around eight minutes to brew, but our Nespresso can blast out a mug in under a minute). However, if the process was quicker, the coffee would be weak at best and undrinkable at worst. 
Happily, I can confirm that the Smeg Drip Coffee Machine produces really drinkable coffee that's on par with anything served at our lovely local café. Once I'd fiddled about with the coffee scoops to water volume ratios, I established the best formula to produce the perfect depth of flavor and strength every time. Anyone who has played 'coffee roulette' with a plunge-style cafetiere will appreciate that these consistent results are worth their weight in gold.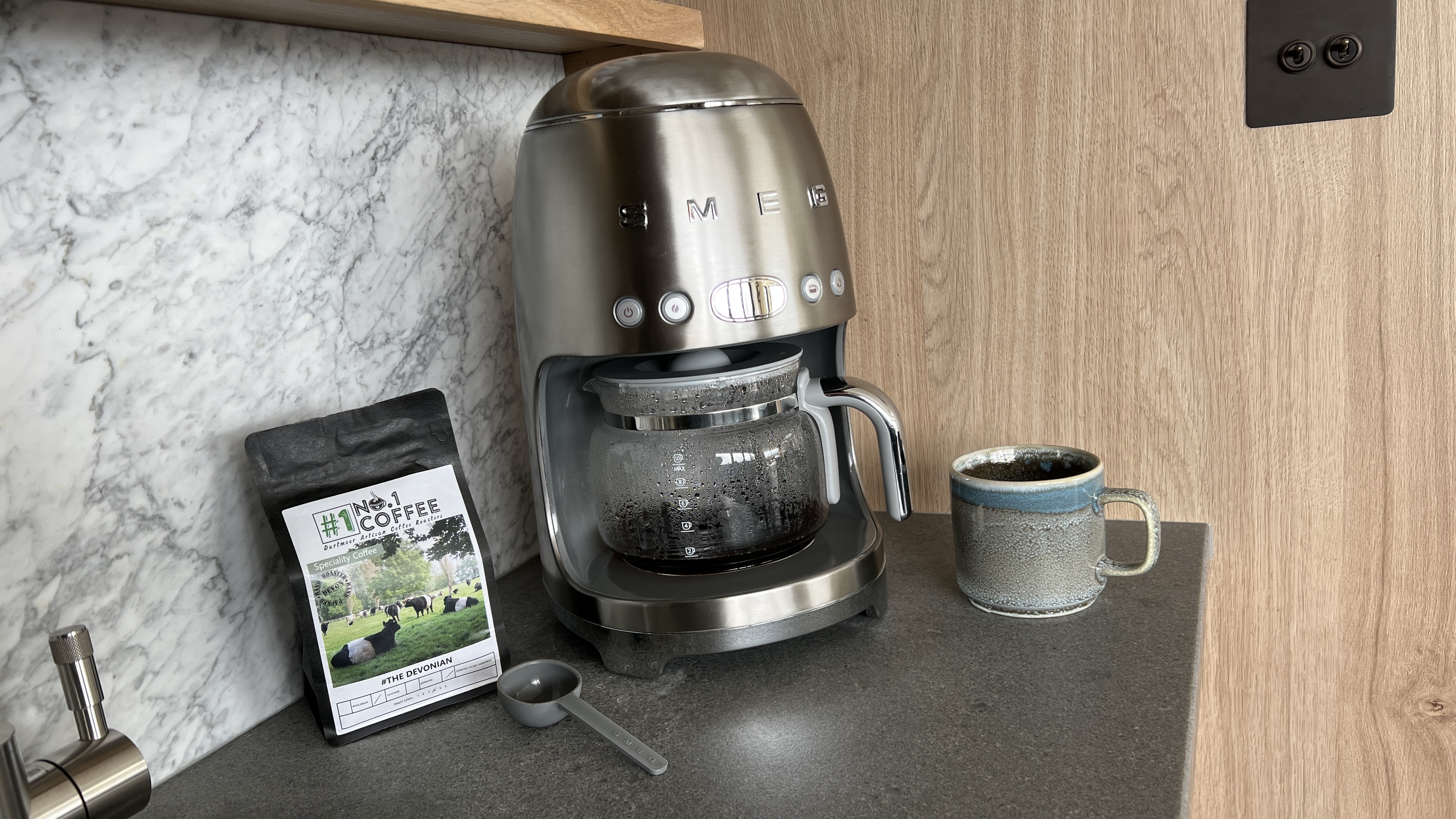 Should I buy the SSmeg Drip Filter Coffee Maker?
Buy it if…
Don't buy it if…
How does the Smeg Drip Filter Coffee Maker compare?
The last time I used a drip filter machine like this was while working in a motorway diner as a student. I remember the floppy filter papers tearing as I rushed them to the bin, burning my hands in the process. The reusable filter on the Smeg Drip Coffee Machine was a very welcome upgrade.
If you were looking for something similar at around the same price point, you might consider the KitchenAid Drip Coffee Maker, which is a little less analogue and boasts some clever practical features like a removable water tank and coffee grounds dosage chart. There are fewer color options but the design is pretty cool. 
For more flexibility, we'd recommend the Ninja Dual Brew, which takes both pods and grounds, and is also much more technologically advanced. It gives you more control over the size of your brew, too, and the milk frother is brilliant for latte fans. 
How I tested the Smeg Drip Filter Coffee Maker
Brewing up various volumes of coffee for a fortnight
Adjusting the grounds-to-water ratios
Playing with the timer
Cleaning and buffing and shining
The Smeg Drip Filter Coffee Maker was the only source of coffee in a household of coffee-addicts for a fortnight and also got plenty of extra use post school-run (by the mums, not the kids) and weekend family gatherings. 
I put every function to the test and also took the time to schedule in cleaning runs and set up the auto-timer. We don't live in a hard water area so couldn't test how well descaling worked. When I finished testing, it was returned to Smeg. Sad times.
Read more about how we test
First reviewed: July 2023