Husqvarna and Stihl are titans of the chainsaw world – and we pitted two of their best models against each other to see who cuts the competition down to size. 
These industry leaders are well-known for producing some of the best chainsaws on the market today, but it can be hard to know which is right for you. We asked Nick Greenway, chainsaw expert and founder of both firepitfanatic.com (opens in new tab) and firewood-for-life.com, (opens in new tab) for his thoughts on what to consider when finding the right one: 
"A good quality chainsaw produced by a reputable manufacturer can last a long time, while an inexpensive version might only last a few years."
Swedish-based Husqvarna and German-based Stihl are both reputable brands, so we are off to a good start. Husqvarna produces popular high-quality gardening tools like strimmers and mowers as well as chainsaws. Stihl is also an expert in the gardening field, providing a host of excellent and durable tools to help you get the job done. 
Both brands are experts at creating quality gardening tools that are built to last. In fact, we have discussed the brands as a whole, but it's time to get down to the woodgrain – Is the Stihl MS 211 (opens in new tab) or Husqvarna 440 (opens in new tab) best? Let's dive full throttle into the competitors' best chainsaws and see whether the MS 211 or 440 comes out on top.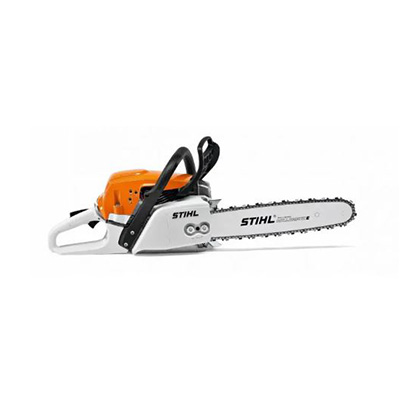 Stihl 271 Farm Boss Chainsaw
Type: Gas powered
Bar size: 18in
Weight: 12.3lbs
Emissions: Low emissions
Battery capacity/fuel tank volume: 16.9oz
Engine power: 2.6 kW
Safety: Mechanical safety brake
Settings: Summer and winter starter
Weighing in at just over 12 lbs, this is not a saw for the faint-hearted. But in actual fact it's a decent weight for such a capable tool, and with an ergonomic design and anti vibration technology, it is designed to be as comfortable to use as possible, despite its size. 
With the capability to clear medium sized trees, it has some cool features – including winter and summer settings to ensure it won't let you down when you're firing it up in varied conditions. And they stand it in good stead, because user reviews are all really positive.
For
Sturdy and powerful
Good fuel efficiency
Can tackle large-diameter wood
Against
Can only buy through a dealer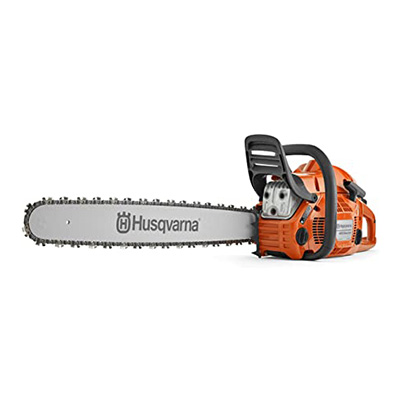 Husqvarna 460 Rancher Chainsaw
Type: Gas powered
Bar size: 20/24in bar available
Recommended max cut: 44 inches
Weight: 13.2lbs
Power: Max power 9000 rpm
Horsepower: 3.62
Fuel consumption: 437 g/kWh
Vibration: Front handle at 3.8 m/s² , rear handle at 6.9 m/s²
Noise: 104 dB
Warranty: 2 years
Husqvarna is a brand well-known for its quality – and this model is no exception. It sits at the top end of the models designed for amateur use (both brands produce 'professional' models made for those working as arborists or in similar roles). However, it now only seems to be offered with 20 or 24 in blades (and users in the UK  may have trouble sourcing it, so we suggest looking for the 455 model instead).
Recommended for tidying up small to medium trees and cutting up firewood, it boasts good fuel efficiency, decent safety features and low emissions – and promises to be a good starter.
For
Powerful
Comfortable to use
Easy to start
Against
Needs assembly out of the box
Heavy
Stihl vs Husqvarna chainsaw: Performance
Chainsaws can make felling trees or trimming branches a much quicker and simpler task. As Nick Greenway puts it: "You can do a lot of work in a short amount of time using a chainsaw. Whether you're trimming some branches or cutting down full-sized trees, a chainsaw is an amazing tool to have around your home." 
When it comes to your chainsaw, you want something with enough power to get the job done but is not difficult to operate or use safely. In terms of raw power, the Husqvarna 440 just edges out the Stihl MS 211. The 440 has an engine power of 2.4 horsepower and a displacement of 40.99 cc. The Stihl MS 211 is just behind with 2.3 horsepower and a displacement of 35.2 cc. 
The lightweight MS 211 can cope with a range of tasks and can cut through wood with ease. It is a great all-rounder to have on hand when you want to fell small-to-medium trees or cross-cut and debranch them. This chainsaw is conveniently sized and easy to start to make getting the job done as simple as possible.
The Husqvarna 440 is incredibly easy to start and operate thanks to its wide variety of features. It is also two pounds heavier than its MS 211 counterpart, coming in at 9.7 pounds total. It is still very easy to lug around from job to job and is well-balanced during use.
In terms of negatives, there are a couple of things to bear in mind with each model. The MS 211 has sluggish tension in the chain and a knob that could be softer. The On button could also be more visible and large for those using gloves. On the other hand, some customers have reported that the Husqvarna 440 can have some idling issues out of the box and may need time to warm up before hitting its best performance.
With all this in mind, it is a close call. However, we think the Stihl MS 211 just edges out the Husqvarna due to its sheer power and ease of use. 
Stihl vs Husqvarna chainsaw: Features
Modern chainsaws come with a wide range of features to make them easier and safer to use – who comes out on top when it comes to handy features?
The Husqvarna has no shortage of convenient features. The SmartStart Technology ensures that starting your 440 chainsaw takes minimal effort from you. At the same time, the QuickStart with Air Purge removes air from the carburetor and fuel system to add to that easy start feeling. The combined choke and stop control make starting easier and reduce the risk of engine flooding during use.
Once you get going, the Low Vibration Technology places dampeners between the engine and the chassis, reducing fatigue and making the chainsaw more comfortable to hold during use. The Fuel Indicator system ensures that you are never caught out mid-job again. The X-Cut Dedicated felling marks keep your incredibly sharp and durable X-Cut chain precise every time. 
When you need to idle your 440 chainsaw, the chain oil pump disengages with the engine to reduce oil consumption and emissions. This is not even counting the maintenance features incorporated into the design.
Stihl's MS 211 chainsaw, on the other hand, keeps it short and sweet when it comes to features. Made in the USA, the MS 211 has the exclusive ElastoStart handle with starting grip and built-in shock absorber designed to reduce the effort when pulling on your starter cord. 
Once you are raring to go, the MS 211 chainsaw has an anti-vibration system to keep you comfortable and minimize fatigue during a job. The Ematic lubrication system and guide bar provide proper lubrication and work to minimize oil consumption by 50 percent. The Master Control Lever is a single-use lever that operates the choke, works the throttle lock, and the on/off switch for convenient handling. Should you need to stop suddenly, the Quickstop chain brake will stop chain rotation if manually activated or by inertia if there is a strong enough kickback. 
With all this in mind, we have to give it to the Husqvarna 440 for its wide range of handy features. 
Husqvarna vs Stihl chainsaw: Price
Price is a big factor to consider when considering chainsaws. Nick Greenway agrees, stating that: "When shopping for a new chainsaw, you should consider how much you want to spend. Both gas and electric chainsaws have a wide range of prices. As with any tool, you get what you pay for, and chainsaws are no exception."
When it comes to the price tag, both the Stihl MS 211 and the Husqvarna 440 are very similar. The Husqvarna is the more expensive one upfront, coming in at $359.99. Stihl's MS 211 is a little trickier to pin down as they tend to sell through approved dealers who mark the price individually. We checked Stihl's website and found that the price tends to be around $319.99-$339.99 depending on the retailer. We recommend shopping around the verified dealer list to find a price suited to your budget.
Getting a chainsaw is not just about the upfront costs – fuel and maintenance costs also play a role in how much a chainsaw will cost you. Husqvarna's shop has various chainsaw fuels, lubricants, and oils available in a range of sizes and prices for your convenience. Husqvarna even lets you finance your 440 chainsaw over time if that is best for you.
Stihl also has a range of oil and lubricants in various sizes. The price can be tricky to pin down due to Stihl's insistence on using verified dealers. However, some oils tend to be priced between $2.50 and $17.99 depending on the price. We recommend shopping around for fuel, gear, and lubricants from the verified seller list to find items in your budget.
Overall, we would suggest that Husqvarna is the better choice despite its higher upfront cost due to its convenience and ease of financing your purchase and getting parts. Stihl is still excellent and cheaper upfront but requires some shopping around to make any purchase.
Husqvarna vs Stihl chainsaw: Care and maintenance
Chainsaws need regular maintenance to stay in top shape. While most chainsaws have similarities in their care routines, each model will have little key differences that you need to bear in mind. 
To make this easier, both models' manuals lay out a maintenance schedule and details on what care to perform and when; this makes it a breeze to input into your calendar so that you do not forget. The 440 even goes a step beyond and has included multiple points of easy access and cleaning into its ergonomic design so you can perform these routines with ease. 
In terms of warranties, Stihl's MS 211 is covered for up to a year as standard, but this warranty can be extended under their Stihl Ultra Limited Warranty by buying a certain fuel with your chainsaw. Husqvarna's 440 model, on the other hand, is covered for two years but can be extended by one to three years. 
The average length of warranty for a chainsaw tends to be between one and six years, with some parts only being covered for one to six months. This means that Stihl and Husqvarna are about average when compared to their competitors. 
Overall, Husqvarna's 440 just edges the MS 211 due to its long warranty, maintenance-boosting features, and ease of getting new parts. 
Husqvarna vs Stihl chainsaw: Verdict
Husqvarna and Stihl are both famous producers of quality chainsaws that will help you get the job done. However, after considering the price, features, and performance of the 440 and MS 211, we think the Husqvarna 440 comes out on top. 
This is not to say that you should not think about getting Stihl's MS 211; there are plenty of jobs that the MS 211 is perfect for. It is just that the Husqvarna is perfect for beginners while the MS 211 is better for felling trees efficiently in domestic situations.
No matter which model you pick, it is vital to do your research and learn how to handle a chainsaw correctly before use. As Nick puts it: "Chainsaws can cause a lot of harm, especially if you're an inexperienced operator." Make sure to read the instructions thoroughly and register your warranty before cutting to the wooden chase.