Want to blitz through your yard chores? The best gas lawn edgers boast maximum power, so you can get the job done in less time. These nifty tools help you create distinct boundaries and make your lawn stand out – your neighbors will be green with envy. Whether you're defining driveways, walkways, lawns, or flowerbeds, a gas edger is the right tool for the job.
Creating a sharp edge is not just about looks. It can also keep pesky weeds at bay. Plus, it maintains the health of your turf by allowing excess water to run off. Crisp edges can help to avoid those unsightly brown patches on your lawn.
A gas lawn edger is a top choice if you're on a large plot and want to cover the ground quickly. Armed with a gas model, you can confidently tackle tough terrain, including roots and heavy clay soil. These powerful tools do the hard work for you, giving you more time to sit back and admire your handiwork. 
It's essential to properly maintain your gas lawn edger for top performance. This can help prolong the lifespan of your device and maximize your investment. 
We've rounded up the best gas lawn edgers, including products from top brands. When choosing the right model for you, you'll need to weigh up several factors. We'll walk you through the main considerations in our buying advice. 
Not sure if a gas edger is right for you? While they boast unrivaled power, they need more maintenance for the best results. An electric edger may be a good choice if convenience is a priority. The best manual lawn edgers, on the other hand, require more physical effort but are much more affordable and kinder to the environment.
For now, we'll take a closer look at the best gas lawn edgers. 
---
The best gas lawn edgers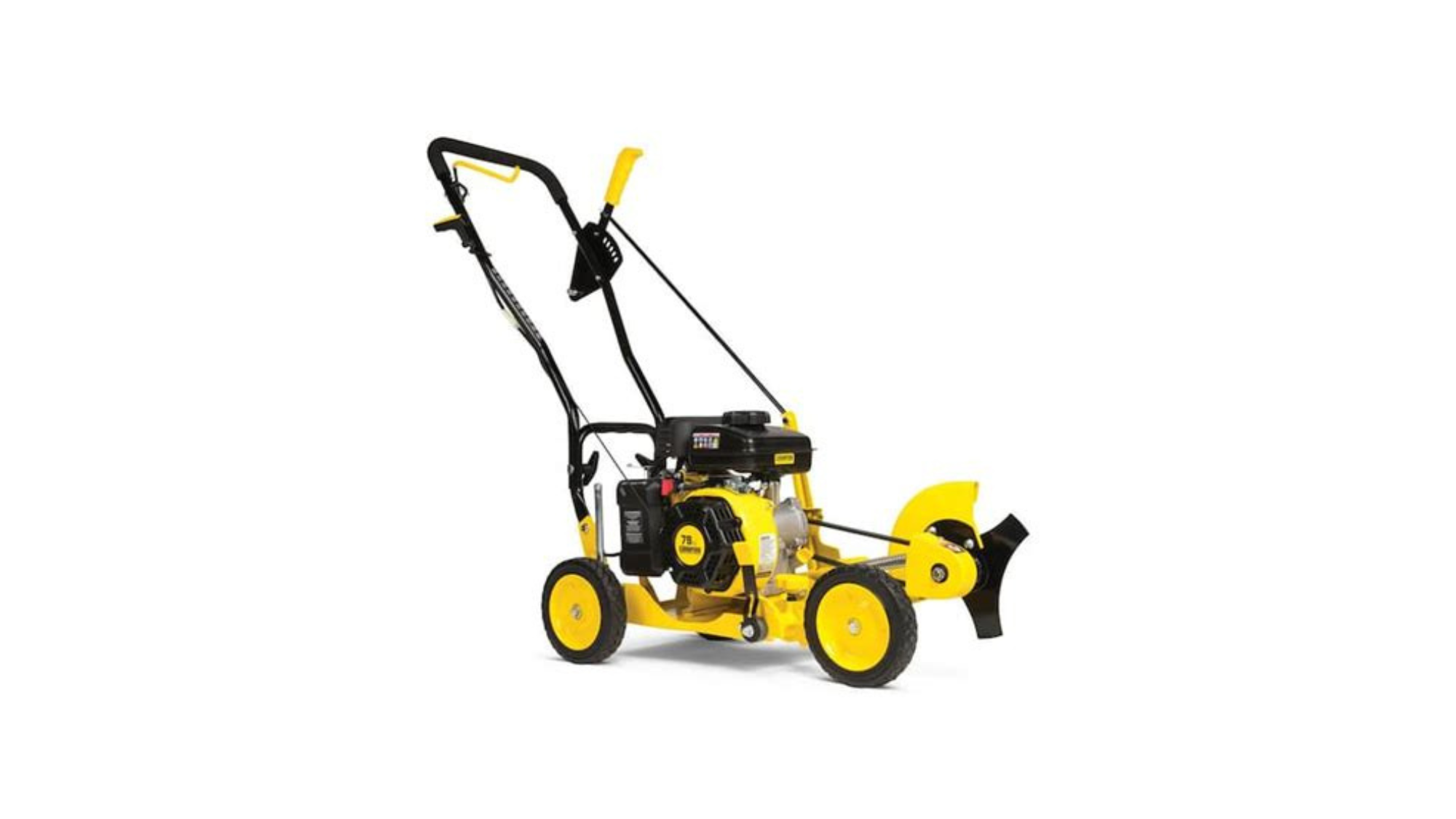 If you're feeling daunted by the prospect of buying a gas model, the Champion Gas Walk-Behind lawn edger may boost your confidence. This device is easy to start and quick to assemble, making it ideal for beginners. 
The 9-inch carbon steel blade enables you to define edges, creating an effortlessly professional look. Thanks to the 79 cc piston engine, it packs a punch and can make your life easier when tackling large edging jobs. 
What the users say…
The Champion Gas Walk-Behind Lawn Edger scores 4.7 out of 5 with 186 reviews on Home Depot. An impressive 98% of customers recommend this product.
People are pleased with the results. They particularly like the quick assembly and comment it's easy to start. A couple mention that corners are tricky and require skill to execute. A minor gripe is that it's hard to tell when the oil is full. 
The Champion walk-behind lawn edger is pretty versatile. You can take your pick from 5 cutting options with a maximum depth of 2.5 inches. You can even experiment with fancy beveled edges with the option to adjust the blade 15 degrees to the left or right. 
At $269.00, it offers decent value, falling into the middle range of gas edgers. You'll be pleased to know it's backed by a 2-year warranty. 
While it can cope with curbs, it may not be suitable if they're particularly high. The wheels are on the small side, which affects its balance.   
---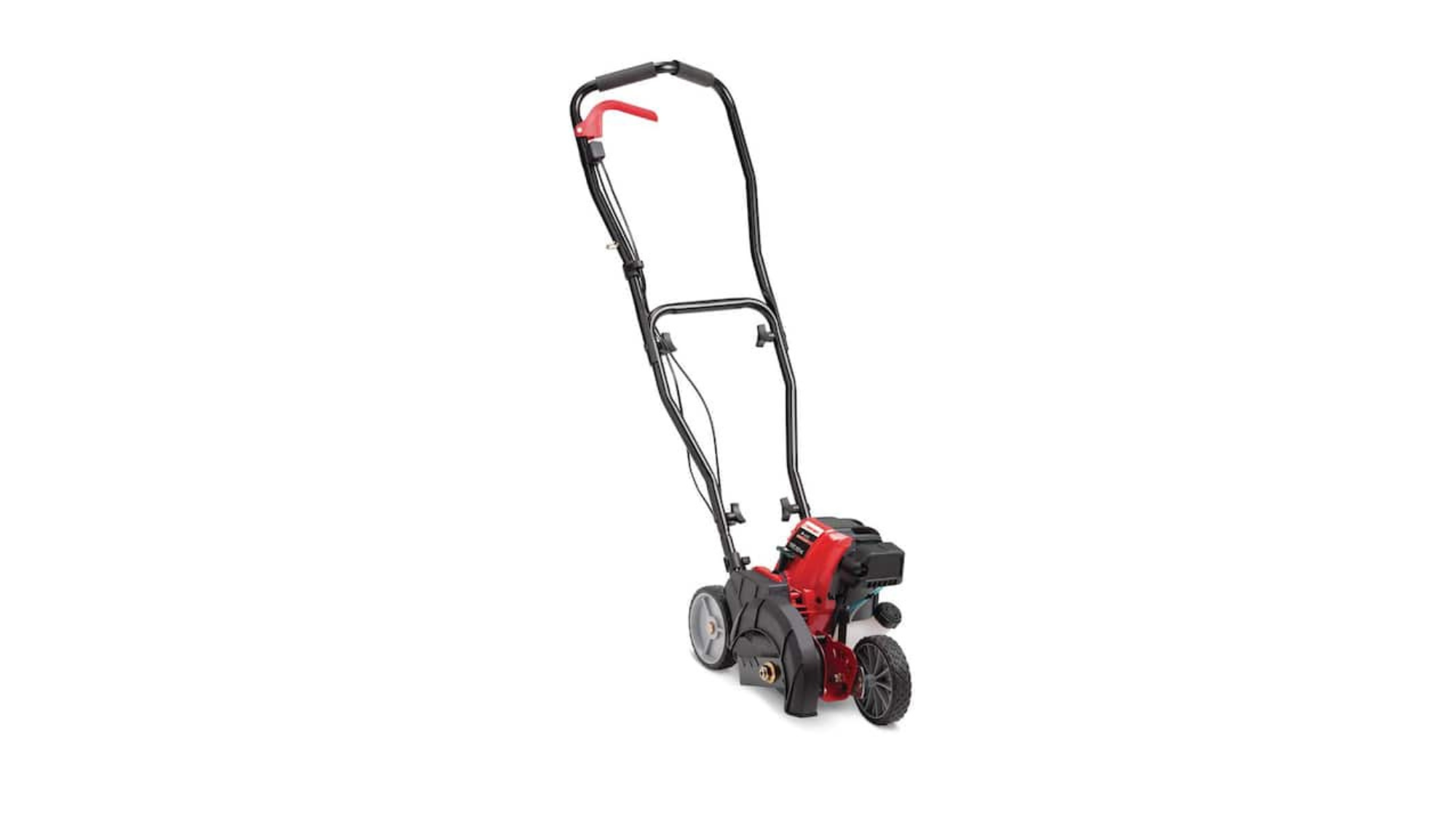 If you want a gas model suitable for an urban garden, the Troy-Bilt 4-Stroke Gas Walk-Behind Edger is a superb choice. Due to the 4-cycle engine, it's considerably quieter than other gas edgers. Your neighbors will thank you. Plus, you don't have the faff of mixing gas and oil. 
Pressed for storage space? This nifty edger has a V-style folding handle, making it compact to stow away. You don't have to compromise on performance, either. Eliminate messy growth with the power of a heavy-duty 9-inch steel blade. This model enables you to create sculpted edges along driveways and sidewalks. 
What the users say…
The Troy-Bilt 4-Stroke Gas Walk-Behind Edger scores 4.1 out of 5 with 167 reviews on Home Depot. 81% of customers recommend this product. People love that it makes edging easy and it's super simple to operate. They are impressed with how quiet it is.
The main qualm is that it can be tricky to start, especially when it's cold. A few unfortunate customers who experienced problems said the customer service was lackluster. 
It's not the most powerful edger on the list, so may not be ideal for the largest plots. But if you're dealing with a small to medium-sized yard, it should be fine for your needs.  
Even better, this edger won't break the bank. At $229.99, it offers fantastic value for money while being jam-packed with features. As a bonus, it comes with fuel, saving you from trekking to the store just after you buy it. 
---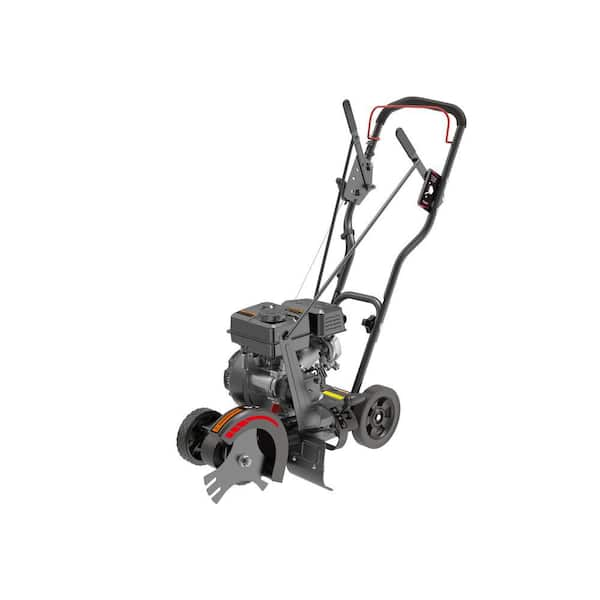 The Legend Force 79 cc 4-Stroke edger is a real powerhouse. With a whopping 79 cc engine it helps you blitz through your chores. You'll have a manicured yard in next to no time. Even the toughest grasses are no match for the 9-inch triangular 3-point blade. It's a superb choice for tackling a generously-sized plot or overgrown, straggly edges. 
What the users say…
The Legend Force ​​79 cc 4-Stroke edger scores 4 out of 5 with 195 reviews. Customers are impressed with the sturdy build quality. They also rate the stellar cutting performance, which makes short work of messy overgrowth. 
The trade-off for a solid machine is that it's pretty heavy and more cumbersome to move around than lighter models. A few people mention that it slips on occasion, though overall, people are pleased with their purchase. 
This machine is built to last with a heavy-duty metal frame. Plus, it's backed by a 2-year warranty to give you peace of mind. For all its power, it's relatively quiet for a gas edger, thanks to the 4-stroke engine. 
You benefit from perks like adjustable blades, an impressive cutting depth, and options for beveled edges. The adjustable wheel heights are a nice touch, ideal for tricky curbs. The nifty folding handles make it easy to transport and stow away if space is limited.  
At $359.00, you pay a premium, but it may be worth the investment if you want high-end features and professional results that are a cut above the competition.
---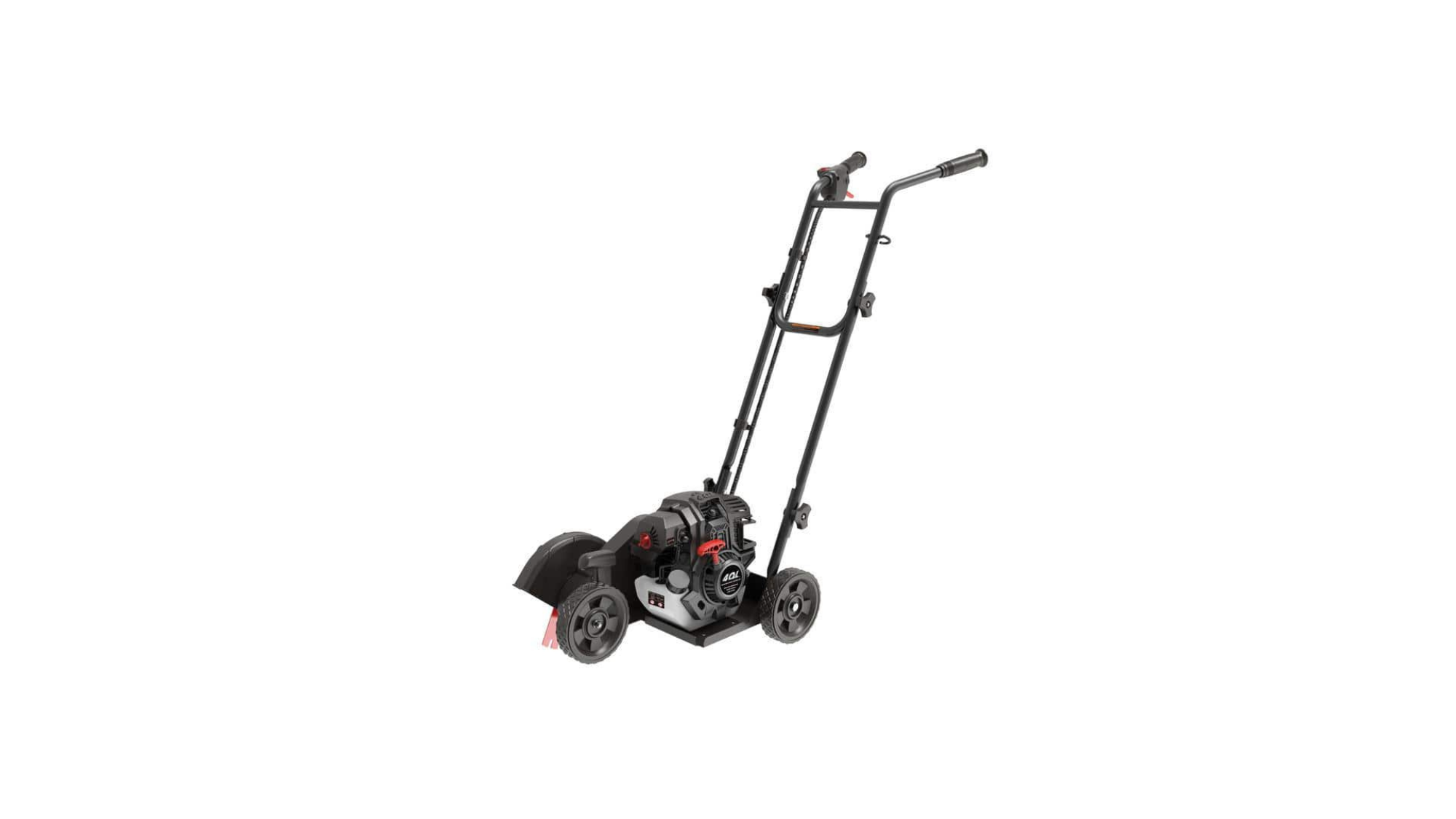 The Legend Force 46 cc 4-Stroke Walk-Behind Edger packs a punch. Thanks to the 46 cc 4-stroke engine, you can fast-track your way to a lawn to be proud of. This powerhouse of an edger is an ideal choice for sizeable plots. The full-crank engine promises longevity, helping you maximize your investment. It also means that this edger is a smooth operator with low vibration compared to others.
What the users say…
The Legend Force 46cc 4-Stroke Walk Behind Edger scores 4 out of 5 with 116 reviews. People rate the way it plows through the edging. The professional finish attracts lots of compliments.
A couple of reviews mention that if you use it for extended periods, it can overheat. Customers say this model is pretty loud, so it's a good idea to wear ear protection. A few reviewers complain about the lack of an option to adjust for curbs. 
You have the flexibility to adjust the cutting depths depending on your edging needs. The 9-inch blade makes short work of sculpting clean boundaries, even with tough grass and compacted soil.
The Legend Force 46 cc 4-Stroke Walk-Behind Edger transforms garden maintenance from a chore into a breeze. It's lightweight with cushioned grip handles for added comfort. The handles fold away for easy storage. 
At $273.42, it is one of the more pricy models. Our main gripe is that it lacks a wheel adjustment feature for edging curbs. Otherwise, the solid features more than justify the price tag.
---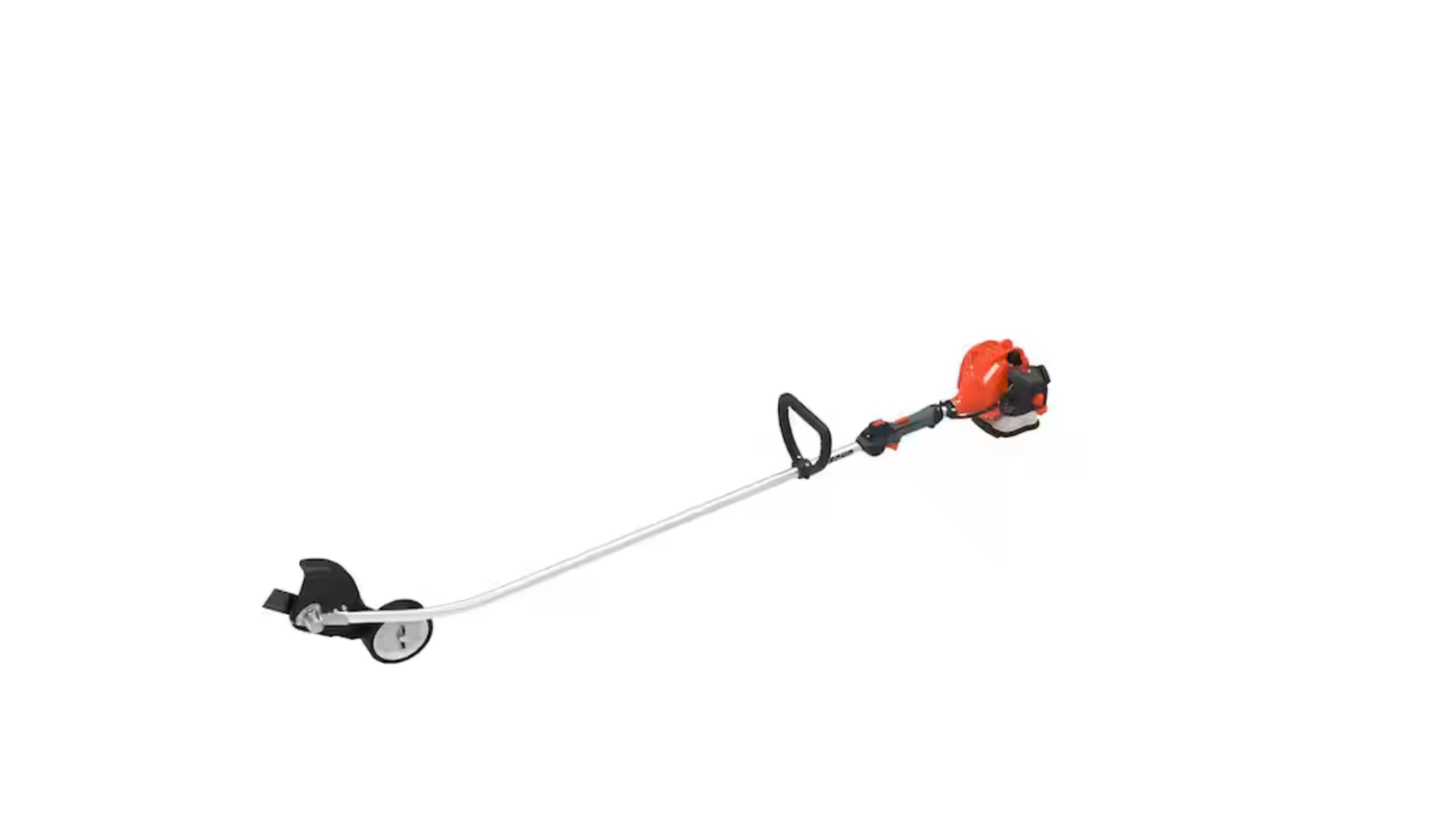 Want to cut down on yard maintenance? The Echo Gas 2-Stroke Lawn Edger makes edging a breeze. This nifty device is ideal for large plots, helping you get the job done in less time. That frees you up to kick back and relax.  
This edger promises professional-grade results to give your yard a wow factor. You can expect efficient cuts thanks to the 8-inch blade. Plus, the nifty sightline helps you nail a precise finish.
What the users say…
The Echo Gas 2-Stroke Lawn Edger scores 4.3 out of 5 with 938 reviews on Home Depot. 84% of customers recommend this product. 
People rave about the flawless results. Customers are satisfied that it speeds up edging on large plots.
The main downside is that customers report it's underpowered. A handful note design snags like the handles coming loose and the wheels being small. Yet the majority are pleased with their purchase.
The Echo Gas 2-Stroke Lawn Edger features clever design features that take the chore out of garden work. For example, the debris shield prevents annoying clogs from blocking the blade. You can wave goodbye to the disappointment of your edger refusing to fire up with the i-30 easy starting system.
Weighing in at 13.1 Ib without fuel, this gas edger is lightweight. It's easy to maneuver, taking the graft out of edging.
At $249.99, this falls into the middle range of gas lawn edgers. It comes with a 5-year consumer and 2-year commercial warranty to put your mind at rest. 
---
Buying a gas lawn edger
What should you look for in a gas lawn edger?
Why you can trust Top Ten Reviews
Our expert reviewers spend hours testing and comparing products and services so you can choose the best for you. Find out more about how we test.
Picking the right gas lawn edger can be overwhelming. Let's break down the main considerations.
Your edging needs
It sounds obvious, but the right edger for you will depend on how you're putting it to work. If you're on a small plot and only need it for basic edging, you can probably get away with a decent no-frills device. But if you're looking to create fancy designs or need to cover a lot of ground, it's worth investing in an edger that's up to the task. 
Engine power
Power is a top consideration. The models on our list range from 21.2 cc all the way up to a serious 79 cc. Typically, you can expect to pay more for more powerful models. 
Another choice to mull over is whether to opt for a 2-stroke or 4-stroke engine. The difference? Essentially, 2-stroke engines are cheaper and lighter, but the trade-off is they tend to be louder and less environmentally friendly. Edgers with 4-stroke engines, however, are typically more durable, quieter, and produce lower emissions. The catch is they're often more expensive and heavier than their counterparts. 
Gas edger type
You can take your pick from stick edgers and wheeled walk-behind models. Stick edgers are sufficient for clearing overgrowth on smaller plots and take up less storage space. On the other hand, walk-behind models come into their own when you need to define a substantial lawn or sculpt large flowerbeds. 
Cutting performance
A key factor is the blade – look for heavy-duty, longer blades. The option to adjust the cutting depth is a handy feature. If you plan to create elaborate landscaping designs, one with the option for beveled edges is a nice touch. 
Durability
A gas lawn edger is more expensive than other types, so it's essential to get your money's worth. The length of the warranty gives you an indication of the quality of the product. As a rule of thumb, metal edgers are sturdier than ones with lots of plastic parts. 
Cost
Your budget will be a deciding factor. On the hunt for a bargain? You can find a decent edger for just under $200. But if you're prepared to shell out more, you can choose from higher-powered models with bonus features like adjustable depths and wheels. 
Unlike electric and manual edgers, you need to consider maintenance costs. Don't forget to factor these in when calculating your budget. 
---