Nothing says summer like long days in the yard. But keeping on top of the watering can be a nightmare. That's where the best lawn sprinklers come to the rescue. These nifty gadgets help you avoid a dreaded yellow lawn and wilted flowers. 
It's hard to beat the convenience of a lawn sprinkler. These devices eliminate the hassle of maintaining a green, healthy lawn and lush flower beds. That frees you up to sit back and relax, enjoying the warm spells while they last. As a bonus, lawn sprinklers are mesmerizing to watch, offering entertainment value for adults and kids alike. 
Essentially, lawn sprinklers spray water over your yard to keep your plants and lawn healthy. The best models achieve the optimum hydration level – not too much, not too little. The last thing you want is to discover missed patches, or even worse, puddles on your lawn. Compared to a hose, lawn sprinklers provide a more gentle spray, so you don't have to worry about flattening prized blooms. 
When shopping for one of the best lawn sprinklers, you have a wealth of options. Take your pick from oscillating, pulsating, stationary, and in-ground irrigation systems. If you're feeling overwhelmed by all the choices, help is at hand. We've rounded up the best lawn sprinklers, including different types. 
If you're in the market for a lawn sprinkler, there are several considerations. You'll need to weigh up factors like the type, coverage, and adjustability. We'll walk you through the key decisions in our buying advice.
To save water, turn on your lawn sprinkler in the morning. The cooler temperatures lead to reduced evaporation, which is good for the planet and your wallet. 
For now, let's dive into our picks of the best lawn sprinklers.
Best lawn sprinklers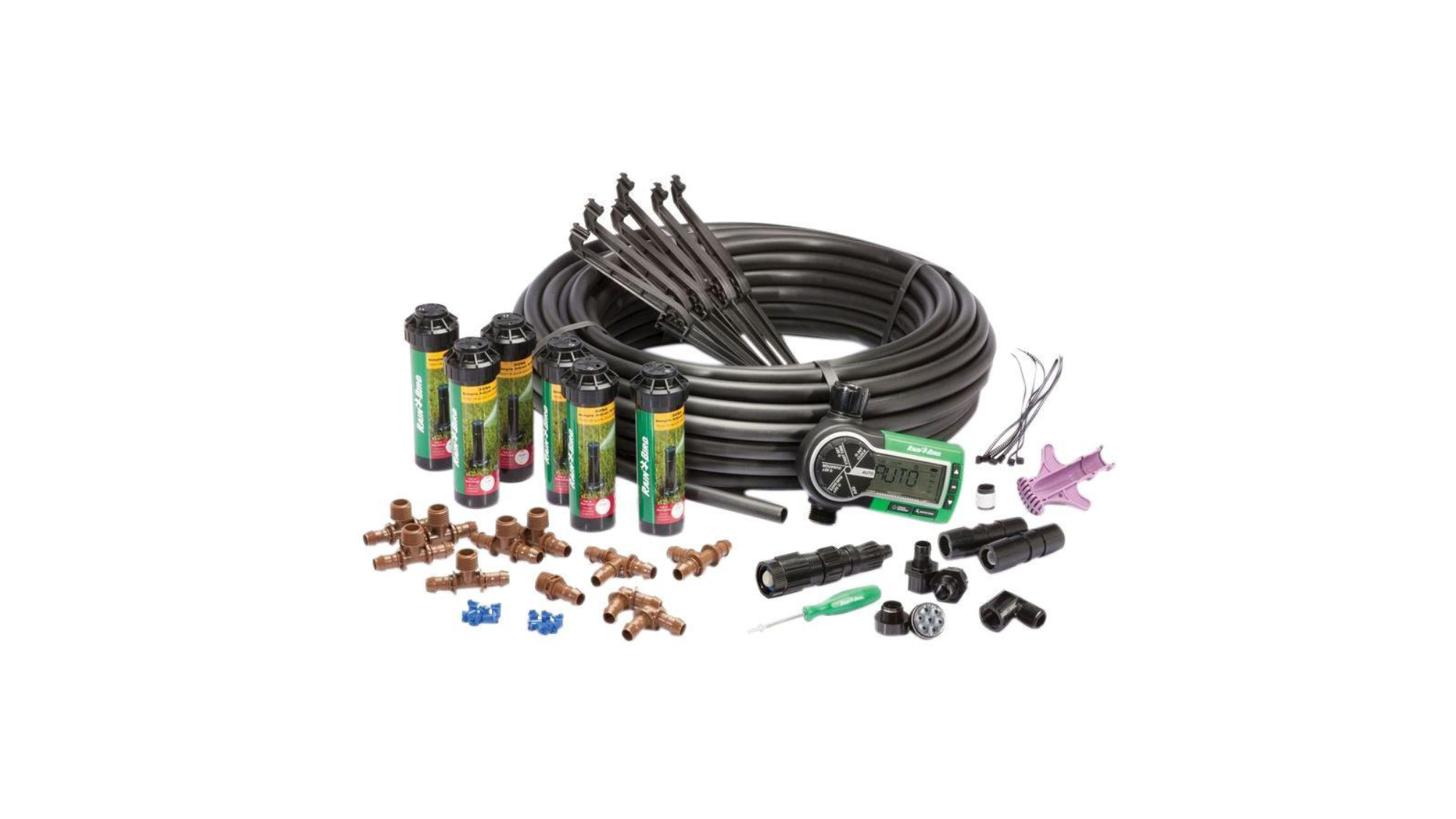 If you want to go on vacation without worrying about your lawn drying out, the Rain Bird sprinkler system may be for you. This in-ground model automatically waters the lawn, so you can put your feet up. Simply program the sprinkler using the timer and watch it work its magic. 
What the users say…
The Rain Bird Sprinkler System scores 4.1 out of 5 with 625 reviews on Home Depot. People are impressed with the results, with one customer saying "The lawn never looked better." 
The drawbacks? Some find the installation a chore. A few reviews report leaks though these are a minority. 
The Rain Bird system offers professional-grade quality for your home. It helps you achieve that well-manicured look by hydrating your flower beds and lawn. The 6 sprinklers retract into the ground, creating a slick look. Thanks to the patented Rain Curtain technology, it delivers even distribution with a rotating curtain of water that's beautiful to watch. 
If sustainability is a priority, you'll be pleased to know this system is planet-friendly. You can save water by programming two short cycles to reduce runoff and save money on energy bills. 
At $133.89, the Rain Bird is one of the more pricy options, but it may be worth the investment for a touch of luxury. As it's an in-ground system, it does require installation – expect to set aside a weekend to get it up and running. 
---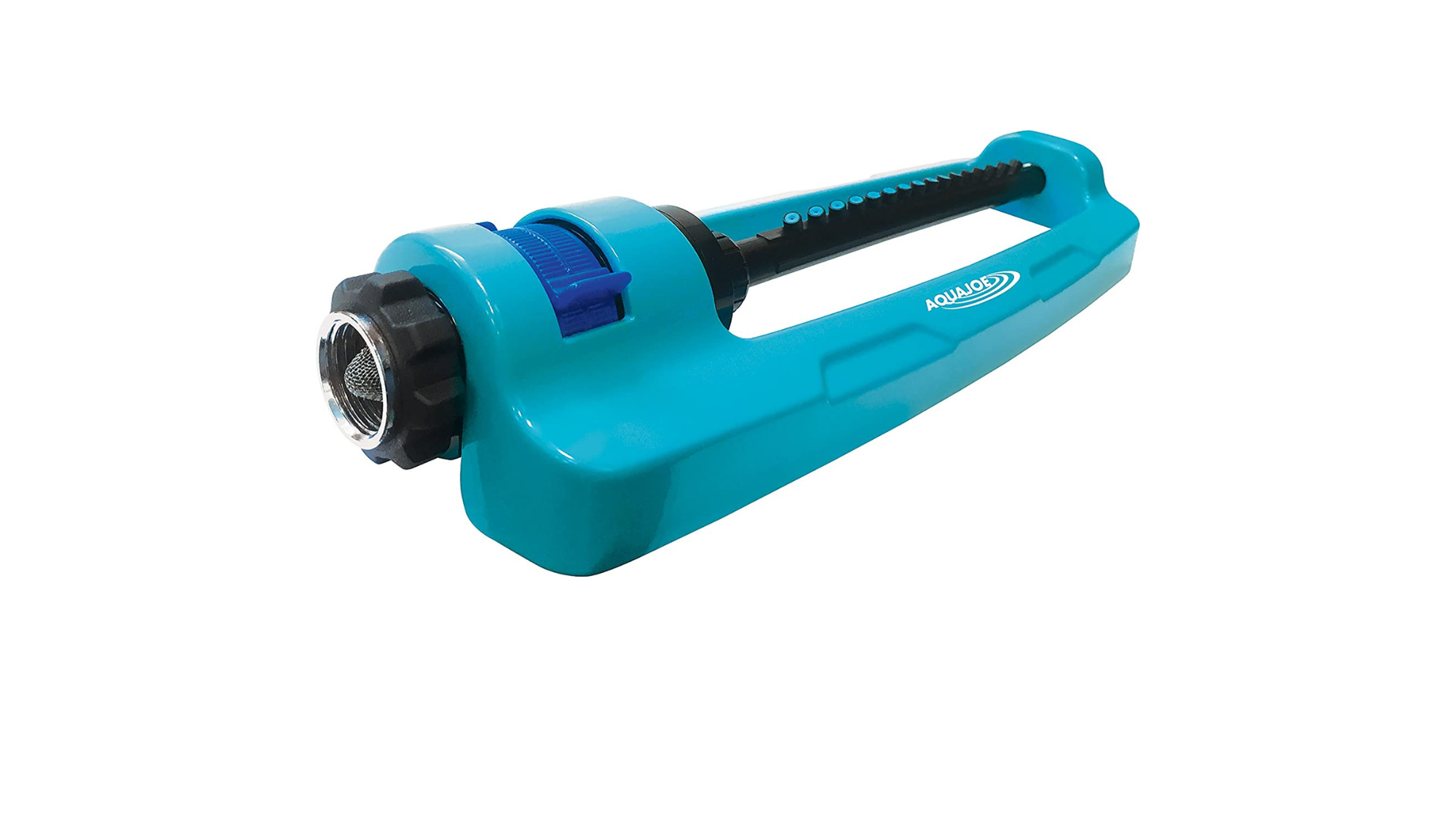 Fed up with flimsy lawn sprinklers? With its excellent build quality, the Aqua Joe SJI-OMS16 is a model you can rely on. The metal base is super sturdy compared to the plastic models you may be familiar with. Thanks to the rust-resistant finish, it can withstand wear and tear. In fact, it's so durable that the manufacturer claims the base is indestructible. 
What the users say…
The Aqua Joe SJI-OMS16 scores an impressive 4.6 out of 5 with 29 470 user reviews on Amazon. The build quality of this model attracts rave reviews. People are impressed with the value for money. 
There were a few reports of faults, though they don't affect the majority of customers. It can be fiddly to position if you're on uneven ground, so it may be best suited to flat plots. 
The Aqua Joe SJI-OMS16 is surprisingly lightweight for a sturdy machine, meaning you can easily carry it from the front to the back garden. You'll be pleased to know it's straightforward to use – hook it up to a hose and voila. 
With a coverage of 3600 square feet, the Aqua Joe is ample for small and medium-sized plots. It reaches a maximum spray distance of 70 feet. The coverage patterns on this oscillating sprinkler are customizable, so you can tailor the spray to your space. Simply adjust the range with the sliding tabs.
You can benefit from all these features at the bargain price of $23.00, making this superb value for money. 
---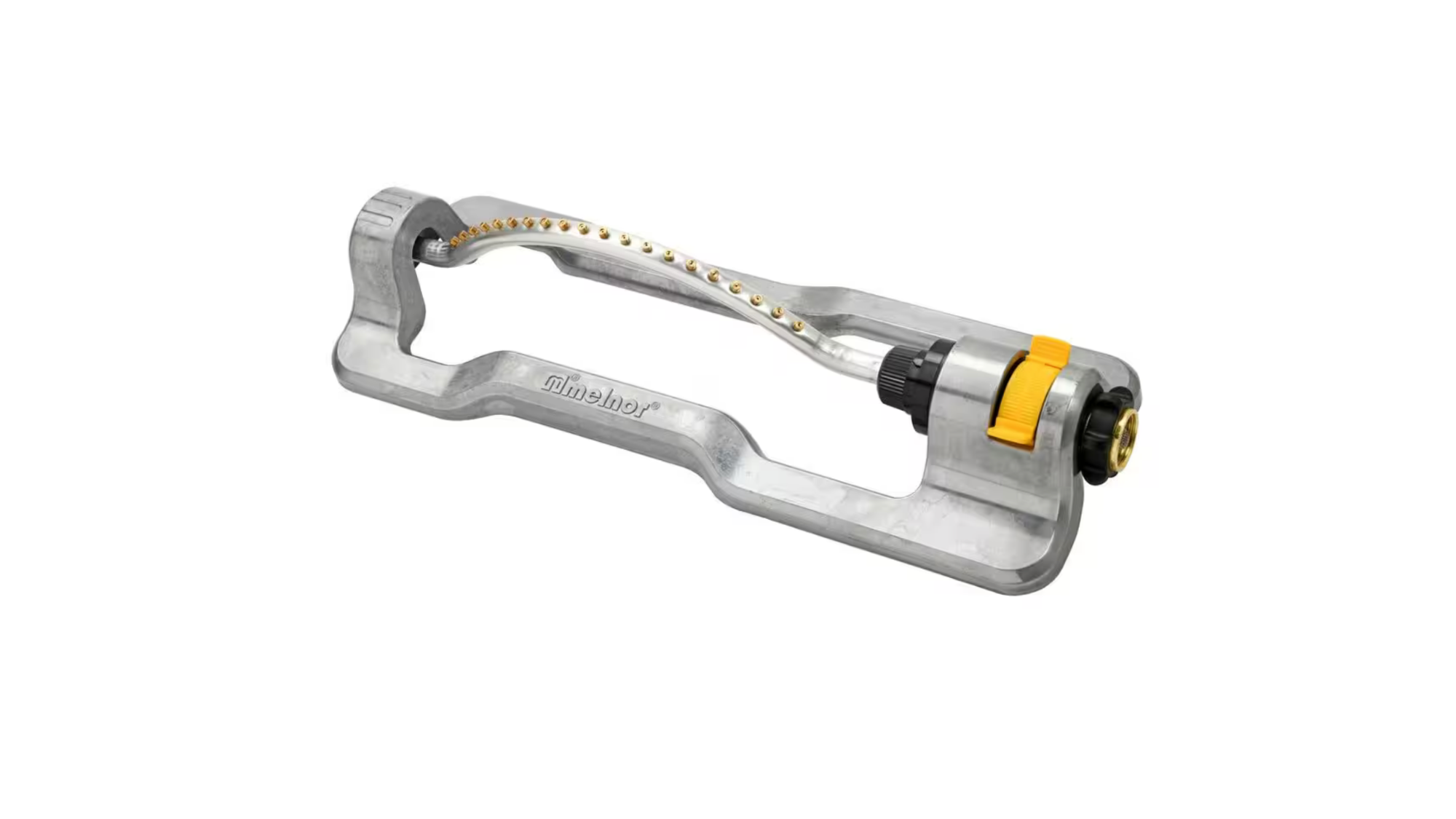 If you want an efficient way to water a large yard, you can't go wrong with the Melnor Premium Metal Oscillating Sprinkler. It covers a range of up to 3900 feet, which is plenty for most spaces. The oscillating action is best suited to rectangular plots.
The customization is a stand-out feature. Unlike other models where you have to choose between full, half, or quarter arcs, this sprinkler offers a range of options. This precision means you can deliver just the right amount of water, keeping your garden hydrated while minimizing water waste. 
What the users say…
The Melnor Premium Metal Oscillating Sprinkler scores a decent 4.3 out of 5 with 1393 reviews on Home Depot. People are pleased with the performance and the adjustability.
The negatives? Some are disappointed with the plastic parts – only the base is metal. A few report the sprinkler doesn't oscillate at low pressures, but the majority of reviews are positive.  
The Melnor Premium Metal Oscillating Sprinkler is built to last and backed by a lifetime warranty to give you peace of mind. A clever screen stops debris from causing clogs, making this a smooth operator. 
Another perk is that this model is compatible with well water, which is not true of all sprinklers. The sturdy metal base is a sound choice for uneven ground as it's less prone to falling over. 
At $32.98, The Melnor isn't the cheapest above-ground model, but it's a quality product. 
---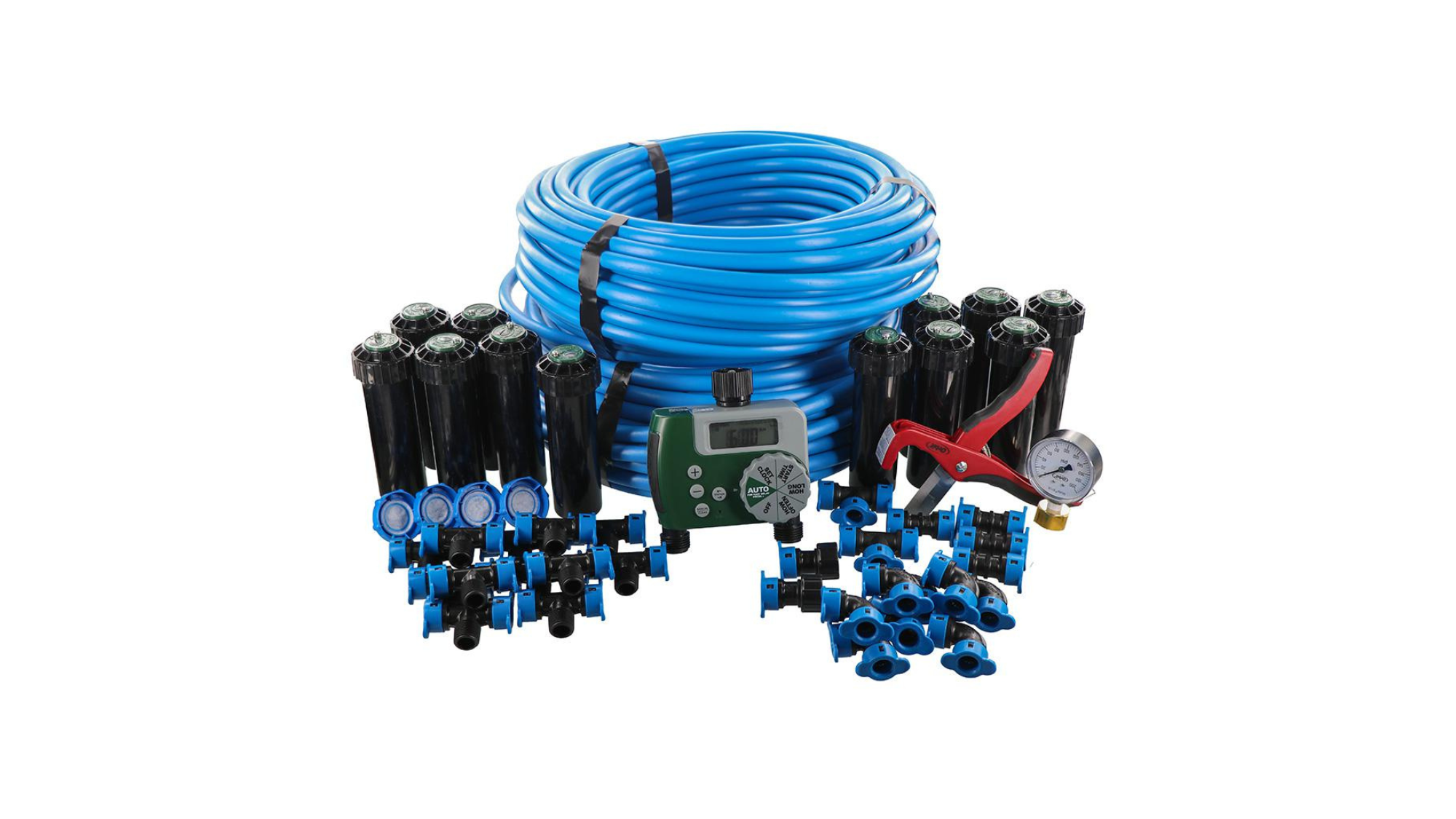 It can be a real pain dragging a sprinkler between the front and back yard. But with the Orbit 2-Zone in-ground sprinkler system, you don't have to. This clever solution allows you to automatically water two separate areas. The 12 sprinklers keep your space well hydrated even in hot spells, giving you a plot that will make your neighbors green with envy.
What the users say…
The Orbit 2-zone in-ground sprinkler system scores 3.8 out of 5 with 171 reviews on Home Depot. People are impressed with the results, with one reviewer saying it "works like a charm." Installation divides opinion. Some reviewers praise the easy set-up, while others find it a chore. There were a few gripes about sprinkler heads getting stuck, but the 1-year warranty should give you peace of mind. 
The nifty Blu-Lock system promises an 80% faster installation than traditional barb fittings. Plus, this is an environmentally conscious choice. It comes free from glue or plumbers tape, protecting the environment from nasty chemicals.
Worried about leaving the sprinkler while on vacation? You can rest assured that this model has been cleverly designed to be leak-resistant. The stronger the water pressure, the stronger the grip on the pipe to minimize the chance of escaping water. Plus, the sprinklers automatically drain when the water is off to prevent damage in frosts.
At $231.39, it's the most expensive model, but it may be worth the premium with the time and energy saved.
---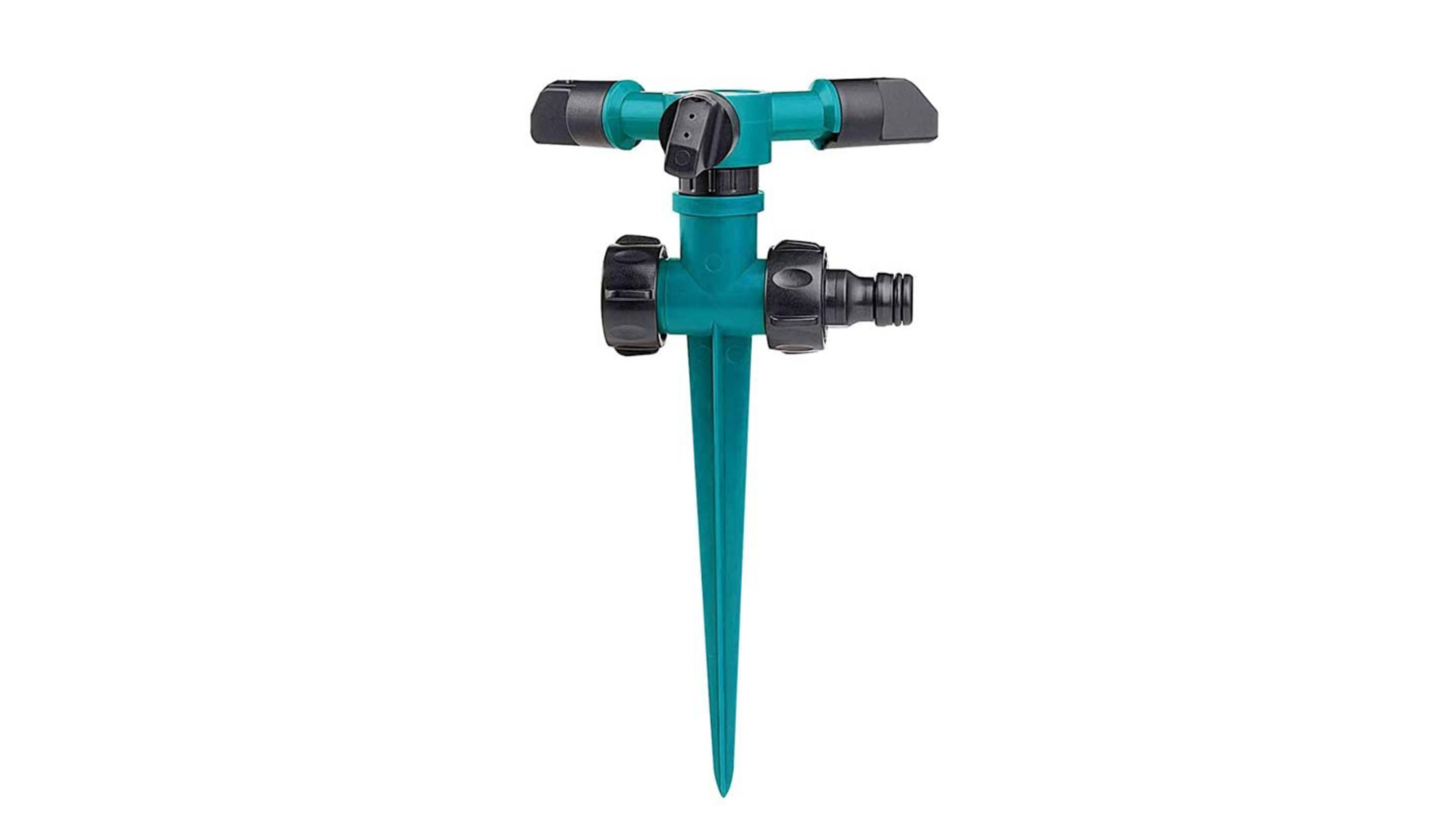 Want a budget-friendly option? Look no further than the Psinzmk garden sprinkler. It's a steal at just $13.99, perfect if you want to keep the lawn hydrated without costing the earth. That's a small price to pay to save you from the chore of constant watering in the summer months. 
What the users say…
The Psinzmk lawn sprinkler scores 3.9 out of 5 with 113 reviews on Amazon. Reviewers are pleased with the super-affordable price of this model. It's also incredibly lightweight, ideal if you need to move it between a front and back yard. 
The downsides? A couple of reviewers complain about the build quality, which leaves a little to be desired. One suggests the coverage is less than advertised, so it may be best suited to smaller spaces. 
This model offers a decent range of up to 2000 square feet, ideal for a small yard. Thanks to the 360-degree rotating sprinkler, it gives you complete coverage. You insert this model into the ground, meaning you don't have to worry about it tipping over. The action mimics rain,  efficiently hydrating your yard and offering a mesmerizing display. 
As you might expect, this cheap and cheerful model doesn't offer the same number of options or customization as alternatives. Plus, it's made from ABS rather than metal which means it's not as sturdy as some of its counterparts. But if you want a bargain buy, this is the one for you. 
---
What to consider when buying a lawn sprinkler
What should you look for in a lawn sprinkler?
Why you can trust Top Ten Reviews
Our expert reviewers spend hours testing and comparing products and services so you can choose the best for you. Find out more about how we test.
Confused by the myriad options for lawn sprinklers? We'll walk you through the essential buying considerations to transform your yard into a green oasis. Here are the factors to weigh up.
In-ground versus above-ground sprinklers
First up, you need to choose between in-ground and above-ground sprinklers. The difference? An in-ground irrigation system offers the luxury of convenience – simply set your program, and it will take care of the watering for you. High-end models have retractable sprinklers – your neighbors will never guess the secret behind your blooming garden. In-ground models are ideal for keeping the lawn in top shape while you're on vacation, or if you want to put your feet up at home. They are an investment, but they'll keep your yard hydrated season after season. Be prepared for solid graft to install an in-ground system, or consider outsourcing the job. 
If you don't fancy splashing out, an above-ground option is much more affordable, perfect if you're on a budget. The downside is you may need to move an overground model around to disperse water across different parts of your yard. Look for ones with a metal base, which helps prevent them from tipping over.
Types of lawn sprinklers
Once you've decided whether to opt for an in-ground or above-ground sprinkler, you'll find an array of types on offer. Here are the main ones:
Stationary: These sprinklers don't move and tend to cover a smaller area.
Oscillating: This type moves back and forth to distribute jets of water. They're best suited to rectangular yards.
Rotary, rotating, or pulsating: These models spin around and usually cover a circular shape.
Pop-up: In-ground systems often feature pop-up sprinklers which disappear below the ground after watering, creating a sleek look. 
Lawn sprinkler coverage
Next, it's time to whip out the tape measure to check the size of the space you want to target. Make sure the coverage listed is sufficient for your needs. Look for models with adjustable settings to avoid splashing buildings and wasting water. Before you commit, check the pressure and flow are compatible with your water supply – it can vary depending on where you live and if you use a well.  
---