Nothing beats the satisfaction of a job well done. The best manual lawn edgers enable you to nail a clean edge –  no straggly bits in sight. Small details make a huge difference. Whether you're looking to neaten up your lawn or sculpt flowerbeds, a manual lawn edger helps you achieve a yard you can take pride in.
The manual lawn edger is perfect for traditionalists and has stood the test of time. Essentially, you press the blade into the ground with your foot to carve out a clean edge. For best results, rock from side to side to achieve that manicured look. This humble tool comes with a surprising array of options, including crescent blades or V-tips, O or T-shaped handles, and straight or serrated edges. We'll walk you through the key considerations with our buying advice. 
Manual lawn edgers are a superb choice if you value sustainability. With zero emissions, they are greener than gas edgers. Plus, the only energy you need is your own exertions, which is better for the planet and your wallet. 
Looking to escape the noise of modern life? A manual lawn edger is blissfully quiet, allowing you to maintain a tranquil haven. It transforms edging into a more relaxing experience as you tune into the sounds of the garden. 
Best of all, manual lawn edgers are great value. All models on our list come in under $60, ideal for budget-conscious shoppers. 
Undecided whether a manual lawn edger is right for you? You may consider a gas or electric-powered model if you're prepared to pay a premium to avoid the physical effort of a manual edger. Some of the best lawn edgers are electric, which offer convenience, while gas lawn edgers boast maximum power. Find out more in our guides to the best electric lawn edgers and the best gas lawn edgers. 
Best manual lawn edgers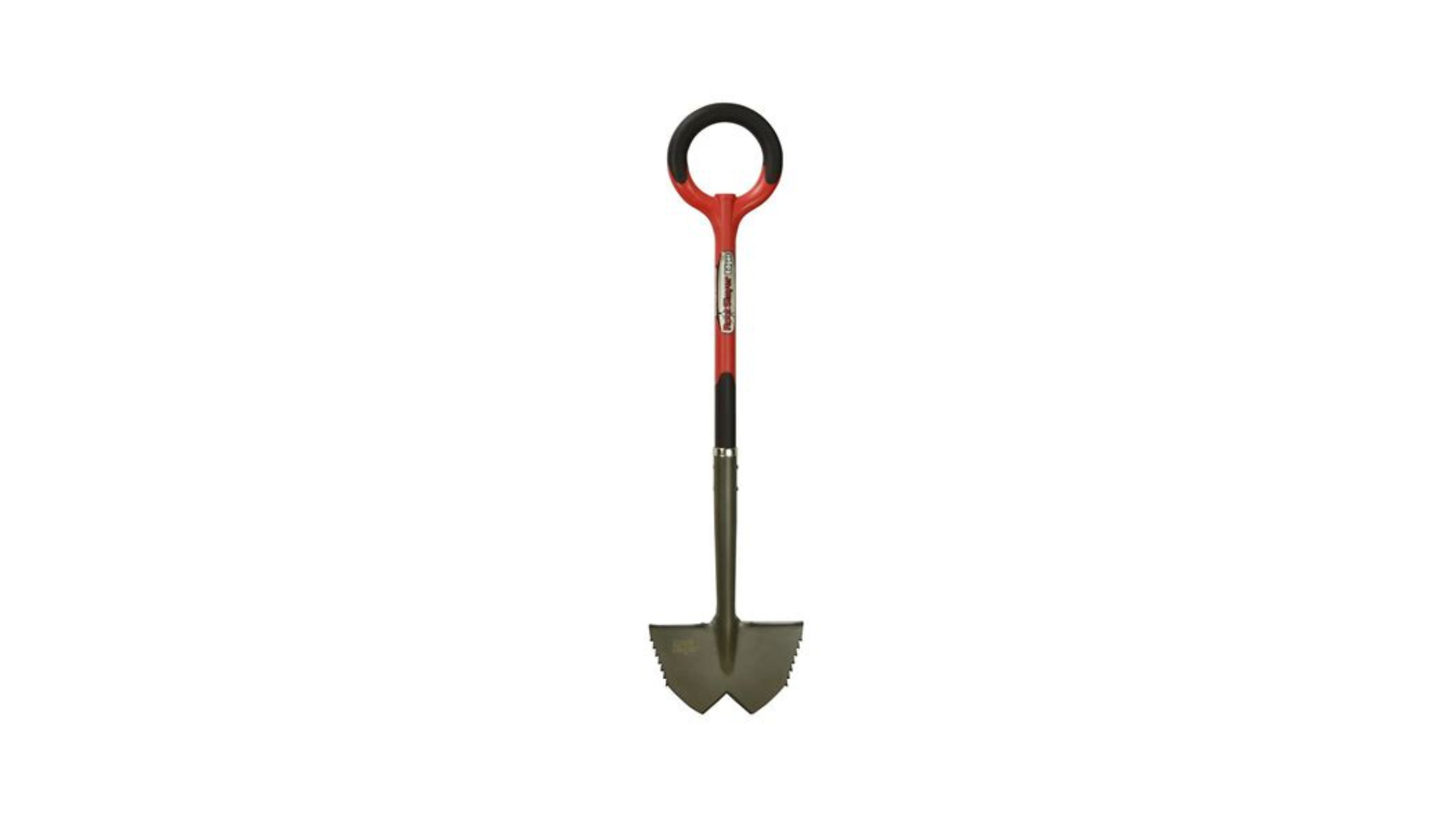 The Radius Garden Root Slayer Carbon Steel Edger deserves its name. Roots are no match for this award-winning tool. Thanks to the nifty inverted V-shape blade, it slices through roots without slipping or bouncing off. The teeth on either side provide extra bite, helping you wield maximum power. 
This powerhouse of a tool can handle the toughest jobs, whether that's clay soil or compacted ground. It's ideal for trench digging, making light work of this demanding task.
What the users say…
The Radius Garden Root Slayer edger scores an impressive 5 out of 5 with 21 reviews on Home Depot. 100% of customers recommend this product. People rave about the cutting power of this edger. One reviewer reports it can even handle heavy clay soil. 
Out of the few negatives, the main drawback is the weight. It's heavier than a traditional model and more cumbersome to handle, with rare reports of people struggling to get the hang of it. 
The rugged edger is built to last with a powder-coated carbon steel blade. The lifetime warranty is a testament to the manufacturer's confidence in this product. 
When it comes to comfort, the Radius Garden Root Slayer doesn't disappoint. It sports an ergonomic handle with non-latex grips, so you don't have to worry about your hands tiring out.
All these benefits come at a premium. At $54.87, the Radius Garden Root Slayer is the most expensive on our list. But it may be worth the investment if you want an edger that's a cut above the competition. 
---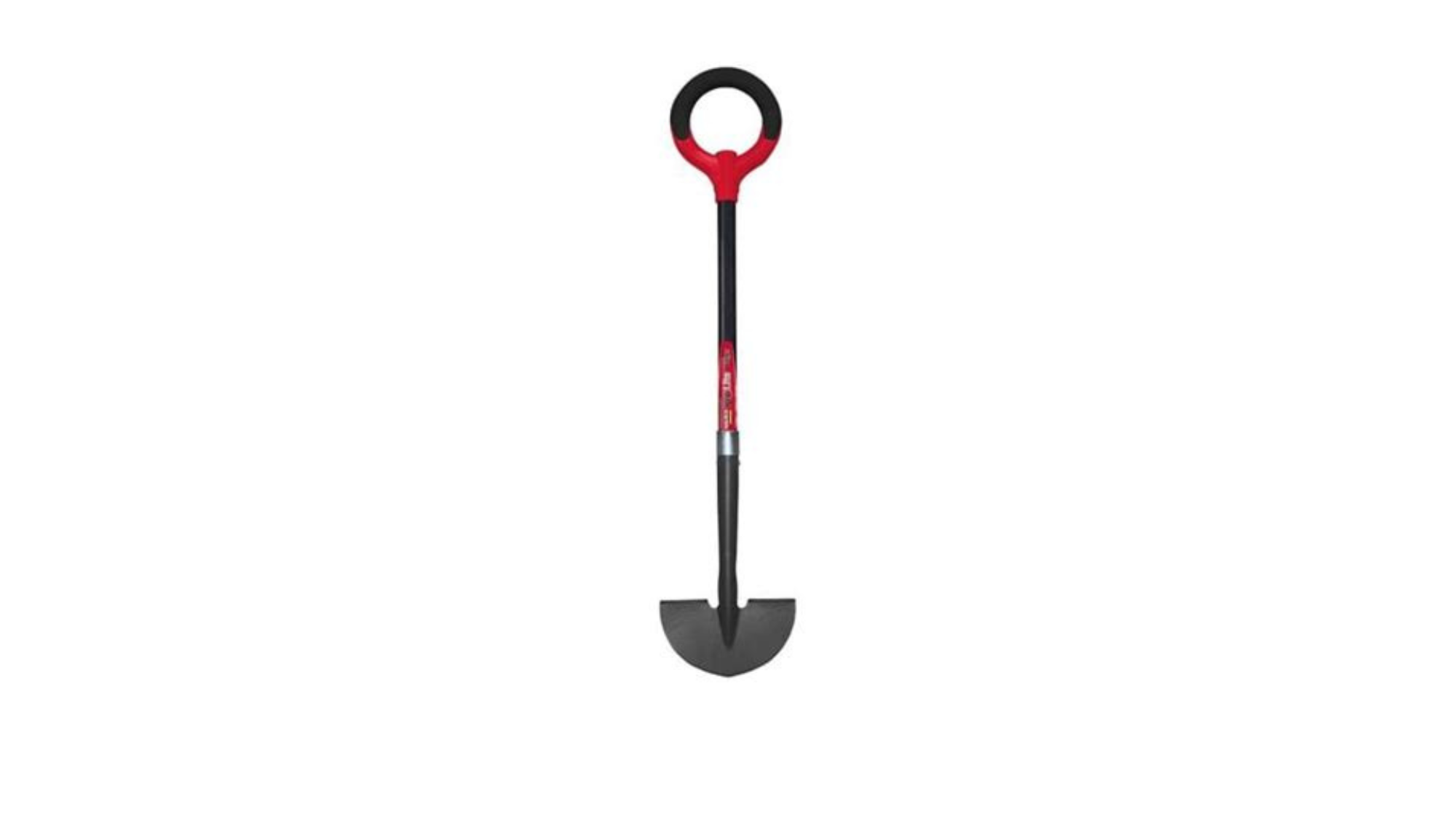 The last thing you want is a lawn edger that's a chore to use. The Radius Garden Pro-Lite carbon steel garden edger eliminates that problem with its lightweight, comfortable design. The brand Radius aims to create gardening tools that everyone can use. Weighing in at just 4Ib, this nimble steel edger saves you the hassle of lugging a heavy tool around the yard.
What the users say…
The Radius Garden Pro-Lite Carbon Steel Garden Edger scores 4.8 out of 5 with 37 reviews. Reassuringly, 100% of customers recommend this product.
People love that this edger is comfortable and lightweight. It still performs, with one reviewer saying it "worked like a charm."
The downsides? A few report issues with cracks in the handle. A couple complain that the blade isn't sharp enough, though, overall, people are satisfied.
The thoughtful design features mean this tool is beginner-friendly. The O-shaped handle reduces stress on the hands and wrists, so you can edge for longer. Plus, it gives you a firm grip and helps you gain a good purchase on the ground. The extra wide elevated footstep enables you to balance and achieve maximum leverage. 
You don't have to sacrifice performance for comfort either. The heat-treated carbon steel blade delivers a precise, even cut. It can even deal with irregular edges, perfect for landscaping around obstacles like flowerbeds. 
At $44.99, it's the second most expensive manual lawn edger on our list, but it may be a price you're willing to pay for comfort. 
---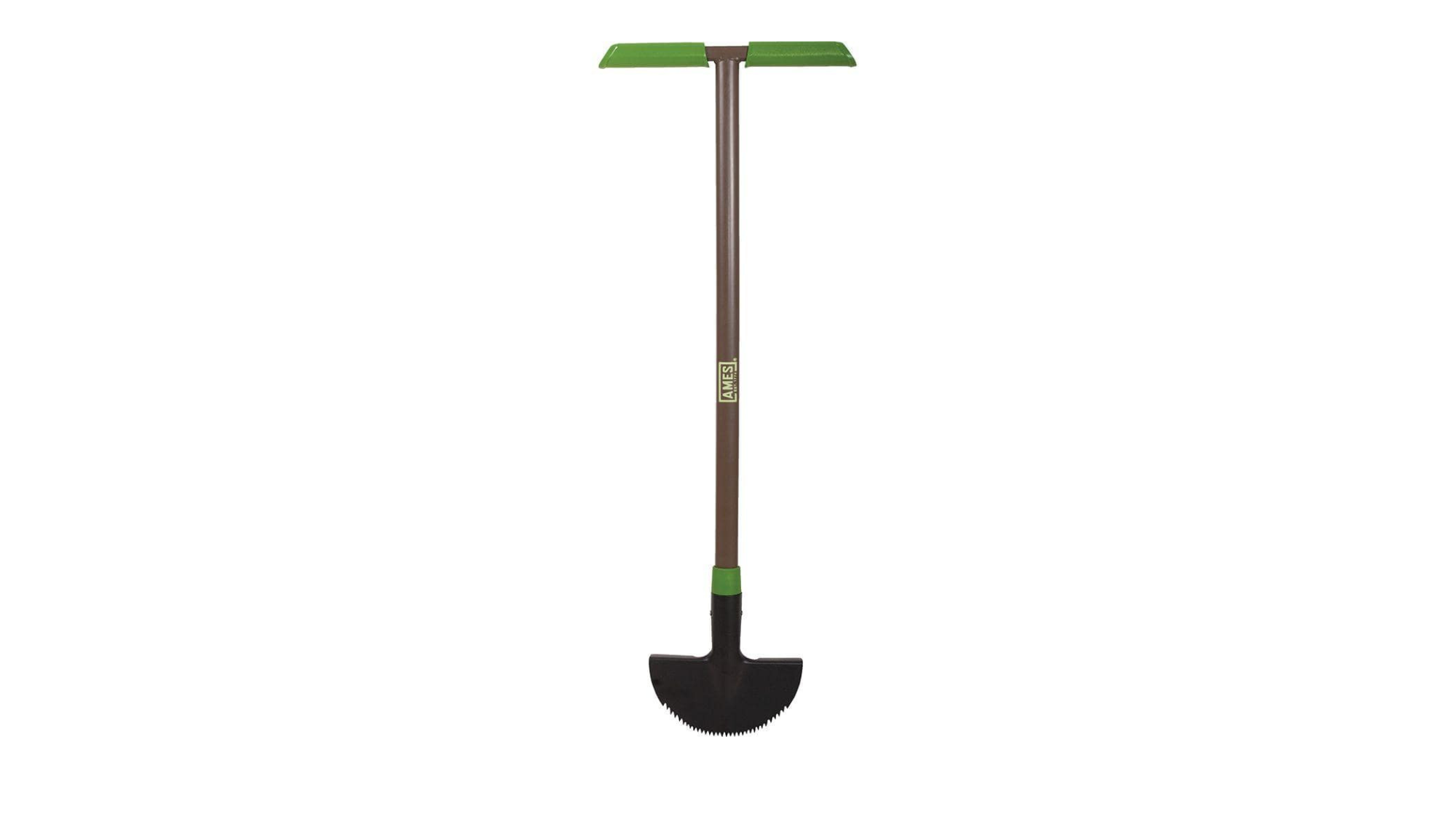 Looking for a trusty tool? The Ames Steel Landscaping Edger could be your new best friend. With a 15-gauge steel blade, this model is durable, and the build quality is sure to impress. It slices through grass and earth with ease, helping you achieve a groomed finish. 
What the users say…
The Ames Steel Landscaping Edger scores 4.6 out of 5 with 516 reviews on Home Depot. A reassuring 94% of customers recommend this product. People compliment the quality and are impressed with the results.
The serrated edge divides opinion – not everyone is a fan. Some suggest the footplate could be wider for added comfort. A few people report the blade doesn't penetrate very tough ground, but overall, customers are pleased with their purchase. 
The Ames Steel Landscaping Edger can handle whatever gardening task you turn your hand to. The serrated edge makes short work of digging trenches –  ideal if you're planning to create new flowerbeds. This manual edger eliminates straggly bits along boundaries, helping you create a sleek finish along driveways, lawns, and sidewalks. Plus, the clever arched blade can cut straight or curved lines, allowing you to dream up and create elaborate garden designs. 
The handle is a classic T design, making it easy to use. The footplate gives you added control, helping you achieve even cuts. 
You'll be pleased to know the Ames Steel Landscaping Edger is a budget-conscious choice. It's a steal at $32.98. Plus, it features a robust 15-year warranty to give you peace of mind. 
---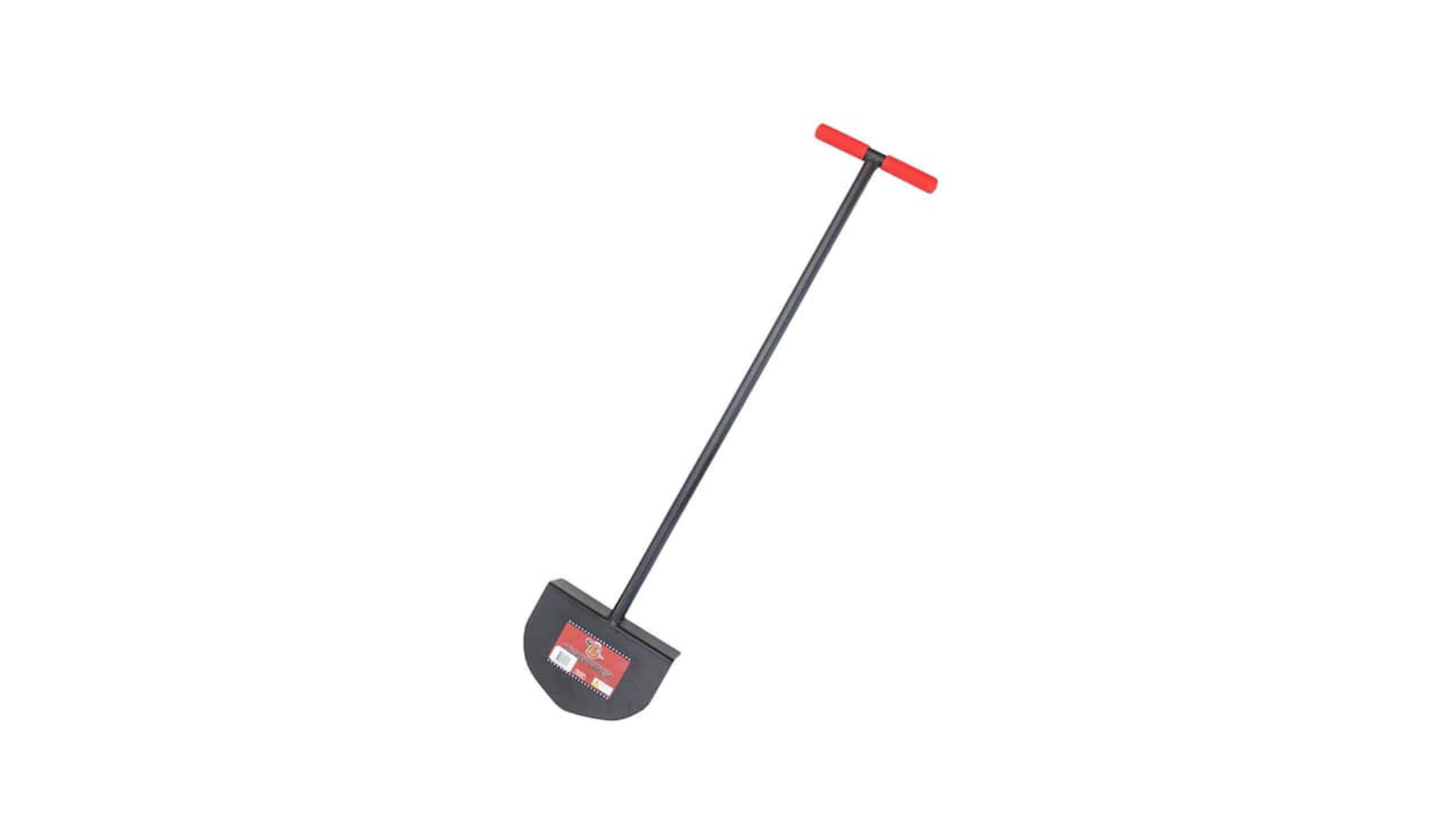 Want a fuss-free way to create crisp edges? The Bully Tools Round Lawn Edger offers a simple but effective design, making light work of landscaping your yard. 
This tool stands out for ease of use. The T-style handle gives leverage and control, resulting in a precise finish. Plus, the handle design means you don't fatigue as quickly, so you can keep at it for longer. The padded grips provide added comfort and help to prevent slipping. If we're being picky, the handle is on the short side and may not be suitable for taller gardeners. 
What the users say…
The Bully Tools Round Lawn Edger scores 3.9 out of 5 with 83 reviews on Home Depot. People are pleased that it delivers on its promises to create a defined edge. Customers love that it's easy to use. 
There are a couple of gripes that the blade is dull, so you have to apply pressure on tough ground. A few people mention issues with the blade bending, but these are in the minority. 
The blade is made from American-sourced steel, which the manufacturer claims is up to 30% more durable than overseas competitors. The 12-gauge steel blade is reassuringly robust. It has a nifty pointed tip to penetrate the soil. The blade isn't the sharpest, so it may be best to pick a time when the ground is wet for best results. 
At $38.10, it falls into the middle range of the manual lawn edgers on our list, offering decent value for money. 
---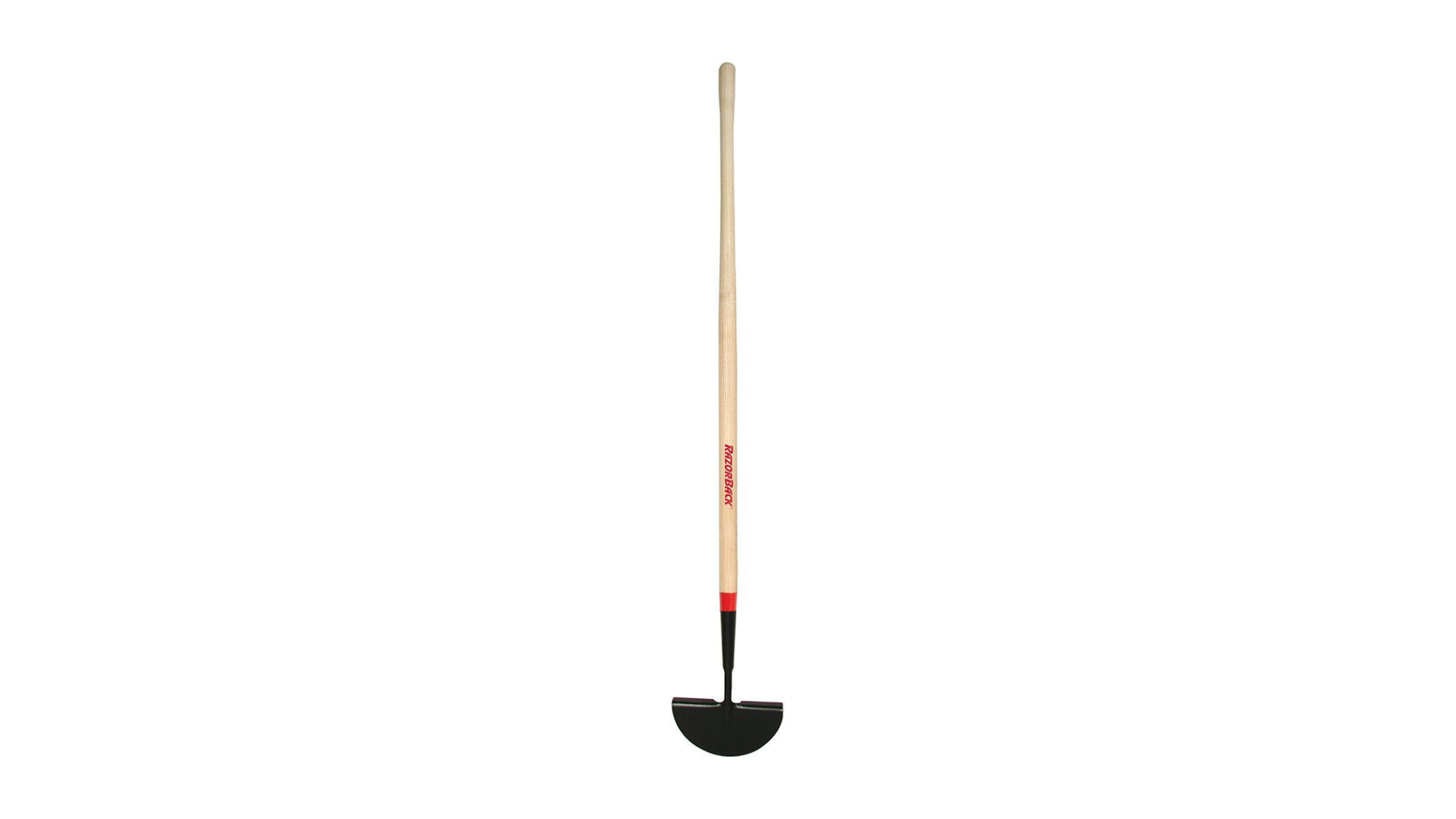 If you want a decent no-frills lawn edger, the Razor-Back Wood Handle Turf Edger could be the one for you. At $37.98, it's the second cheapest on this list, making it a bargain buy for those who don't want to fork out for a fancy model. It's a decent tool for basic lawn edging needs.
What the users say…
The Razor-Back Wood Handle Turf Edger scores 3.9 out of 5 with 417 reviews on Home Depot. Customers like that it helps you get the job done – no fuss, no muss. 
There are a few reports of the blade bending when under pressure. Because of this, it may not be well suited to heavy-duty clay soil. The handle is pretty tall, so may not be a good fit if you're on the petite side. 
The Razor-Back Turf Edger has a traditional design, perfect for purists. The handle is suitably sturdy and is made of North American hardwood. The straight design may not be for everyone, as it doesn't give you the same leverage as with an O or T-shaped handle.
You can rely on the Razor-Back to deliver a solid performance. The industrial-gauge socket pattern blade achieves a clean cut, ideal for putting the finishing touches on your lawn and driveways. Thanks to the half-moon blade, you can choose to create curved or straight edges depending on your landscaping needs. Plus, it sports a lifetime warranty to give you peace of mind. 
---
Buying a manual edger
What should you look for in a manual lawn edger?
Why you can trust Top Ten Reviews
Our expert reviewers spend hours testing and comparing products and services so you can choose the best for you. Find out more about how we test.
A manual lawn edger is a superb choice if you want a planet-friendly and affordable tool. But not all manual lawn edgers are created equal. You'll need to weigh up several factors to pick the right one for you. Here are the main considerations.
The right tool for the task
The best tool is the right one for your needs. If you're looking for an edger that slices through roots and clay soil, you'll need a heavier-duty model than if you only require basic edging.
Blade shape
The traditional manual lawn edger is a crescent or half-moon shape. This enables you to gain purchase on the ground with side-to-side movement. You'll find models with a pointed tip to penetrate tougher soils. An alternative is the inverted V-shape blade, specially designed for slicing through roots. 
You'll need to choose between a standard blade and a serrated edge. The ones with teeth offer additional grip and prevent slipping. 
Handle shape
You have a few choices when it comes to the handle. Traditional lawn edgers have a straight handle. Alternatives include a T-shaped handle which provides added leverage and distributes pressure evenly. O-style handles give you maximum control. 
Build quality
Materials like high-gauge steel signify an edger is durable and built to last. Edgers that are one-piece can be more durable and less liable to breakage.
Check the manufacturer's warranty before you buy – it's often an indicator of how confident they are in the quality of the product.
Comfort
If you're toiling away in the yard, comfort is a top priority. Look for models with cushioned handles and wide footplates so you don't tire out before your tool does. 
Maneuverability
An unwieldy tool can turn gardening into a slog. Picking a lawn edger that's easy to maneuver can make your life easier. But there is a trade-off – a lightweight tool may be more nimble, but this may be at the cost of durability. 
Price
Last but not least, you need to consider the price. Thankfully, manual lawn edgers are relatively inexpensive compared to their gas or electric counterparts. They do come in a range of prices though – it's often worth buying the best you can afford to avoid paying twice. 
---