For the ultimate indulgence, you can't beat a long soak in a hot tub. Whether you crave a quiet moment to unwind or you want to entertain friends, a hot tub is the perfect way to treat yourself (and your guests). It helps you transform your backyard into a spa that's open all hours, so you can enjoy your outdoor space long into the night. 
As if you needed an excuse, it turns out that a dip in the hot tub can offer serious health benefits. The warm water is the ideal way to soothe aches and pains, melting away the stresses of the week. 
Best of all, you don't necessarily need to splash out to enjoy the benefits. While you'll find high-end models that cost upwards of $16 000, you'll be pleased to know that you can enjoy pampering sessions in your backyard for as little as $450. Inflatable models are infinitely more affordable. Another advantage is they don't need much installation. Plus, if space is at a premium, you can simply put your tub away after the party. 
If you're on a tight budget, don't forget to factor running costs into your finances. Energy-efficient models enable you to enjoy your soak guilt-free.
While the price may be top of your list, you'll want to factor in other considerations. It's essential to weigh up size, maintenance requirements, and any extra features alongside the price. 
We've rounded up the cheapest hot tubs so you can relax in style for a fraction of the price. We'll share our top pick and 4 other serious contenders. 
Ready to take the plunge and create your home spa? Keep on top of the laundry with our guide to the best washer dryer combos.
For now, let's dive into the cheapest hot tubs. 
The cheapest hot tubs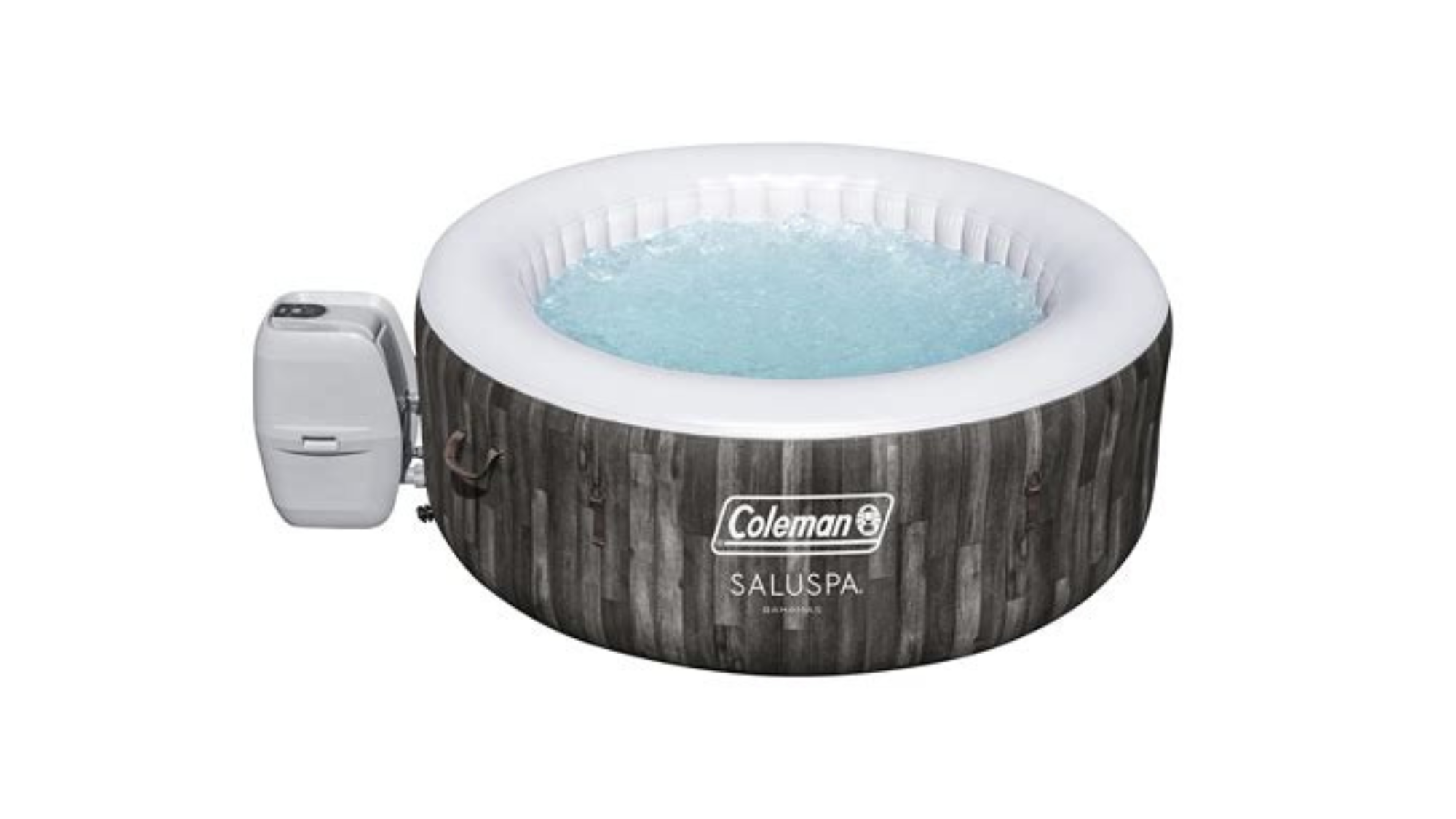 The Coleman SaluSpa is the perfect pick-me-up after a long day. With an impressive 120 air jets, this model offers a massage experience from the comfort of your backyard. Soothe aches and unwind while surrounding yourself with streams of bubbles – pure bliss. 
What the users say…
The Coleman SaluSpa scores 4.2 out of 5 on Amazon with 97 reviews. Customers love the affordable massage experience, with one user commenting they wished they had invested a long time ago. It attracts top marks for easy assembly.
The downsides? Some reviews mention it drops in temperature when you turn on the bubbles. A few unfortunate customers report that customer service is a little lacking, but overall, people rate their purchase.
The attractive wood effect will wow your guests – they may never guess it's inflatable. This model is roomy enough for 2-4 adults, though you may want to keep it to yourself. With convenient holders for drinks and snacks, you won't want to leave. You can control the spa while barely lifting a finger with easy-to-reach digital controls, ideal for lazy evenings.
The Coleman SaluSpa comes with a reinforced cover to keep your tub toasty when not in use. The DuraPlus™ material is puncture-resistant to give you peace of mind. It's simple to set up, but the plug is on the large side. The ChemConnect™ technology keeps it sparkling clean by dispersing chlorine throughout. 
At $444, it offers unbeatable value, giving you a pampering experience without breaking the bank. 
---
More of the cheapest hot tubs
Why you can trust Top Ten Reviews
Our expert reviewers spend hours testing and comparing products and services so you can choose the best for you. Find out more about how we test.
---
What to look for when buying a hot tub
What should you look for in a hot tub?
If you're in the market for one of the cheapest hot tubs, there's lots to consider. Price is just one factor, and it can be confusing to know where to start. We'll break down the main considerations to help you pick the right model for you. 
Type
If you're looking for one of the cheapest hot tubs, an inflatable hot tub is a solid choice. As a bonus, you can deflate these models and stow them away when not in use if space is at a premium. Non-inflatable models are significantly more expensive, though they may be worth the investment if you want a serious upgrade. 
Size and space
The size of your space should narrow down your options. Consider where you will position your hot tub and check the dimensions. An even, sheltered spot is ideal, as it can help retain the heat better than more exposed locations. You can take your pick from round and square options.
Looks are important too. Some inflatable models have wood effect sides, an affordable alternative to the real deal. 
Capacity and comfort
The size of the tub will determine the capacity. You'll find a range from cozy models for couples all the way up to spacious tubs for 6 people, perfect for hosting a crowd. Consider the right option for your needs. 
Comfort is a top priority in a hot tub. Be aware that the majority of inflatable models don't come with seats. Features like a cushioned bottom can add a touch of luxury so you can enjoy a long soak. 
The spa experience
Hot tubs are all about the bubbles. The good news is that even many budget options come with plenty of jets to massage away the stresses of the day. Higher-end models offer adjustable settings.
Cleaning and safety features
Hygiene is a key concern with a hot tub. Proper maintenance eliminates bacteria and keeps your pool crystal-clear. Follow the manufacturer's guidelines with the temperature to keep nasties at bay. 
Before you commit, check the cleaning systems and maintenance requirements. Many inflatable tubs are fitted with filtration systems, though you'll need to purchase cleaning supplies to keep yours in top condition. 
If you're new to owning a hot tub, it can be a learning curve. Be prepared for some trial and error to perfect the cleaning regime. 
Concerned about safety? A hot tub cover with locks can put your mind at rest if children are around. 
Cost and warranty
If you're on a budget, price will be a deciding factor. But it's not just the initial outlay you need to consider. Remember to factor in running and maintenance costs. The cost of running a hot tub will vary depending on where you live and your energy supply. Using a cover to retain heat can help you save on energy bills.
Don't forget maintenance costs. You'll need to stock up on chemicals to keep your hot tub clean and safe. 
Even the cheapest hot tubs are an investment, so it's worth considering the warranty. Typically, this is separated into the motor, parts and manufacture. The length of the warranty often gives an indication of the quality – it's a sign of the manufacturer's confidence in the product. 
Bonus features
If cost is the deciding factor, you'll find decent no-frills inflatable hot tubs. But if you're looking to treat yourself, you may consider bonus features. Smart-phone controlled models offer ultimate convenience. Plus, LED lights, snack holders and headrests are all nice touches if your budget allows. 
---