Amazon's big day is here here and that means that Amazon Prime Day deals have popped up like wildflowers after a long rain. Among the products getting that Bezos-sized discount are the kind of kitchen appliances that make life easier in the morning, or at least help you get that start-of-the-day caffeine fix. 
So, if you're in the market for one of the best coffee makers, you're in luck as plenty are seeing some significant sales. That includes all sorts of options from the ones that use convenient pods that make for easy clean-up and single serve models for cramped kitchen spaces (or hermits) to those so fully featured that they help you to create your own cappuccinos.
To help you find the perfect coffee maker without breaking the bank, or at least paying full price, we've highlighted three coffee makers that you should keep an eye on during the course of Prime Day that might eventually make their way to your kitchen counter.
3 coffee makers I would look out for in Prime Day deals 2023
1. Bruvi Bundle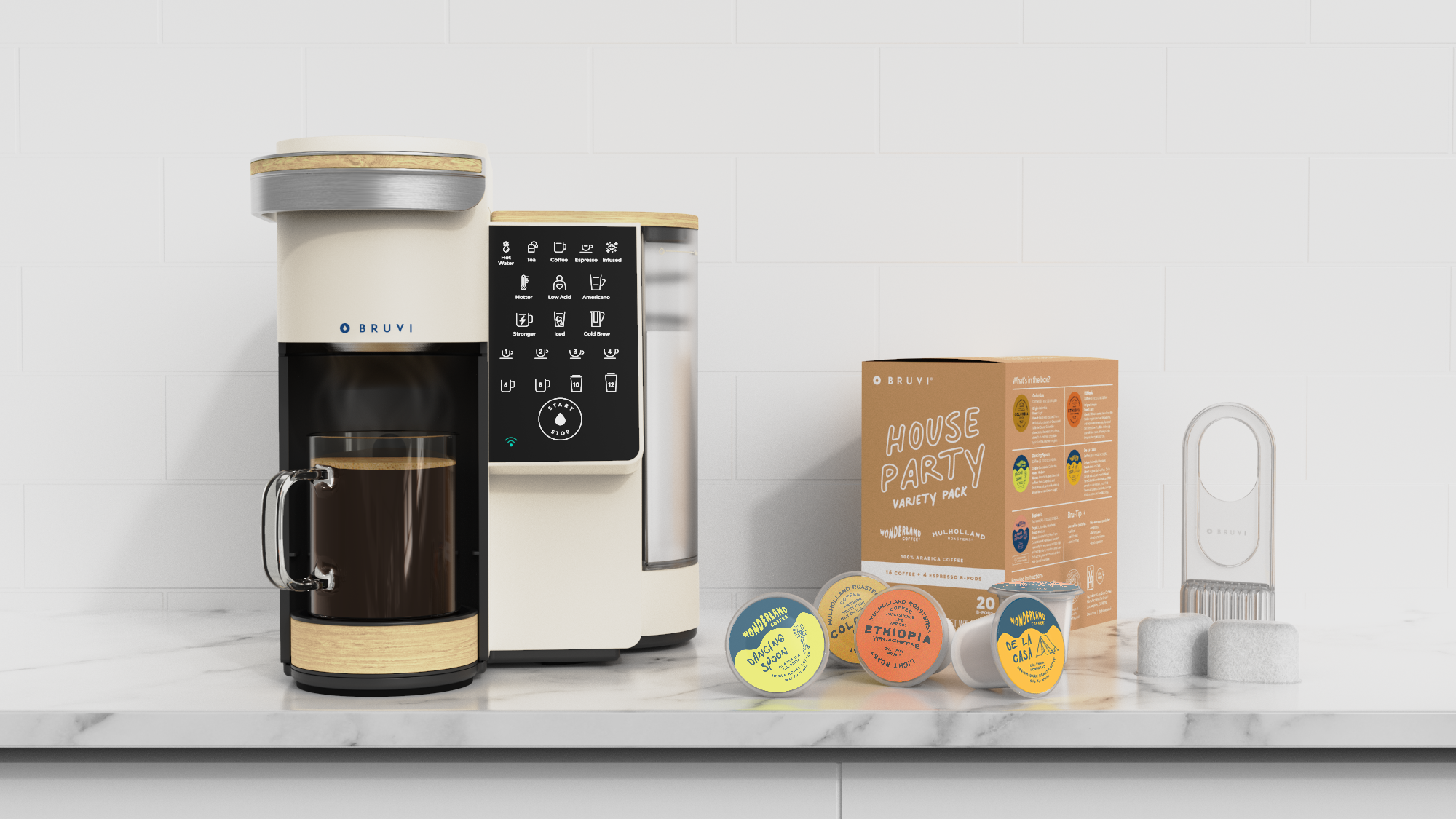 You know what's better than a coffee maker? A coffee maker bundled with extras, and that's what makes the BRUVI The Bruvi Bundle so exciting. In this case, you get 20 pods to get you started and a premium water filter kit to go along with the brewer unit.
While the Bruvi Brewer is fairly new, the connoisseurs that have gotten it have given it their highest marks on Amazon for its delicious brew, the ability to make several different drinks including cold brew, and incredibly easy clean up. Just as importantly when it comes to any pod system, there's no need feeling guilty tossing those pods in the trash as they will biodegrade without leaving harmful microplastics behind.
Now, it's much more expensive than a Keurig system, going for a hefty $398.00. But, for Amazon Prime Day, it's seeing a surprisingly large discount as it will be available for $198.00.
2. Café Specialty Drip Coffee Maker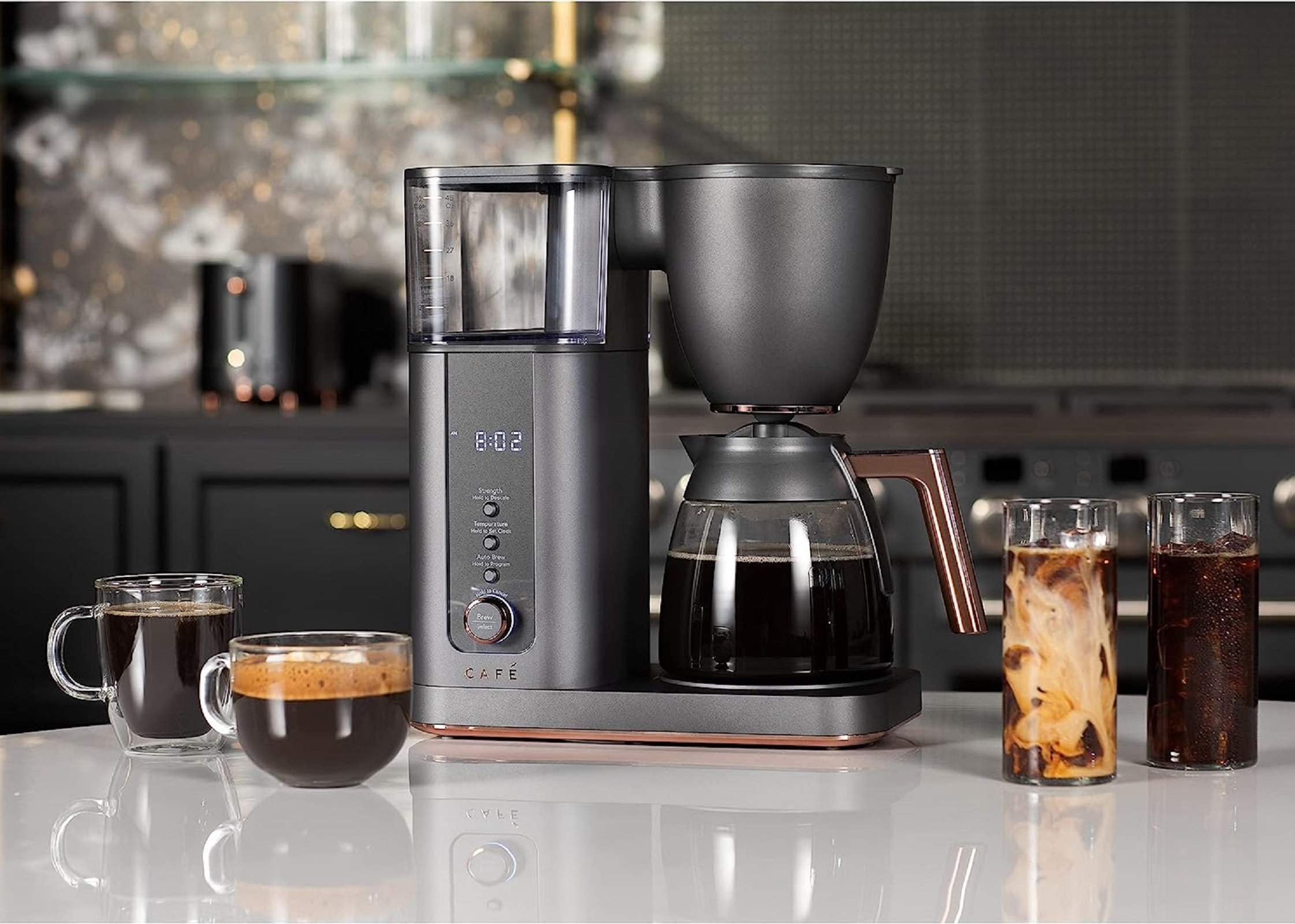 Sometimes you just need to make a big pot of coffee.  For those times, you need something like the Café Specialty Drip Coffee Maker instead of those specialty machines that do single servings. Luckily, this coffee maker takes it a step further as it not only makes a lot of coffee but it makes it well.
It also comes with a good number of features. If you want, you can have it make a pot while you're still in bed (as long as it's got coffee grounds and water) via an app. If you're a fancy smart home user, you can use either Alexa or Google Home to get it started. Or, you can automate it to start before you even get up.
For something as fully featured as this, there is a somewhat sizable price tag of $279.00. Of course, it often finds a decent sale as it has during Prime Day where it's $82 off. That's almost 30% off for a discounted price of $196.97.
3. Mr. Coffee Espresso and Cappuccino Machine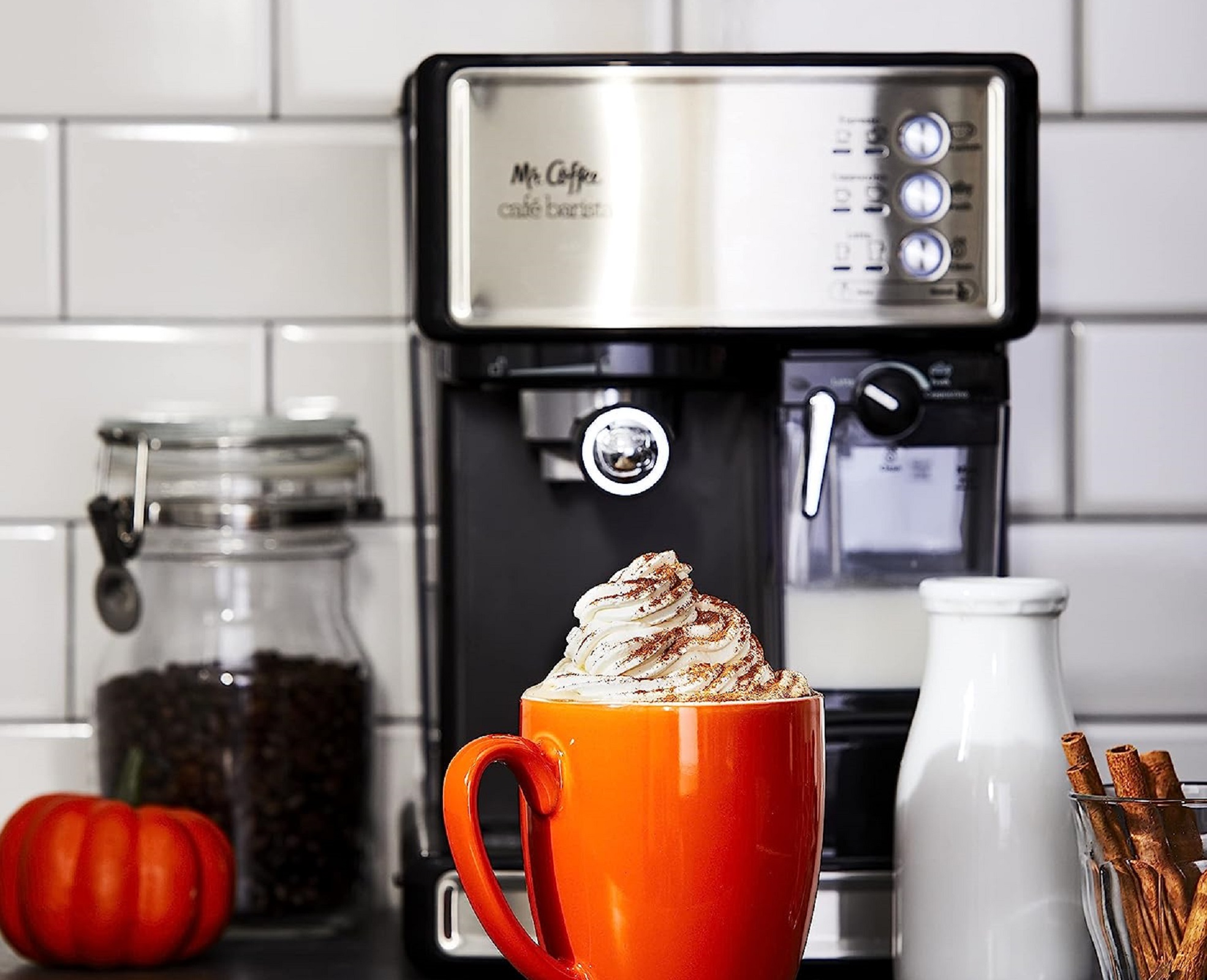 I don't know about you, but sometimes I just want a treat in the form of a latte or cappuccino. But, approximating one with a regular coffee maker and a milk frother is just that – an approximation.
With the Mr. Coffee Espresso and Cappuccino Machine, you don't have to make a facsimile or pay an absorbent amount of money for a professional grade espresso machine. For $249.99, you get a programmable machine that lets you make two different sizes of either an espresso, latte, or cappuccino. As Amazon users have noted, it's easy to use once you get the hang of it but there is a bit of a learning curve. Once you do, you'll love the results.
While that $249.99 price tag is pretty good for something that can go beyond drip coffee (which it doesn't do), it's getting the Prime Day treatment to the tune of 36% off. That means you can get it for just $159.99.
FAQs
What coffee maker is the best one to buy?
That entirely depends on your coffee preferences. If you're a coffee snob like me, then you want one that pours a consistently even and smooth cup of joe. And, that often means getting something that's a bit pricier made with high-quality components. That also means that a coffee maker with a large carafe that might sit on a heating coil for a while is not my style.
However, if you're trying to make coffee for a household, one with a large carafe is the way to go. After all, do you really want to make three to four individual servings when you could make it all at once?
Or, maybe something that uses pods is preferable. Those models not only make clean up a cinch but also allow each serving to be individualized as one person might want a dark roast while another might want hazelnut.
How much should you spend on a coffee maker? 
This is, again, something of a case-by-case situation. Specialty coffee makers that can be programmed or make basic lattes and cappuccinos will set you back quite a bit, usually in the hundreds of dollars range. Of course, if you're looking for Barista-level control, that will go up quite a bit to over a thousand dollars or more.
If, however, you just want to be able to make a cup or two in the morning without any of the frills, you can get away with spending $50 to $100 for a decent coffee machine.
What is Amazon Prime Day?
Coffee machines and makers, as mentioned above, can get expensive. And, while the most niche of them might not find a sale during Amazon Prime Day, quite a few will. With that in mind, what is Amazon Prime Day?
This shopping event is an Amazon exclusive that can rival the Christmas-related Black Friday shopping bonanza with a number of doorbusters and discounts that are only available July 11th and 12th with a few early bird specials to pique your interest. If you're an avid Amazon shopper, this will be the best time to work on your wishlist until the end of November comes around.