If you love working in your yard or just have a need to keep it trimmed and looking good, you know how expensive getting the right tools can be. Thankfully, this Yard Force Gas Lawn Mower (model number #YF22-3N1SP if you're interested) is receiving the kind of sale to help put some money back in your pocket. Or that you can at least use on gas instead.
Seeing this sale this late in the summer is a boon for anyone who missed out on getting one of the best gas lawnmowers when all the Amazon Prime Day deals were fresh. That means that there's plenty of stock for this model. And you won't have to wait for the Best Black Friday deals to get something good for your yard at a reasonable price. After all, while this Yard Force Gas Lawn Mower's regular price of $449.99 is not outrageous, it's still a bit pricey. So, its discount of $50 off, resulting in a going rate of $398.00, is much more palatable.
What makes this sale such a good deal is that you can stretch your dough into a better-quality model. You can spend even less than the sales price of this lawn mower and get something, but the best gas lawnmowers do a great job evenly cutting grass, are easy to use, and come with features that make lawn-cutting life a little easier.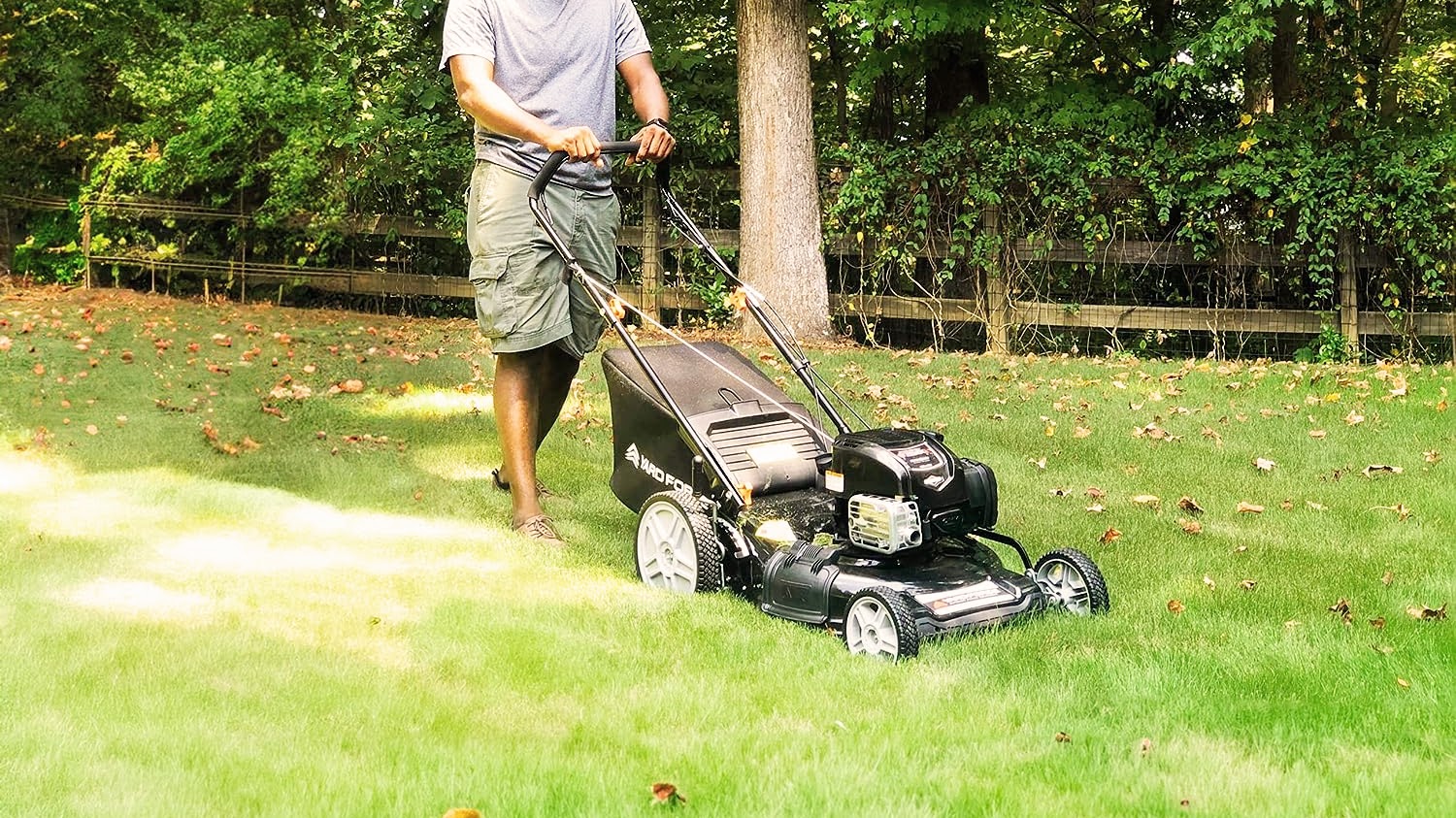 Key features of the Yard Force Gas Lawn Mower
The Yard Force Gas Lawn Mower is not an everything-but-the-kitchen-sink lawn mower, but it has everything you could reasonably want when dealing with a typical grass area. Out of the box, it's easy to assemble. And getting it started is just as easy.
This lawn mower uses a US-made 150cc engine from Briggs & Stratton that's powerful enough to keep up with large yards and is easy to ignite. You won't have to spend minutes pulling on the chord to get it started. And, since it has plenty of power, it's also self-propelled, so you won't have to hit the gym beforehand in preparation for pushing it around your space. And, since it's self-propelled, using it on inclines is not the issue it would be with models that need that extra push.
Other key features include a single lever to adjust cutting height and a large capacity grass basket so you don't have to pull out the leaf blower afterward to clear up a bunch of cut grass. There's also a side discharge chute though some users have reported that it can be pulled off easily in high grass.