Smart ovens bring convenience and modern technology perks to your kitchen, but full-size smart ovens are expensive investments. The Tovala Smart Oven is a compact, convenient addition to a kitchen that allows you to still enjoy some smart technology perks. When connected to your home WiFi, its scanning capabilities simplify the preparation of Tovala subscription meals, or of frozen foods made by certain manufacturers. Ideal for meal preparation for just one or two people, this oven is just slightly larger than a toaster oven, but it can do far more than many of the best ovens on the market.
With its ability to bake, air fry, toast, broil, and reheat, this oven is a versatile choice for many purposes. Reviewers mention using it for everything from simplifying meal preparation when teens are home alone or making meal preparation easier for seniors. I found it to be a fast, convenient addition to my kitchen, and a great alternative to my stove when I just needed to quickly cook a single serving of food. 
I tested the Tovala Smart Oven in my home. I evaluated the oven's condition when it arrived, the packaging, the setup process, and its performance. I tested the oven with four Tovala subscription meal kits, as well as by cooking a pork chop and air frying frozen French fries. I also considered factors like maintenance and cleaning requirements, as well as how the oven compares to other options. Read on to find out more about how the Tovala makes meal preparation easier and why I think this oven is a helpful choice for certain situations.
Tovala Smart Oven: Design
As someone with limited kitchen counter space, I appreciated the Tovala Smart Oven's compact design. Measuring 12.32" deep by 18.5" wide by 11.75" high, it's small enough to fit under my cabinets and takes up minimal space. 
The oven is only available in a stone gray, but it's a neutral color that will work with many decor schemes. The oven was surprisingly lightweight to lift, weighing just 24.4 pounds.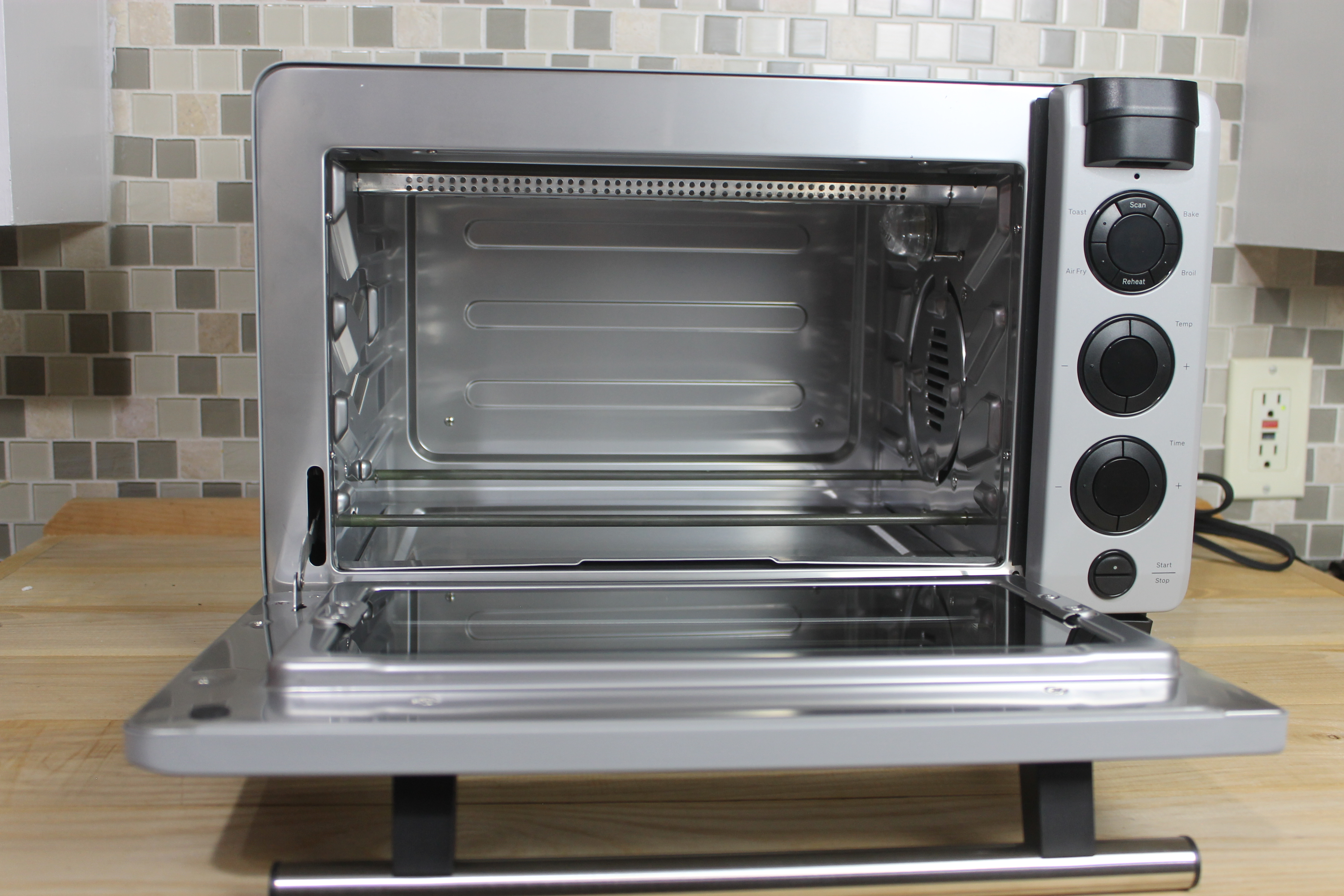 Type of oven: Smart oven
Colors: Stone Gray
Capacity (liters): 12.75" long x 11" deep x 8" high
Power (watts): 1525 watts
Dimensions: 12.32" deep x 18.5" wide x 11.75" high
Weight: 24.4 pounds
Number of settings: 5
Energy Star Certified: No 
Construction material: Stainless steel
Warranty: Ye
The metal oven sides give it a quality feel, and the door handle has a nice feel and never got hot. The door opens and closes smoothly and seems to be overall well-designed.
While most of the oven has a feel of being a quality, durable product, the plastic buttons disappoint. I didn't have any difficulty using the buttons, but they felt cheap compared to the rest of the oven's design. The barcode scanner features a reserved design. While this is a "smart" oven, the barcode scanner blends in with the other buttons, so it can make a natural addition to any kitchen.
I enjoyed the fact that the oven light remains on when it's in use. The light made it easy to monitor the food, and the oven is well-lit.
Tovala Smart Oven: Features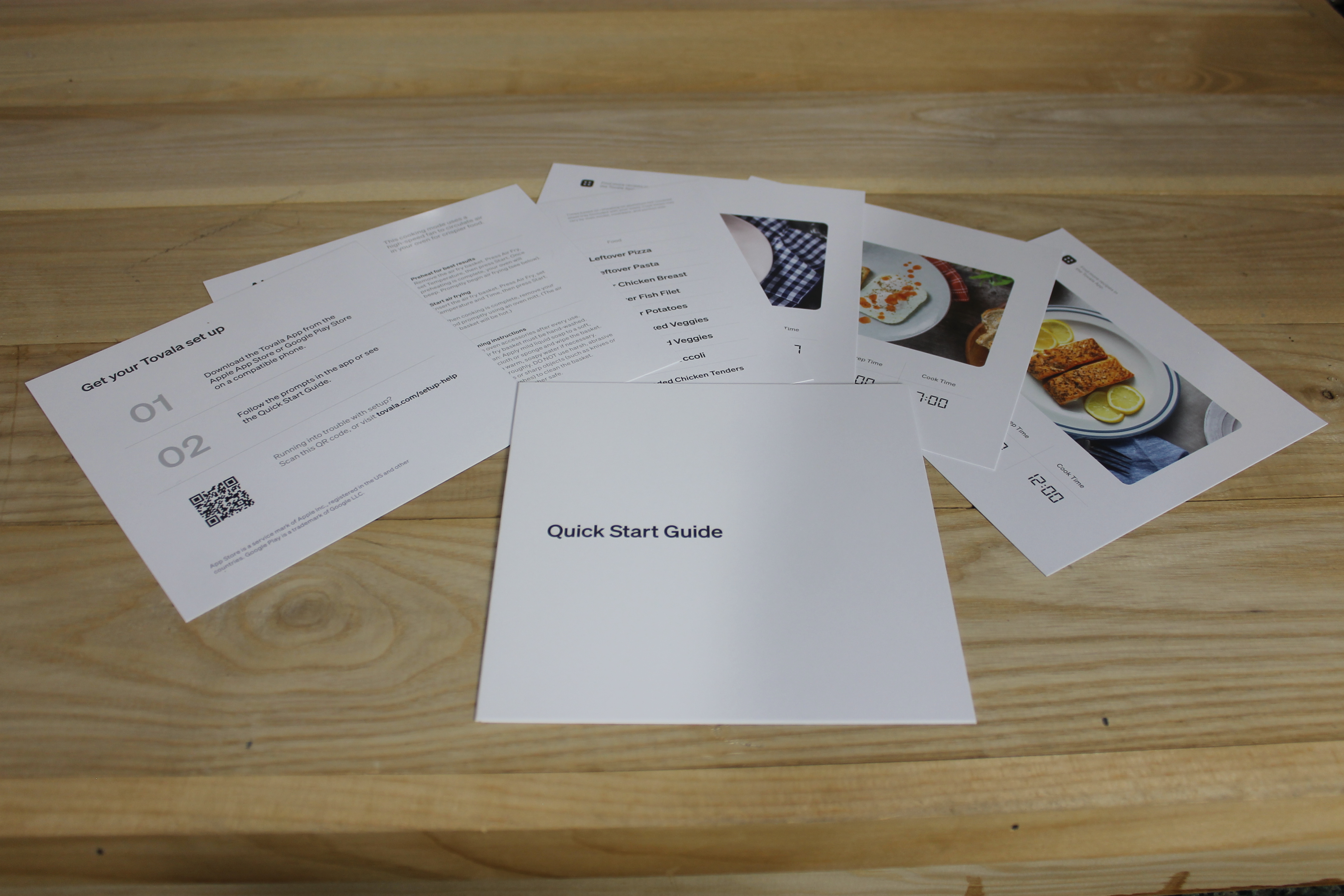 The Tovala Smart Oven has toast, bake, broil, reheat, and air fry features. 
Toast: The toast mode uses a cycle of air frying, baking, and broiling to toast freshly baked, stale, or frozen bread. You can choose from five toast levels. 
Bake: The oven uses convection baking, and the convection fan evenly circulates heat for an even bake. 
Broil: The oven features "Hi" and "lo" broil options, using radiant heat from the broiler to quickly brown the top of the food. 
Reheat: The reheat setting combines cooking and baking modes to reheat food. 
Air fry: The air fry mode features a high-speed fan that circulates air to make crispier food.
Additionally, the oven has a scanning feature. Pressing the "scan" button beneath the scanner turns the scanner on. Then, you can hold a QR code a few inches below the scanner. The oven can scan the QR codes that come on Tovala meals, which automatically starts the appropriate cooking mode and timer for the meal. Additionally, the Tovala is capable of scanning barcodes off of popular groceries, including brands like Pillsbury, Ore Ida, Eggo, Tyson, Pop Tarts, DiGiorno, and more. 
Tovala Smart Oven: Setup/assembly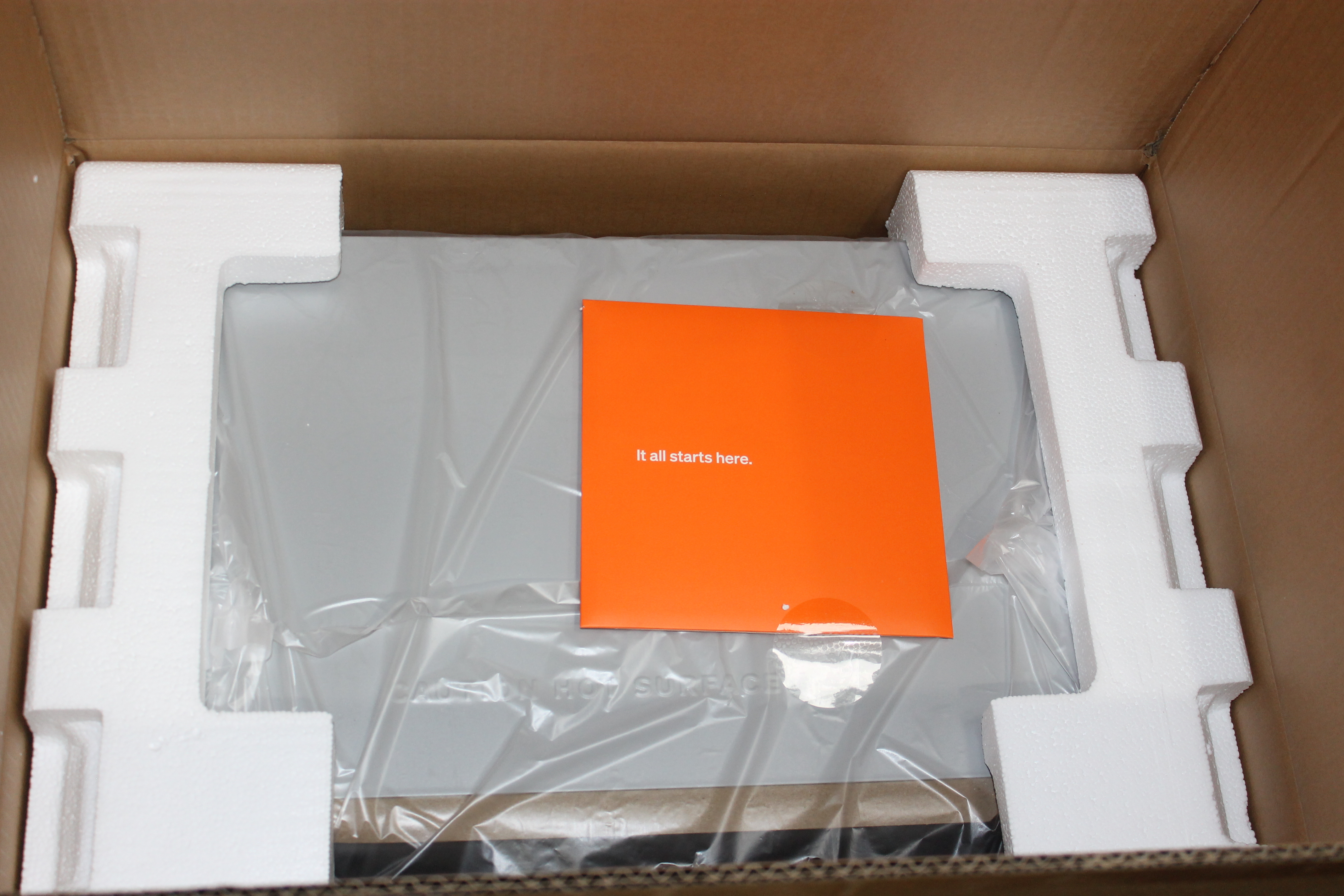 The Tovala Smart Oven arrived double boxed. The oven was packed with two large pieces of styrofoam, and getting it out of the box was a bit tricky because I was unboxing it alone. However, the oven's relatively light weight made it easy to manage, and once I had gotten it and the styrofoam out of the box, the rest of the unpacking process was simple. 
The oven comes with a quick start guide, a user manual, and three reference cards. Accessories include an oven rack, crumb tray, air fry basket, sheet tray, and oven mitt.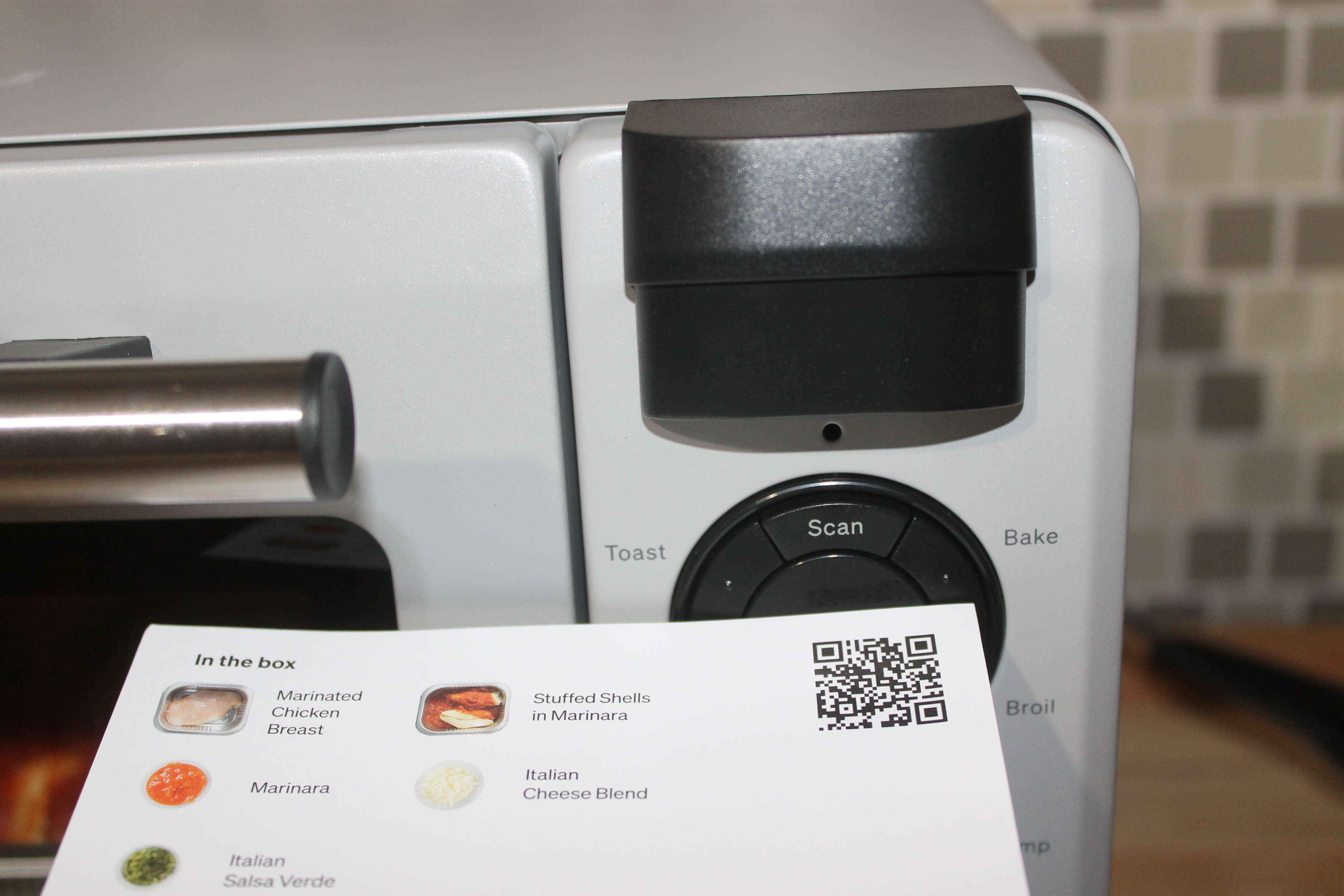 There was no significant assembly required, and the quick start guide makes it easy to identify the control buttons, insert the crumb tray, and plug the oven in. The instructions tell you to heat the oven to 450 degrees Fahrenheit for 20 minutes, which results in a smoky, burning smell. This smell wasn't overwhelmingly powerful, and faded within about 10 minutes. 
To use the oven's scanning features, you need to download the Tovala App, create an account, and connect the oven to your home's WiFi. The Tovala App is available for iOS and Android. I have an iPhone, and it was easy to find the app in the Apple App Store. The app downloaded in less than a minute, and the app prompts guided me through the setup process. The first time I tried to connect the oven to my WiFi, it didn't connect. Repeating the process a second time was successful, and I experienced no other connectivity issues when using the oven.
Tovala Smart Oven: Performance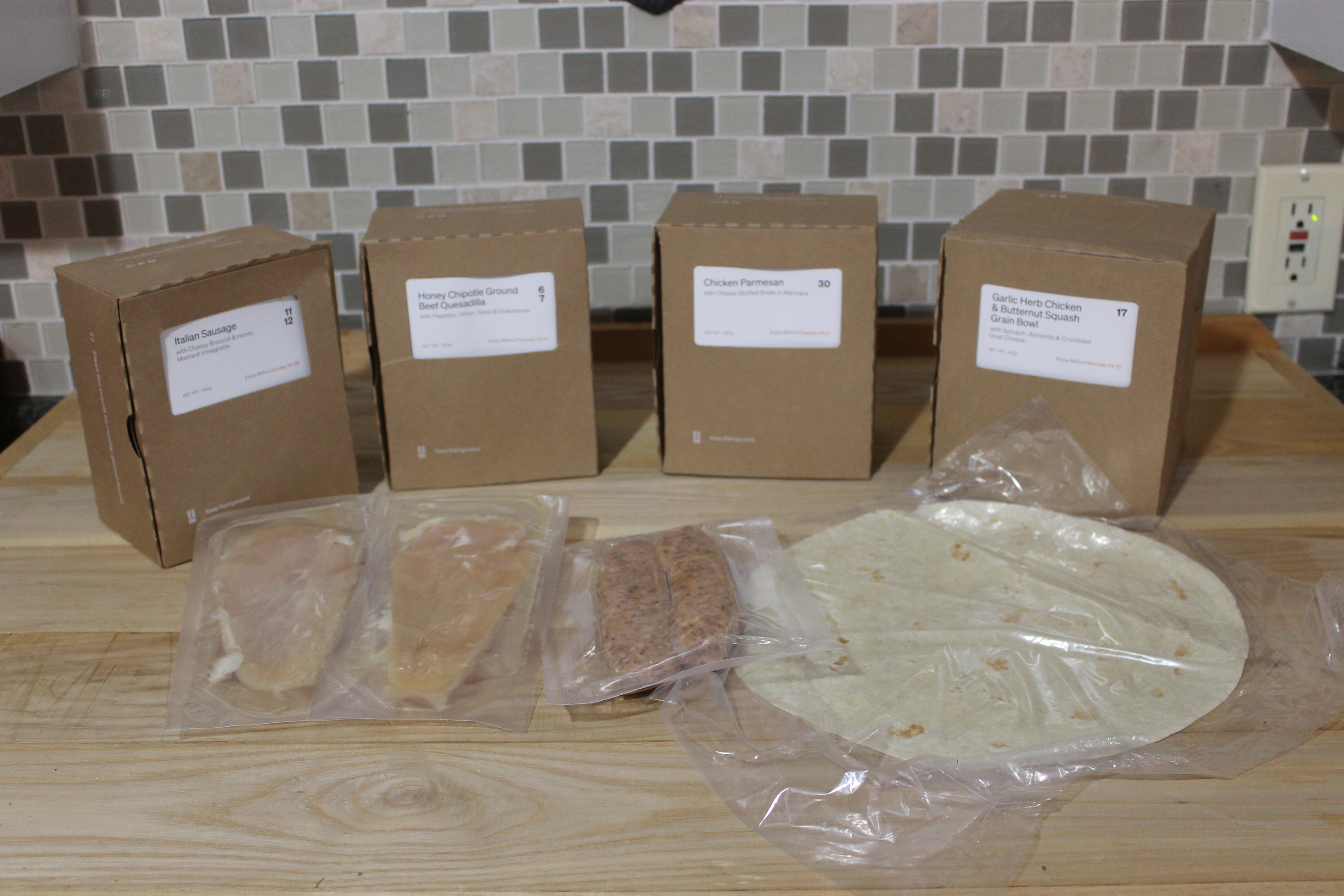 I tested the Tovala Smart Oven using four of Tovala's meal kits, as well as when cooking my own food. I received an insulated cardboard box with large ice packs, and the meal kits were all still cold to the touch and in good condition. The insulation is recyclable, and the ice packs are reusable, or you can cut them open to drain the liquid and throw them away.
The recipes included Italian sausage, honey chipotle ground beef quesadilla, garlic herb chicken and butternut squash grain bowl, and chicken parmesan with cheesy stuffed shells. The recipes' cook times ranged from 16 to 23 minutes, and each recipe features a recipe card with clear, step-by-step instructions on how to prepare the meal to be cooked. The recipes all included aluminum trays, and preparation was generally as simple as combining ingredients in the trays.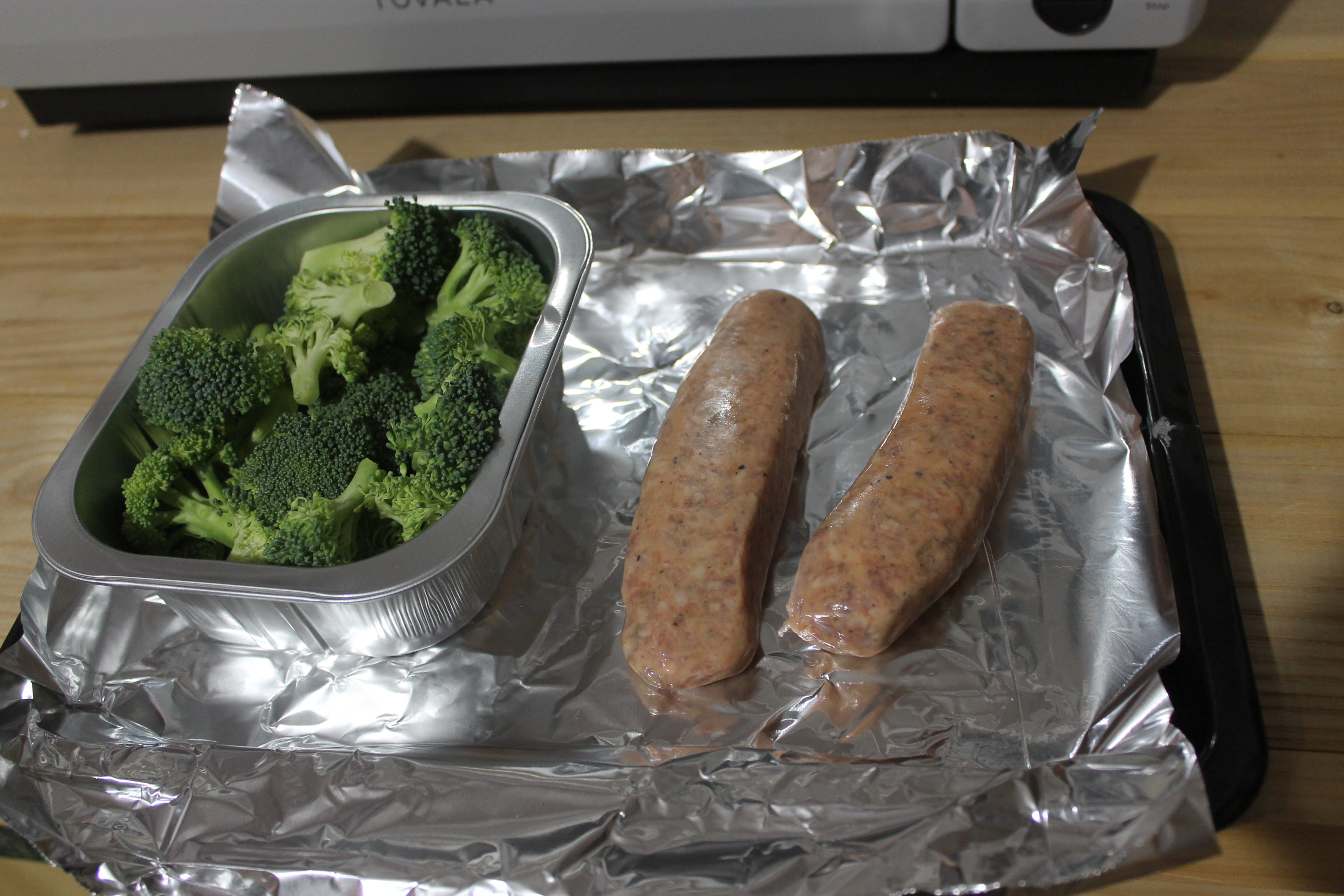 Each recipe card also features a QR code. When you scan the QR code, the oven automatically starts the correct cook mode and heats to the appropriate temperature. It simplifies the cooking process. Once the meal is in the oven and you've set the timer, you'll receive a notification on your phone when the cook cycle is complete. The oven also makes an audible beep, which you can easily hear from the next room.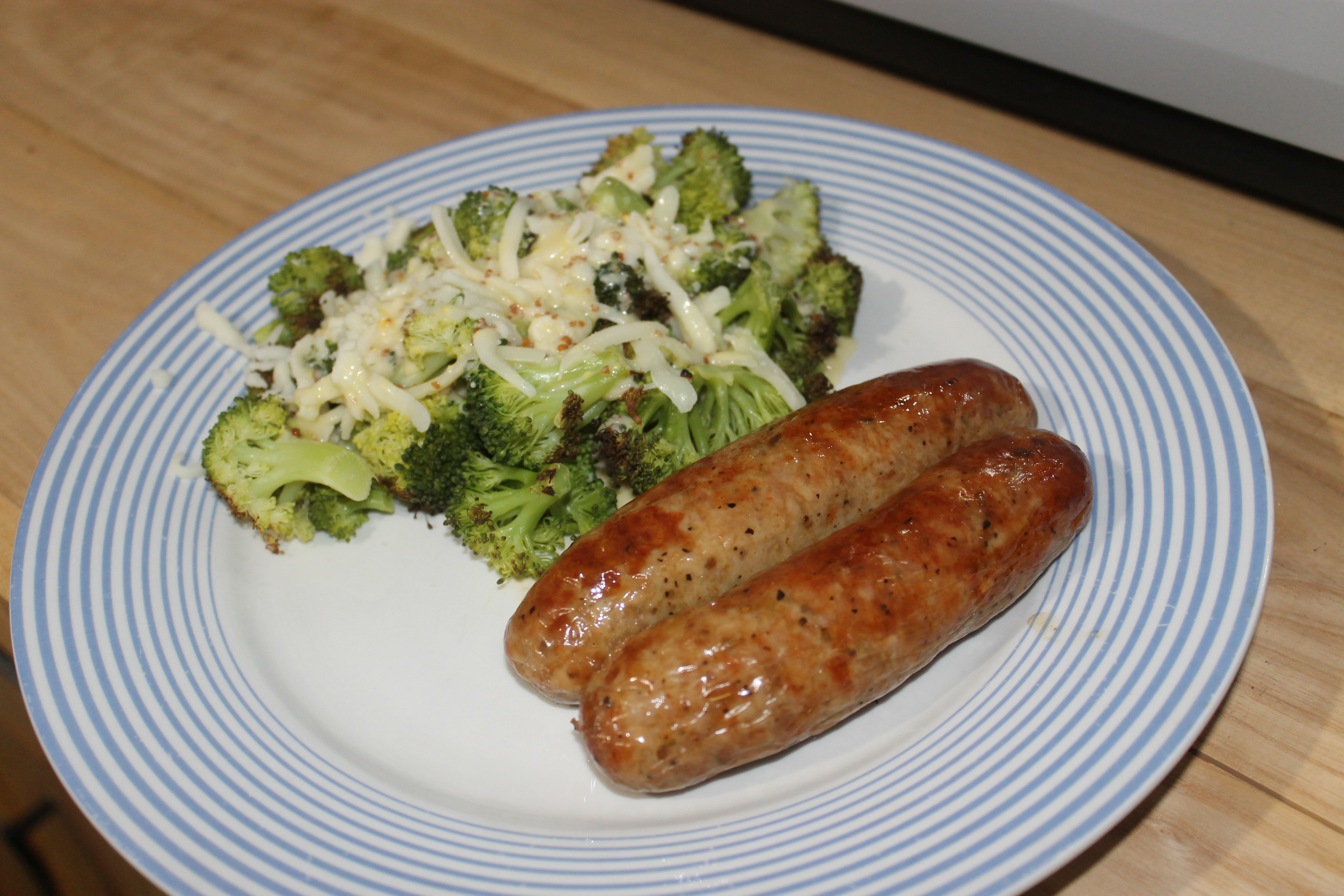 I found that all four meals were thoroughly and evenly cooked without any burning or overcooking. The meals were also surprisingly delicious, and the portions were large. My favorite meal, the chicken parmesan with cheesy stuffed shells, was so large that I had leftovers. I am a somewhat picky eater but enjoyed and finished every meal. The foods tasted fresh and were of a much higher quality than what you would receive from a frozen meal kit that you might pick up at the store. 
I found that the oven also performed well when I prepared my own foods. I used the bake function to cook a pork chop, and the pork chop was evenly and thoroughly cooked with just a bit of browning. (I could have used the broil function to create more browning.)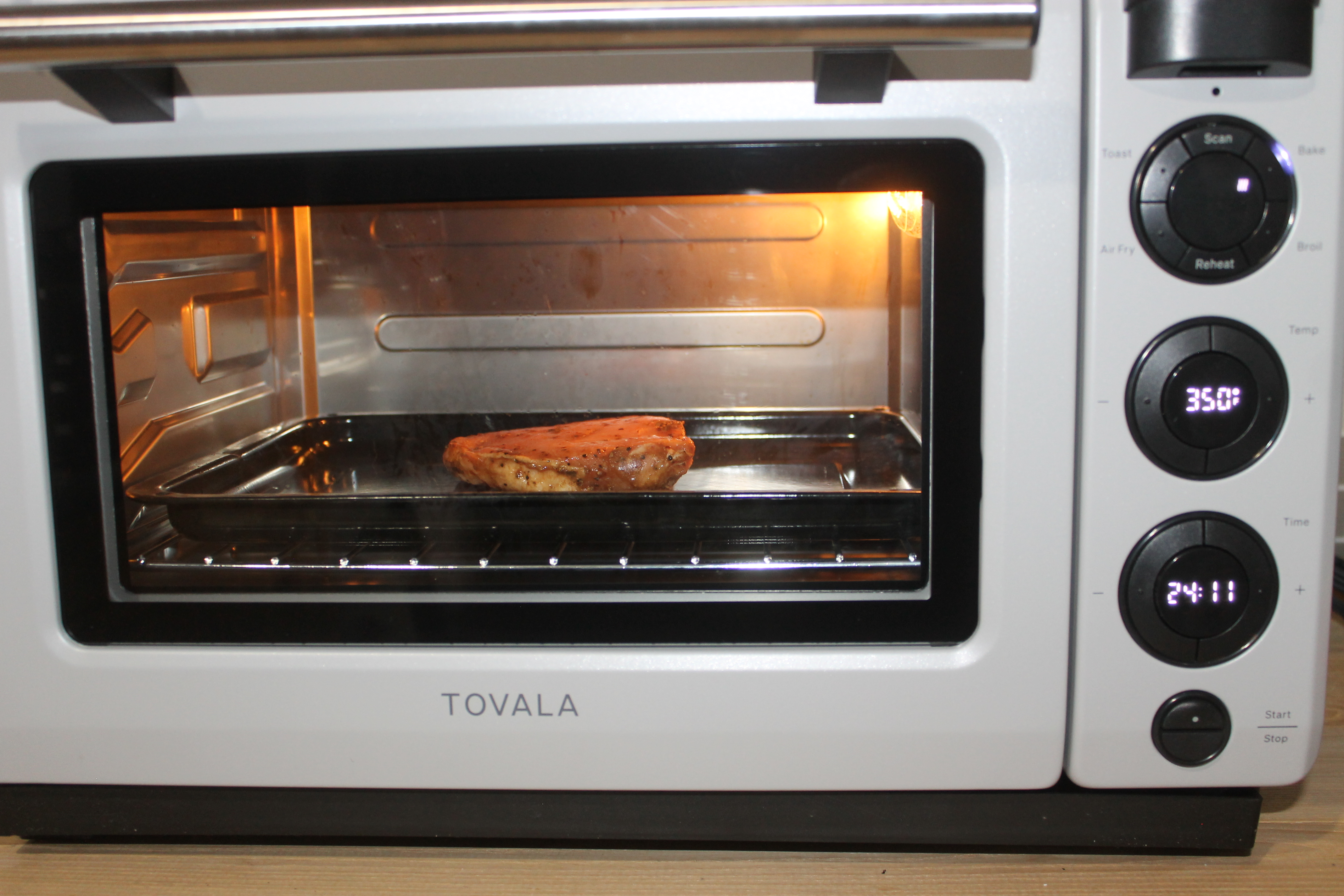 The air fry function also performed well with frozen french fries. I overcooked the first batch, underestimating just how powerfully and quickly the air fry function worked. The second batch was perfect, and took just 14 minutes to cook.
This oven is a convenient addition to my kitchen. After starting a cook mode, the oven provides a digital countdown of the preheating time. Each mode's preheat time was approximately 5:00, and the oven can reach 375 degrees Fahrenheit in 5:05. That prompt preheating is faster than my traditional oven, and I found that I preferred to use the Tovala for smaller food preparation tasks, like toasting frozen garlic bread or cooking meats when I was only preparing a meal for one.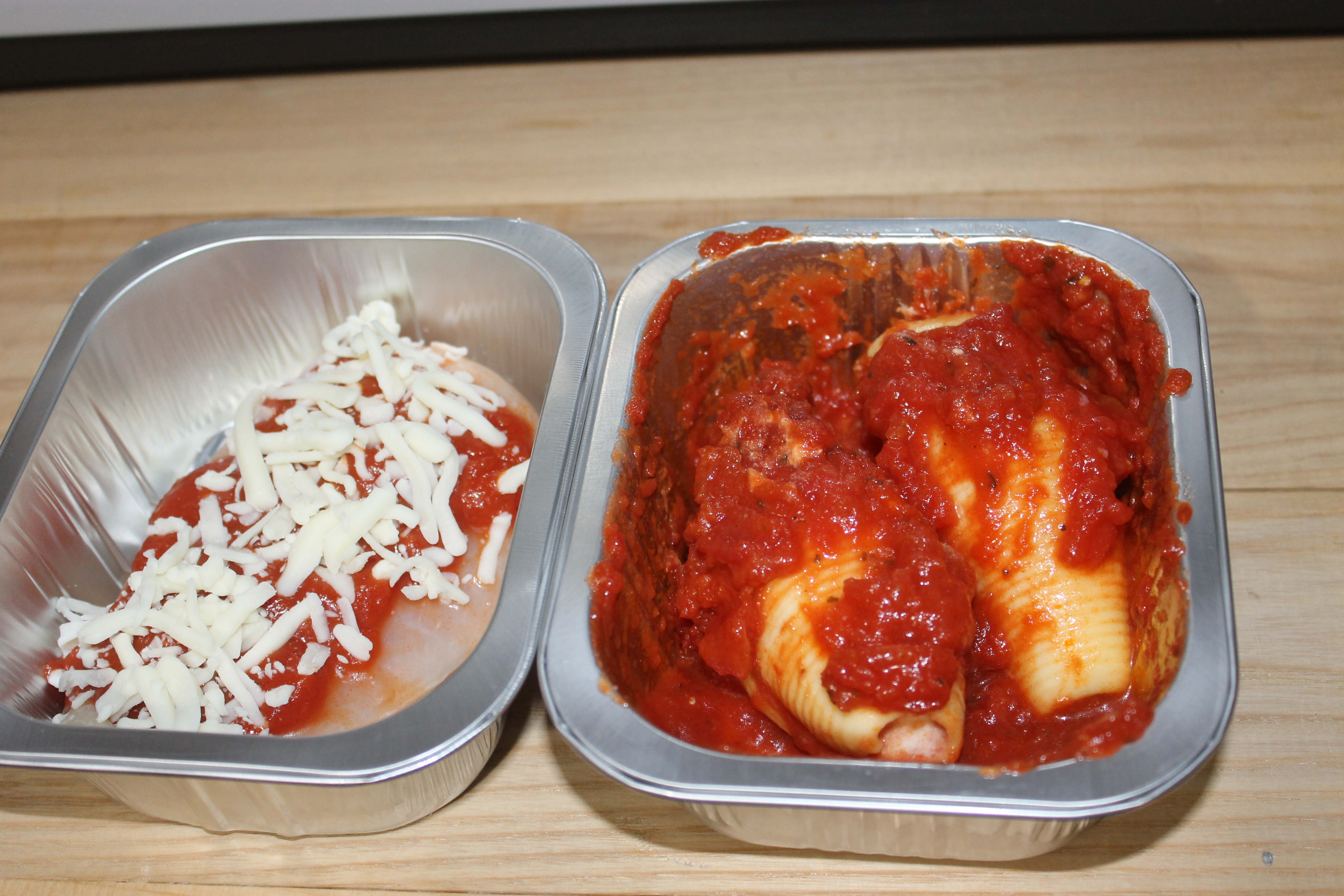 The fact that the oven's fan remains on after the cooking function is shut off caught me by surprise the first few times that I used it. The fan runs for about eight to 10 minutes after cooking is completed. While it's not overly loud, my kitchen opens to my dining room, so it was a bit distracting to hear the fan running while eating.
The oven does not have safety features like child locks, but it could be pushed to the back of a countertop, well out of a child's reach. After the oven reaches your set temperature, if you don't set the timer within a few minutes, it automatically turns itself off. The fact that the oven automatically turns off after a cooking cycle is complete is another safety perk.
Tovala Smart Oven: Cleaning
I found that, likely because the oven is small, it got dirty very quickly. The Tovala care manual recommends cleaning the oven after each use with a soft, damp cloth. The instructions specify that oven cleaner could damage the oven's finishes, and metal scouring pads should be avoided. Such frequent maintenance seems impractical and also defeats some of the time-saving benefits of using the Tovala Smart Oven. A self-cleaning function would be helpful.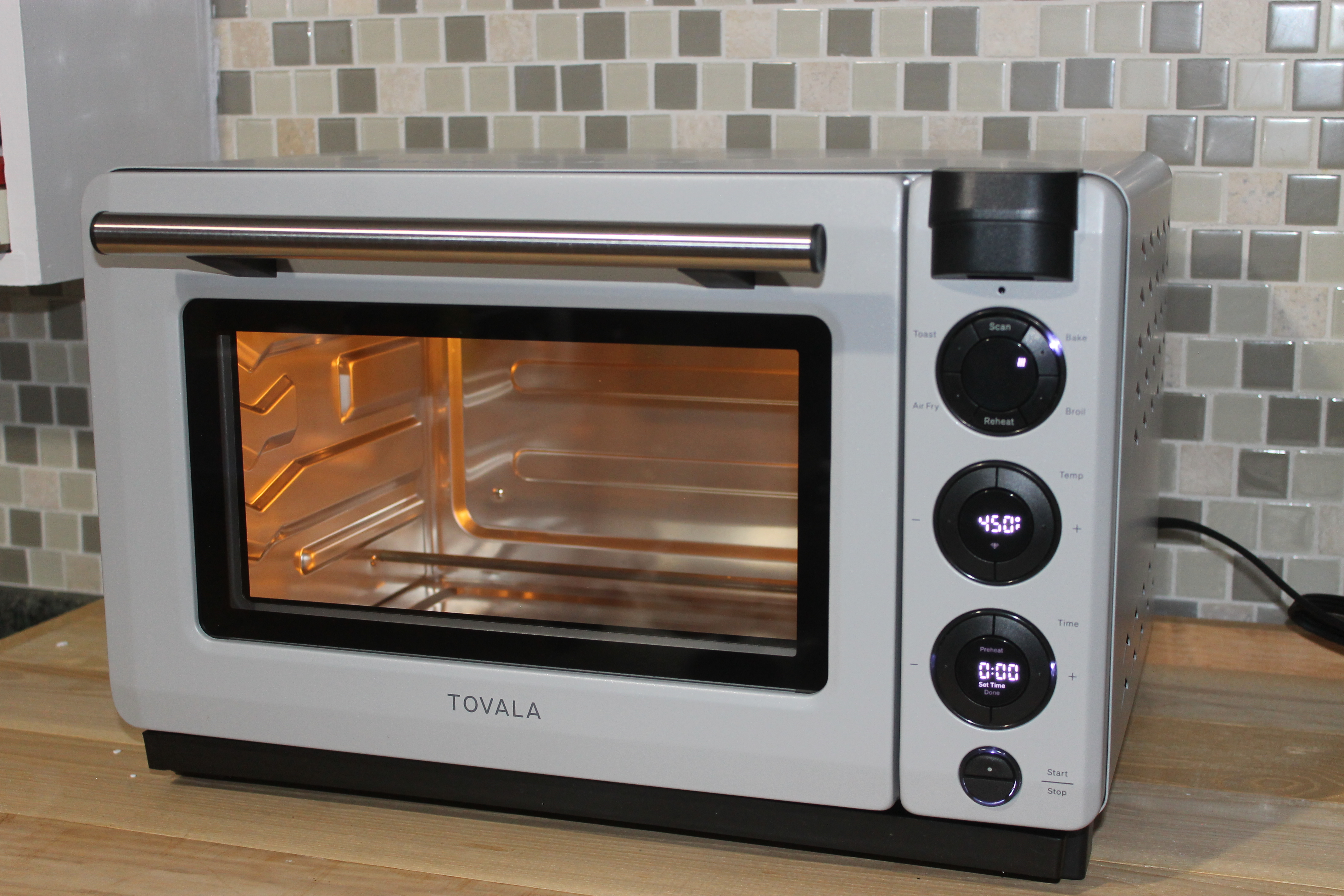 Maintaining the oven's exterior is much easier. It easily wipes clean with a soft, damp cloth, and after using the oven for three weeks, its exterior still looked new. 
The oven light can be replaced if it burns out. While none of the oven heating elements can be replaced, the oven is backed by a one-year warranty, and if any heating elements were faulty during that first year, they would be replaced.
Tovala Smart Oven: Price and availability
The Tovala Smart Oven is competitively priced. For example, the Breville Smart Oven Air Fryer Pro, which has 13 cooking functions but lacks a scanner, retails for $399.99 on Amazon. The NUWAVE Bravo Air Fryer Toaster Smart Oven has 12 cooking functions and a larger capacity than the Tovala. The NUWAVE oven retails for $152.99 on Amazon, but lacks the scanning capability of the Tovala. Additionally, the Tovala Smart Oven's meal subscription service is an appealing benefit that other smart ovens don't offer. 
In addition to being available on Amazon, the Tovala Smart Oven is for sale directly from Tovala. Tovala often puts the oven on sale for $49 with the purchase of meal kits. Tovala also offers a 100-day trial with free returns. 
Tovala Smart Oven: User reviews
The Tovala Smart Oven currently has a 4.3-star rating on Amazon, based on 324 reviews. Many reviews praise how easy it is to use the oven. One writes, "If you are looking for a good countertop "toaster oven" that does more than just toast or reheat pizza, you will find the Tovala oven very proficient. Does it make toast? Yes, of course, and it does it well. Each of the main functions (Toast, Bake, Reheat, etc.) are actually a combination of functions that can include oven, broil, and steam. This means your toast will be brown and crisp on the outside, but still soft and warm inside. Perfect!" 
Another review was also pleased with the variety of meals that the oven can cook. "This oven is awesome! I got it to replace my microwave. I wanted a countertop convection oven that I could cook meals in and this oven works very well for just about everything. It seams as well, so you can cook veggies. I'm very impressed with how it cooks chicken and fish. The meat turns out tender and juicy." 
One person noted that because of the oven's small dimensions, you can't use standard accessories with it. "It is a very nice toaster oven," They write. "However it is more narrow than my last one so it requires pretty small pans and cookie sheets, etc., in order to fit. If it were about an inch or two wider, that would be great." 
Several reviewers were disappointed to discover that the oven only connects to a 2.4Ghz network. "This product will not connect to a 5.0 Ghz WiFi network," they write. "Make sure to check your network before purchasing it because they do not tell you until you have already bought it." 
Tovala Smart Oven: What the experts say
Josh Aslanian, owner of Fireside BBQ Appliances, explains that the main benefit of a smart countertop oven is that it saves space. "While most kitchens have ovens, some people may live in small apartments or tiny houses that do not have room for a full-sized oven," says Aslanian. "Small countertop ovens like the Tovala Smart Oven make cooking small dishes in an oven possible without taking much more space than a microwave."
"The Tovala Smart Oven is an adequate multi-use oven that more than makes sense to own if you don't have space for a full-sized oven," says Aslanian. "Its subscription service prepared meals are also an added benefit if you don't like to cook. That said, there are subscription meals that can be used with a normal oven; however, Tovala makes things even more convenient by having pre-programmed cooking times and functions for their subscription meals." 
Aslanian notes that while the Tovala Smart Oven performs well, he feels it doesn't perform as well as full-sized ovens or as some other countertop ovens. "Its key selling point is its ability to cook the subscription meals," notes Aslanian. "If you know that you love Tovala's subscription meals and know you won't tire of them, then this is a great purchase. However, that is a big "if" considering the price – especially for those interested in buying the oven because they don't have space or can't afford a full-sized oven."
Tovala Smart Oven: How does it compare?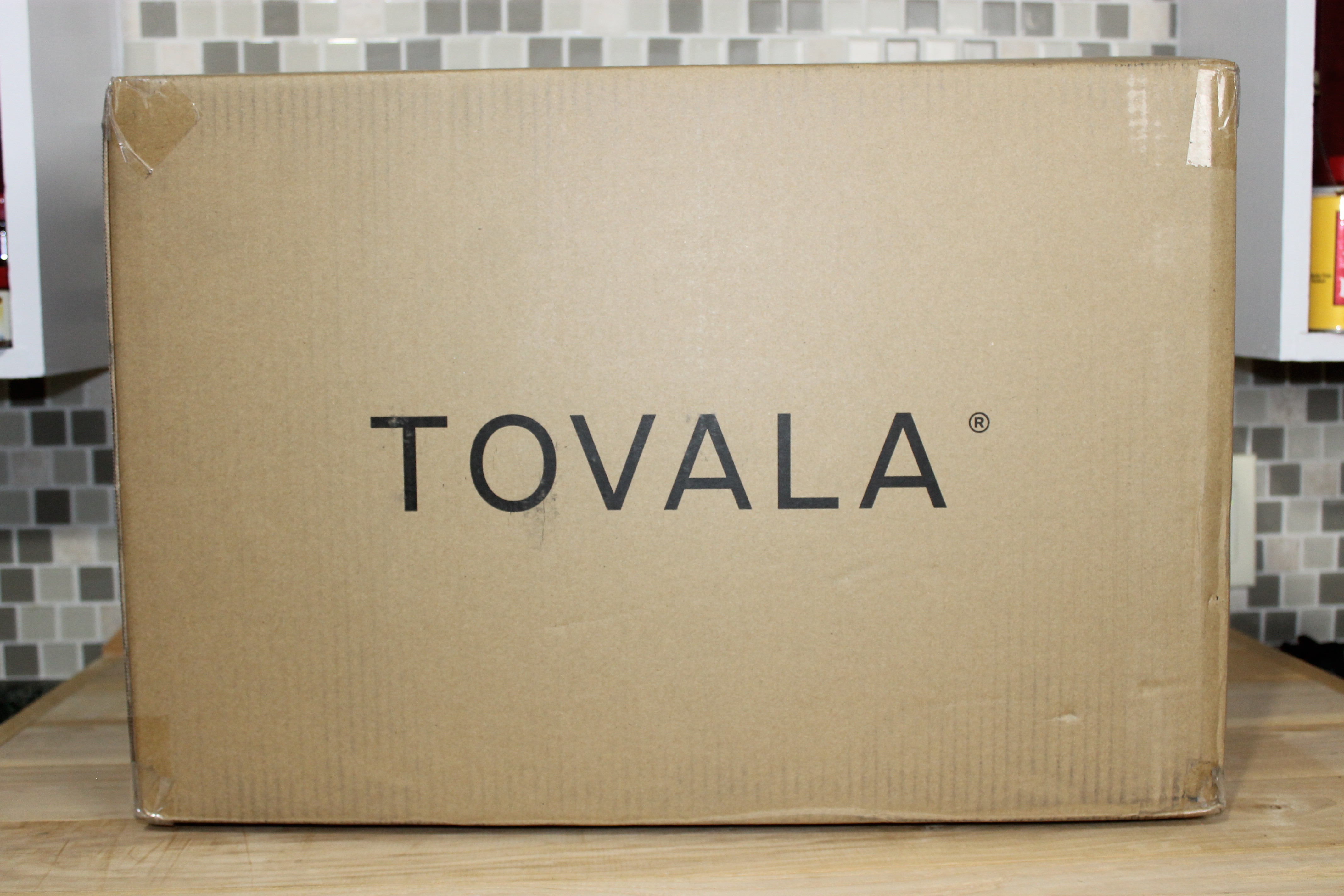 The Tovala Smart Oven combines the features of a smart oven with several functions found in toaster ovens. It's a much more compact and affordable option than full-size smart ovens. 
The Cuisinart TOA-60 Air Fryer Toaster Oven is similar, in that it's a countertop option with toasting and air frying capabilities. However, the Cuisinart is larger than the Tovala Smart Oven, and has fewer functions. The Tovala Smart Oven features smart functionality, plus more cooking modes. 
The Ninja Foodi 2-in-1 Flip Toaster doubles as a toaster oven. While it has some desirable features, like a countdown timer and extra-wide slot, the toaster lacks the versatility that the Tovala Smart Oven offers. The Ninja Foodi Toaster is more affordably priced than the Tovala, and it takes up less space, but it functions strictly as a toaster or toaster oven. 
The Beautiful 2-Slice Touchscreen Toaster blends technology with toasting capabilities, but still lacks the versatility and multiple cooking modes that the Tovala Smart Oven offers. The toaster features a lower price point, and its touchscreen is appealing, but cooks will find more value with the Tovala's multiple modes and cooking capabilities. 
Tovala Smart Oven: Verdict
The Tovala Smart Oven is a valuable addition to many kitchens, but it's important to understand its benefits and its limitations. Its compact size, while being helpful for those with limited counter space, also means that it's not ideal for meal preparation for a large family. It's too small to fit even a small whole chicken, and is really best for preparing one to two portions of food. 
That said, the compact design has several benefits. The oven heats up quickly, and when preparing my own meals, it was perfectly sized. The smaller accessories are easy to store, and I could see this oven being an ideal addition to a small apartment. 
The Tovala's main strength is its convenience. When paired with the meal kits, it simplifies and streamlines meal preparation. Several reviewers noted that they bought it for teens who were alone and needed to prepare their own dinners, for seniors looking for easier and healthier meal solutions, and to save themselves time on cooking during busy or hectic periods of their lives. While the Tovala offers the most value when paired with the meal kits, it also proved valuable when preparing my own meals. I can see it being a versatile choice for many situations.
How we tested the Tovala Smart Oven
When testing the Tovala Smart Oven, we evaluated the item's condition when it arrived, the packaging, and the assembly process. We examined elements including the accessories and instructions, and then conducted several performance tests. In addition to testing the oven using four of the subscription Tovala meals, we also tested it by cooking pork and air frying frozen french fries.