Some brush is just too tough for most garden tools to trim – especially when you have young trees and shrubs growing wild in parts of the yard. This is where a brushcutter can come in useful. 
Fitted with a sharp, spinning blade, brushcutters can cut through weeds and woody stems up to a few inches thick. They're often the perfect tool to use when areas of the yard have become wild and unruly, with bigger weeds than you could handle with a lighter tool like a string trimmer. 
Brushcutters can vary quite widely from one product to the next. Many of them have bike-style double handles for support and control, although some lighter models are held using a grip on the shaft. Power is another source of variation, with a range of petrol-powered, corded electric and lithium-ion cordless options to choose between. 
This guide is your in-depth introduction to brush cutters: the powerful yard tool that can tame even the most feral corners of your land. We'll take you through how brushcutters work, how to use them properly, and how to select the right model for you and your yard. 
 3 of the best brushcutters you can buy in 2023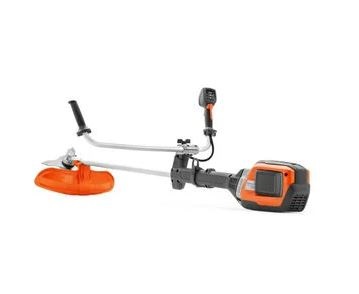 Husqvarna 535iFR Pro 40V Li Ion Brushcutter/Clearing Saw
This powerful brushcutter runs off a powerful lithium-ion battery, allowing for convenient, unencumbered brush-cutting. With three cutting speeds to choose between, you can select the perfect power level to meet the task at hand. Link this tool to the Husqvarna Connect app to tap into useful stats on your brush cutter usage and battery charge state.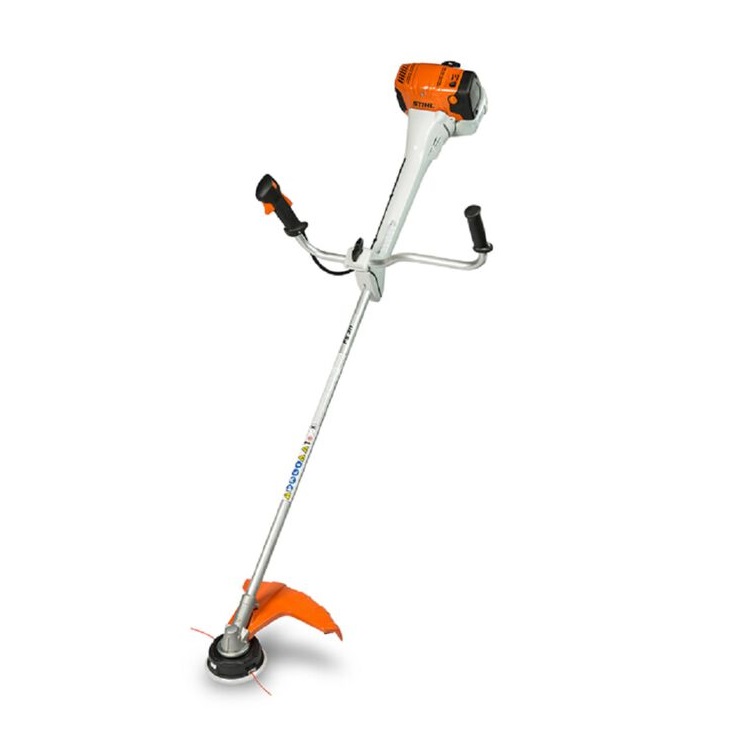 Stihl FS 311 Brush Cutter with Bike Handle
Excellent construction, formidable cutting force and reliable runtime combine in the gas-powered. This pro-quality cutter is built for long-duration cutting sessions, with a vertical pleated air filter allowing for superb air filtration. Those bike-style double handles will help you keep this hefty tool under control.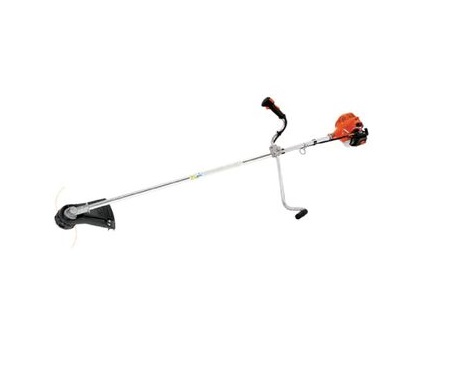 Echo 21.2cc SRM Brushcutter
 The capability to tame your yard needn't come at a high cost. Echo's 21.2cc brush cutter provides solid cutting performance at half the price of many higher-powered competitors. Many of your must-have brush cutter features are here, including a 2-stroke engine, speed-feed trimmer head and those all-important double handles.  
What is a brush cutter?
A brushcutter is a power tool designed especially to cut the thickest and toughest weeds in your yard. Most models are made up of a power source (e.g. a fuel tank or battery), a motor, shaft, handles, and a rotating head that can be fitted with various specialized cutting or trimming attachments. 
Brushcutters are often heavy, and they can be dangerous when handled incorrectly. So, it's a good thing that many of these tools are equipped with bike handle-style grips and a harness, both of which help the user to maneuver the tool and bear its weight stably. 
We spoke to Josh Dumas, Product Manager and Green Space Professional, North America Handheld at Husqvarna, to get some expert insight into brush cutters and their correct usage. 
"Brushcutters should be used on larger clearing jobs where a string trimmer has insufficient power to cut through the foliage being cleared, or when the length of time the tool will be operated is so long that extra ergonomic support is needed," says Josh.
"Larger, thicker grasses, overgrown weeds, and even smaller trees can be easily cleared with the correct brush cutter. This type of tool excels when the clearing job covers a large area, as the bicycle style handles and harness included with all Husqvarna brushcutters [and many other models] give the operator the ability to work for long periods of time," he says. 
The brush cutter will take care of most of the hard work involved in tidying up overgrown areas. This permits the user to focus on controlling the tool safely. 
As Josh puts it, "Brushcutters should be operated in such a way as to give sufficient ground clearance, particularly when using a grass blade or clearing saw blade.
"It is always imperative to leave plenty of room between the cutting equipment and the ground to ensure that these blades never come in contact with the ground. Doing so will not only maximize the life of the tool but, more importantly, promote operator safety."
Debris is likely to be kicked up when you use a brush cutter, from small pieces of wood and soft plant matter, to accidentally impacted materials such as stone and brick. With this in mind, it's essential to wear PPE such as gloves, goggles and a full covering of hard-wearing outerwear while brush-cutting. 
With most brush cutters, you can switch the blade to optimize the tool for specific cutting applications such as sawing down saplings or trimming long grasses. The use of an adaptor set (often sold separately) may be required for certain types of blade. 
A Forester blade is a good choice for cutting through young trees, up to a few inches in thickness. And for trimming grasses and weeds on stony, uneven terrain, Josh recommends fitting your brush cutter with a trimmer head (which are similar to the heads you'd use with a string trimmer). If you have some super-thick or super-hard brush to cut through, a carbide-tipped cutter could be the way to go.
Whatever you use it for, proper care and storage can greatly enhance the performance and longevity of your brush cutter. 
"As with any outdoor power tool, keeping your brushcutter clean and dry when not in use will lengthen the life of the tool and limit maintenance," says Josh.  
"Depending on the type of fuel and oil used, it may be necessary to drain the fuel tank between uses, as the fuel can oxidize over time. Husqvarna engineered 50:1 2-stroke fuel is designed to not degrade or oxidize like regular pump gas and can stay fresh for years in storage," he says.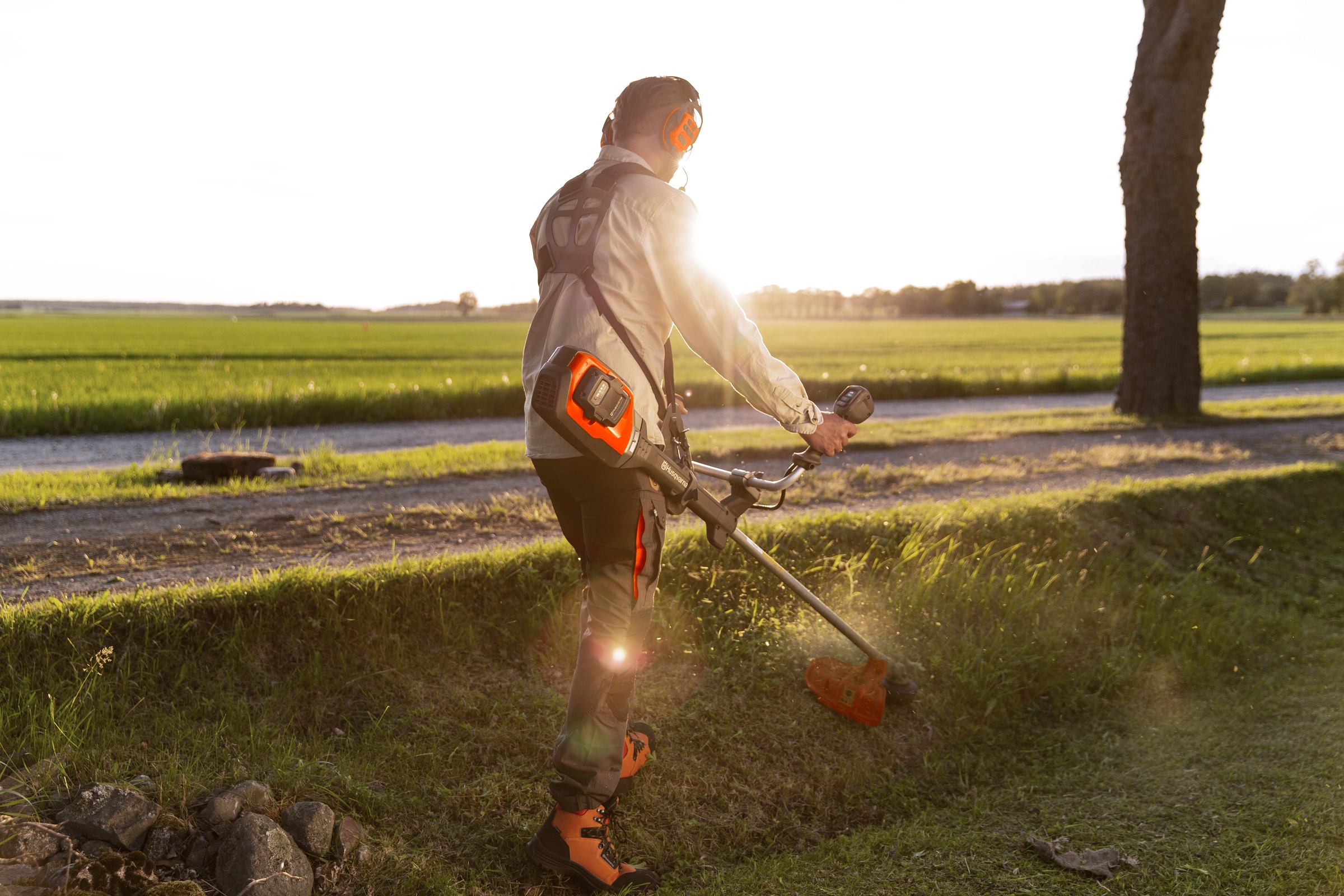 What does a brushcutter do?
A brushcutter can cut down long grass, woody weeds, shrubs, and saplings up to a few inches thick. You might use a brush cutter to:  
Clear a large overgrown area, such as a vacant lot.
Remove areas of brush from parts of your yard
Cut down individual saplings or patches of long grass 
Provide commercial yard clearing services as a business or contractor 
What is the difference between a brushcutter and a strimmer?
Strimmers – also known as 'string trimmers', 'line trimmers' or 'lawn trimmers' – use a revolving piece of cord to trim tender weeds and long grass.
Brushcutters may look similar to strimmers, but they cut with a blade instead of a revolving cord. That sharp blade makes it possible for the tool to cut woody weeds, small shrubs and other 'brush', but it also means that brush cutters need to be handled with special care. That extra sharpness cuts both ways! 
Can I use a brushcutter as a trimmer?
Most brushcutters can be fitted with a variety of cutting blades – and this includes some blades designed for trimming grasses and tender weeds, such as the Husqvarna 300 3-T Multi Grass Blade. Provided that it has a specialized trimming blade fitted, a brush cutter can serve very well as a trimmer.
We wouldn't recommend you trim grass using a non-specialized brush cutter blade, as most attachments of this type will do a worse job of mulching and discharging grass clippings than a regular trimming line would. 
So, a brush cutter can trim grass – but can you do brush cutting work using a string trimmer? Husqvarna's product expert Josh Dumas advises against this in most cases:
"A string trimmer may be the perfect tool for regular lawn maintenance and some heavier trimming duties, but it could be insufficient for larger jobs such as clearing a vacant lot or previously unmaintained spaces," he says. 
Where can you buy a brushcutter?
Brushcutters are widely available to buy online from large retailers such as Amazon and Home Depot, and also directly from manufacturers such as Husqvarna and Black + Decker.
If you prefer to scope out your garden tools in-store before you buy, you'll often be able to find brushcutters in-stock at hardware stores and brand dealerships. Contact the location before your visit, to reduce the risk of a wasted journey. 
Choosing between brush cutters can be tough, especially if you're new to this type of tool. According to Josh, two of the most important attributes to compare are engine power and the cutting equipment supplied with the cutter:
"The correct ratio of power, weight and versatility is important, as this one tool will likely be used for a variety of clearing jobs," he says.
"Powerheads in the 35-45cc range are the most common, but there are some smaller brush cutters that come with a 25cc powerhead. There are even a few battery-powered brush cutters on the market today." 
If you're interested in a brush cutter that comes with just one cutting attachment, it'd be a good idea to investigate whether that particular model will be compatible with any additional attachments that you might need, down the line.   
"Some brushcutters, like the Husqvarna 535iFR and 545FR, will come equipped with a string trimmer head, grass cutting blade, and a clearing saw blade. Having all these types of cutting equipment will let the owner adapt the tool to whatever job is in front of them," says Josh.