The best tablet with a keyboard can not only be a useful way to take notes – it can effectively function as a laptop. With tablets getting more powerful with every generation, many casual tech users no longer have the need for a desktop or laptop computer that they once did. If you were thinking of buying a cheap computer for word processing, document editing and similar tasks, a potential alternative solution could be just getting a keyboard for your tablet.
For this guide, we've made one top pick of what we reckon is the best tablet with a keyboard right now – one that synergises well with its keyboard and offers plenty of useful features for those who want to do their typing on their table. If that one isn't right for you, we've also included four other picks, at varying price points and using different operating systems. So no matter what type of user you are, there should be a great tablet with a keyboard here for you.
Given that the keyboards aren't bundled in with tablets, and you're going to have to fork out the extra cost, we've made an effort to pick sensibly priced tablets that are going to appeal to the majority of users. You can take it as a given that an iPad Pro or a Samsung Galaxy S8 Ultra is going to top pretty much any list that starts with 'best tablet', but these are ultra-powerful machines with big price tags to match. So for this list, we've picked out tablets that are going to best suit those who want a reasonably priced tablet to use with a keyboard for general productivity tasks. 
Also, for each pick we've recommended the best keyboard to pair with it, but in most cases, a generic bluetooth keyboard will work just fine, so don't be put off if the extra cost seems too high. 
The best tablet with a keyboard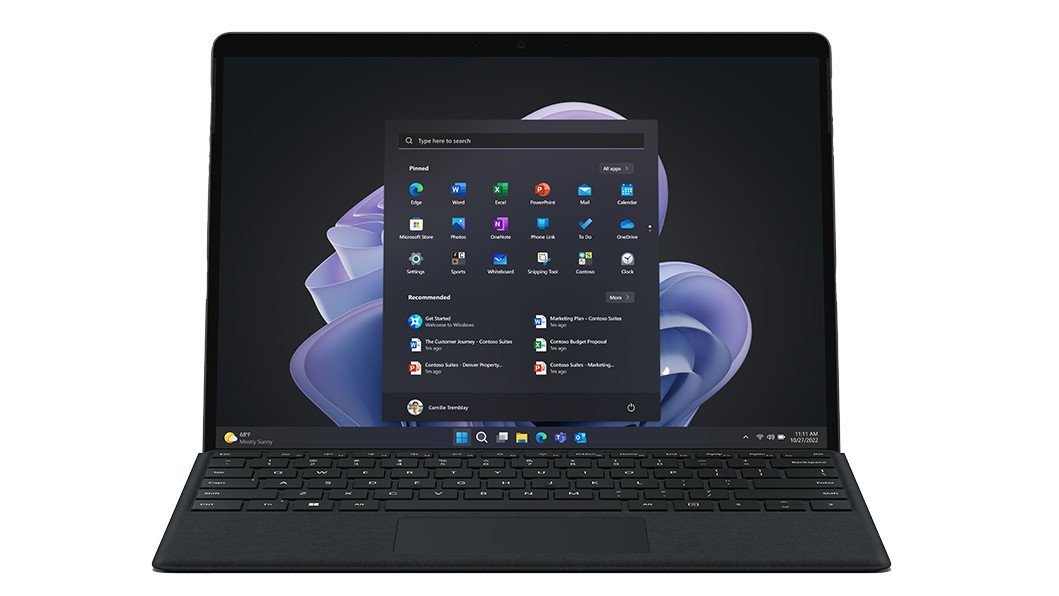 Right now, if we were to pick the best tablet to pair with a keyboard, we'd pick the Microsoft Surface Pro 9, and specifically the flagship Surface Pro Signature Keyboard. Running WIndows 11, this is a highly capable 2-in-1 tablet/laptop, which can be outfitted with a good deal of RAM and storage, and sports a gorgeous 13-inch display with super-fast 120 Hz refresh rate. Ticking a lot of boxes already.
The Surface Pro Signature Keyboard is Microsoft's best and most expensive keyboard, which will add to the already considerable cost of the tablet – but if you have the budget, it's sublime. Magnetically snapping to the bottom of the tablet, the keyboard delivers a tactile and comfortable typing experience – it isn't too cramped the way some tablet keyboards can be. The keys are chiclet-style square, and there's three stages of backlighting available. The rigidity of the keyboard is quite impressive considering how slim it is, and we appreciate the inclusion of a touchpad, which again, a lot of tablet keyboards omit.
We can gripe yet again about the loss of the 3.5mm physical headphone jack that was still present on previous Surface models, but at this point we might as well be yelling at the clouds – it's just the way tech is going. Battery life on the Surface Pro 9 is generally pretty decent, with most reviewers finding it lasts long enough to manage a day's use, as long as you don't hammer the brightness too hard.
The Surface Pro 9 isn't a cheap tablet, and while there are more affordable configurations for those with smaller budgets, you may find yourself chafing against limits like 128GB storage before too long. Still, it's powerful enough to function as a replacement for a standard laptop, and that's nothing to be sniffed at.
More of the best tablets with keyboards
Not sure if the Surface Pro 9 ticks all the boxes for you? We've picked out four great alternative tablet/keyboard pairings, available at a range of prices and using a variety of operating systems.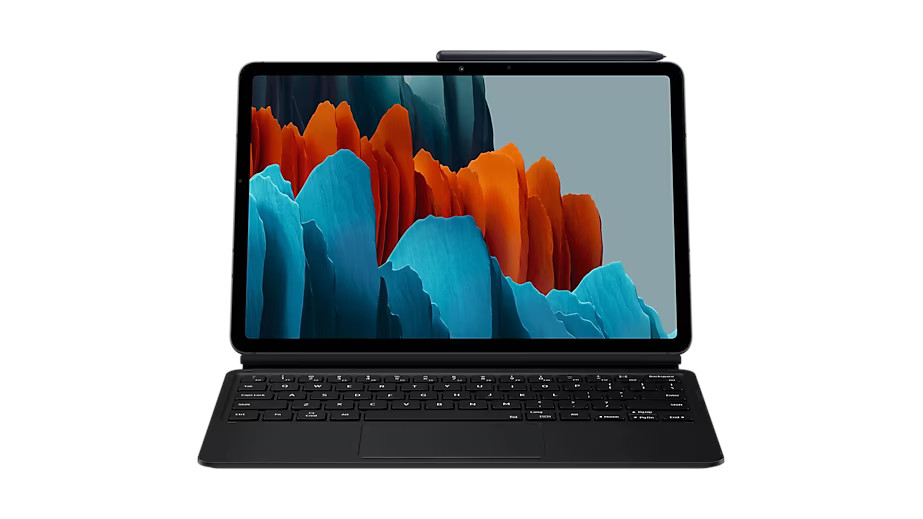 Samsung Galaxy Tab S8 with Book Cover Keyboard
Screen size: 11-inch
RAM: 8GB
Keyboard price: $199.99
The smallest and most affordable model in Samsung's S8 family, the Galaxy Tab S8 is going to be the most sensible choice for the majority of users. Samsung sells the Book Cover Keyboard as an optional accessory for this 11-inch tablet, and it's a fantastically sleek and stylish way to give yourself real typing keys. The cover comes in two pieces – the keyboard itself, and then the piece that attaches to the back magnetically to function as a kickstand. This effectively allows the Galaxy Tab S8 to function as a replacement for a mid-range laptop. Once you hook it up, the tablet automatically launches into DeX mode to better simulate a desktop computer experience. The keyboard is on the smaller side, so those with larger hands may want to consider a third-party option, which can be hooked up via Bluetooth or USB-C.
For
Excellent battery life
Premium-feeling keyboard
Works as laptop replacement
Against
Keyboard on the small side
Screen LCD, not AMOLED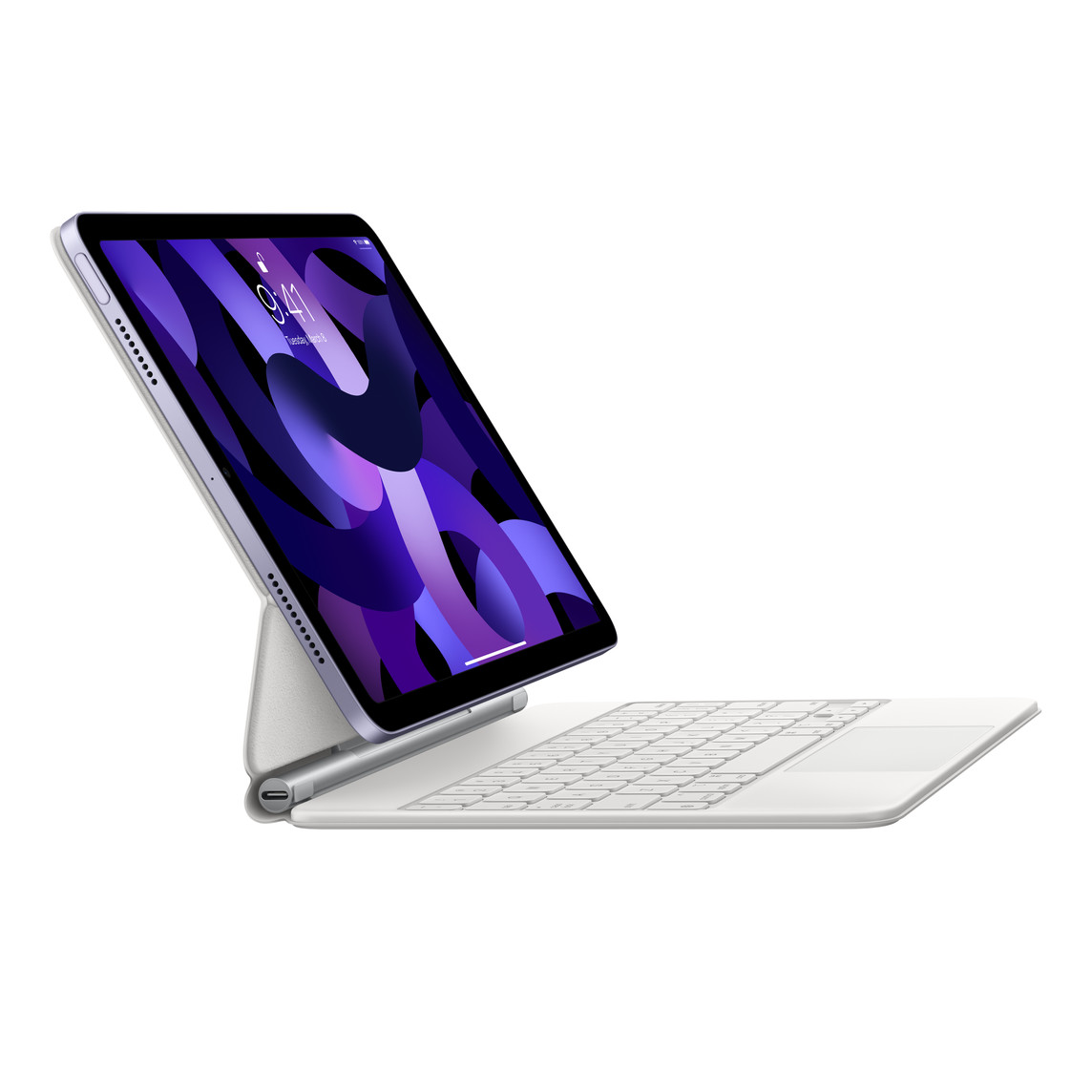 Apple iPad Air 5th Gen with Magic Keyboard
Screen size: 10.9-inch
RAM: 8GB
Keyboard price: $299
Apple's iPad Air makes for a sublime pairing with the class-leading Magic Keyboard. Superbly designed and lovely to use, the Magic Keyboard also features a trackpad, which helps turn the iPad Air into a true laptop-like experience. The floating cantilever design allows you to set the iPad at the optimal viewing angle via the magnetic attachment. Inside the iPad itself, the M1 chip ensures that speed and performance are reliably snappy, and the iPad Air is also nice and light, meaning it's easy to take everywhere with you, allowing you to work at a moment's notice. If the Magic Keyboard is too expensive (and given its $299 price tag, that would be fair enough) the iPad Air is also compatible with the cheaper Smart Keyboard Folio, though this version doesn't have the touchpad. 
For
Portable and lightweight
Excellent performance
Against
Best keyboard is pricey
Battery life not the best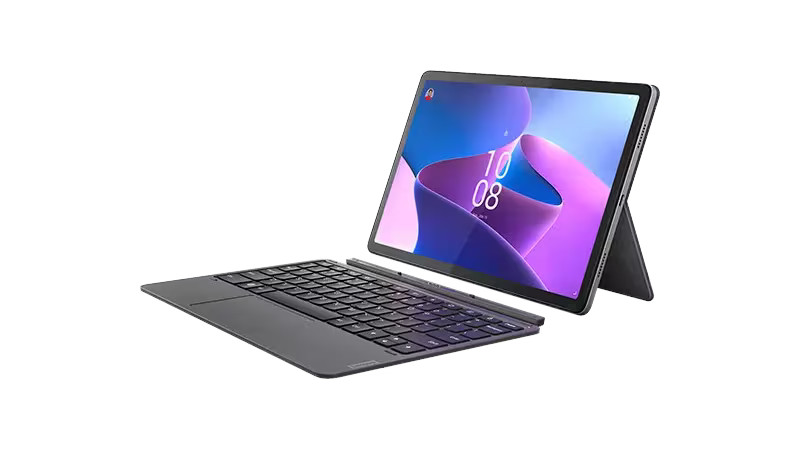 Lenovo Tab P11 Pro Gen 2 with Lenovo Keyboard Pack
Screen size: 11.2-inch
RAM: 4GB / 6GB
Keyboard price: $99.99
Available at a knock-down price, the Lenovo Tab P11 Pro Gen 2 is a welcome tonic after sifting through piles of ever-more-expensive iPads and Galaxy Tabs. Lenovo offers a specific Keyboard Pack designed for this tablet, and even when you factor in the extra cost of $99, you're still paying less than you would for a lot of other tablets. If you're planning on getting some work done you can toggle "Productivity Mode", swapping the Android interface for one that's more Chromebook-style. From there you can attach the keyboard to the tablet magnetically and type away to your heart's content, enjoying a satisfying key-action and a useful touchpad. The 11.2-inch display is impressive too, with a snappy refresh rate and decently vivid colors. For the price, we highly rate this tablet, and anyone looking for a budget tablet/keyboard combo should give it serious consideration.
For
Amazing value for money
Sharp 11.2-inch OLED display
Against
No headphone jack
Not great for multi-tasking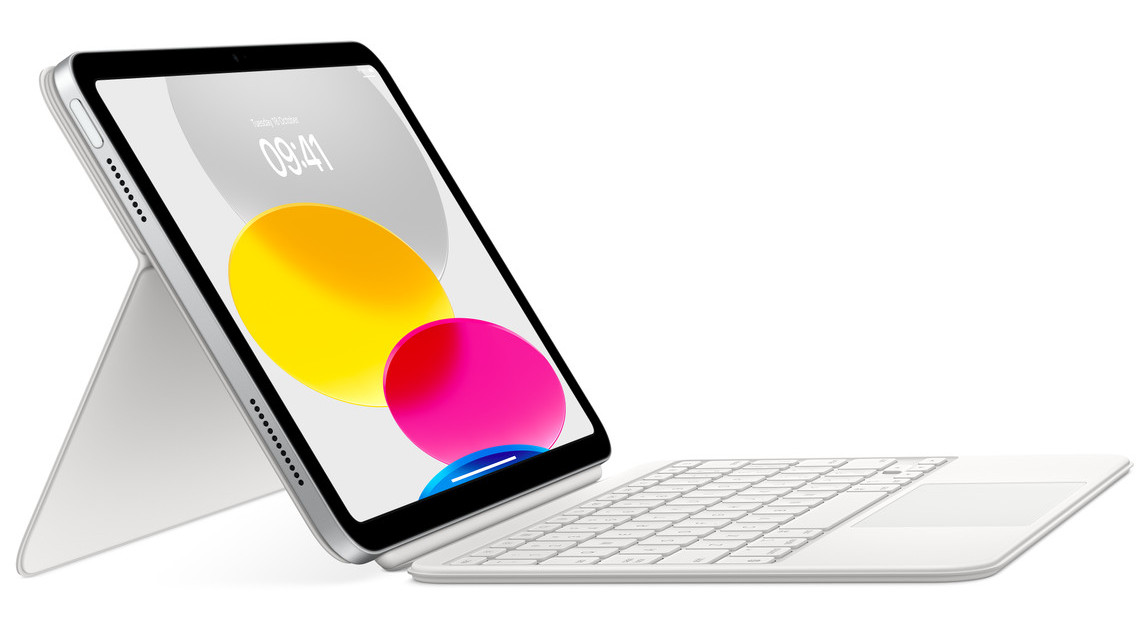 Apple iPad 10th Gen with Magic Keyboard Folio
Screen size: 10.2-inch
RAM: 4GB
Keyboard price: $249.00
If you don't fancy paying iPad Pro or iPad Air prices, the iPad 10th Gen is an excellent way to get that sublime iOS tablet experience for a little less of a significant cash outlay. Powered by an A14 Bionic processor, the iPad 10th Gen is fast and responsive in use, helped along by its boosted 4GB RAM (it was 3GB in the previous version of this iPad). Keyboard-wise, the best to pair it with is the Magic Keyboard Folio, a compact and comfortable keyboard that fits perfectly. Its keys offer plenty of travel and are nicely spaced out – though bear in mind you do pay for those privileges, with the keyboard priced at $249. Also, one thing worth noting is that the base model of this iPad offers only 64GB of storage, which is a little meagre. An extra $150 lets you upgrade to 256GB.
For
Good battery life
Comfortable keyboard
Useful row of function keys
Against
64GB storage is lacking
Price has jumped up
What to look for in a tablet with a keyboard
When finding a good tablet with a keyboard, it's best to drill down into exactly what you want to figure out what's best for you. One of the key questions to think about first and foremost is what exactly you're going to be using it for, as this will tell you how much power you're likely to need – and therefore how much you're likely to need to spend. If you're just going to be typing in Google Docs or the Notes app, you won't need much in the way of computing power, and can definitely stand to choose a cheaper tablet.
However, if you're planning on using a tablet to multi-task – say, type in documents while also watching videos on YouTube – or you want the keyboard to be able to use keyboard shortcuts in creative software like Photoshop or Premiere, then you're going to need something that packs a bit more punch. At this point, it's also worth thinking about whether a tablet with a keyboard is truly what you want. 
Something like an iPad Pro, for instance, offers the kind of processing power you'd expect to find on a laptop. And if you don't think you'll use the tablet functionality of it – if you don't think you'll want to draw with a stylus, or don't think you'll benefit much from the slimmer dimensions – then you might be better off with one of the best laptops. 
Also, it's worth remembering that in pretty much all cases, you have a fair amount of freedom of choice when it comes to keyboards. In our guide above, we've recommended what we think is the best keyboard for each tablet – this is normally the manufacturer's own, which will have been specifically tailored to that particular tablet. 
However, these keyboards tend to be among the more expensive; Apple's Magic Keyboard Folio costs $249, Microsoft's Surface Pro Signature Keyboard costs just under $180. If you want something simpler and cheaper, then most generic bluetooth or USB keyboards will likely work with most tablets. It may not be as comfortable or as hard-wearing, and it may not come with useful features like a touchpad, but it'll work for typing, and it won't cost the earth.
You do unfortunately pretty much always have to factor in the cost of the keyboard when tablet shopping, as tablets are rarely bundled with them.