People might be hunting for the best tablet with a pen for all sorts of reasons. They might want a serious digital art tool, something with which they can deliver professional quality drawing and design work. Or, they might want a handy digital surface on which to write down their grocery lists.
Since this guide is about picking the best of the best, we're assuming you're leaning more towards the former category. After all, if all you want is a tablet and something to write with, this is fairly easy to acquire, then you can just get a cheap tablet and a passive stylus. A passive stylus (or a capacitive stylus) is one that has no capacity to communicate electronically with the tablet – it isn't really much more than a stick with a conductive tip. It'll let you write and even draw, but you won't be able to do much more than that
More advanced styluses, also known as active styluses, feature built-in electronics and the ability to communicate with the tablet they're working on, usually via Bluetooth. This unlocks all sorts of useful artistic features, such as pressure sensitivity, which lets you vary the thickness of a line by applying different levels of pressure – just like you're using a real pencil. There's also tilt sensitivity, which can detect the angle at which you're holding the stylus, and palm rejection, which means you can rest your hand on the screen without interfering with what you're drawing. As they are powered, these styluses will require charging – though most contemporary tablets have magnetic stylus holders that also serve as wireless charging ports.
This is a list for those looking for something advanced, offering  plenty of features – it is 'best', after all. We've picked out what we reckon is the clear winner of the best tablet with a pen, and then selected a few alternatives offering slightly different features – and at a range of different price points. But we're sure you all want to know which tablet and pen we've given the big prize to, so let's jump right in…
The best tablet with a pen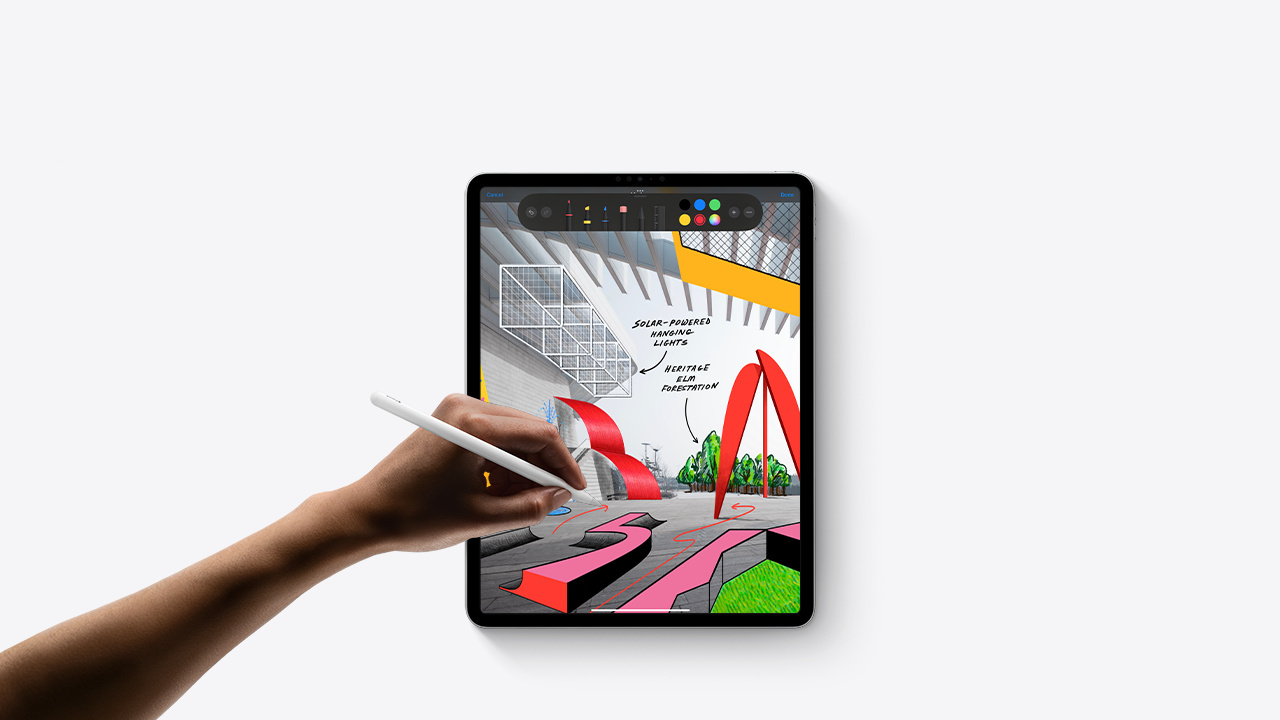 Look, we're not exactly thrilled about it. Obviously when someone asks for tech and gadget recommendations, they don't necessarily want to hear that they're about to be on the hook for more than a thousand dollars. But the question 'what's the best tablet with a pen' currently has one blindingly obvious answer, and that is the iPad Pro 12.9, paired with an Apple Pencil 2.
The display on the iPar Pro 12.9 is absolutely gorgeous – it's a Liquid Retina XDR that delivers around 600 nits of brightness, meaning it's always perfectly visible even in bright conditions. The 12.9-inch surface gives you tons of space, but the real ace in the hole is the refresh rate. At 120 Hz, the screen is buttery-smooth, and when you draw on it with the Apple Pencil 2, the digital line appears with no perceptible lag, as if you were drawing with real ink on real paper.
That is, of course, the other half of the equation. The Apple Pencil 2 is an exquisite stylus, one that feels great to use, but also delivers more than 4,000 levels of pressure sensitivity. It synchronises brilliantly with all the writing and drawing apps available for the iPad, whether you stick with Apple's basic Notes app or download something like Photoshop from the store. If you're looking to write rather than draw, one impressive iOS feature is the 'Scribble' functionality, which can automatically turn handwriting into editable text, and does a darn impressive job of it.
As mentioned, none of this comes cheap – the iPad costs plenty, and the Apple Pencil 2 is $129 extra. The iPad Pro 12.9 (6th Gen) is a powerful tablet, backed by Apple's proprietary M2 chip, and if you don't need intensive computing power (i.e. you don't plan to run powerful digital drawing apps or edit large resolution files) then you almost certainly don't need to spend this much. But if you do need the best – here it is.
More of the best tablets with pens
Is the iPad Pro 12.9 a little more than you bargained for? If that's the case then don't worry, we've picked out a range of other tablets with pens, including Android models and more budget-friendly options. Here are our extra picks – the best of the rest.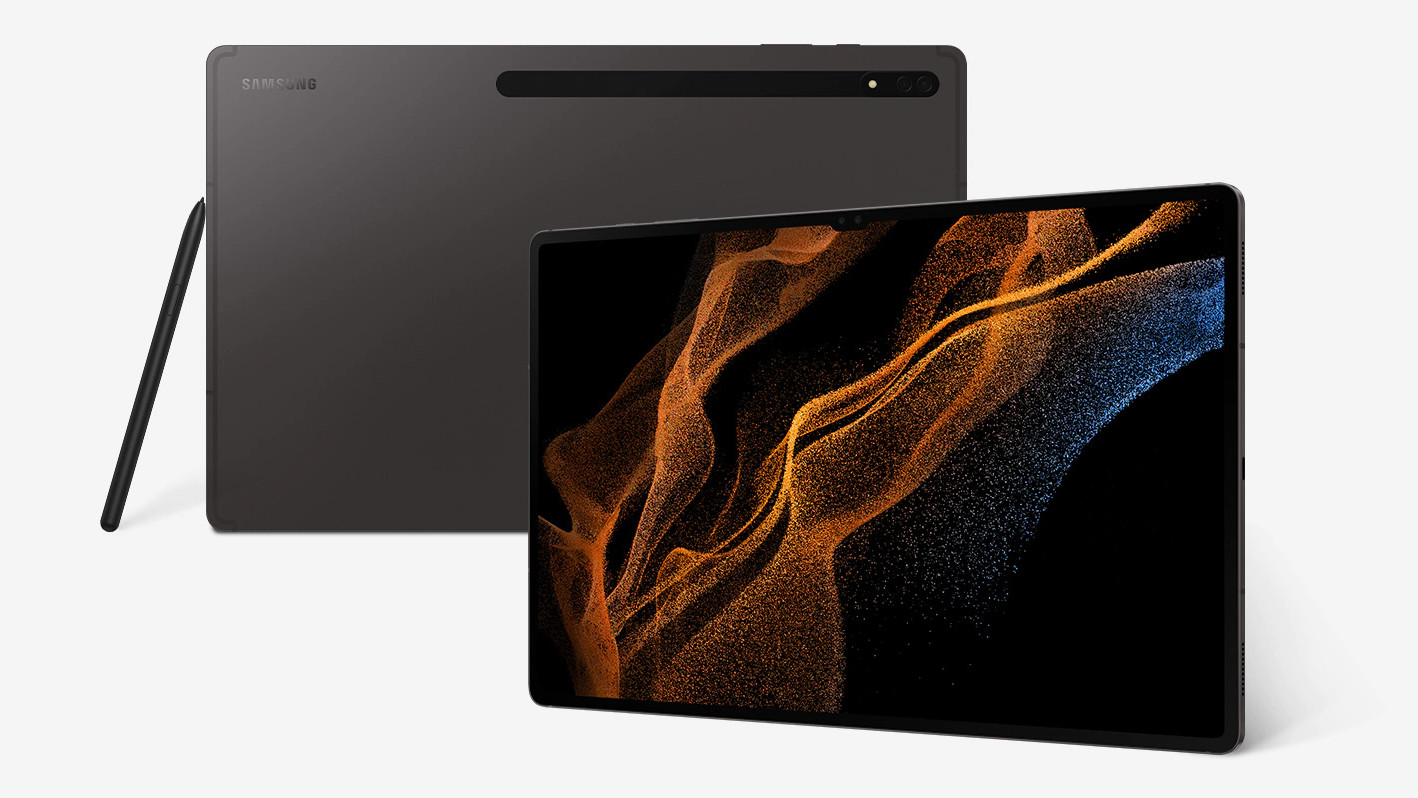 Samsung Galaxy Tab S8 Ultra with S-Pen
Screen size: 14.6-inch
RAM: 8GB / 12GB / 16GB
Stylus included: Yes
Some people like a lot of elbow room to do their creative work. If you looked at the 12.9-inch screen of the iPad Pro and thought it potentially looked a little cramped, then the Samsung Galaxy Tab S8 Ultra is the tablet you've been looking for. The current reigning champion of our round-up of the tablets with the biggest screen, the Samsung Galaxy Tab S8 Ultra  has a 14.6-inch Super AMOLED display that'll give you all the room you need. Also, the excellent, responsive S-Pen comes bundled in, supporting 4,096 levels of pressure sensitivity and tilt recognition. Samsung's pre-installed drawing apps are good for writing and sketching, and there's also Clip Studio for more advanced users, with layers and brush options.
For
Excellent bundled S-Pen
Enormous display
Premium construction
Against
May be too big for some
iOS has more apps for creatives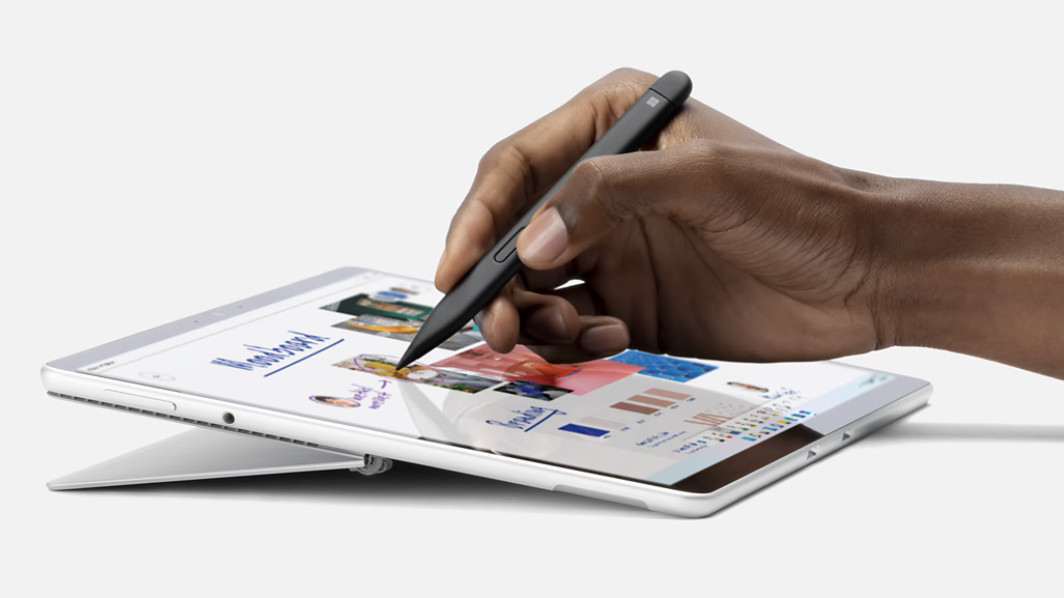 Microsoft Surface Pro 9 with Surface Slim Pen 2
Screen size: 13-inch
RAM: 8GB / 16GB / 32GB
Stylus included: No
It's now Microsoft's turn to step up to the plate, and the Surface Pro 9 generally impresses. It's a nice big tablet that can pack plenty of RAM and storage if you choose one of the more expensive configurations (and believe us, that price climbs quickly). You'll have to fork out extra for Microsoft's proprietary stylus, the Slim Pen 2 – but the good news is, once you do, you've got a great drawing system on your hands. The Slim Pen / Surface Pro 9 combo is fast and responsive – much more so than previous Surface tablets have been. The Surface Pro 9 is essentially a laptop and tablet rolled into one – so if you already have a decent laptop, an iPad and its tablet-optimised drawing apps may be a better choice.
For
Slim Pen 2 works well
Strong battery life
Large display
Against
Stylus costs extra
Still quite pricey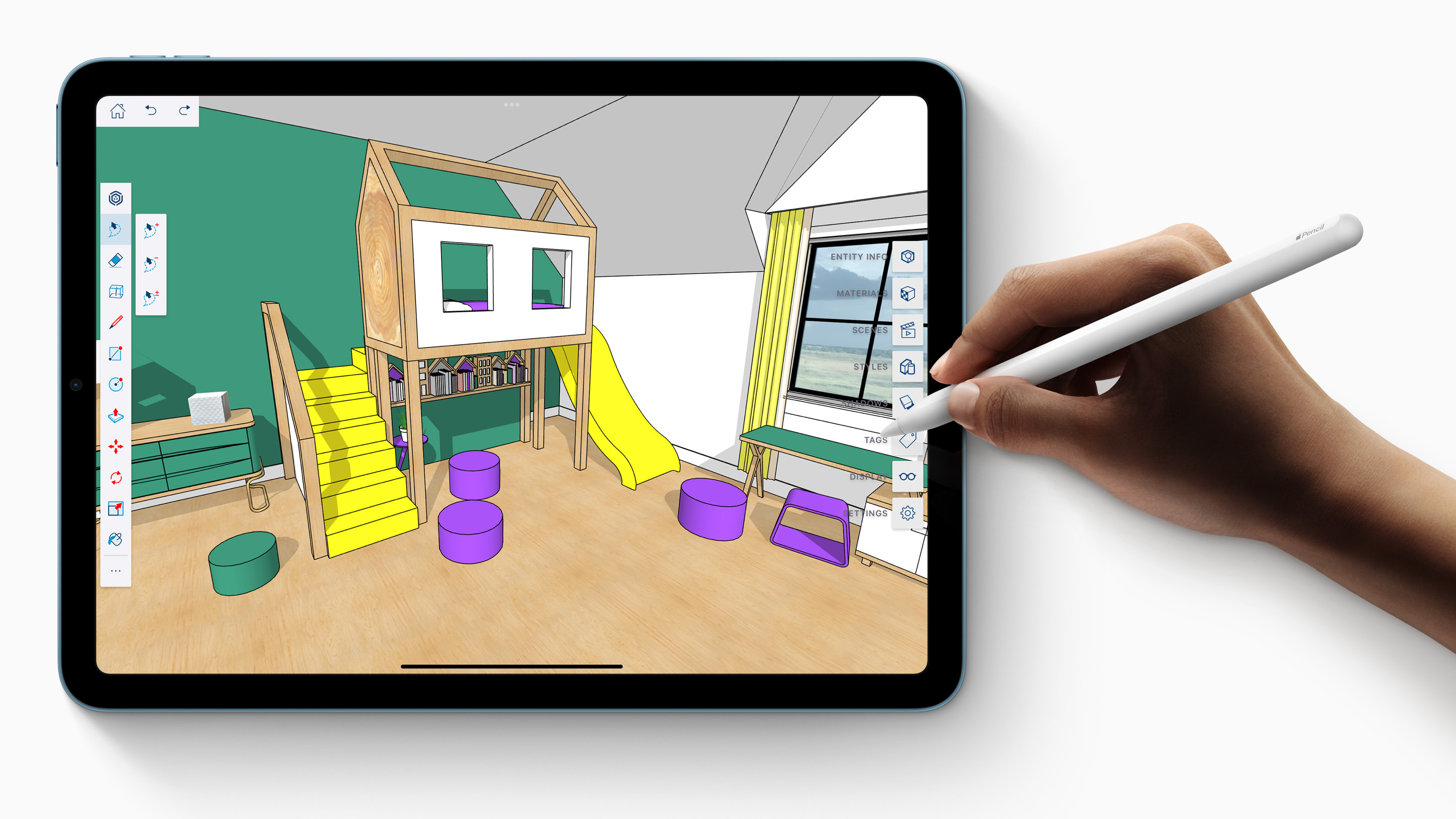 iPad Air (5th Gen) with Apple Pencil 2
Screen size: 10.9-inch
RAM: 8GB
Stylus included: No
So, you want that snappy-smooth iPad feel but don't quite want to pay iPad Pro prices? In this case, your best bet is the latest iPad Air. This tablet, slightly smaller than either of the iPad Pro options, and without the mini LED display, is designed to be breezy and fun to use – lighter than air, you might say. Before you ask, yes, you will absolutely have to pay the extra $129 for the Pencil 2, but once you do, you'll have a silky smooth drawing and writing experience. The 60 Hz refresh rate of the screen means it's not quite as responsive as the iPad Pro, but to be honest you'd probably have to put them side by side to really notice the difference. Also, be aware that while the cheapest iPad Air is quite a bit cheaper than the Pro, the base model only comes with a measly 64GB storage – if you want more, you'll have to pay for it.
For
Great iOS app selection
Good screen brightness
Snappy performance
Against
Screen not as responsive as Pro
64GB storage on base model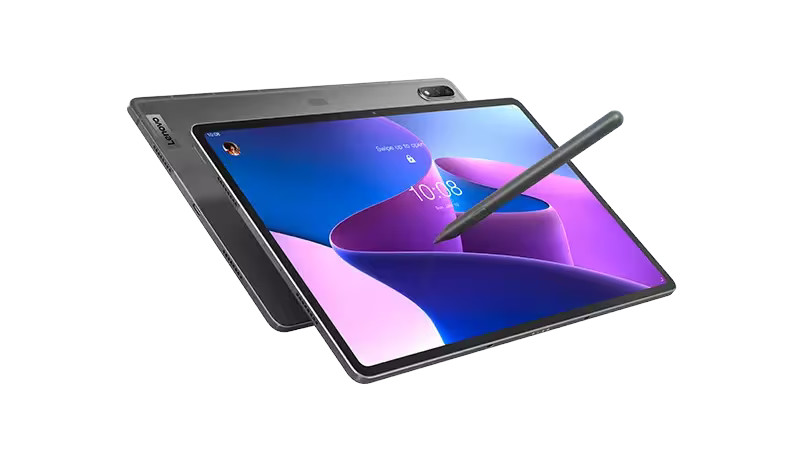 Lenovo Tab P12 Pro with Precision Pen 3
Screen size: 12.6-inch
RAM: 6GB / 8GB
Stylus included: Yes
Finally, we have a tablet that costs a bit less than some of the extravagant models that have been featured so far – especially given that its stylus is bundled in. Meet the Lenovo Tab P12 Pro and the Precision Pen 3, a mid-range Android tablet with a solid set of features for the price. Its screen is particularly notable – with punchy colors and a refresh rate of 120 Hz, it's great for bringing your artistic creations to life. The screen isn't as bright as some of the others we've featured, topping out at around 400 nits, so bear that in mind if you're planning on using the tablet outdoors. The Precision Pen stylus offers 4,096 levels of pressure sensitivity, though its nib is prone to slipping on the surface a little more than an Apple Pencil or an S Pen. This is a good tablet for writing and sketching – maybe less so for fine artwork.
For
Less pricey than rivals
Precision Pen included
Vibrant, colorful display
Against
Display not as bright
Android not great on tablet
What to look for in a tablet with a pen
When buying a tablet with a pen, you need to take some time to figure out exactly what it is you're looking for, as this will help you whittle down the options. As mentioned, if all you want is a tablet to jot notes on then you don't need to sweat it too much, but if you want a serious drawing tool, there's more to consider.
It's worth reading reviews not just from generic tech sites – who in many cases won't do much testing of the stylus beyond checking that it works – but from artists and creatives who actually use the tech for this purpose and can report on how well it works. Something that's important to pay attention to, which you can't glean from reading specs, is how the interaction of stylus and screen actually feels. You'll often see this referred to as 'bite', meaning the level of resistance you get as you move the stylus across the screen to create a line.
While you don't want this action to be difficult, it also shouldn't be too easy. Pencils and pens do not glide over a piece of paper like a skater on ice; making a line requires pressure, and you feel resistance as you do it. Striking this balance is quite hard to do, so if you're considering a tablet, it's worth checking with the artistic community how well the manufacturer has managed it.
Consider your operating system too. Many artists prefer Apple Products not necessarily because the hardware of iPads is so much better, but because their drawing apps run much more smoothly on iOS. Android is still notoriously a little janky on tablets, with Microsoft's Windows not a whole lot better, and while you can certainly get drawing apps working well on these devices, iPads offer a much more streamlined, tablet-optimised experience.
Lastly, all the tablets we've included here are tablet computers – meaning that as well as drawing and writing, they'll also do everything else you expect from a tablet. They'll browse the internet, play games, stream TV, the usual. If you are actually primarily buying a tablet for the purposes of artwork and don't think you'll; use it for bingeing Netflix, then you may want to consider a dedicated drawing tablet from companies like Wacom or Huion. For dedicated artists, this is probably better value for money.