Sometimes, bigger really is better, and if you're looking for the consumer tablet with the biggest screen, you've come to the right place. A tablet with a big, bright, glorious, high-resolution screen can be great for working, streaming, drawing, photo editing, digital painting, gaming, and much more, but with so many models on the market, it can be tough to find the biggest screen for your dollar. That's where we come in.
In this guide to big-screen tablets, we've made five solid recommendations. First up, we've picked out the best tablets (opens in new tab) that offer the biggest screens right now – in this case, a whopping 14.6-inch display. Next, we've selected four compelling alternatives; none of them are quite as big as our number-one pick, but all are pretty sizeable options, and many have different features that may mean you end up finding one of them preferable. 
We've drawn upon our reviewing experience as well as online user reviews to thoroughly get a sense of how these tablets perform and what their strengths and weaknesses are. Lastly, in our Buying Advice section, we've looked at the pros and cons of large-screen tablets, as there are some factors involved in buying one that you may not have considered. 
So, with all that in mind, it's time to get into it, and reveal which tablet has the biggest screen in 2023…
Biggest screen tablet
We've pitted all the major tablets against each other and picked out which one offers the most screen real-estate for your money right now. Below, we reveal the key specs and features you need to know about the biggest-screen tablet, and suggest some compelling alternatives that give it a run for its money.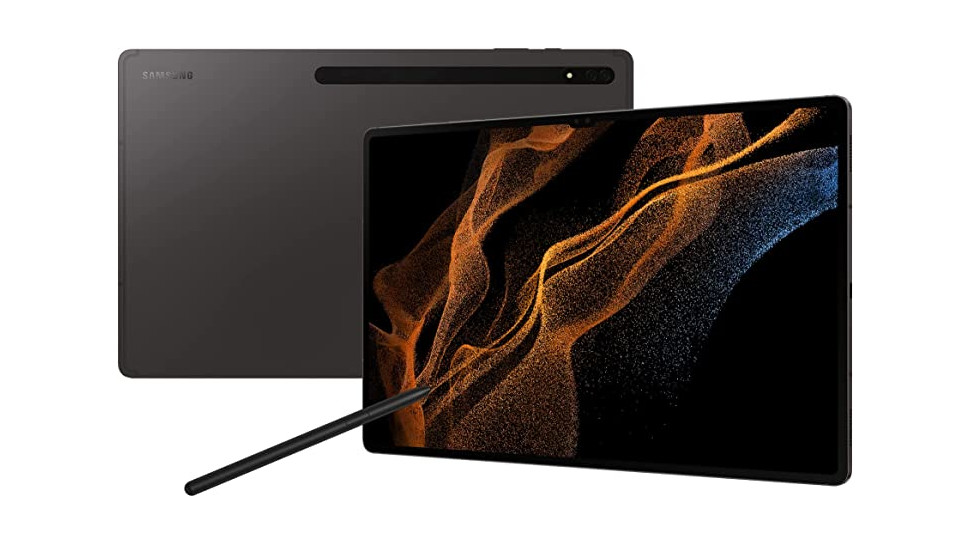 Well, you asked for it, and we delivered – the Samsung Galaxy Tab S8 Ultra is the tablet with the biggest screen that you can buy right now. Its monster Super AMOLED display measures a whopping 14.6 inches down the diagonal, and with a 120 hz refresh rate, it looks gorgeous in use. It delivers impressive brightness, generally between 300 and 600 nits, with enough power for content to be clearly displayed even in bright light. If you want a tablet for watching movies, you're going to be absolutely spoiled with this one.
Big screens are especially useful for those who use their tablets as drawing surfaces, and accordingly, the Galaxy Tab S8 Ultra comes bundled with Samsung's fabulous S-Pen stylus. Beautifully balanced, with just the right heft to feel like a real pen, the S-Pen makes drawing and writing on the Galaxy Tab S8 Ultra a smooth, effortless experience. And you'll certainly have room to do so.
Reviews of the Samsung Galaxy Tab S8 Ultra since its release in 2022 have been positive, if not exactly rapturous. The Snapdragon 8 Gen 1 CPU means the tablet performs snappily and apps load up more or less instantly, though in terms of raw power, it lags slightly behind iPad rivals with their proprietary Apple-made M2 chips. 
Most of the real criticisms of the Samsung Galaxy Tab S8 Ultra are things that are just kind of baked into the premise when you buy a tablet with such a ludicrously capacious screen. While it only weighs 1.6 lbs, you'll need a big bag to transport it, and it doesn't exactly rest comfortably on the lap. Battery life is fine but not great for a tablet of this type, with most testers finding it lasting between nine and ten hours. And you don't exactly have to look hard for the reason why that is, not when it's blasting you in the face with 300-600 nits of brightness.
Ultimately though, the Samsung Galaxy Tab S8 Ultra delivers what we're asking for – it's the tablet with the biggest screen. 
More big-screen tablets
Not convinced by the Samsung Galaxy Tab S8 Ultra? We've rounded up a few alternatives in this section. While their screens aren't as big as the S8's, they're still some of the largest you can get, and each tablet has its own strengths and idiosyncrasies that may suit you better.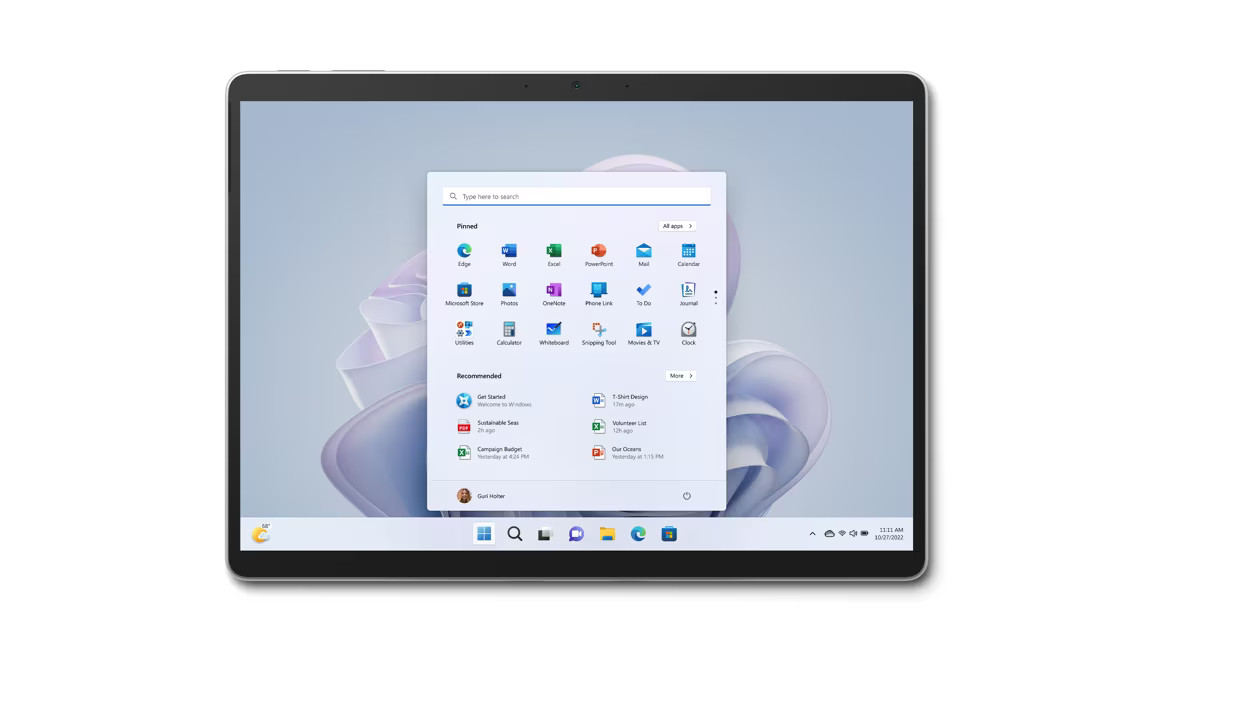 Screen size: 13-inch
RAM: 8-32GB
Released: Oct 2022
This 2-in-1 laptop and tablet from Microsoft comes in a few different configurations, so you can choose the RAM and CPU in accordance with how much you're willing to pay. We're here for the display though, aren't we, and in this department the Surface Pro 9 is very impressive. The 13-inch 3:2 panel delivers a 120 Hz refresh rate and 2,880 x 1,920 resolution. It's compatible with active styluses for drawing, and brightness has been upped a little from the previous Surface Pro. You can turn down both the brightness and the refresh rate to help prolong the battery life too. In reviews, the Surface Pro 9 generally scores well for its display and speed, with criticisms focusing on the limited port selection (no USB-A, no headphone jack) and connectivity – no 5G in this version.
For
Excellent, vivid display
Stylus compatibility
2-in-1 form factor
Against
Meagre port selection
No 5G connectivity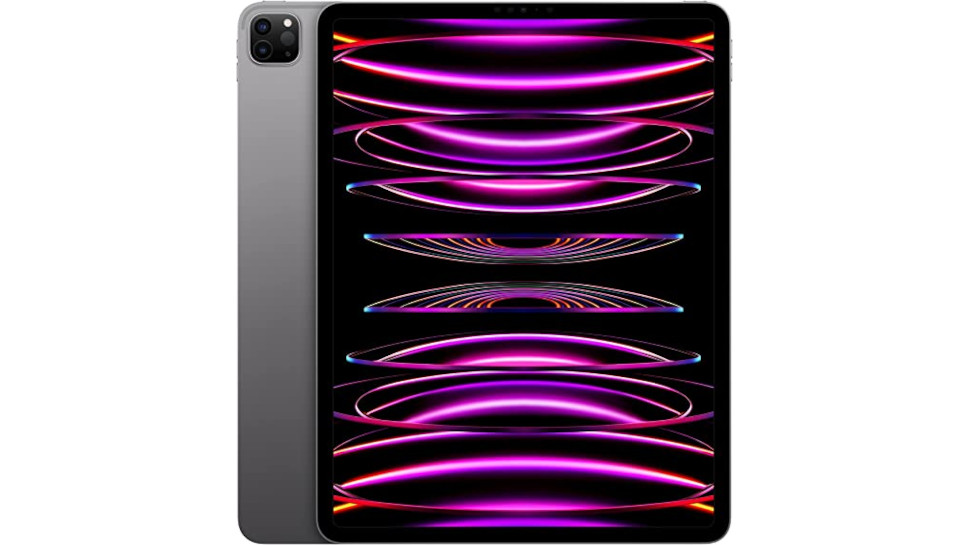 Screen: 12.9-inch
RAM: 8-16GB
Released: Oct 2022
To the casual observer, the sixth-generation Apple iPad Pro 12.9 looks a lot like the fifth-generation version from the previous year. And the casual observer is bang on the money there, because frankly, there's not a lot of difference. The biggest change is the inclusion of Apple's proprietary M2 chip, which puts the iPad Pro 12.9's computing power on par with a desktop. Not everyone will need that, but it's undeniably impressive. As is the absolutely gorgeous 12.9-inch mini-LED display, which is sharp and bright, with DCI-P3 support for color accuracy. The battery life is rated to 10 hours, a little more than many others on our list, though of course this will depend on how you use the tablet, with intense processing tasks draining it faster.
For
Super-fast M2 chip
Decent battery life
Cool 'Pencil Hover' feature
Against
Minor generational upgrade
A pricey proposition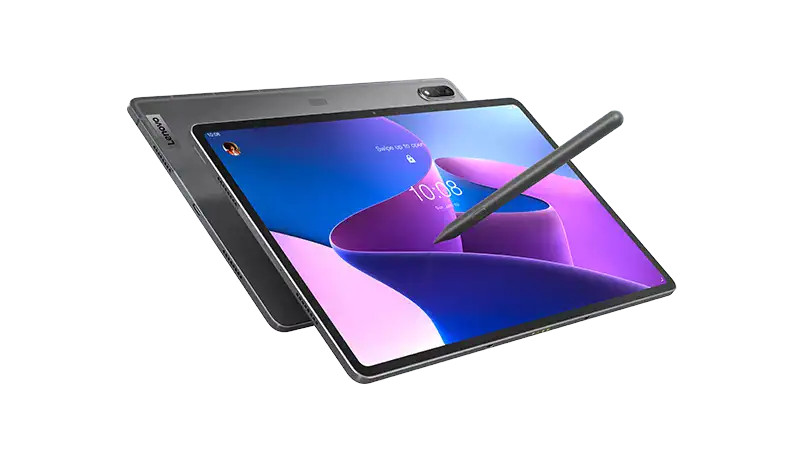 Screen: 12.6-inch
RAM: 6-8GB
Released: Sep 2021
While this sizeable tablet is more affordable than the iPad Pro 12.9 or the Samsung Galaxy Tab S8 Ultra, it's still not quite what you'd call cheap. Still, you get a lot for your money, including an AMOLED 2K screen measuring 12.6 inches. It also comes with a responsive stylus, and what's more, unlike many of the other tablets in this guide, it comes with a built-in quad speaker setup that's pretty decent. While you might think most people would rely on headphones when streaming on a tablet, models like the Lenovo Tab P12 Pro are big enough for multiple people to watch on at once, so it makes sense to have decent built-in audio. In terms of raw computing power though, it does lag behind its competitors from Apple and Samsung.
For
Cheaper than rivals
Stylus bundled in
Solid quad speaker setup
Against
Still relatively costly
Not as fast as rivals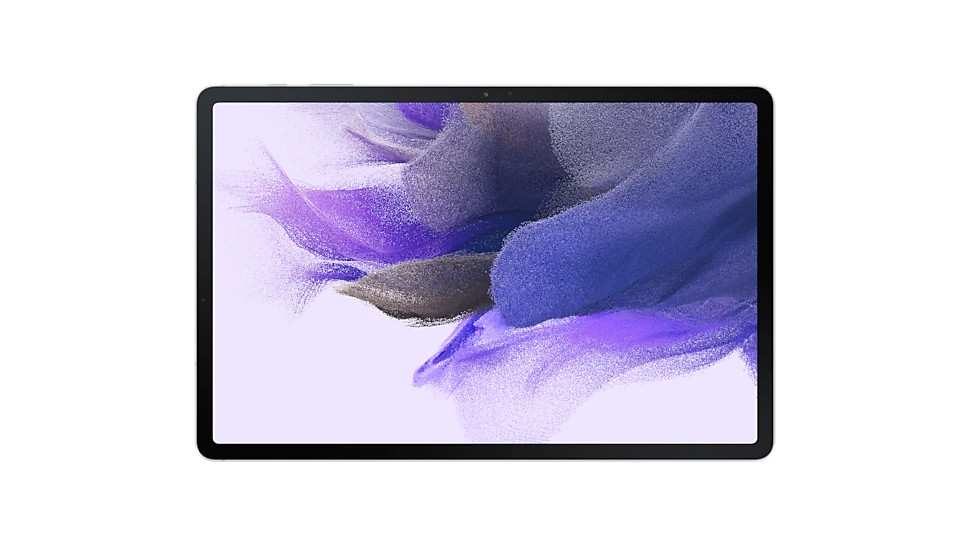 Screen: 12.4-inch
RAM: 4-6GB
Released: May 2021
A cheaper option than many other Samsung tablets, the Samsung Galaxy Tab S7 FE packs the same-size 12.4-inch screen as its stablemate, the Galaxy Tab S7+. However, in order to keep the price low it cuts down on a few features; the display is LCD rather than OLED, the refresh rate is only 60 Hz, and the resolution is 1600 x 2560 pixels. You might think this a recipe for a sub-par screen experience, but reviewers of the Galaxy Tab S7 FE have generally been pleasantly surprised. Content generally looks good on this tablet – there's no HDR pop, but it's sufficient for most purposes, and the 16:10 aspect ratio is pleasant for reading. The low RAM means this probably isn't one for gaming, but for day-to-day browsing and general productivity tasks, it'll work just fine.
For
Affordable price point
Pleasing display
Comes with stylus
Against
Low 60 Hz refresh rate
Middling RAM
Why get a large-screen tablet?
What are the advantages of a large-screen tablet?
Why you can trust Top Ten Reviews
Our expert reviewers spend hours testing and comparing products and services so you can choose the best for you. Find out more about how we test.
It might seem obvious – because it is – but the main advantage of large-screen tablets is, well, they have a big screen. This comes with all sorts of pros: you can better see the content being displayed, which can make streaming or gaming a much more enjoyable proposition. They are more comfortable to work on if you use your tablet for serious productivity tasks – programs like Photoshop, Premiere or Krita will be much easier to use. 
On that subject, many people use consumer tablets for drawing, and a bigger tablet is going to provide a much more expansive working surface. As such, you'll probably want to get a tablet with active stylus compatibility, and ideally a proprietary stylus like the Apple Pencil 2 or Samsung's S-Pen bundled in.
Bigger tablets also tend to be more powerful – partly because they tend to be a manufacturer's premium flagship models, and partly because they simply have more space inside for the relevant components. This will mean they can better handle processor-intensive tasks such as gaming or video editing. Some, like the iPad Pro 12.9, are powerful enough to stand in for a laptop, and when you've also got a screen that's comparable in size to a small television, a large-screen tablet starts to look like a pretty versatile device to have in the home.
What are the trade-offs of a large-screen tablet?
Of course, there are also reasons you might decide against buying a large-screen tablet. The fact that they are powerful, premium models is going to mean that the price tag is inevitably higher than a small screen tablet, and as such, it may not be worth the cash if you're not planning on really putting that big screen to work.
Furthermore, something you may have noticed while perusing our entries above is that a lot of large-screen tablets don't have the best battery life. Pumping out the power required for that display can be quite draining on a battery, and if you're planning to use your large-screen tablet for extended periods, it may be wise to keep a power bank handy.
Finally, the sheer size of large-screen tablets can make them impractical for many of the ways that people like to use tablets. They can be difficult to hold or balance on your lap for extended periods of time, and you may need to invest in a sizeable bag if you want to transport them from place to place. A large-screen tablet can be one of the most versatile devices in your home; it's just important to be mindful of both the pros and the cons before you click "buy".